I can recall a recent conversation between myself and a close personal friend, now recently turned churner, about the MBNA Alaska Airlines family of products. He was surprised that there are branded Alaska Airlines credit cards in Canada when we don't have any flight hubs for them in Canada; their closest hub for those of us in Western Canada is Seattle.
Seemingly, the focus is often so heavy on Aeroplan in the Canadian points and miles scene (and rightfully so) that the smaller issuers can be left behind in the dust. However, the MBNA Alaska Airlines family of Mastercards can be lucrative in their own way with some truly unique redemptions, especially when we see elevated offers.
Current Record High MBNA Alaska Card Offers
As of early October, MBNA has released some record-high points and cash combination offers on their family of Alaska Airlines mastercards. Both cards retain their usual respective points offers (30k Alaska miles for the World Elite and 20k Alaska miles for the Platinum Plus), but they now have both added a $200 statement credit which results in a net $101 for the World Elite and a net $125 for the Platinum Plus after accounting for the annual fee.
These cards were already great when you had to pay the full annual fee or reduce it via an offer on GreatCanadianRebates so when we now consider that we are making money on top of a sizable chunk of points, that is a fantastic return on one credit card application.
Both offers run until January 5th, 2022, and can be found on the MBNA website:
MBNA Alaska Airlines World Elite: 30k Alaska miles and $200 statement credit after 1k spend in 3 months; $99 annual fee; minimum of 80k personal or 150k household income to apply
MBNA Alaska Airlines Platinum Plus: 20k Alaska miles and $200 statement credit after 1k spend in 3 months; $75 annual fee; no minimum income required to apply
Unfortunately, Quebec residents are not eligible to apply for the MBNA Alaska Airlines credit cards under these elevated offers.
Are the MBNA Alaska Airlines credit cards churnable?
You bet they are. In a previous article, Reed wrote about how to maximize Alaska miles from churning the MBNA Alaska family of credit cards. That article also captures product switching and splitting off credit if you are not instantly approved for an Alaska Airlines credit card so it is worth checking out to add these strategies to your toolbox.
Related: Review: Alaska Airlines World Elite Card
While the churnability of these cards has fallen from its former glory (there was once a time when you could hold multiple MBNA Alaska cards at once), there is still a case to be made for churning these cards at a slower rate in order to stack up points within the Alaska Airlines mileage plan for some easy and perhaps aspirational flight routings to Asia and Europe. And besides, not all is lost as some other banks will still let you hold multiples of their credit cards 😉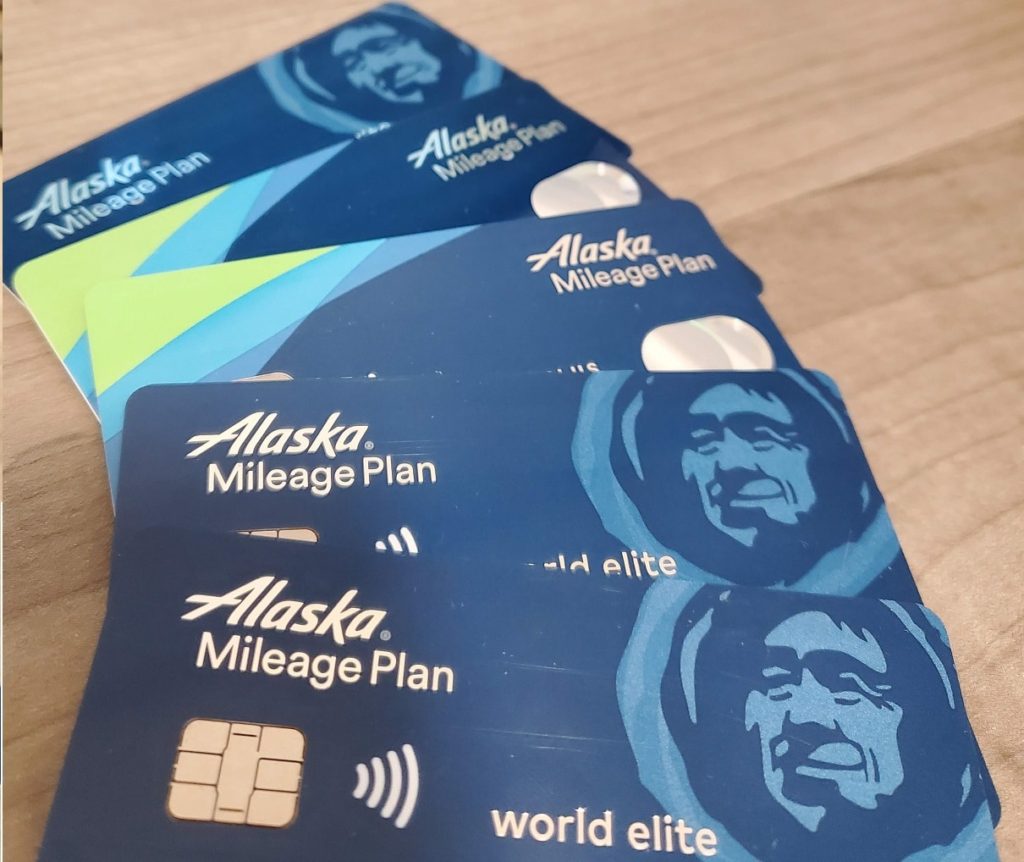 Opportunities for Redeeming Alaska Miles
There are many opportunities to redeem Alaska for both economy and business flights, especially when considering the multitude of partners bookable via Alaska Airlines due to their membership in Oneworld Alliance. You are able to search for redemption opportunities via the Alaska Airlines website for almost all carriers – for any Cathay Pacific redemptions, you will need to call in as you cannot find availability on the website.
Related: How I Took a Weekend Trip to Alaska for $300 Per Person
As of July 2021, Qatar Airways is now bookable via Alaska Miles. Qatar Airways is well known as having one of the best business class products in the world, the Qsuites. This would be a very comfortable way to fly a 14 hours flight – not to mention that Doha is a strong hub for connecting to other countries.
As always, if you are looking to fly this route for a specific plane or seat configuration (e.g. Qsuites vs normal Qatar Airways business) do your due diligence in checking the plane that is currently scheduled and the seat map for that specific flight. Things can always change if schedules change or operations are impacted, but at least you can hedge your bets when you are booking to give you the greatest chance to fly the plane and configuration you have your sights set on.
For those of us in Western Canada, another strong redemption exists with Japan Airlines (JAL) business class from Vancouver to Tokyo for 60k Alaska Miles. JAL does not fly their planes that have a first-class configuration out of YVR so business is the best you can get, but JAL business is still gorgeous and a great way to fly across the Pacific Ocean. If you want to fly in first class, search for Japan Airlines flights out of San Francisco, Los Angeles, Chicago, or New York to Tokyo for 70k Alaska Miles.
Japan Airlines business class, the Sky Suites, is another business class product that is at the top of its game. JAL has managed to craft the perfect cocktail of privacy, catering, comfort, and service that makes every flight with them enjoyable. Not to mention, aisle access for all business class passengers so you don't have to step over your seatmate is always a plus!
These redemption ideas are just the tip of the iceberg as many more good redemption opportunities do exist with Alaska Miles. It all comes down to determining what your travel goals are (e.g. economy, business, or first class and where do you want to go?) and building a credit card and points plan to get there. Points are simply the tool to unlock the world.
Conclusion
Personally, I plan on continuing to stack Alaska Miles to use on some redemptions in the near-ish future to destinations in Asia such as Bangkok and Tokyo when things are more open in that corner of the world. I absolutely recommend taking advantage of these increased offers from MBNA to continue to build your mileage balance for future redemptions and vacations.
Hugh has been involved in the miles and points game since 2015 but has scaled up his knowledge and points-earning potential in recent years. In 2019, Hugh stepped things up when he met Reed in addition to a few other miles and points fanatics (err degenerate churners) and has since been able to capitalize on the various expertise that each member brings to the group.
Latest posts by Hugh Campbell (see all)