Scotiabank Momentum Visa Infinite Offer
$100

in

FlyerFunds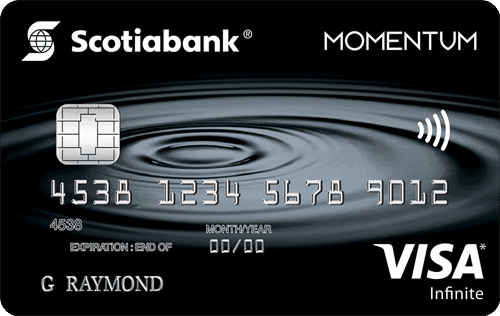 Scotiabank Momentum Visa Infinite
The Scotiabank Momentum Visa Infinite card earns cash back and gives cardholders the opportunity to earn 4% cash back on grocery purchases, eligible recurring bill payments, and subscription purchases.
Offer expires on
Oct 31, 2024
.
Get $100 in cold hard cash if you apply and are approved for this offer!
$100 FlyerFunds + a welcome bonus of 200 Cash back
Fill out the form and click apply. Then continue to the institution's website to complete your application. Please read our FAQ and Terms & Conditions below before applying.
FAQ

Here are answers to common questions we receive regarding our FlyerFunds credit card and bank account rebate program.

I've been approved for my credit card or bank account application. When will I be paid my FlyerFunds?

You will be sent payment soon after your application is tracked and confirmed on our affiliate dashboard. This can take up to 12 weeks.

What payment method do you use to send FlyerFunds?

We send payment using PayPal, which will allow you to withdraw the money straight to your bank account. If you don't have a PayPal account at the time of payment, you will be prompted to create one.

I was approved for a FlyerFunds offer. Can you confirm that I will be getting my FlyerFunds cash back?

If you have followed the appropriate steps listed below and on this page, you should receive your cash back within 12 weeks. If after this time you have not received your FlyerFunds, you can submit a 'Missing Funds' form on the individual application page. Please do not submit before this.
Step 1. Apply for the Offer by completing the form including your First Name, Last Name, Username (email) and PayPal email address. Upon submitting you will redirected to the bank's website.
Step 2. Complete and submit your application for credit card or bank account on the institution's secure website.
Step 3. Verify your email address. You will receive an email from us confirming your email and also prompting you to login and view the status of your FlyerFunds application. At this time you can enter whether you were approved for the product and the corresponding reference number provided by the institution.
Step 4. Receive your FlyerFunds. If your credit card or bank account application is completed and approved, Frugal Flyer will email you within 12 weeks a confirmation and a transfer will be completed via PayPal.

I used a different link than yours to complete the application. Can I still get FlyerFunds?

No. You must use our special unique link to be eligible. You cannot double dip on cashback from multiple cashback sites.

How does Frugal Flyer make money from this offer?

Frugal Flyer is paid an affiliate commission from the issuer of the product. We pass on a portion of this commission to you. This is the same model as other cashback/rebate websites like Rakuten.ca, GreatCanadianRebates, and so on.

Why should I use Frugal Flyer and not other cashback websites?

There are several reasons why you should consider using Frugal Flyer for your credit card and bank account applications, including:
- Frugal Flyer aims to consistently provide the most competitive offers on credit card and bank account rebates. You can confirm this by using our Rebate Comparison Tool.
- Frugal Flyer provides payout of rebates on a rolling basis, not a quarterly basis like some other rebate sites like GreatCanadianRebates or Rakuten.ca.
- Frugal Flyer is the only rebate site that specializes in travel hacking and credit card rewards content. By using FlyerFunds you are supporting us to create more quality content to help you save money on travel.

What if I have any other questions?

Please email us at [email protected].

TERMS & CONDITIONS

Scope

The below FlyerFunds Offer Terms and Conditions (the "FlyerFunds Offer Terms") govern this FrugalFlyer.ca FlyerFunds promotional offer (the "Promotion") in relation to the Scotiabank Momentum Visa Infinite account (the "Account") issued by Scotiabank (the "Issuer"). The Promotion is offered to you (the "Participant") exclusively through the FrugalFlyer.ca website (the "Site") and is only valid through the Site. In conjunction with the FlyerFunds Offer Terms, the Participant hereby agrees to be bound by the Frugal Flyer Privacy Policy, Terms of Service (the "Terms") and these FlyerFunds Terms and Conditions (the "FlyerFunds Terms").

Qualification

To qualify for the Promotion, the Participant must:

• be a new applicant who has not previously held a Scotiabank Momentum Visa Infinite either in their name, or jointly with another individual or entity;
• be a Canadian resident who has attained the age of majority in their province/territory of residence;
• submit an application for the Account on the specified link on the Site (the "Application Link"). Applications will only be valid if submitted through the Application Link. Applications placed over the phone, through online chat, or any other method whatsoever will not be valid;
• include in their Account application, the requested contact information on the Site, including the Participant's First Name, Last Name, Username (email) and PayPal email address;
• complete and submit the application for the Account on the Issuer's secure website;
• verify your email address, following which you will receive an email link prompting you to login and view the status of your application;
• enter whether you were approved for the Account and the corresponding reference number provided by the Issuer.

The Participant is deemed to accept these FlyerFunds Terms upon submitting an application through the Application Link and submitting an application for the Account. Further terms and conditions by the Issuer may apply for the Participant to qualify.

Timing and Payment of Rebate

Promotion payment ("FlyerFunds") will be issued via PayPal to the Participant. The Issuer can take up to sixty (60) days to process approvals for completed application(s).

Processing fulfillment of FlyerFunds may take up to eight (8) weeks after receiving Account approval confirmation from the Issuer.

Should the Participant have any issues with FlyerFunds fulfillment, the Participant must notify FrugalFlyer.ca within five (5) months of the date of the application for the Account.

FlyerFunds must be claimed in accordance with the FlyerFunds Terms.

Each Participant is limited to one FlyerFunds payment per Account per Issuer. The Participant will only receive the FlyerFunds payment after Frugal Flyer receives confirmation of approval of the Account from the Issuer.

Privacy

All personal data that we collect from the Participant will be processed in accordance with the Frugal Flyer Privacy Policy.

By submitting an application through the Application Link, the Participant consents and agrees that we may share personal information with the Issuer to complete a Promotion and determine eligibility for FlyerFunds if a tracking failure occurs.

Should there be any tracking issues, the Participant consents and authorizes Frugal Flyer to use personal information to retrieve account information from the Issuer and fulfil the Promotion.

Liability

Frugal Flyer Inc. and any of our affiliated companies and the officers, directors, employees, shareholders or agents or any of them, will not be liable or responsible for approvals of the Account application and any Promotion applications that cannot be processed due to technical failures of any kind, including but not limited to email address inaccuracies.

The Issuer shall not be liable or responsible for the Promotion, any Promotion applications that cannot be processed due to technical failures of any kind, including but not limited to email inaccuracies, and any denial of the Account. Any promotions, including the Promotion, offered through the Site are not affiliated with the Issuer in any manner whatsoever.

The Participant agrees to defend, indemnify, and hold harmless both Frugal Flyer Inc. and any of our affiliated companies and the officers, directors, employees, shareholders or agents or any of them and the Issuer for any personal information disclosed on the Site.

Discretion

Frugal Flyer reserves the right to cancel or change the terms of the FlyerFunds Terms at any time without notice, for any reason, and to revoke the Promotion from any Participant who appears to be manipulating or abusing the Promotion or is engaged in any suspicious/fraudulent activity.

Additional FlyerFunds Offer Terms

Payment for the promotion is not transferable or exchangeable.

All third-party promotional material, including but not limited to names and/or logos, is by permission of each respective merchant, and all trademarks remain the property of their respective owners.

The Promotion may not be used in combination with any other promotions or offers which the Site or the Issuer may offer from time to time.

Quantities may be limited.

The Promotion is void where prohibited or restricted by law.

FOOTNOTES

TM Visa, Visa Infinite, Visa Infinite Privilege are trademarks of Visa International Service Association and used under license.