There are fleeting opportunities within the credit card churning landscape that are just too good to not take advantage of. In a recent article, we looked at a few previously available, fantastic bank account welcome bonuses and spoke about the need to act quickly if you want to take advantage of such offers when it comes to financial products.
Oftentimes you just cannot afford to hesitate with these opportunities as the financial issuer may take the offer down or change the terms and conditions. A recent CIBC Aventura promotion was one of these opportunities. In fact, I was able to take advantage of two different opportunities to generate a significant chunk of value. $2,250 in cash to be exact!
Let's take a look at the process we followed to earn 180,000 Aventura points from four credit card applications within the CIBC Aventura line of products, and then subsequently convert those points to cash through another special redemption opportunity.
CIBC Aventura Visa Infinite & Gold – 45K Aventura Points after First Purchase
This offer wasn't publicly advertised by CIBC on their main website, instead, it was brought to my attention by a colleague who noticed a small banner when logged into his CIBC online account.
Compared to the recent offers we have seen on the CIBC Aventura family of cards, this new promotion presented outsized value for hardly any effort. The terms and conditions confirmed the validity of the links and that the points would be awarded upon first purchase with no other conditions.
After reading through the terms and conditions to verify the requirements of the offer, I applied for both the CIBC Aventura Visa Infinite and CIBC Aventura Gold Visa cards at the same time. I was instantly approved for the Aventura Visa Infinite with a credit limit of $5,000 while my Aventura Gold application went pending.
After having my CIBC Aventura Gold application go pending upon submission, a few days later I received an email that I was approved for the card with a credit limit of $500 (the absolute lowest credit limit available for this card). It's all gravy though since all I needed was to be approved to be eligible for the bonus. Who needs a high credit limit upon approval when you can just transfer it from other CIBC cards?
Once I received both cards I made a $1 gift card purchase on each to meet the first purchase requirement. The hardest part had yet to come; waiting for the first statement to post to see if I would be granted the points without any issues.
I find that anytime I am applying for offers that aren't public, it is good practice to take screenshots and save a PDF of the terms and conditions so you have documentation to back you up if points aren't awarded properly (no different than what I did for my two Hilton Aspire $95 annual fee cards). It's better to be safe than sorry.
Surprisingly, and as promised, 45,000 Aventura appeared in both of my card accounts as soon as my first statements were posted.
CIBC Aventura Redemption – Shopping with Points
CIBC Aventura rewards points are typically worth a base level of 1 cent per point (CPP) when cashing out via gift cards. Greater value can be found in using the in-house CIBC Rewards travel booking portal to redeem forC travel rewards, but for this promotion, let's only consider cash equivalents when deriving our value.
CIBC is running a promotion on their "Shopping with Points" redemptions until June 15, 2022. This promotion offered a 50% reduction on points required when redeeming Aventura rewards points against travel purchases that were booked through any method. This means that Shopping with Points redemptions allowed cardholders to cash out points at a rate of 1 Aventura = 1.25 cents or 1.25 CPP.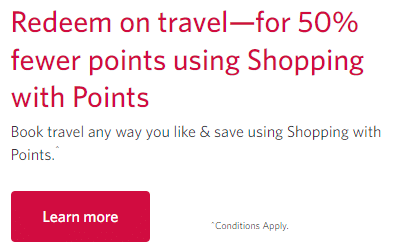 Combining CIBC Promotions for Massive Profit
While both of these promotions are powerful in their own right, when combined they present outsized value for the amount of effort that needs to be put in.
To cash out our 45,000 Aventura points, we will need to utilize the Shopping with Points promotion through the refundable hotel trick. We have a separate article that covers the refundable hotel trick if you want to learn more about how to cash out miles and points with various rewards programs.
For this promotion, the trick involved booking a refundable hotel booking through a third-party portal such as Expedia. The booking needed to be paid for upfront. From there, once the charge was pending on your CIBC Aventura credit card, you could click on the transaction and apply the balance of your Aventura points via the shopping with points promotion.
The credit from the Aventura redemption would appear on your statement in a few business days and from there you could cancel the refundable hotel booking, leaving you with the statement credit.
The result speaks for itself:
A credit of $562.50 on my card after applying, making one $1 purchase and then utilizing the refundable hotel trick. Minimal effort for massive value, and this is just from one card.
Doubling Up with Player Two on the Aventura 45k Promotion
As I was able to get approved for one of each CIBC Aventura card, I had earned 90,000 Aventura points on my own for a value of $1,125 through the shopping with points promotion. Frankly, this is nothing short of an amazing bonus for two applications especially considering the bonus was ultimately redeemable for cash.
The next logical step was to double up on this promotion by having my significant other, or player two, apply for the same cards to take advantage of the offers for herself. Being able to scale this offer through additional applications under a significant other or family member was essentially free money in the applicant's pocket.
Having a player two involved in your churning strategy can make amazing opportunities like this one even better due to the ability to further scale your earnings.
Sweetening the Pot with Extra Perks
Not only did the Aventura Visa Infinite card and the Aventura Gold Visa card both have stellar offers, these cards still offered their typical travel-related perks in addition to the high bonus.
Both cards offer priority pass membership for the primary cardholder, which comes with four complimentary airport lounge visits per year. Additionally, both credit cards provide a $50 NEXUS rebate in the form of a statement credit.
It really doesn't get much better than this when it comes to a "first-year-free bonus on the first purchase" welcome offer.
Conclusion
The CIBC Aventura 45k offer was a great start to 2022 and many individuals were able to take advantage of it. While accruing airline and hotel points is my ultimate goal in this game, extracting value in the form of cash where possible is a great feeling and well worth it (especially when you can do it with four cards).
We emailed this offer to our mailing list subscribers before it was made public anywhere else. Consider signing up to the Frugal Flyer mailing list to stay on top of these limited-time offers so you can take advantage of future opportunities.
Hugh has been involved in the miles and points game since 2015 but has scaled up his knowledge and points-earning potential in recent years. In 2019, Hugh stepped things up when he met Reed in addition to a few other miles and points fanatics (err degenerate churners) and has since been able to capitalize on the various expertise that each member brings to the group.
Latest posts by Hugh Campbell (see all)