We are lucky to have a thriving credit card market here in Canada. Nonetheless, it's hard not to look down south to our American neighbors and feel some envy at the relatively larger plethora of options available in the market, including more issuers, airlines, transfer partners, and flexible points currencies.
Fortunately, it is possible to have the best of both worlds and acquire both Canadian and US credit cards while living in Canada. In this guide, we show you all the steps required on your way to your first US credit card, which will then allow you to build credit history and eventually be eligible for almost all credit cards in the bountiful US marketplace.
Let's get started!
Step 1: Apply for an ITIN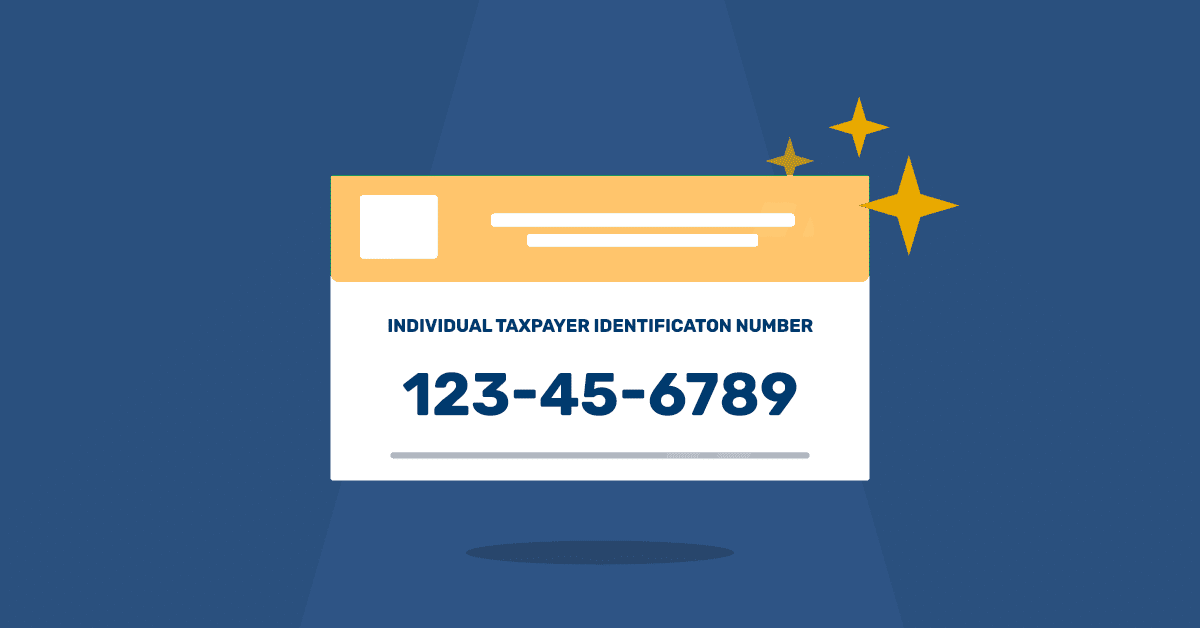 The Individual Taxpayer Identification Number (or ITIN for short) is an identification number similar to a SIN or SSN which is essential to applying for credit cards with most institutions in the United States. If you want to get serious about US credit cards, having an ITIN (alternatively an SSN if you're eligible) is a non-negotiable.
Further reading: All About the Individual Taxpayer Identification Number (ITIN)
At Frugal Flyer, we recommend starting with the ITIN process as the first step for a few reasons. For one, it can take up to 4 months once you apply for an ITIN to receive the number. Therefore, ITIN is a big bottleneck in the process and it makes sense to start it as soon as possible. Furthermore, while in the past it was quite straightforward to get your first credit card with American Express through Nova Credit or Global Transfer without having an ITIN, these services (discussed in Step 5) now require an ITIN before initiating your application.
So, how do you apply to get an ITIN?
ITINs are issued by the U.S. Internal Revenue Service (IRS) and entail submitting specific documents to the IRS, in particular the Form W-7, Application for IRS Individual Taxpayer Identification Number.
There are various reasons to justify needing an ITIN as a nonresident of the United States. The simplest is that one is required to report income through U.S.-based services like casino winnings, online betting, or trading stocks through a U.S.-based brokerage. An ITIN ensures compliance with IRS obligations, safeguarding you from substantial withholding taxes on your earnings. So, to report these earnings, the second piece of this process is completing Form 1040-NR, U.S. Nonresident Alien Income Tax Return.
If this sounds daunting, fret not! Frugal Flyer has a dedicated ITIN service to complete these steps for you. Alternatively, we have some tips for those seeking to complete this process on their own.
Option 1: Use Frugal Flyer's Dedicated ITIN Service
With Frugal Flyer's ITIN service, we collect information from you and then complete the Form W-7 and Form 1040-NR on your behalf. Along with that, we provide you with detailed instructions for submitting your application to the IRS via one of the allowable options. We also provide email support along the way.
Ultimately you will be responsible for submitting the application package and following up with the IRS (if required). We are proud to say that all of our customers have successfully received their ITINs, including customers from Canada, the United Kingdom, Japan, Australia, Singapore, Germany, and many other countries. See also our reviews on Trustpilot and Google.
The service has a modest cost of $140 CAD (+tax). 
Learn more: Frugal Flyer's ITIN Service
Option 2: Do-It-Yourself Approach
If you're up for the task, you can undertake the process of obtaining an ITIN yourself, as many people do. You will want to be very meticulous as minor inconsistencies in form completion can lead to application rejection.
The essentials for applying for an ITIN can be found on the IRS website. Required documents include:
Identification document, typically an original foreign passport or certified copy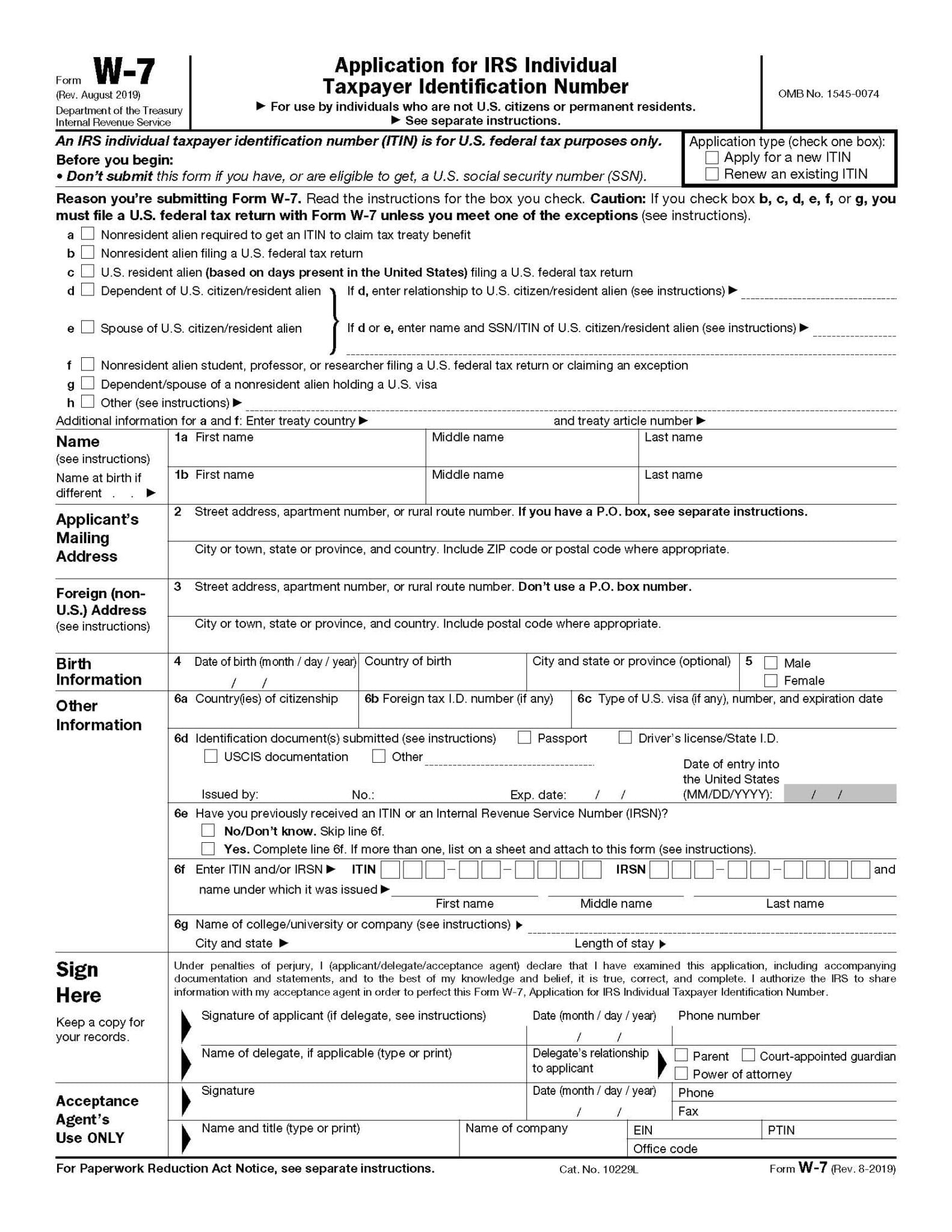 See the respective pages for detailed instructions on completing each Form. There are also some guides available from various online sources for reporting specific types of income (eg. gambling income).
For identity verification, it's worth considering certified passport copies obtained through Passport Canada (fee: $45 CAD) or other entities for verification. Sending the original passport entails potential mailing risks. Also note that if you have a non-Canadian passport, there are options available to you such as a regional or U.S. Embassy. Or you can apply via a certifying acceptance agent.
Regardless of your chosen approach, compiling the documents and sending them to the IRS's designated address is the final step. Be prepared for a waiting period; as of 2023, processing times can extend to around four months.
With successful processing, you'll eventually receive a letter confirming your new nine-digit ITIN, an essential credential on your journey to acquiring U.S. credit cards.
Step 2: Get a US Address
While you won't need to have a US address when you first apply for an ITIN, you will need one to apply for a US credit card.
The most future-proof approach to a US address is to have access to a real residential US mailing address, whether that be your own or a friend or family member who can receive mail on your behalf. If you know of someone whom you trust, consider asking them about this possibility.
Aside from that, the other option is to set up an address with what is known as a US mail forwarding service.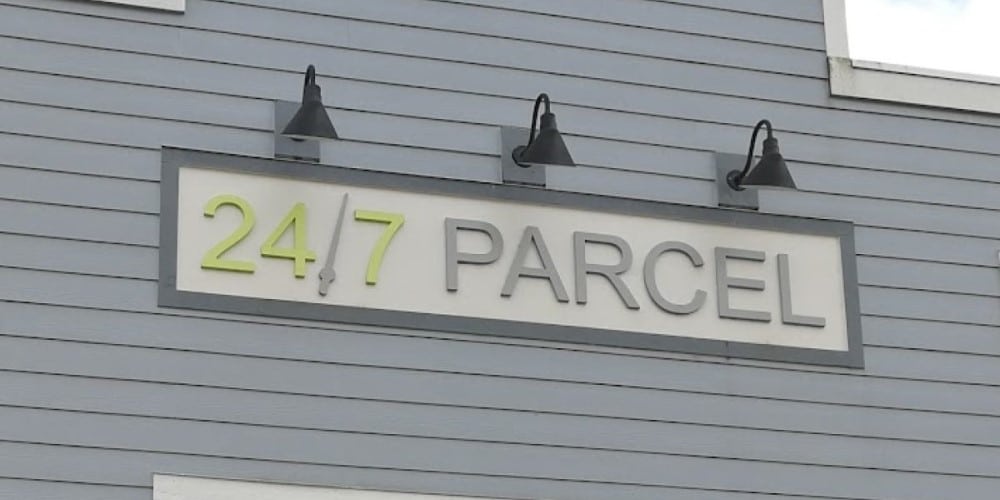 We have several articles that go in-depth on mail forwarding services:
Ultimately, we recommend 24/7 Parcel as it has consistent and reliable service with quick forwarding times. If you go with them, be sure to mention Frugal Flyer when you email to activate your mailbox account, and you will receive a $20 USD discount off the yearly subscription fee!
Step 3: Open a US-domiciled Bank Account
Another critical piece of US credit cards is having a USD bank account, domiciled in the USA. This is required so that you can settle your US credit card bills, but also to give you a bank statement you can use to validate your US address with issuers.
Fortunately, you have numerous options for setting up this account. Canadian banks maintain subsidiaries in the US, streamlining the process of establishing a US account if you're an existing client in Canada.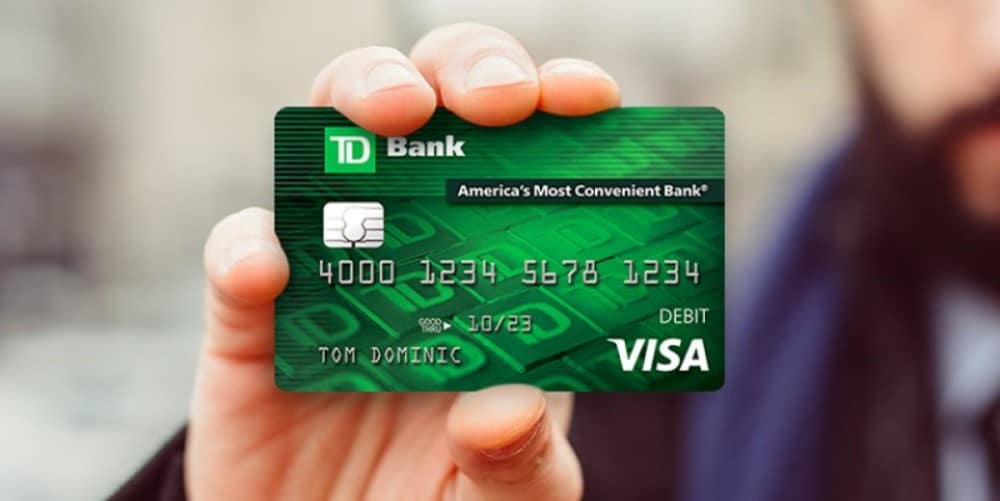 For instance, I utilize TD Canada Trust for my Canadian banking needs. TD's US counterpart, TD Bank USA, presents the TD Convenience Checking account, which has no monthly fee as long as you maintain a $100 USD minimum daily balance.
The same principle applies to other Canadian-US bank pairs such as CIBC and CIBC US (offering a cost-effective Smart Account), BMO Bank of Montreal and BMO Harris Bank, and RBC Royal Bank and RBC Bank. All these banks offer well-established Cross-Border Banking services with clear guidelines. Accessing information online will provide you with insights into their personal checking options and account setup.
See our article on Best US Bank Accounts for Canadians for an in-depth look at each of these options. No matter the US bank account you choose, it's advisable to designate your US address (as highlighted in Step 2) as the primary address for the account. This ensures that your US address appears on all your monthly banking statements, a useful step for future address verification with credit card issuers.
Step 4: Set Up a Currency Transfer Service
It goes without saying that to have and make use of a US credit card, you're going to need to make payments on that card in US dollars from your US bank account (which you set up in Step 3). 
To get US dollars into that account, you're going to need a method to convert CAD to USD. And if you're going to be doing this regularly, you'll want to use the most cost-effective method possible.
Related: Cheapest Way to Convert Canadian Dollars to US Dollars
Generally, converting currency through your bank is less than cost-effective. Instead, there are various specialized services available that will convert the currency and deposit it into your bank account. Two of our favorites are Wise (formerly TransferWise) and Xe.com (Xe).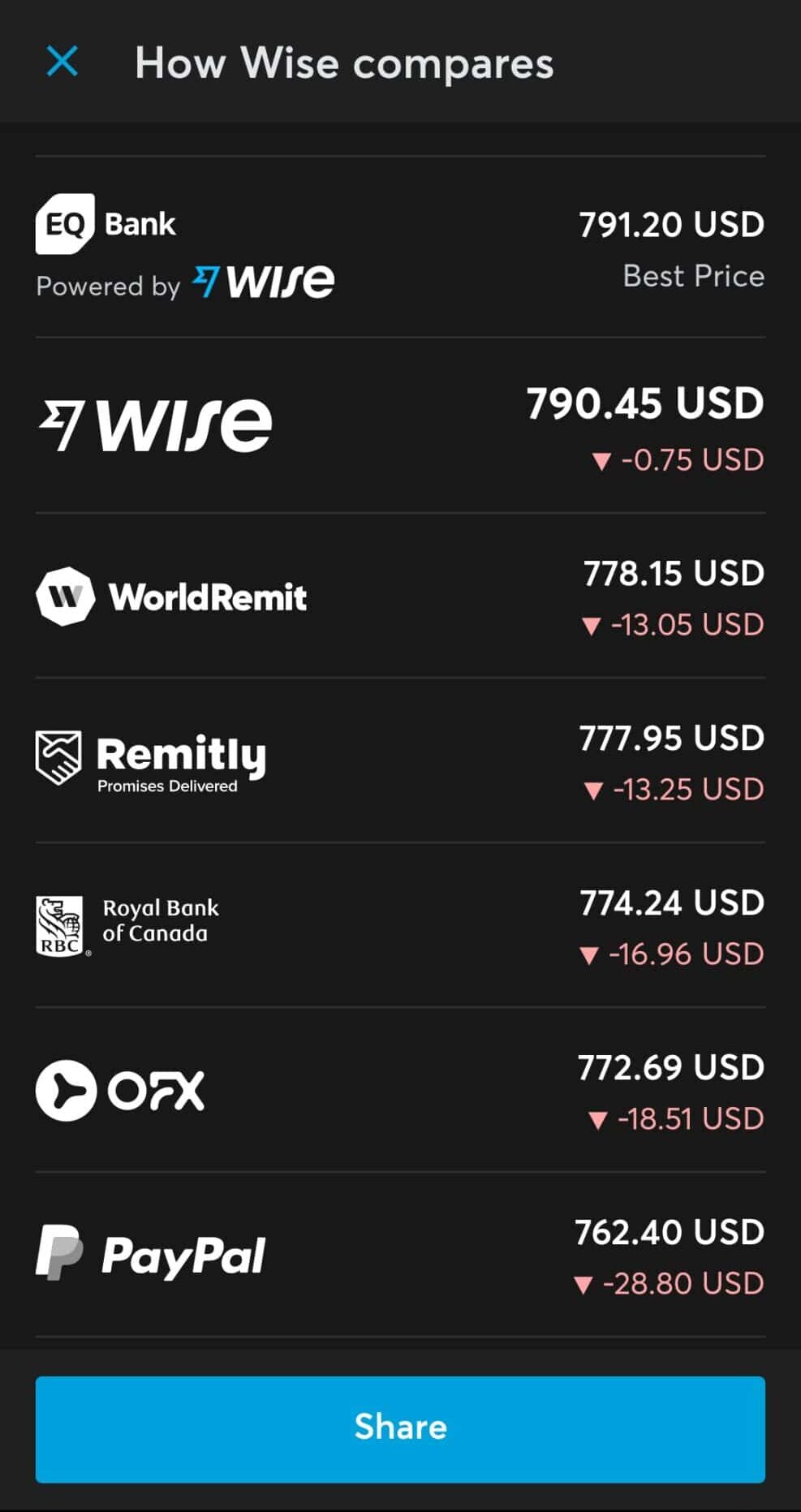 I use Wise via EQ Bank for most of my USD needs. It couldn't be more straightforward and transparent in pricing, which is very close to the 'spot' CADUSD rate. It is also fast and convenient once you've connected your US bank account with EQ Bank.
Step 5: Get Your First US Credit Card
With all of the above in place, you can now go about applying (and hopefully being approved) for your first US credit card. You may be wondering, which one should you start with, and how do you go about it without any pre-existing US credit history?
There is no unanimous answer to what credit card you should start with. However, as we discuss in our article on the Best First US Credit Card for Canadians, the answer is, generally, one issued by American Express.
The reason is twofold: 
American Express US is generous when it comes to approving applicants with pre-existing history from Canada (whether that history is with American Express or with other issuers), and
American Express US has stellar welcome bonuses, whether via its Membership Rewards cards or co-branded cards like the Hilton Honors credit card lineup.

When you apply with American Express US, there are two avenues, one via Nova Credit, and the other via American Express Global Transfer.
We generally recommend Nova Credit as the simplest path.
Nova Credit
Nova Credit is a financial technology company that helps individuals who have recently moved to the United States to access financial services. The company's primary goal is to solve the problem of credit invisibility or lack of credit history for immigrants and newcomers, making it easier for them to establish creditworthiness and access financial products such as credit cards.
Essentially, Nova Credit can translate data from your credit history in Canada (TransUnion) into a form that can be used by partnered US institutions…one of which happens to be American Express.
This means you can apply and be approved for American Express cards through Nova Credit without any pre-established US credit history.
Nova Credit is very straightforward to use, but to help you out we've created a step-by-step tutorial: Using Nova Credit to Get US Credit Cards.
Then, when you're ready, make your first application through Nova Credit's website.
Global Transfer
Amex Global Transfer is another service that is offered directly by American Express. It is primarily designed to help individuals who are moving to a new country and wish to maintain their American Express card membership and credit history.
Amex Global Transfer only considers your credit history with American Express, not with other issuers or credit bureaus at large. To be eligible you must have an open American Express credit card in good standing for at least three months (ideally longer) in your home country.
Global Transfer is a useful option to consider, particularly if you encounter issues applying with Nova Credit.
Learn more: All About American Express Global Transfer: Canada to the USA
Step 6: Build Your US Credit History
Once you have your first credit card in hand, the hardest part is over. Now, it's a waiting game to allow your credit profile to mature.
While there aren't exact timelines for how long you should wait, after about 3-6 months, you should have a numerical credit score in the US, and Amex will generally approve you for more credit card applications at this point.
Generally speaking, it will take a longer time horizon for other issuers to start approving you, as they are more stringent with 'fresher' credit profiles. Chase is typically only accessible after a minimum of 12 months and up to 24 months and beyond, if you're unlucky.
In the meantime, there are a few actions you can take that will help with your credit-building journey:
If you want more details about how to build your credit history fast, consider reading our comprehensive article: How to Build Credit History in the US, for Canadians.
Step 7: The World (of US Credit Cards) is Your Oyster
Once enough time has passed from opening your first US credit card and maintaining a history of on-time payments, you can start to think about the next steps toward branching out into the US credit card market.
Aside from American Express, many other US credit card issuers can be accessed via ITIN and have lucrative points currencies, namely Chase, Capital One, Citi, and Bank of America.
Related: Which US Banks Allow Canadians to Apply for Credit Cards Using an ITIN?
Chase credit cards are industry-leading, but restricted by the '5/24' rule which means Chase won't approve you for a card if you've opened more than 5 personal cards in the last 24 months. On the other hand, Chase also has business credit cards which can offer up to 90,000 Chase Ultimate Rewards points for no annual fee and won't count for 5/24!
Related: Applying for a Chase Business Credit Card: A Guide for Canadians
Then you have Capital One and Citi which both offer flexible points currencies in Capital One miles and Citi ThankYou points and can be transferred to numerous airline programs at favorable rates. The Capital One Venture X and the Citi Premier cards are standouts. I had luck getting approved for the Citi Premier early on in my US credit card journey, but have heard Capital One is stringent with approvals, requiring up to 3 years of credit history and less than 2 applications in the prior 6 months.
Finally, don't forget about Bank of America which has co-branded credit cards earning Alaska Airlines Mileage Plan miles and Air France/KLM Flying Blue miles. This has become one of the last remaining ways to earn Alaska Miles reliably.
As with the Canadian market, there is an abundance of choice that allows you to craft your own strategy for earning the points and miles most useful to you. For me, this 'choose-your-own-path' aspect is what makes travel hacking both fun and rewarding!
Now with access to US credit cards, you have many more tools in your toolbox for creating unique travel redemptions to wherever your heart desires.