Canadians have many options when it comes to their banking needs. Whether a customer prefers a brick-and-mortar traditional bank chain or a digital-only bank, there is a multitude of options available in the financial landscape.
At Frugal Flyer, we tend to skew towards preferring online banks, like EQ Bank. Naturally, I thought it would be worth taking a deeper dive into the products that EQ offers since they have some unique offerings when it comes to Canadian banks.
Let's dive into our EQ Bank review.
What is EQ Bank?
EQ Bank is an online-only digital bank and a relative newcomer to the Canadian banking industry. Their main competitors that come to mind would be Tangerine and Simplii. Unlike Tangerine and Simplii, which are owned by big banks Scotiabank and CIBC, EQ Bank is owned by Equitable Bank, operating primarily as a real estate lender.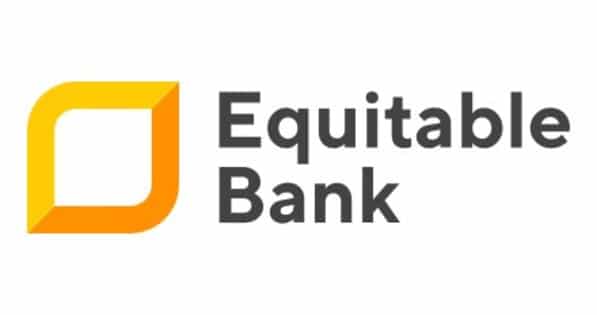 I am personally a big fan of online banks and prefer to do most of my banking through Tangerine. While having at least one chequing account with a financial institution that has physical branches is generally a necessity for accessing certain bank services (like money drafts for example), the large majority of banking can be done remotely. Ultimately, I find that the online-only banks are by-design, better for online banking than their brick-and-mortar counterparts.
Aside from that, customer service and interest rates are high on most people's lists when it comes to selecting a bank. In that regard EQ Bank fits the bill, having jumped onto the scene with its flagship product, the Savings Plus Account. The Savings Plus account offers one of, if not the most competitive interest rates in Canada.
Let's review all that EQ Bank has to offer.
EQ Bank Accounts
In addition to a basic savings account, EQ Bank also offers joint accounts, US dollar accounts, and investment accounts including TFSA, RSP, and GIC.
| Account Type | Product | Features |
| --- | --- | --- |
| Savings Account | Savings Plus Account | 2.50% interest rate with no monthly fees, no minimum balances and free transactions. |
| Savings Account | Joint Savings Plus Account | Easy-to-setup joint account with up to 3 people. |
| Savings Account | US Dollar Account | 1.00% interest rate on USD balance with no monthly fees and competitive exchange rate. |
| Investment Account | TFSA Savings Account | Same interest rate as the savings plus account, but in a tax-sheltered account. |
| Investment Account | RSP Savings Account | Registered savings account. Same interest rate as the savings plus account, but in a tax-sheltered account. |
| Investment Account | GIC | Higher rate GICs available for various periods of time. Available in registered (TFSA, RSP) or non-registered accounts. The interest rate is currently 3.15% for a one-year GIC. |
Savings Plus Account
EQ Bank's Savings Plus Account is a highly flexible account that is great for parking cash at a decent interest rate. Additionally, although EQ Bank doesn't have checking accounts available, the Savings Plus account does offer many features typical of checking accounts. Most importantly, it has free, unlimited Interac e-Transfers and free bill payments.
Furthermore, the EQ Savings account has:
$200,000 Maximum balance (per customer)
No Monthly Fees, account opening or dormancy fees
Free Electronic Funds Transfers (EFT) to external bank accounts
Free EQ to EQ Transfers
Zero Minimum Balance
Cheap International Money Transfers (more on this later)
You can transfer funds easily to other banks with EFT, set up direct deposit, or deposit mobile cheques using your phone camera on the EQ Bank mobile app.

With the High-Interest Savings account, there are no tiered interest rates, and interest is calculated daily on the total closing balance and paid monthly. Rates are per annum and subject to change without notice.
In the past (before COVID), EQ Bank interest rates were as high as 2.50%. This was my go-to place to park my idle cash, whether it be an emergency fund or savings for upcoming purchases. It's better than making 0.10% at TD (but of course still inferior to real equity investments).
Click to learn more and sign up for the EQ Bank Savings Plus account.
US Dollar Account
EQ Bank also recently launched a US Dollar account. This is a great place to park US cash that you may have lying around for future US trips, US income you may earn, or for any other means.
Other big banks have USD checking accounts, but for the most part, these have monthly maintenance fees, minimum balance requirements, and/or transaction fees (ahem… looking at you, TD).
Furthermore, most USD accounts are pure checking accounts and don't earn interest.
EQ Bank US Dollar Account blows all of these out of the water with the following features:
Earns 1.00% interest on every dollar
No monthly account fees
Free and unlimited USD to USD transfers within Canada
Fund your USD account using Canadian dollars with a competitive exchange rate (lose about 0.01 basis point)
International money transfers using USD dollars via Wise (no hidden fees, only pay Wise variable rate and no bill pay/debit fee)
Deposits protected by Canada Deposit Insurance Corporation (up to $100,000 across all EQ accounts)
The 1.00% interest rate is the biggest draw for anyone with a decent chunk of USD. Even the Tangerine US dollar account only offers a paltry 0.10% interest rate at the time of writing.

EQ Bank Prepaid Mastercard
As of January 2023, EQ Bank has launched its own prepaid Mastercard product.
While there are other prepaid cards on the market, such as the Titanium Prepaid Mastercard and the Wealthsimple Cash Card, the EQ Bank Prepaid Mastercard brings a few unique features to the Canadian market. Most notable is that you can take advantage of free ATM withdrawals in Canada. If an ATM charges you a fee, EQ Bank will reimburse you within 10 business days.
Other features include earning 0.5% cash back on all purchases and no foreign exchange fees, monthly fees, or other hidden fees.
Other Unique Features of EQ Bank
Wise for Currency Conversion and International Transfers
EQ Bank has a unique partnership with Wise, which allows you to send fast money transfers internationally. We've discussed Wise previously in the context of converting CAD to USD for paying US credit card bills.
Related: Review of Wise Visa Platinum Prepaid Card
You can actually send money to the US in two ways using Wise from your EQ Bank dashboard:
Convert CAD from your Savings Plus Account to USD and send it to a US-domiciled account
Send USD from your US Dollar account to a US-domiciled account
To send international transfers, click 'Transfers' and then 'Send International Transfer'. On the next screen, you'll select 'Send Now'.

Then you can choose either your EQ Savings Plus/High-Interest account or your US Dollar account, which will determine whether you're transferring CAD to USD or just sending USD to USD via Wise.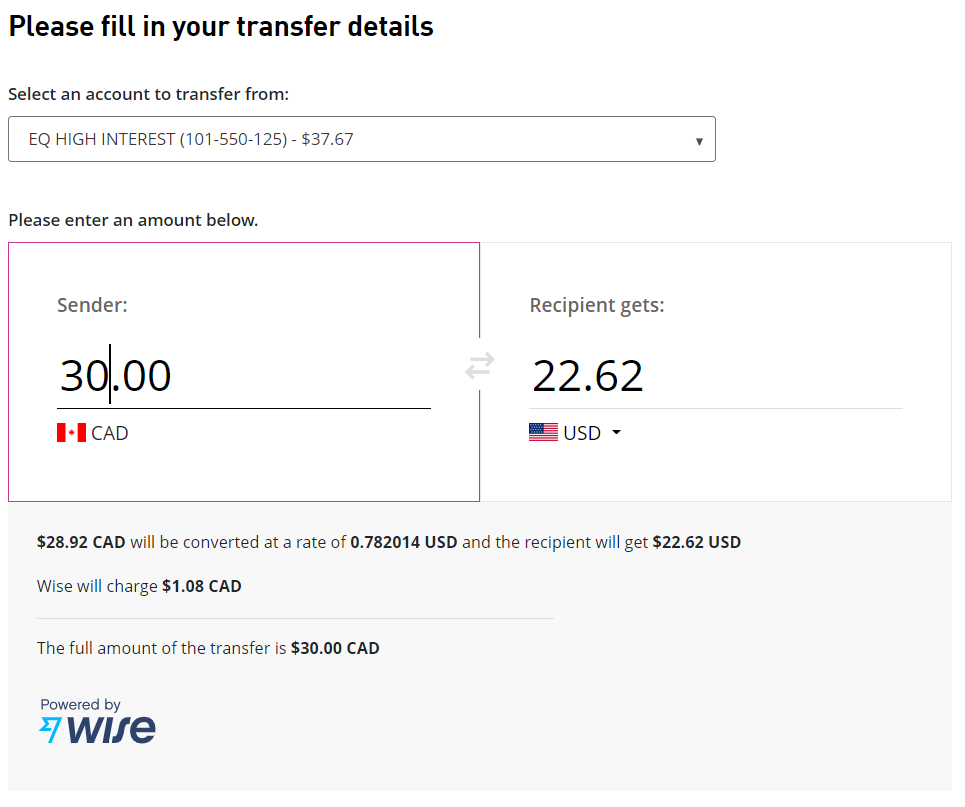 For me, I encountered a glitch where I was unable to select my US dollar account as the account to transfer from until after I had gone through the process of linking my Wise account to EQ Bank. This was a bit confusing…
After you enter the amount of CAD/USD you want to send and hit next, on the next screen you'll have to select or add the recipient of the transfer, which is where you'll enter your US bank account information.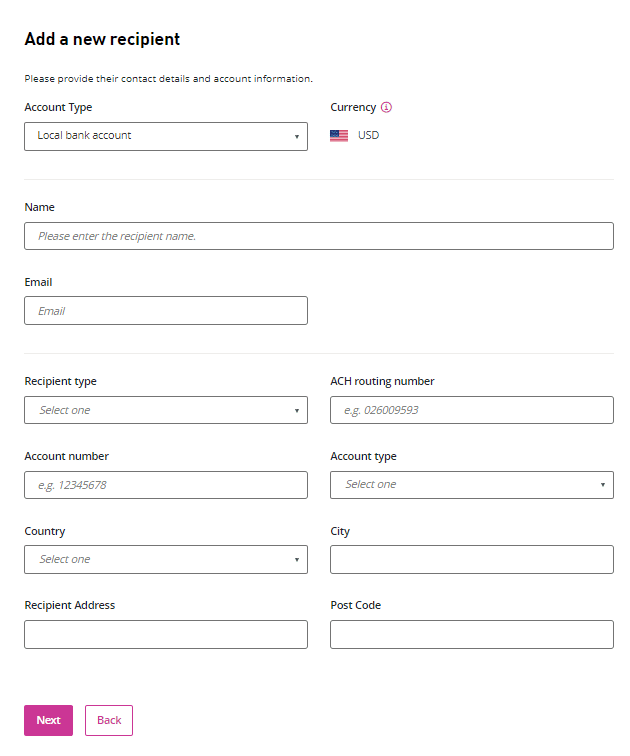 From there you just confirm the transfer information, including the recipient and amount, and submit the transfer. I received an email from Wise confirming the transfer and my money was received in my US bank account only 2 business days later.
Using Wise via EQ Bank is actually cheaper than using Wise directly, as you save the bill pay/debit fee and only pay Wise's variable rate. The exchange rate given by Wise is transparent and is the real exchange rate. Overall, it's a straightforward method to get USD quickly and one that I use quite often myself for smaller amounts.
Mortgage Marketplace
As EQ Bank's parent company Equitable Bank is primarily in the real estate lending business, it's no surprise that EQ Bank is starting to dip into the mortgage business. They have an interesting new section within the dashboard called the 'Mortgage Marketplace'.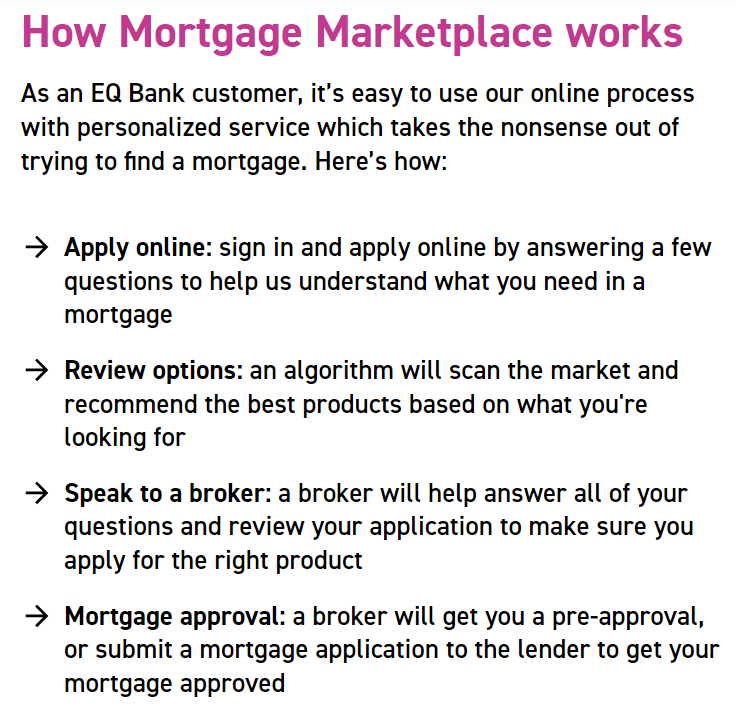 The Mortgage Marketplace is designed to help you find the best mortgage product in Canada that suits your real estate lending needs. This is done through an external mortgage service provider called Nesto, which essentially acts as a virtual mortgage broker to shop rates and mortgage products for you.

As EQ Bank is one of the lending partners of Nesto, it is of course in their interest to have you use this service and potentially wind up using EQ Bank as your mortgage provider.
I won't say too much more about the service, only that I have done my own mortgage shopping before and found MCAP is one of the tightest mortgage providers available in Canada. So the fact that Nesto partners with them is somewhat encouraging.
Nonetheless, there are still a lot of other lenders out there to consider that aren't listed here as partners. If you do use Nesto, I would always recommend shopping around outside of the service and/or through a real, local mortgage broker to make sure you're getting the best (and most frugal) product for you.
How to Open an EQ Bank Account
Opening a Savings Plus Account with EQ Bank is very straightforward. To be eligible you must:
Be a Canadian resident
Be at least the age of the majority in your province
Have a Social Insurance Number
First, go to the EQ Bank website and click "Join Now".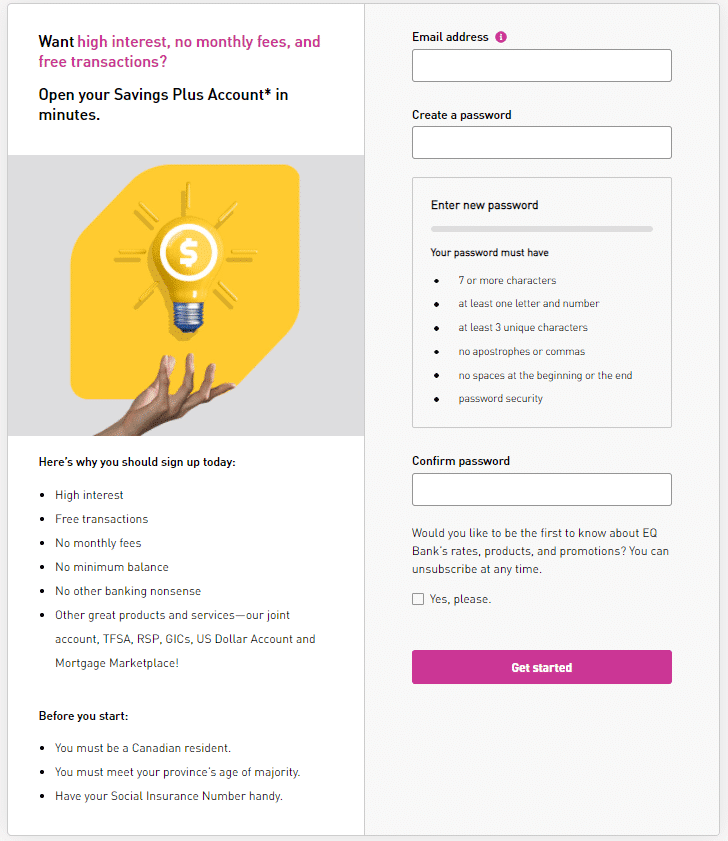 You will be prompted to provide basic contact information, name, address, phone number, and your social insurance number.
After EQ Bank does a soft inquiry to check your provided details, you will then go through the rest of the account setup (three security questions, etc), and be given final confirmation and prompted to sign in for the first time.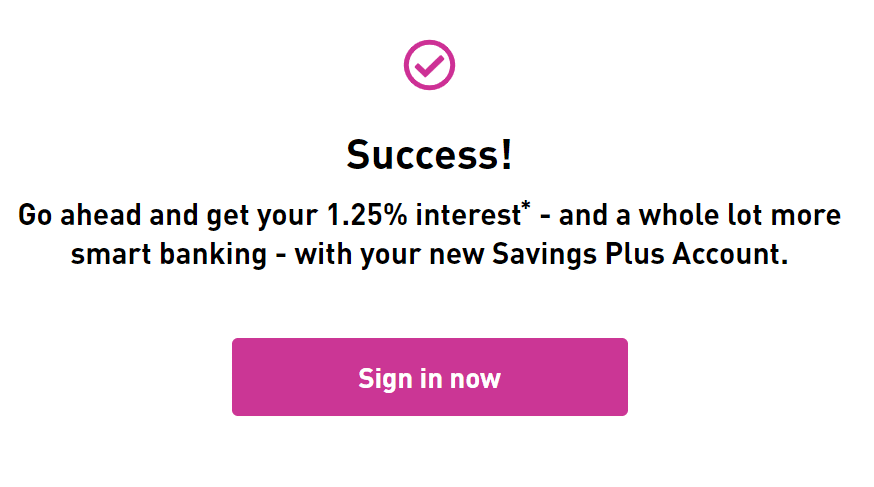 How to Open EQ Bank US Dollar Account
Setting up a US Dollar account with EQ Bank is very simple.
Before you open the US Dollar account, you must first open the Savings Plus Account online.
Once your EQ Bank Savings Plus Account is open, log in to your dashboard, select Products, and then US dollar Account.

The process will only take a few minutes in total.
EQ Bank Customer Service
As an online-only bank, there are no EQ Bank branch locations that you can visit yourself.
If you need customer support, you can talk to a representative on the phone, through live chat, or via email from 8 AM to midnight Eastern Time (ET), 7 days a week.
This is better availability than most brick-and-mortar banks out there. This is no surprise as online banks tend to be able to provide greater quality and quantity of online customer service due to the low overhead they derive from not having branches.
In my few interactions with EQ Bank customer support, I've found the representatives knowledgeable and effective in their service.
If you have dealt with EQ Bank customer support, let us know your experience in the comments section!
Conclusion
EQ Bank and the EQ Savings Plus account is a good online-only bank account for anyone looking to maximize their return on otherwise idle cash. The account has nice features that make it almost a hybrid between a checking and savings account.
There are no fees to move your money around to an external bank account which is a major plus, as there tend to be fees with other high-interest savings accounts. Other pluses include no costs for interbank transactions, e-transfers, and the like. No monthly fees makes them a big winner in our books.
For anyone sitting on idle US dollars, the EQ US Dollar account is the highest interest rate available in Canada. It also gives you a good and easy route (albeit not the absolute cheapest) to send USD abroad through its partnership with Wise.
If you decide to open up an EQ Bank account, please consider using our affiliate link which provides us with a small commission that helps us to continue producing quality content. In return, you will receive $20 once your account has been opened.
Frequently Asked Questions
Are funds held in EQ Bank insured?

Equitable Bank is a member of CDIC and your funds are eligible for deposit insurance.

Is there an EQ Bank debit card?

There is no debit card available for the Savings Plus Account. However, with EQ it is very easy to transfer money to an external account that does have a card attached, and then withdraw cash from there.

Is EQ Bank available to residents of Quebec?

Unfortunately no, Quebec residents are unable to use EQ Bank.

Does EQ Bank have business accounts?

No, EQ Bank does not (yet!) have business accounts, only personal.

Does EQ Bank do a hard inquiry on account opening?

No, EQ Bank does a "soft" credit check — your credit score will not be affected by opening an EQ Bank account. 
Reed is addicted to the art of earning and redeeming travel points, and frequently pairs his trips with his other hobby: photography. Through Frugal Flyer, Reed aims to distill some of the complex and esoteric points strategies into digestible information. Furthermore, he hopes to use his technical expertise to develop invaluable applications and tools for the travel community.
Latest posts by Reed Sutton (see all)