The Scotiabank Gold American Express card earns Scene+ Rewards points and gives cardholders the opportunity to earn 5x Scene+ points on grocery, restaurant, and entertainment purchases. This card charges no foreign exchange fees.
For 2023, we selected this card as the Best Credit Card for Grocery Purchases.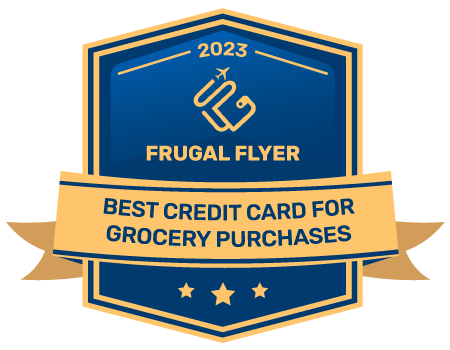 Check out our Scotiabank Gold American Express card review for more details.
Rewards Rates
The Scotiabank Gold American Express card accrues Scene+ Rewards points for all eligible purchases made on the card:
Earn 6 Scene+ points for every dollar spent at Sobeys, IGA, Safeway, Foodland, FreshCo, Voilà by Sobeys, Voilà by IGA, Voilà by Safeway, Chalo! FreshCo, Thrifty Foods, IGA West, Les Marchés Tradition, Rachelle Béry and Co-Op.
Earn 5 Scene+ points for every dollar spent at eligible grocery stores, restaurants, fast food, drinking establishments, food delivery services, food box subscriptions, and eligible entertainment purchases (including movies, theatre, and ticket agencies).
Earn 3 Scene+ points for every dollar spent on eligible gas, daily transit services, rideshare services, and select streaming services.
Earn 1 Scene+ point for every dollar spent on all other purchases.
The 5x and 3x Scene+ bonus points multipliers are applicable on all purchases up to a combined total of $50,000 during a calendar year. Upon reaching the $50,000 threshold, all purchases will earn 1 Scene+ point per dollar spent.
Redeeming Scene+ Rewards
Scene+ Rewards points can be redeemed for travel rewards or towards trip expenses, shopping purchases, statement credits, dining, entertainment, movie tickets, and more.
If you are looking to redeem points, the best value is to apply them against any travel purchase made on your card at the rate of 1 cent per point. This means that you would be able to redeem 10,000 Scene+ Rewards points for $100 in statement credit for trip costs, such as hotel accommodations, flight bookings, or rental cars.
Click to learn everything you need to know about the Scene+ Rewards program.
Benefits & Perks
The Scotia Gold American Express card offers no foreign exchange fees when online shopping or traveling, saving you 2.5% on every transaction that is made in a currency other than Canadian dollars. Cardholders will pay only the exchange rate when completing foreign currency transactions. This makes the Scotia Gold Amex a great card to use when you are abroad since saving the 2.5% foreign transaction fees can add up quickly.
As this card is part of the American Express network, cardholders are also eligible to access American Express offers. These offers can result in money saved at retailers, restaurants, travel, and more. In order to be eligible, cardholders will need to register for the offer they are interested in.
Insurance Coverage
The Scotia Gold American Express credit card offers a strong package of insurance coverages:
Travel emergency medical insurance
Trip cancellation & trip interruption insurance
Travel accident insurance
Car rental theft and damage insurance
Lost luggage benefit
Stolen baggage insurance
Flight delay insurance
Delayed luggage benefit
Hotel burglary insurance
Purchase security
Extended warranty protection
Other Scene+ Rewards Cards You Might Consider