If you've taken the plunge into the US credit card game, or are considering applying for your first US card, one thing you'll need to worry about is how to pay your credit card bills. As US credit cards are billed in US dollars, you might be wondering where to exchange your money since you will need a reliable (and most importantly, cheap!) method to convert your Canadian dollars to US dollars.
Fortunately, there are several low-cost options available to Canadians these days to minimize foreign transaction fees and avoid any hidden fees. These methods can also be used to exchange Canadian currency for other foreign currencies if needed.
The simplest way works only for American Express credit cards, using Simplii Financial bill payment. Otherwise, you'll need to use a forex exchange, remittance service, or something called Norbert's Gambit.
Direct Bill Pay (Simplii / RBC)
If you have a Simplii Financial checking account, the easiest trick to pay off US American Express credit cards is via bill payment. This method can only be used for US American Express cards and not with other financial institutions.
Simply search for bill payee labeled 'American Express Regular'.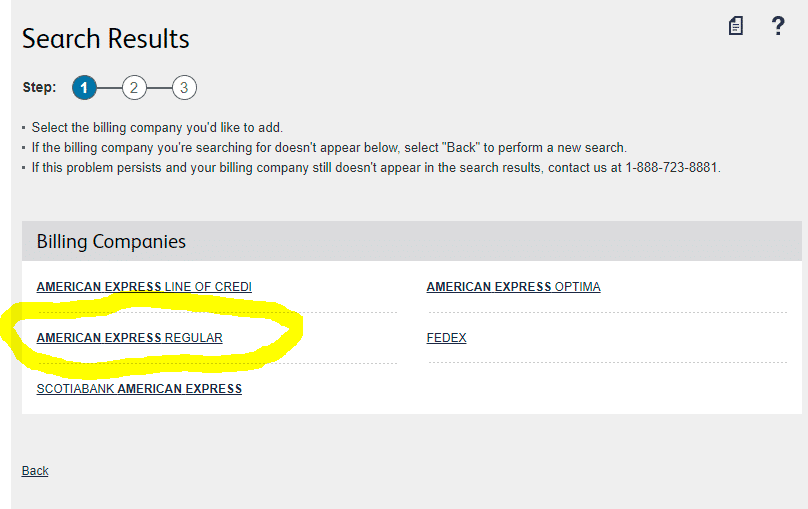 Add your US Amex card number in the account number field and you're good to go.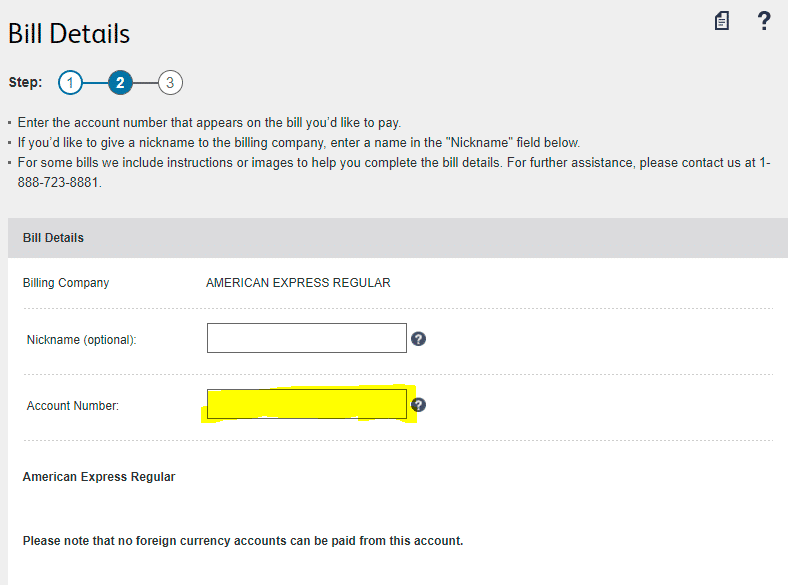 FYI, I also see Chase and Capital One both listed as payees as "MASTERCARD, JPMORGAN CHASE BNK", "MASTERCARD, CAPITAL ONE", respectively. I cannot comment if these work the same way however. If anyone has a data point to share, please do so in the comments below!
If you don't yet have a Simplii account, consider using our referral link and earn up to a $250 welcome bonus when you meet the deposit requirements! Our Simplii Cash Back Visa credit card review shows that it isn't horrible either.
Update November 2021: One of our readers, Jackson, has kindly pointed out that direct bill pay also works with RBC's online system.
CAUTION: Direct bill payments to a US bill payee from a Canadian account cannot be tracked. Therefore, if something does go wrong, you may be S.O.L. Use this method at your own risk.
Foreign Currency Exchanges
If you need to pay off anything other than an Amex, you'll need to venture into currency exchange. Most banks offer currency exchange services but at a very poor rate; we recommend staying away from this as an option.
Instead, there are dedicated foreign currency exchanges (Interactive Brokers (IBKR), Knightsbridge FX, etc) and turnkey exchange services (VBCE, Wise). My personal favorite is Wise for convenience, however, you may get slightly better currency exchange rates using VBCE if doing over $10,000 or IBKR otherwise.
Vancouver Bullion & Currency Exchange (VBCE)

VBCE is a major currency exchange based in Vancouver. They offer a very competitive exchange rate for exchanging Canadian dollars for US dollars, several funding methods, and quick execution (24-48 hours). You also do get a discount (0.20 basis points) if you transfer over $10,000 CAD at one time.
You can sign up for VBCE here. KYC and ID verification will be required.
Depending on your bank, you can transfer funds easily using Bill Payment. Total turnaround for bill payment is 2-4 business days. Other methods include Pre-Authorized Debit (1-3 biz days), or e-transfer (also 1-3 business days). You can lock in your exchange rate prior to initiating your transfer.
Of note, United States dollar funds received via VBCE will need to be deposited into a Canadian domiciled USD account. While transferring them across borders is possible, this would incur a wire transaction fee with VBCE, and possibly a receiving wire fee at the receiving bank as well.
Having a Canadian USD checking account paired with a cross-border account is ideal, for example TD Canada USD Checking and TD US Convenience Checking, BMO Canada and BMO Harris Bank, etc. Then you can freely transfer USD from the Canadian bank to the US-domiciled one.
Wise (formerly TransferWise)
Wise (formerly known as TransferWise) is an international remittance service, and probably the most convenient method to transfer currency available. This is the method I use to convert CAD to USD to pay off my US-based credit cards as Wise makes it simple to exchange CAD for other currencies.
While it does have transaction fees ($0.95-2.50 CAD fixed fee + 0.52% variable), I've found it to be quite cheap compared to other remittance options (eg. WorldRemit, Western Union, etc). Wise charges the mid-market rate (or real exchange rate) with no hidden fees in the spread.
With Wise, you can transfer directly from your Canadian dollars to United States dollars in your US-domiciled bank account. No need for an intermediate USD account in Canada. Funding methods include bill payment, direct debit, credit card, and domestic wire transfer. Bill payment and direct debit are the cheapest at $0.95 and $2.49, respectively.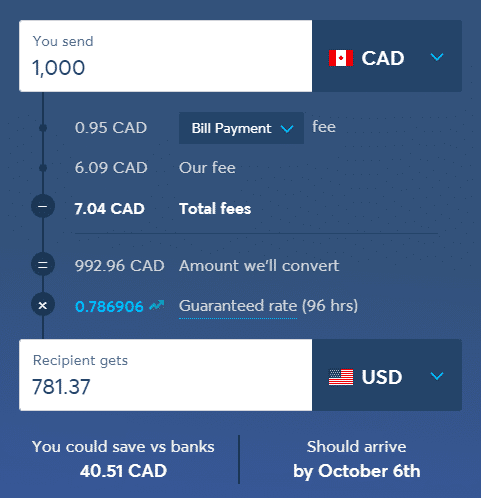 The steps for Wise are straightforward:
Enter the amount of CAD you want to send, or USD you want to receive.
Enter the recipient's bank account information.
Choose a funding method and provide payment. If direct debit, you'll be prompted to link your bank account. If bill payment, you'll be given payment instructions with payee information, reference number, etc. Note that Wise may actually be listed as 'TransferWise' in your bank's list of payees.
Funds usually arrive in 2-4 business days. Wise makes currency conversion a very easy and straightforward process. Wise also offers a prepaid visa card which may be of interest depending on your needs.
Given the conveniences about Wise that we mentioned, it's still a service I use when I need smaller amounts of USD (~$3,000 or less), despite the fact that I have other cheaper methods set up. The convenience is worth the small extra cost at these amounts.
Update: I've recently learned that EQ Bank has a partnership with Wise, which allows you to send money directly from your EQ Bank account to a US-domiciled bank. Doing this through EQ Bank is marginally cheaper, as you save the bill pay/debit fee and only pay Wise's variable rate.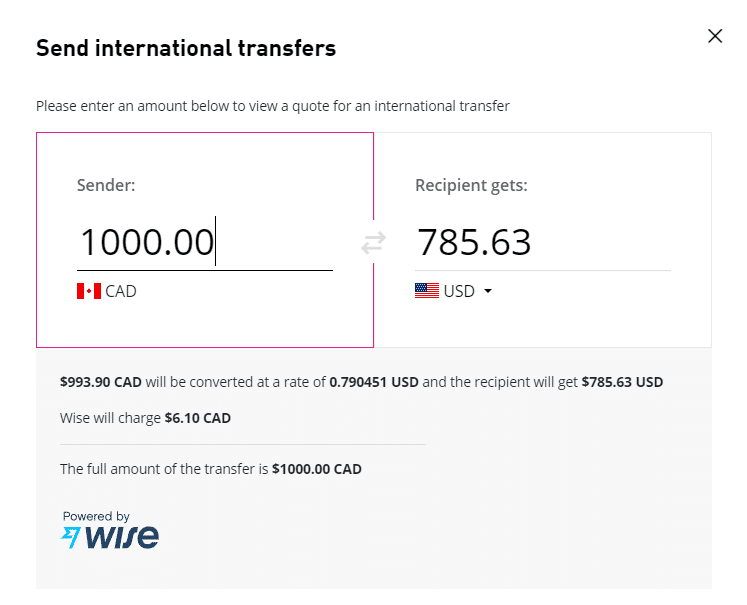 Interactive Brokers (IBKR)
Interactive Brokers (IBKR) is a major multinational stock, options, futures, and currency trading exchange. As such, it enables you to make real market trades on CAD <-> USD, and have the greatest control over the exchange rate you are getting.
However, as a real brokerage account, IBKR is a bit more involved to set up. You must be comfortable using their interface to place a forex trade on the open market.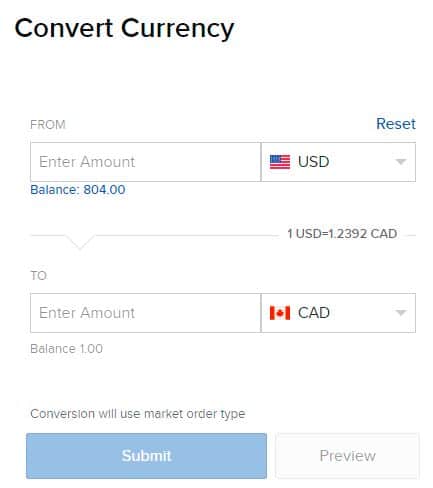 From there, just submit a withdrawal request and you will be prompted to enter your USD checking account information. Note that you only get one free withdrawal per month, and then it costs 1 USD per.

IBKR is ultimately slower to use for currency conversions because of the funding and withdrawal process. It's not really designed specifically for converting and withdrawing currency frequently. Turnaround time can depend on your bank too. For example, RBC Bank USA is not on the electronic transfer list, so takes 1.5-2 weeks total turnaround time with them.
Also of note, IBKR compliance actually frowns upon using their accounts exclusively for currency conversion (ie. non-investment purposes). Datapoints suggest you may be issued a warning if you do too much or at too large a scale. Something to keep in mind.
Xe.com
Xe.com (Xe) is a Canada-based foreign exchange services company offering international money transfers, and other currency-related services.
The exchange rates offered by Xe are very competitive, and the system is straightforward to use for sending currency from Canada to USA.
You can choose from a variety of funding methods, including Direct Debit EFT (no fee), bank transfer (no fee), debit card (~1% fee), and credit card (~1.5% fee). The USD can be sent directly to your US bank account seamlessly.
Norbert's Gambit
One final method involves something called Norbert's Gambit. The premise is this: you buy a stock which is listed with both CAD and USD counterparts. Once you own the Canadian version, you can request to have the stock 'journaled' to the USD-denominated stock. As a result you only pay whatever the trading fees are on buying/selling the stock ($5-10 USD). For large amounts of currency (>$1000-2000), this is quite favorable.
Norbert's Gambit can technically be done with any exchange, and with many different stocks, however the best one to use is Horizons US Dollar Currency ETF (DLR.TO). I personally use Questrade for this purpose. As of 2021, National Bank Direct Brokerage and Desjardins Online Brokerage are actually better choices as they have waived all trading commissions.

The basic process is as follows:
Determine # of DLR.TO shares to buy based on desired amount of currency to convert.
Buy DLR.TO during trading hours (use limit order at bid price if you don't want to pay ECN fees – these are pretty minimal regardless, so if you want immediate execution just use a market order / limit order at ask price).
Journal your DLR.TO shares to DLR.U.TO shares – call, email, or live chat with a Questrade rep to do this.
Make sure currency settlement settings (Account Management) are set to "currency of transaction".
Sell your DLR.U.TO shares to USD (again decide if you want to pay ECN fees for immediate execution at bid price, or sell at ask price or higher with limit order).
You're done! Now you can transfer the currency out to wherever you need it.
There are more in-depth guides online to doing this conversion, if you require, such as Wealthsavvy.ca.
All Methods Compared
| Method | Summary | Pros/Cons | Type | Conversion Fees (CAD) | Fees per $1,000 | Fees per $2,000 | Fees per $5,000 |
| --- | --- | --- | --- | --- | --- | --- | --- |
| Simplii | Simplii lists Amex as a bill payee, so you can send CAD to a US CC and it will be converted to USD at the Amex rate. | Very easy method, but only works with Amex, and must have a Simplii checking account. | Direct Bill Payment | None, converts at Amex fx rate. | None | None | None |
| VBCE | Turnkey currency exchange service, no fee but charges a spread. | Fast (2-3 business days), but must receive funds to a Canadian USD checking account. | Forex Exchange | Spread | None | None | None |
| Wise | International remittance service, offering mid-market rates. | Fast, convenient, and can transfer directly to a US domiciled bank. Higher fees. | Forex Exchange | $0.95-2.49 fixed fee + ~0.52% variable | $7.60 | $12.84 | $28.44 |
| IBKR | Full-service trading brokerage which includes forex trading. | Full control over exchange rate, no fees, but delay in sending and receiving funds, and requires manually placing a trade. | Forex Exchange | Spread | None | None | None |
| Questrade | Norbert's Gambit – buy a stock in CAD on the TSX and have it journaled to a USD equivalent where you can sell it for USD. | As low as 0.2% conversion fee, but involves many steps and takes about 5 business days for the entire process. | Stock Trade | $5-10 fixed | $5-10 | $5-10 | $5-10 |
Example of Currency Exchange Transactions
I have used all five methods discussed above at different times. The following table shows the rates and total USD received with each method on a $1000 transaction. Of course, exchange rates vary by the day, so we've used the historical daily high and low rates for CAD/USD from Investing.com to get an approximate rate for comparison across all methods.
| | | | | | |
| --- | --- | --- | --- | --- | --- |
| | SIMPLII | VBCE | WISE | IBKR | QUESTRADE |
| Date of transfer | Sept 7 / 21 | Oct 01 / 21 | Sept 03 / 21 | Oct 31 / 21 | June 12 / 19 |
| USD received for $1000 CAD | $796.50 | $783.09 | 787.75 | 805.14 | $750.72 |
| Given rate | – | – | 0.79334 | 0.80730 | |
| Effective rate after fees | 0.7965 | 0.78309 | 0.78775 | 0.80514 | 0.75072 |
| Daily low on CAD/USD | 0.7901 | 0.7850 | 0.7960 | 0.8073 | 0.7493 |
| Daily highon CAD/USD | 0.7989 | 0.7920 | 0.8005 | 0.8081 | 0.7535 |
| Min rate discrepancy | +0.0064 | -0.00191 | -0.00825 | -0.00216 | +0.00142 |
| Max rate discrepancy | -0.0024 | -0.00891 | -0.01275 | -0.00296 | -0.00278 |
Conclusion
Choosing a money conversion service is a balancing act between convenience (both in procedure and lead time) and cost minimization. For paying American Express USA credit card bills, consider using direct bill pay via Simplii Financial or RBC. If you need USD and aren't paying Amex, or don't have Simplii/RBC checking accounts, then it depends on the amount of currency you're looking to convert and your desire for convenience.
Wise provides the most direct and timely route as they send USD directly via ACH. It's my choice when I'm needing anything under $1000-$1500 in USD. On the other hand, if I know I have a card with a minimum spend of several thousand upcoming, I'll start a transfer with IBKR. Of course, this involves more steps as I have to go from: TD Canada CAD Account -> IBKR -> TD Canada USD Account -> TD USA Account.
The cost difference between IBKR, Questrade, and VCBE is minimal. However, I do find the journaling process for Norbert's Gambit to be a bit of a pain. On the other hand, if you have a brokerage account with National Bank or Desjardins, these become the most cost-effective currency exchange vehicle.
Reed is addicted to the art of earning and redeeming travel points, and frequently pairs his trips with his other hobby: photography. Through Frugal Flyer, Reed aims to distill some of the complex and esoteric points strategies into digestible information. Furthermore, he hopes to use his technical expertise to develop invaluable applications and tools for the travel community.
Latest posts by Reed Sutton (see all)