Here at Frugal Flyer, we really love prepaid spending cards for the opportunities they provide to us as churners. For example, Mogo and Revolut, both offer prepaid cards and they were incredibly lucrative when it came to taking advantage of manufactured spending loopholes. 😉
One new prepaid credit card on the scene is Wealthsimple Cash. In addition to being a prepaid Visa card, it also serves as an all-in-one cash management and savings app.
Let's dive into our Wealthsimple Cash review.
What is Wealthsimple?
Wealthsimple itself is a fast-growing investment and wealth management platform in Canada. It was founded in 2014 and is headquartered in Toronto. It currently has more than 2 million users and manages more than 9.7 billion Canadian dollars in assets. Wealthsimple's main products are:
Wealthsimple Invest: Robo-advisor and investment management platform, like Questrade's QuestWealth.
Wealthsimple Trade: Online securities trading brokerage, self-directed with zero commission fees (first in Canada). I consider them to be the Robinhood of Canada, although they don't have options trading.

Wealthsimple Crypto: an arm of Wealthsimple Trade that offers cryptocurrency trading and custodianship.

Wealthsimple Tax: Free online tax filing platform (the original SimpleTax), very similar to TurboTax. I've used this software and it's actually quite good for simple returns.
I've been a big fan of Wealthsimple's line of financial products for some time, especially Wealthsimple Trade for their free commissions. I even own stock in Wealthsimple's parent company, Power Corp ($POW). So I was excited to hear when they were launching the Wealthsimple Cash product.
Without further ado, let's see what it's all about.
What is Wealthsimple Cash?
The Wealthsimple Cash account is used for daily spending or for sending money to other app users (similar to Venmo or Cashapp).
Some highlights of what the Wealthsimple Cash account has to offer:
No monthly fees, annual fees, or minimum balance or deposit requirements
A physical card: Wealthsimple Cash Card (issued by People's Trust Company)
A virtual/digital Visa card (not disposable)
Interac e-transfer to non-Wealthsimple cash users
No foreign transaction fees (FX fees); the currency exchange rate is based on VISA's rates
No ATM fees to withdraw cash from ATMs within/outside of Canada. The counterparty bank ATM may still charge.
Available with Apple Pay and Google Pay
Canada Deposit Insurance Corporation (CDIC) insures all deposits made to this account
While there isn't a lot here that currently distinguishes Wealthsimple Cash from other prepaid credit cards, Wealthsimple is constantly releasing new features on a rolling basis. Below are some rumoured or planned features for Wealthsimple Cash:
Accept payroll direct deposit
Bill payments, and pre-authorized debits
Tungsten metal card
Earning with Wealthsimple Cash: 1% Cashback
Update Nov. 29, 2021: Wealthsimple Cash announced changes to its rewards structure. Starting today, it will earn 1% on ALL purchases. The 5% weekend boost on eats and drinks ended as of February 28, 2021. We enjoyed it while it lasted!
Wealthsimple Cash has a current offer where you get 5% cashback on restaurants, bars, and food delivery purchases, but only if they occur on weekends. Weekends are defined as between 12:00am EST on Friday and 11:59pm EST on Sunday.
Eligible stores need to use the following Visa merchant category codes (MCC):
5812 – Eating Places and Restaurants
5813 – Drinking Places
5814 – Fast Food Restaurants
5499 – Convenience Stores and Specialty Markets
The 5% 1% cashback is deposited into your cash account within 7 working days after spend, although you can see the cashback almost immediately after a purchase on your Wealthsimple card has been completed (or as soon as the transaction is confirmed).
Other Unique Features of Wealthsimple Cash
"Split the bill"
This peer-to-peer payment feature allows you to easily request and receive money instantly from multiple contacts at once. You enter the total bill amount and the app automatically divides the amount by your selected number of contacts.
Groups
Groups is a simple way to send and request money from friends on an ongoing basis. You can add friends or roommates to the group and easily request or send money between everyone.
Once a group is created, it will be bookmarked at the top of your 'Send or request' page (the page that appears after you tap the $ icon.
Groups pairs nicely with the "Split the bill" feature. You can request money from multiple members including yourself, enter the total bill, and it will automatically calculate the split cost.
"Invest your rewards"
This new feature I actually predicted. It just makes sense for Wealthsimple to make it easy to transfer your cashback to their other line of products.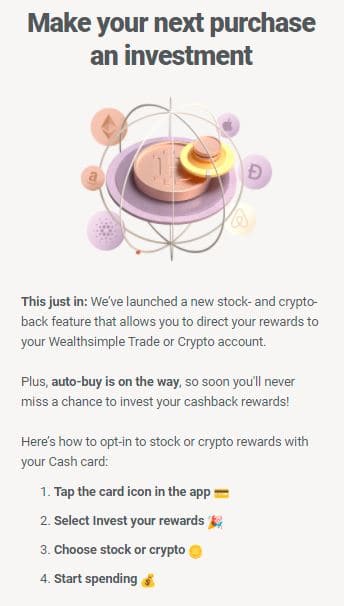 'Invest your rewards' is simple – instead of your earned cash back being deposited into your Wealthsimple Cash account, it will go to your Wealthsimple Trade account. You can choose from any investment account type you have: Personal, RRSP, TFSA, or crypto. The amount will be deposited as cash.
I currently have my Wealthsimple cash set to add cashback to my personal trading account. To do so it's very simple. Just click the Cash card symbol in the Wealthsimple Cash app and select "Invest your rewards".
The 'invest your rewards' feature is convenient, as it saves having to withdraw the cashback and transfer it – which most people would probably bother to do anyways. Automated saving is a common theme we are seeing with fintechs, including Koho, Brightside, Moka, and so on.
But with Wealthsimple I think it could be taken further if you could select a particular stock (fractional) or crypto to be automatically purchased with the rewards, weekly. This is consistent with the idea of 'dollar cost averaging', or DCA, which is popular in many online investing and crypto communities.
Interac e-Transfers
This feature was in the pipeline for a while, and Wealthsimple has delivered.
Now after tapping spend, you have the option to Email money via Interac e-Transfer to anyone. Very useful for making transfers to people who aren't on the Wealthsimple Cash app.
There are no fees to send e-Transfers with Wealthsimple Cash, however, there are limits.
| | |
| --- | --- |
| Daily send limit | $1,000 CAD |
| Weekly send limit | $2,000 CAD |
| Monthly send limit | $5,000 CAD |
Any e-Transfer sent by Wealthsimple Cash will require a security question and answer for the first time. Wealthsimple cannot detect if a recipient has auto-deposits enabled, however, money will still be auto-deposited if they do.
Adding Funds to Wealthsimple Cash
Adding funds to your Wealthsimple account is very straightforward. There is currently only one method available – direct debit from a linked bank account. Wealthsimple uses PLAID, a well-known API for fintechs to move funds between banks safely and securely.
You will enter your bank info once, and then be able to add funds near instantly from that account on demand.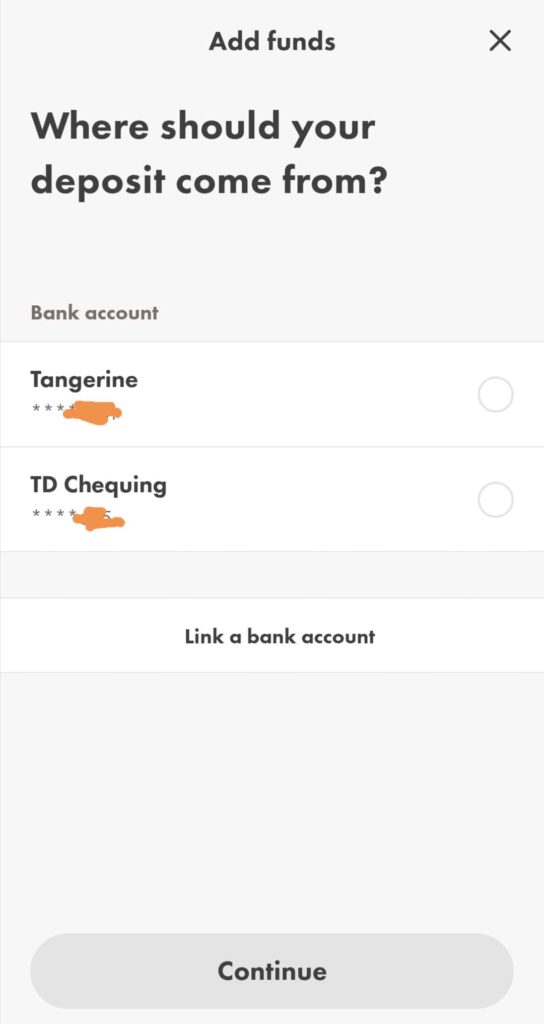 Sending Money to Contacts on Wealthsimple Cash App
It is easy to send money instantly in the Wealthsimple cash app. Right when you log in, you will see a row of contacts and a large '$' button. Tap it to send or request money from someone. You can find them by name, phone number, or their $ign (which is a short unique nickname that Wealthsimple also lets you set for yourself).
This feature is meant to be as simple as possible and similar to the use case of Alipay or WeChat.
How Does Wealthsimple Cash Compare to Other Canadian Prepaid Cards?
| | Brightside* | Koho | Mogo | Stack | Wealthsimple |
| --- | --- | --- | --- | --- | --- |
| Network | Mastercard | Visa | Visa | Mastercard | Visa |
| Issuer | ATB Financial | People's Trust | People's Trust | People's Trust | People's Trust |
| Rewards | $1 top-ups | 0.5% cashback | None | None | 1% cashback |
| Savings Features | Yes (buckets, scheduled savings, roundups) | Yes (roundups and saving goals, full savings account) | No | Yes (roundups and saving goals) | Yes ('invest your rewards') |
| Monthly Fee | $0 | $0 or $9 for premium | $0 | $0 | $0 |
| ATM Fees | Free | $2-3 (1 free exchange/mo with premium) | $1.50 domestic, $3.00 international | Free | Free |
| P2P Cash Transfers | No | No | No | Yes | Yes |
| Bill Payments | No | No | No | Yes | No |
Brightside was shut down in March 2022. RIP.
Wealthsimple Cash Referral Program
Wealthsimple Cash has an account opening bonus and referral program. If you use a friend's code to open an account, both parties can get a $10 cash bonus. If you need it, you can use Frugal Flyer's promo code: 3ZTMRL.
After the account is opened, you will have your own referral code to share with your friends.
Conclusion
Wealthsimple Cash is a good-looking product so far. Its features and lack of fees make it competitive with other reloadable prepaid cards offered by other financial institutions in the Canadian market. What really stands out though is its cash back rewards, no foreign exchange fees, and seamless person-to-person cash transfer capabilities.
It's also nice to see Wealthsimple adding synergy between Cash and its other products like Trade/Crypto. I'm optimistic that they will continue to innovate and build on the product, such as how they have with the Wealthsimple Save account. If they do, they could very well become the defacto prepaid spending card for Canadians.    
Reed is addicted to the science (and art) of earning and redeeming travel points, and frequently pairs his trips with his other hobby: photography. Through Frugal Flyer, Reed aims to distill some of the complex and esoteric points strategies into digestible information. Furthermore, he hopes to use his technical expertise to develop invaluable applications and tools for the travel community.
Latest posts by Reed Sutton (see all)