An individual taxpayer identification number (ITIN) is key to exploring US credit card issuers outside of American Express. This includes Chase, Citi, Capital One, and Bank of America.
It's often hypothesized by experts in the miles and points game that having existing banking relationships (i.e. an open checking or savings account) greatly improves your odds of being approved when applying with these issuers, in particular Chase. If you are new to the idea of US bank accounts, you might also want to consider looking into the best US bank accounts for Canadians.
The challenge of course is that to open a US bank account, you generally need to visit the branch in person. I was personally able to open a Capital One account online, but this did take some effort to push through.
Recently, my friend and I decided to take a little road trip from Vancouver, BC to Seattle, WA to try our luck at opening bank accounts at both Chase and Bank of America. It is often said that opening a Chase Bank account as a Canadian is a good way to strengthen your relationship with them for future credit card applications. We reasoned that we would also try our hand at applying for credit cards at each bank at the same time.
Fortunately, we were successful in opening these American bank accounts and credit cards at both banks! What follows is our experience and data points we gathered going through the process.
Opening a Chase Bank Account as a Canadian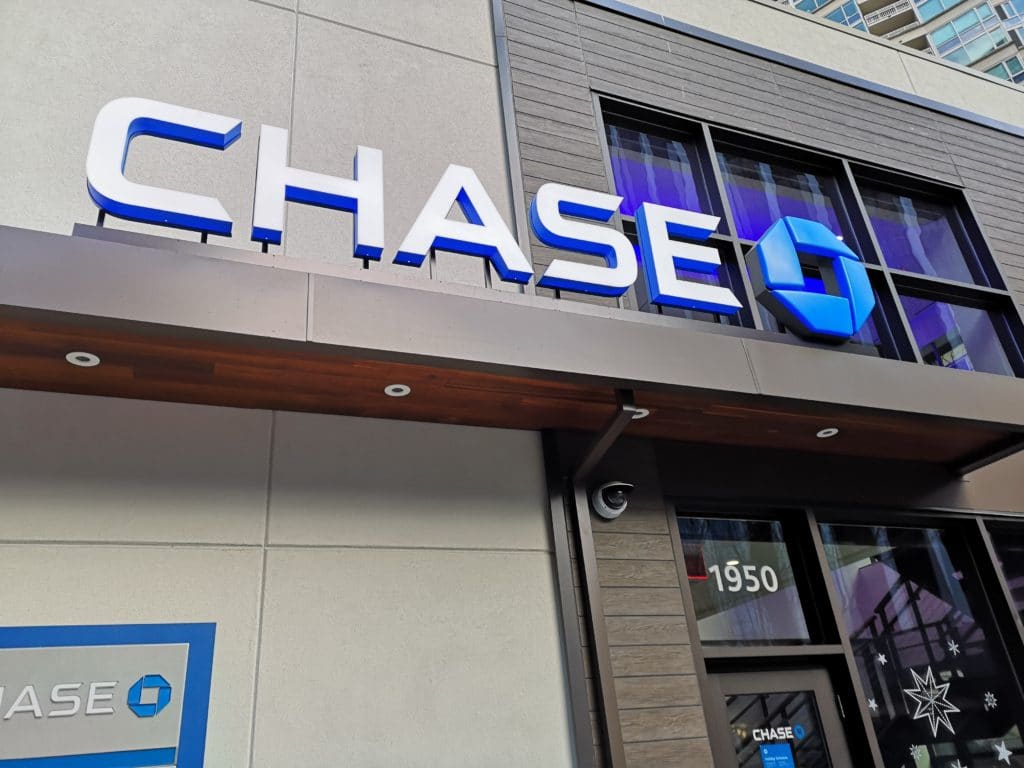 Chase Appointment Booking Process
Chase had a very straightforward booking process using an online form on their website.
There was a Chase branch right across from my hotel (Marriott Westin Seattle), so I searched that location and was able to nab an appointment on Saturday at 10 AM.
A calendar event was automatically added to my Google calendar along with the branch advisor's name: Jonah Rushing.
Chase Bank Accounts of Interest
We were really only interested in a very basic account to start a relationship with Chase. The following are the most basic checking and savings accounts offered.
Basic everyday checking account
In branch $250 signup bonus offer (has direct deposit requirements)
Monthly fee of $12 USD
Fee waived if the account has a $1,500 minimum daily balance
Chip and pin debit card provided
Most basic savings account
No signup offer in-branch
Monthly fee of $5 USD
Fee waived if $300 minimum daily balance maintained
Debit card with chip/pin technology
We had some chit-chat about the different accounts with Jonah, our personal Chase banking representative, and ultimately elected to open only one account, the Chase Savings account.
Note: They will only mail you debit card/atm cards when opening accounts in the US, unlike Canadian banks which can issue the cards at the branch.
Required Documents
We were only asked to present the following when setting up our Chase bank accounts as non-resident aliens:
Passport for identification
Utility bill/ bank statement for address verification
Individual taxpayer identification number
I provided a Google Fi bill which has the address of a friend who forwards my mail for me. My friend provided an actual utility bill (Google Fiber). I do know from other data points that a simple bank statement would have also sufficed.
We didn't stretch the truth too much when opening this account. We just said that we rent a place where we usually stay when doing business or visiting in the US.
We were asked about our presence, including the number of days spent in America in 2021, 2020, and 2019. We stated that we had spent less than 30 days within each calendar year. This answer determines whether you are considered a non-resident alien or meet the substantial presence test – which may prompt the advisor to require further documentation. Ultimately I think it is best to just be honest here.
We were also asked about our investments and mortgages/loans. It's ultimately up to you if you want to provide this. We provided info on Canadian investments but not on debts or mortgages. :/
Result and Overall Experience with Chase
In about 40 minutes, Jonah was able to open two bank accounts for us. The process was very smooth. After each bank account was opened, we went to the teller and completed the initial deposit of $300 to meet the account fee waiver requirement.
Jonah was phenomenal and we highly recommend going to him if you end up opening your US bank account in Seattle and have the opportunity.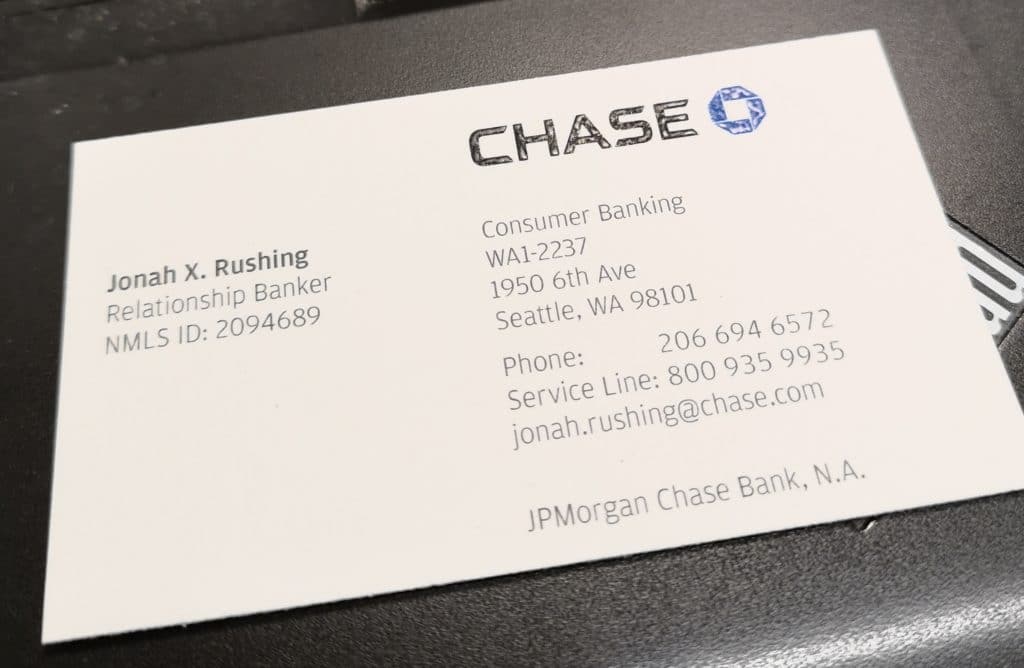 Opening a Chase Credit Card In-Branch
After getting the accounts set up, my friend decided to try his luck immediately applying in-branch for a credit card.
He chose to apply for the Chase Sapphire Preferred (CSP), which is the same card I have.
Chase Sapphire Preferred
The Chase Sapphire Preferred card is a credit card that earns Chase Ultimate Rewards points and is available to individuals in the United States.
Check out our Chase Sapphire Preferred card review for more details.
BONUS
60,000 Ultimate Rewards
MINSPEND
$4,000
ANNUAL FEE
$95
FOREX FEES
No
EXPIRY
–
Interestingly, the offer is different in-branch. The welcome bonus was still 60,000 Ultimate Rewards, but the annual fee was waived for the first year. Additionally, a referral cannot be used in-branch.
The application only took about 10 minutes, and the questions asked by the rep were very similar to online applications. After processing, the application went to instant approval!
This is actually an interesting data point, as my friend only had about 5-6 months of US credit history, which is less than what people typically get approved with.
Jonah was even cool enough to get the credit card shipped in 1-2 business days by immediately reporting it 'damaged'.
Related: Applying for a Chase Business Credit Card: A Guide for Canadians
Note: there is a limited selection of cards available to apply for in-branch. For example, the Marriott Bonvoy co-branded cards are not available. From what I could tell, only non-co-branded Chase cards were available to apply for, including Ultimate Rewards cards and cash back earning cards.
Opening a Bank of America Bank Account as a Canadian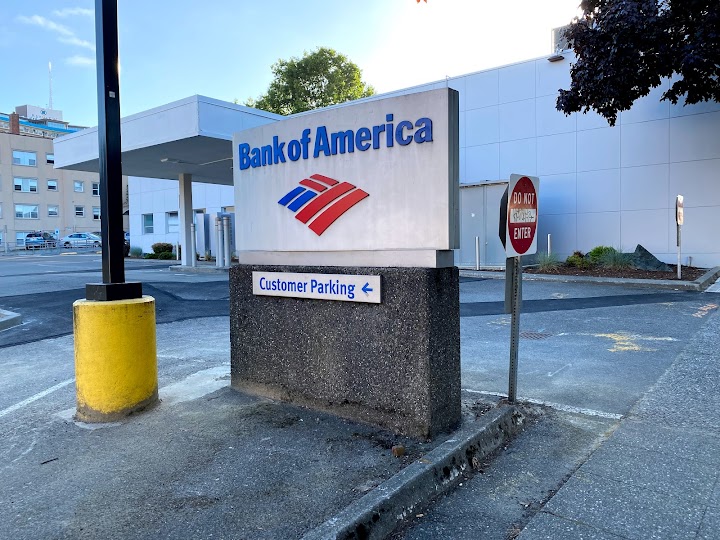 Appointment Booking Process
As with Chase, the appointment can be booked entirely online using their booking tool.
Do be careful when selecting a branch, firstly because the hours of operation are all over the place. Many branches only have one advisor. Our first appointment was cancelled two days before as the advisor had to be out of town that day. There was no other advisor available and somehow this information was not communicated via the booking tool. I would recommend calling to confirm your appointment after booking.
Secondly, I recommend booking at one of the larger branches, as we had a few hiccups at the first very small branch we visited. More on that later.
Bank Accounts of Interest
As with Chase, we just wanted the most basic of accounts with an affordable or easily waivable monthly fee. Bank of America offered three basic checking accounts, only two of which are worth mentioning:
Most basic account
Some transaction limitations
Monthly fee: $4.95 USD
Fee waived for students under 25
Fee waived if enrolled in Preferred Rewards (must have $20,000 held across all BoA accounts)
More options than SafeBalance, overdraft protection, checks etc.
Monthly fee: $12 USD
Fee waived for students under 25
Fee waived if direct deposit of $250+ or $1500 minimum daily balance
Instead, we elected to just open the base savings account:
Bank of America Advantage Savings
Basic savings account
Limit of 6 withdrawals/transfers per month
Monthly fee: $8 USD
Fee waived if $500 minimum daily balance
$100 required opening deposit
No debit card, ATM card only
Required Documents
As with Chase, Bank of America only asked to present the following when setting up a US bank accounts as a non-resident alien:
Passport for identification
Utility bill/ bank statement for address verification
An ITIN number was not outright requested, and in fact, at the first branch, they seemed quite confused as to what it was. Ultimately we opened our accounts at a different branch and there they did enter our ITIN number into our profiles.
Result and Overall Experience with Bank of America
Opening an account at Bank of America was not quite as smooth as with Chase. In fact, until we found a knowledgeable advisor, it was downright painful.
The first branch we went to, 2202 Westlake Ave, was uncertain about what documentation we were expected to provide. They insisted we needed a rental agreement, and that the utility bill/bank statement was not sufficient. Curiously, they did allow us to apply for credit cards without a rental agreement, but would not open a bank account.
In addition, the advisor and even the branch manager seemed very inexperienced and we often had to try to guide them through some of the application steps. They seemingly were not familiar with how to process our non-resident situation.
We eventually went to another branch on 100 W Mercer St to open the bank account.
We had a much better experience with an advisor named Ali Hashemi. We even discussed (where possible) maintaining a remote banking relationship with him in the future. Because of course, we will want to apply for many more credit cards in the future. 😉
If you are unable to meet with Ali, I would suggest making two appointments at two different Bank of America's in case you run into hiccups at one as we did.
Opening a Bank of America Credit Card In-Branch
We actually applied for credit cards at the branch mentioned (2202 Westlake Ave), a different one from where our bank accounts were opened, and we applied before having an open BoA account. We both applied for the Bank of America Alaska Airlines Visa Signature card (US).
Bank of America Alaska Airlines
The Bank of America Alaska Airlines card is a credit card that earns Alaska Miles and is available to individuals in the United States.
BONUS
50,000 Alaska Miles
MINSPEND
$2,000
ANNUAL FEE
$95
FOREX FEES
No
EXPIRY
–
Unfortunately, our applications were likely not completed properly. The advisor deliberated quite extensively on 1) where to put our foreign tax ID (SIN), and 2) where to put our ITINs. Ultimately, our application was filled out without either ITIN or SIN entered…
Curiously, my friend's application went to instant approval, whereas mine went to 'your application is being processed'.
When we saw Ali and opened the savings accounts, he was then able to attach my friend's ITIN to his credit card, however, I was required to wait until the system processed my card application.
Take this data point with a grain of salt, as I suspect it would have gone smoother if we'd gone to Ali Hashemi or another competent representative first.
Conclusion: What's Next
Having opened Chase and Bank of America accounts made for a successful weekend trip (paired with some great fresh seafood in Seattle). Getting approved with Chase is never a guarantee, myself having been denied for the Bonvoy Boundless even after 2 years of credit history in the United States in addition to holding the Chase Sapphire Preferred card. Going forward, we hope to have greater success with Chase, including their elusive business cards.
Related: US Credit Cards for Canadians – Comparison Tool
Bank of America was primarily attractive to us for the Alaska Airlines Visa Signature and Alaska Airlines Visa Business card, both of which we intend to hold for a combined 100,000 Alaska miles. We've also heard rumors of other tricks that are possible with these cards, which you can bet we'll be exploring in the near future 😉
Frequently Asked Questions
Do you receive a debit card in-branch with Chase / Bank of America?

No, the debit card must be mailed out separately.

Can you have your debit card sent to your Canadian address?

With Chase, there are data points that you can have your debit card mailed to your Canadian address. On the other hand with Bank of America, the debit card must be mailed to your US mailing address.

How long does it take to receive your debit card from Chase / Bank of America?

It will take 1-2 weeks to receive your debit/ATM card from Chase or Bank of America.

Should I provide my SIN / foreign tax ID to the bank when opening my account?

For Canadians, your personal banker may ask about your foreign tax ID (Social Insurance Number). We recommend not providing this because bankers can get confused with real Social Security Number in the US. When in doubt, leave it blank if it is not a mandatory field.

Can I have my credit card expedited to my address in 1 to 2 business days?

Yes but the option to rush deliver credit cards is only available at the time of application if the application is done in person at the financial center (according to Bank of America).
Reed is addicted to the art of earning and redeeming travel points, and frequently pairs his trips with his other hobby: photography. Through Frugal Flyer, Reed aims to distill some of the complex and esoteric points strategies into digestible information. Furthermore, he hopes to use his technical expertise to develop invaluable applications and tools for the travel community.
Latest posts by Reed Sutton (see all)