Using Nova Credit to Get US Credit Cards: A Tutorial
In the past, the best method to get a decent first US credit card was to apply through the American Express Global Transfer program. As an Amex cardholder from Canada (or another country), Amex can leverage your credit history with their company in your origination country to approve you for credit cards in the United States.
Nowadays, a service is available that offers an arguably smoother process for applying for a first credit card: Nova Credit.
As an aside, make sure to check out our Guide to US Credit Cards to make sure you've completed all the pre-requisite steps.
What is Nova Credit?
Nova Credit is a third-party service that allows you to use your credit history in Canada (and many other countries) to be approved for credit cards in the United States. Nova credit makes this possible by partnering with American Express and some other credit card issuers in the United States, and with credit bureaus in countries all over the world.
They use data from credit bureaus in your home country to translate your international credit score into a U.S.-equivalent score. This score is then available for U.S. financial institutions to assess your creditworthiness and approve you for credit, seemingly from "scratch". The entirety of your foreign history is also translated into a report, called the "Credit Passport".
While we at Frugal Flyer primarily focus on credit cards, Nova Credit also helps US newcomers get access to credit products like car loans, mobile phones, student loans, and more, by providing institutions with this translated credit score and credit passport.
Who is eligible for Nova Credit?
Eligibility for Nova Credit will generally depend on the credit product you are applying for. As a foreign non-US citizen applying for a US credit card, you will generally need to have the following to complete a card application via Nova Credit:
A credit history in your current country. In Canada for example, you will need to have a decent credit score and a history of on-time payment with TransUnion, the bureau that partners with Nova Credit in Canada
Foreign government-issued ID. A passport will generally suffice.
An Individual Taxpayer Identification Number (ITIN). Learn about what an ITIN is and how to get one. Alternatively, you can apply with a US Social Security Number (SSN) if you have one.
A U.S. address. This could be your home address, your school address if you're studying in the U.S., or the address of a friend or family member who has agreed to receive your mail. We also have a list of US-to-Canada mail forwarders that could work.
A U.S. bank account. Most major Canadian banks offer accounts specifically for people who will frequently travel between Canada and the U.S. If you're already banking with one of the Big Five—BMO, CIBC, RBC, Scotiabank, or TD—ask about their cross-border accounts. I have heard particularly good things about BMO Harris.
Once you have all of this in order, you shouldn't have any trouble completing the following application process with Nova Credit.
How to apply for a US credit card with Nova Credit
For Canadians, Amex is really the only current issuer of note that is partnered with Nova Credit. There are two ways to apply for a credit card with Amex U.S.
Method 1: Apply Directly on AmericanExpress.com
First, open up an application for any personal (no business cards!) American Express U.S. credit card. We can use the American Express Hilton Honors credit card (US) as an example.
As you progress through the application fields, you'll be prompted to enter your U.S. address, followed by your SSN or ITIN.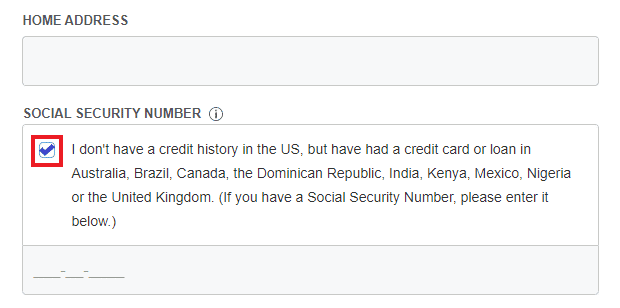 Here, you want to select the checkbox stating "I don't have a credit history in the US, but have had a credit card or loan in Australia, Brazil, Canada, the Dominican Republic, India, Kenya, Mexico, Nigeria, or the United Kingdom."
If you see the prompt to "sign in for a simpler application process", you want to ignore that in this case, as it will instead initiate the Global Transfer process.
Once you submit your application on AmericanExpress.com, you'll be redirected to a Nova Credit portal website to complete some more information.
You will provide the following:
The foreign country in which you have a credit history (for this example we assume Canada).
Required information to access your credit file, including name, date of birth, and address.
Verification by answering three identity questions queried from your TransUnion file (Canada).
Additional financial and employment information.
Government-issued foreign ID information, such as passport or driver's license.
Then you can submit the final application. You may be auto-approved at this stage, however, it's also likely that you will be asked to provide additional supporting documentation such as photos of your passport or a bank statement verifying your U.S. address. This is all normal.
If all goes well, you will eventually be approved and have your brand new U.S. credit card on its way to your U.S. address (the shipping time will vary by the specific card you applied for).
Method 2: Apply on NovaCredit.com using a Referral Link
Generally, if you are using a friend or Player 2's referral link for a US credit card, we'd recommend Method 1. However, you can alternatively apply via a Nova Credit referral link (which we conveniently have 😉).
Applying via Nova Credit referral will award you with an Amazon.com gift card. The amount changes from time to time, I've seen as high as $50 USD and low as $10 USD.
With this method, you will initiate the application on NovaCredit.com. Right off the bat, you will be prompted to enter your origin country, and also provide an email address.
Then you will be presented with a list of credit cards from the issuer's Nova Credit has partnered with. Be sure to select the filter "Accepts foreign credit history". That will leave essentially just cards from American Express.
From there you can select one of the cards listed and click "Apply Now".
Then Nova Credit will present you with a landing page that redirects you to continue the application on American Express' website.
From here, the process will follow the same sequence exactly as in Method 1.
Conclusion
Nova Credit is an efficient process for getting a US credit card as a non-US citizen or new person to the US with no established history in the US financial system. For Frugal Flyers, Nova Credit is our recommended way to get started with your first US credit card. It doesn't require you to have any history with Amex like the Global Transfer method does, which could be particularly problematic for those who've been Amexiled in Canada.
There are even data points that you can use Nova Credit to get more than one US credit card! However, in the long run, you want to build your credit history with your ITIN as a more sustainable path to US credit card rewards, and to branch out to other credit card issuers. ITIN can be acquired easily for a nominal fee through our bespoke ITIN service.
Frequently Asked Questions
Can I use Nova Credit to apply for more than one American Express card in the United States? 

Yes, many individuals have reported being able to apply for multiple Amex US personal cards via Nova Credit. Most people who have been successful in this have done their applications quite close together time-wise. 

You could also try applying through both Global Transfer and Nova Credit. If anyone has data points on that we are curious to hear in the comments below!

What credit bureau does Nova Credit access in Canada?

Nova Credit uses your Canadian TransUnion credit file to help American Express US determine your creditworthiness.

What countries is Nova Credit available in?

Nova Credit is available to consumers in the United States who have credit histories in any of the following countries: Australia, Brazil, Canada, Dominican Republic, India, Kenya, Mexico, Nigeria, Philippines, South Korea, Spain, Switzerland, and the United Kingdom. 

Can I use a referral link when applying for a credit card with Nova Credit?

Yes, you certainly can use a credit card referral link for starting the application, which is beneficial for many American Express credit cards. If you don't have a card-specific referral link to use, you can also apply with a Nova Credit referral link, which will give you an Amazon.com gift card as a bonus.  

Does Nova Credit result in a hard inquiry on your credit file?

No, Nova credit only results in a soft inquiry, not a hard inquiry, on your TransUnion credit file in Canada. This should be the same in other countries as well. 

I have an ITIN and/or US credit history already. Should I apply with Nova Credit?

It depends on whether or not you have built any credit history in the US that is associated with your ITIN and the length of that history. If you have a credit file older than six months in the U.S., you may be ineligible from using Nova Credit's international credit report. However, with American Express US, you don't need to overthink this as Amex will automatically check for a US credit file before redirecting you to Nova Credit (see the next question).    

What if instead of redirecting to Nova Credit, the application immediately requests further information via phone?

For some applicants, there have been data points where Amex will approve you based on your existing US credit history if the system is able to identify you instead of redirecting you to the Nova Credit portal. If you already have a credit card with a cross-border banking service, for example, this could happen. Just stay calm, call the provided number, and provide the usual identification verification documentation as requested. 

What is the Credit Passport, powered by Nova Credit?

The Credit Passport™ is the US-equivalent credit report that is generated by Nova Credit when translating credit information from non-US countries. It includes an estimated US-equivalent credit score, derogatory marks, aggregate statistics, tradelines, and inquiry history.

What if my international credit score is bad? Should I still apply?

It's hard to say, and it really depends on how bad the score is. If you find you are seldom approved for cards in Canada, then you may want to consider other avenues. 

If you have a card membership with American Express in your international country, it may be wise to instead apply via Amex US Global Transfer where only your history with Amex will be considered in your creditworthiness assessment. 

Otherwise, you could consider getting an ITIN and applying for a secured card to get started.
Reed is addicted to the art of earning and redeeming travel points, and frequently pairs his trips with his other hobby: photography. Through Frugal Flyer, Reed aims to distill some of the complex and esoteric points strategies into digestible information. Furthermore, he hopes to use his technical expertise to develop invaluable applications and tools for the travel community.
Latest posts by Reed Sutton (see all)