24/7 Parcel: Forward US Credit Cards to Canada
For those who indulge in the US credit card market (which any serious travel hacker should be doing in my opinion), getting your cards forwarded from a US address is a key piece of the puzzle.
Along with having a US bank account and a cheap way to convert Canadian dollars to American dollars, a mail forwarding address is a prerequisite to applying for any US credit card. Of course you'll also want an ITIN in the long run, but using Nova Credit or Global Transfer to get your first US credit card is a common approach.
We have written articles on mail forwarders in the past, including how to approach finding mail forwarders that will both forward credit cards and not be flagged by banks as commercial, and we've even compiled a list of some of the mail forwarders that are available.
While finding your own mail forwarder or using a friend's address is still the ideal solution, both Josh and I have now had the chance to use a well-known mail forwarder that is friendly to the travel hacking community: 24/7 Parcel. 
Let's review what 24/7 Parcel has to offer and why you should consider using them for your US to Canada mail forwarding needs.
What is 24/7 Parcel?
24/7 Parcel is a parcel and mail service for people who need to receive and handle deliveries within the United States. The basic premise is they provide their address for you to use to receive mail or parcels (such as from online shopping).
24/7 Parcel offers a few different bundled services, including parcel lockers and parcel pickup where you go in person during staffed hours to pick up your delivery. They also offer mailbox rental, both virtual and physical, and mail forwarding.
They are based in Washington state and have two delivery addresses, one in Blaine, and one in Lynden.
24/7 Parcel location, close to the Blaine Canada-US border crossing.
You can read about their various services on their website: 247parcel.com. However, for Canadians looking to forward US credit cards, you will be most interested in their virtual mailbox service. This service charges an annual fee of $90 USD per year to receive mail (but as mentioned above, you can get a $20 discount to just $70 USD per year with the Frugal Flyer reader discount).
With the mailbox service, you will be able to receive letter mail, and then once received, you can pay for letter forwarding at a rate of $1.50 USD per letter, plus postage.
Specifically, to forward credit cards or bank statements, you must use the Lynden address (virtual mailbox).

Read on to understand the detailed steps for setting up this mail forwarding service and how you can get an exclusive discount on the annual subscription fee.
Discount for Frugal Flyer Readers
24/7 Parcel is a great service and has shown to be reliable and friendly to the travel hacking communities in Canada. To emphasize this, 24/7 Parcel is offering Frugal Flyer readers a $20 USD discount on annual mailbox rental fees. So instead of customers paying $90 USD per year, sign up with Frugal Flyer and you will pay $70 USD per year, including on renewal years.
As mentioned above, when you email to activate your mailbox account, mention in the email that you are a Frugal Flyer reader and 24/7 will apply the discount to your account.
Steps to Setting up 24/7 Parcel Mailbox Rental
Create an Account with 24/7 Parcel
Sign up for an account on 24/7 Parcel here. Provide your name, email, and phone number, and activate your account by clicking the verification link sent to your email address.
In the welcome email, you will receive further instructions to complete USPS Form 1583 and provide identification documents. You will also receive your personal mailing addresses, in the following format:
Reed Sutton
STREET ADDRESS
#[CUSTOMER ID]
Blaine, WA 98230
Reed Sutton
STREET ADDRESS
#[CUSTOMER ID]
Lynden, WA 98264
Note that for the virtual mailbox, you will only want to use the Lynden address.
Complete Form 1583 and Provide Identification Documents
Complete the USPS Form 1583: Application for Delivery of Mail Through Agent, which can be accessed from the 24/7 Parcel FAQ page.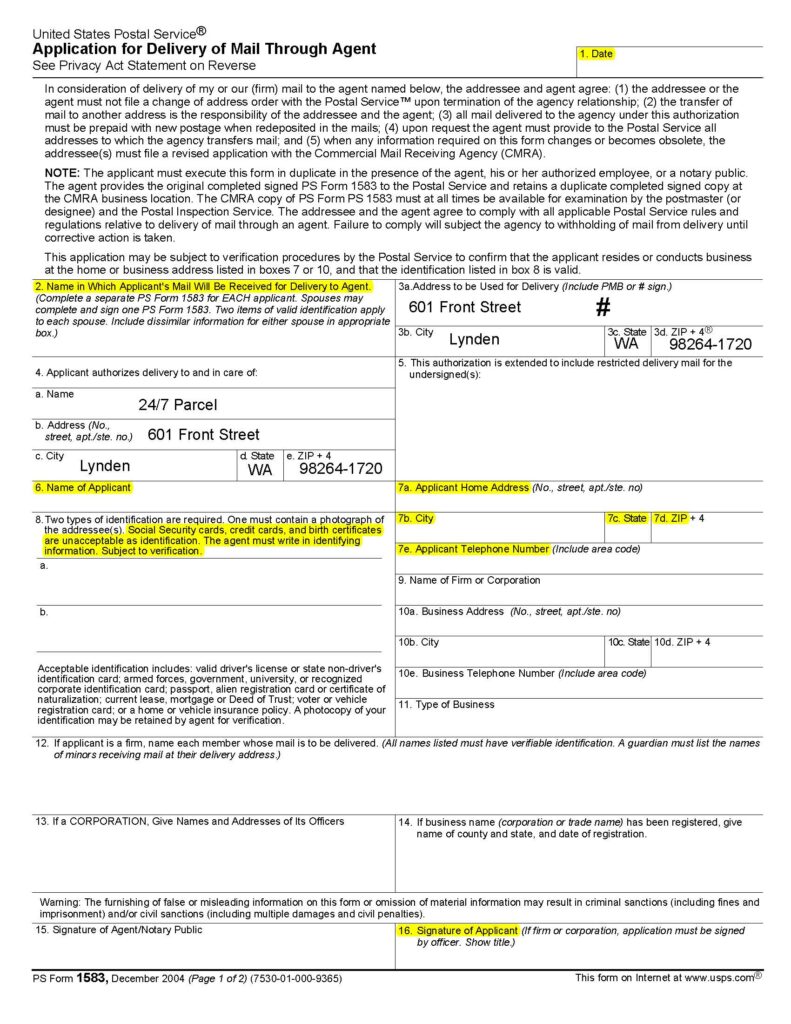 The form is relatively simple. Fill in the date, your name, which two pieces of identification you will provide, and your home address. Sign the form under 'Signature of Applicant'.
Email this form along with two pieces of identification (driver's license, passport, health card, Nexus, etc) to [email protected].
Load Your Account with Funds
In order to activate your mailbox subscription, you will need to have funds totaling the first annual fee ($70 USD after Frugal Flyer discount). I recommend adding extra to cover your first few uses of the letter forwarding service.
To add funds, navigate to your account home page, then select one of two options: (1) Buy Credit via Interac eTransfer in Canadian currency, or (2) Buy Credit Online With Credit Card.

With Interac eTransfer, you will save on the 3% foreign exchange rate charged by many Canadian credit cards. Simply send an Interac eTransfer from your Canadian bank to [email protected] with your customer ID number in the memo/note field.
Related: Best No Foreign Transaction Fee Credit Cards for Canadians
Alternatively, you can use a credit card via PayPal to load funds.
You will need to select specific increments in this case and then be redirected to the PayPal payment page to complete the transaction.
Email Support and Ask for the Frugal Flyer Discount
With your funds loaded, email [email protected] and ask to activate your virtual mailbox address at the Lynden location.
Mention here that you are a Frugal Flyer reader and would like the exclusive $70 USD discount price for the annual subscription fees.
You should receive a confirmation email with further instructions on using your address once your virtual mailbox account has been activated and registered in the online system.
Apply for Credit Cards with Your Personalized Address
Now that you're all set with your new address, you should be ready to apply for a US credit card. Make sure you have a US bank account set up with your US address registered to the account.
Then go ahead and make an application. If you're new to the game, we recommend starting with American Express via Nova Credit. For card recommendations, take a look at this article or browse our US Credit Card Comparison Tool.
Forward and Receive Your Mail
Once you receive a credit card or piece of mail, it is automatically forwarded to your Canadian address. 24/7 will wrap it in a separate envelope with your Canadian address, stamp it and send it off. Once the mail is shipped, you will receive an email notification of the credit balance deduction, amounting to $1.50 plus postage.
Expect about one week for your forwarded mail to be delivered to your address in Canada, give or take a few days.
Also note that if you receive a larger package such as a premium Amex credit card welcome package, 24/7 Parcel will communicate with you if you want to forward just the credit card (they will only open the package with your permission). This can save you money as opposed to having the whole parcel shipped across the border.
Setting Up Multiple Players on One Account
If both you and your significant other are in the US credit card game, you can add your partner to your 24/7 Parcel mailbox for an additional fee of $45 USD per year provided you both have the same address that you wish to forward mail to.
To do this, simply contact 24/7 Parcel and let them know that you wish to add an additional user and provide them with the first and last name of that individual. They will send you a confirmation email, noting the additional charge and the names of both users now on the mailbox.
This is the preferred method since it is significantly less than renting two separate mailboxes and gives you the convenience of routing both your and your partner's US credit cards to the same mailing address. They will also pro-rate the charge for the remainder of your annual subscription if you add an additional user mid-year.
Conclusion
24/7 Parcel is perhaps the most straightforward route to setting up a US mail forwarding address. This is important for anyone looking to take advantage of the US credit card market, which is becoming increasingly more expansive and lucrative than the points and miles ecosystem in Canada.
If you do sign up with 24/7 Parcel, remember to mention you are a Frugal Flyer reader and get your $20 USD discount on annual virtual mailbox subscription fees!
If you have any questions about the service, let us know in the comments below.
Frequently Asked Questions
What is the total cost of using 24/7 Parcel to forward mail, including the annual fee?

The total cost is:
– $70 USD per year for a virtual mailbox subscription (with a $20 USD Frugal Flyer discount)
– $1.50 USD per letter forwarded
– USPS postage cost per batch of mail forwarded 

The USPS postage cost can vary on a number of factors, but as of 2023 it is usually on the order of $1-3 USD.

So the total cost of mail forwarding with 24/7 Parcel will depend on the number of mail you forward per year, but will typically be less than $100 USD.

Do I have to pay for mail that is received by 24/7 Parcel?

No, your mailbox fee covers the cost of receiving mail to your 24/7 Parcel address.

Do I have to pay to dispose of junk mail with 24/7 Parcel? 

Unfortunately, you cannot choose to dispose of your received mail. All mail will be forwarded to your Canadian address.

Can 24/7 Parcel verify the contents of my package or mail for me?

For larger packages, 24/7 will contact you prior to forwarding and request permission to open the package and repackage it as letter mail. For regular letter mail, 24/7 will automatically forward the mail without allowing you to scan or view the contents of the mail.
Reed is addicted to the art of earning and redeeming travel points, and frequently pairs his trips with his other hobby: photography. Through Frugal Flyer, Reed aims to distill some of the complex and esoteric points strategies into digestible information. Furthermore, he hopes to use his technical expertise to develop invaluable applications and tools for the travel community.
Latest posts by Reed Sutton (see all)