All About American Express Global Transfer: Canada to the USA
Before Nova Credit, the preferred way to get started with US credit cards was using something called American Express Global Transfer. Global Transfer is a service designed to help those moving to a new country to "take their credit card with them".
While we generally recommend Nova Credit for those looking to get their first American Express US credit card, there are particular instances where Global Transfer can still be the preferred method.
Learn all about Amex Global Transfer including step-by-step instructions, in this comprehensive article. We will focus on transferring from a Canadian Amex card to the US, but the process is essentially the same between any two countries.
What is Amex Global Transfer?
Amex Global Transfer lets you "take your credit card with you to a new country." Specifically, you can get approved for an American Express credit card based on your history with Amex in the country you're originating from.

American Express is a global company and this is all part of its efforts to maintain a global presence. There are over 20 countries that support the Global Transfer process, including the United States, Canada, Australia, the UK, and so on.
In addition to the Global Transfer service, they allow you to transfer your Membership Rewards points between countries.
Who is Eligible for Amex Global Transfer?
To be eligible for American Express Global Transfer, you must have an eligible Amex credit card in good standing for at least three months (ideally longer). The card must currently be open. And yes, business credit cards are eligible. For example, the American Express Business Platinum card.
Additionally, to be eligible for American Express Global Transfer, you will need to have personal identifying information and details to validate your presence in the USA. Amex lists these on the main Global Transfer page, including
A U.S. address. This could be your home address, your school address if you're studying in the U.S., or the address of a friend or family member who has agreed to receive your mail. We also have a list of US-to-Canada mail forwarders that could work.
A U.S. bank account. Most major Canadian banks offer accounts specifically for people who frequently travel between Canada and the U.S. If you're already banking with one of the Big Five—BMO, CIBC, RBC, Scotiabank, or TD—ask about their cross-border accounts. I have heard particularly good things about BMO Harris.
Passport or US SSN or US ITIN. A passport will generally suffice as a form of foreign government-issued ID if you don't have an ITIN (individual taxpayer identification number).
Related: Getting US Credit Cards as a Canadian & Everything You Need to Know About ITINs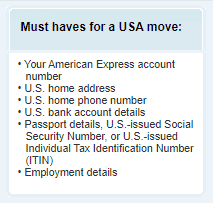 In our experience, a US phone number is not required. Instead, a Canadian one will suffice. That being said, Google Fi is a great option to get a US phone number that also works great for international travel.
Once you have all of the above in order, you shouldn't have any trouble completing the following application process with Amex Global Transfer.
How to Apply for a US Credit Card with Global Transfer
You can view the overall process on the United States Global Transfer page. You can apply online or over the phone. The advantage to applying online is that you can apply for a card through a referral link, which may grant additional points to your friend or family member (or us here at Frugal Flyer if you apply through our links :)).
Method 1: Apply for your new card online
First, open up an application for your American Express U.S. credit card of choice. For example, the American Express Hilton Honors card is a great starter card with no annual fee. You also can't go wrong with any card that earns points within the Amex Membership Rewards program.
Related: The Best First US Credit Card for Canadians
As you progress through the application fields, you'll be prompted to enter your U.S. address, followed by your Social Security Number.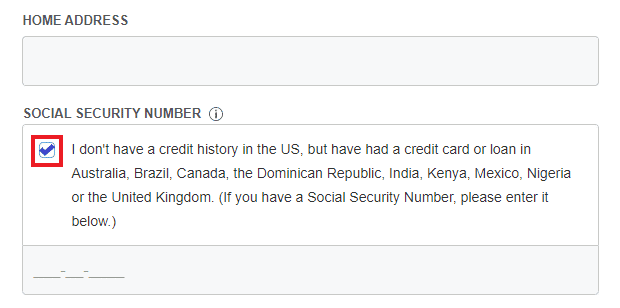 Instead, you want to select the checkbox stating "I don't have a credit history in the US, but have had a credit card or loan in Australia, Brazil, Canada, the Dominican Republic, India, Kenya, Mexico, Nigeria, or the United Kingdom."
Then, you want to click on the info button beside SSN to show a prompt to "sign in for a simpler application process". Click on that link to initiate the Global Transfer application, and sign in with your Canadian Amex card account credentials.

You will be prompted to authorize Amex USA to access your international data, which of course they will need to assess your US credit application with. Click Yes.

Finally, you'll be at a one-page application with your name and date of birth pre-filled. You will once again be prompted to select that you do not have an SSN.

Once you select that you will be given choices of alternative government-issued photo ID. For most people, a passport is going to be the ID of choice.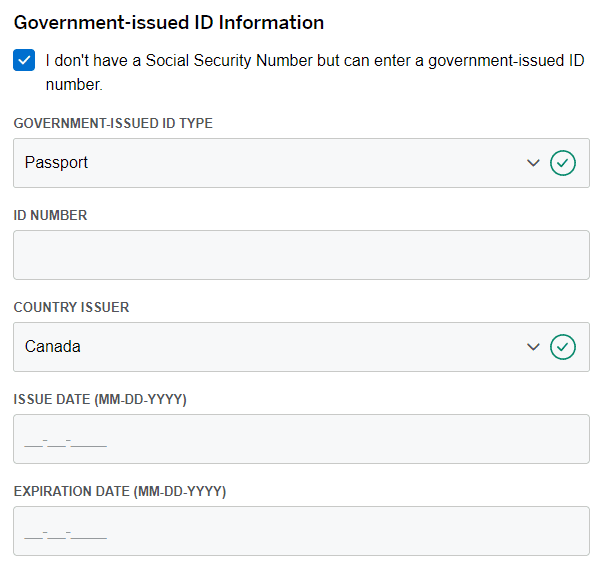 From there you'll just have to enter a few more details regarding your financial information, namely total annual income.
Then you can submit the application and get an assessment. As with all credit card applications, there are multiple possible outcomes:
Instant approval
Pending
Instant decline
Hopefully you are instantly approved, however, it's always possible Amex will go pending and require more time and possibly more information to make a decision. It doesn't hurt to call in at this stage and see what the case is. Oftentimes they will just want a picture of your ID or a bank statement.
Method 2: Apply for your new card over the phone
If you'd like to apply for a US Amex card via Global Transfer by phone, you can do so as well. The instructions are well documented on the Global Transfer page.

Call 1-877-621-2639 to reach the US Global Card Transfer team and initiate an application. (I've also heard 1-866-929-5160 can work, which is the number for the general 'apply by phone' department ). Make sure to be explicit that you want to apply for a Global Card Transfer.
Expect the process and questions you will be asked over the phone by the agent to be similar to Method 1, including details about
US address
Phone number and email address
Employment details and/or income details (in USD)
Amex Canada credit card number
You may also be asked for a US utility bill or US bank account information (if you haven't set up a bank account yet, look into the best US bank accounts for Canadians).
With phone applications, you are unlikely to receive instant approval. Instead, once the agent completes your application the status will most likely be 'pending'. You should also receive an email confirming the application status.
Then you can either wait for an update or harass the Global Card Transfer team for an update daily, as I know many of you will be inclined to do :).
Conclusion
The Amex Global Transfer program is a tried and tested method for getting an American credit card as someone new to the US, but not to American Express.
We still recommend Nova Credit in general. However, niche circumstances can warrant applying via the Global Transfer process, so it's something anyone venturing into the US credit card market should consider.
If you've had experience with Amex Global Transfer, let us know in the comments section below!
Frequently Asked Questions
Why Wouldn't I Use Nova Credit Instead of Amex Global Transfer?

Nova Credit no doubt offers a simpler process than Global Transfer and is what we recommend generally. However, there may be specific instances where Global Transfer is preferred. For example, one may have some issues with their Canadian credit profile that make them a more attractive borrower when considering only Amex vs. all issuers partnered with TransUnion.

If for some reason you are being declined by Nova Credit, it's always good to have another option available to you through Amex Global Transfer.

Can I get multiple credit cards using Amex Global Card Transfers in the same country?

No, you are only supposed to be able to get one card under this program. Any future credit cards will be assessed differently (using your US credit profile). So pick the one you want to start with.

Can I apply for a business credit card using Amex Global Transfer?

It is implied that you can do this on the Global Transfer page, as phone numbers are listed for both personal and business card teams. However, when applying online for business American Express cards, I did not see an option to initiate the Global Transfer. If anyone has insights into this question, data points would be appreciated. Leave a comment on your experience! 

Regardless, we would generally recommend you get a personal credit card first if this is your first US credit card, as you want to build your credit history. Business cards are not reported to bureaus for this purpose.

What length of credit history do I need before I can apply for Amex Global Card Transfers?

A minimum of 3 months of solid credit history in your originating country is required to apply for a Global Transfer card.

Do I need to set up a US bank account before applying for a US credit card with Global Transfer?

Yes, for multiple reasons. Global Transfer will usually ask for bank account details, a bank statement, and even request a 3-way call with your bank to verify the information provided and your US address on file.

Furthermore, you will want a US bank account to pay off your US credit card, which is denominated in USD.
Reed is addicted to the art of earning and redeeming travel points, and frequently pairs his trips with his other hobby: photography. Through Frugal Flyer, Reed aims to distill some of the complex and esoteric points strategies into digestible information. Furthermore, he hopes to use his technical expertise to develop invaluable applications and tools for the travel community.
Latest posts by Reed Sutton (see all)