Accessing reliable data while traveling is important for myself and for most other travelers I know. However, it is a pain point in trip planning. A common approach is to research carriers in the country you're traveling to and get a local SIM to utilize their major carriers. This can be a suitable approach, but it does get tedious if you're traveling to many countries in one trip.
My colleague Josh wrote about another option he uses to stay connected: eSims. I myself don't have an eSim enabled cell phone (I know, living in the stone ages), but I'm quite content with my solution for international data while traveling: Google Fi.   
Let's go over what Fi is and why I think it is so great.
What is Google Fi?
Google Fi is a telecommunications service created and run by Google in the United States. It provides the same services as any other mobile network provider including calling, SMS, Wi-Fi, and mobile data.
Google doesn't operate its own network, instead, it shares other networks (T-Mobile and U.S. Cellular in the US for example). They also share other networks to provide international coverage. Consequently, Google Fi's coverage for data encompasses over 200+ destinations… so virtually everywhere.
What makes Google Fi so great in my view is how simple and easy to use it is. As you travel from one country to the next, it automatically connects to the right network. Connections are always good quality resulting in decent data speeds. It has 5G coverage for supported Google Pixel phones, but at the time of writing is primarily only 4G.
Features of Google Fi
Flexible Plans and Frugal Pricing
When I joined Google Fi they only had a 'Pay as you go' plan, which is still the best option for my purposes (recreational travel). However, there are other Unlimited plans offered as well.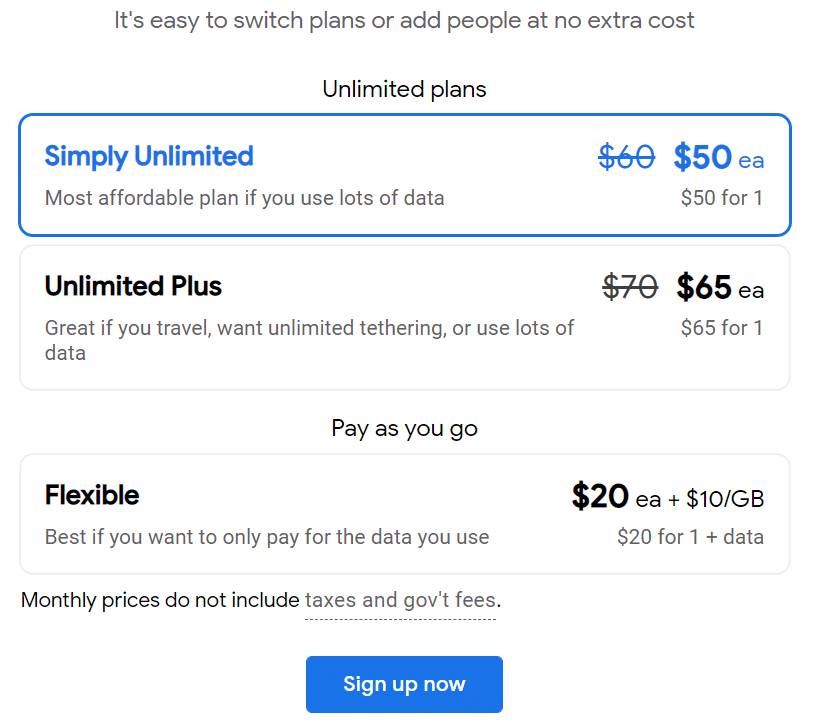 The plans scale down in cost per person as you increase the number of people on the plan.
Assuming you won't be using Google Fi as your primary mobile provider, the Flexible plan is generally the best option for travel purposes, and the remainder of this article will focus on it. This plan costs a flat rate of $20 USD per month for voice/SMS + $10 per GB. Both of these are pro-rated, meaning if you use no data and have the SIM active for 3 days, you'd only pay $2 USD.
With Google Fi, you get unlimited free texting to and within any supported country. While traveling internationally in a supported country, calls within that country or to another country aside from US, Canada, or Mexico, will incur $0.20 USD per minute. Calls from an international country back to the US, Canada, or Mexico will also incur $0.20 USD per minute. However, while in the US, calls internationally to Canada and Mexico are free, and while in Canada or Mexico, calls to the US are free.
Pricing also varies a bit for Wi-Fi vs cellular calling. If this is all a bit confusing, we've included a summary table below; you can also view Google Fi's full price breakdown here: Use your phone outside the US – Google Fi Support.
Canada
USA
Mexico
International
Canada
Cell: $0.20/min
Wi-Fi: Check rates
Cell: Free
Wi-Fi: Free
Cell: $0.20/min
Wi-Fi: Check rates
Cell: $0.20/min
Wi-Fi: Check rates
USA
Cell: Free
Wi-Fi: Free
Cell: Free
Wi-Fi: Free
Cell: Free
Wi-Fi: Free
Cell: Check rates
Wi-Fi: Check rates
Mexico
Cell: $0.20/min
Wi-Fi: Check rates
Cell: Free
Wi-Fi: Free
Cell: $0.20/min
Wi-Fi: Check rates
Cell: $0.20/min
Wi-Fi: Check rates
International
Cell: $0.20/min
Wi-Fi: Free
Cell: $0.20/min
Wi-Fi: Free
Cell: $0.20/min
Wi-Fi: Free
Cell: $0.20/min
Wi-Fi: Check rates
All of the above covers making outgoing calls. Additionally, receiving phone calls in US, Canada, or Mexico is free for cellular and Wi-Fi calling, and also receiving calls while in an international covered country outside of US, Canada, or Mexico is free, for Wi-Fi calling only.
Data Cap: Unlimited Data after 6 GB
Google Fi has a cap on the maximum price you can be charged for data (coined 'Bill Protection'). After you hit the cap, you essentially have unlimited data for no extra cost. This data cap depends on the number of people in your plan and scales down with each additional person.
For one person, the cap is 6 GB. At a rate of $10 per GB, this means the max you will ever be charged for data in a single billing cycle is $60 USD. Add your plan fee of $20 per month and the maximum total Google Fi monthly bill you can have is $80 USD.
Pause Your Service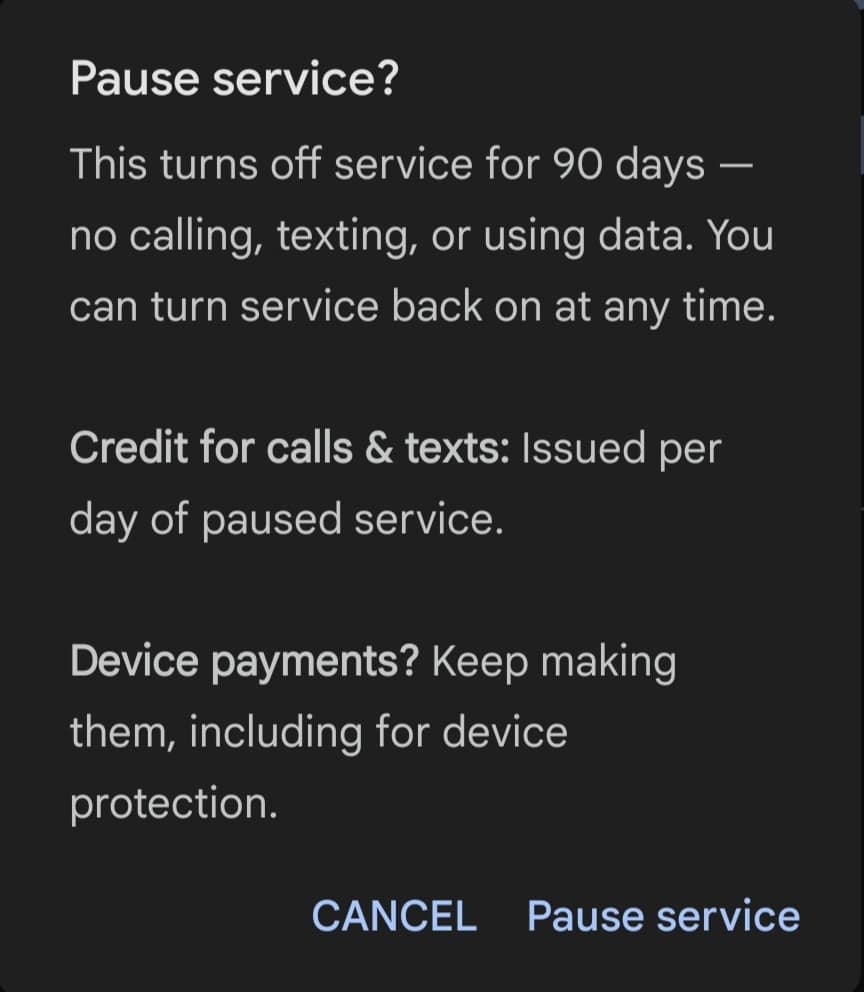 A really useful feature of Google Fi is that it allows you to pause and unpause your service at any time. This makes it great for travel, particularly shorter trips, as you'll end up paying for the exact amount of days (and data) used.
To pause your Google Fi service, simply go into your account settings, click on 'manage plan', and under more actions, you'll see the option to pause.
Once you pause the service, it will automatically unpause in 90 days. You will be notified by email when this happens. If you immediately pause the service again, you will not be charged a dime.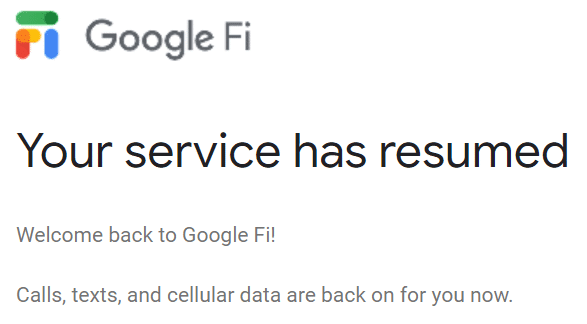 Family Plans
Like most mobile providers, Google Fi has family plans which scale down the overall cost per person. For example, add a second member and you pay an additional $15 per month for them, making the overall cost $35 per month for two people, or $18 each. The data is still charged at $10 per GB, but the data cap increases according to the table below.
This family pricing model is fair, but for travel purposes I find the next feature to be where the real value can be had: data-only SIMs.
Data-only Sims
Google Fi gives you the ability to share your data plan through 'data-only' SIM cards. All data usage will be pooled and displayed under your account, and all SIMs will count towards the data cap of your main SIM.
This is a good thing… as you add data SIMs you reach economies of scale. For example, you could have one main Google Fi SIM with 3 data SIMs for your family, and everyone gets data for a maximum of $60 USD per billing cycle. That's pretty solid!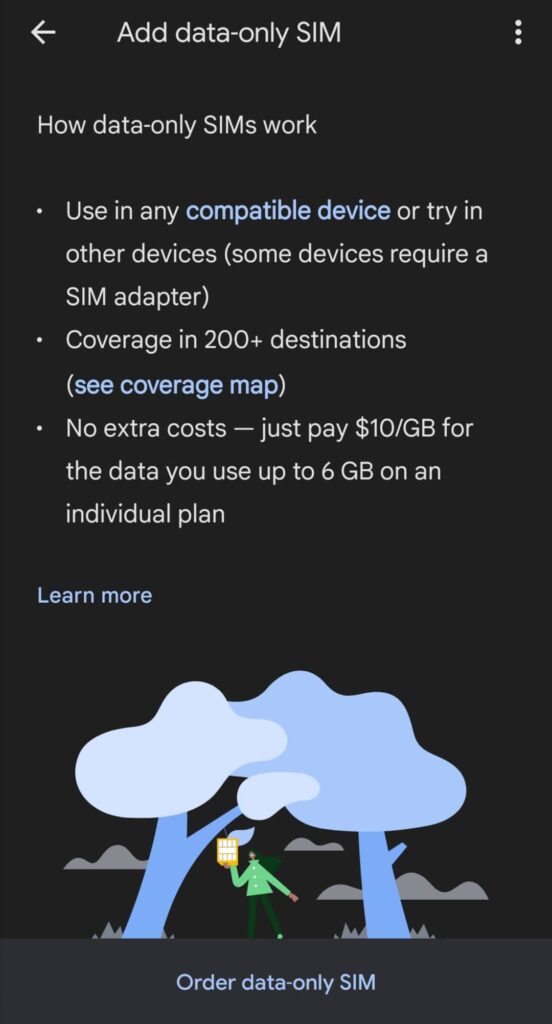 Data-only SIMs are an alternative to adding other user accounts to your plan (family plan), which would each have their own monthly fee. However, as mentioned family/group plans would also have access to calling/texting which data-only SIMs of course won't have.
There is no cost to order yourself a Google Fi 5G Data Only SIM Kit and you can add a maximum of 4 data-only SIM cards.
The Downsides of Google Fi
Despite Google Fi being, in my opinion, a phenomenal service in general and particularly for travelers who want to stay connected, it's not without its flaws. These include the following:
Cost: There are cheaper carriers both in the US and locally when traveling abroad. There are also cheaper family plans. However, as an all-in-one solution for international travel, I'm not sure what else can stack up to the Google Fi plan from a convenience standpoint.
Compatibility: Google Fi is not compatible with all phones, and doesn't offer full compatibility with all phones. For example, on many phones, 5G is not supported. To view the compatibility and feature support for your cell phone, see Google Fi's compatibility checker. Google Fi is designed originally for the Google Pixel phone.
Possibility to be shut down: Google Fi is designed for US residents and its Terms of Service require you to activate and use the cell phone primarily in the US. They even state here that you may be shut down if your international usage is too excessive. I personally have never had any issue but I never have Google Fi connected in Canada and only use it 4-5 times a year. I usually have a few US trips a year as well.
Lack of service and payments issues: Google Fi relies on Google Payments, and if you have issues with your payments account (eg. a security flag or compromised credit card), some users have reported that it can essentially disable your Google Fi until it's resolved.
How to Get a Google Fi Account in Canada
As mentioned, Google Fi is only intended for US residents and has a few checks in place to prevent non-US residents from signing up. However, you can get around these with a few tricks. To get Google Fi as a Canadian, you will need:
✔️ A US-based IP Address (via VPN)
✔️ A US-based Google account
✔️ A US-based Apple ID (for Apple phone users)
✔️ Supported US shipping/billing address
✔️ Supported US credit card
Step 1: Activate a US VPN
To allow you to create a US-based Google account, you will need to spoof that you are in the USA. This can be done by using a VPN to mask your IP as coming from a US location. I personally use Windscribe, which comes with 10GB of free data. Once you have it installed, select a US server and activate it.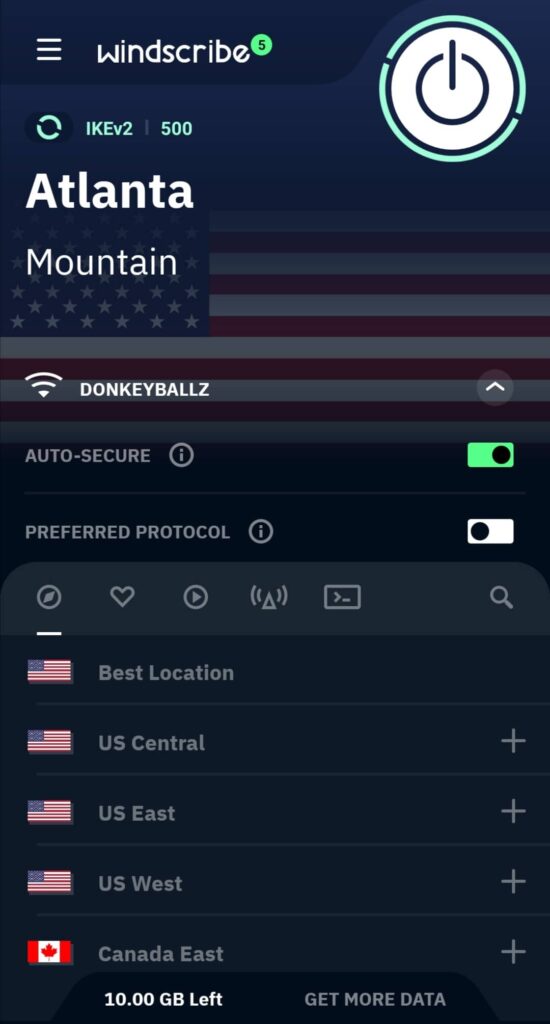 Step 2: Create a US-based Google Account
Next, create a new Google account and set your location to the United States. For Android users, you will then need to add this Google account to your Google Play store. You should then see the United States listed under Settings -> General -> Account and device preferences.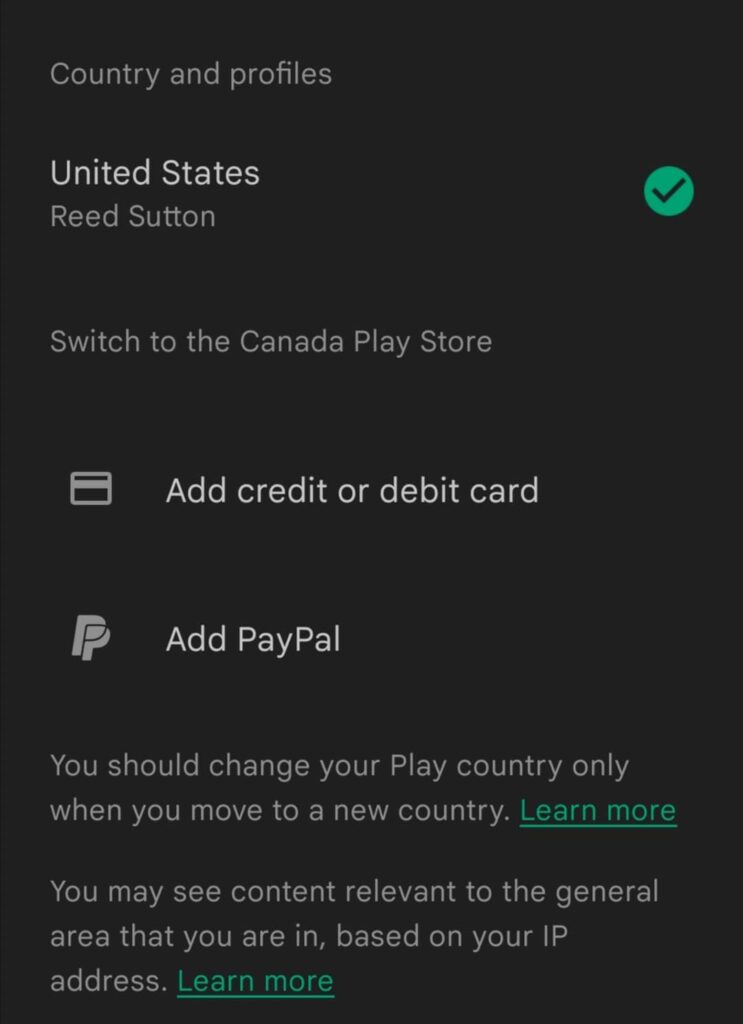 Whenever you switch to this account in the Play Store, you will now be viewing the US Play Store, which will allow you to download apps normally only available to US residents.
Note: it appears that you can also change your country to the US on an existing Google Play store account, however, this can only be done once a year and requires you to have a US payment method added.
For Apple users, you will also need to create another Apple ID with US credentials to download the Google Fi app. Changing your country on an existing Apple ID is also an option.
Step 3: Download and Sign Up for Google Fi
Download the Google Fi app from your respective app store (Google or Apple) and sign up for Google Fi with your created Google account. The order in which you do this doesn't matter, as you can create the Google Fi account on the web browser.
You can actually also manage your Google Fi account entirely from your web browser without ever downloading the app, but I don't recommend this. The app is much more convenient. The app is also required if you plan to use a Google Fi eSIM (more on that in Step 4).
Step 4: Get and Activate Your Google Fi SIM (Physical SIM or eSIM)
Google Fi gives you two options for SIM card: eSIM and physical SIM. If you have an eSIM compatible phone, Google has created some good guides to quickly setting up your Fi service for both iPhones and Android phones.
If you're like me and running an older cell phone model you'll need to get the physical Fi SIM card. You have two options: you can actually wait until you're in the US and ship the physical SIM to a hotel, or you can use a US-to-Canada mail forwarding service. Of course, you will need to ensure you have an unlocked phone if you are using a physical sim.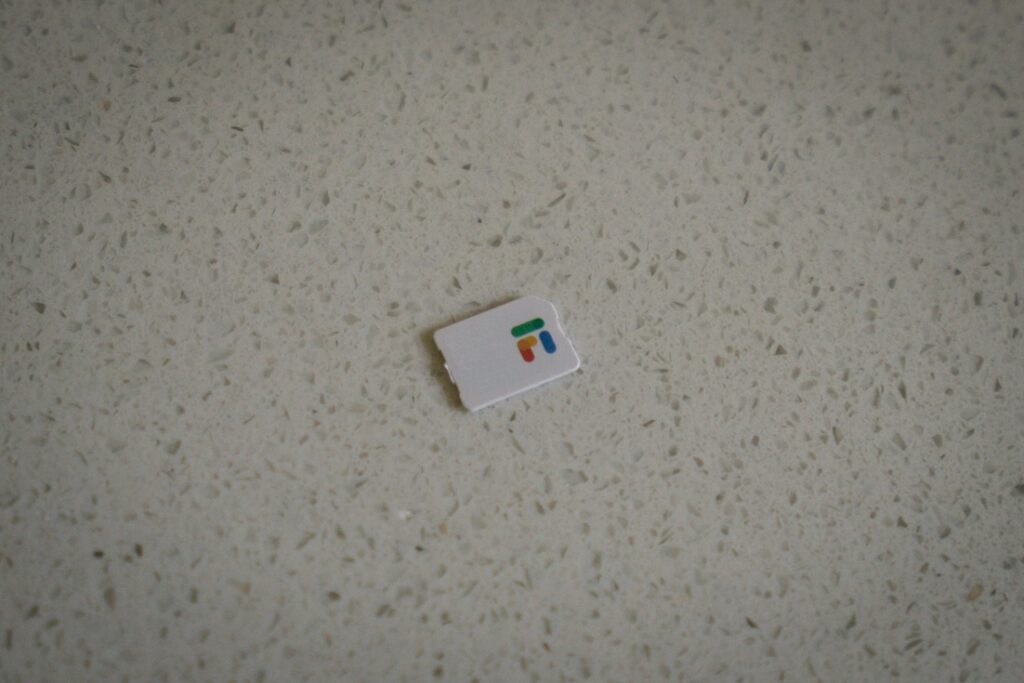 Ultimately, all of this still relies on you having a US address because you'll need to enter a US service address in Fi, and you need a US payment method (credit card or debit card). So presumably, you already have a US address of some kind at this point.
Related: The Best First US Credit Card for Canadians
Another tip: if you do have an eSIM compatible phone, give some thought into whether you want Google Fi or your main carrier in that slot. My friend Arsalan prefers to have his regular Bell service in the eSIM slot, and then when traveling has the option to use his physical Fi SIM or a local physical SIM. This can also keep Wi-Fi apps that require your phone number, such as WhatsApp, Signal, etc, a bit more 'stable'.
Conclusion
Fi is a strong solution for travel as their flexible plan is great for a recreational traveler like myself, who only needs to make a few calls or access a modest amount of data while abroad. I love never having to worry about finding cheap SIMs locally or paying exorbitant prices through my existing provider. I just throw my Fi SIM in when I arrive and unpause my service through the Fi app.
Fi may not be right for a more frequent business traveler who has heavy data or calling needs. So this becomes a personal decision if you fall in that category, also dependent on the other mobile data options available to you.
If you want to give Fi a try, consider signing up with Frugal Flyer's Google Fi referral link. We both get $20 USD of credit after your first month using Fi. For reference, just $20 USD was enough to last me several trips.
Reed is addicted to the art of earning and redeeming travel points, and frequently pairs his trips with his other hobby: photography. Through Frugal Flyer, Reed aims to distill some of the complex and esoteric points strategies into digestible information. Furthermore, he hopes to use his technical expertise to develop invaluable applications and tools for the travel community.
Latest posts by Reed Sutton (see all)