Ensuring that you have connectivity while you travel is imperative for many reasons, whether it be to stay in touch with friends and family or to be able to easily arrange transportation to navigate in a new city.
In the past, this meant using country-specific SIM cards and swapping them in your phone while in that country (e.g. buying local sim cards at the airport when you land). Another option was to utilize roaming on your Canadian data plan, but this can get costly very quickly as we are fleeced when it comes to cell phone plans in Canada.
To remedy this issue, we have seen some better solutions appear in recent years to help you stay connected. Reed uses Google Fi which requires a physical sim card and has reasonable prices, in addition to the ability to pause service while not traveling. I've also heard about eSims, which are digital sim cards that provide a set amount of cheap cell data for a pre-arranged period of time.
Let's take a look at utilizing eSims for international data, their cost and installation process, and a brief review of using Airalo's eSim product on my recent trip to Las Vegas.
What is an eSim?
eSims are digital sim cards that can be used for travel purposes to allow you to easily connect to foreign networks for cellular data at a low cost. These sim cards are purchased online and can be downloaded to your phone and enabled through network settings. Once you are done using the eSim, it can easily be deleted from your phone.
Not necessarily seeing the value just yet? Let's price out one of the options and compare it to what an eSim would cost for the same vacation.
My Canadian cell phone plan is with Koodo and they offer an "Easy Roam" option which allows you to use your Canadian plan in the US and other international destinations. While this is an easy option since all you have to do is turn off airplane mode once you land, it is far from cheap. Looking at the prices below, it will cost you $11/day for US travel and $14/day for international travel.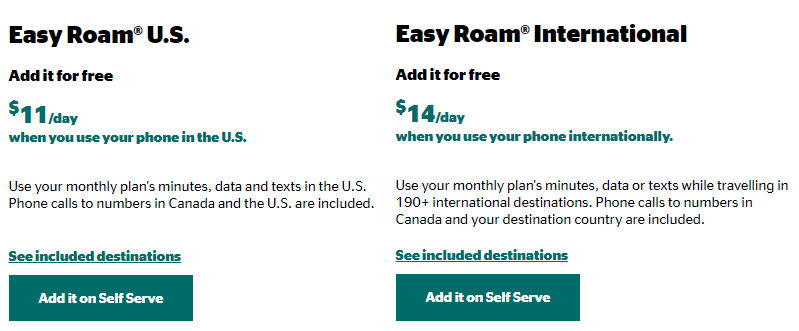 As I write this article, I am on a WestJet flight heading to Las Vegas. If I were to use Koodo's Easy Roam service, it would cost me $44 CAD for four days of cell service in the US (which is almost as much as my monthly Koodo bill).
What if I told you I just purchased an eSim for my upcoming 3-night Las Vegas trip and it only cost me $11 USD for 3GB of data and is good for 30 days? Suddenly, you quickly realize that the seemingly "reasonable" prices quoted by Koodo above are way out to lunch.
While cellular devices that support eSims and dual sims are becoming more popular, not all devices support eSim. Before purchasing an eSim, ensure that you have an eSim compatible device. eSims are supported on a variety of devices, including some of the usual Apple, Samsung, and Pixel products.
I am optimistic that we will continue to see phone manufacturers including eSim technology in future models due to the flexibility that they offer consumers and thus, expect to see more eSim compatible devices on the market.
Purchasing & Setting Up an eSim Through Airalo
For the purpose of this article and my Vegas trip, I purchased an eSim through Airalo. Airalo provides eSims for over 190 countries and makes it easy to purchase and install the eSim with clear instructions and steps. It is important to note that eSims purchased through Airalo are for mobile data only, and will not provide you with a local phone number.
Let's take a look at what the process involves.
Purchasing an eSim
Purchasing an eSim through Airalo is simple and straightforward. First of all, you will need to choose your destination country and the amount of cell data required as Airalo offers pay-per-use data plans. For my example, I was traveling to Las Vegas for a weekend and opted for the 3 GB eSim for $11 USD.
If you are traveling to multiple countries during one vacation, you are able to purchase a data package that covers a broader geographic area, such as Asia or Europe.

Upon clicking on the "Buy Now" button, you will be presented with a pop-up that contains additional information such as the mobile networks that will be utilized, plan type, and the activation policy.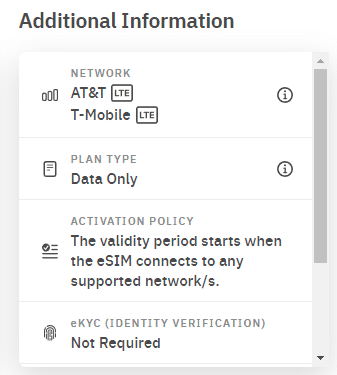 Once you move past the additional information page and are confirming your purchase, you will be asked to create an account. After completing the typical email verification process, you will be able to complete the purchase of your eSim. Airalo accepts credit cards, debit cards, Paypal, and Airmoney Pay (which we will look at below).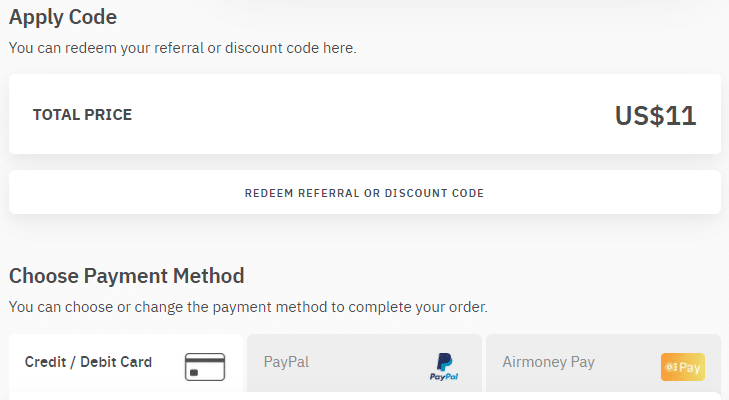 Once the payment has been successfully completed you will receive your eSim details. These details are tied to your newly created account and you can easily check the remaining data that you have on the package that you purchased.
Now that you have purchased your eSim, it is time to get it installed on your phone for your upcoming vacation.
Installing an eSim
When it comes to installing your newly purchased eSim, Airalo provides installation guides for both iOS and Android devices. The eSim can be installed as soon as you make the purchase as the validity period will not start until you connect to the network for the first time. It is important to note that most eSims can only be installed once, so do not remove it from your device once installed (until you are done using it).
While instructions may slightly vary depending on the device you are on, it was very simple to install the eSim on my Google Pixel 6 phone. All I needed to do was go through my settings to add a new sim, click "Use a different network", and then scan the QR code that was provided to me by Airalo with my purchase.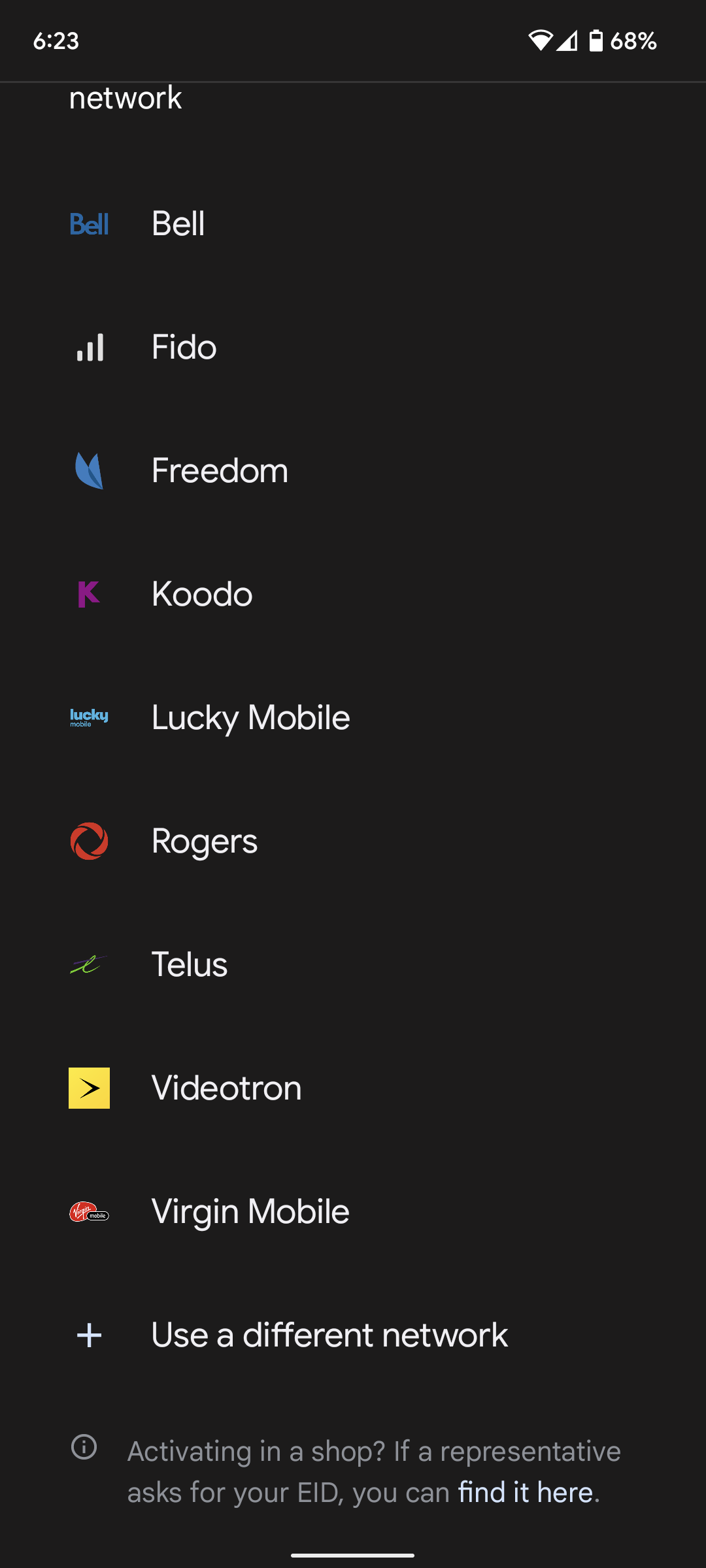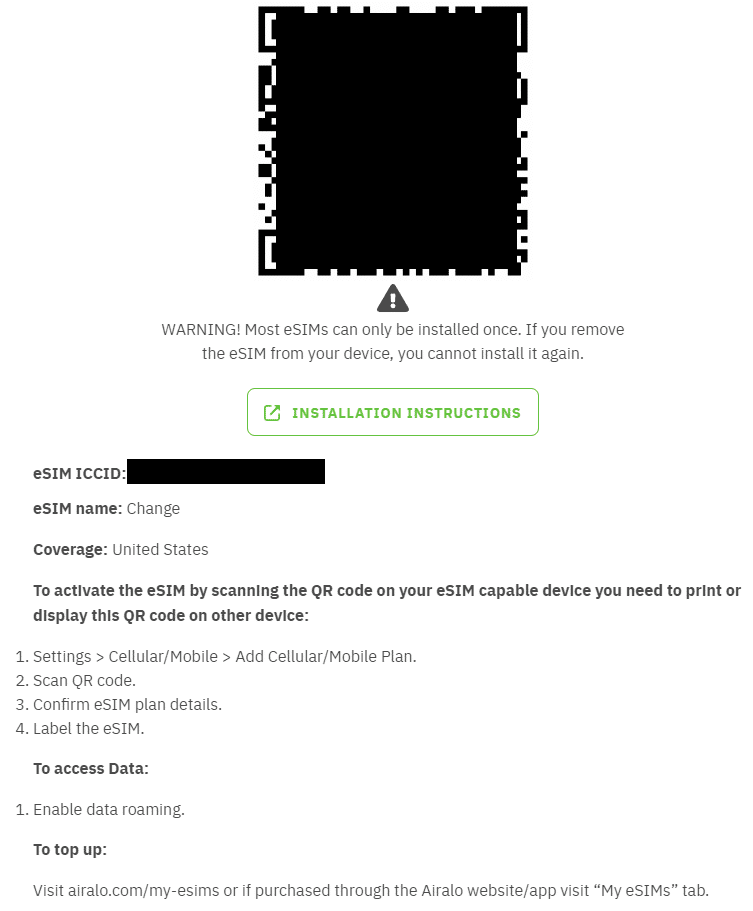 That was all it took to install the eSim on my Pixel 6. Going into my settings, I was able to see both my physical sim and newly downloaded eSim listed. From here, I would be able to switch to the new eSim before arriving in the United States. Once you land and turn off airplane mode, you will immediately be connected to the local network.
Overall, I had no issues with installing the eSim on my phone. You are able to store multiple eSims on your phone at once if needed. Once you are done with your travels, it is just as easy to delete the eSim from your device.
Airalo Airmoney Rewards
Airalo also has an in-house rewards program that you are automatically opted-in to when you create an account to purchase an eSim. Their program is called "Airmoney Rewards" and it rewards consumers for any purchases that are made through Airalo, whether it be new eSims or data top-ups.
Airalo Airmoney is credited at a rate of 5% back. This is automatically applied to your Airalo account after you make a purchase.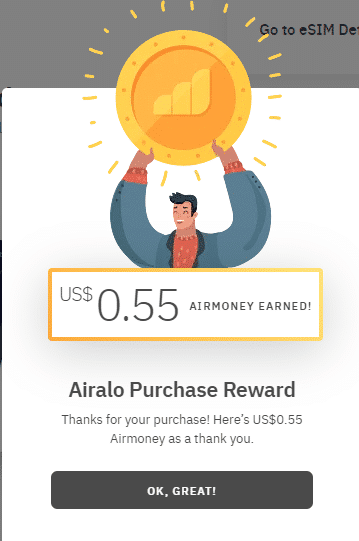 While this is not a crazy amount of cash back, it is nice to be able to passively accumulate an in-house rewards currency for redemption towards future eSims. I plan on using them for all of my travels, so I have no doubt that I will be able to take advantage of their program.
Review of Airalo eSim Service
Prior to taking off on my flight from Edmonton, I had completely turned off my Koodo sim and activated my Airalo eSim. This is important since if my Koodo physical sim was to be active at all once I landed in the United States, I would be dinged for a day of service even if I shut it off immediately (alternatively, you could turn off data roaming in settings on your Canadian sim). From there, I flipped airplane mode on for the duration of the flight.
Once we hit the tarmac in Las Vegas, all I had to do was flip off airplane mode and my eSim automatically connected me to the network. From there, I was good to go. Service was strong throughout the whole trip and I had no issues at all.
Similarly, I used Airalo once again for my recent trip to the Netherlands and purchased a Eurolink eSim since we would be traveling between a few countries. Once again, zero issues with connectivity and the local network
Based on my experiences with Airalo, I was pleased with the service and very happy that I had recently learned about eSims based on the cost savings alone.
Conclusion
eSims can be a convenient tool to save costs during your travels if you have a device that supports them. They are easy to purchase, install, and utilize and I fully expect more mobile devices to support eSims in the future. I had a great experience with Airalo and would recommend them to anyone who wants to explore eSims as an option for their upcoming trips.
Click here to sign up with Airalo and earn $3 USD on your first purchase.
Hugh has been involved in the miles and points game since 2015 but has scaled up his knowledge and points-earning potential in recent years. In 2019, Hugh stepped things up when he met Reed in addition to a few other miles and points fanatics (err degenerate churners) and has since been able to capitalize on the various expertise that each member brings to the group.
Latest posts by Hugh Campbell (see all)