I absolutely love Las Vegas. With it being only a three-hour direct flight from Edmonton, it makes such an easy getaway for two or three nights. In mid-August, I traveled down to Vegas for a brief trip with my significant other. We decided we would fly in Saturday morning and stay for two nights at the Cosmopolitan of Las Vegas to enjoy good food, drinks, and gambling. A quick flight back Monday afternoon allowed us to have a few hours Monday evening before returning to work Tuesday morning.
Let's take a look at my review of the Cosmopolitan of Las Vegas, a unique luxury resort experience, and my personal favorite hotel on the Las Vegas strip.
Location & Booking
The Cosmopolitan is a Las Vegas resort located right in the middle of the Vegas strip, giving it easy access to Planet Hollywood, the Bellagio, Aria, and more. This makes it a great home base for your Vegas adventures. If you need to get anywhere else, a cheap Uber or Lyft is the way to go. From the Airport, it should be less than $20 for a rideshare to get you to the property.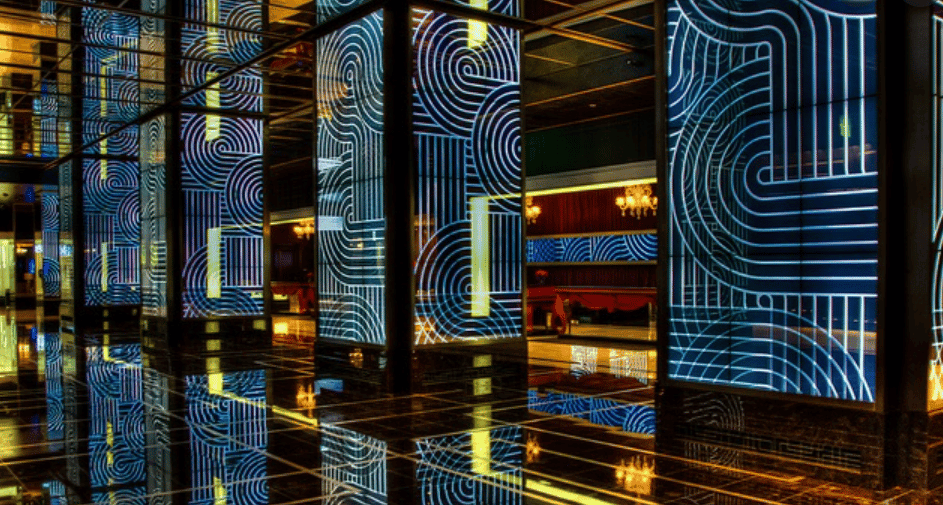 For this booking, I redeemed my WestJet Dollars for a WestJet Vacations package. For two economy round trip tickets from Edmonton and two nights at the Cosmopolitan in a Terrace One Bedroom Suite with a fountain view, it cost me 1598 WestJet Dollars plus taxes and fees. Thanks to RBC Rewards and RBC product switching, I had a few WestJet Dollars that I needed to burn and I felt that this was excellent value for a quick trip to Las Vegas.
If you aren't redeeming third-party points, I do recommend booking directly with the Cosmopolitan of Las Vegas where possible, since they often have unique offers such as 25% off your stay of three nights or more or additional food and beverage credits that can be used during your stay. Similarly, if you have signed up for the Identity Rewards Player's Club, you may be eligible for free rooms or significant rate discounts for your next stay.
Similar to many other Vegas resorts, there is a nightly resort fee of $45 USD that is attached to all reservations, except for those where the fee is waived (such as comped rooms). The resort fee covers many property amenities, such as free in room WiFi, complimentary parking (both self-parking and valet), access to the fitness center, and access to the on-site tennis courts. There is no way to get out of paying this fee, so consider it part of the room rate when calculating your total hotel costs for your stay.
Terrace One Bedroom Suite, Fountain View
Before we get into the room review, I think it is important to cover the overall layout of the Cosmopolitan. The property is split between two towers, the Boulevard and Chelsea Tower, with the first three floors being linked between both towers. All gaming, food, and drinks can be found on the first three floors
At check-in, I requested a room in the Boulevard Tower as it is closer to the strip and in a much better location when it comes to where we spend time on the property. We were assigned room 31-95 in the Boulevard Tower and headed upstairs.
The terrace one bedroom suite is one of the lower-level suites at the property, however, it is the perfect room for any couple visiting the Cosmopolitan of Las Vegas. Boasting a separate living area, a bedroom with a sliding door, and a stunning bathroom complete with a Japanese soaking tub.
Below is the floor plan for reference so you can understand the layout of the suite.
Upon entering the suite, the living area is immediately in front of you. If you are traveling with a few friends, this would be a great spot to enjoy a few cocktails before heading out for the evening as there is ample space between the two couches.
To the right is a television mounted above a set of cabinets which includes a mini bar fridge. All mini bar items are on a pressure sensor at the Cosmopolitan of Las Vegas, so do not pick up any items that you do not wish to purchase. There is not enough room to place any personal items in the mini fridge as a result, so I recommend calling the front desk if you require a refrigerator in the room (most likely at an additional cost).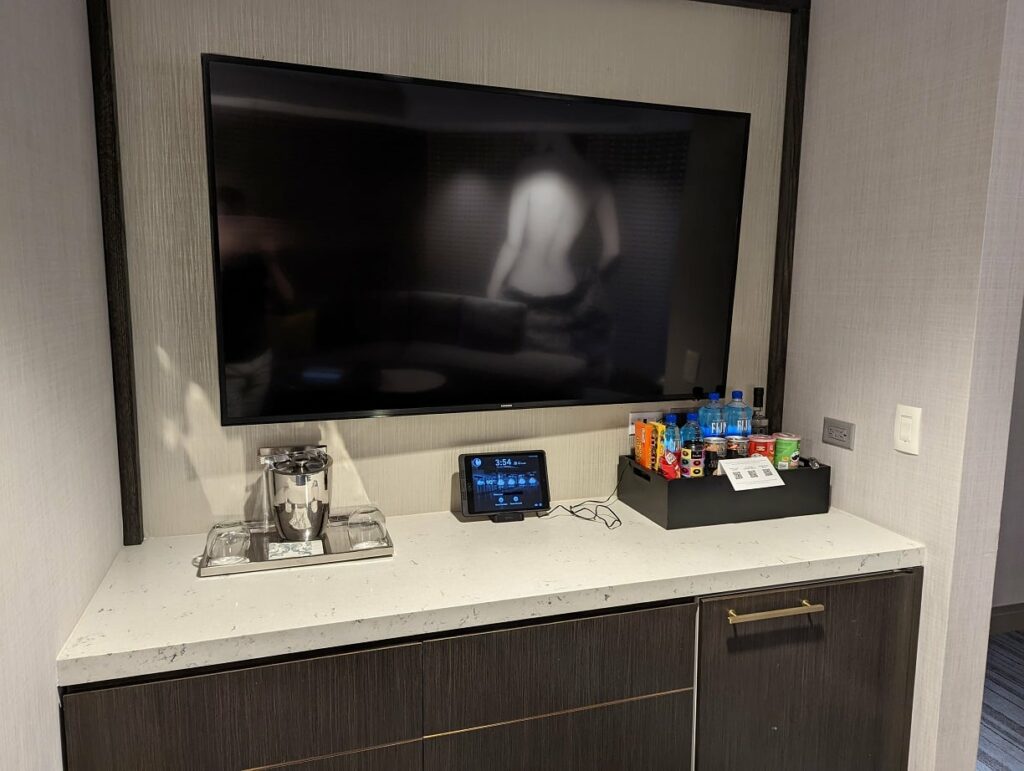 From the living room, there is a short hallway with a bench that takes you to the bedroom and bathroom. There is ample closet space, as well as a safe for your valuables, in addition to an iron and ironing board. Directly ahead of you is the bedroom with entrance to the balcony, while the bathroom is on your right.
The bedroom features a king-sized bed, with a nightstand and light on each side. Straight in front of the bed is another wall-mounted television.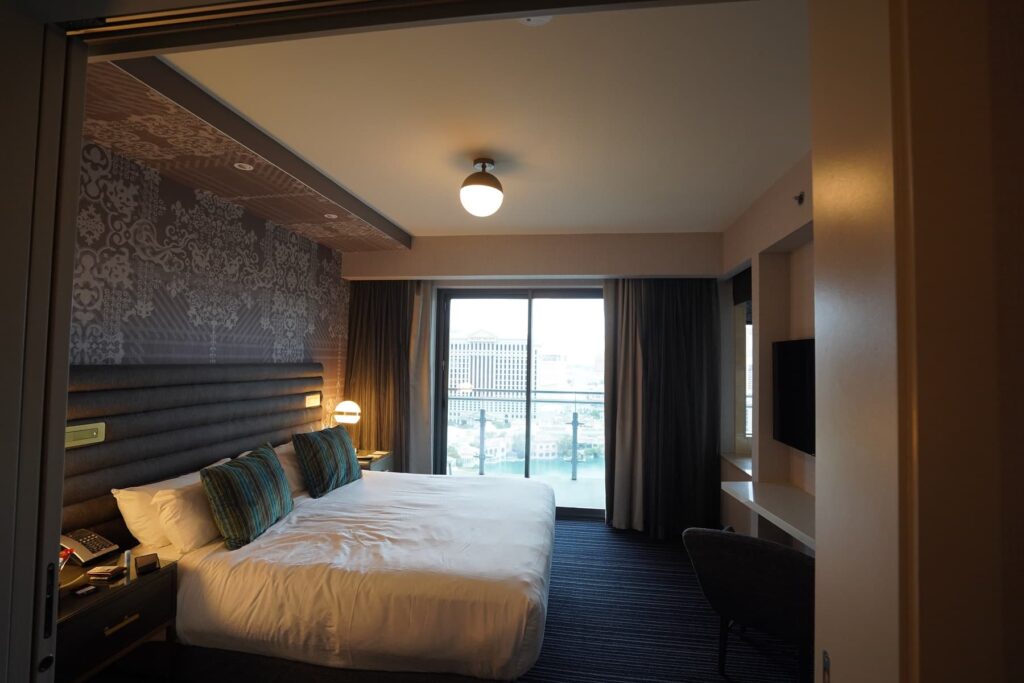 From the bedroom, if you take a right you end up in the bathroom. Immediately in front of you is a gorgeous couple's vanity, equipped with two mirrors and two sinks.
To the right is a solid wood door that contains the toilet.
Back out in the bathroom, immediately in front of you is the door to the shower. If you walk past the shower, the Japanese soaking tub is located immediately in front of the window so you can enjoy the view while you bathe. The tub is quite deep and is definitely a great way to relax at the end of the night. The soaking tub area does have a window to the bedroom as well, however, there is a blind that can be lowered.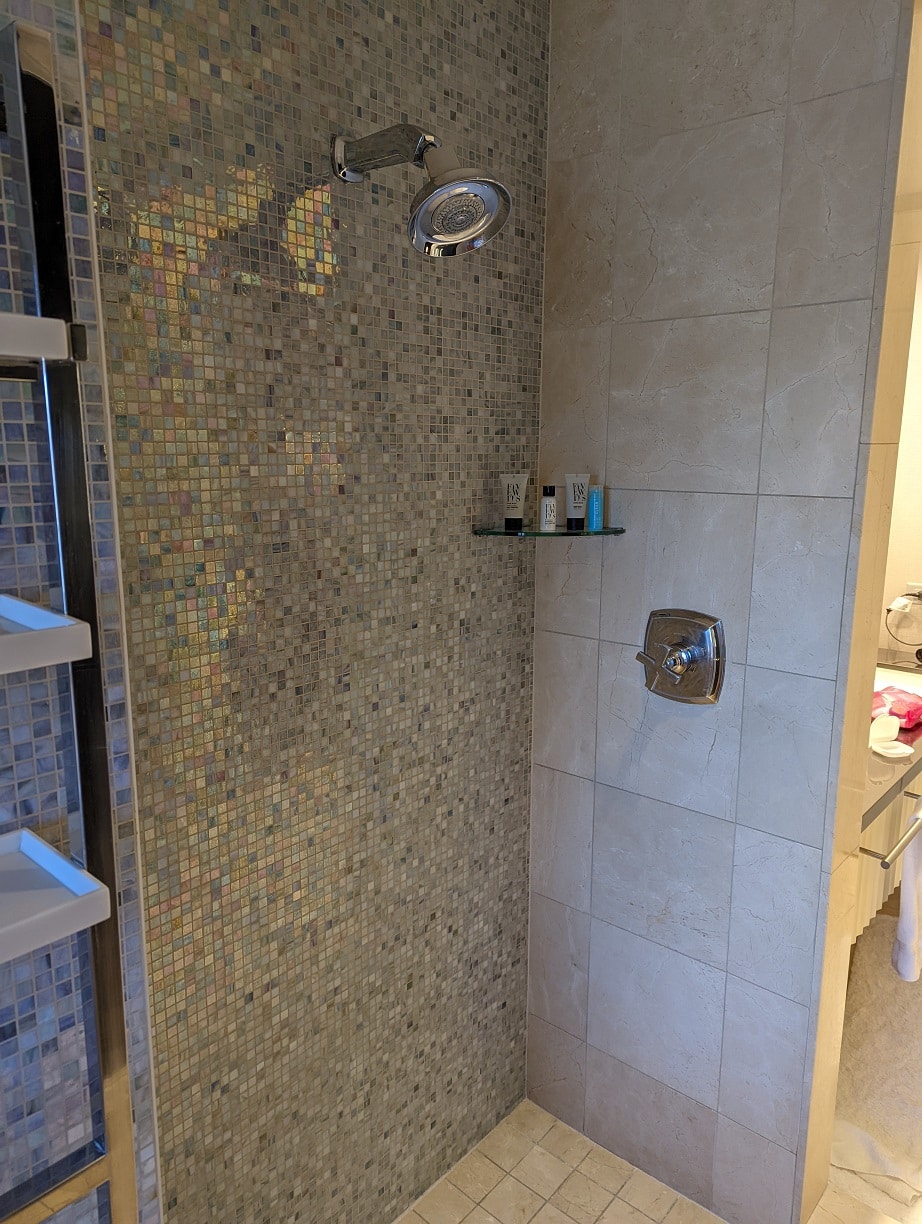 Many of the rooms and suites at the Cosmopolitan of Las Vegas offer private terraces, and my room was no different. Frankly, I think this is the main selling point of staying at the Cosmopolitan, especially when the weather is good in Vegas. Entering from the bedroom, my private terrace was adorned with a chair in one corner and a couch in the other corner.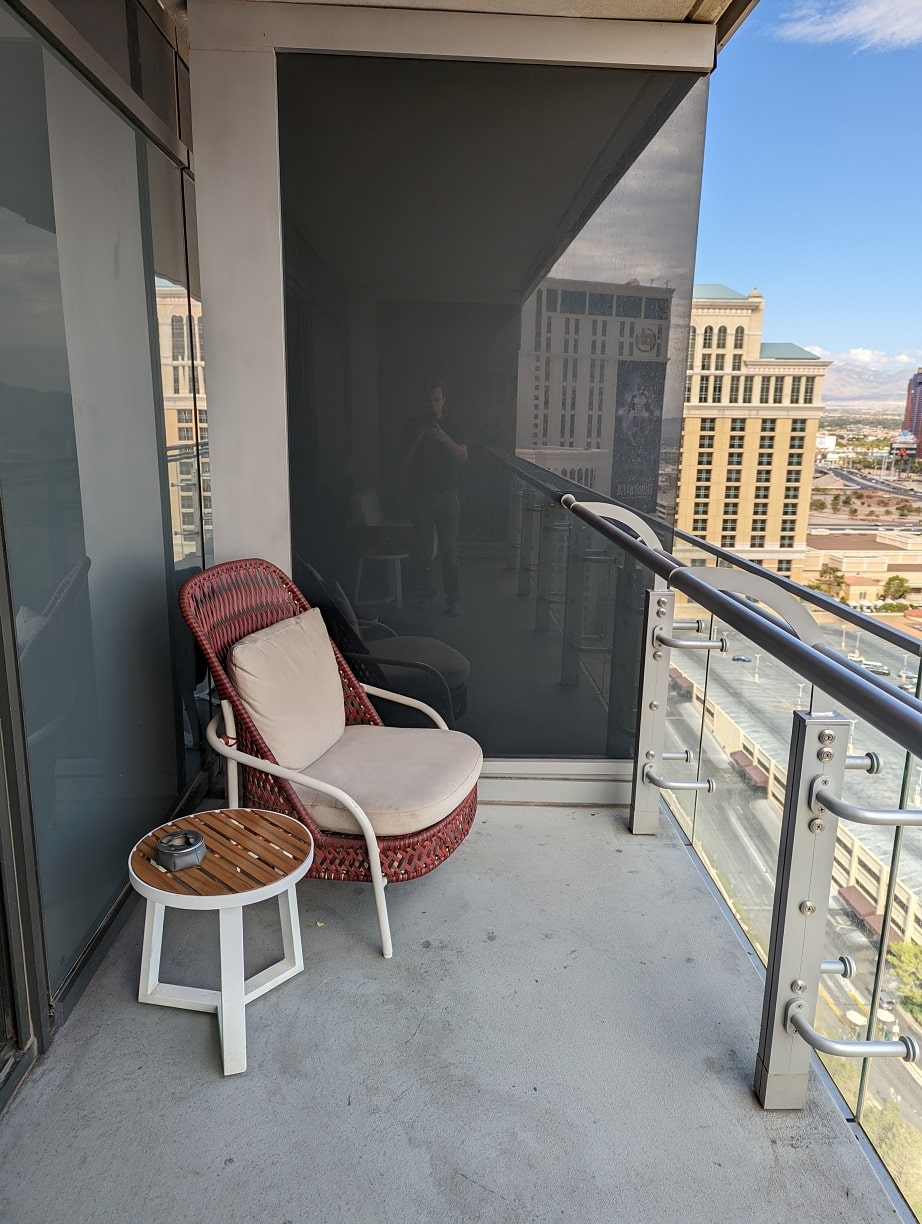 As I had booked a fountain view room, my suite overlooked the north side of the strip including the Bellagio fountains. This gave me a gorgeous view of the Las Vegas skyline both during the day and at night. Just take a look at the view from our terrace; I don't think this can be beaten.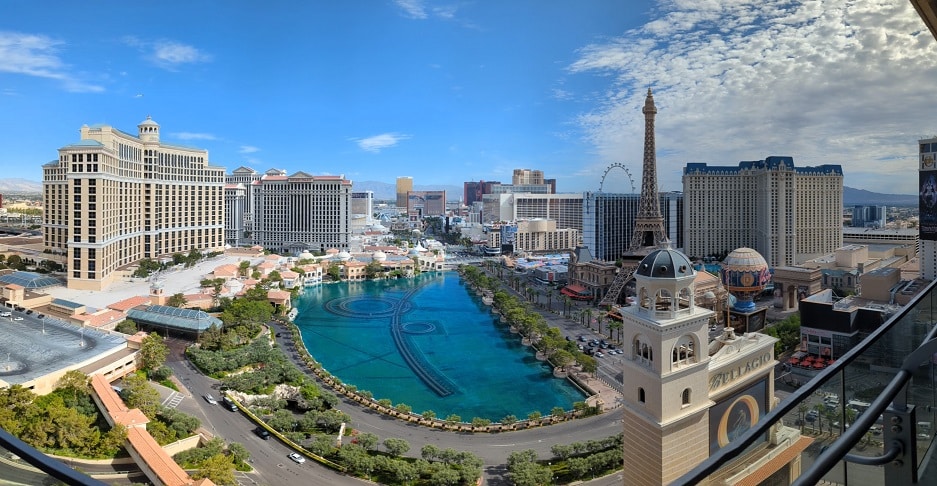 Dining & Bars
The Cosmopolitan of Las Vegas is not short of great places to eat and drink, no matter what you are interested in.
Restaurants
The Cosmopolitan has 26 restaurants and eateries meaning that you will never be short of options. Room service is also available during your stay.
While I won't mention all of the restaurants below, I've had many great meals at the Cosmopolitan so you cannot go wrong when it comes to deciding where to eat. I recommend switching it up and doing a few sit-down meals, with a few others being quick service.
If you find yourself wanting a great slice of pizza for a quick meal, head up to the third floor in the Boulevard Tower and walk down a long hallway lined with vinyl record cases. Here you will find a pizza shop with no formal name or signs. This pizza joint has been lovingly called "Secret Pizza" by many guests.
Of note, on the most recent stay, we visited Superfrico, which classifies itself as an Italian American Psychedelic experience. Immediately upon entering the venue and before you even reach the host stand, you know it is going to be something unique.
Superfrico is closely linked to Opium, which is the show that has a residency at the Cosmopolitan of Las Vegas. As a result, various acts enter the restaurant space throughout the night. Some things that we experienced during our dinner: a contortionist, a mangled mascot that will forever haunt my nightmares, and a penguin striptease.
No pictures for this one, I will leave it up to you to experience on your own. It was definitely something else.
Block 16 Urban Food Hall
Comprised of six different food-court-esque eateries, Block 16 Urban Food Hall is the go-to place at the Cosmopolitan for something quick yet delicious. Fried chicken, sandwiches, doughnuts, sushi, and wraps can all be found here.
Of note is Hattie B's Hot Chicken, which is our "must visit every trip" spot at the Cosmopolitan of Las Vegas. The menu is reasonably priced, the chicken has a phenomenal breading with various spice levels (depending on what you are feeling), and the portions are massive.
If you think you know what to expect when you order chicken tenders, Hattie B's will challenge that expectation. Not to mention, their alcoholic iced sweet tea was the perfect end to a fantastic fried chicken meal.
If you are looking for late-night snacks or quick but tasty meals to bring back to your room to enjoy on the balcony, learn more about Block 16 here.
Bars
Similar to many other resorts in Vegas, alcoholic beverages are something that the Cosmopolitan does well. The property has seven different bars (not including those within restaurants) and each has its own charm and unique specialty cocktail menu. I do recommend trying to have one drink at each bar, except perhaps for the Sportsbook Lounge since its menu is the least innovative.
For this review, I want to focus on the main one that you cannot and should not miss at the Cosmopolitan: The three levels of the Chandelier Bar.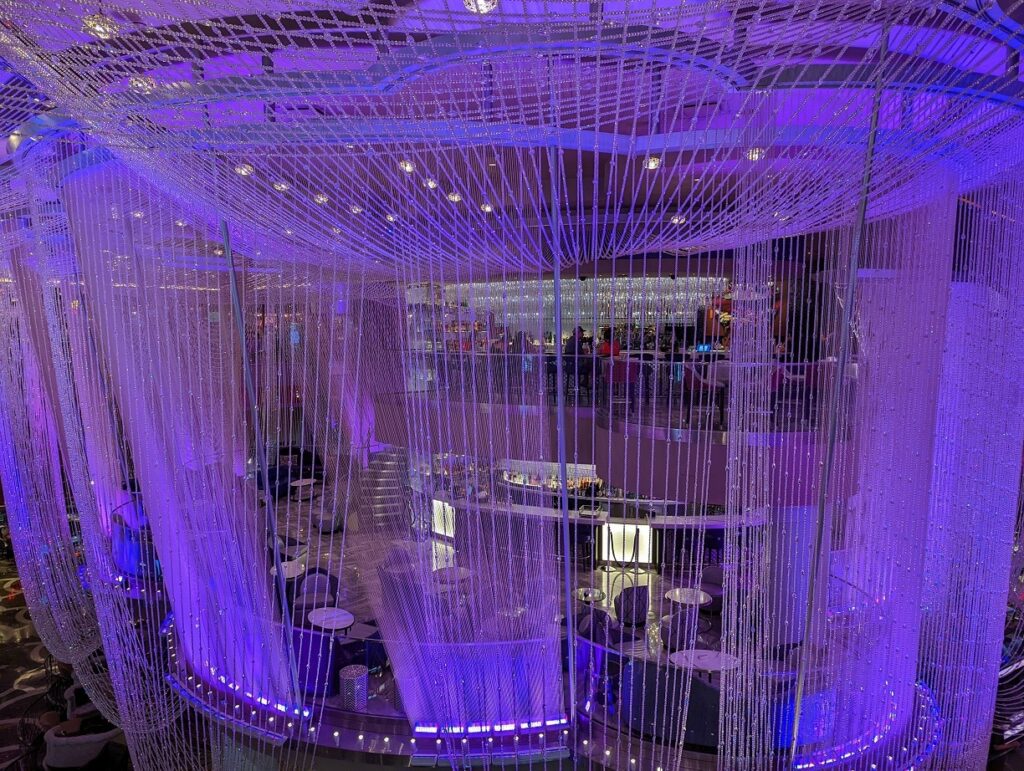 Each level of the bar has a different specialty cocktail menu and different hours that they are open. I recommend taking the time to try one cocktail from each level to truly appreciate the love that these bartenders put into their craft.
The Chandelier is also of note thanks to their bartop video poker on the first level. As an avid video poker player, this is one spot that my significant other and I posted up to have a few complimentary drinks while enjoying the atmosphere. If you put in a few $20s, and bet $1.25/hand (quarter max bet) your first drink will be comped by the bartender as it would be on the casino floor. Thereafter, the video poker machine will spit out drink tickets at intervals which you can redeem for further drinks as you continue to play.
While my significant other was not playing, I was single-handedly able to earn enough drink tickets for the both of us. In fact, we even ended up using a few remaining tickets to buy drinks for a couple sitting nearby. I highly recommend trying a raspberry lemon drop and a cosmopolitan while you are at the property, even if they are outside of the typical type of drink you would order.
Other Amenities
The Cosmopolitan of Las Vegas also has two pool decks, a fitness center, and a spa available for its guests to enjoy.
Pools
Two pool decks are available at this resort, one in each tower: the Boulevard Pool and the Chelsea Pool.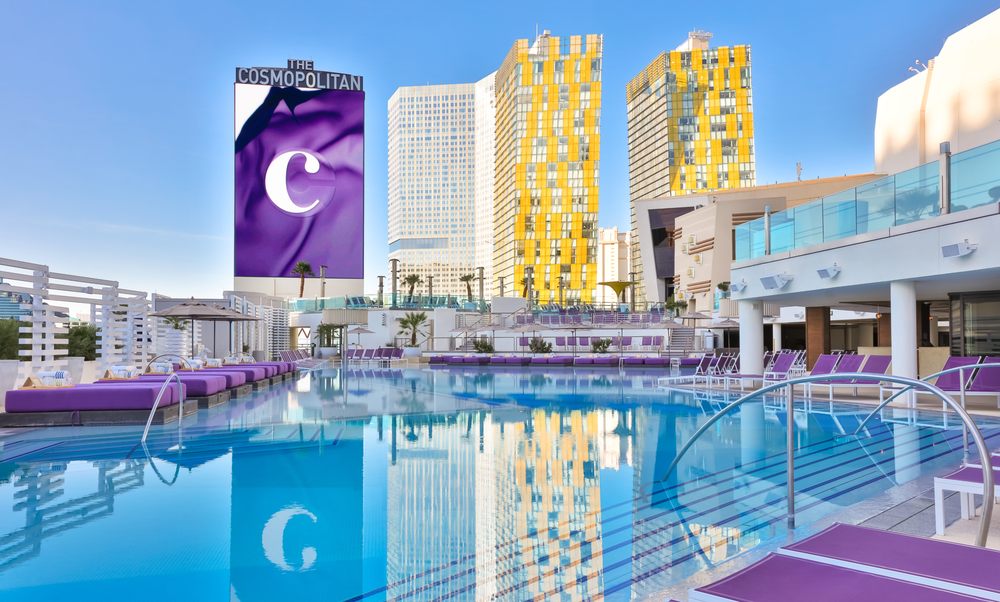 The Boulevard Pool, located on the 4th floor of the Boulevard Tower, is a much more upbeat and bigger pool, typically with loud music playing. On the other hand, the Chelsea pool, located on the 14th floor of the Chelsea Tower, is quite the opposite with a more chill vibe and smaller overall. As is typical with Vegas, these are not swimming pools but instead more lounging pools.
Additionally, one of the best-kept secrets in Vegas can be found on either pool deck. While everyone else is paying for daybeds or cabanas at other pools, the Cosmopolitan of Las Vegas works a little bit differently. While at other properties you are paying strictly for a location, at the Cosmopolitan the booking fee goes towards a food and drink minimum spend. Typically, daybeds and cabanas are pricier at the Boulevard pool due to it being more desirable.
This means that if you book a daybed for $250, you are expected to spend $250 on food and drinks during your day at the pool. In fact, Reed and I booked a daybed back in March 2022 for $250 USD total spend on food and drinks and it was a great way to spend a day.
Fitness Center
Similar to the pools, the Cosmopolitan has a fitness facility in each of the towers.
The fitness center in the Boulevard tower is your standard gym, as it focuses more on cardio equipment and weights. This gym is open 24 hours and is a bit smaller than the one in the Chelsea Tower.
The fitness center in the Chelsea Tower has tennis courts, pickleball courts, and a copious amount of cardio and weight-training equipment. It is open from 6 am to 6 pm daily.
While I didn't utilize either gym this trip due to the short duration, I have taken advantage of the fitness facility in the Boulevard Tower in the past and it is absolutely one of the best hotel fitness centers that I have ever used.
Spa
The Cosmopolitan of Las Vegas, like many other resorts, has an on-site spa. Dubbed the Sahra Spa, Salon, and Hammam, it claims to be an "oasis of luxury and rejuvenation". Spa treatments that are available include massage, skin care, baths, and more.
Treatments start at $180 and go up from there. I've yet to take advantage of the Spa, but I have heard great things from those who have enjoyed a treatment here. If you have the budget for it, it might be a great way to spend an afternoon.
Cosmopolitan Identity Rewards Program
Casino players' loyalty programs are a big draw in Las Vegas, offering customers free rooms, free play for gambling, and comped food and beverage as a way to attract them to visit. The Cosmopolitan of Las Vegas is no different, with its Identity Rewards program.
Simply enter your Identity players card when playing slots or video poker, show it when playing table games, or provide it upon making any purchases at the property. All of these transactions earn Identity points which can help you work towards tier status, in addition to being redeemable for resort credit or free play credit.
From my most recent stay, I have recently received an offer for three free nights. While my current offer has an expiry date within the next few months, typically casinos will continue to send offers until you stay with them again. That being said, it is fantastic to be able to earn a few free nights when I know that I will be back at the Cosmopolitan within the next year for another stay.
If you are staying at the Cosmopolitan, I recommend signing up and showing your card for any purchases made since you will earn 5% back in points that can then be applied towards your room charges upon check-out. More information about the Identity Rewards program can be found here.
Marriott Bonvoy & The Cosmopolitan of Las Vegas
What many may not know is that currently, the Cosmopolitan of Las Vegas is a property within the Marriott Bonvoy loyalty program.
The benefits you will receive do vary based on your Marriott elite status level but include things such as a separate check-in line/area, room upgrades (usually a view upgrade), a later check-out, priority seating at the Wicked Spoon buffet, and more. None of these are particularly exciting, and you will not receive free breakfast at this property even if you are Marriott Platinum Elite or above.
Related: Fast Track Your Way to Marriott Platinum Status
Additionally, when you stay at the Cosmopolitan you can choose to either earn Marriott Bonvoy points or Identity Rewards points on your booking; I personally recommend going with Identity if you ever plan on returning to Las Vegas. You can also convert Identity Rewards points into Marriott Bonvoy points at a rate of 10 Identity to 8 Bonvoy, by contacting customer service.
Learn more about the connection between Marriott Bonvoy and the Cosmopolitan here.
Overall Thoughts on The Cosmopolitan of Las Vegas
The Cosmopolitan of Las Vegas is definitely a vibe.
With its unique art throughout the property, trendy rooms with amazing balconies and views, and endless food and drink options, this is one resort that I think everyone should try to stay at during a trip to Vegas. I hope to be back here in mid-2023 with Reed and a few other colleagues for a brief business retreat – I can't think of a better place for a trip like that.
Related: 5 Things to Do on the Las Vegas Strip
Not to mention, this review only scratches the surface of the property. Other areas to note are Marquee Nightclub and Dayclub (if partying is your thing), the buffet (considered one of the best in Las Vegas), and the various events that the Cosmopolitan of Las Vegas hosts (Whiskey tasting in October anyone?).
Conclusion
The Cosmopolitan of Las Vegas is a gorgeous property and easily my favorite location on the Las Vegas strip. It stands out with well-appointed rooms and beautiful balconies, especially when you are overlooking the Bellagio fountains. The food, drinks, and entertainment on the property has everything you would need for a short trip; we only left the Cosmopolitan once on my most recent trip.
Even if you aren't staying on the property, or perhaps are staying at the Waldorf Astoria Las Vegas next door, I definitely recommend making a stop here for some light gambling and a few cocktails on your next Vegas adventure.
Josh has been involved in the miles and points game since 2015 but has scaled up his knowledge and points earning potential in recent years. With a consistent attitude of "min-maxing" in many aspects of his life, Josh has transferred this mindset over to the miles and points game. Always looking for the next big opportunity, Josh aims to share content on a variety of topics including his travels, travel hacking, and most importantly, how to get the most out of your credit cards
Latest posts by Josh Bandura (see all)