Frugal Flyer recently took a short weekend trip to blow off some steam conduct important business in the great city of Las Vegas. While we typically gravitate to Marriott Bonvoy properties, this time around we were able to experience a new hotel – the Waldorf Astoria, part of the Hilton portfolio.
Read on to learn more about this hotel, and see how it compares to our other favorite: The Cosmopolitan of Las Vegas.
Booking and Room Upgrade Challenges with Hilton Honors
We booked this luxury hotel using two expiring Hilton Free Night Reward certificates, which I got from my Hilton Honors Aspire credit card.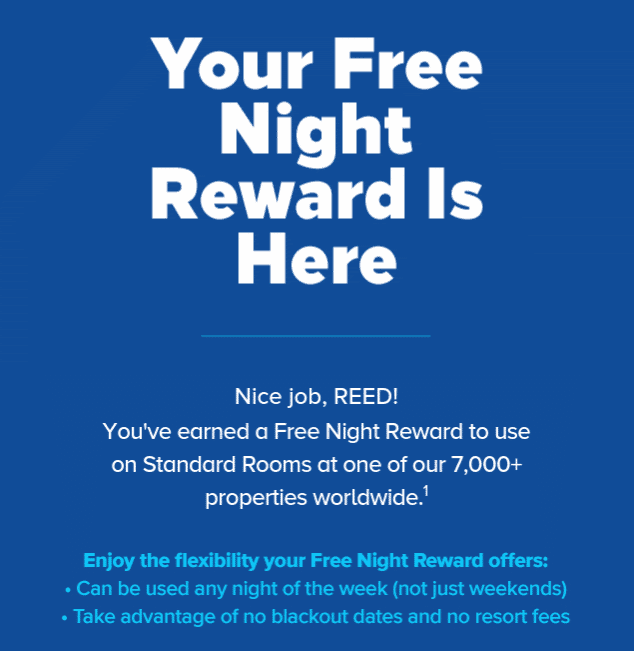 The certificates were actually due to expire on December 31, 2022, but I was able to extend them to January by calling the Hilton Honors customer service line, as has been widely reported by others.
We were only able to book the lowest room category, a City View Room, King. At the time, no double beds were available, but we figured we'd have no trouble getting a double room with our complimentary Hilton upgrades, and a note was also placed on file to swap us to the double bed room should one become available.
Unfortunately, we received contact from the property on the day of our stay which turned the tables on us, using the fact that we had requested a room with two double beds to propose an upsell of $50 USD per night.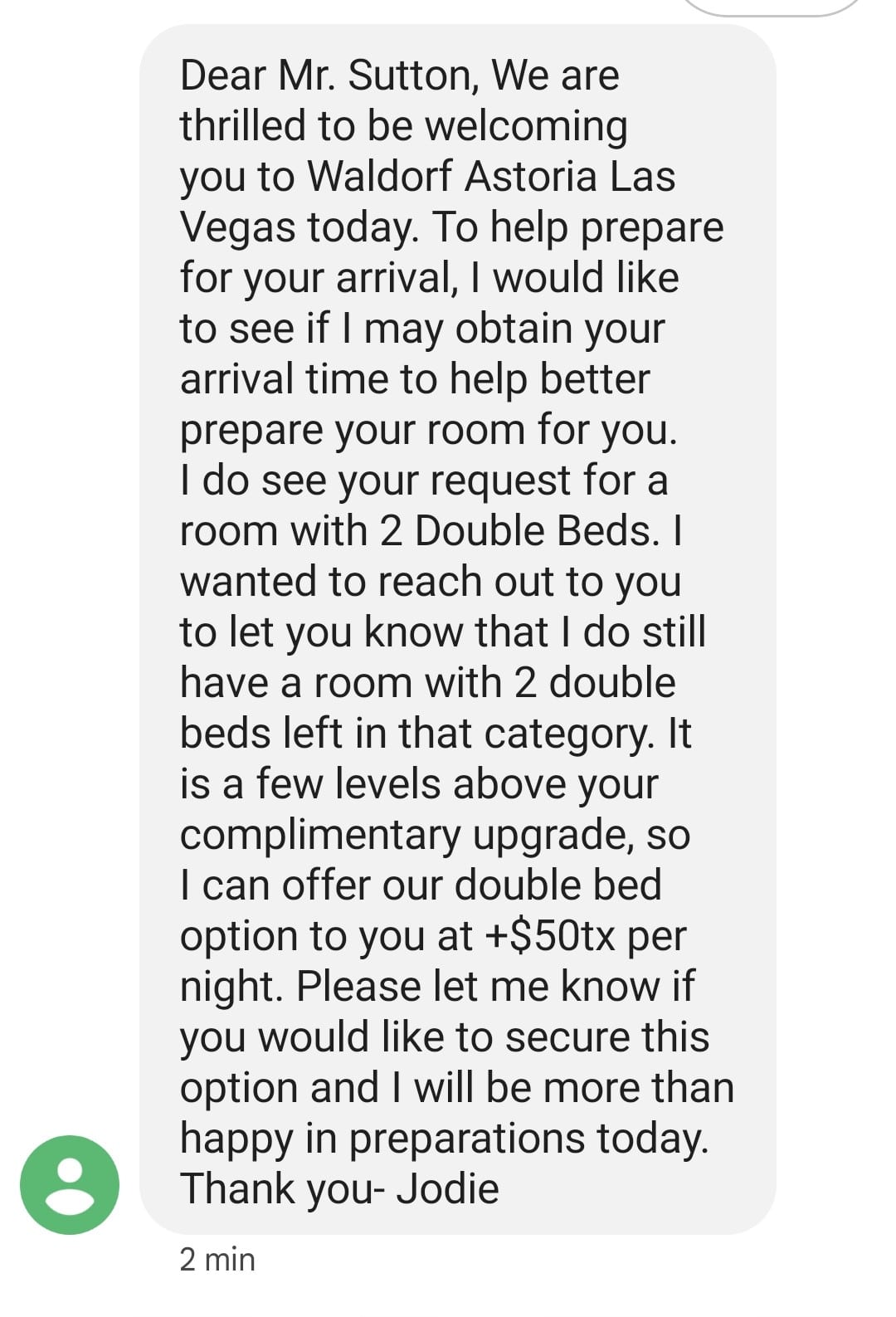 They made the claim that a room with two double beds was "above our complimentary upgrade", which would only entail a change from a "city view" to a "strip view".
Quite eye-rolling, but unfortunately this is the state of these loyalty programs, at least in North America, and particularly in Las Vegas itself. The focus is on profit, to the detriment of customer experience.
The real kicker was when the front desk check in staff acted like they had done us a huge favor and said "we've upgraded you" when we had actually paid out of pocket to have a different room option. An option which, at the time of booking, amounted to the same category.
I digress.
On the plus side, by booking with Hilton certificates we did not have to pay any daily resort charge, which would normally be 90 USD.
Location
The Waldorf Astoria Las Vegas is located right at the South end of the Las Vegas strip (Las Vegas Blvd), about 1 mile from the Bellagio and 3 miles from the airport.
This puts it in a unique position compared to most other hotels, as it's a bit out of the way and lesser known. Furthermore, it has no casino on site unlike most hotels on the Las Vegas strip.
As a result, it's quieter and tends to be less overbooked than other Vegas hotels. There won't be any drunk teenagers waking you up outside your room at 3 AM (well, no promises…).
But, on the flip side, it's further from some attractions on the strip, such as Wynn, Encore, XS Nightclub, etc. Not a huge deal though as many of the things you would do in Vegas are a very short Uber ride away.
Of note, valet parking is available on the property for a price of 35.00 USD daily.
Check In / Lobby
The hotel lobby was located on the 23rd floor, as the ground floor lobby is currently under renovation, set to open in Spring 2023.
When we spoke with hotel staff prior to our stay they made a bit of a stink about the current lobby and how it didn't represent the hotel very well. However, there was really nothing wrong with the current setup in our view. Although there were two sets of elevators, from the ground floor to the main level, and then a bit of a walk to the main elevators to access the 23rd floor, the lobby being next to the SkyBar and Tea Lounge made for many conveniences.
The lobby itself was very nice, with a dark ambiance and some interesting abstract wall art, as pictured below.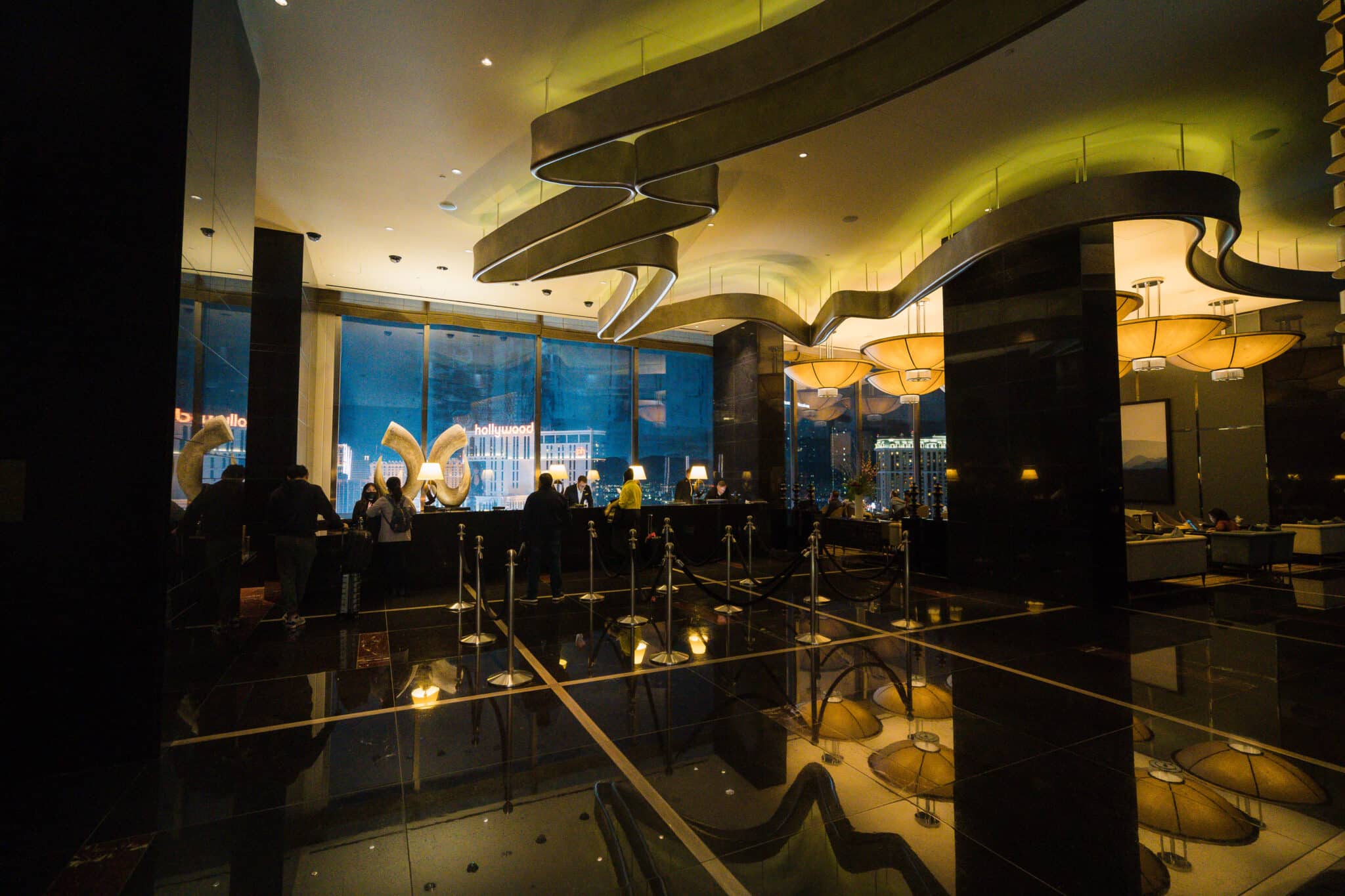 Also worth noting is that the floors above 23 are all residences, while those below are hotel rooms.
The Room – Strip View Room, Two Double Beds
The hallways leading to the elevators were modern and updated, but the hallways on our room floor (the 11th) still had an oriental feel (the hotel used to be a Mandarin Oriental property, so this isn't surprising).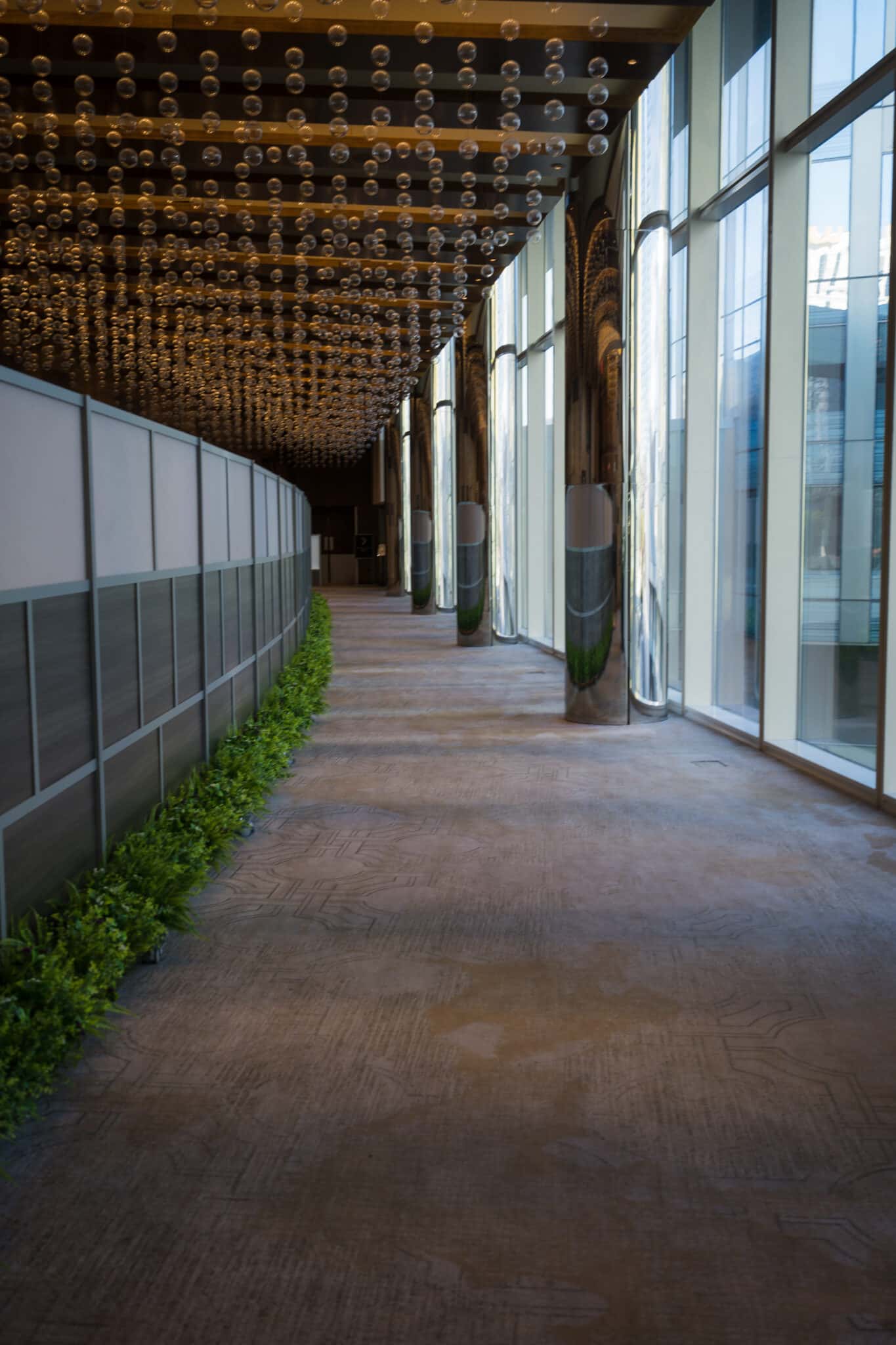 As we entered the newly updated two-bed room, we were pleasantly surprised to see the spaciousness. Directly to the left of the entryway was a long hallway with a closet and drawers for clothes and jackets.
Does anyone ever actually store things in hotel room drawers though? Too much risk of forgetting for me 😅.
Moving on to the main attraction – the bedroom appeared large and welcoming, with tall ceilings, ample walking space, and side table space.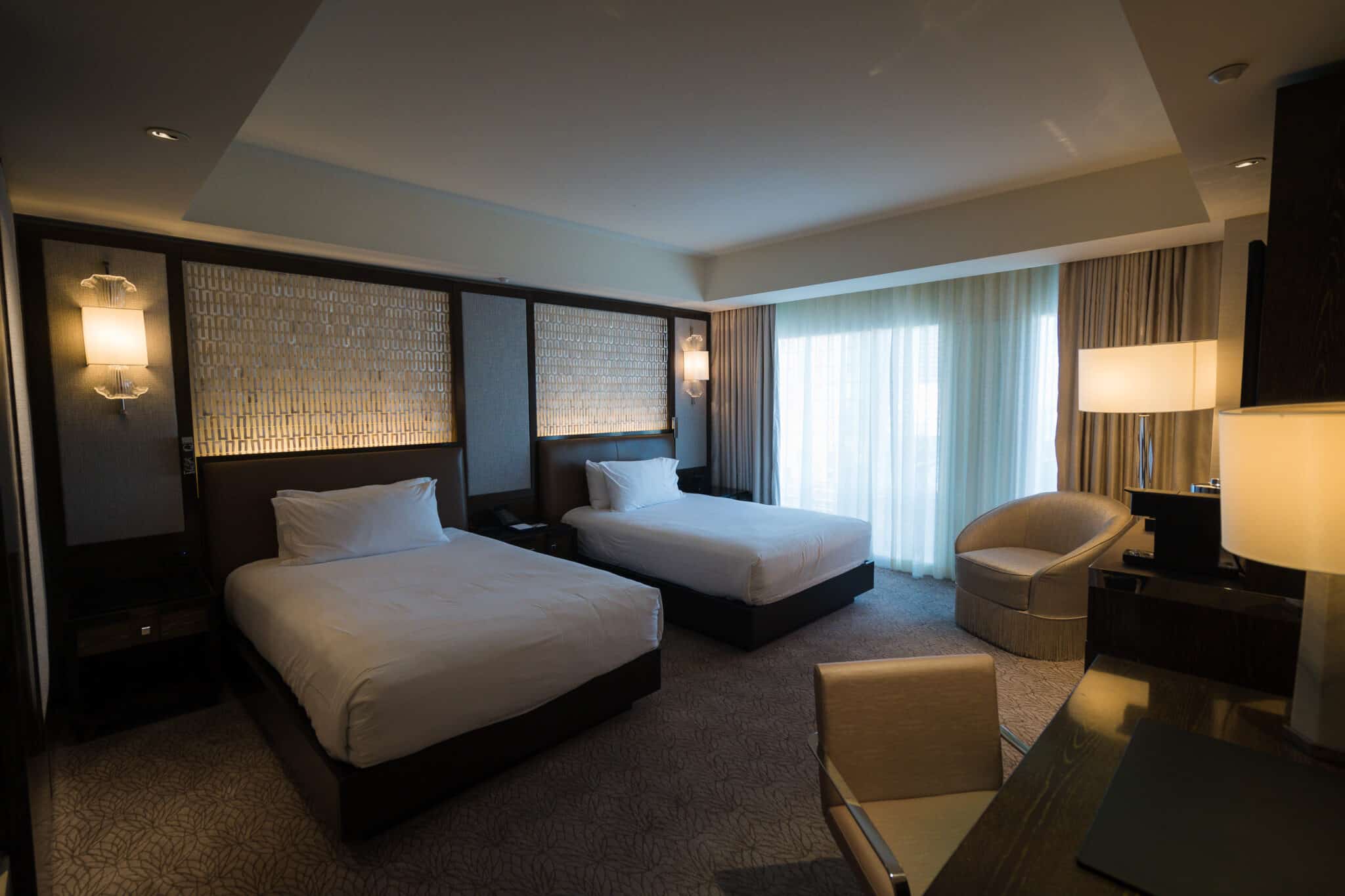 Nice to see especially with many hotel double bed rooms becoming rather cramped between the beds.
The magnificent strip view, as promised (only being partially sarcastic – but go to the SkyBar in the evening if you want the best view).
The bathroom was actually quite impressive, housing a double vanity, large tub, and separate glass-walled shower and toilet.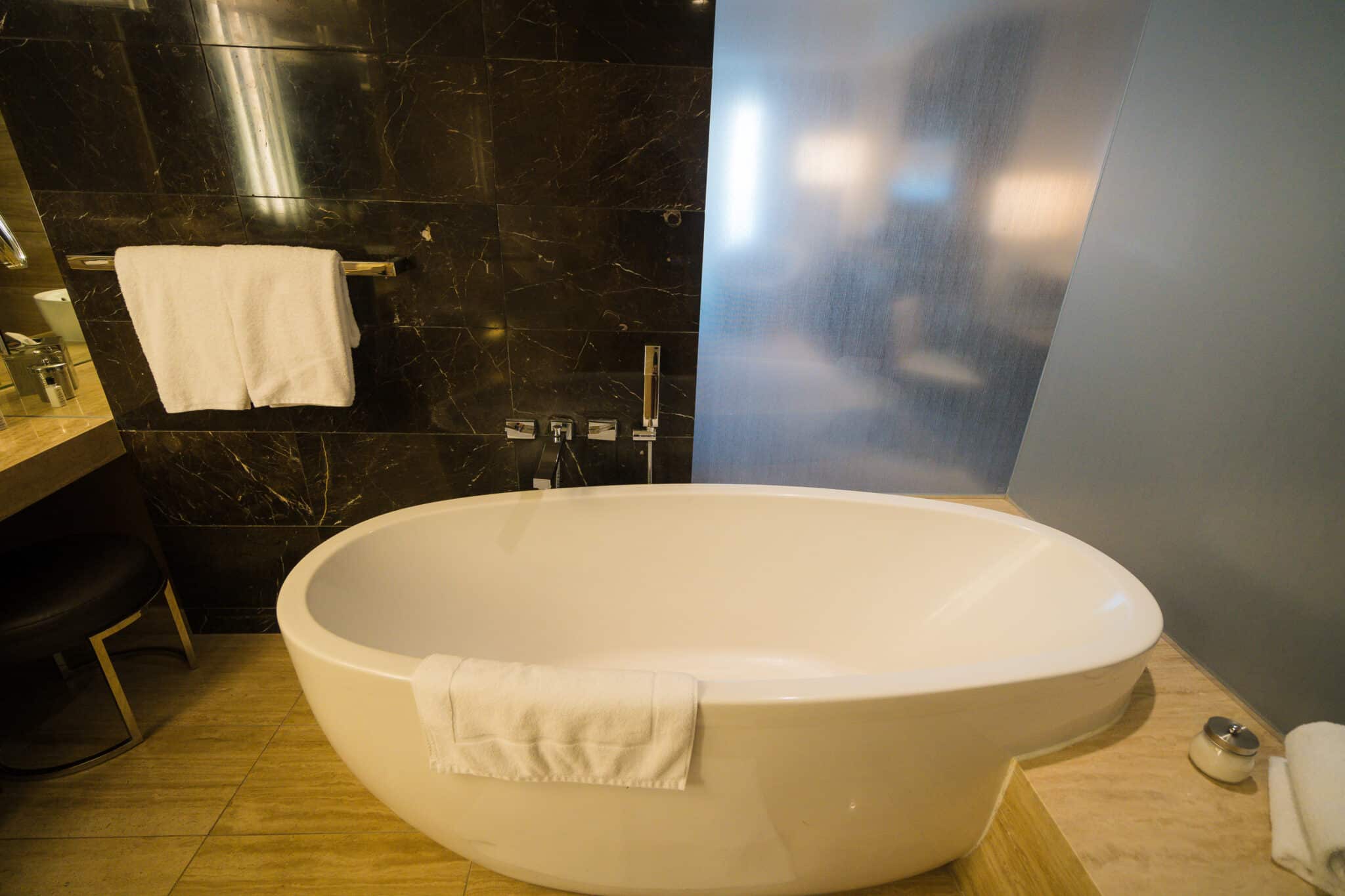 The shower was a nice size. I fit in quite easily.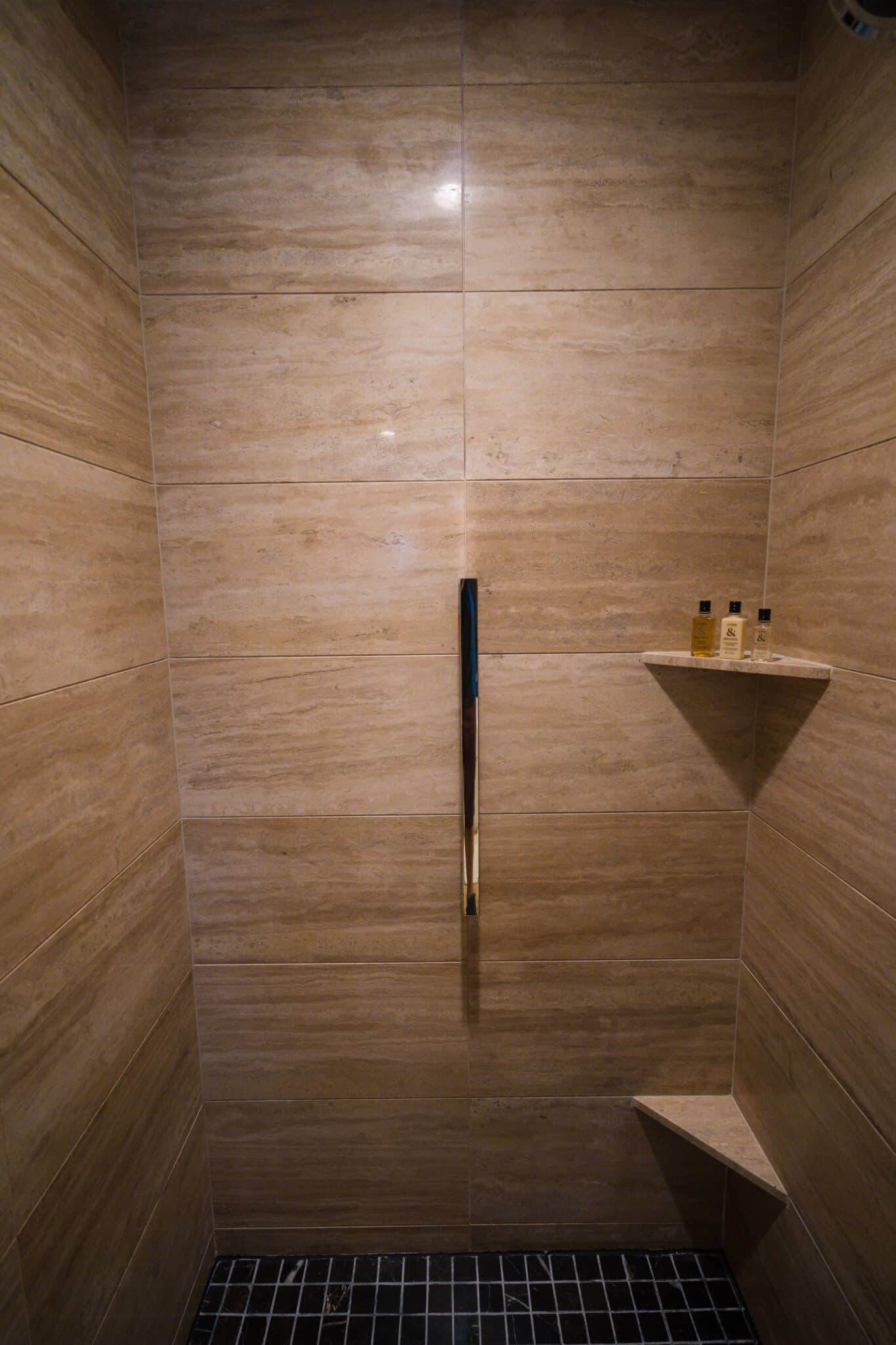 Overall, the room was very nice, with really nothing of note to nitpick about.
One other appreciated and perhaps underrated feature was the abundance of automated light controls throughout the room, including beside the beds. Furthermore, the bathroom light control had a night light feature which controlled a subtle light in the toilet room – perfect for venturing to the toilet late at night without waking yourself up.
The drapes and shades were also automatic.
Dining & Bars
SkyBAR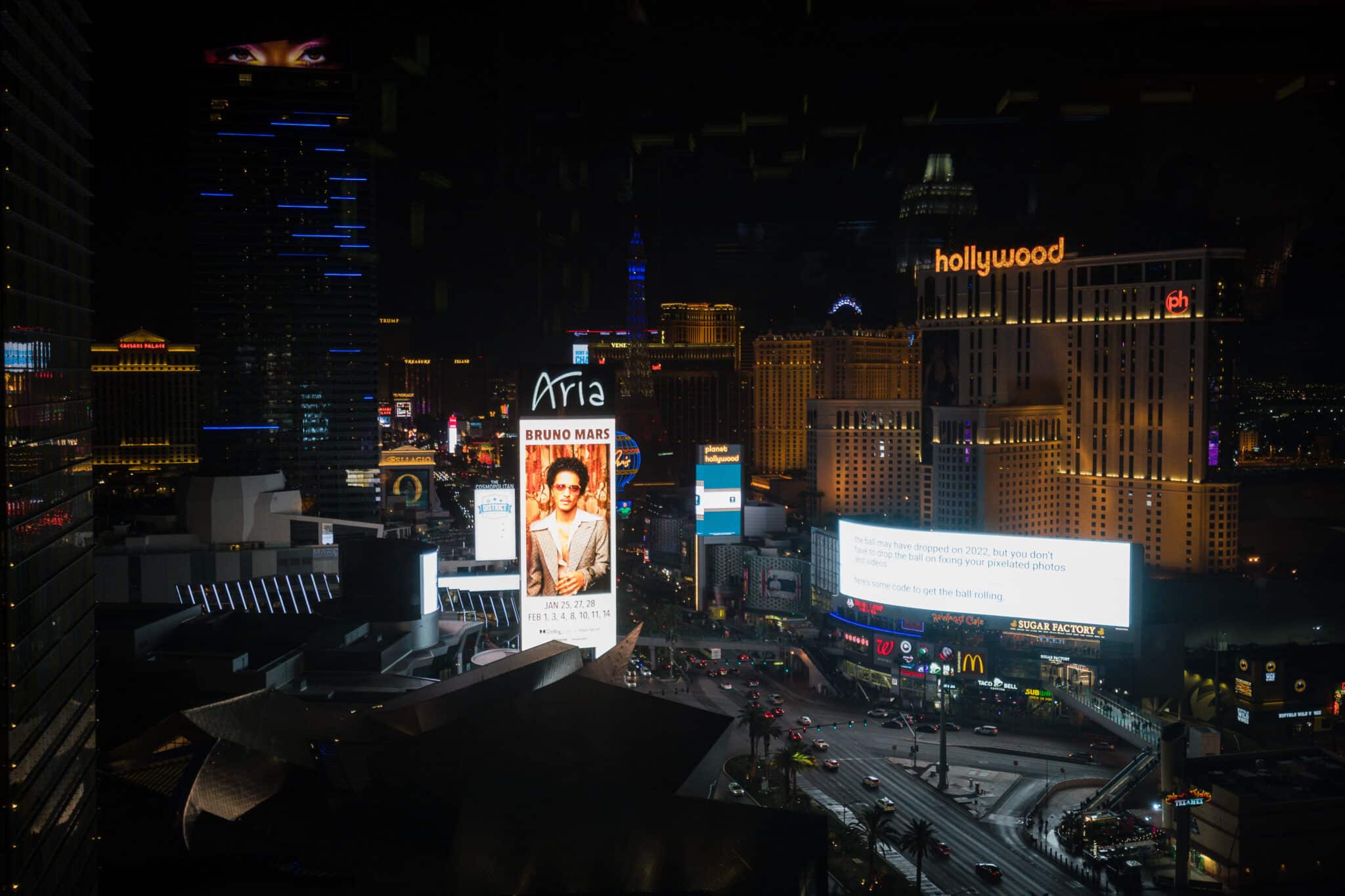 A major highlight of this hotel is the renowned Sky Bar. This is a craft cocktail bar on the 23rd floor of the hotel. The view is as good as the cocktails are tasty.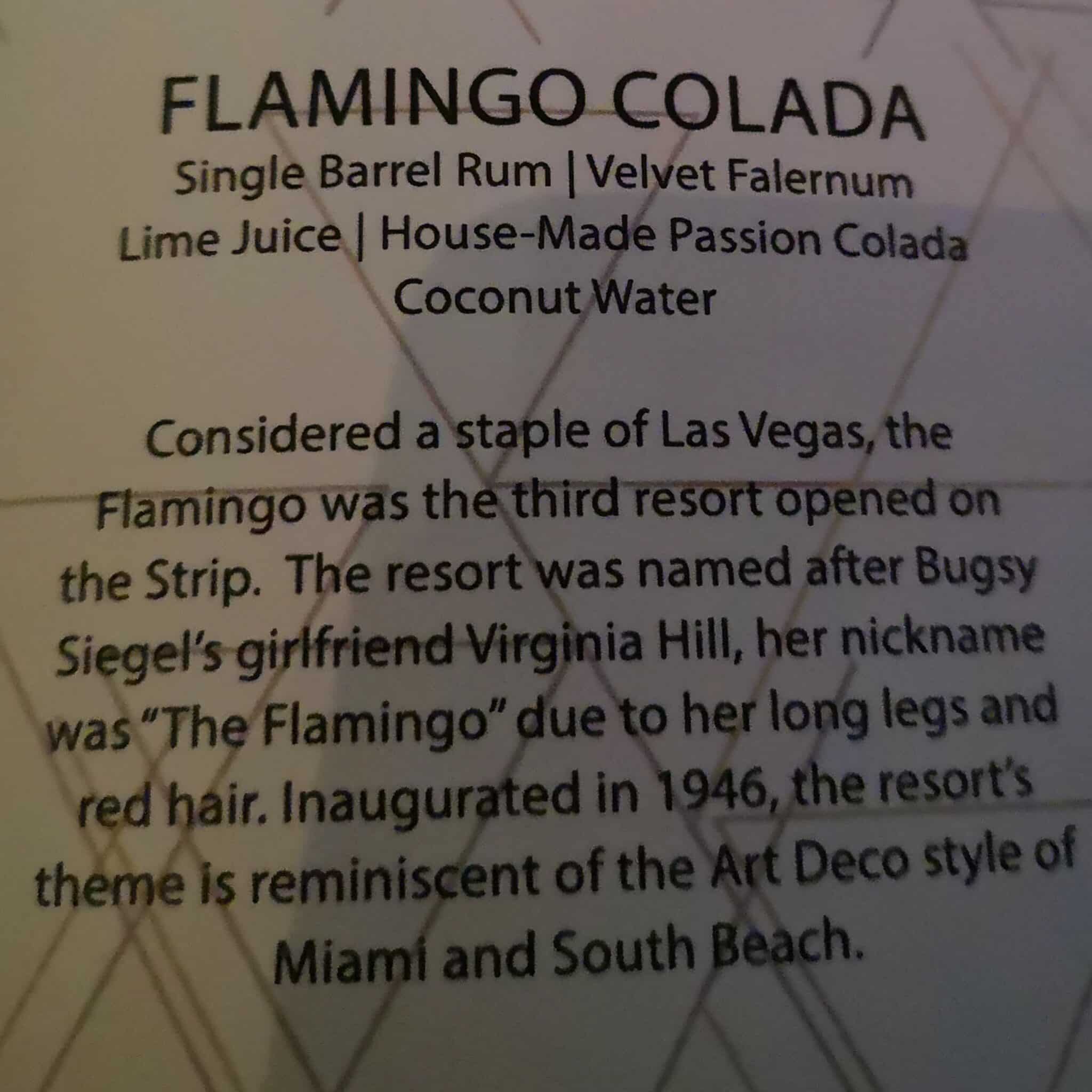 SkyBar is a popular spot, and also because it is open to the public and not just hotel guests, it gets booked up fast. Definitely reserve a spot here well in advance (a week or more) if you hope to visit.
Zen Kitchen and Zen Cafe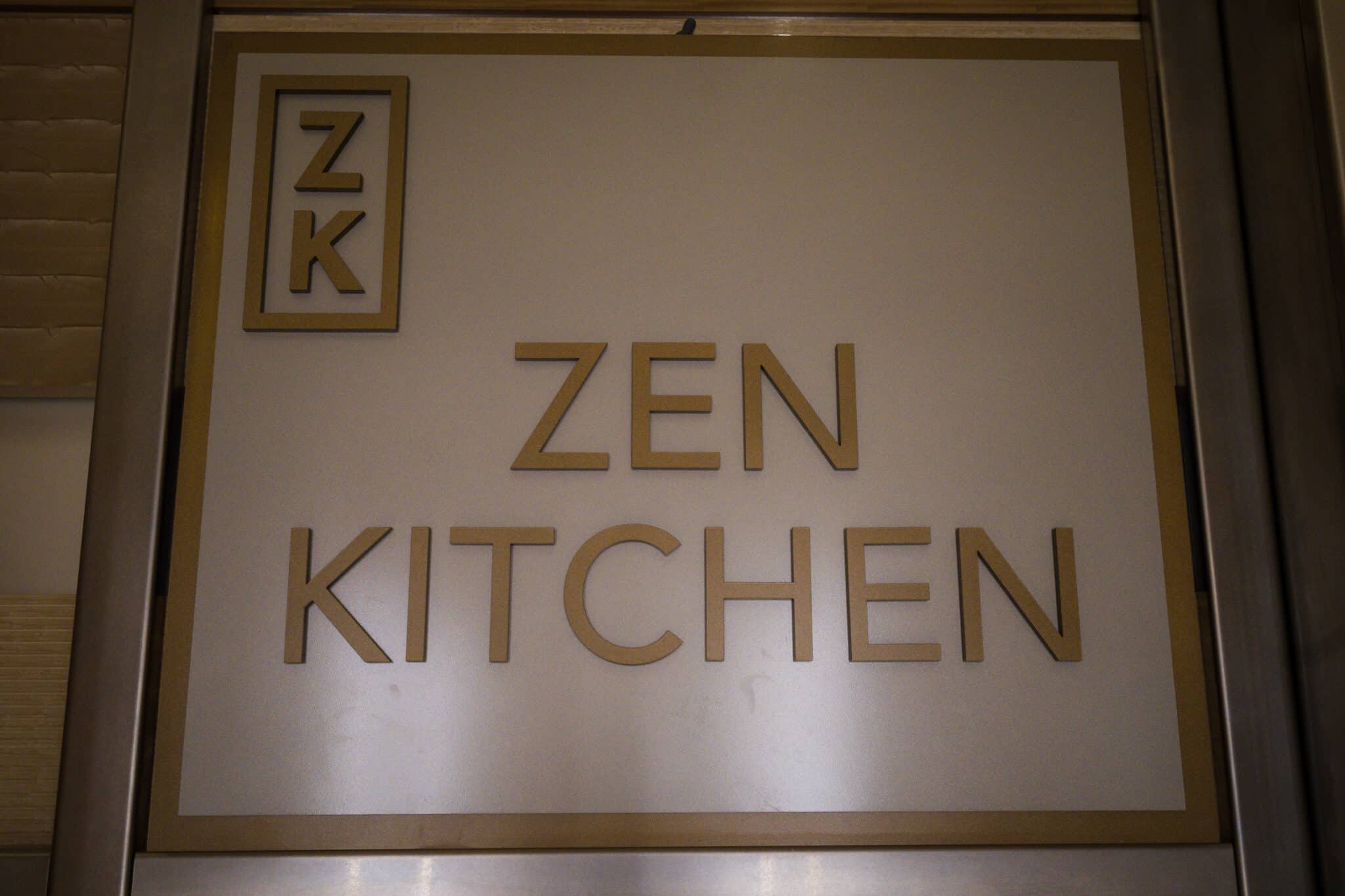 The Zen Kitchen is a casual, Asian-themed dining affair on the 3rd-floor. If you fancy hotel breakfast, there is a full continental selection available here. There is also an accompanying Zen Cafe, which is great for grabbing a quick bite.
We didn't eat at either of these places during our stay so can't comment any further on the quality.
We did however order room service one night, which consisted of pepperoni pizza, margarita pizza, and cheesecake.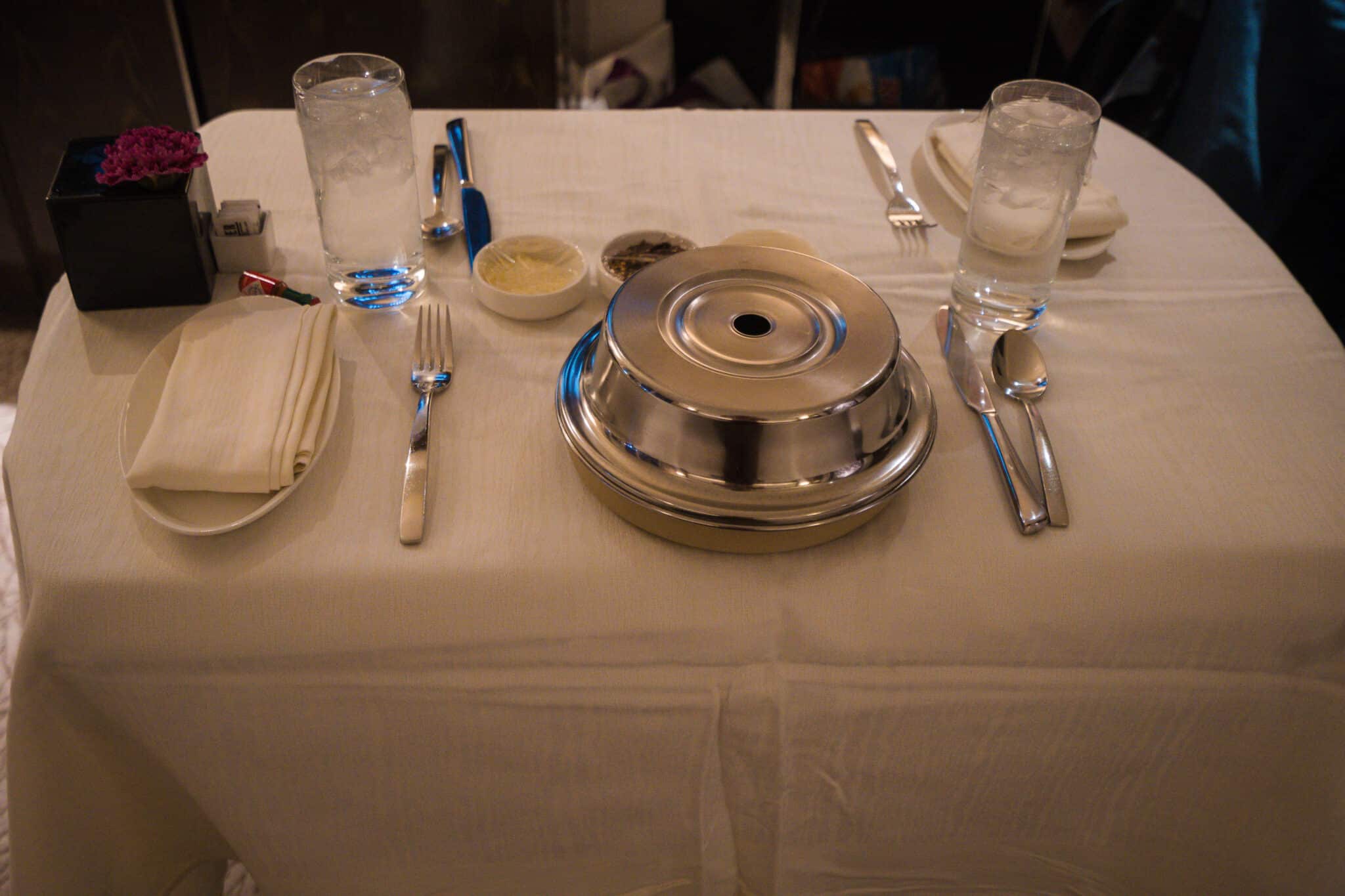 Overall it was a decent meal, but I would recommend checking out some of the close-by options at Block 16 at the Cosmopolitan if you're not limited to eating in.
Twist by Pierre Gagnaire

Also on the 23rd floor is Twist by Pierre Gagnaire – a high-end French restaurant headed by a Michelin-rated chef. Apparently, that means he is pretty good!
Unfortunately, it seems this restaurant is currently 'permanently closed', since COVID. We are unsure if it will re-open or be replaced by another.
Other Amenities
The Waldorf Astoria has many great amenities available to guests, including a plethora of meeting rooms, business center, spa services including hair salon, nail salon, massage, and more.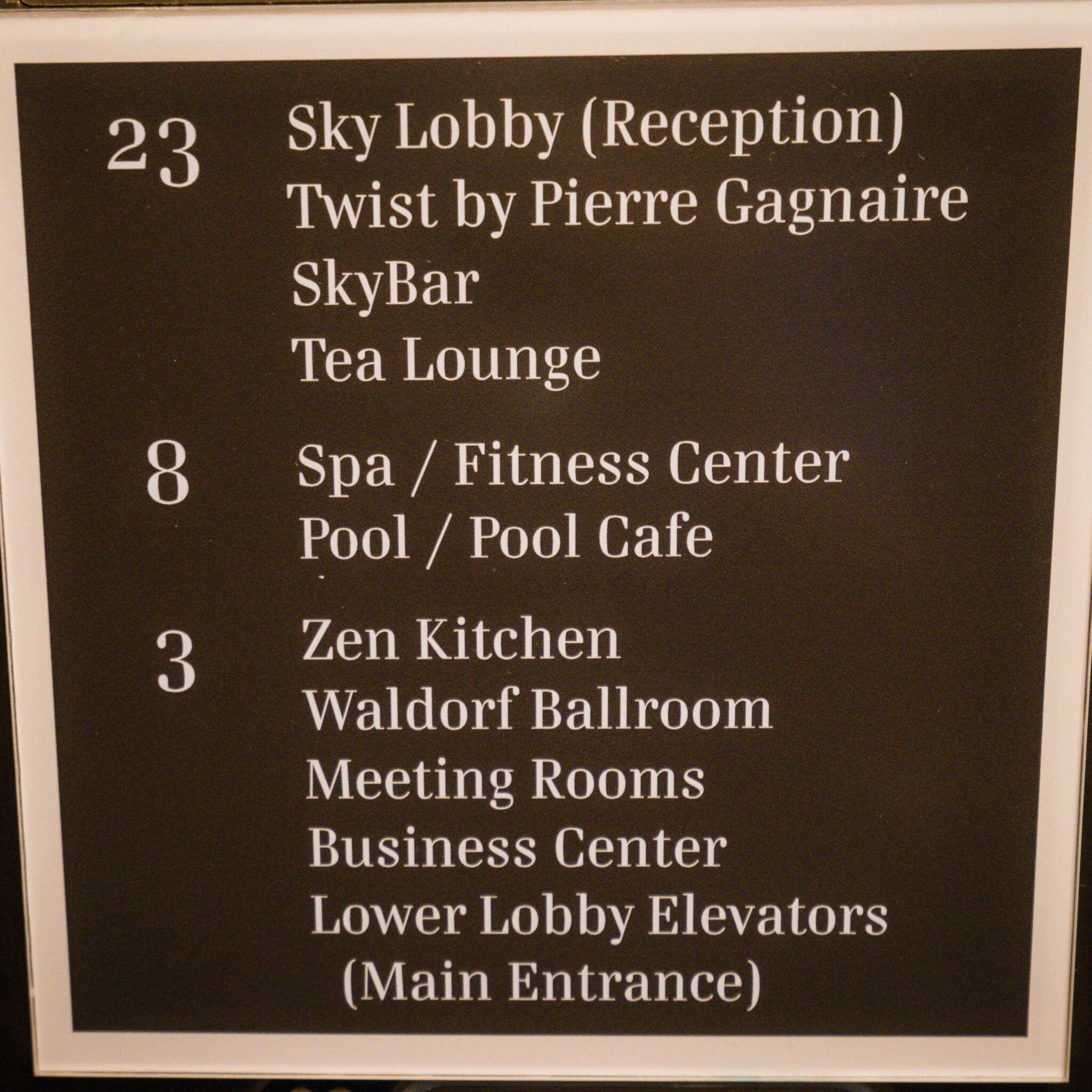 But most important to me were the pool deck and fitness center, both available on the 8th floor of the hotel.
Pool Deck
The eighth-floor pool deck of the Waldorf Astoria Las Vegas was rather impressive, offering a gorgeous heated pool, surrounded by palm trees and cityscape views.
The pools were long and rectangular shaped, which was unique. In addition to the two long main pools, there were two whirlpool hot tub.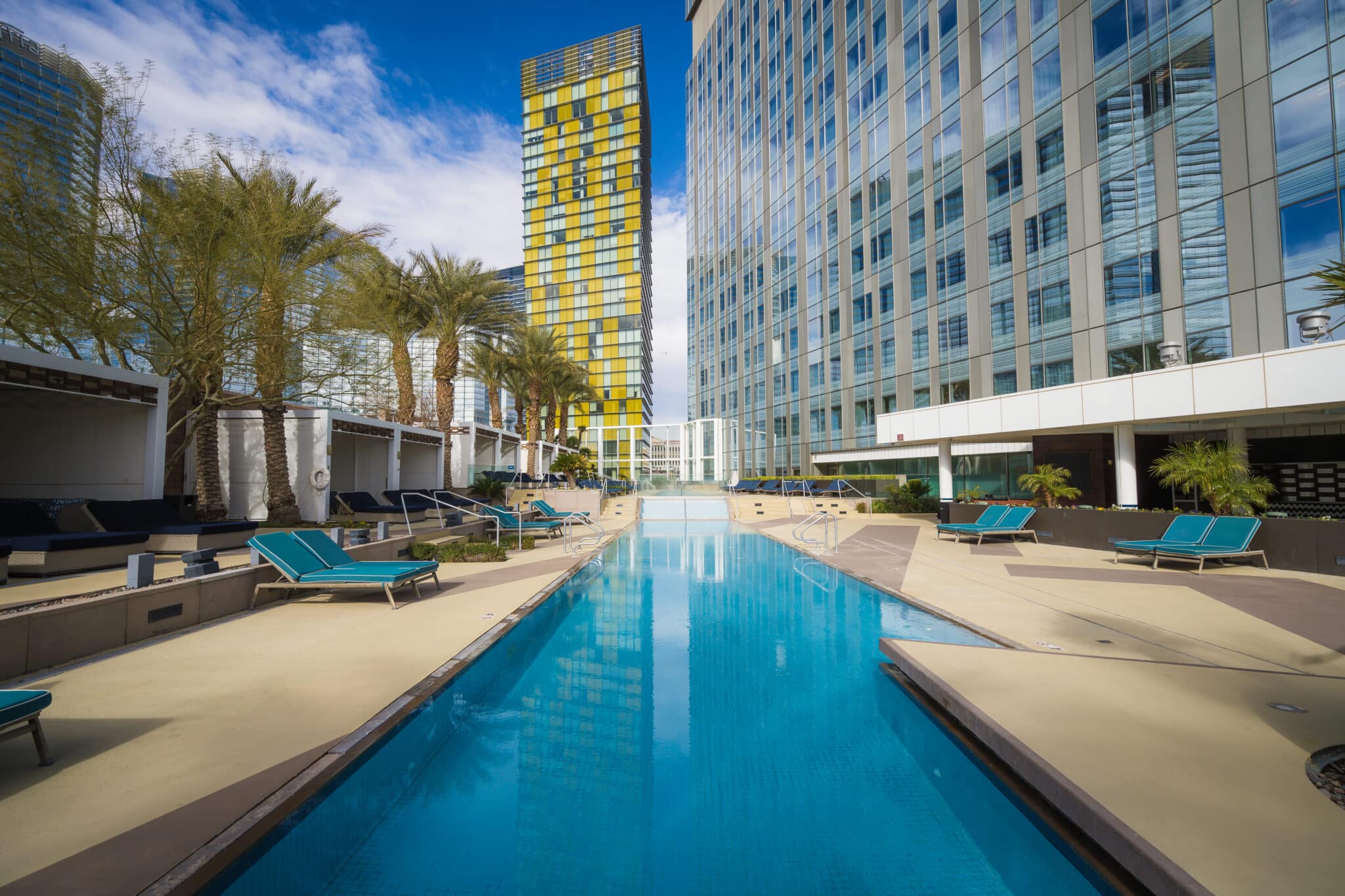 The pool offers complimentary towels, water bottles, and sunscreen. Along the perimeter of the pool deck are cabanas with couches and television. There was also a poolside cafe and bar (not open during winter months).
While the pool bar and pool cafe were closed for the season in January, the deck itself is open year-round from 9 am – 6 pm daily. In January, there was not a soul to be seen, which actually makes for an even more peaceful experience if you're willing to brave the cooler outside temperatures (10-15 Celsius at the time of our stay).
Fitness Center
I've come to have very low expectations when it comes to hotel fitness centers. With many properties, it seems to be an afterthought, often tucked away on the lowest floor, in a room that clearly wasn't designed to be a fitness center.
The Waldorf Astoria Las Vegas raises the bar significantly with its fitness center. The space is located in a big open room on the 8th floor. It has dark red flooring and bright natural light, with a great view of the Vegas strip.
As you walk in there are complimentary towels, water bottles, headphones, fruit (apples, oranges), and hand sanitizer. There is even a water dispenser with cucumber and fruit water.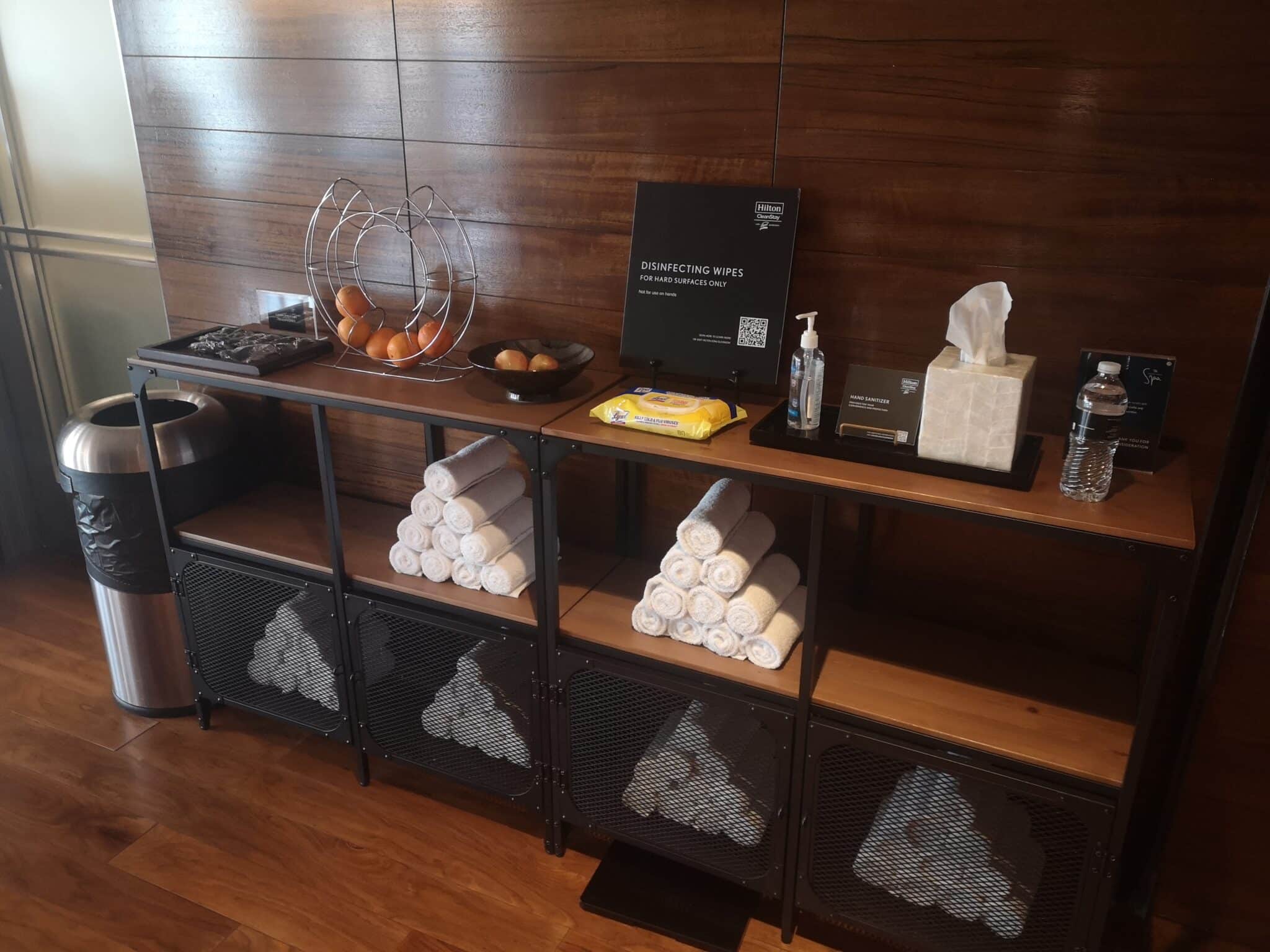 As far as equipment goes, it has everything you need – rows of cardio equipment, machines, pull-up bars, dumbbells, workout mats, and more. All the cardio machines have television screens and were positioned in front of the windows to maximize the view and natural lighting.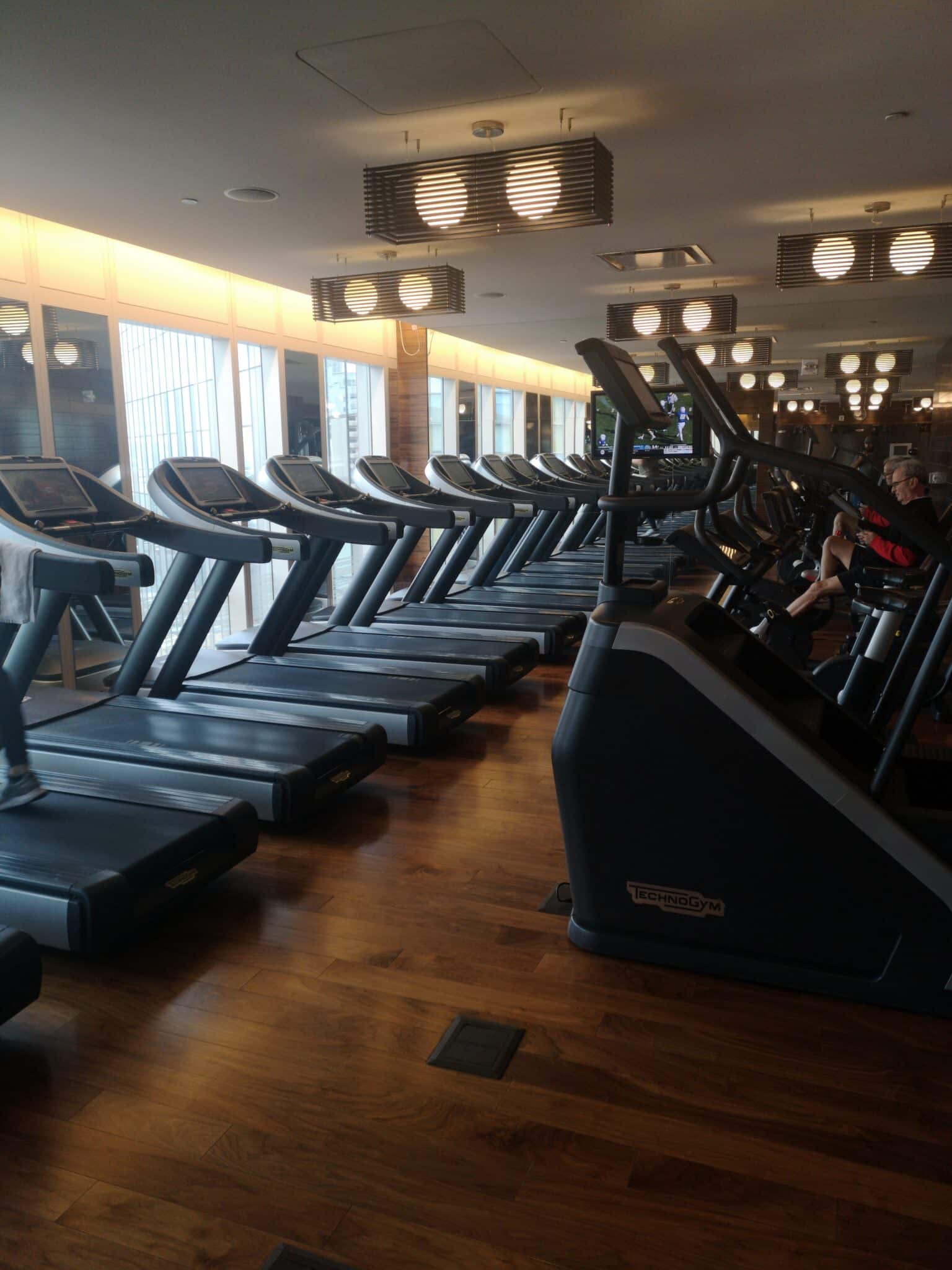 Of note, there are also fitness and yoga classes available, held in a separate studio. These free fitness classes are offered complimentary to all hotel guests.
The fitness center and associated services are a welcome addition to the property for those who like to keep their fitness habits going while traveling.
Spa Services
The Waldorf Astoria Vegas has a plethora of spa services available, including massage, facials, nail and hair salon, and a couples experience. You can read more on the Waldorf Astoria wellness page, and book an appointment in advance.
Business Center
The Waldorf Astoria Las Vegas has a fairly basic business center located on the 3rd floor, complete with some uncomfortable-looking chairs, and an HP printer.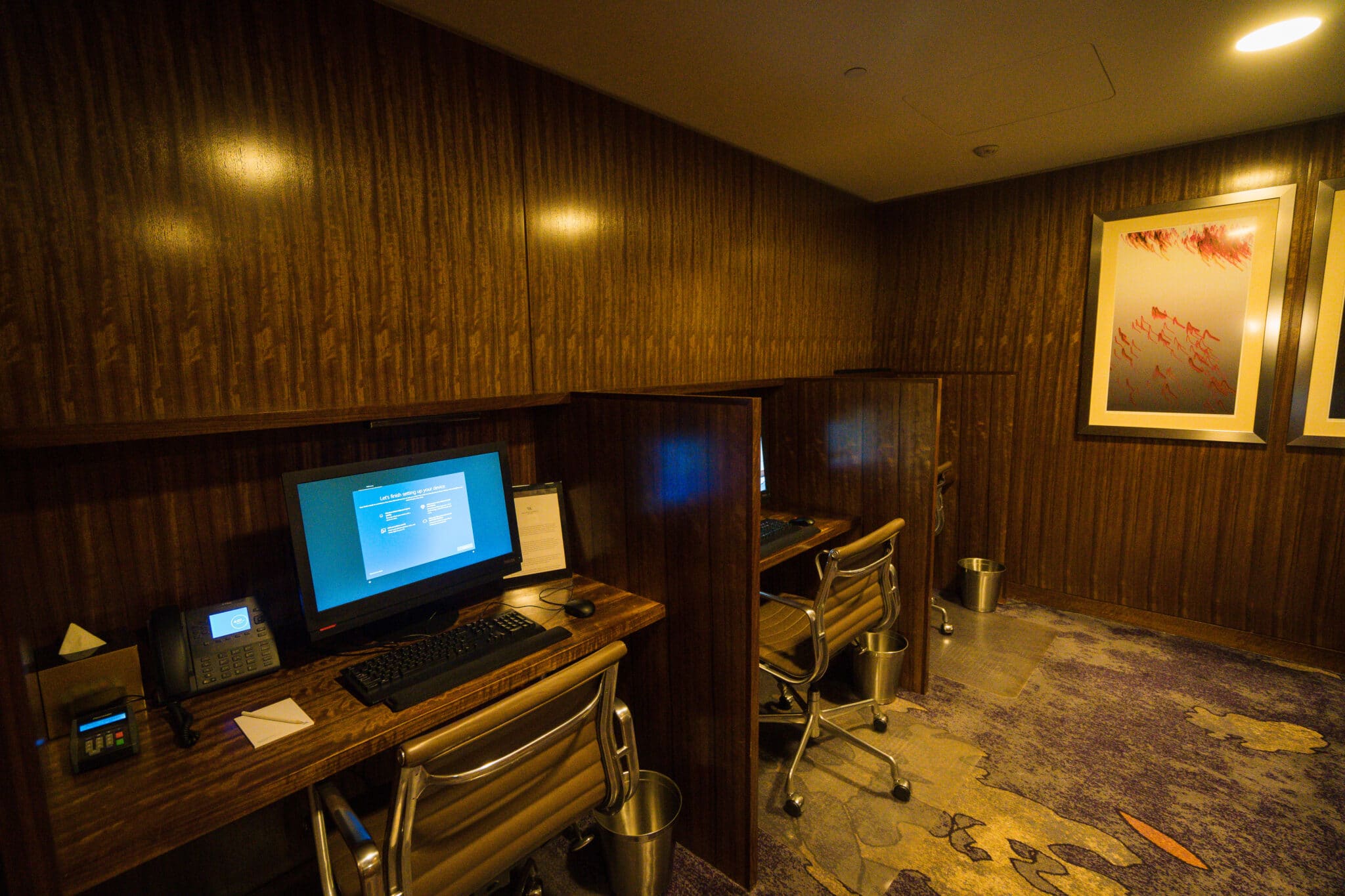 Anything other than Herman Miller or Steelcase chairs is unacceptable in my view. But then, I'm a chair snob.
Of note, this business center was open 24/7.
House Car
Another nice service available at the Waldorf Astoria Las Vegas is the 'house car' – a free ride to anywhere within 2 miles of the hotel. This is in fact a signature feature of many Waldorf Astoria properties globally.
Unfortunately, there is only one house car at this hotel, and it isn't reservable, but rather available on a first come, first served basis. Therefore, you can't rely on it as an absolute.
Hilton Honors & the Waldorf Astoria Las Vegas
As a Hilton Honors Diamond member, you are entitled to a few select benefits when staying at Hilton properties such as the Waldorf Astoria Las Vegas, most notably, room upgrades and complimentary breakfast or food and beverage credit (property dependent).
Related: How to Quickly Earn Hilton Diamond Status
As detailed above, the room upgrade we were offered was essentially moot. The hotel went out of its way to upsell us just to get a similar room with two beds. In general, the way these upgrade benefits are treated by hotels is a YMMV situation – hotels in other ex-North American countries tend to be much more generous. And unfortunately, unlike Marriott Bonvoy, Hilton has no guaranteed way to secure a suite like Marriott Bonvoy's Suite Night Awards.
Nonetheless, we did enjoy the flexible food and beverage credit of $25 USD per person per night ($50 USD per night off our bill). We were able to use this towards room service on one night and cocktails at the SkyBar on the other night. Of note, the credit is non-cumulative – you cannot carry it over from one day to the next, nor use it on the day of checkout.
Finally, we also enjoyed a complimentary late checkout time of 1:00 PM (normally an extra charge of $50 USD per hour – yikes 😱).
Overall Thoughts on the Waldorf Astoria Las Vegas
👍 PROS
Contemporary updated rooms
SkyBAR with stunning strip views
Quality fitness center, yoga classes, variety of spa services (hair, nail, massage)
Large pool deck with cabanas and poolside cafe
House car available for complimentary transport within 2 miles
No casino (con for some)
👎 CONS
No self-parking
90 USD resort fee
Expensive room rates
Lobby still under renovation (2023)
Two sets of elevators to get to lobby / rooms
Will upcharge you for basic room changes
The Waldorf Astoria Las Vegas is a nice property that represents the Waldorf brand well. Its location and lack of casino offers something unique that other properties directly on the Las Vegas strip don't tend to offer: privacy. The posh rooms are state of the art, and the services and facilities available are of high quality. The SkyBar, fitness center, and pool deck are standout features.
That being said, all of the above comes at a steep cost. If paying cash, or even redeeming Hilton points, your money can definitely go a lot farther elsewhere on the strip. Furthermore, there is little to no benefit or appreciation of loyalty program status at this hotel (although that is likely the case for most hotels in this city). And expect to be 'nickel and dimed' for upgrades of any kind.
Overall, a nice stay and no regrets on our part given we redeemed soon to expire Hilton Free Night Rewards. I'm looking forward to trying out the Waldorf Astoria brand internationally in the near future, to see how it compares.
Reed is addicted to the science (and art) of earning and redeeming travel points, and frequently pairs his trips with his other hobby: photography. Through Frugal Flyer, Reed aims to distill some of the complex and esoteric points strategies into digestible information. Furthermore, he hopes to use his technical expertise to develop invaluable applications and tools for the travel community.
Latest posts by Reed Sutton (see all)