Redeeming WestJet Dollars for WestJet Vacation Packages
Summary: WestJet dollars (WJD) can be redeemed for WestJet Vacation packages, which bundle WestJet flights and hotels (from a variety of brands). Meal plans are included for some destinations (all-inclusive). The cost of vacation packages in WJD is consistently lower than the dollar cost of booking the same flight and hotel separately. To book, you can either book online, call WestJet, or via your travel agent.
An interesting realization came to me as I was recently contemplating how to spend the hoards of WestJet dollars (WJD) I'd accumulated in my WestJet Rewards account over the past years. Numerous times upon looking at WestJet's website I've seen adverts for vacation packages, but for some reason, I'd never stopped to think: "I wonder if one can use WestJet dollars to pay for vacation packages"?
As it turns out, I found the answer to my question buried at the bottom of the FAQ page for WestJet Dollars:


This was an exciting realization for me (albeit maybe obvious for other experienced WestJet fans). So in this post I'll try to cover everything I've learned about WestJet Vacations and WJD since. Importantly it was worth considering whether these vacation packages actually offer decent value, along with the logistics of making a booking, which is not as straightforward as using WJD for flights.
What are WestJet Vacations?
WestJet Vacations is a travel agency-like subsidiary of WestJet that offers packages for WestJet flights with hotel partners to offer a 'packaged vacation'. It's similar to the concept of an all-inclusive vacation, although not all WestJet vacation packages are all-inclusive (in fact most are just flight+hotel packages).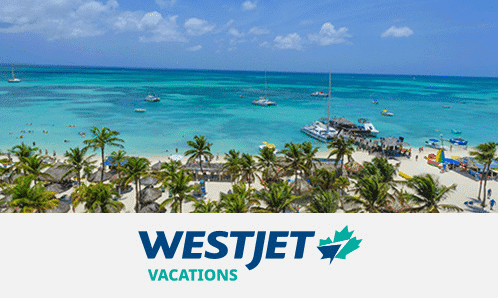 The nice thing about these vacation packages is that they offer flexibility. This is not something I would have imagined in an all inclusive type package. But in fact, going through the booking process you are able to select from a variety of hotel options and customize your flight itinerary quite extensively as well.
How to Book a Vacation Package using WJD: Three Avenues
Recently, WestJet enabled the ability to redeem WJD for vacation packages when making an online booking. This is a positive change since previously it was required that rewards members either call the WestJet Vacations team or go through their travel agent to book.
However, if you would rather still talk to someone when you make your booking, the other two options are still available. You can contact the WestJet Vacations team by phone at 1-877-737-7001 for assistance in building and booking your vacation package.

I went through making a booking myself using this line recently and noted that it was a fairly straightforward process. Everything I could see online was able to be booked over the phone and I fed them the dates and information.
There is also another way to redeem WJD for vacations: through a travel agent.


Searching for WestJet Vacation Packages
There are two ways to browse for vacation packages. The first is using the default 'vacation' search, which is very similar to searching for flights.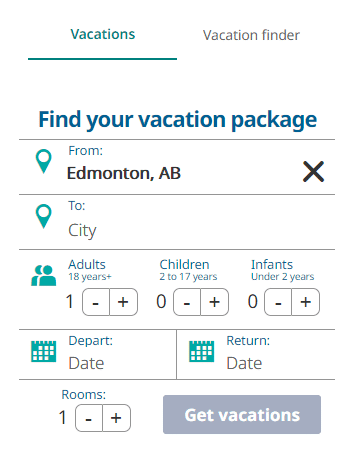 You must input your exact Departure and Destination cities, along with exact Depart and Return dates. This isn't the best because it makes it somewhat challenging to compare how much choosing a different date affects the price, without going through the whole search process again using multiple browser tabs.
One little trick if you know a little about 'http' protocol: you can actually generate additional searches much faster by copying the URL of a search result and modifying the URL parameters (these are variables that appear after the '?' in the URL. Let me demonstrate.
Let's say I've just searched for Hawaii for the dates January 3 – January 10. The URL for this search appears as:
https://vacationbookings.westjet.com/cgi-bin/resultspackage-plus.cgi?sid=c3607ed6df6c890c829c7eec184211c8&gateway_dep=YEG&child_1_age=&CA_PreviousDomain=&occupancy=S&price_max=&date_dep=20210103&isMobile=false&rooms=1&track_link=&child_3_age=&child_2_age=&sv_query=1&star=&date_ret=20210110&language=en&no_hotel=&Engines=S&nb_adult=1&dest_dep=Honolulu%2C+Oahuxxx79&code_ag=wes&child_4_age=&searchtype=PA&child_5_age=&nb_child=0&alias=wes&first_result=
You can see the two bolded variables, 'date_dep' and 'date_ret'. Obviously, these are the Departure and Return dates. So let's say I want to see how departing on Monday instead of Sunday will affect pricing. I can quickly replace the date_dep=20210103 and date_ret=20210110 to date_dep=20210104 and date_ret=20210111, respectively.
Anyways, if this is too much of an inconvenience, you can also use the other search method: 'Vacation Finder':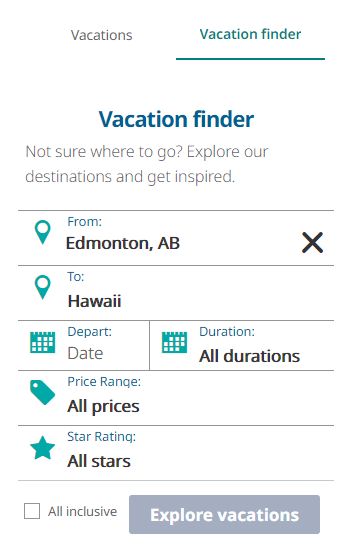 This allows you to be a bit vaguer with your search, you can instead specify broader destinations like 'Beach escape', Caribbean, or Mexico. You can also leave the duration blank or specify 3-5, 5-10, or 10-14 day durations.
I personally don't find the Vacation Finder as useful to search. I generally know which return date I have in mind and am more flexible on departure. Although pricing is still a little trickier here because longer durations will necessarily be more expensive which isn't the case with booking flights.
WestJet Vacation Package Pricing: Is it Fair?
To answer this question, I did a series of 'trials' using the following methodology:
Create a package with a given flight and hotel combination on WestJetVacations.com
Lookup flight price separately on WestJet.com (including taxes) – subtract from WJV total price to get ~ hotel price.
Lookup and compare hotel prices from:

Aggregator website: Trivago.ca –> Hotels.com
Hotel's website directly
Here, we're basically trying to determine what is the average price markup by WestJet vacations. I chose to do three trials with different hotel chains for three destinations: Hawaii (HNL), Los Cabos (SJD), and Disneyland Resort (SNA/MCO). All searches were done with 1 adult, 1 room, except for Disney searches which were 2 adults, 1 room.
Hawaii (HNL) (via YEG)
Departure Date: January 4, 2020; Return Date: January 10, 2020
Hotel Check-in date: Tue. Jan. 05, 2021 ; Hotel Check-out date: Sun. Jan. 10, 2021
Individual Flights Costs (searched Nov. 30, 2020):
| | | | |
| --- | --- | --- | --- |
| | Basic | Economy | EconoFlex |
| Departure Flights: 3169, 1862 | $333.45 | $355.45 | $440.45 |
| Return Flights: 1861, 3251 | $267.13 | $289.13 | $374.13 |
| Total | $600.58 | $644.58 | $814.58 |
Hotel Costs (searched Nov. 30, 2020):
Hotel
Total Package Price
WestJet Vacations ~ hotel price
Hotel Website
Hotels.com
Aqua Aloha Surf Waikiki
Rm: Superior Lanai
1,079
+ 250.29 taxes
Total: 1329.26 CAD
1,329.26
– 600.58 flights
Total: 728.68 CAD


Total: 964.61 USD
814 CAD
+ 353 taxes+fees
Total: 1,167 CAD
Aston Waikiki Beach Hotel
Rm: Oceanview
1,439
+ 302.29 taxes
Total: 1741.29 CAD
1,741.28
– 600.58 flights
Total: 1,140 CAD
841.75
+ 378.85 taxes
Total: 1,220.60 USD
1,094 CAD
+ 478 taxes+fees
Total: $1,571 CAD
Hilton Hawaiian Village Waikiki Beach
Rm: Rainbow Tower Marina Oceanview
2,039
+ 358.47 taxes
Total: 2397.47 CAD
2,397.47
– 600.58 flights
Total: 1,796.89 CAD
1153.75 USD
+ 460 taxes+fees
Total: 1613.78 USD
1,545.53
+ 555.20 taxes+fees
Total: 2100.73 CAD
Los Cabos (SJD) (via YVR)
Departure Date: February 12, 2021; Return Date: February 20, 2021
Hotel Check-in date: Fri. Feb. 12, 2021; Hotel Check-out date: Sat. Feb. 20, 2021
Flights and Costs (searched Dec. 2, 2020):
| | | |
| --- | --- | --- |
| | Econo | EconoFlex |
| Departure Flights: WS 2060 | $378.50 | $438.50 |
| Return Flights: WS 2061 | $359.68 | $419.68 |
| Total | $738.18 | $858.18 |
Hotel Costs (searched Dec. 2, 2020):
Hotel
Total Package Price
WestJet Vacations ~ hotel price
Hotel Website
Hotels.com
Posada Real Los Cabos
Rm: Gardenview
1,309
+ 267.00 taxes
Total: 1576 CAD
1,576.00
– 738.18 flights
Total: 837.82 CAD


Total: 626 USD
952.88 CAD
+ 181.04 taxes+fees
Total: 1,133.92 CAD
Hyatt Ziva Los Cabos
Rm: Ziva Suite
*All Inclusive
3,369
+ 267.04 taxes
Total: 3,636.04 CAD
3,636.04
– 738.18 flights
Total: 2,897.86 CAD


Total: 2,531 USD


Total: 3069.32 CAD
Disneyland Resort Vacations (SNA and MCO via YEG)
For this search, I used the 'Vacation Finder' searching 'Disney vacations'. I also searched using 2 adults, and 1 room.
Departure Date: June 7, 2021; Return Date: June 12, 2021
Hotel Check-in date: Mon. June. 7, 2021; Hotel Check-out date: Sat. June. 12, 2021
Costs (searched Dec. 3, 2020):
Package
Total Package Price
WestJet Vacations ~ hotel price
Hotel Website
Hotels.com
Disneyland Resort in California (SNA)
Fairfield Inn Anaheim Resort
Rm: Standard King Bed-European Plan
969(x)2
+ 223(x2) taxes
Total: 2,384 CAD
2,384
– 1,078.26 flights
Total: 1,305.74 CAD
822
+ 141.99 taxes
Total: 963.99 USD

1,172.96 CAD
+ 199.39 taxes+fees
Total: 1,372.35 CAD
Walt Disney World Resort in Florida (MCO)
Walt Disney World Dolphin Resort
Rm: Dolphin Wing Traditional
1,209(x2)
+ 224(x2) taxes
Total: 2,866 CAD
2,866
– 1,377.08 flights
Total: 1,488.92 CAD
1,240
+ 348.75 taxes
Total: 1,789 USD
1951.25
+ 369.54
Total: $2320.79 CAD
It also looks like you can book your Disneyland/Resort tickets through WestJet Vacations as part of the package. If this intrigues you, we cover how to use WestJet dollars for attraction costs and unique itineraries in our next article of this series.
The Verdict?
Overall, I was pleasantly surprised to see that WestJet Vacations actually offer quite good value within the rewards program. Consistently across all my searches, the total price of these packages works out to mild-to-moderate cost-savings, when compared to booking the flights and hotels separately, including via the hotel's website directly or third-party booking sites.
Related: How to Get Free WiFi on WestJet Flights
There are several assumptions at play. For one, I'm assuming you'll be flying with WestJet. For certain destinations, you might find cheaper flights with other airlines. Furthermore, I'm not considering other savings you could get on your WestJet flights by applying a WestJet companion voucher if you're flying with two people. For example, the Disneyland Resort (SNA) search shows you'd likely pay a lower total dollar cost by booking the flights with a companion fare and paying cash for the hotel. 
Regardless, I'm confident in saying that you aren't getting a bad deal by booking a WestJet Vacation using your WestJet dollars. At this point, I see no need to reserve the use of WestJet dollars solely for flights, and I'll definitely be using mine going forward for both, especially when I'm traveling solo. This applies doubly for those of you who've figured out some of the crafty ways to earn large sums of WJD 🙂
FAQ: Redeeming WestJet Dollars for WestJet Vacations
Can I use WestJet Travel Bank to cover taxes and fees on a WestJet Vacation package?

Travel Bank credits cannot be used to pay for WestJet Vacation packages.

Can you use WestJet dollars on taxes and fees for a WestJet Vacation package?

Normally you cannot, however due to COVID there is an exception:  WestJet dollars refunded by WestJet Vacations on or after March 19, 2020 due to COVID-19 can be applied toward taxes and fees on a future vacation package booking. This means if you try to book a trip and then it's cancelled, you won't have to front cash for the taxes and fees once again when you rebook.

Can I combine a Companion Voucher with my WestJet Vacations flight?

If you have a companion fare that comes with the WestJet Mastercard it can only be used towards flights only, it can't be used on WestJet Vacations packages.

Should I book my vacation package using WestJet directly or a travel agent?

That's your call. You'll pay the same price regardless. I've usually always booked my travel directly through WJ but for my recent trip I planned during COVID I did talk to an AMA travel agent who had a bundle of good information he passed on regarding restrictions and WJ policies.

What fare class are flights booked through WestJet Vacations? 

WestJet Vacations flights are a special fare class called 'Z'. It's really a hybrid but you can think of it like economy class. If you have a specific question about cancelation, extras, checked baggage, etc, it is best to ask an agent. Cancellation policies for WJ vacations generally apply to the entire package, which is why the flight class isn't really relevant.

Can I upgrade my flight fare class when using WestJet Vacations?

Yes, you can upgrade your fare to Premium or Business. 

Can I upgrade my room when booking with WestJet Vacations (and pay with WestJet dollars)? 

Yes, you can.
Reed is addicted to the art of earning and redeeming travel points, and frequently pairs his trips with his other hobby: photography. Through Frugal Flyer, Reed aims to distill some of the complex and esoteric points strategies into digestible information. Furthermore, he hopes to use his technical expertise to develop invaluable applications and tools for the travel community.
Latest posts by Reed Sutton (see all)