If you are familiar with the WestJet Rewards program, then you know the basics of redeeming WestJet Dollars for flights and vacation packages. However, that is only half of the equation. If you truly want to get the most from your WestJet Dollars and save even more on your next flight booking, you need to understand the value that WestJet companion vouchers can provide to you as a traveler.
Let's look at everything you need to know about WestJet companion vouchers so you can save big money on your next WestJet flight.
What are WestJet Companion Vouchers?
WestJet companion vouchers are vouchers issued within the WestJet Rewards program. They give the holder the opportunity to apply a discount towards a flight booking consisting of themselves and at least one other person. The voucher can only be used on the same flight and same itinerary as the member who is redeeming the voucher.
The WestJet companion voucher will reduce the base fare cost of the first companion traveling on the itinerary. Taxes and fees will still need to be paid on the companion's fare, but the reduction of cost on the base fare can be significant.
Companion vouchers can be used for one-way or round-trip travel, but are fully consumed once applied, even if it is for a one-way booking. While these vouchers also have an expiry date, typically one year from the date it was issued, travel can be booked past the expiry date as that is simply a "must book by" date.
Needless to say, the reduction of base fare can result in significant savings on your next WestJet flight booking. Surprisingly enough, these vouchers are actually quite straightforward to earn and use.
How to Obtain a WestJet Companion Voucher
There are two ways in which you can obtain a companion voucher: signing up for and holding an RBC WestJet credit card or having elite status with WestJet Rewards.
RBC WestJet Credit Cards
For the majority, the most straightforward method of obtaining a companion voucher is simply by signing up for and holding an RBC WestJet Mastercard. When you sign up for a new RBC WestJet credit card, you will receive a companion voucher as part of the welcome bonus and an additional voucher for every cardholder anniversary going forward.
Out of the two cards offered by RBC, our personal favorite is the WestJet RBC World Elite Mastercard, which comes with a strong welcome bonus, FlyerFunds rebate, and various benefits such as an annual companion voucher, free checked bags, and more.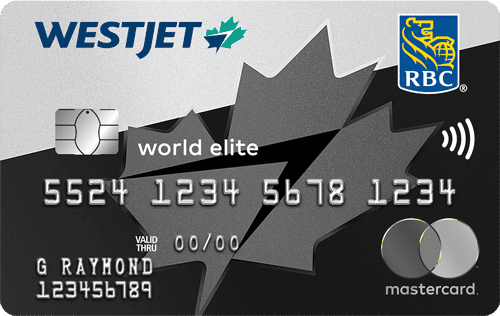 Apply Now
Learn More
Click Apply Now to earn $100 in FlyerFunds upon approval.
RBC WestJet World Elite
The RBC WestJet World Elite card earns WestJet Dollars and offers cardholders benefits on WestJet flights including an annual companion fare and a first free checked bag.
Check out our RBC WestJet World Elite Mastercard review for full details about this card.
BONUS
450 WestJet Dollars
MINSPEND
$5,000
ANNUAL FEE
$119
FOREX FEES
Yes
On the other hand, the RBC WestJet Mastercard also offers a companion voucher if you do not meet the income requirements of the World Elite card. However, this card does not offer as many overall benefits and comes with a weaker companion voucher which we will cover below.
If you do an RBC product switch to one of the WestJet cards, you may receive a companion voucher upon switching. This is very much so a "your mileage may vary" case – you are not entitled to receive one necessarily. But, it sometimes can work out this way so it may be worth a shot.
It is important to note that any unused vouchers, even if the voucher expiry date is not for a while, will be removed from your WestJet Rewards account if you close your RBC WestJet credit card that awarded those vouchers.
WestJet Rewards Elite Status – Milestone Awards
If you are a WestJet Rewards member, you can earn milestone qualifying spend awards which include WestJet-wide companion vouchers. Milestone spend is tracked separately from spending that is used towards status but includes qualifying spend on WestJet travel.
The list of milestone qualifying spend tiers and the respective awards can be seen below:
While this is definitely a method to accrue WestJet companion vouchers, it will most likely be out of the realm of possibility for the average traveler. These tiers are more geared towards those who travel for business or other needs, as opposed to the leisure traveler.
With that in mind, acquiring companion vouchers through any of the RBC credit card options is definitely the best way for the majority of people.
What is the Cost of Using a WestJet Companion Voucher?
When using a WestJet companion voucher, the cost you will pay for the base fare will vary depending on where your companion voucher was earned.
See the table below for the base fare cost on companion vouchers earned from various sources:
| | | |
| --- | --- | --- |
| WestJet MasterCard | WestJet World Elite Mastercard | WestJet Rewards Elite Status (Milestone Awards) |
| $199 base fare for North America travel excluding Hawaii | $119 base fare for North America travel excluding Hawaii | $0 base fee for travel worldwide |
| Cannot be used outside of North America | $399 base fare for travel elsewhere in the WestJet network | |
Note that the costs listed in the table above only account for the base fare on the ticket. Even with a companion fare, you will still need to pay the taxes and tickets on the ticket.
Of note, the most accessible option of the three is the World Elite companion voucher since it applies network-wide, comes with a reasonable cost, and is attainable by the broader population, even if you have never flown WestJet before.
You can learn how to apply a companion voucher towards your booking here.
WestJet Companion Voucher Restrictions
Similar to companion fare vouchers offered by other airlines, the WestJet companion voucher has some restrictions on how it can be used.
Companion vouchers are not eligible to be used on Business, BusinessFlex, or Member Exclusive fares. When booking with a companion voucher, the same fare type must be booked for the primary cardholder and companion.
Companion vouchers can also not be used with WestJet vacations packages or group bookings. This means that the best way to save on your WestJet vacations booking is to redeem WestJet Dollars; click to learn more about redeeming WestJet Dollars for vacation packages.
WestJet companion vouchers can only be used by the WestJet Rewards member who has the voucher on their account. This means that you cannot transfer companion vouchers between members or book travel for third parties while still using a companion voucher.
Companion vouchers cannot be applied to existing bookings; they can only be applied when making a new booking. They also cannot be applied when using a discount code so you will have to determine if the code or voucher will save you more money on your booking.
The flight booking must be made before the expiry date listed on the companion voucher, however, the flight does not need to be flown by the expiry date. This means that you can stretch the expiry on your companion voucher, provided you book travel for the future before it expires.
How to Get the Most Value from a WestJet Companion Voucher
There are two main things to keep in mind when using your WestJet companion voucher: there are no blackout periods and it is better to always use it for a round-trip booking.
If you truly want to maximize the value you can extract from your companion voucher, booking a WestJet Premium fare is the way to go. Premium fares come at a premium price, which means you can save even more with a companion fare voucher.
For example, let's consider a recent itinerary that I booked using a WestJet companion voucher for this summer. In late June, my partner and I are flying from Edmonton to Orange County to enjoy a few days at Disneyland. Thanks to an influx of WestJet Dollars plus a companion voucher, we were able to splurge on premium class when booking our WestJet flights for some significant savings:
Round-trip base fare for premium class: $1,840 total ($920 per person)
Round-trip base fare for premium class with companion voucher applied: $1040 total ($520 per person)
As you can see, through the application of the companion voucher we were able to save $800 on the whole itinerary. That $800 will easily cover our Disneyland tickets, which gives us the opportunity to spend our money elsewhere during the trip as opposed to spending it on flights. Throw in some free night certificates from the Hilton Honors Aspire card, a Scene+ redemption on the Scotiabank Gold American Express card for theme park tickets, and a typically expensive trip to Disneyland starts to become very affordable.
Not to mention, for any travel in North America, WestJet Premium is a step up from economy class and is a nice treat. You can expect an experience similar to Air Canada business class. That being said, at the end of the day, the best value you can get out of your companion fare voucher is using it for the trip you want to take. Don't worry about maximizing value, worry about reducing costs for the vacation you actually want to take.
Convert WestJet Companion Vouchers to Lounge Passes
While we would always recommend using companion vouchers for flight redemptions, as we will cover more below, you can actually convert them to lounge passes. This may be an avenue worth pursuing if you have an excess of companion vouchers and do not hold a card that grants lounge access, such as the American Express Business Platinum card.
Only vouchers earned from the RBC WestJet World Elite credit card are eligible to be converted to lounge passes, at a rate of one voucher to four lounge passes. The lounge passes can be used by the WestJet Rewards member for themselves and their guests, but the member must be in attendance.
There are a variety of lounges that you can access with these vouchers, with the most notable lounge being the WestJet Elevation lounge in Calgary. Click here for a full list of all eligible lounges.
You can exchange your companion vouchers for lounge passes here.
Conclusion
WestJet companion vouchers present a strong value proposition in the WestJet Rewards program. I highly recommend taking advantage of them should you find yourself with a voucher in your account.
Personally, I've had great success using them to hop around North America with ease and with minimal out-of-pocket costs, including booking an upcoming WestJet Premium round-trip itinerary to Anaheim to visit Disneyland.
Frequently Asked Questions
What is the easiest way to get a WestJet companion voucher?

The easiest way to obtain a WestJet companion voucher is to sign up for either the RBC WestJet Mastercard or the RBC WestJet World Elite Mastercard. You will receive your companion voucher when your first statement posts on the credit card account, and on the account anniversary every year thereafter.

Can you use WestJet Dollars and a companion voucher together?

Yes, you can absolutely make a WestJet flight redemption using both WestJet Dollars and a companion voucher.

Can you use a WestJet companion voucher for premium seats?

Yes, WestJet companion vouchers can be used to book premium class seats. However, business class seats are not eligible to be booked with companion vouchers.

Can I use my WestJet companion voucher for someone else?

No. If you wish to use a companion voucher, you must be on the itinerary as the main passenger.

Can you use a companion voucher on WestJet Vacations?

No, companion vouchers are only redeemable on WestJet flights and not on vacation packages.

Can you transfer a WestJet companion voucher to someone else?

No, you cannot transfer a WestJet companion voucher to another WestJet Rewards member.

Do WestJet companion vouchers expire?

Yes, WestJet companion vouchers do have an expiry date which will be listed when you view the voucher in your WestJet Rewards account. Note that the expiry date is the date by which flights need to be booked, not the date by which the flights must be flown.

Can I use a WestJet companion voucher for an open-jaw booking?

Yes you can use companion vouchers for open-jaw bookings, ie. where you fly into one city and fly home from a different city.

I have applied a WestJet companion voucher but now need to cancel my flight. Will the voucher be credited back to me?

Yes the voucher will be credited back to you, with the original expiry date. You can ask WestJet to extend the voucher, which they may do at their discretion.
Hugh has been involved in the miles and points game since 2015 but has scaled up his knowledge and points earning potential in recent years. With a consistent attitude of "min-maxing" in many aspects of his life, Hugh has transferred this mindset over to the miles and points game. Always looking for the next big opportunity, Hugh aims to share content on a variety of topics including his travels, travel hacking, and most importantly, how to get the most out of your credit cards
Latest posts by Hugh Campbell (see all)