Before I went deep into the travel hacking scene, the RBC WestJet World Elite Mastercard was the main card in my wallet. Even as someone who was dipping their toes into the game, I was able to extract significant value from this card, mostly thanks to the generous annual companion fare voucher that I used to travel across North America with friends on the cheap.
Needless to say, this card holds a place in my heart since it has many perks and benefits that can result in significant savings for an individual or family who wants to simply and straightforwardly save money on their travels.
Let's dive into our review of the RBC WestJet World Elite Mastercard.
Overview & Welcome Bonus
Let's look at the basics of the card first: The WestJet RBC World Elite card has an annual fee of $119 and a minimum personal income of $80,000 or a minimum household income of $150,000. If you don't meet these income requirements, there is a lower version of this card: the RBC WestJet Mastercard.
The WestJet RBC World Elite Mastercard offers a welcome bonus of 450 WestJet Dollars that is structured as two bonuses:
Earn 250 WestJet Dollars upon making your first purchase on the card
Earn 200 WestJet Dollars upon spending $5,000 on the card in the first 3 months
On top of that, Frugal Flyer offers a $100 FlyerFunds rebate which is as good as cash straight in your pocket.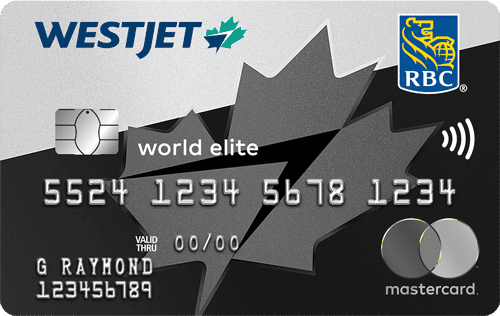 Apply Now
Learn More
Click Apply Now to earn $100 in FlyerFunds upon approval.
RBC WestJet World Elite
The RBC WestJet World Elite card earns WestJet Dollars and offers cardholders benefits on WestJet flights including an annual companion fare and a first free checked bag.
Check out our RBC WestJet World Elite Mastercard review for full details about this card.
BONUS
450 WestJet Dollars
MINSPEND
$5,000
ANNUAL FEE
$119
FOREX FEES
Yes
WestJet Dollars can be redeemed at a rate of 1 Dollar = $1 CAD and as a result, this welcome bonus plus FlyerFunds rebate is worth $550 which is quite strong when considering that you can extract all of that value from a single credit card sign-up.
If you are curious as to how you can spend $5,000 in three months for the second part of the bonus, learn more about how you can easily meet minimum spending requirements.
Earning WestJet Dollars
Outside of the welcome bonus on this credit card, the most consistent way to earn WestJet Dollars is through organic spending on a WestJet credit card. The earning rate on the card is rather simplistic, offering an elevated earning rate for WestJet purchases and then a catch-all category for all other purchases.
This card earns WestJet Dollars at the following rate:
2% back in WestJet Dollars for all purchases of WestJet flights or WestJet vacation packages (2 WJD per $100 spent on WestJet flights or vacation packages)
1.5% back in WestJet Dollars for all other everyday purchases (1.5 WJD per $100 spent on all other purchases)
Earning up to 2% on all purchases is ok for a credit card in Canada, but definitely not top-tier when it comes to overall rewards. If you wanted to further maximize your purchases, such as using the best rewards credit card for grocery purchases, there are better credit cards in the market for that.
Redeeming WestJet Dollars
WestJet Dollars can be redeemed towards flights and WestJet Vacations packages. Westjet flies throughout North America in addition to a handful of international destinations so it isn't difficult to make a redemption, whether you are booking a complete itinerary or simply positioning yourself for your next redemption flight.
There is no bad choice to redeem WestJet dollars since they use a simple points currency system. Simply put, 1 WestJet Dollar will always be redeemable for 1 Canadian dollar. With this in mind, I find it is best to redeem WestJet Dollars as I need them and not put too much thought into finding the best value for my points as I would do with other, more convoluted, points programs.
Check out our WestJet Rewards page to learn more about how to best redeem your WestJet Dollars for flights and WestJet Vacations packages.
Benefits
The RBC WestJet World Elite card comes with a wealth of travel benefits, including an annual WestJet companion voucher, free checked baggage on WestJet flights, free in-flight WiFi on WestJet, and comprehensive insurance coverage.
WestJet Companion Voucher
Outside of the welcome bonus, the WestJet companion voucher is the most valuable part of this credit card. The WestJet companion voucher gives the cardholder the opportunity to book a companion on their itinerary while only paying the base fare plus taxes and fees. When using a companion voucher, the base fare is reduced to $119 for travel within North America and $399 outside of North America.

This annual companion voucher is automatically deposited into the cardholder's WestJet Rewards account upon card approval and then at the credit card account anniversary thereafter.
The companion voucher can be applied towards any fare class, except for business. If you often find yourself traveling with a companion, this can significantly reduce your overall travel costs and may allow you to splurge on WestJet premium for an added-value travel experience.
Free Checked Baggage
RBC WestJet World Elite cardholders can receive one piece of free checked baggage for themselves and up to eight others on the same reservation. This is applicable on all WestJet flights, provided that the individual who booked the itinerary is the primary cardholder and remains an active cardholder.
This is the best way to save money on checked baggage with WestJet since simply holding a credit card is a low-effort play to save money on any WestJet flights you take if you often find yourself or your travel companions checking baggage. The savings with free checked bags can really add up as a result of this benefit, especially if you find yourself traveling with a partner, friend, or family on the same reservation.
Boingo WiFi Membership
Flying can be boring, but being able to browse the internet and catch up with friends mid-flight in addition to the usual tv and movie options, can make it that much more manageable.
The WestJet World Elite card provides a free Boingo WiFi membership, which can be used to access WestJet in-flight WiFi for free. While you won't be able to stream or do anything too internet-intensive mid-flight, the WiFi is definitely good enough to message friends, do some light internet browsing, and work on the go.
Click here to learn how you can leverage your RBC WestJet World Elite card to gain free WiFi for your next WestJet Flight.
Insurance Coverage
The WestJet RBC World Elite Mastercard offers eight types of insurance coverage:
Emergency medical insurance
Travel accident insurance
Car rental collision and loss damage coverage
Trip interruption coverage
Flight delay coverage
Hotel and motel burglary insurance
Purchase security
Extended warranty coverage
Insurance coverages on credit cards can be nuanced in what is covered, so I recommend that you refer to the RBC WestJet World Elite insurance certificate for additional details, including terms and conditions for eligibility.
Who is the RBC WestJet World Elite Mastercard Best For?
If you are considering diversifying points programs, which is always a great idea, accruing WestJet Dollars is a great option away from the typical programs in Canada such as Aeroplan or British Airways Avios. With that in mind, the WestJet RBC World Elite Mastercard is your ticket to accruing a significant amount of dollars in the WestJet Rewards program.
Personally, I've found value in having a stash of WestJet for the odd flight around North America, such as our recent trip to the Waldorf Astoria in Las Vegas. Not to mention, WestJet does offer many direct flights to destinations that Air Canada does not offer direct flights to. For example, I'm heading to Victoria from Edmonton in May and I can fly direct with WestJet, whereas I would have to connect in Vancouver with Air Canada.
On the other hand, my significant other has recently booked a big redemption for herself and her sisters to fly Edmonton-Calgary-Cancun for a girls' trip on WestJet Business class on the Dreamliner. This would not have been possible without the WestJet Dollars accrued from this credit card in conjunction with the RBC Avion Visa Infinite card.
Whether you are interested in flying economy, premium economy, or business class, the WestJet World Elite Mastercard can help you get closer to your next dream redemption.
Finally, the companion voucher can result in some deadly redemption combinations. My personal favorite is using it to cut the cost of a premium economy fare to $119 round trip for my travel partner and pay the whole base fare with WestJet Dollars. On the other hand, if you were a family of four and both adults held an RBC WestJet World Elite Mastercard, each parent could book an itinerary for themselves + one child to cut the overall flight cost almost in half.
Conclusion
While RBC offers many credit cards that we love, the RBC WestJet World Elite offers unique WestJet benefits with a reasonable annual fee. Simply put, if you find yourself flying WestJet often, this is a good card to consider adding to and keeping in your wallet for the long term.
As a reminder, you are eligible to apply for a new RBC credit card every 90 days. If you have applied for a card more recently than that, consider if an RBC product switch to this card is right for you and your future travel plans.
Hugh has been involved in the miles and points game since 2015 but has scaled up his knowledge and points earning potential in recent years. With a consistent attitude of "min-maxing" in many aspects of his life, Hugh has transferred this mindset over to the miles and points game. Always looking for the next big opportunity, Hugh aims to share content on a variety of topics including his travels, travel hacking, and most importantly, how to get the most out of your credit cards
Latest posts by Hugh Campbell (see all)