British Airways Avios, the points currency of British Airways Executive Club has the unique distinction of being both an exceptionally valuable and incredibly frustrating points currency.
The program uses a distance-based award chart, similar to Air Canada Aeroplan, except without separating their award chart into multiple geographic regions.
Most notably, the program is known for imposing extremely high carrier surcharges on British Airways flights (learn more about the best ways to reduce carrier surcharges on British Airways redemptions). However, significant value can be achieved by looking towards a few of their partner airlines instead. Let's look at the best ways to earn Avios, and how to leverage those points for some fantastic partner airline redemptions.
It's important to note that British Airways, Aer Lingus, Iberia, and Qatar Airways all earn Avios points. Each airline's programs are fully integrated within the 'Avios family', points can be transferred freely and instantly between each of the four member airlines loyalty programs. Therefore, they are in effect identical currencies regardless of where they are held but have different use cases depending on what you are trying to book.
Acquiring British Airways Avios
There are many ways to earn British Airways Avios in Canada. In fact, it's one of the easiest frequent flyer points to rapidly accumulate via transferable points currencies, spending on co-branded Avios cards, and online purchases through the Avios shopping portal.
British Airways Avios can also be purchased directly, as well as transferred from select Hotel loyalty programs.
Flying on British Airways and Oneworld Member Airlines
Flying on British Airways operated flights in addition to flights within the Oneworld Alliance will earn Avios based on the number of miles flown and class of service. British Airways flights will earn Avios subject to the following chart:
ECONOMY
Fare Class
Avios Awarded
Minimum Avios
Tier Points
Lowest
25% of miles flown
125
25%
Low
50% of miles flown
250
50%
Flexible
100% of miles flown
500
100%
PREMIUM ECONOMY
Fare Class
Avios Awarded
Minimum Avios
Tier Points
Lowest
100% of miles flown
500
100%
Flexible
150% of miles flown
750
100%
BUSINESS CLASS
Fare Class
Avios Awarded
Minimum Avios
Tier Points
Lowest
150% of miles flown
750
100%
Flexible
250% of miles flown
1250
100%
FIRST CLASS
Fare Class
Avios Awarded
Minimum Avios
Tier Points
Lowest
250% of miles flown
1250
100%
Flexible
300% of miles flown
1500
100%
For other Oneworld member airlines, you can use the Avios Flight Calculator on the British Airways website to get an estimate of how many Avios you'll earn.
Co-Branded Credit Cards
If you're looking to collect Avios directly with the program in Canada, RBC issues the co-branded RBC British Airways Visa Infinite card.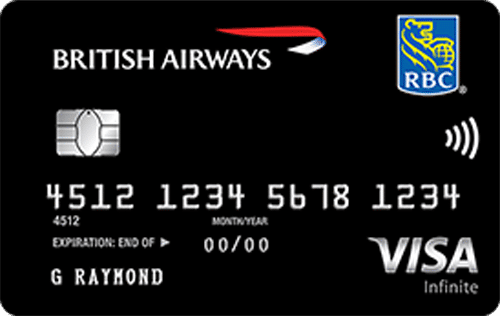 Apply Now
Learn More
Click Apply Now to earn $100 in FlyerFunds upon approval.
RBC British Airways Visa Infinite
The RBC British Airways Visa Infinite card earns Avios and gives cardholders the opportunity to earn 2x Avios on all British Airways-related purchases.
Check out our RBC British Airways Visa Infinite review for more details.
BONUS
60,000 Avios
MINSPEND
$6,000
ANNUAL FEE
$165
FOREX FEES
Yes
EXPIRY
–
While this card has a solid 60,000 Avios welcome bonus in the first year, the weak category bonuses of only 2X on British Airways flights and 1X on everything else make this a lackluster option for everyday spending.
On the US side of things, Chase issues three co-branded Avios earning credit cards, all of which conveniently have no foreign transaction fees. As a reminder, all Avios points are identical, they can be freely and instantly transferred between all four Avios family airlines. The three Chase cards available are as follows:
Transferring Points From Other Loyalty Programs
Earning transferable points currencies from the many financial institutions in Canada and the US will be the fastest and most efficient way to earn Avios points. Fortunately, every financial institution that has a transferable point loyalty program in Canada and the US is partnered with British Airways Executive Club.
If amassing a large amount of Avios points is your goal, you'll have no shortage of options. Of course, always ensure award seat availability is open for your selected travel dates prior to initiating any transfers.
The extensive list of transfer partners for British Airways Executive Club is as follows:
| Financial Institution Partner | Conversion Rate |
| --- | --- |
| American Express Membership Rewards (Canada) | 1,000 Membership Rewards : 1,000 Avios |
| RBC Avion Rewards | 1,000 RBC Avion Points : 1,000 Avios |
| HSBC Rewards | 25,000 HSBC Rewards : 10,000 Avios |
| American Express Membership Rewards (US) | 1,000 Membership Rewards : 1,000 Avios |
| Chase Ultimate Rewards (US) | 1,000 Chase Ultimate Rewards : 1,000 Avios |
| Capital One Miles (US) | 1,000 Capital One Miles : 1,000 Avios |
| Bilt Rewards (US) | 1,000 Bilt Rewards : 1,000 Avios |
| Citi ThankYou Rewards (US) | 1,000 ThankYou Points : 1,000 Avios |
| Hotel Transfer Partner | Conversion Rate |
| --- | --- |
| Marriott Bonvoy | 60,000 Marriott Bonvoy : 25,000 Avios |
| IHG One Rewards | 10,000 IHG One Rewards : 2,000 Avios |
| Radisson Rewards | 10,000 Radisson Rewards : 1,000 Avios |
| Hilton Honors | 10,000 Hilton Honors : 1,000 Avios |
| World of Hyatt | 50,000 World of Hyatt : 25,000 Avios |
| ALL Rewards | 4,000 ALL Rewards : 2,000 Avios |
One of the standout aspects of British Airways Avios is the frequent transfer bonuses we see from RBC Avion, Amex Membership Rewards, and Chase Ultimate Rewards. These transfer bonuses typically range between 30%-40%.
While we did include Citi ThankYou Rewards on this list, you'll want to know that they are not directly a transfer partner of British Airways. Citi ThankYou Rewards is however a transfer partner of Qatar Airways Privilege Club. Therefore you would have to take the additional step of transferring your ThankYou points to Qatar Airways first, then to British Airways.
Citi ThankYou Points → Qatar Airways Privilege Club → British Airways Executive Club
Shopping Through British Airways eStore
The British Airways shopping portal rewards Avios Miles on your online purchases. Shopping portals are a great way to earn additional points and miles on your online purchases.
Nearly all of the almost 400 retailers on the British Airways Shopping Portal are US based, which might complicate things for people in Canada. However if you live near the border or use a US mail forwarder, this is a great way to boost your point balances.
In order to earn Avios for your shopping, it is necessary to log into the British Avios eStore; otherwise, no points will be earned.
To shop with a particular retailer and earn your bonus Avios, click on the red "Shop Now" button that will lead you to the retailer's website. From there, just finalize your purchase on the site. All shopping portals use cookies to monitor your purchases, it's best to make sure you don't have an adblocker or other addons running that could interfere with tracking your activity.
Earn Avios by Staying with Airbnb
British Airways has partnered with Airbnb to earn Avios on your stays, with an earning rate of 3 Avios per £1/€1/$1 spent.
Bookings must be made via the British Airways website at this dedicated link.
Simply enter your Executive Club number and you'll be redirected to the Airbnb website to make your booking. This is another great way to double-dip on your travel accommodations.
Hotel Stays with Avios Hotels
It is generally not advisable to book hotel accommodations through third-party sites as major hotel chains do not recognize your loyalty status with their program when doing so. However, if you find yourself booking an independent hotel, using Avios Hotels will earn a very respectable 15 Avios per £1 spent.
Ensure to select 'Earn Avios' when navigating to the Avios booking portal, as it defaults to spending Avios.
Purchase Avios Points
Buying frequent flyer program points can be a shrewd strategy in order to shave thousands of dollars off business and first class flights. In addition, if you're a few points shy of an imminent redemption it often can make sense. Though buying points speculatively is never recommended regardless of any bonuses, as this leaves your points vulnerable to a sudden devaluation.
You can buy Avios points here.
British Airways has several unique ways to top up your Avios balance with cash.
British Airways allows members to purchase up to 200,000 Avios points per year. Canadians will pay in USD, which would come to $4599 USD ($6200 CAD) if you were to purchase the maximum.
This results in a valuation of 3.1 cents per point (cpp) CAD, which is obviously not ideal and should really only be considered if you are a bit short on an imminent redemption. A better strategy for purchasing Avios would be to wait for one of the frequent purchase promotions from any of the four Avios carriers and make your purchase there.
Avios Subscription
With an interesting spin on directly purchasing Avios points, British Airways has launched Avios monthly and yearly subscriptions. This actually can be a rather attractive way of acquiring Avios at a very reasonable cost without having to part with a large amount of money upfront.
As with most subscription plans, the longer and larger plans offer more savings. Opting for the base-level Voyager plan on a yearly subscription does result in the poorest value here, coming in at 2.25cpp. On the other end of the spectrum, the Adventurer plan comes in at 1.72cpp.
While $3,400 CAD is a significant amount of cash to commit to a points purchase, if you choose to redeem these points on a Qatar Airways round-trip flight, the savings can be enormous. The cash price for a North America to Doha round-trip in business class can top out at around $15,000. This equates to a nearly 80% discount on the cash price, and you'd still have 60,000 points left over.
Balance Boost
British Airways' newest way to buy Avios, is called Balance Boost. This allows members to boost any Avios they have earned in the past 30 days by 1X, 2X, or 3X.
This is also a very reasonable option for acquiring Avios at what we would consider below cost. The price jumps dramatically after the first 300,000 points, so it doesn't look to be worthwhile after that. However, for the first 300,000 points the 2X and 3X options present an acquisition rate of 1.61cpp and 1.59cpp respectively.
We consistently advise against buying points unless you have an immediate or short-term need for them. If there's one thing we know for certain, your points are never going to go up in value. Loyalty programs can undergo sudden changes without notice.
Redeeming Avios Points for Flights
To maximize the value of your Avios points, we only recommend utilizing them exclusively for flight rewards. Redeeming your Avios points for other options like car rentals or hotels offers significantly lower value in comparison.
Before making any redemption, consider reading about our best practices when making flight award redemptions.
Redeeming Avios Points for Reward Flights on BritishAirways.com
In general, it's best to redeem Avios for direct flights with no connections. The pricing methodology used by British Airways involves calculating the cost of each flight segment separately and then combining them to determine the total.
Additionally, we recommend against redeeming your points for a British Airways reward flight, as these flights typically impose $800+ in taxes and surcharges. Instead, we prefer to focus on partner redemptions from airlines such as Qatar Airways or Air Lingus.
Once you're logged into your Avios account select "Book a Flight with Avios" from the drop-down menu at the top of the page.
From the search page, enter your departure and destination city, along with your travel dates and desired class of service.
On the flight results screen, you have the option to filter flights based on cabin class, number of stops, price, total duration, and more. Additionally, you can access further details about individual flights in an itinerary, including the aircraft type, layover duration, fare class (if applicable), and other relevant information.
On the following screen, you'll be presented with the total cost for your flight, including all taxes and fees.
The subsequent pages will prompt you to provide passenger details and contact information, select seats, and finally enter payment information, just like when making a standard non-award booking. If you are content with all your selections, proceed to confirm and purchase your reward flight(s).
British Airways Award Chart
British Airways doesn't publish a public award chart, so it can be tough to pin down exactly how much redemption for award flights will cost you. We have some crowdsourced data from the community that will give you a general idea of how much a redemption will cost, although you'll have to search the specific flight you have in mind to determine the exact cost.
The cost of Avios redemptions is determined by several factors:
1. Distance: The miles involved in your journey are taken into account, affecting the redemption rates based on the destination's distance.
2. Peak and off-peak dates: Depending on your selected travel date it will either be flagged as peak or off-peak. As a result, flights will be priced slightly differently throughout the year.
3. Airfare class: The cabin class you choose for your British Airways redemption affects the number of Avios rewards points required for an award flight.
The following chart is applicable to flights operated by British Airways, Iberia, and Aer Lingus:
The chart below is the Avios required for all other partner airlines:
Do remember that all awards are priced per segment. Although this might sound like a drawback and does usually result in higher costs, it also grants you substantial flexibility, including the option to plan stopovers or open-jaw trips, enabling you to fly into one city and depart from another.
To maximize the value of your Avios redemption, consider incorporating other modes of transportation, such as trains into your journey, which are especially convenient in places like Europe and Asia.
Avios Multi-Carrier Award Chart
If you're booking with two or more Oneworld partner airlines on one itinerary, there's a separate multi-carrier reward chart that applies to Avios bookings. Unlike the regular award chart, this one doesn't work segment-by-segment – instead, the pricing is based on the total distance of all your segments.
The multi-carrier award chart pricing is shown in the table below, with the miles and corresponding cost in Avios for Economy, Premium Economy (1.5x), Business (2x) and First class (3x).
| | | | | |
| --- | --- | --- | --- | --- |
| Miles | Economy | Premium Economy | Business | First |
| 0 – 1,500 | 30,000 | 45,000 | 60,000 | 90,000 |
| 1,501 – 4,000 | 35,000 | 52,500 | 70,000 | 105,000 |
| 4,001 – 9,000 | 60,000 | 90,000 | 120,000 | 180,000 |
| 9,001 – 10,000 | 70,000 | 105,000 | 140,000 | 210,000 |
| 10,001 – 14,000 | 90,000 | 135,000 | 180,000 | 270,000 |
| 14,001 – 20,000 | 100,000 | 150,000 | 200,000 | 300,000 |
| 20,001 – 25,000 | 120,000 | 180,000 | 240,000 | 360,000 |
| 25,001 – 35,000 | 140,000 | 210,000 | 280,000 | 420,000 |
| 35,001 – 50,000 | 160,000 | 240,000 | 320,000 | 480,000 |
Taxes, fees, and carrier surcharges are not accounted for in the table above. Taxes, fees, and carrier charges increase on a sliding scale from economy up to first class.
This nature of the multi-carrier reward chart is a bit complex, and so will be covered in a separate, future article.
British Airways Avios Sweet Spots
Due to British Airways distance-based award pricing, short flights under 3000 miles can be of significant value. This includes popular destinations such as Hawaii, which can be found for as low as 13,000 Avios from Seattle on Alaska Airlines. Due to the surcharges passed on by British Airways the number of sweet spots is limited, though the ones that do exist are really spectacular.
Seattle (SEA) – Hawaiian Islands (HNL, OGG, LIH, KOA) in economy class on Alaska Airlines one way: as low as 13,000 Avios points.
Toronto (YYZ) – Dublin (DUB) in business class one way: as low as 50,000 Avios points.
As mentioned before, you'll want to primarily stick to partner airlines when using Avios points to avoid British Airways' steep carrier surcharges.
Other Avios Point Redemptions
Although there are a few alternative ways to utilize your points that might pique your interest, we always discourage redeeming them for any of these options. The value you would receive from such redemptions will be significantly lower compared to redeeming them for flight rewards.
Hotel Stays & Car Rentals
When making a hotel reservation or booking a car rental, there is no fixed redemption rate or specific value per point that you can anticipate.
After a few sample searches for a rental car, it seems daily prices fall between 3500 and up to 20,000 points per day.
Experiences
You can also use your Avios points for local attractions and sightseeing tours in most major cities. These can be activities such as, arts & culture, cooking classes, dinner cruises, walking tours, and more.
The prices quoted are per person. These experiences represent particularly poor value for your Avios points, usually coming in well below 1 cent per point.
British Airways Executive Club
British Airways Executive Club is the elite status program of British Airways. There are four main status levels with British Airways Executive Club – named Blue, Bronze, Silver and Gold. As with any other airline status, each level entitles members to benefits such as priority check-in and boarding, free seat selection, access to airport lounges, and more.
Tier Points are granted based on flight activity and determine the various levels that can be achieved. Tier Points are earned through flights operated by British Airways and the Oneworld alliance. Tier Points are a completely separate form of currency from Avios points and there is no way to earn British Airways status based on the amount of Avios points you earn.
Earning Tier Points is exclusively tied to flying; there are no opportunities to accrue them through credit cards or other expenditures. This stands in contrast to airlines such as Air Canada's Aeroplan and several US carriers, which allow members to earn elite status on credit card spending without ever setting foot on a flight.
Tier Points are earned on any British Airways flight or flights on any of its Oneworld partner airlines. The number of Tier Points earned depends on factors such as the airline, flight distance, and cabin class. Refer to British Airways Avios Flight Calculator to get an estimate of earnings for a particular flight.
Benefits of Executive Status
British Airways Executive status offers a wide array of advantages, encompassing benefits related to earnings, flights, airports, and services. These benefits extend to both British Airways and to Oneworld Alliance partner airlines.
Executive Club Household Accounts
By setting up a British Airways household account, you have the opportunity to combine your Avios with those of up to six individuals who are registered at the same address as you. Household accounts are an excellent way of leveraging signup bonuses and referrals from multiple people into a larger pool of points to draw from.
When members of the British Airways Household account make redemptions, they are done proportionally, ensuring that each member contributes a percentage of the redemption value corresponding to their individual total points in relation to the shared points balance.
To set up a household account, simply go to the My Household Account page on your British Airways account dashboard. The Executive Club member who establishes the family sharing pool will assume the role of the Head of Household and gain the ability to invite other family members to join. All members over 18 years of age can spend Avios points for redemptions.
Frequently Asked Questions
One Avios point is worth approximately 2 cents. This should be the baseline to aim for when making Avios redemptions.
Avios points will expire after 36 months of account inactivity. To prevent the expiry of your Avios points, collect, spend or buy at least once every three years.
Yes. Changes or cancellations to any Avios award booking via British Airways will incur a $58 CAD fee per person.
This differs slightly depending on each bank, though we've found on average, points transfers take between 2 and 5 business days to reach your account.
While British Airways Avios can generally be used for flights without blackout dates, the availability of award seats is subject to many underlying factors. During peak travel periods or on popular routes there may be limited award availability, so it's advisable to always book well in advance.
Avios can be redeemed for a wide range of rewards, including flights with British Airways and its partner airlines, upgrades, hotel stays, car rentals, experiences, and more.
Posts About British Airways Executive Club
Definitive Guide: British Airways Household Accounts
British Airways household accounts are an easy way for families to work towards their next redemption. Learn how to take advantage of this feature.
Review: RBC British Airways Visa Infinite Card
The RBC British Airways Visa Infinite card is a great way to stack British Airways Avios for your next redemption. Click to see if this card is right for you.
Reduce Carrier Surcharges on British Airways & Oneworld Redemptions
Carrier surcharges can add up on British Airways Executive Club and Oneworld flight redemptions to the UK. Learn how you can reduce these fees significantly.