Review: Qatar Airways QSuites (777-300ER)
Back in late 2021, with a looming Marriott Bonvoy devaluation coming, I decided to book the W Maldives for October 2022. In order to get there and back, I took advantage of redeeming a chunk of Alaska Airlines miles for a round trip Qatar Airways business class routing from Montreal (YUL) – Doha (DOH) – Male (MLE).
Let's dive into my review of 12 hours on Qatar Airways QSuites and what I would consider my best business class flight yet.
Booking Qatar Airways "QSuites" Business Class
| Business Class | Aircraft | Route | Flight Duration |
| --- | --- | --- | --- |
| Qatar Airways QSuites | Boeing 777-300ER | Montreal to Doha | 12 hours 5 minutes |
As mentioned above, this flight was booked in November 2021 as part of a bigger redemption to visit the Maldives in October 2022. After positioning in Montreal from Edmonton thanks to a small Aeroplan business class redemption, we were continuing on with a completely new itinerary booked through the Alaska Airlines Mileage plan.
In order to book this YUL-DOH-MLE round trip itinerary, I redeemed 170,000 Alaska Miles and paid $192.98 USD in taxes and fees per person for this redemption. This is bookable directly on the Alaska Airlines website without needing to call in. It is important to note that Qatar Airways flights are dynamically priced within the Alaska Airlines Mileage plan. As such, they will start at 85,000 miles per direction per person but can increase from there depending on demand.
Learn More: The Best Practices When Booking Award Flights
You can also redeem miles for flights on Qatar Airways through various loyalty program partners including American Airlines AAdvantage and British Airways Avios (both of which can be transferred to from RBC Rewards). Award space can be tough to find, but it is absolutely worth searching for this gem of a redemption.
Cabin Arrangement
For the Montreal to Doha flight on QSuites, we chose seats 3E and 3F as they are considered the "couples seats" and the only true way to experience the double bed in the sky. These are backward-facing middle seats with no physical divider in the middle, outside of a short barricade that can be lowered once you are in the air.
If you are flying solo, your best choice would be any of the backward-facing window seats as they are closer to the window than the other forward-facing window seats. That being said, all business class seats are excellent when you are flying on an aircraft that is equipped with QSuites.
Seat
Upon entering the cabin, it's hard to not notice the striking burgundy and gray coloring that aligns with Qatar Airways branding.
Below was my first view of the QSuite setup as I entered my suite. For our two middle seats, a small divider was set up that still allowed us to chat pre-departure; this barrier was lowered once we were up in the air.
As you sit down and get settled in your new home for the next 12 hours, the first thing you will notice is the gorgeous entertainment console screen. This entertainment console has thousands of options when it comes to movies and television shows to entertain you on this flight.
Directly below the entertainment console is your table tray which extends. Simply press the latch underneath to slide it out. Once it has been fully extended, you can flip the table open to its full size.

To the right of the entertainment console is a small countertop. This is where you will find your menus, amenity kit, additional pillow, and blanket.
Below the counter is where you will find the controls for your seat and the entertainment console handheld controller. This is where you will also find your "call flight attendant" button for your refills of champagne later on.
In 3E, when you are seated there is a storage compartment that opens up on your right. This compartment is where you will find a bottle of water and the headset to be used with the entertainment console.
The Oryx One three-pronged headset is available for use with the entertainment system. This headset was good enough for in-flight entertainment and felt on par with the headsets that are used by other airlines.
The best part of the suite is the closable sliding door, which the flight attendant will unlock after takeoff. This gives you incomparable privacy when it comes to other business class products.
Each suite is very spacious and it felt incredibly roomy as a couple sitting in the two middle seats.
Bed
Once you are ready to sleep, let the flight attendant know and they will prepare your seat which includes adding a mattress pad and adding a pad over the middle divider (if you are in the E/F seats). On our flight, they were proactive in doing this for us after we were done dining as it was a late-night flight.
As someone who is 5'11", there was more than enough room to comfortably relax and sleep once the seat was in lie-flat mode. I was able to get the best sleep I have ever had on a plane during this QSuites flight, which is saying a lot as I typically struggle to sleep when flying.
Amenity Kit
As a business class passenger, you will notice an amenity kit waiting for you on the table in the corner of your suite. Qatar Airway's amenity kits contain Diptyque products, a Paris-based brand.
On the way to Doha, the amenity kit contents were contained in a cardboard box. On the way back from Doha to Montreal, actual amenity kit bags were provided based on the gender of the passenger which was a nice touch. Below is the box both myself and my partner received on our flight originating out of Montreal.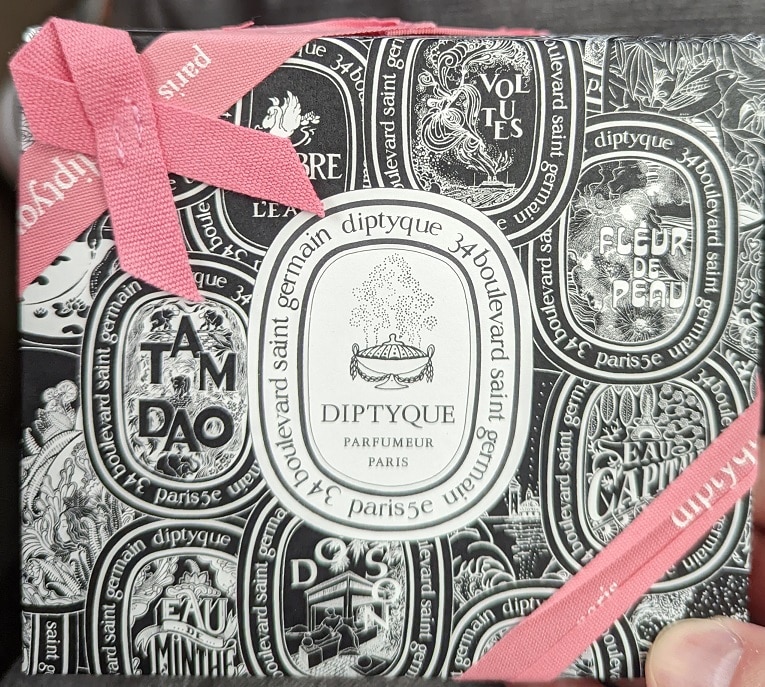 Contained within the amenity kit was a variety of products including body lotion, face cream, lip balm, fragrance spray, and a pair of socks. This is the best amenity kit I have come across to date and it puts quite a few other airlines to shame with their offerings.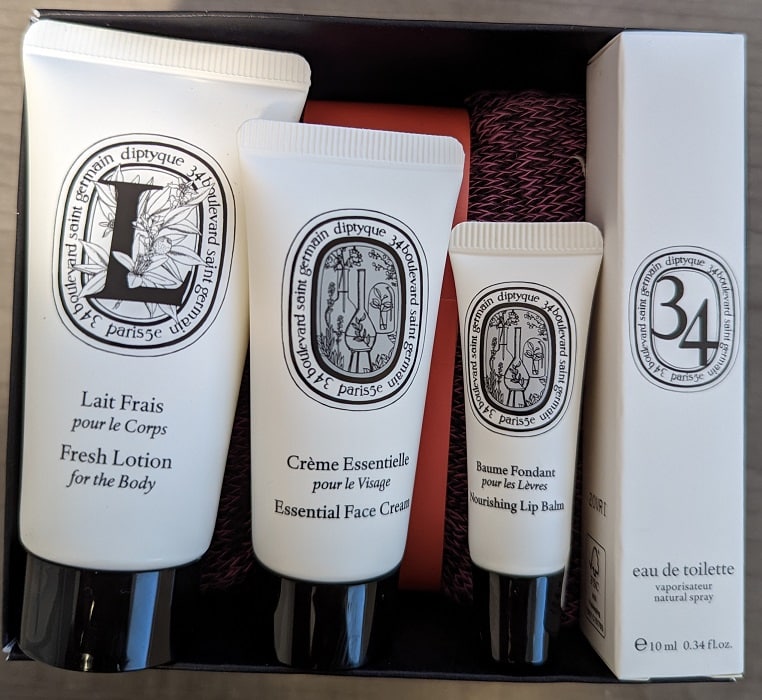 Before take-off, flight attendants handed out loungewear (pajamas and slippers) once they had the opportunity to size up each guest. The loungewear is yours to keep, and it was neat to see that they had branded it in relation to the upcoming World Cup in Qatar.
Both the amenity kit and loungewear were a very nice touch on such a long flight.
Dining
For business class passengers, Qatar Airways offers a la carte dining on their aircraft meaning you can order whatever, whenever. When you first take your seat, you will notice a food menu (with non-alcoholic drinks) and a wine menu (with champagne, wine, and cocktail options).
Food
Our first food order was taken while we were on the ground. A la carte dining, or "on-demand dining", is offered in Qatar Airways business class but most of the cabin, including us, chose to eat right after take-off before getting some sleep on this late-night flight.
The food menu for this flight was as follows:
Once we were up in the air, flight attendants came around with tablecloths and place settings, including a cute "candle" which added a nice touch. Food is not served on trays and is instead brought out dish by dish, which makes it feel like an elevated and special experience.
It is important to note that each flight attendant is responsible for a column of the business class cabin, meaning that you might not be served at the same time as your seatmate. While this wasn't a problem for us, it is good to be aware of it if you are expecting to be served all courses at the same time as your partner.
Starting out, I had requested the bread with tomato chili olive oil which was my absolute favorite; I highly recommend trying this oil if you are a fan of spicier food.
Shortly after, a cold amuse-bouche was brought out consisting of a scallop and roasted red peppers. As someone who loves scallops, this was a great way to start the meal as the flavors worked together perfectly.
Next up was a tomato and coconut soup. Tomato soup is typically not something I enjoy, but this was actually quite good. My significant other said this was her favorite dish as a lover of tomato soup.
After finishing my soup, I was brought the lobster tail with cauliflower mousseline appetizer. It was what I expected for a cold lobster tail, and it was perfectly fine.
Finally, I ordered the braised veal medallion with cranberry jus as my main. This item was pretty disappointing as the veal was unexpectedly fatty and not a great cut of meat. My partner had the grilled chicken breast which she said was fantastic in comparison.
For dessert, I had a small helping of strawberry and vanilla ice cream with chocolate sauce and berries. This was a great way to end a filling meal with a small sweet treat.
After dinner and a few more glasses of rose champagne, I managed to get around six hours of sleep. Upon waking, I ordered a small breakfast consisting of pastries with jam and french toast with pecan maple butter which ended up being my favorite meal item this flight.
When it comes to Qatar Airways business class, there is no shortage of food options and you definitely will not go hungry. Overall I was very impressed with the offerings and think that most would be able to find something that suits their tastes.
Drinks
Qatar Airways offers a comprehensive wine menu including two champagnes, six wines, dessert wine, port, and a cocktail and spirit menu on their QSuites flights. I'm more of a champagne and cocktail guy, so let's take a look at those options.
On offer for this particular flight, they had two options for champagne: a Charles Heidsieck Brut Reserve and a Tattinger Prestige Rose.
Both I and my partner found that the Tattinger Prestige Rose was the clear winner of the two, and we enjoyed many glasses throughout the 12-hour flight. Even more so, this is definitely a bottle of champagne that I would consider picking up for home consumption for any special occasions.
Outside of the excellent champagne options, this is the first time I had a business class experience where there was an actual cocktail menu. As a lover of bourbon and Woodford Reserve, I figured I had to try out both the old fashioned and whiskey sour during my flight.
First up, was the whiskey sour which is pictured below. I would consider this a loose take on what I would consider a whiskey sour to be, and it was just alright (especially when compared to the other option of sticking with the rose champagne instead). Similarly, the old fashioned was sub-par compared to one that I would make at home but at least was much more bourbon-forward.
My overall thoughts are to stick with the champagne and wine options if you are flying Qatar business class as those seem to be the most consistent and pleasing. Definitely try a few cocktails if they pique your interest, but you might find that you can even prepare better versions at home with not much effort.
Entertainment
If you are looking to keep yourself busy on your Qatar Airways QSuite flight, there are a few options to take advantage of: the Oryx One entertainment console and in-flight wifi.
Entertainment Console
In every QSuite there is an in-flight entertainment console, dubbed Oryx One. This console had a variety of options including flight maps, movies, and television shows. The selection was very strong when it came to movie options, specifically considering Hollywood releases, however, it lacked a bit on the TV side of things. Other regional entertainment options were available as well.
Of note, as with many in-flight entertainment consoles, there is an option to watch a flight map. Typically when flying, I leave this screen on just out of interest and for something to passively watch. On Qatar Airways flights, this feature was disappointing since it cycles the different map views with ads and general messages which were distracting, to say the least.
Outside of the disappointing flight map feature, the rest of the entertainment console was definitely up to standard with an endless amount of movies and a sizable amount of TV shows available for viewing.
In-Flight WiFi
If you are looking for something else to do on your 12-hour Qatar Airways flight, in-flight wifi is offered on many of their Boeing 777-300ER aircraft. Once you are up in the air, simply connect to the OryxComms network and you will be presented with instructions to complete your connection to the wifi.
A neat perk for all Qatar Airways passengers is that Qatar Privilege Club members can access one free hour of in-flight WiFi simply for being a member. Once connected to the wifi, you can choose to log into your Privilege Club account by entering your email address and last name.
If you do not have or did not create a Privilege Club account on the Qatar Airways website prior to the flight, you are able to create an account in-flight and take advantage of the free hour on that flight with no issues.
In my hour of free wifi, I found that the speeds were quite a bit slower compared to the wifi on Air Canada. It was usable, but for nothing more than basic internet browsing, and even then it was spotty at best.
If you are looking to utilize wifi for the full flight, it only costs $10 USD which is completely reasonable even with the slower speeds. However, I found that the free hour of service was good enough for me to check my emails and send a few messages in between a flurry of eating, drinking, and sleeping.
One thing I wish Qatar Airways QSuites had was an onboard tail fin camera like Air France business class. Similar to the flight map feature, this would be a great way to kill some time on these longer flights.
Conclusion
The 12 hours flew by and we arrived at Doha Hamad International Airport on time. After deplaning, we headed to check into the Oryx Airport hotel for our 10-hour layover.
Overall, QSuites business class was the best experience I have ever had flying. Being able to isolate yourself in your suite with an elevated level of privacy is something that needs to be experienced to be understood, especially on a long flight.
The food and drink options are top-notch, and service for the most part was pretty good. If you are going to be flying for 12 hours, I cannot think of a better option than Qatar Airways QSuites to maximize privacy and enjoyment. This is one of the business class products I will be trying to fly again in the near future.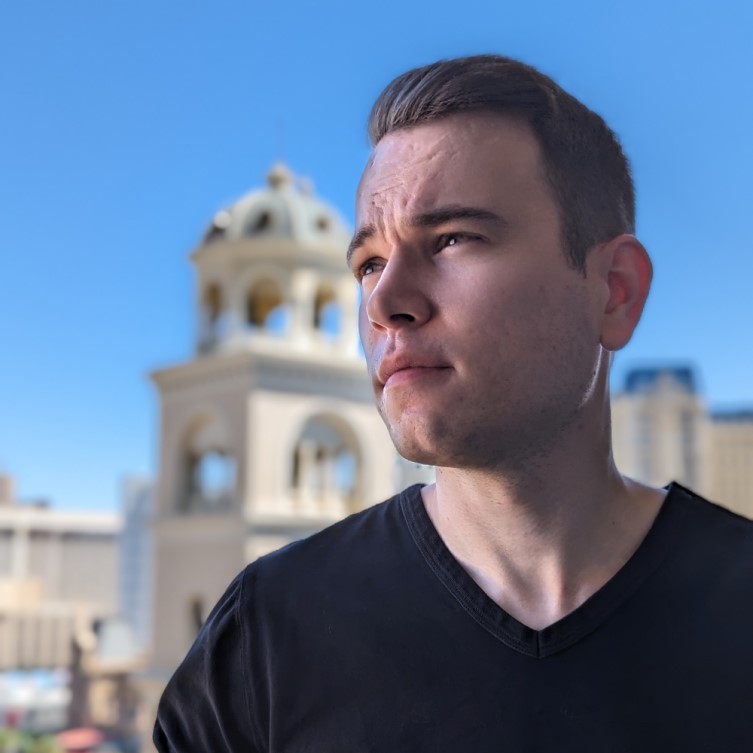 Josh has been involved in the miles and points game since 2015 but has scaled up his knowledge and points earning potential in recent years. With a consistent attitude of "min-maxing" in many aspects of his life, Josh has transferred this mindset over to the miles and points game. Always looking for the next big opportunity, he aims to share content on a variety of topics including his travels, miles and points, and most importantly, how to get the most out of your credit cards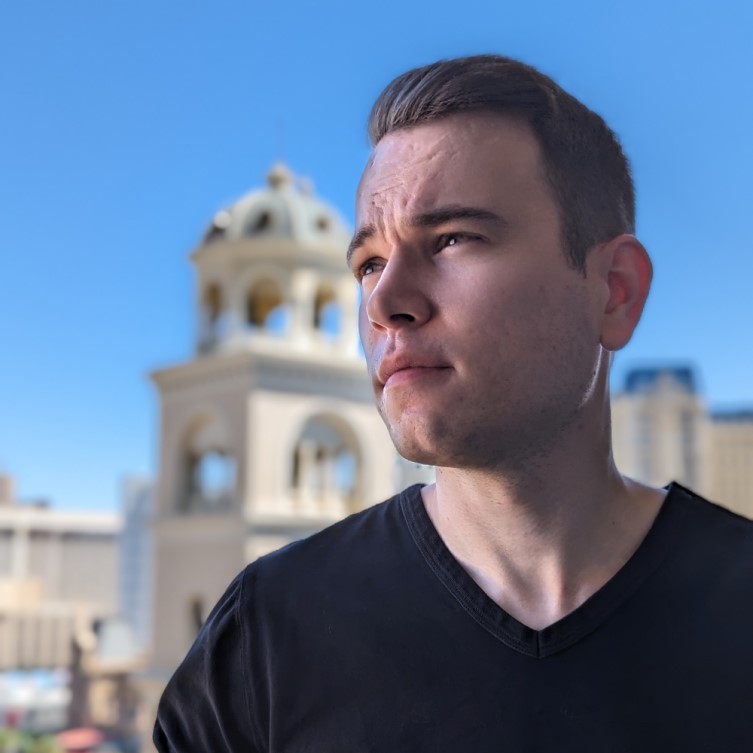 Latest posts by Josh Bandura (see all)