2022 was a strong year of travel for me, with trips to Italy, Las Vegas, the Netherlands, Belgium, and Orlando. In order to properly cap off the year, I figured booking our first trip to the Maldives would be a great option, complete with a flight on Qatar Airways QSuites.
For this trip, I was able to take advantage of booking a stay within the Marriott Bonvoy program before an upcoming devaluation hit. While looking for a property that matched our vibes and age, we landed on the W Maldives as a good entry resort.
Let's dive into our review of the W Maldives and see what this tropical resort has to offer.
Booking
In November 2021, I booked our stay at the W Maldives for 85,000 Marriott Bonvoy points per night, with the fifth night free. Thus, the total cost for this five-night redemption was 340,000 Marriott Bonvoy points. Additionally, I am a Marriott Bonvoy Platinum member meaning that I would be able to enjoy certain perks during my stay, such as complimentary breakfast and a welcome amenity.
Cash rates for this property hover around $1,500 USD per night, meaning a five-night stay would cost in the area of $7,500 USD. Not a cheap stay by any means, but this is the Maldives after all. If we math it out, this redemption comes out at an estimated 2.2 cents per point (USD), which is very strong for a Marriott redemption.
Of note, the mandatory round-trip seaplane transfer for the W Maldives costs $505 USD per person and will be charged as part of your booking. This is relatively cheap compared to what other properties charge, and also played into our decision in booking the W Maldives.
Finally, the resort will reach out in advance of your stay to coordinate the seaplane booking. You will need to provide them with your arrival and departure flight details, in addition to confirming your credit card. At this point, you could also get in touch with their concierge if you wanted to book any additional experiences during your stay.
Arrival at Malé Airport
Upon arrival at Velana International Airport and after disembarking our Qatar Airways Business Class (777-300ER) flight, we went through passport control and picked up our checked bag. From there, we navigated to the W Maldives check-in desk
Our W Maldives employee quickly navigated us through the process and got us checked in for our seaplane flight and our bags tagged. We then boarded the W Maldives shuttle, which took us and a few other couples to the W Maldives lounge at the seaplane terminal.
The lounge itself was nothing special, and thus, no pictures were taken. Coffee, soda, juice, and some light snacks were all available as we waited for our seaplane flight. During this time, we met with a W Maldives employee who went over the details of our stay and checked us in, skipping the need to do this when we got to the actual resort. This was a nice touch and a positive difference from the usual hotel check-in experience.
Once the departing seaplane was ready, we were escorted downstairs into a pseudo-gate area and from there, exited outside to board the seaplane.
We lucked out and had a plane full of individuals going to the W, so no other stops were necessary. Depending on the seaplane you are on, you may need to make other stops on the way to drop off other guests but this was something we did not experience on either part of the round trip.
The seaplane took around 30 minutes and was a very cool experience in itself. We were able to take in the gorgeous scenery of the Maldives for the first time. As we approached the W Maldives on Fesdu Island, I was able to get the below shot of where we would be living for the next six days.
Resort Overview
Upon arrival at the island, we deplaned and were welcomed by and introduced to all the staff. Our bags were taken, and we were offered a welcome beverage of champagne, beer, or juice. From there, each couple loaded into a golf cart, or buggy, and was taken around the island for a brief tour of the resort.
The map below gives you a better idea of the layout of the island and helps to showcase how close everything is. All locations are easily walkable within a few minutes, however, you are able to call for a transportation buggy if so desired.
The island itself is gorgeous, and exactly what I expected out of the Maldives. You simply cannot take a bad picture here, and even then, pictures do not do it justice. As I will touch on later, I highly recommend taking time each day to explore the island and see everything that there is to see.
After we toured the main part of the resort including all of the restaurants, bars, and other amenities, we were finally taken to the outcropping where all of the overwater villas were located.
One good tip we received from our driver was to add the resort's number to our Whatsapp accounts. Whatsapp was the easiest way to make dinner reservations, inquire about activities, and anything in-between. Our phone numbers were collected at check-in, so they already knew who we were the first time we contacted them. This is absolutely something you should take advantage of during your stay as it was way easier than having to pick up the phone and call.
Fabulous Overwater 1 Bedroom Villa, Ocean View
After our brief welcome and buggy tour of the island, we were dropped off at overwater villa 233. The staff member accompanying us brought us into our suite and showed us around; our baggage was delivered shortly thereafter.
Upon entering the suite, immediately you are in the bedroom with the bed to your left. I loved that the room was open and airy, exactly what I want on a tropical vacation.
To the right is a desk, perfectly suitable for doing a bit of work while on vacation. Below the desk is the hub for the in-room stereo system which could be connected to via Bluetooth. Not only did this allow me to easily stream music into our suite, but also out on the patio which was awesome while lounging in the pool.
At the foot of the bed is a loveseat with a coffee table; we enjoyed many of our room service meals here.
Directly in front of the table is a small porthole covered in glass, supposedly for viewing the ocean below. That being said, if you really wanted to see the wildlife, you were better off looking off the edge of your villa or going snorkeling; the porthole was neat but nothing special.
As a Marriott Bonvoy Platinum member, we had a small welcome amenity in our room upon arrival. A bottle of sparkling wine, a few coconuts, and some sweets were available which was a nice touch and gave us even more of an opportunity to celebrate our arrival after such a long few days of travel.
At the foot of the bed on the left-hand side of the room was a mounted television. There was some neat W propaganda on the tv, but outside of that, we turned it off for the rest of our stay.
To the left of the television is a cabinet that contains a variety of things, including a Nespresso coffee machine, mugs, and pods. The pods were refilled daily.
The in-room minifridge contained pop, juices, beer, and water. The top shelf items were all complimentary and refilled daily, making them a great option for mixing drinks in-room while relaxing.
An ice bucket with glasses was provided as well; there were multiple ice machines on the walkway to our villa. Housekeeping would also refill this daily, which was appreciated. Additionally, there were at least six bottles of free still water available in the room at all times and refilled daily. If you required additional water, you could call and have them delivered free of charge.
The prices for the in-room alcohol were available on the counter and were frankly one of the best deals of the whole stay. I definitely partook in a 375ml bottle of Absolut Vodka for $55 USD, which was great value when you consider that a single drink at the resort would cost you $20 USD+.
Directly below the pricing was the mini bar, containing a variety of snack and alcohol options.
Moving on from the bedroom, the bathroom continued with the open-air vibes and had a double vanity, coupled with a shower and water closet both with frosted doors.
Turning around, the bathtub has a stunning view out of the window overlooking your private pool and the ocean. There was an additional door to access the patio from the bathroom, in addition to the doors in the bedroom.
Moving outside, this was the part of the suite I was most excited about. Having our own private pool and deck was amazing, and unlike anything I have ever experienced before. I found that this was where I spent most of my time, going between the pool and the loungers, just drinking, relaxing, and listening to some great music.
We were very impressed with our suite and were thrilled to be lucky enough to stay here over the next few days.
Dining
As you are on an island and are a (voluntary) captive so to speak, you can expect food and drinks in the Maldives to be expensive no matter where you are staying. In addition to this elevated cost, 12% GST and a 10% service charge are applied to all purchases.
We spent about $1,300 USD on food and drinks during a five-night stay, which was completely reasonable. That included multiple alcoholic drinks daily per person. We did also bring some snacks with us including candy, chips, and nuts so we would have something to snack on in the room. That being said, even at an elevated cost, we were very impressed with the food and drink on offer at the W Maldives resort.
Different restaurants are open on different nights, so ensure you check the schedule during your stay. If desired, you can reach out to the staff via Whatsapp and they will send you a PDF containing all schedules for the current month. Menus for all venues can be found here.
Breakfast at Kitchen
As a Marriott Bonvoy Platinum member, we were entitled to free daily breakfast for two at Kitchen. If we did not have status, breakfast would have cost $44 USD per person.
Kitchen is open for breakfast from 7:00 am to 10:30 am; we often woke up early for breakfast to enjoy a quiet breakfast before it got too hot outside. You could choose to dine indoors or outside at Kitchen; we spent many of our mornings sitting at one of the partly-submerged tables.
Before we even get into the food offerings, the best part of the breakfast buffet at the W is the unlimited sparkling wine and Grey Goose vodka to kick off your morning. We often found ourselves getting up early and enjoying a long and drawn-out early morning breakfast, taking advantage of a few extra drinks to get our day started right.
As for food offerings, the typical breakfast foods were available including sausages, bacon, eggs, pastries, and more. That being said, there were additional options that were more lunch-focused such as skewers, bao buns, noodles, and fried rice. I loved having options that were not just breakfast-centric as it added some additional variety to the menu.
A la carte options were also available should you be interested in having an omelette; the staff was very accommodating to ensure you had everything you desired for breakfast.
The food offered varied from day to day, and only repeated options a couple of times during our stay. A simple example would be the meat skewers they had on offer as they rotated between lamb, chicken, and shrimp. This gave us some additional variety, which can often be difficult to find when it comes to a breakfast buffet offering.
Not to mention, there were some neat additions that I haven't seen at a breakfast buffet before such as a honey station which included variants such as saffron honey, charcoal coconut honey, and citrus honey.
We didn't dine at Kitchen for any other meal outside of breakfast so I can't speak to any of their other offerings, but breakfast was consistent and something I looked forward to every morning.
Room Service
If you have access to a gorgeous overwater villa with stunning views, why wouldn't you just have the majority of your meals delivered to your room? That was our attitude when it came to lunch and a couple of dinners and thus, we ordered from room service quite a bit during our stay.
Orders could be placed via telephone or through WhatsApp, which was great for convenience. The menu was very similar to what you could order at Kitchen, making it a no-brainer to opt for room service.
Our go-to for lunch most days was to share a pizza, as they were reasonably priced (~$35 USD) and big enough for two people. The standout option was the tandoori chicken pizza, which was just spicy enough to still be enjoyable.
Another few standout menu items included butter chicken, chicken fried rice, and pad thai. Portions were always big enough for one person and the food was consistently high-quality.
If you are lucky enough to be in the Maldives and staying in a beautiful suite, I highly recommend taking advantage of room service for convenience and to maximize the time spent in your room.
FIRE
FIRE is the barbeque and steakhouse restaurant at the W Maldives. We had the opportunity to dine here twice during our stay and were very impressed both times. Reservations are required for FIRE, so ensure you book your dinner via Whatsapp in advance. Additionally, FIRE and FISH are typically open on opposite evenings.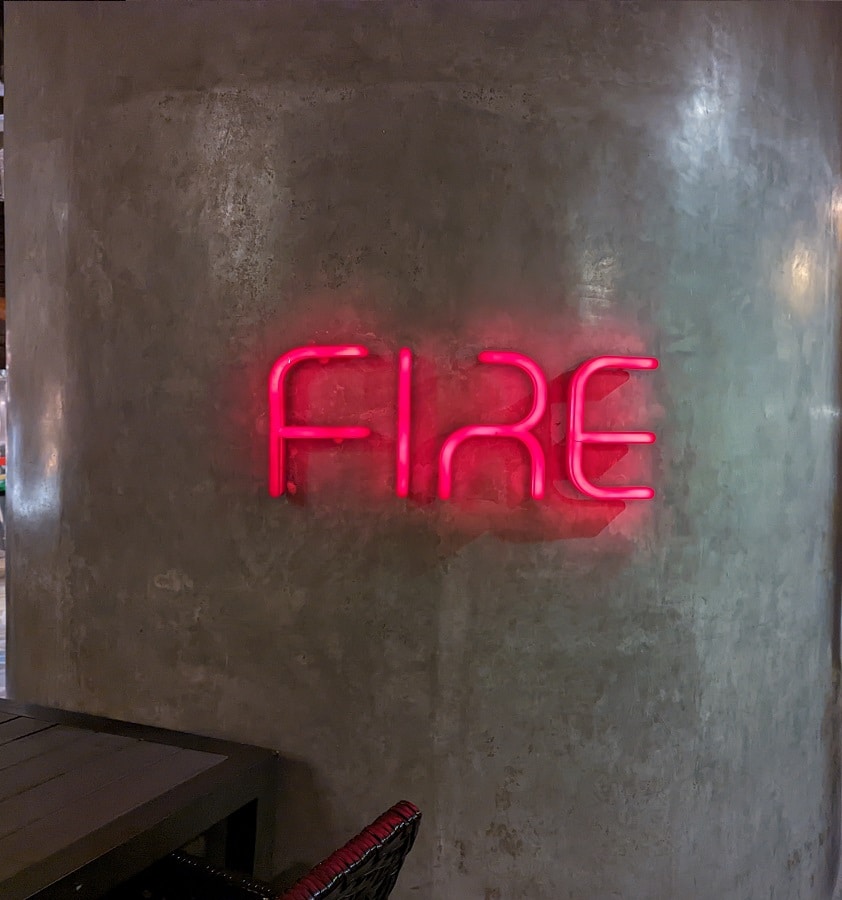 FIRE is situated as an outdoor, sandy venue using various sources of fire for light. I appreciated being able to select which table we wanted to sit at, and we opted for a table on the outer edges for additional privacy.
After our drink and food orders were taken, complimentary bread and two glasses of tomato soup were brought out. Both times I opted for different cuts of meat for my entree. The steaks were excellent and cooked to perfection.
Any meat orders come with four different sides and five sauces, including chimichurri and a local chili paste. This made for a gigantic meal that left us satisfied and was well worth the price in both quantity and quality.
FIRE was consistently my favorite dining experience at the resort. There was enough variety in the menu so if you desired something that was not grilled meat, there were options available.
FISH
FISH is the seafood-based restaurant at the W Maldives. A variety of local fish options, and other seafood choices, are on the menu.
We did not eat at FISH during our stay as we are not big seafood people. That being said, there were quite a few non-seafood items on the menu so everyone should be able to find something that they like.
Bars
The W Maldives has two bars on the resort: WET and SIP.
As a base, you can expect to pay around $20-$25 USD per cocktail. However, we did find that the cocktails were well made and quite strong, making it not an unreasonable price for what you received.
Menus for both bars can be found here.
WET
WET is located right beside Kitchen, and is your all-day option when it comes to day drinking. As expected, WET is a pool bar complete with cabanas and loungers if you want to spend some time around the pool. However, as we had our own private pool in our overwater villa, we saw little value in actually using the pool here.
We visited WET quite a few times during our stay, most often in the afternoon to break up the day with a couple of cocktails. We typically opted to stay in the shaded area to stay cool. The cocktails at WET were great, and we worked our way through the majority of their menu throughout our visits.
Of note, there was a pool party with a live DJ at WET one afternoon during our stay. During this event, you could purchase unlimited drinks for $85 USD per person which was a great deal if you are a heavy drinker and looking to party. While we didn't partake, there were quite a few couples who were having a great time.
SIP
SIP is the premier bar on the resort and is open from 5:30 pm to 11:30 pm daily. This bar reaches out on top of the water, making it a great spot to see wildlife including reef sharks once the sun sets.
We loved SIP as it was the perfect spot to watch the sunset on the island, often coupled with their resident DJ spinning some excellent tunes. We ventured here for a couple of nights and enjoyed a variety of cocktails off of their menu, both unique to the resort and a few classics.
SIP also offers a small variety of bites including a variety of rolls. Instead, we preferred to eat either at FIRE or order room service and visit SIP afterward, which was only a five-minute walk from our villa.
Things To Do
While you might find that the majority of your time spent at the W Maldives is in your room, relaxing and snorkeling, the resort is not short of other activities and events that you can get yourself involved in.
In addition to sharing what we did during our time at the resort below, the W Maldives also has an on-site fitness center and spa called the "Away Spa". While we did not partake in either of these, the spa did look gorgeous with sweeping views of the Indian ocean.
You can view a sample schedule with all events at the W Maldives here.
Explore The Island
With a resort this gorgeous, the biggest recommendation I can make is that it is worth taking time to explore the island and appreciate its beauty. As you would expect, there is no shortage of good photos to be taken anywhere in the Maldives.
Throughout the resort, there are many spots to hang out and chill, including hammocks and hanging benches. If you are looking for some different scenery, these would be great spots to hang out and read a book for example.
We found ourselves exploring the resort daily after breakfast, before it got too hot and before we retreated to our villa. One of our favorite spots was on the beach near Kitchen and WET as they had cushioned loungers and umbrellas set up every morning.
Gaathafushi Private Sunset
The W Maldives offers a few unique dining and destination experiences, including some that take place at their nearby private island, Gaathafushi. For this trip, I booked an "exclusive sunset" experience on the private island, complete with champagne and snacks.
You can see the other destination offerings here.
On the day of our booking, we met a couple of staff members at the arrival jetty at 5:30 pm and were escorted to a speedboat. Gaathafushi private island is about five minutes away, and once we arrived we were shown around the island and one staff member took a few pictures of us with my phone. The island is very small and can be walked around in only a few minutes.
After a brief tour, the staff boarded the speedboat and went back to the resort, leaving us with a first aid kit and cell phone to call the resort if needed. It was an absolute treat to be left completely alone to enjoy the sunset with a few bites of sushi and a bottle of bubbly.
While it was a bit cloudy, the sunset coupled with the peace and quiet of being completely alone was fantastic. Not to mention, as the sun went down we saw a ton of crabs and bats on the island which was a neat experience if a bit spooky.
The staff arrived at 7:00 pm to pick us up and take us back to the resort. This was a very cool experience and well worth every penny!
Marriott Elites Event
When we returned to our room on Thursday evening, we had a note left in our room that there would be a "Marriott Elites Event" on Friday from 5:30 pm to 6:30 pm at the welcome jetty with drinks and snacks.
The event was a great experience and involved bottomless champagne, wine, cocktails, and canapes. We had the opportunity to chat with some of the leadership team, which was a great opportunity to learn more about their work at the resort in addition to chatting about the other Maldives Marriott properties.
While this may be a weekly experience or a random ad-hoc thing, this event stands out in my mind as going "above and beyond" during our stay and something that will remain memorable for us when we think of the W Maldives.
Conclusion
After my first time in the Maldives, I can now see why this is the peak of tropical and beach travel. Stunning white sand beaches, gorgeous water and snorkeling, and a high level of service make the Maldives an unmatched location in the world.
Initially, I had considered the Maldives as a potential "one and done" type trip for myself and my significant other, but this was far from the case. We are optimistic to make it back in the next couple of years and are already eyeing the St. Regis Maldives Vommuli Resort as a potential Marriott Bonvoy redemption.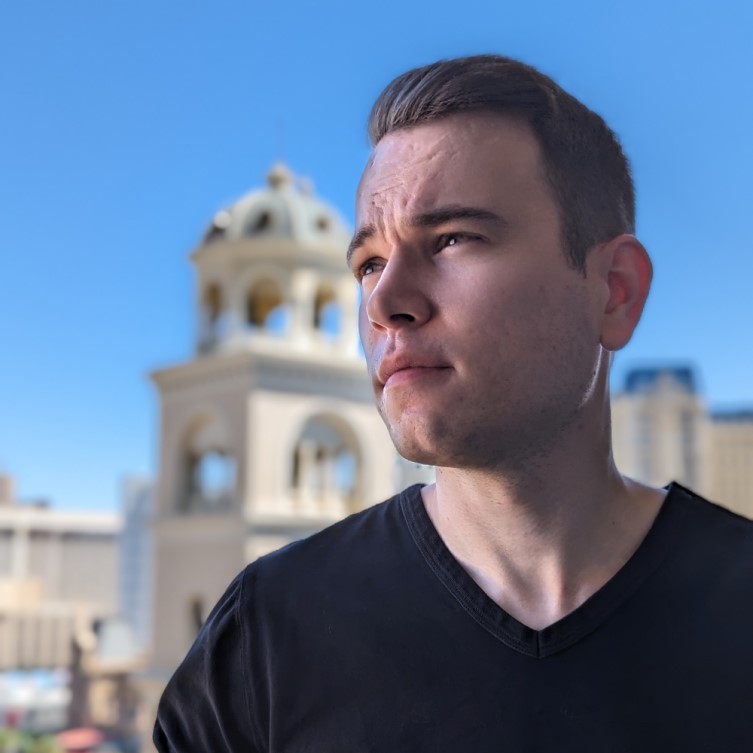 Josh has been involved in the miles and points game since 2015 but has scaled up his knowledge and points earning potential in recent years. With a consistent attitude of "min-maxing" in many aspects of his life, Josh has transferred this mindset over to the miles and points game. Always looking for the next big opportunity, he aims to share content on a variety of topics including his travels, miles and points, and most importantly, how to get the most out of your credit cards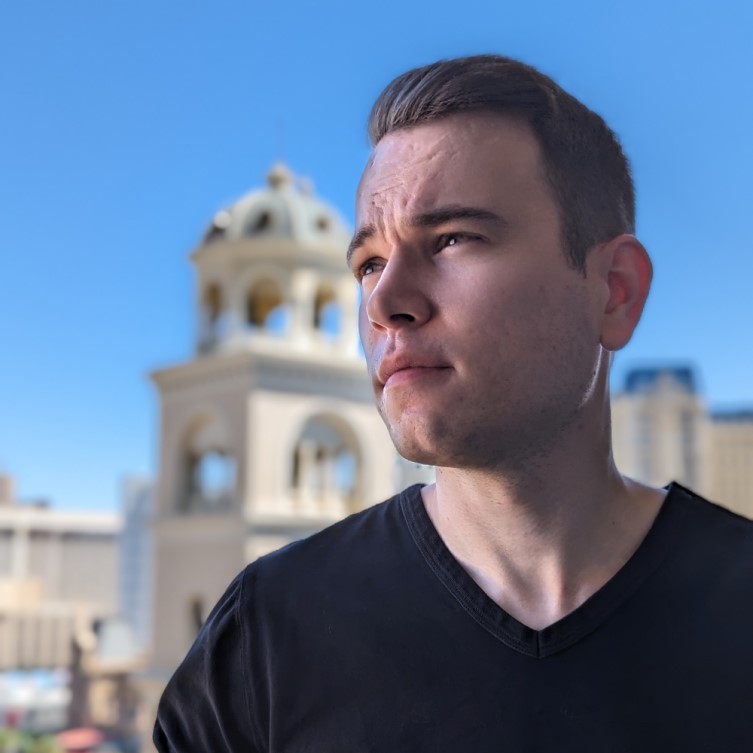 Latest posts by Josh Bandura (see all)