Review: Oryx Airport Hotel at Doha Hamad International
After stepping off our first-ever Qatar Airways QSuites flight, my partner and I headed off to explore Doha Hamad International Airport. We arrived around 5:20 pm and our flight to Malé wasn't until 3:00 am so we had quite a few hours to kill.
Knowing that we had a ten-hour layover, we didn't have any desire to spend the whole time in the gorgeous Qatar Airways Al Mourjan Business Lounge. Instead, we planned ahead and decided we would book a hotel room to get a few hours of sleep and then visit the lounge before boarding our next flight. The obvious choice was the Oryx Airport hotel as it is in the secured area of the airport which is super convenient.
Let's dive into a review of my experience during a brief stay at the Oryx Airport Hotel at Doha Hamad International.
Booking
A few months before our trip, I decided to book the Oryx Airport hotel in hopes that we would be able to get some additional rest on our way to the Maldives (in addition to getting some in-flight sleep). The Oryx Airport hotel is located in the main and secure area of Doha Hamad airport making it the perfect option for someone with a longer layover like myself.
For this booking, I redeemed hotels.com gift cards that I had cashed out from RBC Rewards during one of their many promos. Not the best cents per point use by any means, but it worked for this situation and it was much more palatable than paying out of pocket. The total cost for our one-night booking in a King Superior room was $400.67 CAD; quite expensive for a basic hotel, but keep in mind you are paying for convenience and the ability to easily get some sleep on a long layover.
Oryx Airport Hotel – Overview
The Oryx Airport hotel is located in the secured area of Doha Hamad International airport, making it convenient for travelers who have longer layovers but also for those who may not have an interest in leaving the airport for a quick visit to Doha.
This hotel has 100 rooms available spread out over one floor. Guests are also able to take advantage of the hotel's pool facility, fitness center, golf simulator, and squash court.
This hotel has a 2:00 pm check-in time and a 12:00 pm check-out time.
Location
Once you get off your flight, you want to head to the main departure atrium which acts as a hub where all of the concourses to the gates meet. This is where you will find the 'Lamp' bear, an iconic art installation at Doha Hamad. This is how you will easily know that you are in the right area for the hotel.
If you are facing the bear art installation, the elevators to the Oryx Airport hotel are on the back left side. Below is a picture with an arrow dictating where you can find the elevators; they are hidden around a corner in the general area that the red arrow is pointing to.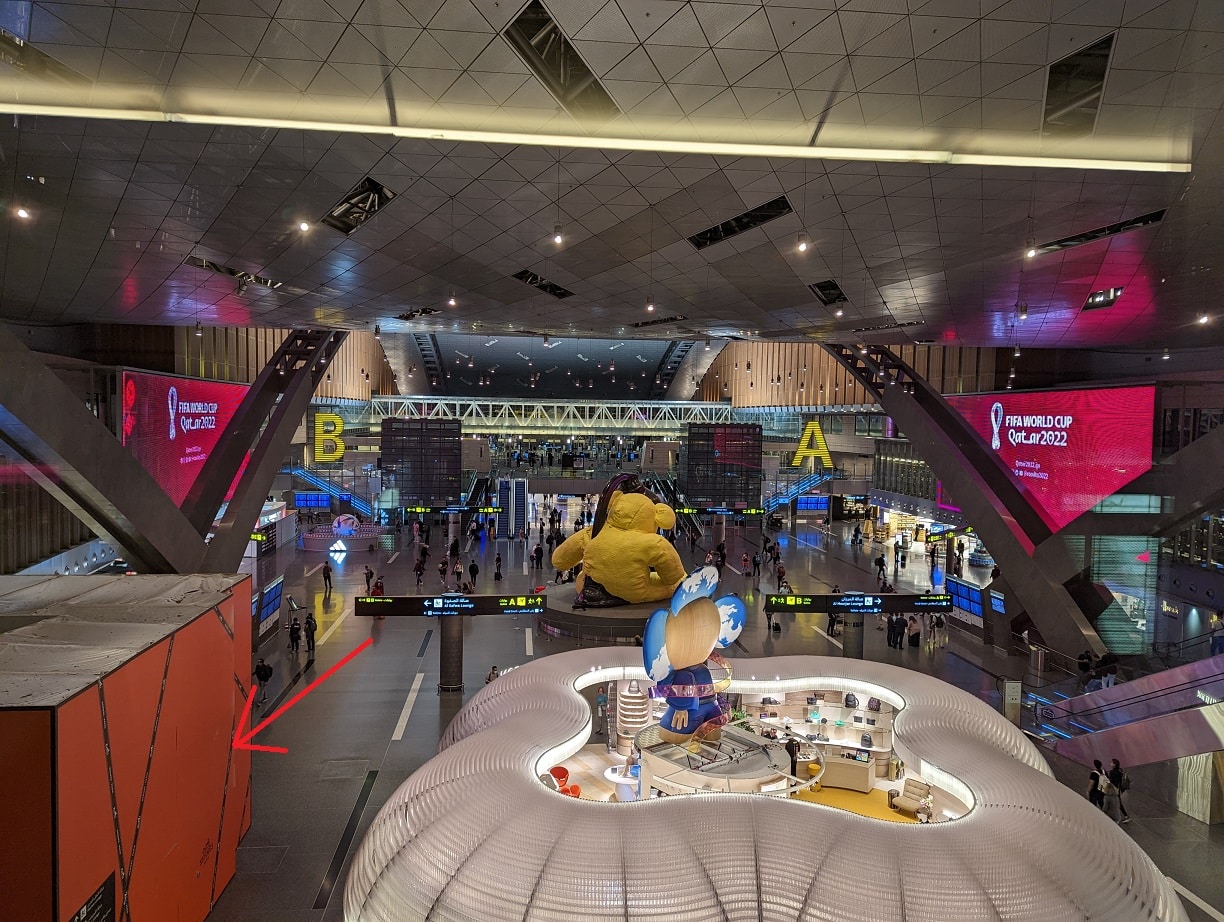 You'll know you are in the right spot as soon as you get in the elevator, as it clearly indicates that level 3 provides access to the airport hotel.
As we entered the hotel lobby on the third floor, it was decked out in theme for the upcoming World Cup in Qatar. Just around the corner is the check-in area where they had multiple representatives for check-in.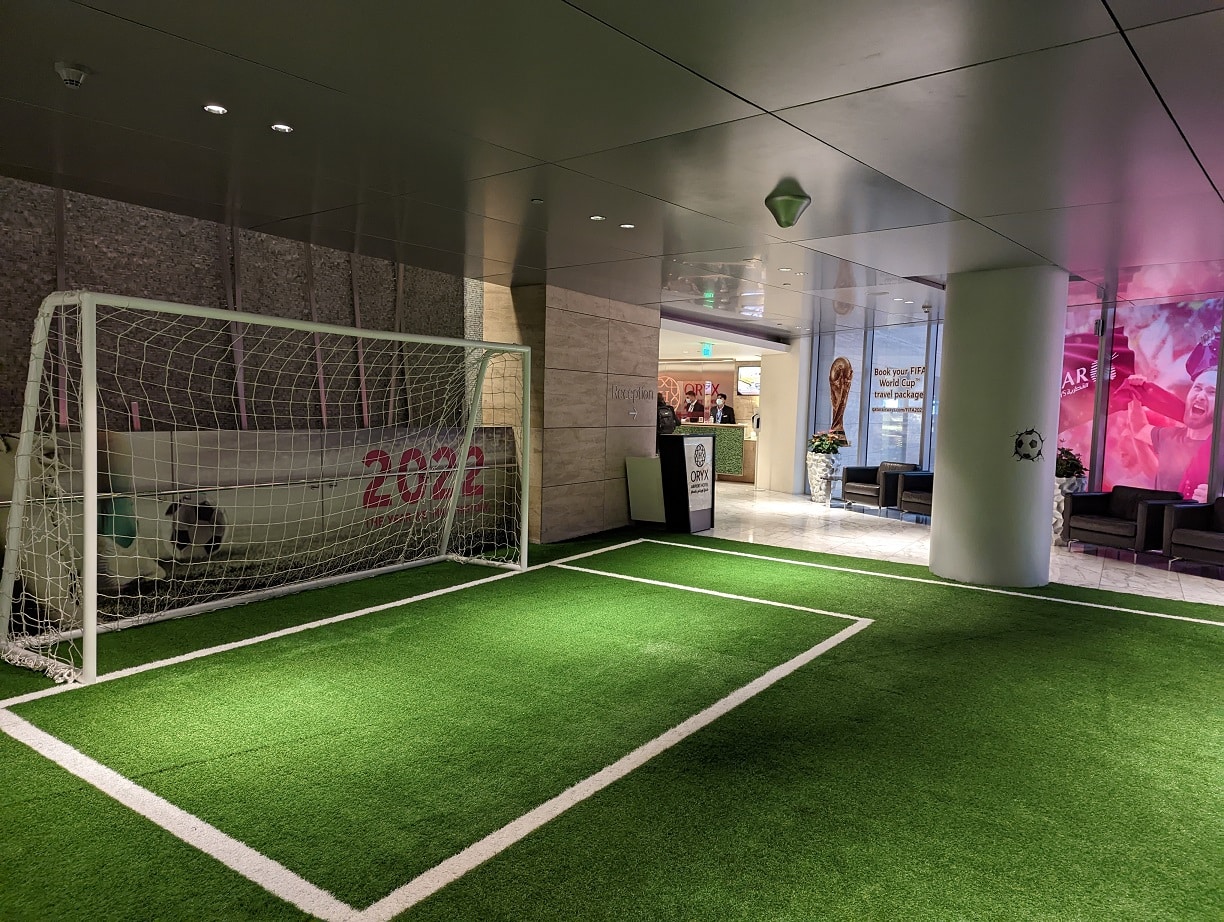 Of note, they had zero availability when we checked in for those who didn't have a reservation, so I highly recommend making a booking in advance versus hoping there is a room available when you get there. There would be nothing worse than expecting to be able to get some sleep and then realizing there is no availability.
Our boarding passes were checked, a credit card was provided for incidentals, and the representative was proactive in offering a wake-up call.
And with that, we headed to room 111 which was right beside the check-in area.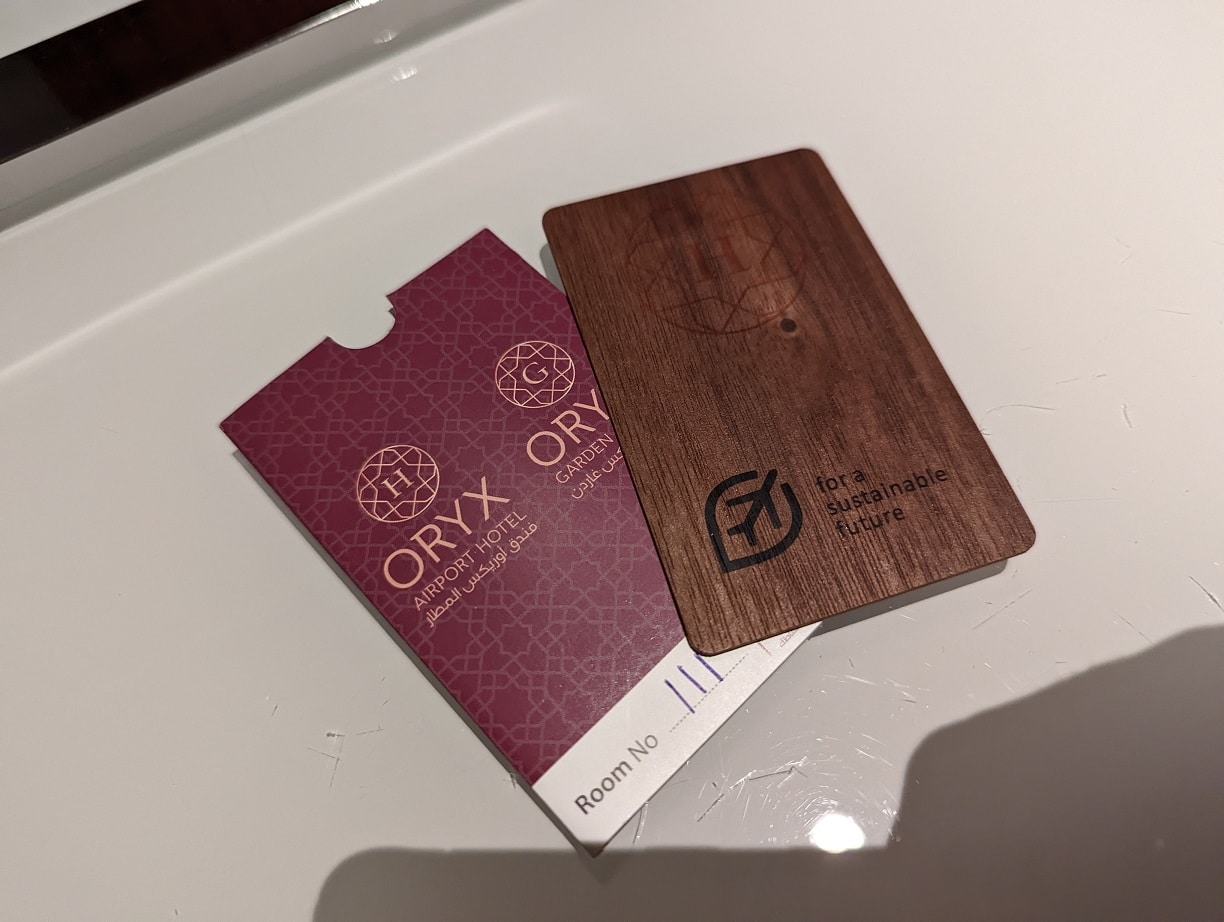 Superior Room, 1 King Bed
As we entered our room, the first thing we noticed was a long hallway that leads directly to the bedroom.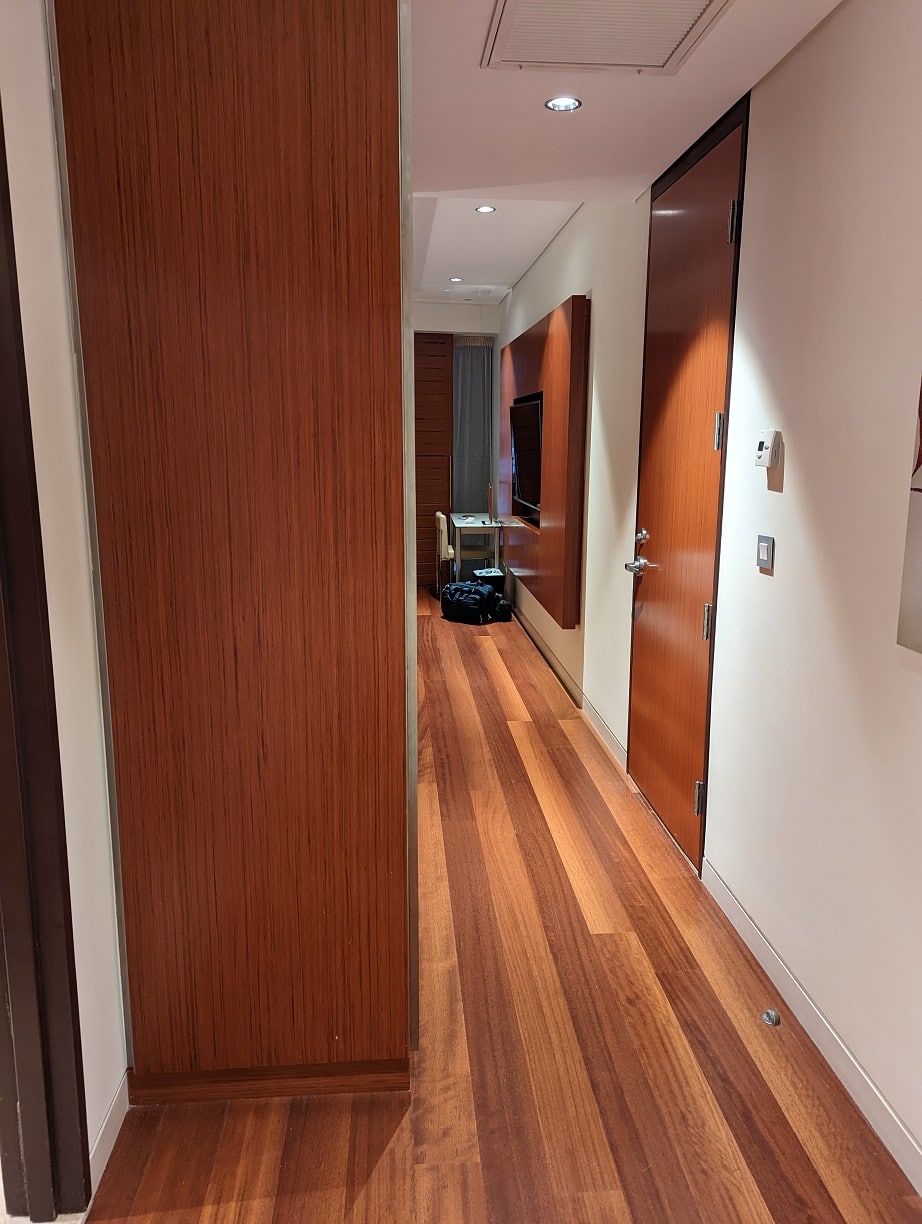 On the left-hand side near the entrance was the bathroom. The vanity has two sinks with ample counter space. On the left-hand side of the bathroom is the shower which has both a rainfall shower head and a handheld shower head.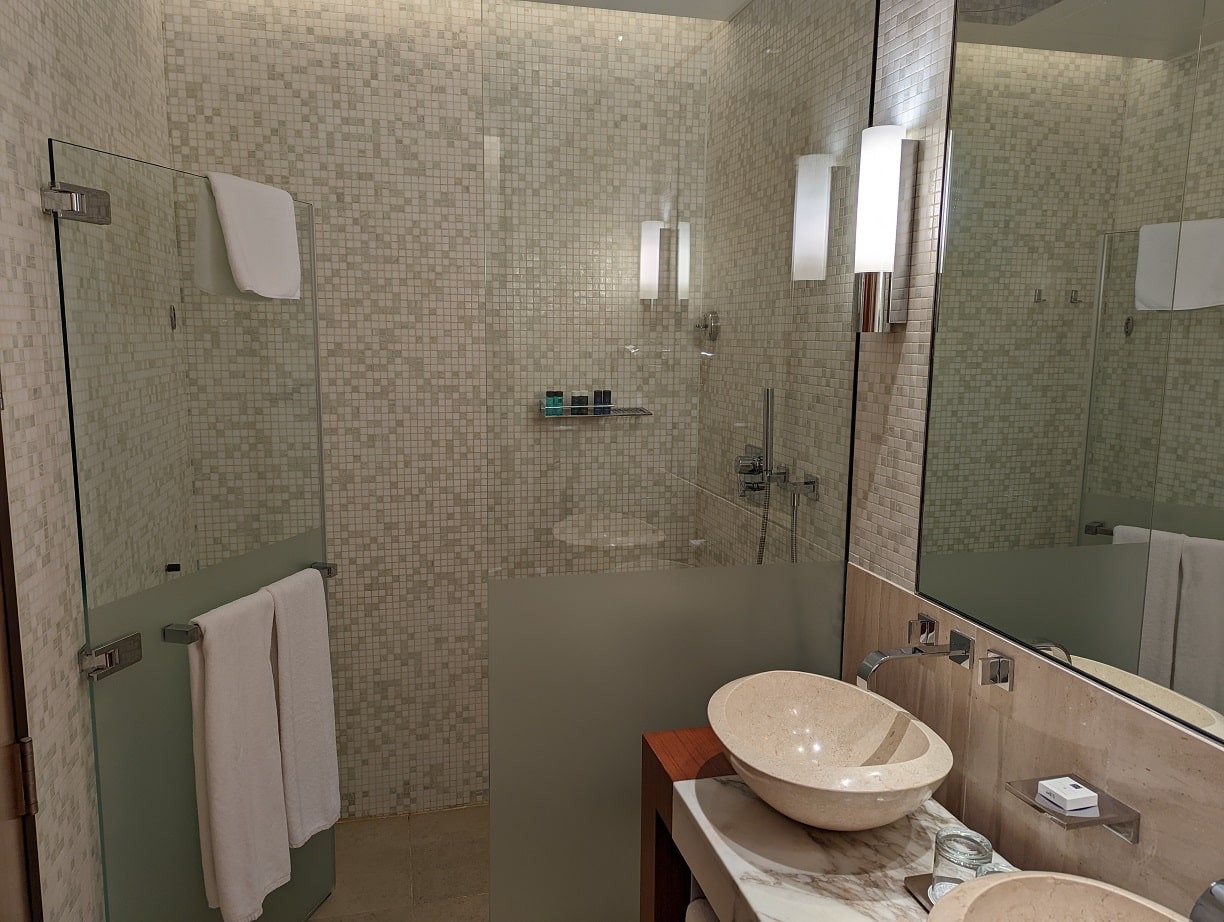 Across from the shower is a small room that contains both the toilet and bidet.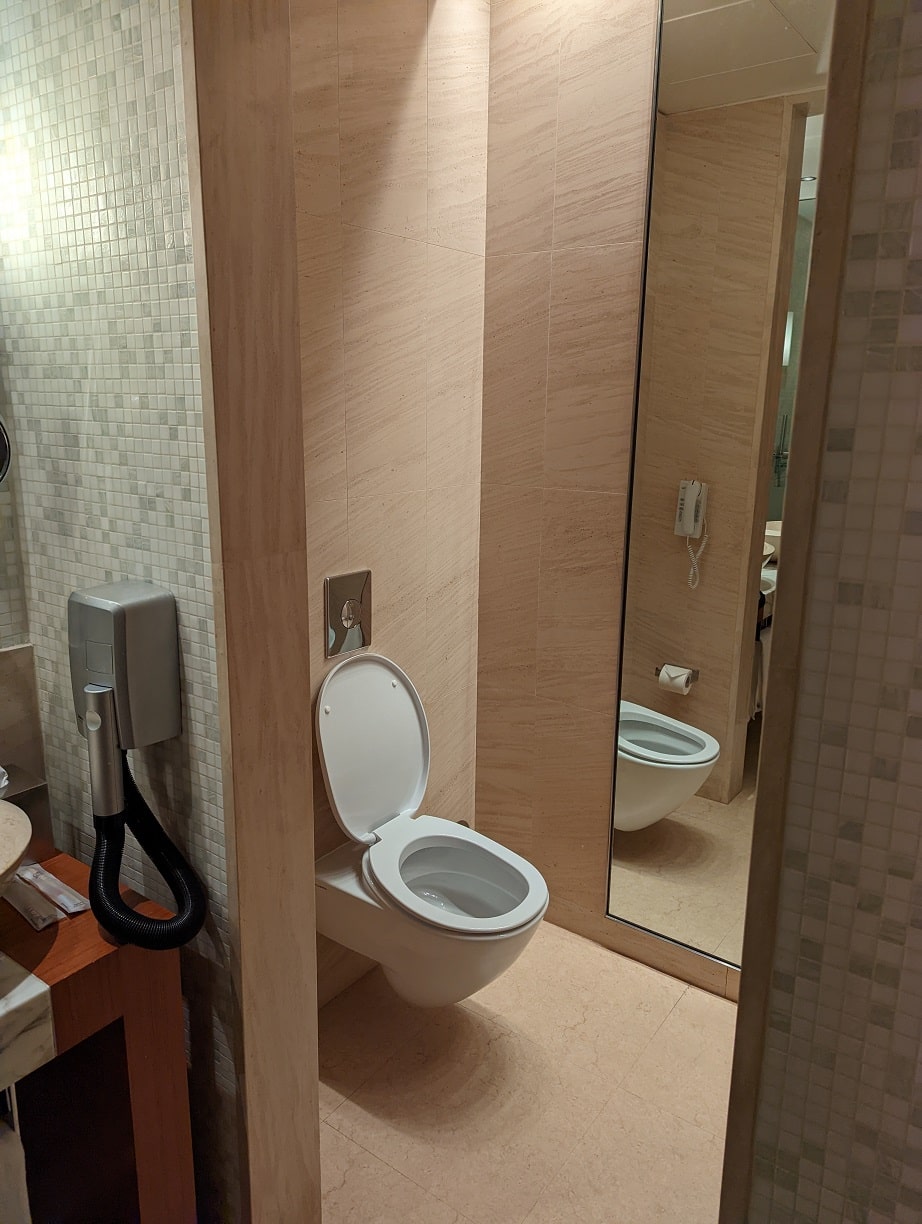 Leaving the bathroom and heading down the hallway brings us to the bedroom. The setup was that of a typical hotel room, with the king bed located in the middle of the room.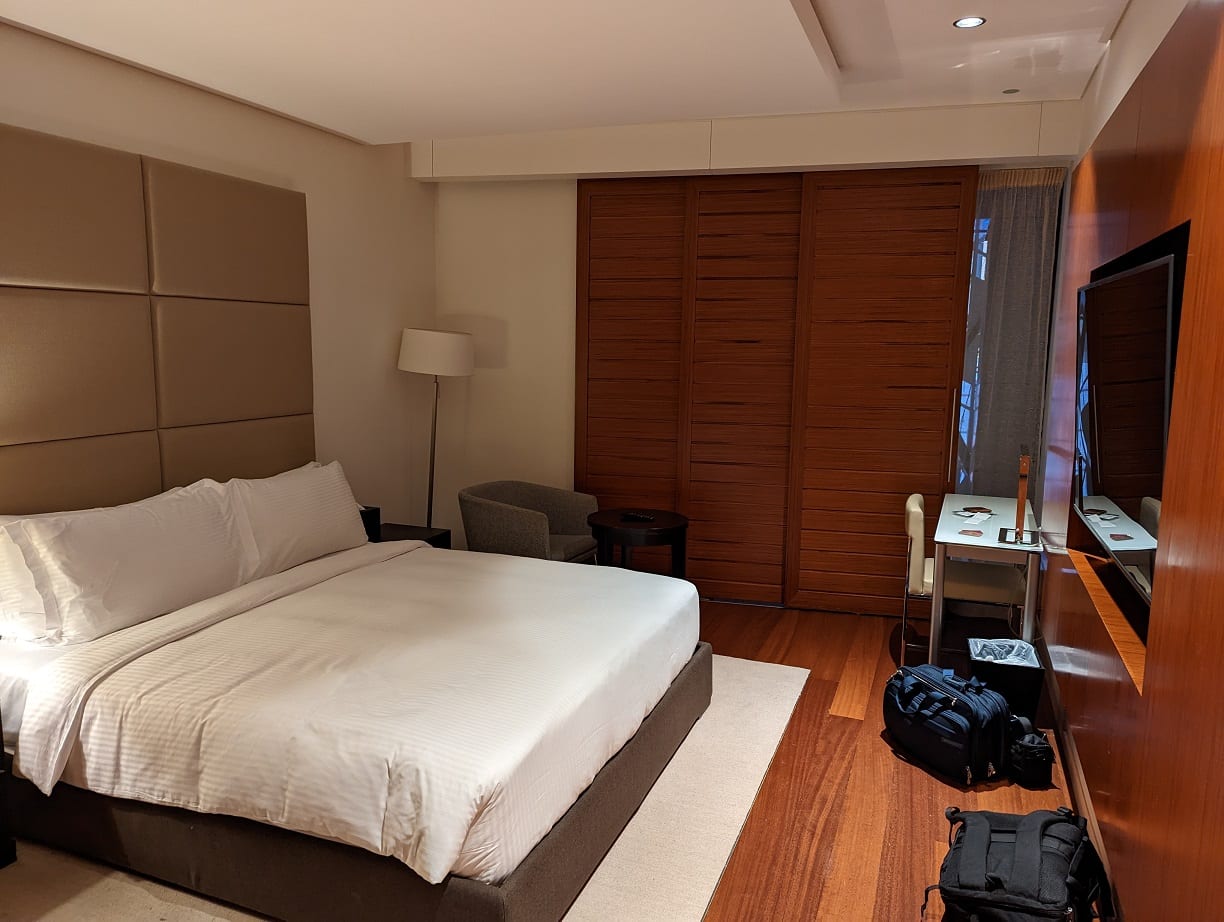 Beside the king bed was a small table and chair set up, in addition to a desk if you wanted to catch up on any work. A television faces the bed; I didn't really see the point of the tv since you would most likely be heading straight to sleep after check-in.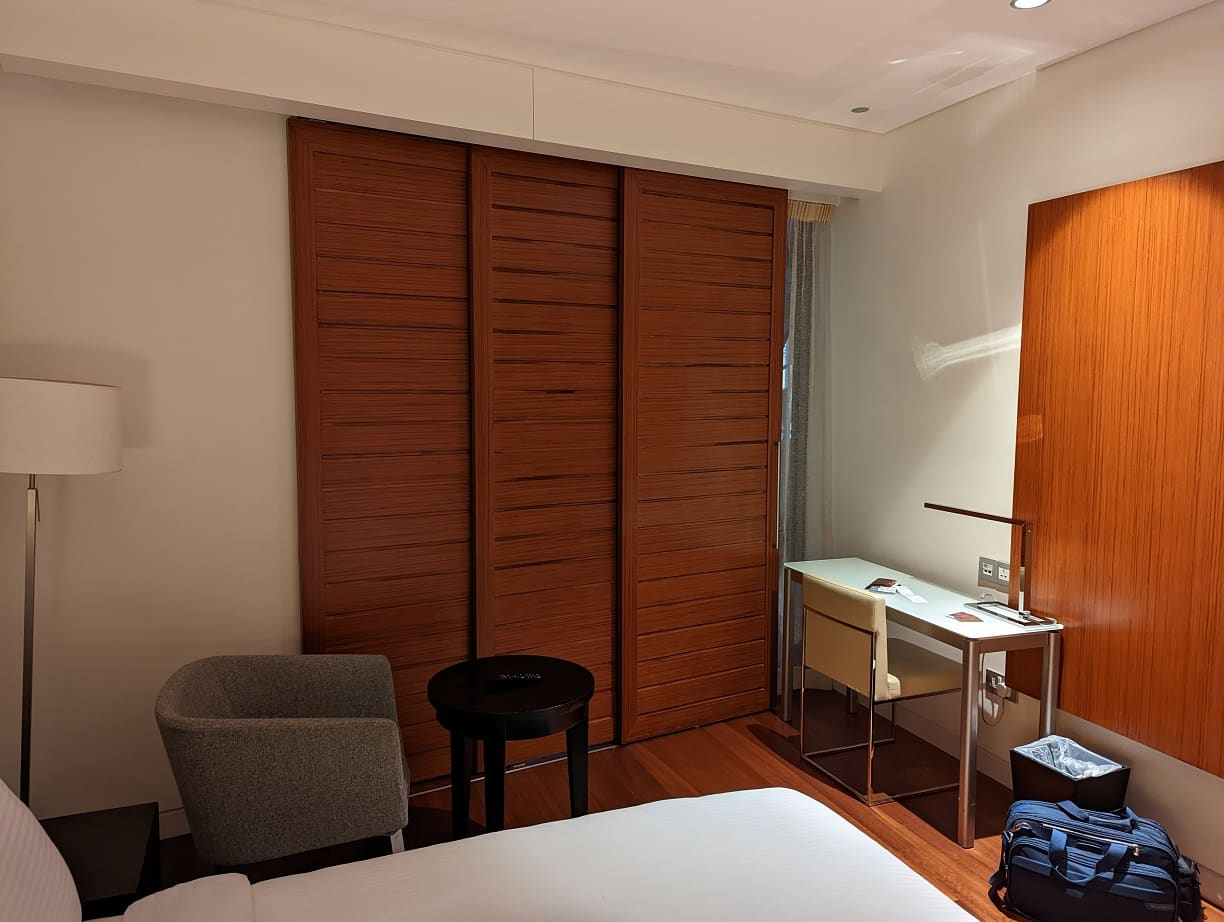 Behind the wooden sliding curtain was the view from our room. This room looked into the terminal which was kind of neat, however, a lot of the view was blocked by the patterned framework added for privacy purposes.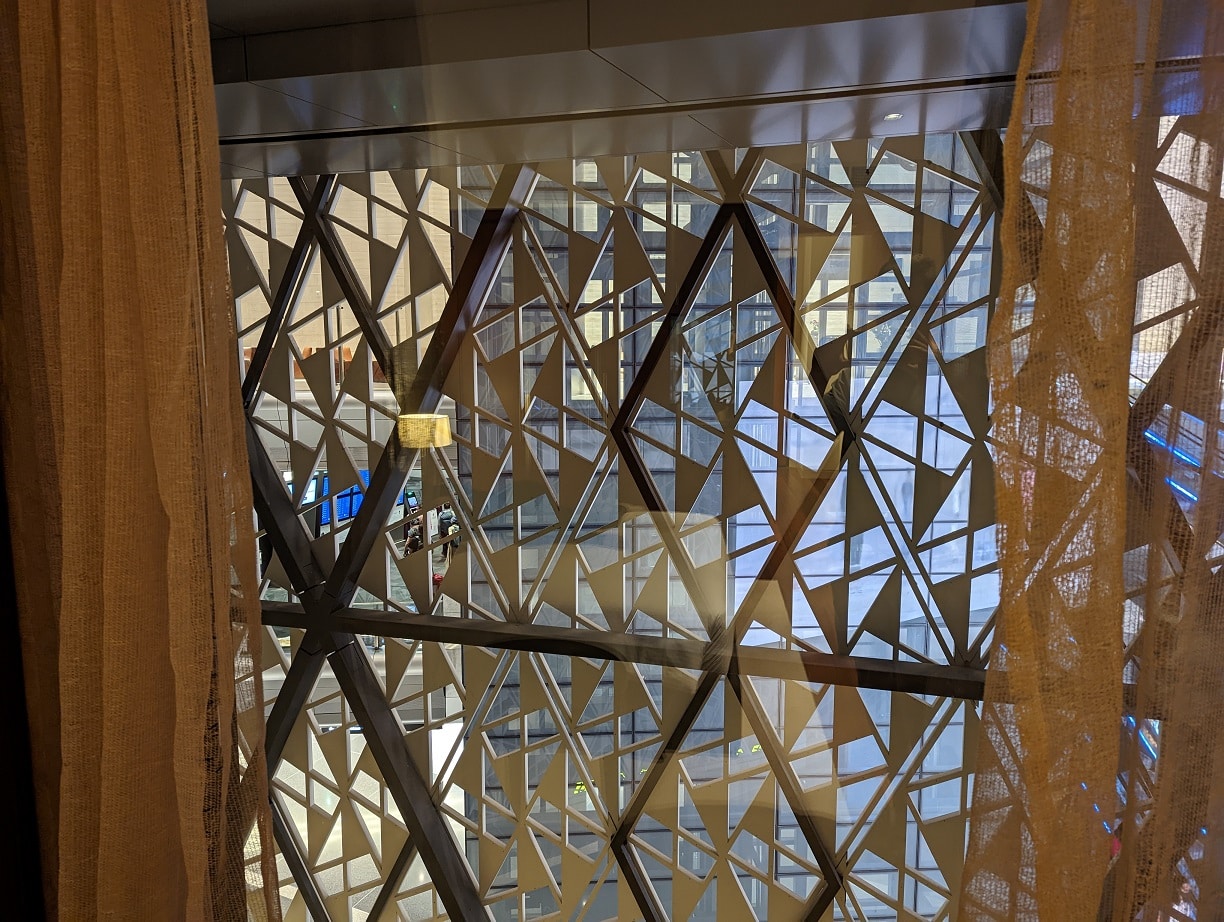 Looking back towards the bedroom, on the opposite side was a small cubby containing everything you would need to make coffee. Two bottles of water were also provided in the room, free of cost.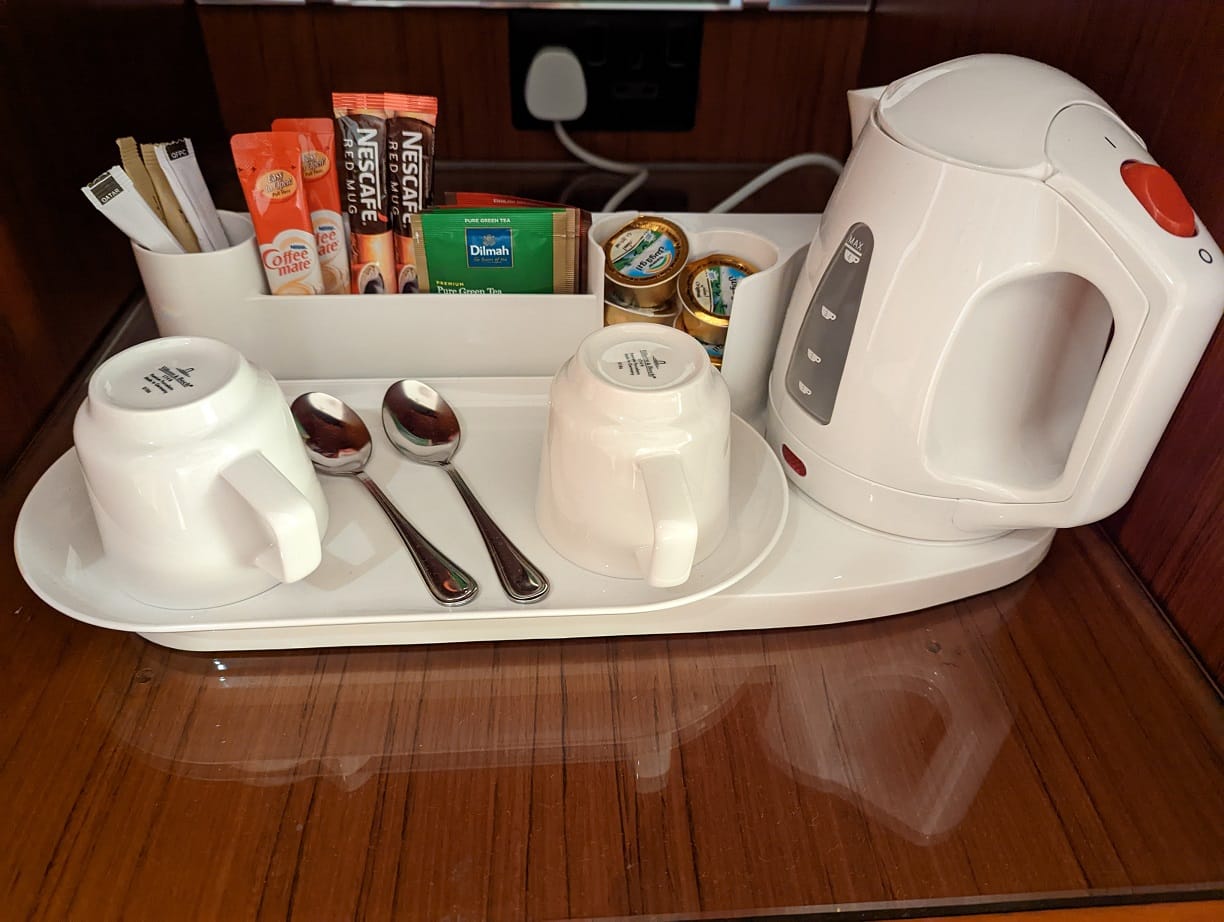 Below the coffee station was a mini-fridge if you have any beverages that you are looking to keep cold.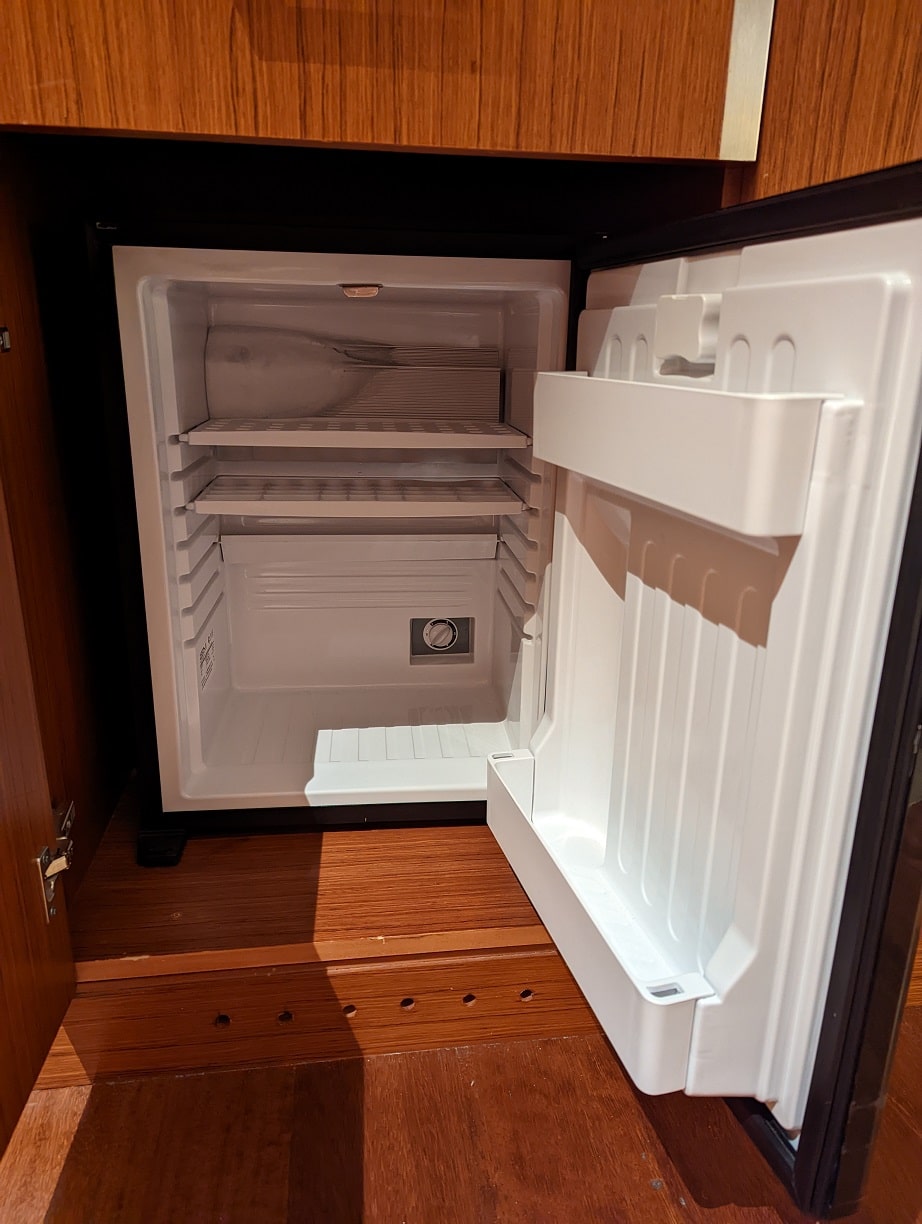 There were also two additional closets which contained a safe and an ironing board respectively.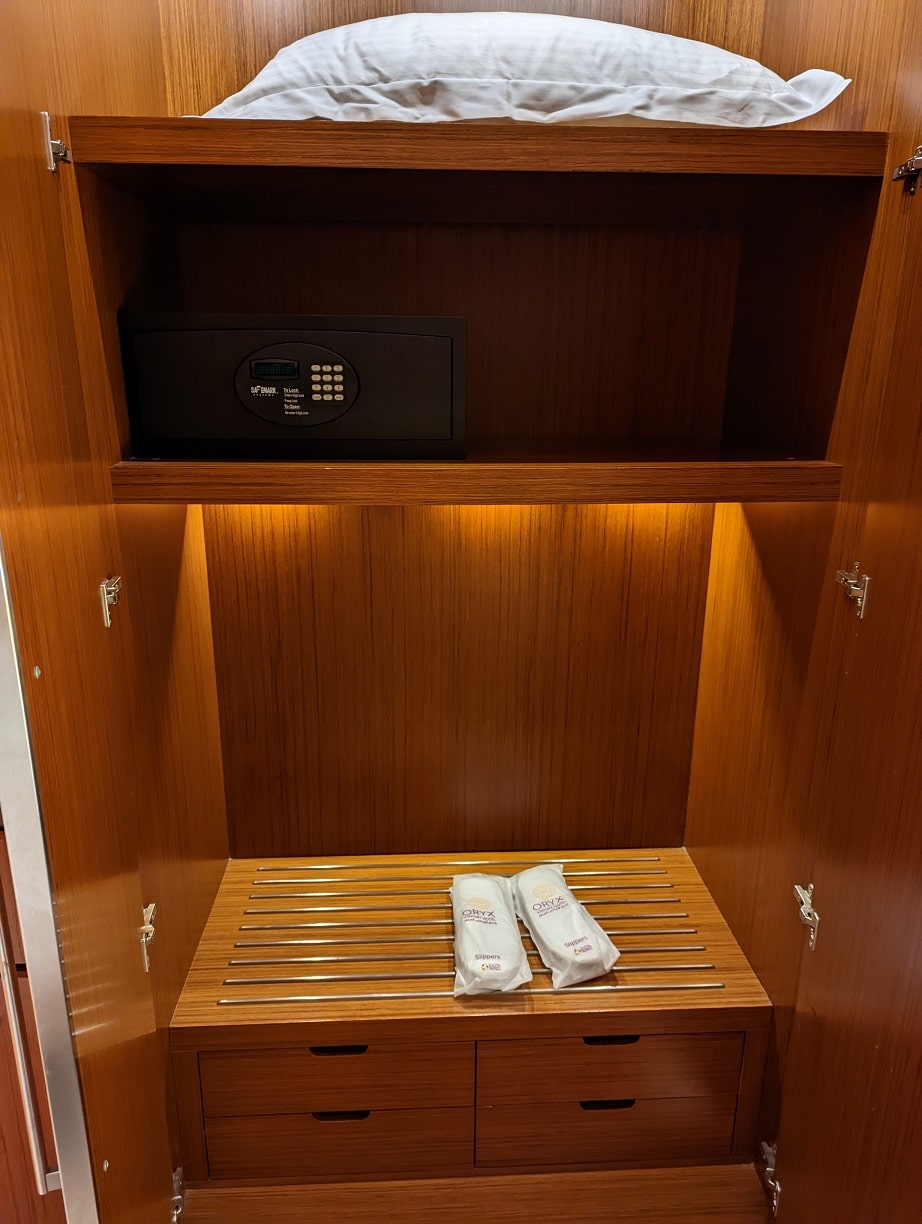 All in all, the Superior Room with King Bed was a pretty typical hotel room. When you consider the purpose of the stay, that was all we needed since we simply wanted to get some sleep and have a shower before our next flight.
Other Facilities
Hotel guests are able to access the Vitality Wellbeing & Fitness Center which is located on the fourth floor, just above the hotel. This facility includes a pool and gym which is open from 6:00 am to 2:00 am daily.
Any passengers who are not staying at the hotel can access the pool, fitness center, and showers for a fee of QAR 175 (roughly $65 CAD). Spa treatments, a golf simulator, and a squash court are also available to both hotel guests and walk-in passengers for a fee.
Fitness Center
A comprehensive fitness center is available for hotel guests and for those who purchase the Vitality Wellbeing & Fitness Center day pass.
Cardio machines including bikes and treadmills, weight machines, and free weights are available for use. This is one of the better hotel gyms I have seen in my time with ample space and a variety of fitness options for guests of all fitness levels.
Pool
Whether you are staying at the hotel or purchasing a day pass to the facilities, the pool complex is impressive for an airport hotel. The layout is stunning, with a full-length pool and lounge chairs peppered around the perimeter. While there are no lane dividers, this pool could definitely be used for swimming laps if interested.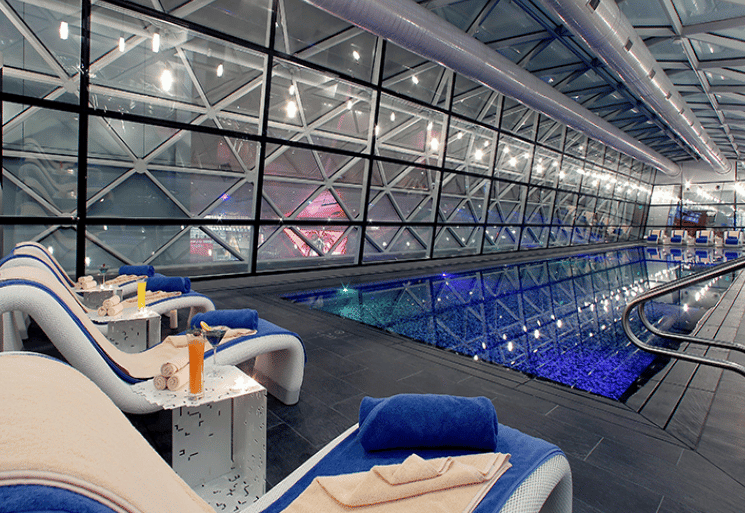 Hydrotherapy tubs and shower rooms are also available as part of the pool complex for hotel guests and day pass guests alike. We didn't take advantage of the pool complex during our stay as a result of the short layover, but I could absolutely see this as a great way to kill a few hours.
Conclusion
Once we checked out and made a brief visit to the Al Mourjan Business Lounge, we made the trek across the airport to find our gate for our 5-hour Qatar Airways business class flight to Malé.
The Oryx Airport hotel is a great option for those who have a longer layover at Doha Hamad airport and want to be able to get some quality sleep and a shower in between flights. While the price is a bit more expensive than what you might expect to pay, the convenience makes it well worth it compared to exiting the hotel and staying somewhere else nearby.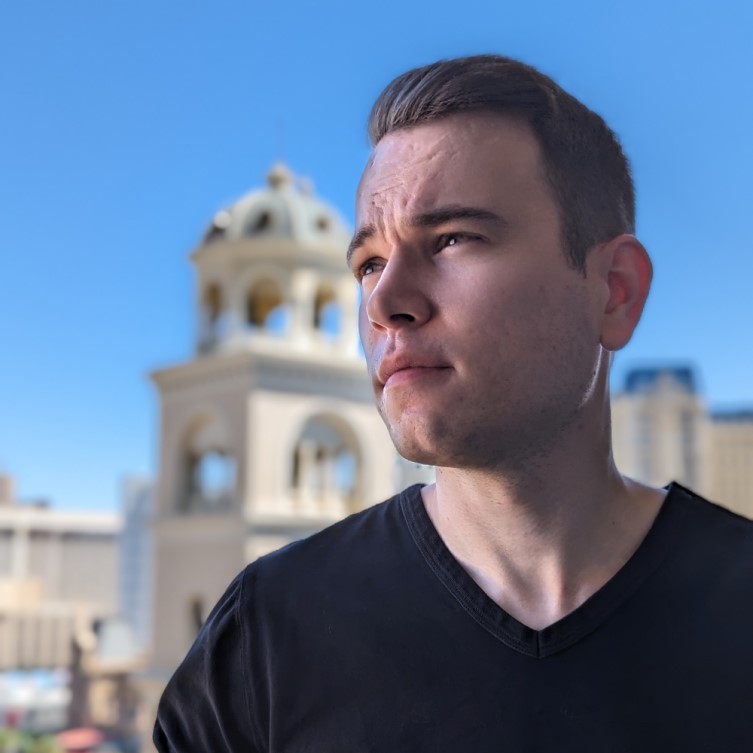 Josh has been involved in the miles and points game since 2015 but has scaled up his knowledge and points earning potential in recent years. With a consistent attitude of "min-maxing" in many aspects of his life, Josh has transferred this mindset over to the miles and points game. Always looking for the next big opportunity, he aims to share content on a variety of topics including his travels, miles and points, and most importantly, how to get the most out of your credit cards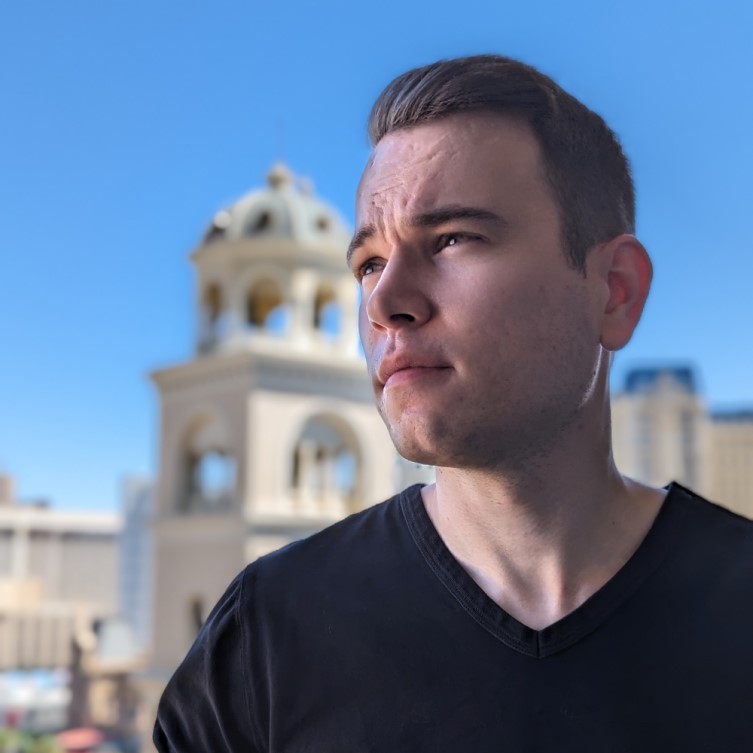 Latest posts by Josh Bandura (see all)