If earning or redeeming stays at Marriott and Hilton doesn't make the most sense for your situation, there are plenty of other ways to save on hotel costs. One way is through Hotels.com.
This is particularly appropriate if you don't want to be loyal to any particular hotel chain, and are just looking for the cheapest rate. Or maybe you have a basket of hotel points but want to save it for more luxurious or high-value redemptions, and just want to find the best cash rate you can.
Hotels.com is a hotel booking portal that partners with and allows booking at a variety of hotel chains, resorts, local "mom and pop" hotels, and beds & breakfast for U.S. and international destinations. These include brands from Marriott, Hilton, and other conglomerate portfolios.
Loyalty Status with Hotels.com
Hotels.com has a status program as well. If you book more than 10 nights a year, Hotels.com will upgrade you to Silver membership, which allows for guaranteed room availability, priority customer service, and early access to 'special offers'. Staying more than 30 nights a year bumps you up to Gold status where you will receive more exclusive Hotels.com offers.
Learn More: The Best Hotel Booking Sites for Cheap Hotels
Hotels.com markets something called 'secret deals' to its rewards members. Allegedly, you save $32 on average from booking with these deals. That and their other rewards program perk; a free night for every 10 nights booked, is really what can make Hotels.com worthwhile.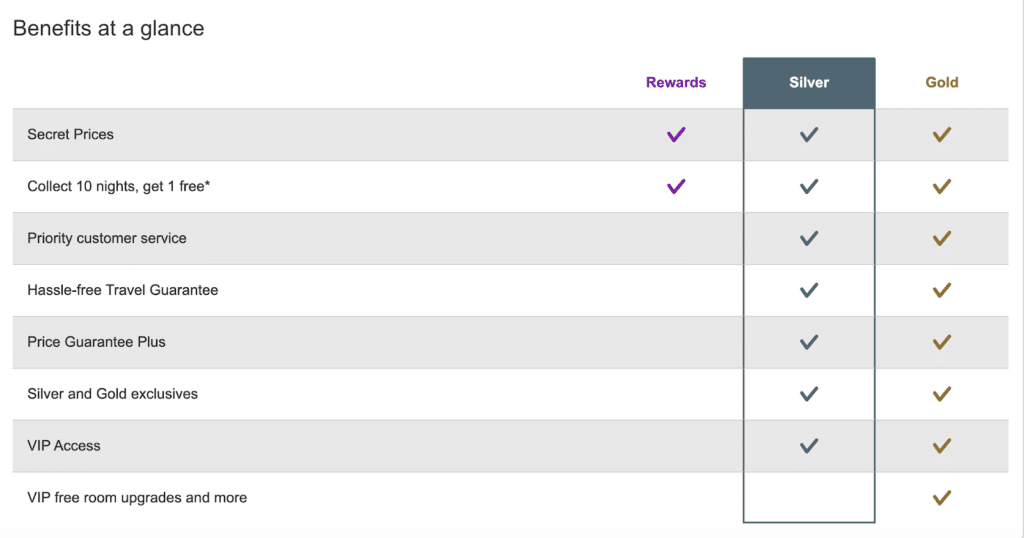 Maximize Hotels.com with Gift Cards and Cashback Portals
There are ways to earn up to 33% off with Hotels.com gift cards which are sold by third parties often at a discount. The best discounts are usually 20% off.
Below are some websites where you may find links to Hotels.com gift card deals:
Furthermore, you can stack these discounts with cashback portals. These include:
See this post for an in-depth discussion of cashback portals and how you can use (and sometimes abuse) them. In that post, I talk about how you can monitor rates across these sites using "portal aggregators", including Cashbackholic, Cashback Monitor, and Evreward.
Finally, you should of course maximize your credit card rewards on purchases made through portals, and when buying gift cards. This can be done in many ways but a few examples are:
Now, it is getting a bit complicated to keep all of these methods in mind when trying to get a discount, isn't it? To that end, we've created the following flowchart to try to help you understand and apply the numerous discounting methods.
Using cashback portals and apps in combination with hotels.com gift cards provides a unique opportunity to effectively, double, triple, and even quadruple dip on cashback (when considering the 11th-night free reward).
Redeeming RBC Rewards Points for Hotels.com Gift Cards
As an alternative to purchasing Hotels.com gift cards through the methods listed above, you may also want to consider redeeming RBC Avion points for them. These points can be easily earned through new applications for the RBC Avion Visa Infinite card or the RBC Avion Visa Platinum card, in addition to product switching.
While many loyalty programs do allow you to purchase gift cards, the best (and only reasonable option from a value-perspective) program to use is RBC Rewards since they allow you to redeem Avion at a rate of 1 cent per point (meaning a 35,000 Avion welcome bonus is worth $350 in Hotels.com gift cards).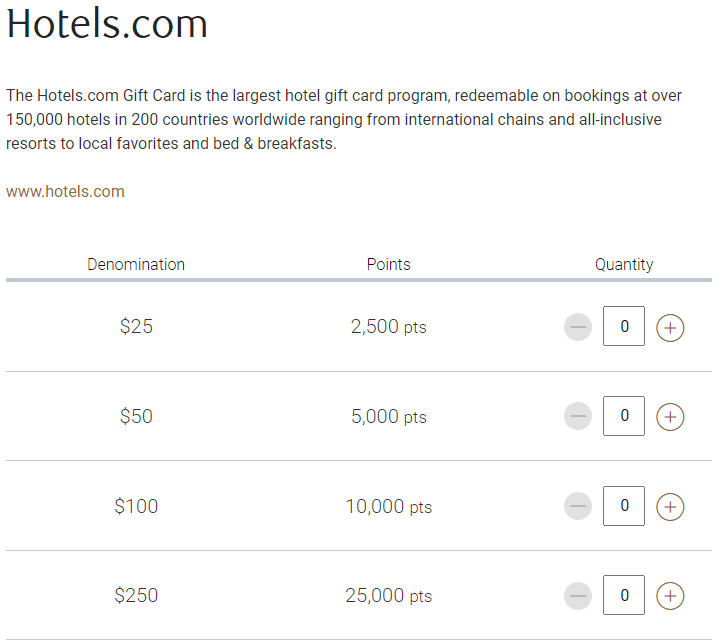 RBC Avion can also be transferred to frequent flyer programs (Such as WestJet and British Airways), so consider if redeeming for Hotels.com gift cards is the best fit for your redemption strategy before pulling the trigger.
Conclusion
Being a Frugal Flyer involves always doing your due diligence. Hotels.com by itself is often not the cheapest option for booking a hotel. It is always important to check the price directly from the hotel, and on an aggregator site like Trivago. It is well known that direct bookings, and even booking on sites like Expedia itself can be cheaper than Hotels.com.
Only when everything else is equal do the rewards and discount possibilities mentioned above with Hotels.com make good financial sense. But seriously, some napkin math may be involved.
Additionally, some hotel chains will not only match lower prices elsewhere on the web but also throw in extras such as a free night (Choice Hotels) or a gift card toward future travel (Best Western). So if Hotels.com or Expedia offers a lower price, consider contacting the hotel to see if they'll match and then decide what offer makes the best deal.
It has also come to my attention that Hotels.com also has a price match policy… So in theory, if the hotel or another site offers a cheaper rate, you could ask them to match the rate and then get your actual costs down using the above methods.
Frequently Asked Questions
Can I earn points at a chain's loyalty program, and similarly, can I leverage my status benefits for a particular hotel chain if I book through Hotels.com?

Generally, it seems not. TPG did a small trial with four Hilton and Marriott hotels, and although they got lucky and scored a room upgrade, they did not earn any other benefits or points on the stays. Most hotel chains also have T&Cs that explicitly prohibit earning points or receiving in-hotel benefits for stays booked with 'third-party online retailers'.  

That being said, most DPs seem to be with the big three (Marriot, Hilton, Hyatt). If you have any personal experience with the lesser mentioned hotel chains, we would love to hear in the comments below. 

Can all Hotels.com hotels be booked with Hotels.com gift cards?

Not all properties will accept Hotels.com gift cards. The hotel must accept prepaid bookings to be able to apply a gift card towards the cost.

Are bookings made with Hotels.com gift cards refundable?

Yes, assuming the booking itself is refundable and not final, refunds can be issued back to you in the form of gift cards. See here.

How many gift cards can I use per booking with Hotels.com?

You can only use one gift card per booking but you can combine multiple gift cards into a single gift card.

How can I check my Hotels.com gift card balance?

You can check your hotels.com gift card balance by using their tool here. You will need to have the gift card number and PIN code.

I have multiple Hotels.com gift cards – can I merge them?

Absolutely. You can use the gift card merge tool or call 1-888-999-4468 to have a customer service representative assist you.

Can I combine Canadian and US Hotels.com gift cards?

Unfortunately not, see this response by Georgia from customer service…


Do I have to book the 10 nights in a single booking, or are they cumulative?

No, they are cumulative and can be non-consecutive.

How is the 11th-night redemption value determined?

It is valued at the average of the 10 nights it was earned with. For example, if you booked 5 nights at $100 and 5 nights at $200, you will get a $150 certificate for Hotels.com 11th night. 
Reed is addicted to the art of earning and redeeming travel points, and frequently pairs his trips with his other hobby: photography. Through Frugal Flyer, Reed aims to distill some of the complex and esoteric points strategies into digestible information. Furthermore, he hopes to use his technical expertise to develop invaluable applications and tools for the travel community.
Latest posts by Reed Sutton (see all)