Recently Josh and I made a stop at the Air Canada Maple Leaf Lounge in Vancouver International Airport on route to San Francisco. This was part of a weekend getaway trip for Frugal Flyer to see a concert at UC Berkeley (Two Friends) and also enjoy the beautiful views San Francisco has to offer.
After stopping at the Plaza Premium Lounge in Edmonton, our flights (Air Canada business class) had a moderate layover in Vancouver on a Thursday evening so we had the chance to check out the Maple Leaf Transborder Lounge in the US Departures area during a quieter time.
Overall we were pleasantly impressed with what this Maple Leaf Lounge had to offer. Read on for full details.
Accessing the Air Canada Maple Leaf Lounge, YVR Transborder
The lounge is located past security next to Gate 84 in the US Departures area of Vancouver airport. This lounge is open from 6:30 AM to 8:00 PM daily.
We were able to access this lounge courtesy of our Business Class ticket on an Air Canada flight. A business class ticket on any Star Alliance flight would in fact get you access.
Related: Definitive Guide to Air Canada Maple Leaf Lounges & The Best Credit Cards for Lounge Access for Canadians
Other ways you can gain access for yourself and one guest to Air Canada Maple Leaf lounges:
Any of the following premium credit cards will grant eligibility:
If you don't have Maple Leaf access, it is worth mentioning there is also a nearby Plaza Premium lounge.
Seating in the Air Canada Maple Leaf Lounge, YVR Transborder
Overall, the inside of this lounge was pleasant, modern, and spacious. It was updated and not dated as some domestic Maple Leaf lounges tend to be.
At the entrance, we were greeted with the trademark model Air Canada airplane that is located in most Maple Leaf lounges.
The main seating area in this lounge was diverse and spacious. In combination with the large bay windows, it created a relaxed atmosphere.
For business travelers, there was business-style seating available, complete with Herman Miller chairs, workstations, and a fax/copy machine. They had a small meeting room as well which could be very nice for anyone needing to take a call or have some more privacy to work. Power outlets were easy to find.
Food and Beverage in the Air Canada Maple Leaf Lounge, YVR Transborder
There was a nice assortment of food options available to us, including tuna and vegetarian wraps, salads, hummus, and soups. Snacks like chocolate chip cookies and Miss Vicki's chips are always appreciated as well.
The non-alcoholic beverage options were also typical of any Maple Leaf lounge, including a Lavazza coffee and expresso machine, tea, water, pop, soft drinks, and juices.
The self-serve bar had a really large assortment of liquors, including Bullit, Crown Royal, Courvoisier, Narrative, Grand Marnier, Baileys, Kahlua, Captain Morgans, Smirnoff, Johnnie Walker Black, Singletons, Tanqueray, and Jack Daniels.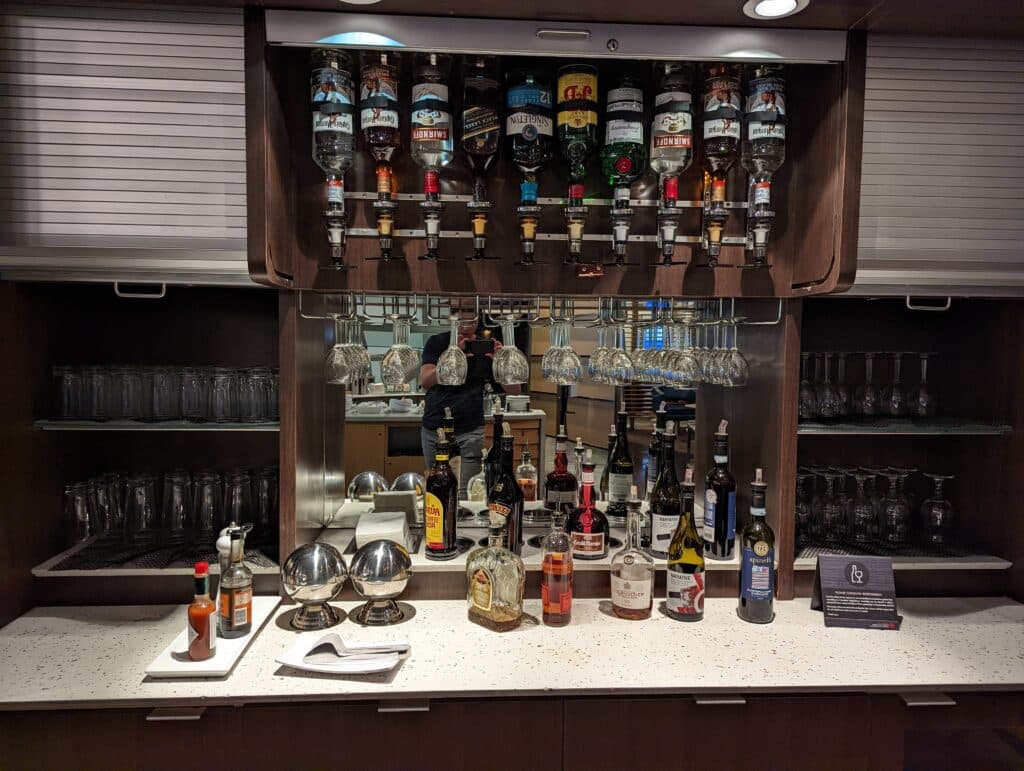 I am used to seeing 4-6 or so basic options in Domestic Air Canada lounges so this was a nice surprise that I took advantage of.
Bathroom and Shower in the Air Canada Maple Leaf Lounge, YVR Transborder
Although we can only speak from the male perspective, the washrooms inside the lounge, located next to the reception desk, were clean and basic, as they should be.
Strangely there were both automatic and manual faucets and soap dispensers located throughout, but I guess it doesn't hurt to have options…
There is also a shower suite available in this lounge, located next to the bathrooms. It includes a shower, sink, toilet, and changing table. Towels are provided.
Conclusion
We enjoyed our visit to the Air Canada Maple Leaf Transborder Lounge in Vancouver airport, which is a great place to relax before any transborder flights to the USA. It is conveniently located and has nice modern seating and ambiance, complemented by quality food and a plethora of drink options. Not to mention, you can take advantage of YVR Express to speed through security and get yourself in the lounge quicker.
As with most lounges, I probably wouldn't pay money to enter, but lounges like this are definitely one of the aspects of travel hacking that makes airports more palatable.
Reed is addicted to the art of earning and redeeming travel points, and frequently pairs his trips with his other hobby: photography. Through Frugal Flyer, Reed aims to distill some of the complex and esoteric points strategies into digestible information. Furthermore, he hopes to use his technical expertise to develop invaluable applications and tools for the travel community.
Latest posts by Reed Sutton (see all)