When I was traveling for my racing career, airport lounges seemed like this faraway land made of pure unobtanium. I still remember the first time I entered a Plaza Premium Lounge and paid my $40 entry fee on a debit card (don't judge me too hard, I was 18).
Below I'll detail how you can avoid paying $40 per visit and how to make waiting for your flight in the terminal a thing of the past, thanks to some of the best credit cards with lounge access available to Canadians.
Airport Lounges – Overview
Access to airport lounges as a credit card benefit is becoming increasingly common as financial institutions look for perks to keep their customers happy. The lounges offer a quieter space where passengers can raise their pinkies as they sip beverages and enjoy a hot meal. Depending on the lounge, showers may be available, which are an absolute treat after 10+ hours on a plane.
It's important to note that not all lounges are created equal. Some offer little more than basic food and drink options, whereas others offer extensive cocktail menus, showers, sleeping rooms, and more. On the whole, if you are spending any time in an airport in the near future, having access to an airport lounge can improve your experience significantly.
Is Airport Lounge Access Worth It?
This question is best answered with the blanket statement, it depends! But generally, yes, for frequent travelers.
At a minimum, you can expect some hot food and a selection of alcoholic and non-alcoholic beverages. At every lounge I've visited, these have always been complimentary, with some premium alcoholic selections available for an extra cost. So if you compare that to having a hot meal and a pint of beer in terminal restaurants, it can save $30 per person, per visit!
Lounges will also have fast and reliable WiFi available. If the airport you're flying out of doesn't have a free WiFi program, this can be a lifesaver.
As I alluded to above, not all lounges are created equal. Even within the same "brand" of lounges like Air Canada's series of Maple Leaf Lounges, your experience can vary greatly. If there is any trend to follow, international departure lounges always tend to be in the upper echelon of quality compared to their domestic counterparts.
Best Canadian Credit Cards with Free Airport Lounge Access
Canadians are lucky to have several cards that offer airport lounge access, and in some cases, unlimited lounge access for the cardholder and their guest(s). Let's take a look at some of the best credit card options available in the Canadian market.
American Express Platinum Cards
If you are interested in visiting an airport lounge on your next vacation, the most prevalent option is pop culture's favorite shiny piece of metal, the American Express Platinum card or American Express Business Platinum card. These are two of the best credit cards for airport lounge access in Canada.
The American Express Platinum series of cards have access to the greatest diversity of airport lounges, and thus, are a great option if you are looking for one card to hold for all your lounge access needs. These cards offer unlimited access to airport lounges, and as a result, either of these is a very valuable credit card to have in your wallet.
American Express Business Platinum
The Amex Business Platinum card earns Membership Rewards points and offers cardholders benefits including complimentary access to four airport lounge programs and instant Marriott Bonvoy Gold Elite status.
BONUS
90,000 Membership Rewards
MINSPEND
$10,000
ANNUAL FEE
$499
FOREX FEES
Yes
Not only can you access the coveted American Express Centurion lounges, but you also have access to the American Express Global Lounge Collection which offers access to over 1,200 lounges in over 130 countries.
Most lounges allow the cardholder plus one guest to enter. However, it's advised to always check entry requirements before promising a free glass of bubbly to your travel companion. You can check all of the entry information at this link.
The Plaza Premium Lounges are the most useful partner in this program for domestic Canadian travelers. This franchise has locations in Vancouver, Edmonton, Winnipeg, and Toronto, they also operate the Air France Lounge in Montreal.
For Canadians that frequent south of the border, flying Delta is incentivized by offering access to their Sky Clubs no matter what type of ticket you purchase. However, if you're at an airport with a Centurion lounge, such as the Denver Centurion Lounge or Las Vegas Centurion Lounge, those will generally be much nicer and should often be your lounge of choice.
Finally, both of these cards offer complimentary Priority Pass membership. This grants access to priority pass lounges, often for both the primary cardholder and a guest. Cardholders can enroll in this benefit by using Amex live chat or calling in, and can refer to the Priority Pass website to determine what lounges they are eligible to visit in addition to entry requirements.
Aeroplan Visa Infinite Privilege Cards
Visa Infinite Privilege cards come with a host of benefits, the Co-Branded Aeroplan ones are perhaps the most powerful. Both the TD Aeroplan Visa Infinite Privilege card and CIBC Aeroplan Visa Infinite Privilege card come with unlimited access to North American Maple Leaf Lounges when flying with Air Canada, which is why they're a favorite amongst points and miles enthusiasts.
TD Aeroplan Visa Infinite Privilege
The TD Aeroplan Visa Infinite Privilege card earns Aeroplan points and offers cardholders a variety of Air Canada benefits including priority boarding, free checked baggage, and Maple Leaf lounge access.
BONUS
115,000 Aeroplan
MINSPEND
$12,000
ANNUAL FEE
$599
FOREX FEES
Yes
It's important to note, these are premium cards, and as a result, command some of the highest annual fees in Canada. But they also come with some other benefits, including free checked baggage on Air Canada flights, priority check-in and boarding, and a hefty bonus of Aeroplan points upon signup.
Maple Leaf Lounges are on a significant upswing after being somewhat disappointing during the pandemic. With new food and drink options and showers returning to service, I have been pleasantly surprised by my recent experiences.
Reed visited the YVR Transborder Maple Leaf Lounge at the end of 2022, I also visited this lounge shortly before that. I encountered a missed connection and spent 6 hours at the airport. It would have been much more expensive and far less comfortable without the lounge access.
For a more in-depth look at Maple Leaf lounge access, check out our guide to Air Canada Maple Leaf Lounges.
CIBC Aventura Cards
The most accessible cards with lounge access are the CIBC Aventura Gold card and CIBC Aventura Visa Infinite card, thanks to their low income requirements and reasonable annual fees.
With four complimentary lounge visits every cardmember year paired with a low annual fee, these cards are great for a traveler who takes one or two trips per year and wants to access airport lounges, without paying a high annual fee.
CIBC Aventura Visa Infinite
The CIBC Aventura Visa Infinite card earns Aventura points and offers cardholders benefits including a $100 NEXUS statement credit and four complimentary airport lounge passes annually.
BONUS
40,000 Aventura
MINSPEND
$1,000
ANNUAL FEE
$139 (FYF)
FOREX FEES
Yes
The CIBC Aventura Visa Infinite Privilege card also provides six complimentary lounge access vouchers but at a much higher annual fee than its counterparts. If you are simply focused on lounge access, there are better options available when considering lounge access versus the annual fee ratio.
If you do find yourself interested in a CIBC Aventura credit card, all three of these cards often have strong welcome bonuses and CIBC Aventura points are easy to redeem.
The CIBC Aventura credit cards provide passes for lounges within the DragonPass lounge program, which has a decent footprint in Canada as they partner with Plaza Premium lounges and a few airline lounges, such as the SkyTeam Lounge in YVR. If you are flying out of Edmonton, the Plaza Premium Lounge at Edmonton International Airport is actually a solid offering as well.
If you have one of these cards, check out our Definitive Guide to DragonPass lounge access so your next trip can start more comfortably.
Scotiabank Passport Visa Infinite Card
This card easily takes the cake for the best "mid-tier" card with lounge access. Not only does it offer a superior total of six visits to a lounge, but it also offers no foreign transaction fees. In my previous article on the best no foreign transaction fee credit cards, I named this card the best one-card solution, and I stand by it.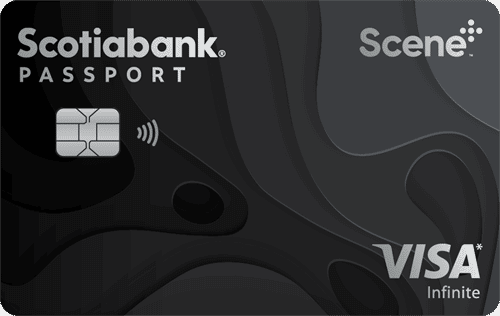 Apply Now
Learn More
Click Apply Now to earn $100 in FlyerFunds upon approval.
Scotiabank Passport Visa Infinite
The Scotiabank Passport Visa Infinite card earns Scene+ Rewards points and offers cardholders benefits such as no foreign transaction fees and six complimentary airport lounge access passes annually.
BONUS
35,000 Scene+
MINSPEND
$1,000
ANNUAL FEE
$150
FOREX FEES
No
If you're interested in miles and points but don't want to cannonball into the deep end, this card will give you a glimpse of a better travel experience with a minor commitment. Not to mention, this card has a consistently strong welcome bonus, and Scene+ Rewards are super easy to redeem towards any travel purchase of your choice.
National Bank World Elite Mastercard
This card is likely to be a sleeper to many Canadians. National Bank may not be as well known as some of the other Canadian financial institutions, but it absolutely should be with its strong credit card offerings with great welcome bonuses and excellent perks.
The National Bank World Elite Mastercard has been making waves recently with a record-high sign-up bonus. It's also one of the few cards that offer a 5x category bonus on grocery and dining, albeit only up to $2,500 per month.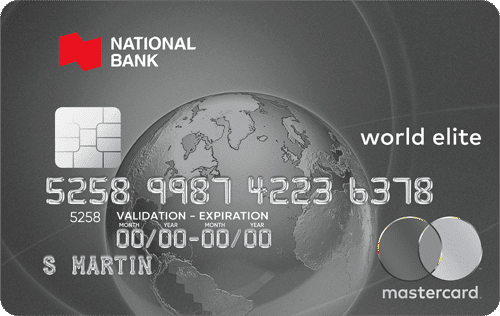 Apply Now
Learn More
Click Apply Now to earn $125 in FlyerFunds upon approval.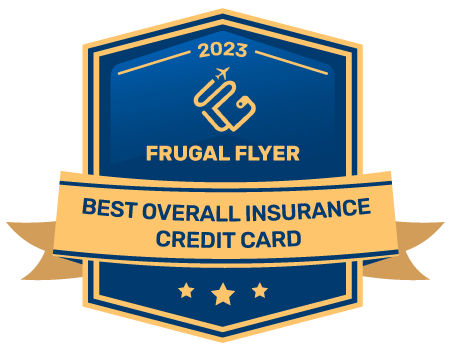 National Bank World Elite
The National Bank World Elite card earns À la Carte Rewards points and offers cardholders benefits such as $150 in annual travel credits and access to the National Bank VIP lounge in the YUL International terminal. Due to it's stellar travel insurance and purchase protection benefits, we deemed this card the Best Overall Insurance Credit Card of 2023.
Check out our National Bank World Elite review for full details about this card.
BONUS
70,000 À la carte Rewards
MINSPEND
$12,000
ANNUAL FEE
$150 (FYF)
FOREX FEES
Yes
The card is generally considered a long-term keeper as it is one of the best credit cards for travel insurance on award flight bookings. If you charge the taxes and fees of your points ticket to this card, its comprehensive travel insurance will cover you, which is rare to find in Canada.
The lounge access for this card is niche, as it only allows access to the National Bank lounge in the international terminal of the Montreal-Trudeau Airport (YUL). Access is granted for the cardholder, one guest, and two children under the age of 12.
With that being said, the card has an easy to use $150 annual travel credit and a $150 annual fee, holding this card year over year means free lounge visits and access to excellent travel insurance coverage, which is quite valuable.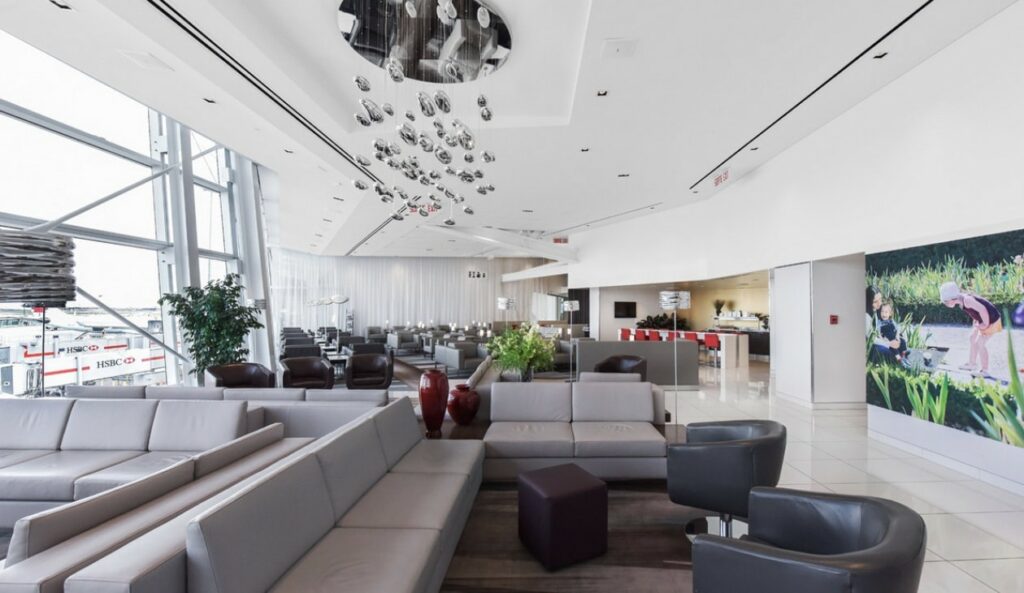 If Montreal is your home airport or you find yourself traveling internationally from there often, this card may be worth picking up so you can indulge in the complimentary lounge access.
BMO Ascend World Elite Mastercard
Another darkhorse on this list is the flagship BMO Ascend World Elite card that comes with 4 DragonPass Lounge visits included in the annual fee.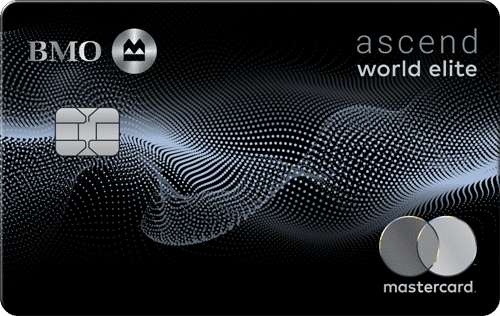 Apply Now
Learn More
Click Apply Now to earn $0 in FlyerFunds upon approval.
BMO Ascend World Elite
The BMO Ascend World Elite card earns BMO Rewards points and provides cardholders with four complimentary airport lounge passes annually.
BONUS
60,000 BMO Rewards
MINSPEND
$3,000
ANNUAL FEE
$150 (FYF)
FOREX FEES
Yes
While the BMO Rewards program has its flaws being a fixed value currency at 0.67 cents per point, this is the Mastercard with the best lounge access in Canada.
Like the National Bank Mastercard, the Ascend also has some of the best travel insurance on the market. If you're looking for a one card solution and value lounge access and earn rewards on purchases at Costco, this card may appeal to you!
Conclusion
Lounges are a nice escape away from the hustle and bustle of an airport terminal. While there are options to pay for entry, we like to use our dollars for more trips in the future. And besides, who doesn't love more free stuff?!
We highly recommend all travelers hold at least one credit card that provides airport lounge access. There are a wide variety of options for Canadians, and as a result, everyone should be able to find a credit card that offers lounge access at a price that is right for them. When considering your next credit card, always check in advance which lounges are included in your annual fee!
Frequently Asked Questions
How can I check if my credit card offers complimentary airport lounge access?

The easiest way is to head to your financial institution's landing page and read through your benefits. Banks always look for new customers and will be loud and proud about perks such as lounge access.

Should I hold multiple credit cards that offer complimentary lounge access?

If the signup bonus outweighs the annual fee cost and you have an immediate use case for that signup bonus, yes! Long term, there's not much point in doubling up on lounge access unless you have a big travel crew who don't have access to cards with DragonPass benefits.
Daniel entered the Miles and Points game in 2021 and has taken the "make up for lost time" mentality. After spending five years travelling for work and paying no attention to loyalty programs, some say Daniel is out for Points Revenge. With his desire to maximize every point available, he hopes to share the knowledge gained with more travellers to prevent the same mistakes he made.
Latest posts by Daniel Burkett (see all)