When it comes time to finalize any award booking there are almost always some taxes and fees not covered entirely with points or miles. Most of the time these fees don't amount to much and I personally am quite happy to pay a reasonable sum given the massive discount I'm getting on a business class flight. Nonetheless, ask any points enthusiast what one of the most detested schemes a loyalty program can impose on its consumers is, I'd bet the answer more often than not would be the dreaded carrier surcharge.
Otherwise known as a 'fuel surcharge', these fees are not included in the base fare of a flight redemption, and as a result, we're stuck paying for them out of pocket in specific instances. As I said, these additional fees are often just government taxes and airport fees usually not amounting to more than around a hundred dollars in most scenarios.
In certain cases, such as with the British Airways Executive Club loyalty program, they can rapidly diminish the potential benefits of booking a flight redemption. Let's look into these surcharges and how you can reduce them on your next award booking.
British Airways Executive Club & Carrier Surcharges
British Airways Executive Club is notorious for its exceptionally high carrier surcharges, typically topping $1,500 for a roundtrip between North America and Europe.
To their credit, British Airways has tried to address this issue by introducing a new fare structure recently that allows members to pay more points to offset these fees. We'll have a look at whether or not these new options might make sense, but either way, there is not much that can be done to totally avoid them.
Some of you may remember, carrier surcharges were a major concern here in Canada with Aeroplan and their $1,000 levies for many years until they were mercifully eliminated in 2020 with the launch of their new program. So, if you still have a bad taste in your mouth from the experience of trying to piece together an Aeroplan redemption while avoiding their sky-high surcharges, you'll know what we're dealing with here.
Being a transfer partner of American Express Membership Rewards, RBC Avion, and HSBC Rewards here in Canada in addition to Chase, Citi, and Capital One in the US, British Airways Executive Club and its points currency Avios has exploded in popularity in the past year. This is primarily due to the addition of what is widely regarded as the best business class experience in the air, Qatar Airways, which joined the Avios family in 2022.
With there being so many avenues to earn Avios points in North America along with the ability to redeem 70,000 Avios and a modest amount of fees for a QSuites flight to Doha and beyond, any other use for your Avios often receives nary a mention.
Even though the Qatar Airways sweet spot has been covered extensively, I will still touch on it briefly as we go. Instead, let's imagine you don't have plans to go to the Middle East or the Maldives and instead fancy a trip to the British Isles. With the UK being the 3rd most popular tourist destination for Canadians, behind only the USA and Mexico, it remains a surprisingly tricky place to reach on points and miles.
While Air Canada offers direct flights to London and Dublin from most major cities, as most are aware by now, Aeroplan's dynamic pricing is usually not working in our favor. Seeing costs well beyond 100,000 Aeroplan points is all too common.
Therefore, we have to turn to other loyalty programs to aid in our endeavors and explore some potential strategies on how to best mitigate (and maybe even eliminate entirely) those pesky surcharges.
What are Carrier Surcharges?
Originally introduced as a fuel surcharge, this fee was intended to fluctuate with the sometimes volatile nature of fuel prices. With fuel being such an enormous cost for airlines, this was a way for airlines to adapt to changing fuel prices without having to adjust the base fare on its routes.
Over time, as prices have dropped, the fuel surcharge became disconnected from the price of oil. Not wanting to give up an established revenue stream, the airlines have rebranded it now as a carrier surcharge.
In most instances, you won't have to worry about carrier surcharges, as I would say the majority of airline loyalty programs that are relevant in Canada don't impose massive surcharges on award tickets anymore.
You'll still see a carrier surcharge on revenue fares by looking at the price breakdown, as most carriers do levy them. Though seeing as airline fares are displayed as 'all-inclusive' here in Canada and most other countries it will already be included in the price you see.
The UK Air Passenger Duty
There are several factors that contribute to the insane fees we see on British Airways flights, and further complicating matters is London's Heathrow Airport. As a British Airways international hub and the airport you'll most likely be traveling through if you're heading to or leaving the UK, Heathrow has the distinction of imposing some of the highest passenger fees in the world.
Known as the Air Passenger Duty (APD), this fee applies to all passengers departing on a flight originating in the UK. This fee varies based on the distance traveled and the class of service you are traveling in.
For short haul flights, which include all of Europe, the APD is a very manageable sum of $12 to $40 per person depending on your class of service.
The scenario becomes considerably more alarming when it comes to long haul flights though, particularly in premium cabins, where the APD really starts to balloon. You should expect to pay up to $330 per person for any flight back to North America in business class.
There's good news though, it is possible to avoid paying this fee with a simple trick: build an itinerary that originates outside of the UK, as passengers simply connecting through the UK are not subject to the APD.
I'll use an Aeroplan redemption as an example since this fee isn't unique to British Airways in any way.
Using the example below of a flight from London to Newark in business class, it would cost 60,000 Aeroplan points and $504 in taxes and fees.
Looking at the price breakdown we can see that the APD accounts for over $300 of those fees.
Alternatively, if we add a flight to our itinerary that originates outside of the UK, such as a connecting flight from Zurich, we can see the APD is entirely removed.
…and the price breakdown reflects this as well.
I've connected through LHR on several trips and found it to be a very efficient airport because Canadians receive expedited immigration at the electronic passport gates. Along with it being so well connected to the rest of Europe and beyond it just makes sense in a lot of instances. Provided you're able to maneuver your travels appropriately, you won't have to worry about ever paying this fee.
Earning British Airways Avios
Before we get into how to best maximize Avios points I'll briefly touch on how to earn them.
As with many loyalty programs, credit card welcome bonuses are the best avenue to earn a large number of points in a short period of time. British Airways Executive Club has the co-branded RBC British Airways Visa Infinite card here in Canada if you are looking to earn points directly with the program.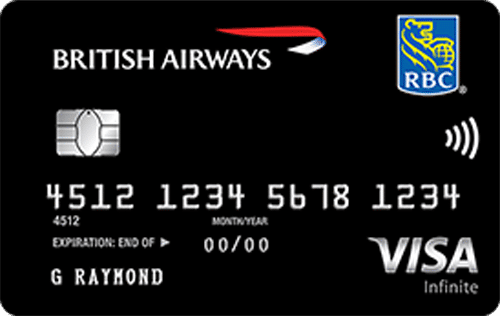 Apply Now
Learn More
Click Apply Now to earn $100 in FlyerFunds upon approval.
RBC British Airways Visa Infinite
The RBC British Airways Visa Infinite card earns Avios and gives cardholders the opportunity to earn 2x Avios on all British Airways-related purchases.
BONUS
60,000 Avios
MINSPEND
$6,000
ANNUAL FEE
$165
FOREX FEES
Yes
In addition, you can transfer any flexible points currencies you may have from the following programs at a rate of:
Amex Membership Rewards 1:1
RBC Avion 1:1
HSBC Rewards 25:10
The most popular option when it comes to transferring points is often the RBC Avion Visa Infinite card, which has a consistently high and easy to earn welcome bonus.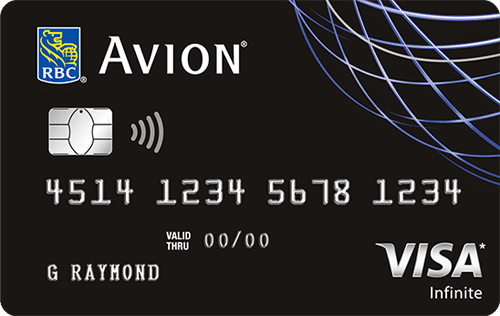 Apply Now
Learn More
Click Apply Now to earn $100 in FlyerFunds upon approval.
RBC Avion Visa Infinite
The RBC Avion Visa Infinite card earns Avion Elite points and gives cardholders the opportunity to earn 1.25x Avion Elite points on all travel purchases.
Check out our RBC Avion Visa Infinite review for full details about this card.
BONUS
35,000 Avion
MINSPEND
$0
ANNUAL FEE
$120
FOREX FEES
Yes
On the US side of things, British Airways Executive Club is partnered with the following programs and transfers at a rate of:
Amex Membership Rewards 1:1
Chase Ultimate Rewards 1:1
Citi Thank You: 1:1
Capital One Miles: 1:1
As well, Chase offers three co-branded Avios earning cards: The Chase British Airways Visa card, Chase Aer Lingus Visa card, and Chase Iberia Visa card.
What really supercharges and sets British Airways Executive Club apart from other loyalty programs though, is their annually recurring transfer bonuses. Ranging between 20%-30%, this bonus can make for some incredibly satisfying redemptions. For instance, this would bring the now omnipresent North America to Doha Qsuites redemption down to an absurdly low 54,000 Avios.
It's important to note that Avios points can be transferred freely and instantly between British Airways, Aer Lingus, Iberia, and Qatar Airways loyalty programs. Therefore, they are in effect identical currencies regardless of where they are held but have different use cases depending on what you are trying to book.
In addition, British Airways and Aer Lingus price their award redemptions as either peak or off-peak. While not fully dynamic, there will be some variation in pricing depending on your selected travel dates.
Flight Redemption Options
With no shortage of earning opportunities, let's now have a look at the redeeming side of things.
British Airways Flights
We'll start with the namesake of the Avios program, British Airways.
British Airways serves 25+ cities in North America, including 3 in Canada (YUL, YYZ, YVR). With such an extensive North American network and a relatively new fleet with fresh cabins, it seems British Airways would be an obvious choice for your next flight to the British Isles. Unfortunately for us, being the frugal travelers we are, it's an all-out battle between our wallets and the airlines.
In the following example of a business class flight from Toronto to London we see that there are six different pricing options available. With the newly introduced saver fares, you are given the choice to pay less in fees in exchange for paying additional points. We'll have a look at those later.
Even though British Airways doesn't publish an award chart we know the pricing for this particular flight is 60,000 Avios points. As a result, we have $865 in taxes and surcharges on this redemption.
We can confirm this by looking at the price breakdown of the exact same flight on fellow Oneworld partner American Airlines' website. The fees are marginally less on AA, but still in the $800 range, $720 of which is the carrier surcharge.
The newest Oneworld member airline Alaska Airlines also bears a striking resemblance to our previous examples, passing on $596 USD in surcharges.
In nearly all circumstances I don't consider any of these to be viable options, even if they do represent an attractive cents per point (cpp) valuation. British Airways prices this flight very consistently at around $8,000, regardless of the time of year. It can be argued this price is inflated with it being a one way in business class, so you're welcome to put your own valuation on it.
Using the listed ticket price and factoring in the $850 in taxes and fees does result in a whopping 12cpp. While this sounds incredible, the name of the game here is saving money.
Getting the absolute most value from your points should always be the primary goal, but dropping $850 per person to do so, seems misguided since we're trying to reduce out-of-pocket costs.
In that case, is it worth considering any of the other pricing options British Airways is offering us? I won't go through them all since they represent roughly the same valuation. Therefore, let's break down the default pricing option we're presented with.
Going back to our first example we're presented with the price of 90,000 points + $350. This translates into an additional 30,000 points for a savings of $515, giving us a value of 1.72cpp. On its own, I would almost never consider redeeming Avios at such an inferior rate given the outsized value that can be achieved with the program.
Though I think it's important to look at the full picture here. When comparing the full 90,000 + $350 redemption versus the going cash rate that I mentioned earlier of around $8,000, it does represent a very respectable 8.7cpp. Despite what I just said, if you're willing to pay a slight premium for a direct flight to London from one of Canada's three major cities, this is an option now worth considering that didn't exist previously.
Even more so when factoring in the 30% Avios transfer bonus which would bring this redemption down to just over 69,000. Putting it right in line with what we expect for transatlantic flights from other programs.
Now that we've established a baseline of what to expect when it comes to taxes and fees. What other options do we have for booking flights on British Airways?
Cathay Pacific Asia Miles: An Outside-the-Box Approach
Cathay Pacific Asia Miles finds itself in a unique position, passing on far fewer surcharges on British Airways flights than any other Oneworld partner program. While being somewhat of a niche frequent flier program in Canada, often not receiving much attention, they do finally offer us some reprieve in this situation.
Bringing up our same YYZ-LHR flight on British Airways business class, we can see it would cost 61,000 Asia Miles and $375 in taxes and fees. A rather gratifying 57% in savings.
Admittedly, while the fees are still on the high end for a single transatlantic flight, I'd argue they are at least in the realm of reason.
Asia Miles, just like British Airways Executive Club, is partnered with many of the same transferable points currencies in Canada and the US. In addition, Canadians have access to the co-branded RBC Cathay Pacific Platinum Visa card to earn points directly with the program. Consequently, Asia Miles should not be hard to come by.
Similar to our previous example, it is possible to include a connecting flight originating from outside the UK when using Asia Miles, which means that the APD will not be applied.
I think using Asia Miles is a worthwhile alternative that often gets overlooked. With British Airways currently in the midst of retrofitting their fleet with some fantastic looking new Club World Suites, it's a product I definitely have my sights set on trying out at least once.
I would encourage you to weigh the opportunity cost of using transferable points prior to initiating any transfers to Asia Miles though, as you would be foregoing the potential 30% transfer bonus to British Airways I mentioned earlier.
Aer Lingus Flights
This brings us to former Oneworld member Aer Lingus. Even though they are not part of a major alliance anymore, Aer Lingus has opted to partner with select carriers from Star Alliance and Oneworld.
Additionally, as of 2015, the Irish carrier has been owned by the same parent company as British Airways and Iberia. As a result, Aer Lingus has fully integrated its AerClub loyalty program into the Avios family.
Aer Lingus serves Toronto as its sole Canadian destination, so we'll focus on this route in business class.
Again, we are hit with extremely high fees from British Airways. We've seen this earlier; we know we can do better. Let's move on.
As a reminder, it's possible to transfer your Avios freely and instantly between British Airways, Iberia, Qatar, and Aer Lingus. With that said, we'll hop over to Avios.com, which is the booking portal for Aer Lingus award redemptions.
As you can see, by simply using the same points on a different booking engine results in a savings of over $350.
As I mentioned Aer Lingus has partnerships with several airlines, Alaska Airlines and United being the two that will be most relevant to Canadians.
Alaska Airlines' dynamic pricing model leads to some very wild pricing variations, as we see here. However, the redemption fees via the Alaska website are consistently reasonable.
Despite this, with the discontinuation of the MBNA Alaska Airlines Mastercard in Canada, earning miles in the Alaska Airlines Mileage Plan has become increasingly difficult. Therefore, I suggest holding on to any you may have to capitalize on the program's more lucrative sweet spots offered to Asia and beyond.
Lastly, if you have entered the US credit card market, Aer Lingus is partnered with United Airlines. While United is a carrier that doesn't levy surcharges on redemptions, the outlay of points here isn't cost-effective in my opinion.
The clear winner here is booking directly with Aer Lingus on the Avios.com website. In my opinion, it strikes a satisfactory equilibrium between the number of points needed and the amount of cash spent.
Especially once we factor in the 30% transfer bonus, bringing the cost down to as low as 39,000 points. Making this particularly fantastic redemption, as you won't find a better deal on a business class flight to the Emerald Isle.
Other Oneworld Carriers
If you're willing to take a positioning flight to one of the major US gateways such as Chicago or New York, you'll have a couple more options. Though in the spirit of trying to save money, this will probably not be very enticing to most. Not to mention having an additional connection once you've made the journey across the Atlantic.
Chicago to London via Madrid on Iberia in business class is a reasonable €130 and 65,000 Avios. With off-peak pricing, this can be brought down even further.
If you have an individual tax identification number (ITIN) on hand and have ventured into the Citibank ecosystem, American Airlines does offer some attractive fares.
Any of the flights from one of the major US hubs is certainly worth considering if you are able to easily access one of these cities. Don't forget, trying out different products and airlines is part of the fun, and these present a good opportunity to do so.
Consumer Protections in Certain Countries
As I alluded to earlier in the article, it is possible to completely abolish the entirety of a carrier surcharge from an itinerary. This will require some creative routing in addition to starting your journey in some very specific regions though.
You may have heard the term 'junk fees' in the news in recent years. Politicians in Canada and the US have vowed to rein in these fees, as they have proliferated within the travel industry for the past decade. They typically take on the form of resort or destination fees at hotels. In the airline industry, they are commonly associated with baggage and seat fees for families to be seated together.
Fortunately, a handful of jurisdictions have already taken steps to address 'junk fees', and excessively high surcharges are falling into this category. As a result, if you're traveling through some of the following countries, you'll do so for little to no money out of pocket. Some examples are:
New Zealand
Hong Kong
Japan
Australia
Brazil
Using Brazil as an example on a flight from Sao Paulo to London on British Airways we can see the taxes and fees have all but disappeared, aside from a paltry $10 USD.
There are about 10-12 countries in total that have some limits on surcharges in place. While it isn't much yet, we can hold out hope that we will see some of these more consumer-friendly regulations come to North America soon.
Keep in mind each country varies in the degree to which it limits surcharges, some greatly restrict the amount that can be charged, while others have prohibited them entirely. Lastly, you can assume that these restrictions are only enforced when departing from one of these countries.
Conclusion
If there's one thing all our examples are demonstrating, having transferable points on hand is vital. These currencies are the best defense to have against outrageous surcharges and dynamic pricing.
As I said earlier, the UK is an incredibly popular destination for Canadians, with direct flights from nearly every major city. With that though comes two major hurdles in the form of six digit dynamically priced Aeroplan redemptions and British Airways fares fraught with taxes and surcharges.
Offering some relief, British Airways finally took steps to address their surcharges with the introduction of Points Savers Redemptions. I think it's safe to say as long as you're prepared to pay a slight premium for a direct flight, these awards are back on the table. In addition to several other partner programs filling in the gaps, it is indeed very possible to redeem your way to the British Isles. And not break the bank doing it.
Jeff stepped into the ring of points and miles in 2018, this was during his first trip to Italy where he had only just dipped his toe into what was possible with loyalty programs. After eating pizza twice a day for two weeks straight and taking in all that Tuscany of Rome had to offer he knew he was hooked on "la dolce vita" of points and miles. Always fascinated with aviation, Jeff obtained his Private Pilot's License in 2006. Now he fuels his affection for travel and aviation by seeking out new strategies while building upon existing opportunities along with the help of his close circle of fellow travel enthusiasts.
Latest posts by Jeff Jamieson (see all)