After a week-long stay on the island of Koh Samui, including a stay at the Conrad Koh Samui, we headed to Bangkok to wrap up the last four days of our vacation. Sticking with the theme, we wanted to try another W hotel and thus, decided to book 3 nights at the W Bangkok to experience our first W property in a city.
Let's dive into my review of the W Bangkok Hotel.
Booking the W Bangkok
When I was looking to book the W Bangkok hotel, cash rates were at a reasonable $200 per night so I opted to simply pay cash, which was made an even better deal thanks to a double elite qualifying night on paid stays promo that Marriott Bonvoy was running at the time.
The alternative would have been to redeem 20,000 Marriott Bonvoy points per night of the stay, which wouldn't have been a bad value at all. However, I opted to save the points for a future redemption this time around.
I booked into the base level room, a Wonderful 1 King room, but was proactively upgraded to a 1 Bedroom Studio Suite in advance of check-in without the use of suite night awards.
Check-in Process
As we arrived at the W Bangkok, the outside facade is striking with a massive W logo displayed on the hotel.
The lobby of the hotel was definitely what I would expect from the W brand: bright, flashy, with a few touches of neon. There was definitely a modern nice vibe that permeated the trendy hotel and encapsulated everything we love about the W brand.
The check-in process was quick as they took our passports, and credit card, and confirmed that we had been upgraded to a suite on the 25th floor. Information was provided in regards to the complimentary Platinum breakfast served at The Kitchen Table and we were provided with two complimentary cocktail vouchers to be used at any of the bars on the property.
After receiving our room keys, we headed to the elevator, excited to check out our home for the next three nights.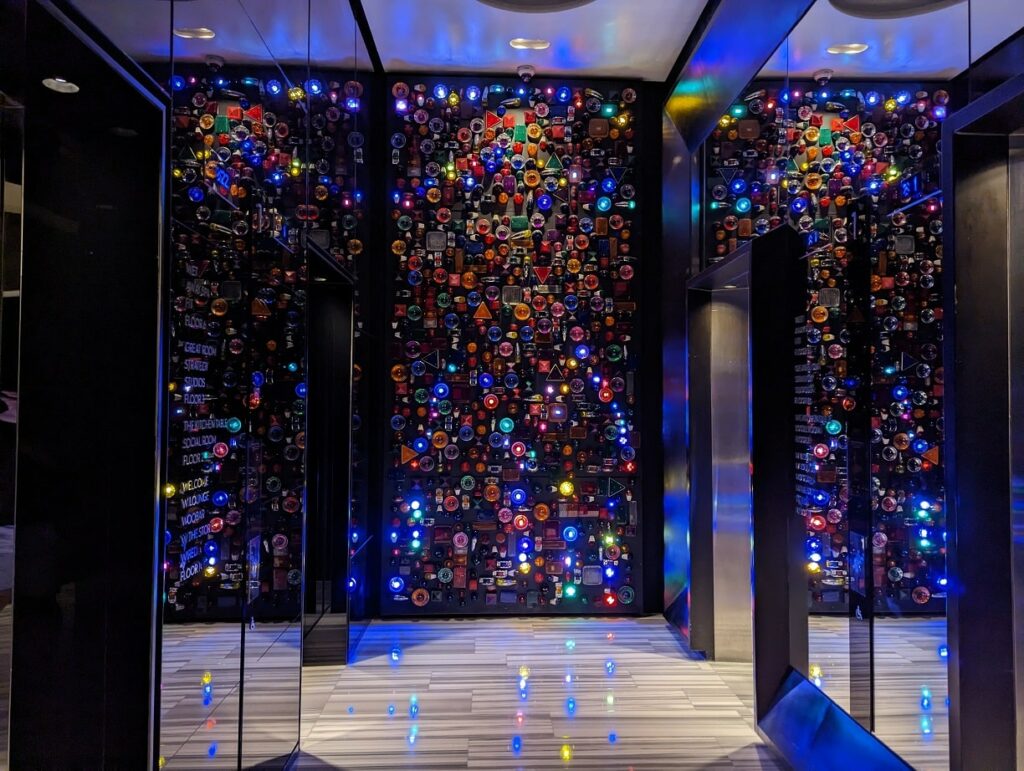 1-Bedroom Studio Suite
As we arrived on the 25th floor, our room 2507 was located at the end of the hallway. While it is called a suite, it is more of a larger room and not a true suite with a separate living area. As you would expect, all hotel rooms have air conditioning which is a massive plus when dealing with the intense Thailand heat.
As you enter the suite, you are immediately in the bedroom and living room combined area. The king sized bed has a nightstand on both sides, complete with reading lights and sufficient plugs for charging devices.
There is a tablet on the left nightstand which can control all lighting in the room, in addition to setting the do not disturb sign and other features.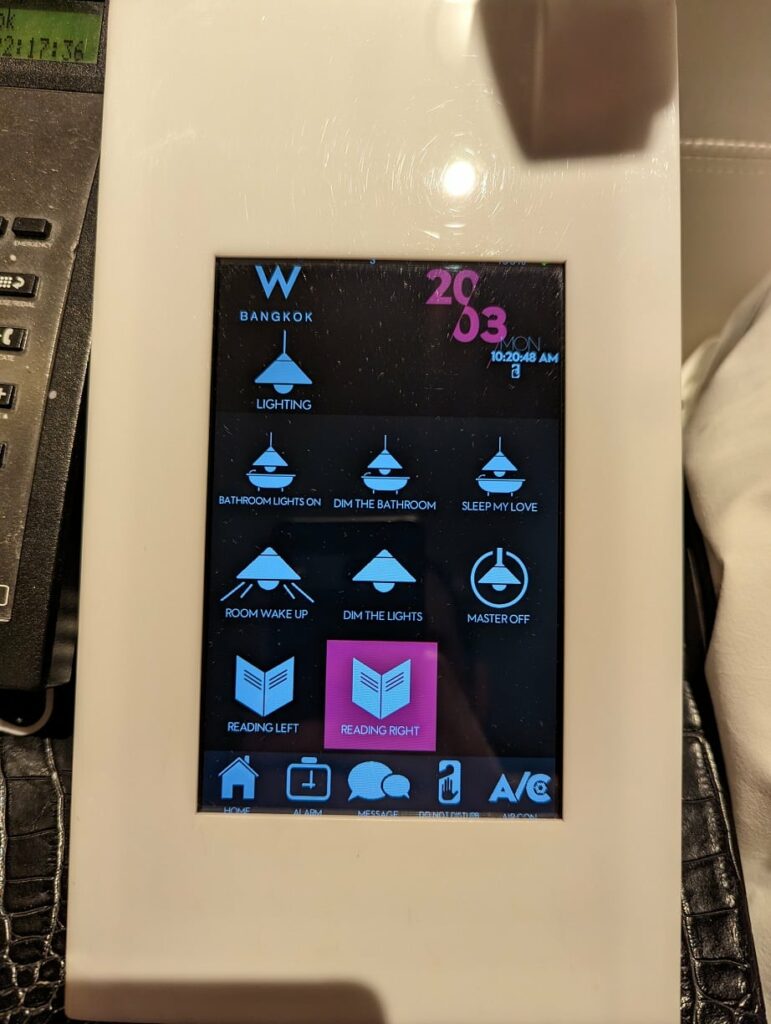 Directly beside the bed is a small lounging area, complete with a sectional and coffee table.
As a platinum elite welcome amenity, a few juices and snacks were set up in our room in advance of our arrival.
Directly beside the lounging area was a sizable glass desk, perfect for completing any work during your stay.
Not to mention, the view we had of Bangkok was stunning.
Directly in front of the bed was a flat screen television mounted on the wall.
A selection of minibar items was on display directly beside the tv. While the prices were what I would consider reasonable for a minibar, there is a 7-Eleven almost immediately outside the hotel so your dollar will go much further for snacks and drinks if you take a short walk.
Complimentary bottled water, in addition to other minibar beverages, is available in a cabinet directly beside the television.
The bedroom and living area are connected to the bathroom by a hallway; the bathroom is located directly behind the bedroom. The water closet is immediately on the left with a unique dark aesthetic.
Directly outside is a double vanity. Interestingly, the bathroom has a very open concept which actually works quite well.
The shower is left of the vanity and is open to the rest of the bathroom. A raised edge on the ground ensures that the water doesn't spread to the rest of the bathroom.
The bathtub is directly beside the shower, offering stunning views of Bangkok.
While not a traditional suite, I did enjoy the room quite a bit and felt that it suited our needs well for a three night stay. Ultimately, when I book into a base level room, I am happy with any upgrade at all so I had no complaints.
Dining & Bars
The W Bangkok has a variety of bars and restaurants on the property. However, if you find yourself in Bangkok, I highly recommend looking into local dining options as opposed to dining only at the hotel.
The Kitchen Table
Similar to the W Koh Samui and W Maldives, the complimentary Marriott Platinum breakfast is served at the on-brand Kitchen Table. Kitchen Table spans a giant hall with a massive buffet and has a variety of breakfast stations, including both international and Western options.
In addition to the breakfast buffet, an a la carte menu is available consisting of various egg dishes, a delicious brioche french toast, and a few other options. Staff was proactive in asking if you wanted anything from the menu, in addition to what beverage you would like to start your day with.
While there was a good Western and international cuisine split, there was also a great variety of both sweet and savory options. They also had a variety of bottled juices, which was a standout.
Similar to the other hotels on this vacation, the breakfast was a high point of the hotel stay. The number of options and the quality of the food were unmatched, and frankly, a great way to kick off the day at zero cost.
Woobar
Woobar is the main bar at the W Bangkok and would be considered the traditional hotel lobby bar. This is far from your basic hotel lobby bar though, as it is a significantly sized space complete with bar and lounge seating.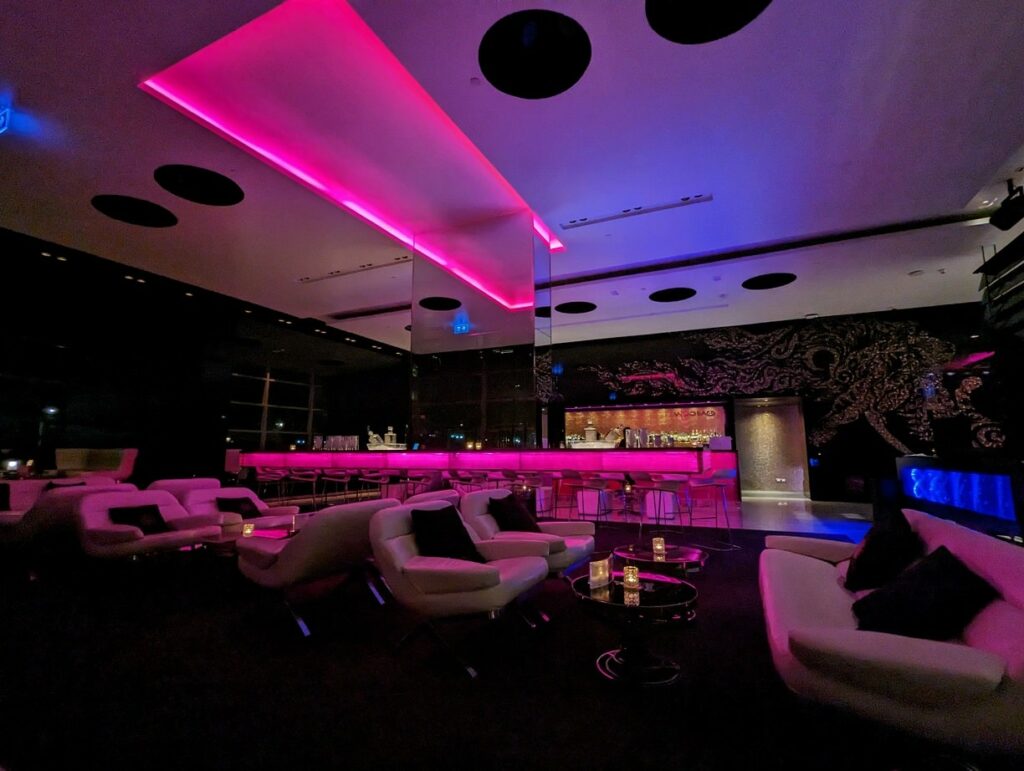 Woobar runs a happy hour every evening, in which they have a special menu that is two for one on all cocktails which is a great deal. This makes it an easy option as a place to stop before your head out for the evenings, as the drinks are reasonably priced and are consistently well-crafted and strong.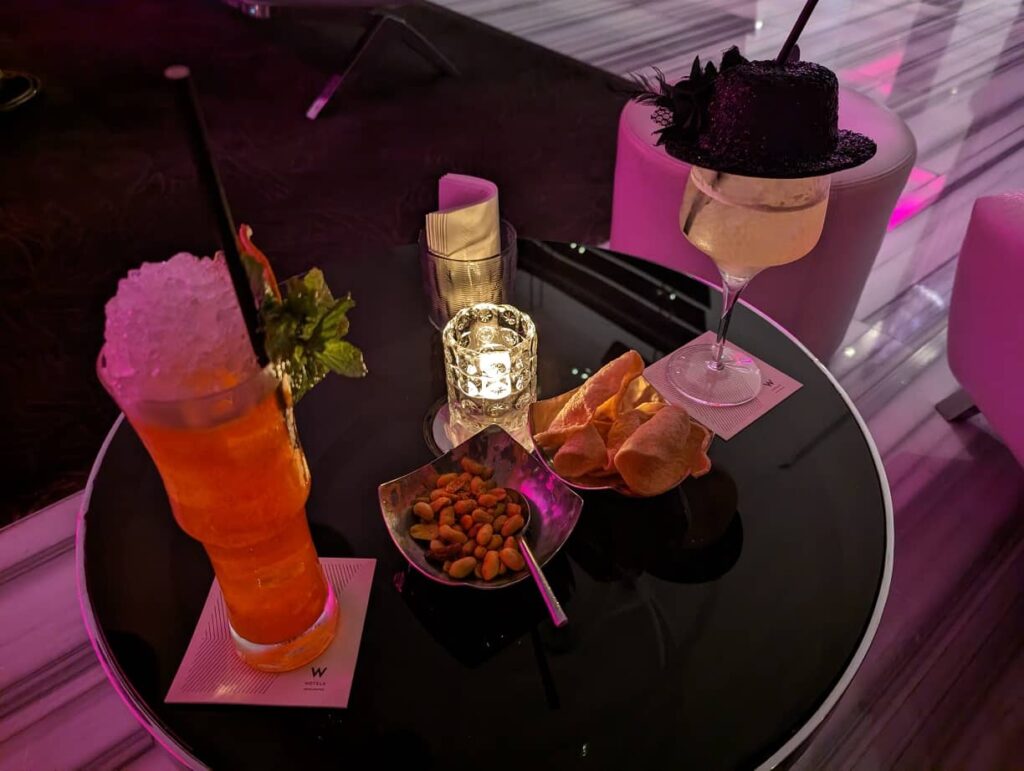 We stopped by every day of our stay and enjoyed a selection of drinks from both the happy hour menu and the broader menu.
The House on Sathorn
The House on Sathorn is another on-property bar, but one of the most unique bars I have ever visited at a Marriott property. Built in 1889, the House on Sathorn has a long history of being passed between various owners, including royalty, operating as a hotel at one point, and was the home of the first Russian Embassy in Thailand.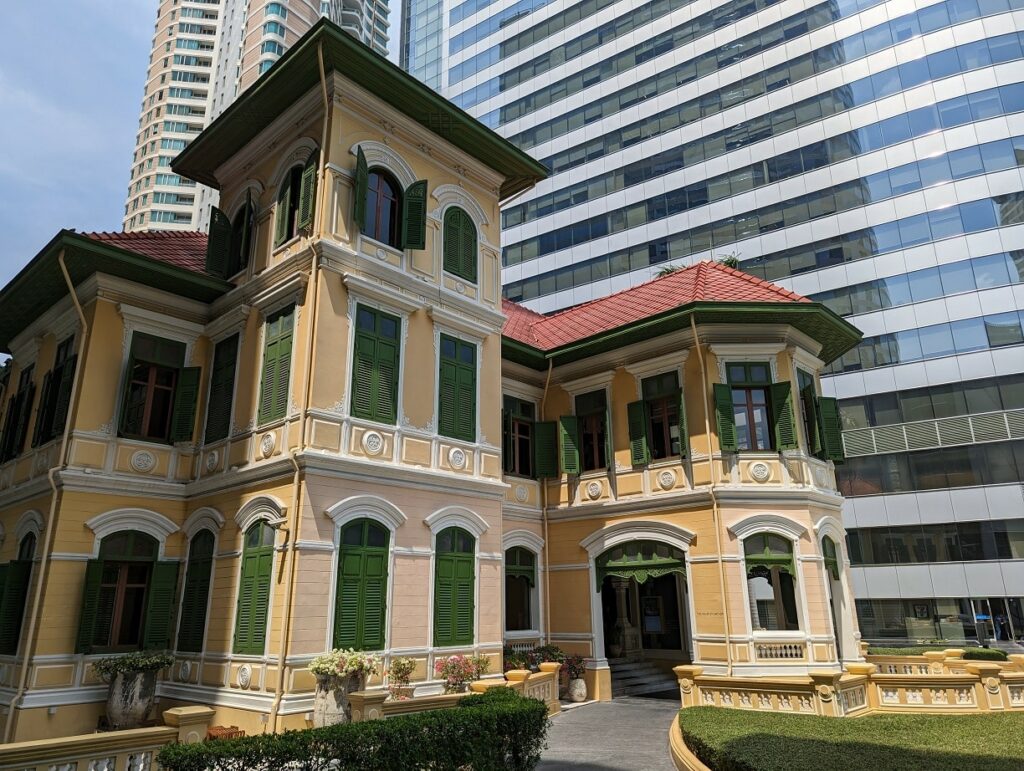 Needless to say, this property has a ton of super interesting history behind it, and the staff is very happy to tell you more about the immaculately kept property. The menu even encompasses the history of Sathorn and has crafted cocktails around various time periods and themes.
Cocktails were around $16 CAD, which was a great deal for the level of craftsmanship and care given to each drink. Each cocktail is truly a piece of art, and as a lover of cocktails, this place is easily in the top five best cocktail bars I have ever visited; we could not stop raving about our visit.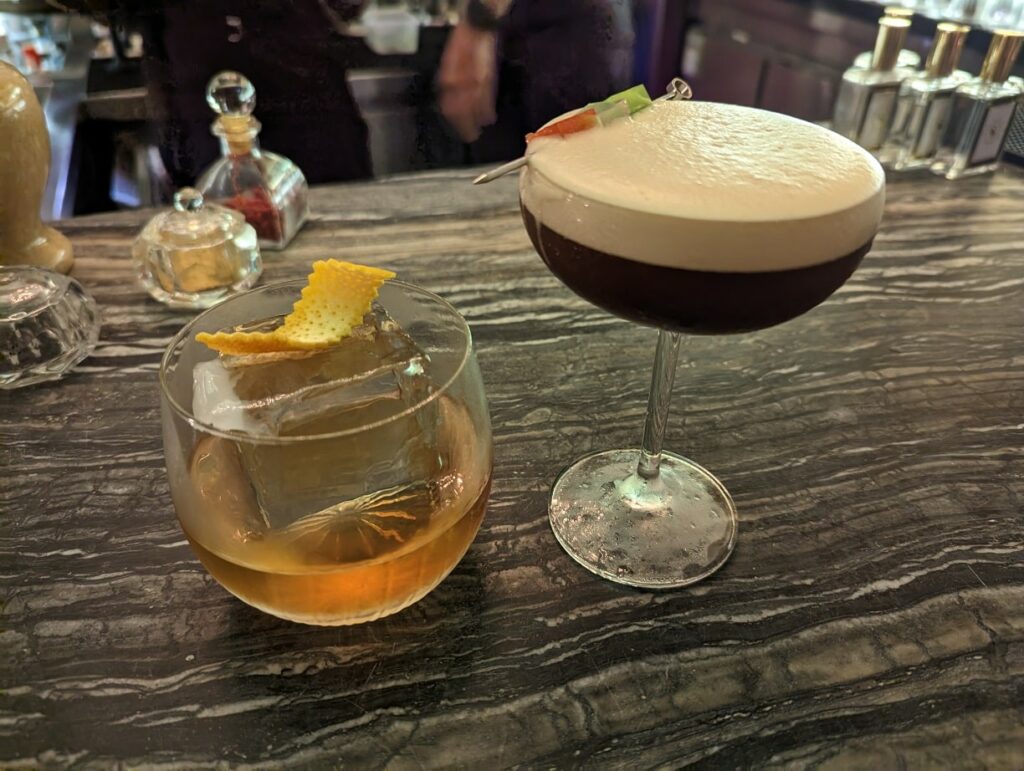 Of note, the House on Sathorn is an absolute must-do if you are in the area, even if just for a couple of drinks. It does not require reservations and was easy enough to walk up and get a seat at the bar. There is also an on-property Thai restaurant, Paii, but we did not visit it during our stay.
Room Service
We arrived later in the evening during our first night, and as a result, opted for an easy evening of room service. Similar to other hotels in Thailand, room service felt reasonably priced when viewing it with a Canadian lens, and not comparing it to other options in Thailand.
My significant other was craving more North American options, whereas I stuck with a Thai option. All the food was excellent and brought up quickly. As someone who enjoys room service but often cannot justify the price, room service at the W Bangkok was a nice treat.
Pool & Gym
The W Bangkok also has a rooftop pool, complete with a unique aesthetic and views of downtown Bangkok. Lounge chairs and tables with umbrellas are available around the perimeter of the swimming pool.
The pool also has a small bar, complete with a limited menu. I enjoyed a long island iced tea during one of our visits, and the pool was never all that busy. We did enjoy coming up here and relaxing as a break during the day. Of note, staff did come around with treats from time to time, including complimentary ice cream.
Beside the pool area is a decently sized gym area. While the view isn't much to speak about, the fitness center did have everything one would need for a decent workout, including treadmills, weight machines, and free weights.
Conclusion
The W Bangkok was an enjoyable stay and a great way to wrap up our Thailand 2023 vacation. The bars on the property were stellar, and the hotel itself is in a great location nearby public transit and many of the notable shopping malls.
While I would probably try out a different property should I return to Bangkok, the W Bangkok is a great option if you are looking for a touch of luxury, good elite status recognition, and a relatively cheap stay on either points or cash.
Josh has been involved in the miles and points game since 2015 but has scaled up his knowledge and points earning potential in recent years. With a consistent attitude of "min-maxing" in many aspects of his life, Josh has transferred this mindset over to the miles and points game. Always looking for the next big opportunity, Josh aims to share content on a variety of topics including his travels, travel hacking, and most importantly, how to get the most out of your credit cards
Latest posts by Josh Bandura (see all)