As we're nearing the end of 2020, I've decided it's time to think about travelling internationally once again. In November 2020, we're still in the midst of a pandemic here in Canada. However, the situation and response has improved significantly, and many international countries are starting to relax their restrictions and look at restarting their tourism industry. Nope nevermind, it just got much worse since I wrote this…at least in Canada.
Many would still say it's rather ambitious and premature to think about planning a trip prior to Q4 2021 or even 2022. Indeed, a few months ago it would have been difficult, as even going to countries with open borders would have you quarantining for 10-14 days on arrival AND on return.
However a new pilot by the Government of Alberta/Canada enables 2 day quarantine for those flying through YYC airport. With this in place, I feel it's now possible to travel internationally as a Canadian (or at the very least, as an Albertan), as long as you take proper precautions and plan carefully.
In this post I'll discuss my thought process and considerations as I went about planning my first trip during COVID-19, to Hawaii, for Q1 2021. Assuming all goes to plan, I hope to do an accompanying post-trip report.
Government of Alberta COVID-19 Rapid-test Pilot Project for Quarantine Reduction
In my view, the biggest factor to enable international travel for Canadians comes with the new Government of Canada / Government of Alberta pilot project for quarantine reduction. As a recap this pilot allows international travellers returning to Alberta (and staying in Alberta) to do a rapid COVID-19 test immediately after arriving in YYC (Calgary) airport and quarantine only until their test comes back negative. The turnaround for the test can be as short as 2 days. The other requirement is to complete a second test after 6-7 days, and to provide daily symptom 'check-ins' – I assume these are done through an AHS online application of some kind.
This pilot is slated to last 26 weeks beginning November 2, 2020. This gives one until April 30, 2021 to travel and be able to do a 2 day quarantine. Of course, this assumes you don't contract COVID-19 while travelling or the pilot is pulled prematurely.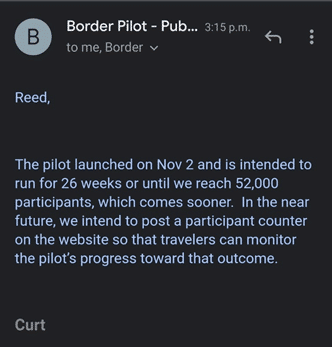 I think this represents a big step in the right direction for international travel, and if you're reading this, you should be following this program closely. We can only hope the pilot goes well and culminates in implementation of the program to other Canadian hubs such as Toronto, Vancouver, etc.
[Update Nov. 29, 2020]: There have now been almost 10,000 participants in the YYC rapid testing pilot program. The pilot team has assured me the pilot will continue at least through January.
Where Can I Travel to Without Quarantine?
As far as a destination goes, the best resource I've found to do a preliminary check on where you can travel internationally and domestically as a Canadian is the Air Canada Travel Ready Hub. However, as always, you should confirm with the official government website of the country/municipality you are thinking about travelling to before making any solid plans.
At the time of writing, the EU has recently added Canada to a list of restricted countries for international travel. Asia is also quite limited. Therefore I set my sights on destinations in the US, in particular, Hawaii because I wanted something warm and tropical to escape from the cold Alberta winter. 🏖️ 
I also read about Hawaii handling COVID-19 more strictly than other states, but now wanting to restart its tourism going into 2021. This is the ideal situation since you don't want to go somewhere that might be struggling or more likely to shut down its borders spur the moment. And of course, you want to minimize your risk of actually contracting COVID-19 as well.
While the Government of Alberta pilot has me covered for a short quarantine on the return, another key requirement for me (and I think anyone wanting to travel for leisure presently) is not having to quarantine upon arrival. Fortunately I was able to find some clear information on this, directly on the State of Hawaii's Dept of Transportation website.
Hawaii's Safe Travels Program
The Hawaii safe travels program is a mandatory program for all travelers entering Hawaii, effective September 1, 2020. This is an online screening program which all travelers must complete, available at: https://travel.hawaii.gov/#/. Importantly, by uploading your health information prior to arrival you can streamline your entry into the state. 
The program also includes pre-travel testing which started Oct. 15, 2020. This allows you to avoid mandatory 14-day quarantine if tested within 72 hours before your flight to Hawaii and can show a negative test result on arrival.
"The test must be done with an FDA-approved nucleic acid amplification test (NAAT). The State of Hawaii will ONLY accept test results from TRUSTED TESTING AND TRAVEL PARTNERS. Please see list at https://hawaiicovid19.com/travel-partners/".
Of note, there is still an inter island quarantine in effect for Kuai, Maui, and Hawaii counties. This would have implications if you wanted to arrive at one island and then travel to another later in your trip, you would potentially need to take a second test within 72 hours of departure to the second destination. The websites for each county have more specific guidance, but for me this means the most feasible destination is Honolulu (Oahu county).
COVID-19 Testing Requirements for the Departing Trip
The above requirements beget the question of whether a COVID-19 test from a Canadian health authority is valid? And if not, can I get tested in the USA as a non-citizen prior to my final flight to Hawaii state?
In Alberta, Alberta Health Services partners with DynaLife Dx to provide COVID-19 testing for travel requirements. This is done for a fee of $150 (https://qme.dynalife.ca/travel/). Dynalife mentions that they use Real time Polymerase chain reaction (RT-PCR), OR Nucleic acid amplification test (NAAT) is the testing methodology. However I'd imagine it wouldn't be a problem to request NAAT specifically.
I contacted the Honolulu government COVID-19 response email ([email protected]) to inquire if this testing would qualify. The following was their response:
"The State of Hawaii has instituted a Pre-Travel Testing Program beginning on October 15th, which allows travelers to avoid a mandatory 14-day quarantine if they are tested within 72 hours before their flight to Hawaii departs, with an FDA-approved NAAT test through our trusted testing partners and can show proof of a negative test result. The State of Hawaiʻi will accept test results ONLY from trusted testing and travel partners. To view the State's trusted testing and travel partners, please visit: https://hawaiicovid19.com/travel-partners/."
I would interpret this as meaning that any Canadian test would not be valid…
[Update Nov. 29, 2020]: I previously had another section on this post detailing how I was going to do my COVID-19 testing during a layover in the USA. However we've just received amazing news that Hawaii State has partnered with Westjet to accept DynaLife testing for COVID-19 quarantine exemptions. This makes things much easier…
Conclusions
I believe travel to Hawaii during COVID-19 is feasible and in fact relatively safe. I emphasize relatively here because of course we are still in the midst of a pandemic. However with the current protocols and testing restrictions employed by WestJet, the risk of being exposed while flying is minimal. A more important consideration is comparing the risk of your travel destination and your current residence. The State of Hawaii has been one of the best in terms of COVID response. With COVID unfortunately exploding a bit here in Alberta, it could be argued that I'll actually be lowering my risk of exposure while vacationing in Hawaii. I'm also lucky to be able to WFH, so the thought of having to quarantine for 14 days if things don't work out with the pilot programs, is not a scary one for me. This may not be the case for many others however.
Regardless choosing to travel during this time is a personal decision for you to make based on your own circumstances. I'll be continuing a more specific discussion of Hawaii travel considerations, including flights, hotels, and the Safe Travels program in the next post in this series.
Reed is addicted to the art of earning and redeeming travel points, and frequently pairs his trips with his other hobby: photography. Through Frugal Flyer, Reed aims to distill some of the complex and esoteric points strategies into digestible information. Furthermore, he hopes to use his technical expertise to develop invaluable applications and tools for the travel community.
Latest posts by Reed Sutton (see all)