As I'm sitting on my AC1011 flight back to YYZ, I am happy to report back on an exciting first visit to Iceland, a place I've wanted to see for some time now.
This trip report will be the first of a series of Iceland posts documenting some of the great sights and activities we got to experience, as well as tips and learnings from a travel planning perspective.
We also had a very unfortunate airport experience on our departure flight which reflects the current state of Air Canada and YYZ airport. Travel is back but it's not quite the same just yet.
Let's dive in.
Flights: Getting to Iceland
For Canadians, there are really only two viable airline options to get to Iceland: Air Canada and Icelandair. From Vancouver and Toronto, you have direct flights via both airlines.
From a travel standpoint, it's unfortunate that I live in Edmonton, Alberta which has less direct flight availability. Prior to COVID, there was a direct flight via Icelandair, but this has not yet returned.
So for my trip, I elected to fly Air Canada via Toronto. We secured two tickets several months in advance for approximately 200,000 Aeroplan points. I was able to e-upgrade the YEG→YYZ flights but not the YYZ→KEF, a flight that would become the bane of my existence for a time.
I would also note that Icelandair is a great option for flying and you can book using 30-40k Alaska Miles each way. And of course, we know Alaska Miles are easy to acquire via the Alaska Airlines World Elite Mastercard.
The Sorry State of Air Canada and YYZ Airport
Unfortunately, the AC flight from YYZ to KEF was the single worst experience I've had while traveling.
It all started with repeated delays to our departure time, which was originally 22:00. By midnight, after about 4 gate changes, we were finally boarded onto the plane. Hooray!
Except then we sat on the plane for 2 hours… The pilot finally informed us we would not be flying and the flight was canceled and rebooked for the next day at 13:00.
We were then told conflicting information regarding the next steps: first that we would need to get our luggage and recheck the next day, and that Air Canada guest services would book us all hotels.
Related: Ultimate Guide to Air Passenger Protection Regulations (APPR) Compensation
They must have quickly realized that was infeasible as any nearby hotels would be booked up or closed at 2 am… so they then told us to find our own.
They probably also realized that it would take hours to get our baggage out and so reneged on that point too – our baggage would be routed to the next flight for us.
So needless to say, the next day we were quite apprehensive about actually getting to Iceland. Especially after the rebooked flight was delayed two more times to 15:00… But finally, we were boarded, and on a plane that actually took off.
Once in beautiful Iceland, all was forgotten.
Until our return upon which Air Canada delivered the icing on the cake: my luggage bag with two missing wheels…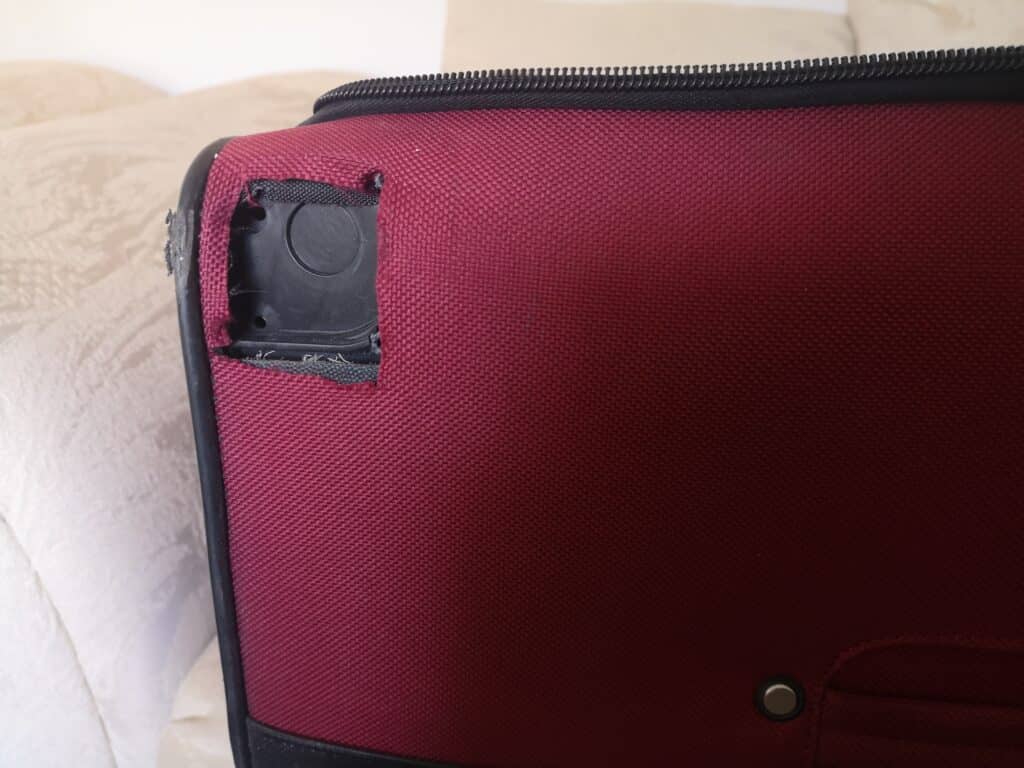 I will now get to see how Air Canada customer care responds, as I had to submit three different claims:
Flight Disruption Compensation
Flight Delay and Cancellation Claim (for accommodation and transportation to and from the airport)
Baggage Damage Claim
I expect the general compensation will be denied as (Canadian) airlines almost always try to skirt around this by claiming the flight was delayed/canceled due to safety issues or aircraft maintenance (obviously bullshit).
These claims actually worked out surprisingly well – learn about the process to get compensation from Air Canada.
Thanks Air Canada :/ Next time I'm flying Icelandair.
Accommodation: $3 Per Night Expedia Mistake Rate
Although Iceland has always been on the bucket list, it was actually an Expedia pricing mistake that prompted me to initially plan the trip.
Sometime back in fall 2021 there was a mistake pricing for Hotel Berg in Reykjanesbaer (near KEF airport) for approximately $3 CAD per night (yes you read that right!). I nabbed this deal to make two separate bookings for two weeks in June of 2022. I figured I would use at least one of the 5-day bookings when I got around to actually planning the trip.
Some months later I convinced my friend to come on the trip with me and we arranged dates and flights that worked for us, making use of the 4 nights/5 days at Hotel Berg.
However two things soon came to light that changed these plans… one, to really experience Iceland it is pretty silly to stay in the capital for the entire trip, and two, Hotel Berg was declining to honor the bookings at the mistake rate anyways (not an uncommon occurrence for mistake pricing).
Fortunately, after a few persistent calls to the Expedia customer service center, I was able to get an agent to re-accommodate our booking at no additional charge. And rather than select a property nearby, I opted to change our booking to two nights at two separate hotels, one in Hvammstangi on the northern side of the country, and another in Hella, on the southern side.
This covered us for the middle 4 nights of the trip. For the first two nights, I used Marriott free night certificates to book the basic Courtyard Marriott by KEF airport. Finally, for the last night of the trip, I used my Marriott travel agent rate to book the Reykjavik EDITION for only $300 CAD.
Transportation: Getting Around Iceland
It's no secret that Iceland is a vehicle-centric location.
The capital is a great spot (over 60% of Icelanders live in Reykjavik), and there is much to do within a 1-2 hours' drive. However, the greatest sights Iceland has to offer exist spread throughout the island. Not to mention it's nice to get away from the tourist buzz.
Driving around Iceland's ring road is the most common way to see the country. It's 12-13 hours of driving or 1,333 kilometers around (not including the Westfjords).
Related: Things to Do on Your Next Iceland Vacation
There are also numerous "F-roads" which are roads that access the highlands and require a 4×4 vehicle.
F-road 35 (F35) was on our itinerary and as such, we opted to rent a premium 4×4 vehicle from National Car Rental at KEF airport.
We ended up getting a Jeep Wrangler, which was ideal (alternatively National at KEF offers Toyota Land Cruisers in their premium 4×4 vehicle class).
There were a couple of ways I was able to enhance the rental car experience by using some tricks. First, I used a corporate rate code to reduce our cost from over $3,000 to approximately $1,300 for 7 days.
Second, I acquired National Executive Elite Status through a status match.
This comes with a few small perks, including not having to pay for a second driver and free upgrades to a higher class. While we were already the highest class of vehicle available at KEF, I was able to flex my status to guarantee the Jeep Wrangler, which I figured would be a bit more equipped than a Toyota Land Cruiser for the F roads.
One more nice perk of National was received when we returned the car at the end of our trip. The manager gave us a ride from the car rental warehouse to the front of the terminal. It was much appreciated, especially given we were not particularly early for our flight.
Itinerary: Day-by-Day
Below is the day-by-day itinerary for our trip, including activities, places we stayed, and maps of the routes we took. If you'd like to see more specific details (and many more great pictures) of the activities, see our upcoming article: "20 Things to Do in Iceland".
Related: 7 Interesting & Fun Facts About Iceland
Day 1 – R.I.P.
As mentioned, day 1 was unfortunately lost due to Air Canada / YYZ shenanigans. We spent the morning and a good chunk of the afternoon drinking whisky in the Maple Leaf lounge at YYZ while praying that our rebooked flight would stop getting further delayed and actually board us.
When we finally did arrive in Iceland, it was well past midnight, so we promptly checked into our hotel at the Courtyard Marriott by KEF airport.
Day 2 – Day Trip from Reykjanesbær
We started the first real day of our trip by driving south from the Courtyard Marriott at Keflavik Airport to the Fagradalsfjall volcano, hiking route A. This volcano erupted in the past causing the KEF airport to shut down, and actually just erupted again very recently (August 3, 2022).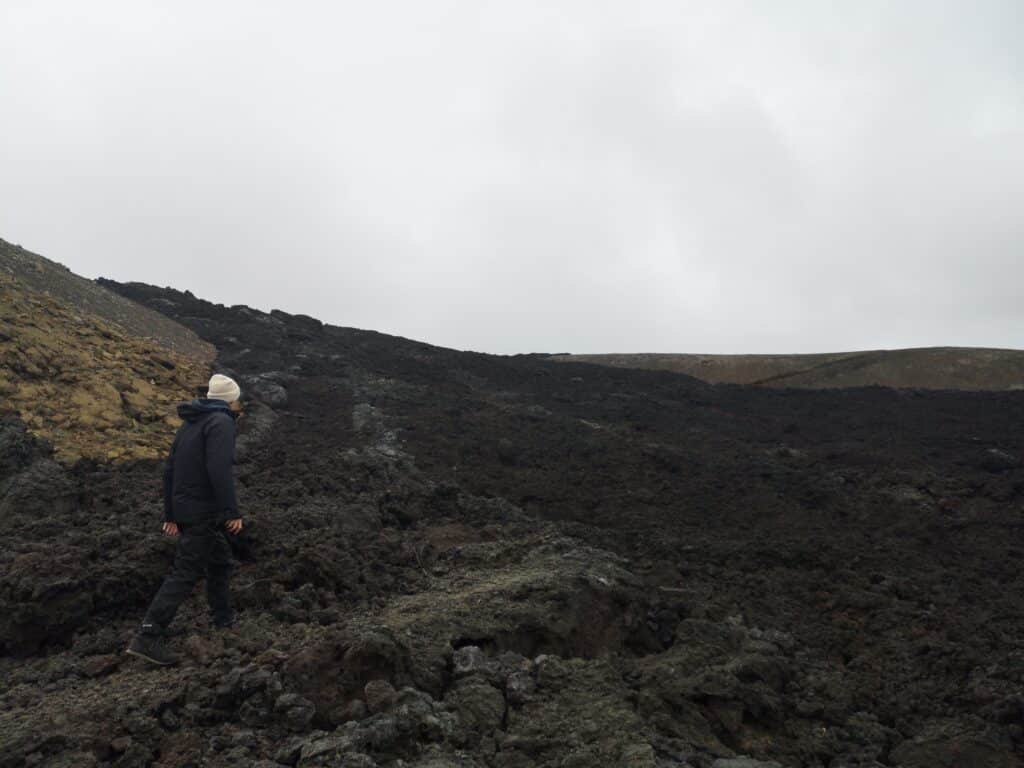 After the volcano hike, we drove along the south coast of Reykjanes, stopping to admire the Atlantic ocean and take pictures at various spots. We then made our way to Reykjadalur Hot Spring Thermal River, also known as the hot river hike. This was a short 3 km hike to get to the natural pools where we relaxed and had some Icelandic brewskies.
By the time we got down, it was 7:00 PM. After stopping for some delicious pizza at Olverk Brugghus, we began to head home, but not before stopping by the Kerid Crater, part of the Golden Circle.
Back at the hotel, we spoke with Vassyl, a hotel front desk staffer who had some amazing advice on must-see spots and helped us refine our itinerary for the rest of the trip. Check out his Instagram for some amazing photography: @vasssyl.
Day 3 – Snaefellsnes Peninsula
We started the day early with a drive to the trailhead for Glymur waterfall, the second tallest waterfall in all of Iceland.
It took us 3 hours for the hike, which took us up to the top of the falls and then all the way around. Glymur was amazing and one of the best sights of the trip. Photos can't do it justice (especially for us as the light was very harsh).
After the hike, lunch, and some gas station ice cream cones, we headed to the Snaefellsnes Peninsula.
We stopped at several notable spots, particularly for seal watching at Ytri Tunga and the photogenic black church of Búðakirkja.
Then, running short on time, we cut across to see Kirkjufellsfoss and Mt Kirkjufell, probably the most photographed composition in all of Iceland. And for good reason.
Finally, we concluded with a long drive to our next hotel in Hvammstangi.
Day 4 – The Westfjords
Day 4 was dedicated to the Westfjords, which meant a lot of driving.
We passed by several natural hot pools, which we carefully scoped out for later.
We then stopped at a red church with a museum and the Gamli bærinn kaffihúsi, a quaint coffee house, for lunch.
From there we went to the beautiful Rauðisandur (red sands) beach.
Our final point of interest in the Westfjords was the intimidating Latrabjarg cliffs, which are one of the main spots to see puffins. We were fortunate to see a few come out from hiding.
At this point, we'd driven over 350 km. Unfortunately, when we booked our accommodations weeks prior we didn't anticipate how much the fjords would add to the driving time. So we decided to do an out-and-back route instead of trying to carry on through the rest of the fjords.
But we still capped the day off by stopping for a soak at a natural hot pool: Sundlaugin Laugarnesi Birkimel. Brevvinin Icelandic schnapps was enjoyed responsibly while we relaxed after a long day of driving and sightseeing.
Day 5 – F35
Since we were on a budget of 6 days for the trip, we elected to drive all the way down the F35 road to cross from the north side of Iceland to the south. This was optimal as driving all the way around the ring road would be too much driving time for 6 days and leave little time for activities.
F35, in addition to being a fun (read: rough and muddy) road to drive on, has access to several interesting geothermal areas and views of the Icelandic highlands, one of the most unique parts of Iceland.
The first geothermal area was called Hveravellir.
From there we headed towards the second and main geothermal area in the highlands called Hveradalir, but not before stopping at a waterfall just off the side of the road – Gygjarfoss.
Hveradalir was a really interesting place and we did a few short hikes to get better viewpoints of the surrounding rhyolite mountains.
On our way down to the lower part of F35 we were able to stop by several landmarks that are a part of the famous and popular Golden Circle, including Gullfoss and Geysir.
We finally arrived at Hella and had a great meal at Restaurant Arhuis, complete with a glass of Viking beer.
Day 6 – South Iceland
Day 6 was the most activity-packed of our trip, but so worth it.
We started off with a waterfall tour. A short drive from Hella was Seljalandsfoss and Gljufabrui (Gljúfrafoss), and shortly after that was Skogafoss. Seljalandsfoss and Skogafoss are two of the most picturesque waterfalls in Iceland.
From there we ventured to Dyrholaey, a nature preserve with some very cool rock formations and also a good spot for Puffin spotting.
Right beside Dyrholaey is an attractive little town called Vik and also the "black sand beach". We made sure to grab some local Iceland beers from a liquor store and have lunch at this spot.
After lunch, we ventured on to visit Fjaðrárgljúfur, a large ancient river canyon. It was a 30-45 minute hike to the best view of the canyon. I'll let pictures do the talking.
We then visited Vatnajökull National Park. Vatnajokull is the largest glacier in all of Europe. We were able to walk a trail that took us right up to an outflow of the glacier called Skaftafell. We also explored another part of the glacier, Svínafellsjökull, down the road a little south from Skaftafell.
We concluded our day with a visit to the iceberg lagoon (Jokulsarlon glacier lagoon) and diamond beach right next to it.
It took us a solid 3-hour drive to get back to Hella, making for a long but rewarding day.
Day 7 – Reykjavik
Day 7 we headed back to Reykjavik to explore all the city had to offer.
We stayed at the Reykjavik EDITION hotel as our home base and visited the old harbor, National Museum of Iceland, walked down Langavegur street, and more. These activities are all recounted in Top 5 Things to Do in Reykjavík, Iceland.
Costs and Cost Savings
I always like to tally up how much I saved as a result of travel hacking for any of my larger trips. For example, how I was able to save over $3000 and spend less than $300 for a trip to Alaska.
I was able to save a similar amount on this trip as well, although the trip was overall still quite expensive. Iceland is just an expensive place, particularly for tourists, and particularly in the current economic climate (ahem, gas prices). There are however some great ways to save money in Iceland.
Primary costs and cost savings are shown below.
| | | |
| --- | --- | --- |
| Expense | Retail Cost (CAD) | Our Cost (CAD) |
| Flights | $1,500 per person | $0.00 (200K Aeroplan) |
| Hotel and accommodation | $1,400 ($200 per night avg.) | $300 |
| Rental Car (4×4) | $3,000 | $1,300 |
| Gas | $1000 | $1000 |
| Food & Entertainment | $700 per person($100 per day) | $700 per person |
| Total | $4,900 per person | $2,000 per person |
I think for the average person $5,000 give or take is a reasonable cost estimate. You could easily increase that number if you consider going for a longer duration like 10 days, but also reduce costs for vehicle and gas by having a larger party of 3 or 4.
The hotel costs for us could have been even lower had I chosen to redeem Marriott points, and also given the fact I opted to pay cash to stay at the Reykjavik EDITION for a hotel review.
What I Didn't Like about Iceland
There wasn't much to complain about with respect to the land of fire and ice.
In fact, other than everything being rather expensive, I can only think of very minor inconveniences, such as:
Everywhere seemed to serve only one size of coffee, that size being miniature (think the cups that mini blizzards from DQ come in).
Instead of the god-awful trend of paper straws we see in Canada, many places in Iceland have wooden utensils. Watch out for splinters.
The highways have numerous one-way bridges that force you to 1) slow down, and 2) play a game of chicken with any oncoming vehicles – who will make it to the bridge first and who will yield?
There weren't enough puffins.
Okay, that last one was sarcastic. Iceland of course has the largest puffin population in the world, and we were fortunate to see them on two different occasions.
Challenges: What Would I Do Differently?
My travel companion and I both agreed that Day 4 was way too much driving. If you're going to explore the Westfjords you really should actually stay in the Westfjords.
Day 3 was a lot of driving too as we ended up having to cut short our time at the Snaefellsnes Peninsula to make it to Hvamstangi.
Had we known better, an attractive option instead is to stay a night at Snaefellsnes, then take the Ferry Baldur in the morning, a car ferry that crosses Breidafjörður Bay between Stykkishólmur on the Snæfellsnes peninsula and Brjánslækur in the north of Iceland (Westfjords). We could then stay the next night in the Westfjords, probably in the capital of Ísafjörður.
However, our planning for the F35 and the southern side of Iceland worked out quite well. No real regrets there.
An example improved 7-day itinerary that includes the Westfjords could look as follows:
| | | |
| --- | --- | --- |
| Day | Spend the night at | Activity details |
| 1 | Reykjavik or Reykjanesbaer | Explore the city, do the hot river hike, etc. |
| 2 | Snaefellsnes Peninsula, stay at Grundarfjörður | Hike Glymur, explore Snaefellsnes Peninsula |
| 3 | Westfjords, stay at Ísafjörður | Flatey, Latrabjarg, drive the Fjords |
| 4 | Hvammstangi | More Westfjords |
| 5 | Hella | F35 and geothermal areas, same as we did |
| 6 | Hella (or stay at Hofn or similar) | Could go further north than us and then accept a long drive back to Reykjavik on Day 7 |
| 7 | Reykjavik or Reykjanesbaer | Fagradalsfjall, Sky Lagoon or Blue Lagoon |
That being said, after visiting Iceland I really do recommend spending more than a week. Ideally 14 days, but 10 days is a bare minimum.
I very much enjoyed the trip and am satisfied with what I was able to see, however, I am still left feeling I missed a lot. 10-14+ days gives you time to see a lot more of Iceland and you won't have to rush from place to place.
10 days would be adequate to see the ring road in its entirety, but you'd likely have to cut out the Westfjords. 14 should be enough to do the ring road and the westfjords. If you wanted to do it all at a slower pace with lots of hikes and/or photography under the best lighting, you could opt for longer than 14 days even.
Conclusion
Iceland was an unforgettable experience with some incredible sights, unlike any place I've ever been to before. As a hobbyist photographer, it was paradise.
It's also one of those places I don't think I can visit only once, and my short one-week trip only increased my thirst to see more of the country. I have no doubt I will book another longer trip in the future to see more of the Northern parts of Iceland (and perhaps the closeby Faroe Islands as well).
Visiting Iceland in the fall or winter is also a great way to see the country for multiple reasons. Northern lights are more visible during those months, and it's almost an entirely different country when covered in snow.
Iceland is just the type of travel that makes me most appreciate what we're able to do as travel hackers – turning what could be a very pricey trip in excess of $5,000-$10,000+, into a few grand. Most would view Iceland as a once-in-a-lifetime trip, but Frugal Flyers are able to turn it into something much more repeatable.
Reed is addicted to the art of earning and redeeming travel points, and frequently pairs his trips with his other hobby: photography. Through Frugal Flyer, Reed aims to distill some of the complex and esoteric points strategies into digestible information. Furthermore, he hopes to use his technical expertise to develop invaluable applications and tools for the travel community.
Latest posts by Reed Sutton (see all)