Iceland on a Budget: 5 High Impact Tips to Save Money
Iceland is a beautiful place, but visiting as a tourist can come at quite the cost.
As an island country, a lot of Iceland's products and materials are imported. Their purchasing power is also lower than North America, making prices comparatively high for tourists from Canada/USA.
Consequently, costs in Iceland can add up very quickly when traveling. Gas for example was 3.50 ISK per liter at the time of my visit in June 2022.
So, here are a few tips to visit Iceland on a budget and to make the cost of your vacation much more manageable.
1. Renting a Vehicle? Bring 4 People
Car rentals are expensive in Iceland. As I showed in my Iceland post-trip report, renting a 4×4 can cost upwards of $3000 CAD for just one week.
While I was able to reduce our car rental prices substantially, more than 50%, using some tricks with corporate codes, it was still quite expensive. Moreover, gas prices in Iceland are some of the highest anywhere.
Nothing can cut costs more than splitting amongst a larger party. Ideally, having a group of 4 will make this more manageable.
For example, driving through half a tank a day on our Jeep Wrangler was costing $100-140 per day, approximately. Divided by 4 this becomes a very manageable $25-35 per person.
Meanwhile, the vehicle cost itself can decrease from $3000 to $750 per person, in our above example.
2. Don't Eat Out, Cook Your Own Food
Everything in Iceland is expensive and food is no exception. Even a trip to the gas station for coffee and snacks can end up setting you back $20 CAD-equivalent.
In my personal opinion, Iceland is for seeing (and photographing) amazing landscapes. It's for doing 'stuff', outdoor activities, hiking, and seeing the sights.
So while we were there we opted to buy groceries and less perishable food for easy and fast meals during the day. Sandwiches and the like.
Apparently, the best budget grocery stores in Iceland are Bónus, Nettó, and Kronan. It is recommended to avoid the 10-11 convenience grocery stores which tend to be pricier than others.
Kitchens can be found in most guesthouses, cabins, cottages, hostels, and even some campsites in Iceland, allowing you to cook your own meals. Your grocery bill for several days will end up being the price of a single meal. 
Of course, eating out for dinner once in a while to treat yourself after a long day is nice. Nothing beats fresh seafood! But if you eat out too much you can easily end up spending $200+ on food a day which is quite high for the average traveler.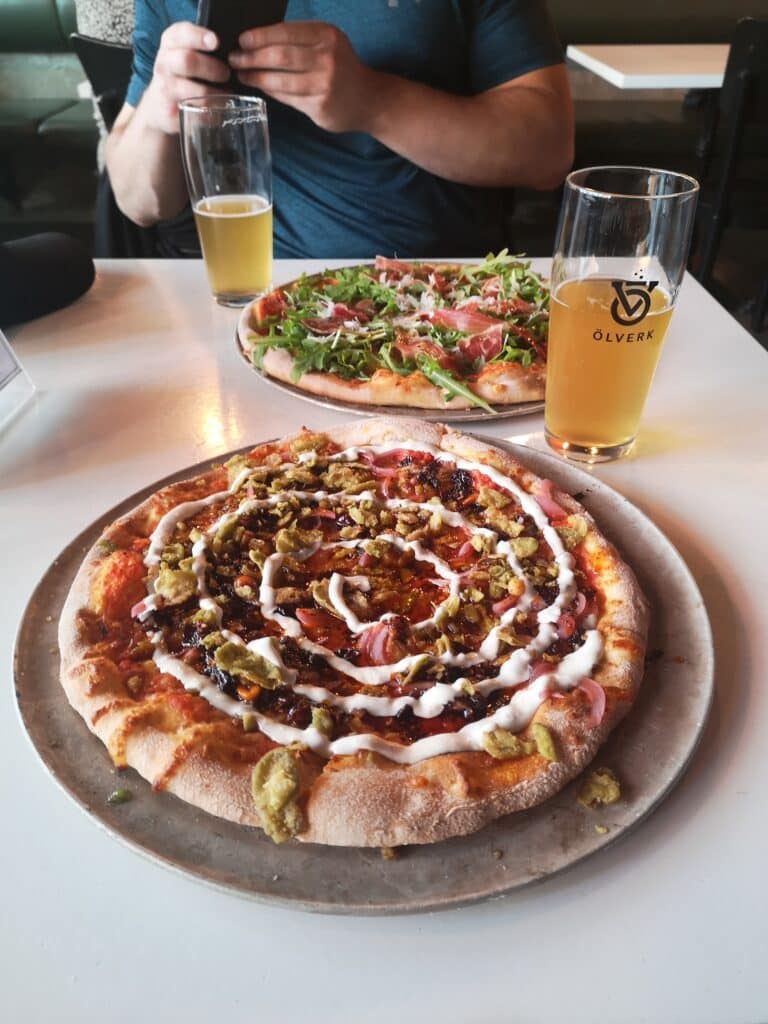 Something to consider for your next trip to Iceland.
3. Consider Camping Using Your Own or Rented Equipment
Camping is very popular in Iceland and there are countless campsites all along the Ring Road (Route 1). Almost all Icelandic towns and villages run at least one campsite, so you won't have any trouble finding somewhere to set up. And if you're already into camping, there isn't a much better way to spend a summer night in Iceland than in a tent.
You can find a list of campsites in Iceland here and here.
Campsites usually have an overnight cost of around 1,000-2,000 ISK, making them very affordable. You typically do NOT need to book in advance.
Aside from the cost, another reason I think camping is a great way to experience Iceland is that it doesn't put a curfew or time restriction on where you end up on a given day. You can move along the ring road without worrying too much about where you're going to end up, or having to check into a hotel by a certain time.
If you're worried about carrying all that camping gear, you can also consider renting camping equipment. You can rent everything from hiking shoes and jackets to tents and mattresses. This can save you on buying hiking equipment you might not otherwise have and also on baggage fees for flying. 
4. Travel Hack for Flight, Hotel, and Rental Car
Of course, travel hacking is our bread and butter here at Frugal Flyer. Saving money on hotel and accommodation can turn a debt-inducing trip into just a small dent in the bank account.
If you can acquire some Air Canada Aeroplan points, Air Canada has lots of flight options to get to Reykjavik, Iceland. Alternatively, Icelandair is another option for flying to Iceland and you can book using 30-40k Alaska Miles per way. Alaska Miles are easy to acquire by churning the Alaska Airlines World Elite Mastercard.
You can also leverage Icelandair's free stopover policy: fly on any transatlantic flight with Icelandair and you can stop in Iceland for 1-7 days at no additional cost. This is a great way to save on airfare and bundle Iceland into another larger trip itinerary. 
Accommodation is another significant factor in any trip budget. At Frugal Flyer, we are big fans of the Marriott Bonvoy hotel program, as well as Hilton Honors. Signing up for a few Bonvoy or Hilton credit cards is a simple way to acquire precious points that can be redeemed for free nights. Furthermore, many cards come with free night awards, such as the Marriott Bonvoy Boundless card from Chase, which currently awards a welcome bonus of 3 free night awards valued at up to 50,000 Bonvoy points.
Chase Marriott Bonvoy Boundless
The Chase Marriott Bonvoy Boundless credit card earns Marriott Bonvoy points on all purchases and is available to individuals in the United States.
BONUS
150,000 Marriott Bonvoy
MINSPEND
$3,000
ANNUAL FEE
$95
FOREX FEES
No
Hotels.com is also another program we like, and I found them very convenient for booking budget hotel properties during my visit to Iceland. 
5. Visit Iceland in the Off-peak Season
From June to August is the peak travel season for Iceland. Prices tend to be higher for almost everything travel-related, hotels, rental cars, activities, flights, you name it.
Therefore, if you can be flexible when you travel, you can save costs by visiting in the shoulder season around May, early June, or September. Or you can even visit in the Winter. You will also benefit from avoiding the crowds that come with the in-demand season.
There are of course several cons to visiting in the off-season. While you'll save costs you'll have fewer daylight hours, especially in the Winter. You also might not have as favorable weather and a lower number of businesses, attractions, and services open.
I still can't wait to visit Iceland in the off-season on my next trip as this is the best time to view the Northern Lights.
Other Small Impact Tips
Go to Thrift Shops Instead of Souvenir Shops
Walking down the main streets in Reykjavik, you will be bombarded with countless souvenir (aka "puffin") shops left, right, and center. While I myself and guilty of buying a Puffin figurine from one of these shops, it's no secret that they are mainly intended for gullible tourists. 
They have little in the way of authentic Icelandic merchandise, mostly just offering cheap mass-produced trinkets from China.
Instead, if you're looking to save money AND pick up some authentic Icelandic memorabilia, check out the flea market Kolaportid, open on weekends by the Old Harbor, or the Red Cross Thrift Shop on Laugavegur. 
Find Free Pools and Hot Springs
While the Blue Lagoon and Sky Lagoon are extremely popular for tourists to Iceland, there are a plethora of free and frugal hot springs and outdoor pools scattered across the country.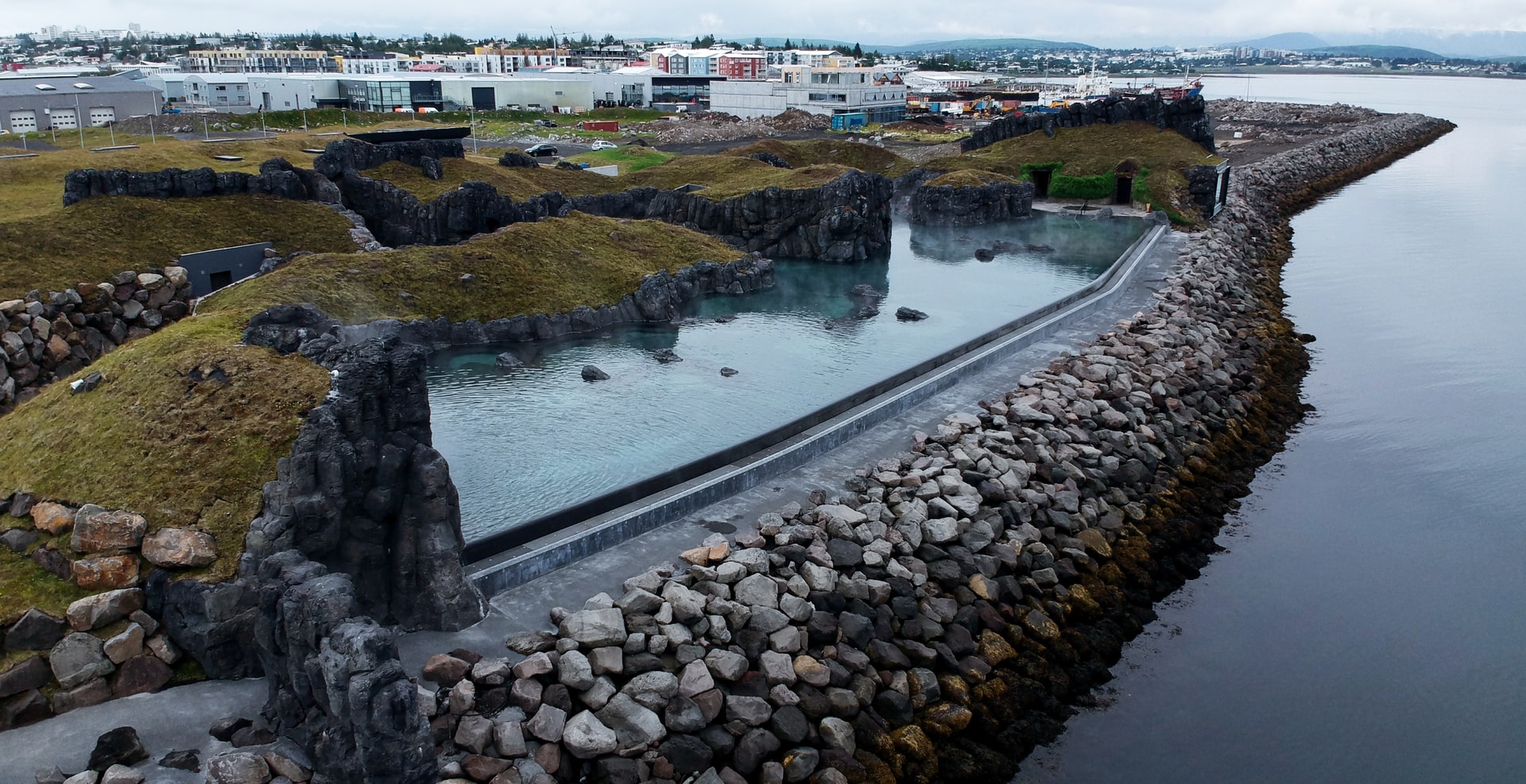 Hot River Hike is a great experience and I recommend it to everyone visiting Iceland. There are several well-known free hot springs including Reykjadalur, Seljavallalaug, and a small little spring near Djúpavogskörin. For other more isolated pools, ask locals for nearby suggestions or check the app Hot Pot Iceland. 
Shop Duty-Free Iceland at KEF Airport
If you are an alcohol drinker, a good way to save on pricey booze costs is to visit Duty-Free Iceland on your way out of the Keflavík International Airport (right beside the baggage pickup area).
Alcohol prices at Duty-Free Iceland are significantly lower for both domestic and international spirits. 
Get Free Coffee from Banks
This next tip is a bit scumbaggy, but also in line with what we do at Frugal Flyer. If you want free coffee every day, banks in Iceland often have thermoses filled with free hot coffee to lure in potential victims customers.
Why not help yourself to a free cup and then decide you actually don't want to wait in the line for service and walk on out of there?
If you do buy coffee at regular price, note that the portions are often quite small, but most places will allow for refills complimentary. 
Conclusion
Iceland is an unforgettable destination, however, the inflated prices make it prohibitively expensive for many would-be travelers. Hopefully using some of the tips in this guide, paired with some of our other travel hacking content, will help you to visit Iceland on a budget in the future.
On the other hand, if you've been to Iceland and have some money-saving tips of your own, we'd love to hear about them in the comments. We love hearing from other Frugal Flyers!
Reed is addicted to the science (and art) of earning and redeeming travel points, and frequently pairs his trips with his other hobby: photography. Through Frugal Flyer, Reed aims to distill some of the complex and esoteric points strategies into digestible information. Furthermore, he hopes to use his technical expertise to develop invaluable applications and tools for the travel community.
Latest posts by Reed Sutton (see all)