I recently had the opportunity to visit the Pomeroy Kananaskis Mountain Lodge, part of the Autograph Collection of hotels under the Marriott Bonvoy umbrella. This was my second time visiting the property in 2022, the first being in March when there was still snow on the ground.
Visiting in the summer was a different experience, but still, with all the charm and tranquility we experienced in the Winter. This visit was actually part of a larger golfing trip with my two good buddies. The Mountain Lodge was perfectly positioned for our two days of golfing at the Kananaskis Country Golf Course.
Without further ado, let's review this glorious property.
Booking
Visiting with a party of three and having access to travel agent discounts, it was a no-brainer to book this property using cash.
The Kananaskis Mountain Lodge is a Category 6 hotel, so if I had opted to use points it would have likely cost somewhere between 40,000–60,000 Bonvoy points a night.
Instead, we secured a rate of around $166 CAD per night. Add to that the mandatory resort fee of $25 CAD per night for a total of $382. However, I also had a nice Amex Offer on my American Express US Marriott Bonvoy credit card: spend $300 or more, get $60 back (in USD or approximately $80 CAD).
That brought the cost down to about $300 CAD or $100 per person for the stay or $50 per person per night. Pretty ridiculous value!
Of course, I didn't stop there at trying to extract value from Marriott Bonvoy. Long story short, I would be sitting at 49/50 Elite Qualifying Nights (EQN) on arrival for this stay. I decided to plead my case to Marriott staff, especially given I had just completed a $5000 USD spend on my new Chase Marriott Bonvoy Boundless Card, which would award me an EQN on my next statement. I was practically already Platinum status!
Chase Marriott Bonvoy Boundless
The Chase Marriott Bonvoy Boundless credit card earns Marriott Bonvoy points on all purchases and is available to individuals in the United States.
BONUS
150,000 Marriott Bonvoy
MINSPEND
$3,000
ANNUAL FEE
$95
FOREX FEES
No
Luckily, upon asking nicely via both the front desk chat in the Marriott Bonvoy app and via the [email protected] email address, I was told I would be treated as a Platinum Elite member, receiving both the complimentary breakfast vouchers for each morning of the stay and a complimentary upgrade to a spacious 3 bedroom suite.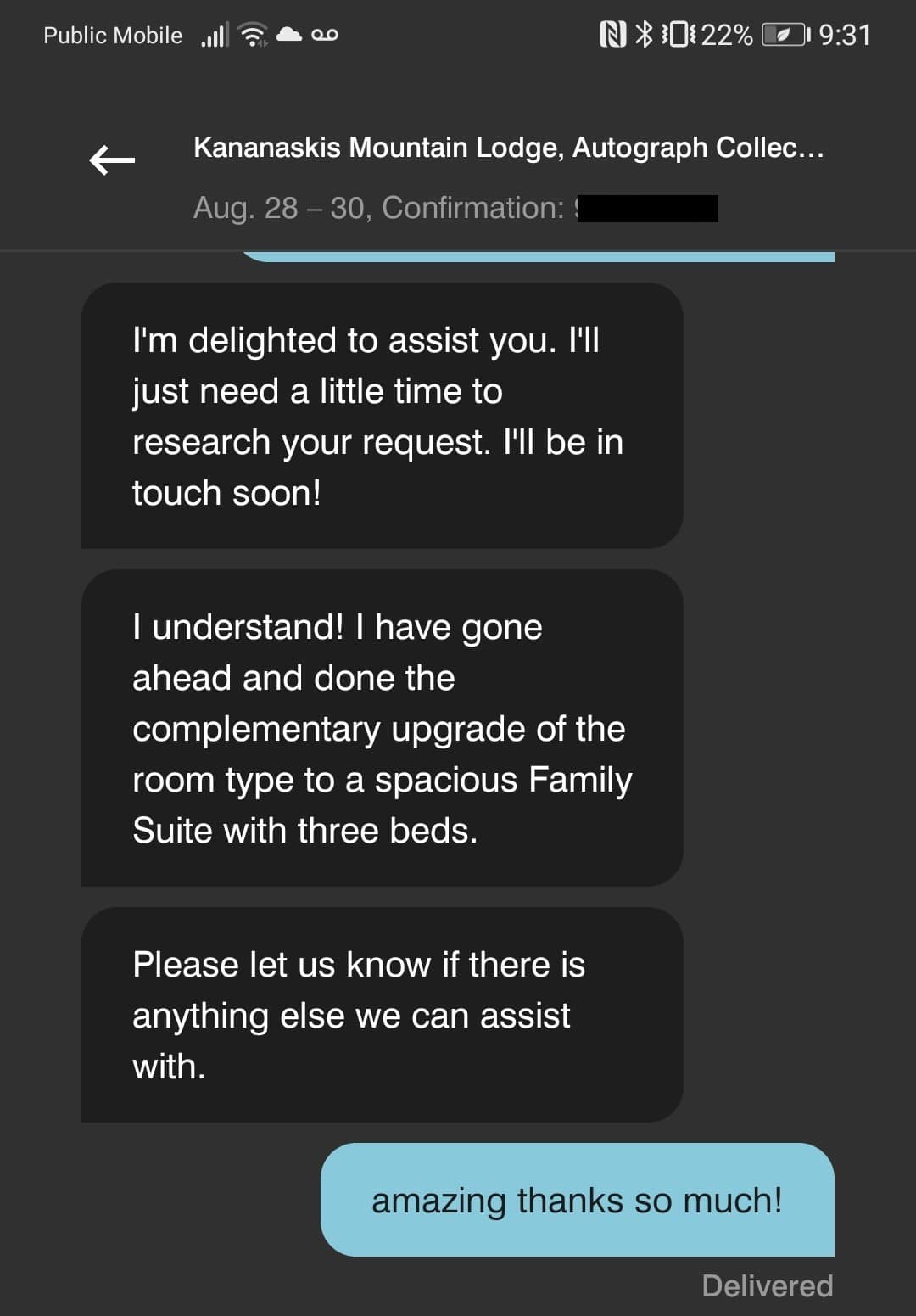 It gets better – upon arrival I discovered that our breakfast vouchers would be for three (normally Platinum only includes complimentary breakfast for two). Furthermore, the front desk agent tried to automatically upgrade us to a larger suite. Unfortunately, the suite only had two beds and a couch, so we opted to politely decline and stick with the 3-bed family room. If we were planning to spend more time in the room we might have justified the suite, but sleeping on a bed definitely beats a couch…
Location
The Kananaskis Mountain Lodge is located right in Kananaskis Village which is part of the larger Kananaskis Country, about one hour drive west of Calgary, Alberta (or 4 hours from Edmonton, Alberta).
Kananaskis is relatively easy to get to by taking Highway 40 (the Kananaskis Trail) just off the Trans-Canada Highway.
The area surrounding the Kananaskis Mountain Lodge is quite remote and also absolutely gorgeous, with scenic views all around.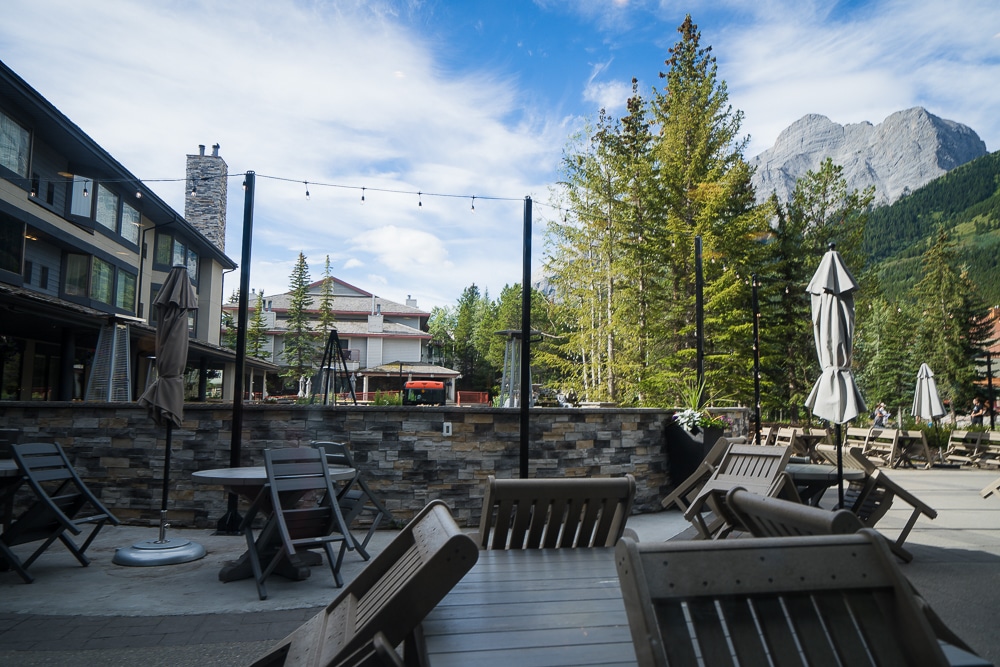 Of particular importance for my party on this stay, the lodge is conveniently located only about a 5-minute drive from the Kananaskis Country Golf Course.
It is also very close to Nakiska Ski Area, but not well situated for any of the more advanced ski hills. While you are in the area, check out some of the best things to do in Kananaskis as well.
Check-in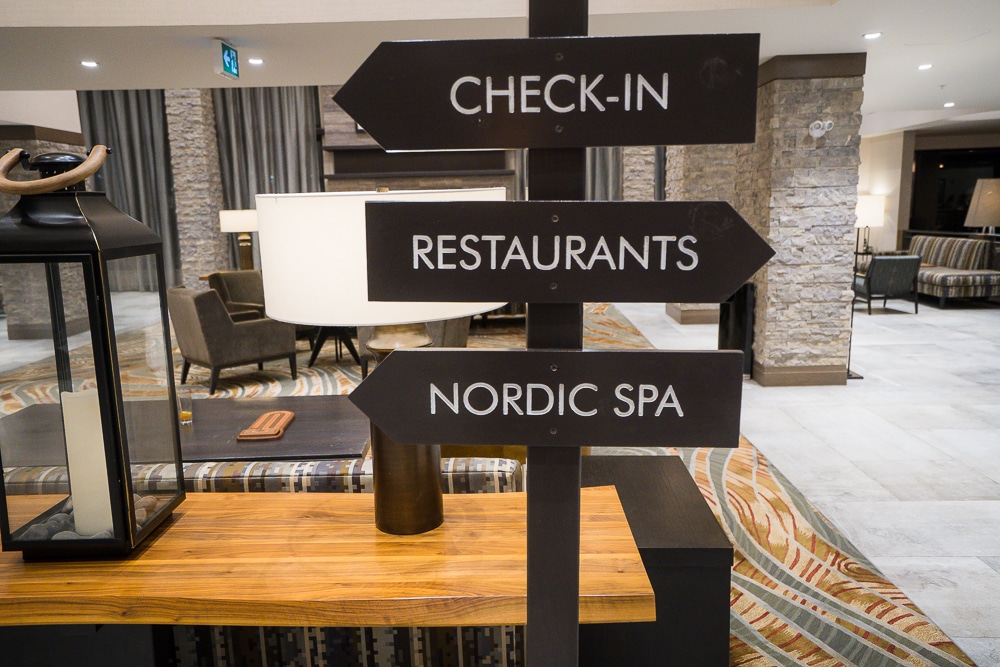 We arrived at a bit of an awkward time around 1:30-2:00 PM. There was only a single front desk agent, who was conveniently servicing the separate Marriott Bonvoy member line only (that's right, if you're not a Marriott Bonvoy member then get lost 😂).
This made for a bit of a wait for the two people in front of us. We also were informed after sticking with our 3-bed family room that the room wasn't quite ready yet. This is my fault as I probably should have checked in on the app in advance.
The concierge was helpful in taking and storing our luggage while we waited. They also gave us temporary room keys to access all of the hotel's amenities in the meantime. However, we instead opted to visit the Blacktail bar to wait over a pint and nachos.
About an hour later (and in good time as we had a tee time for 4:00 PM), I got a text stating our room was ready. We grabbed our room keys from the front desk and had the concierge bring our luggage to our room for us in advance.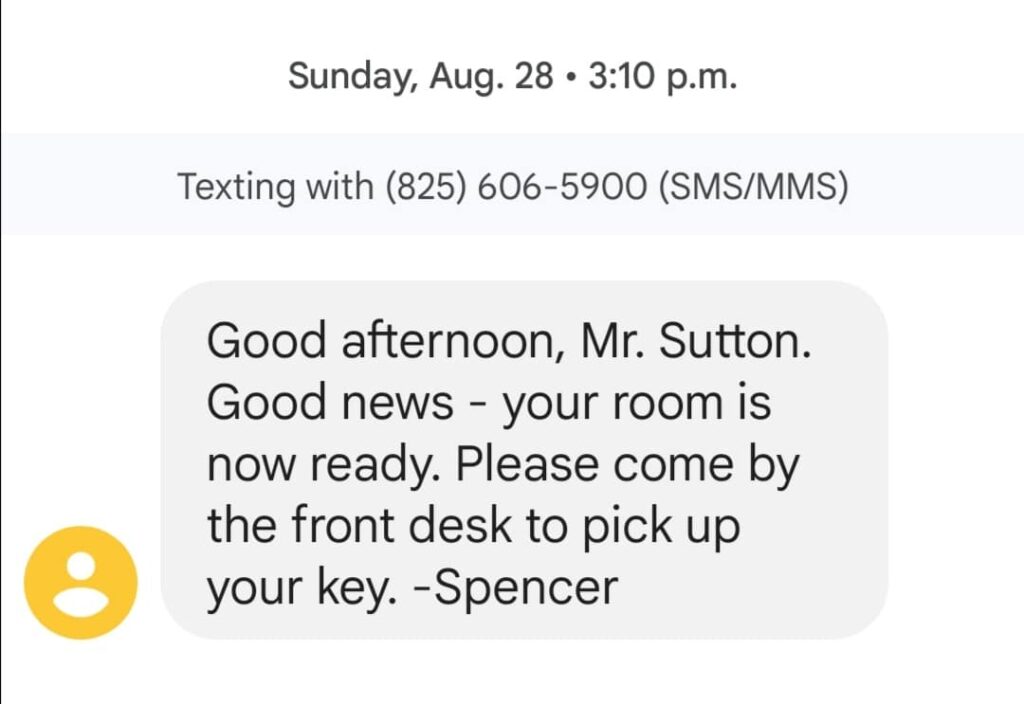 Overall check-in was a very smooth operation. We can't really fault having to wait given the time we arrived, and the staff made our wait comfortable. Having more than a single front desk agent would be ideal though.
Parking and Transportation
Unlike many busy city properties which have mandatory valet parking, the Kananaskis Mountain Lodge has a plethora of parking options, including free outdoor public parking, underground self-park ($22 per day), and underground valet parking ($32 per day).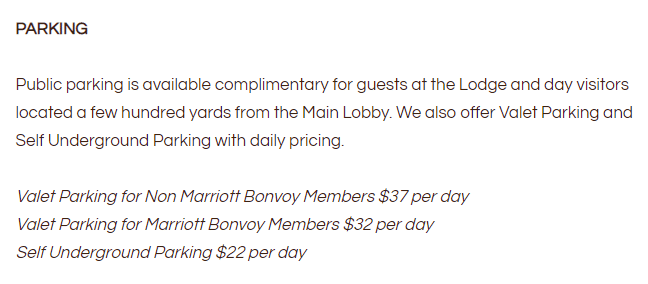 We opted for the free public parking which was more than enough. This isn't the type of place that has issues with theft anyways.
On another note, the Kananaskis Mountain Lodge concierge offers a shuttle service to and fro the Kananaskis Country Golf Course. It is a little pricey at $10 per person per direction, but if you're planning to consume alcohol on the course then there aren't many other options for transportation.
One more thing – the Kananaskis region is subject to a provincial tax levy, the Kananaskis Conservation Pass. This can be purchased at the property or at a toll booth on the way into Kananaskis, for $15 a day per vehicle. You can also buy the annual pass for $90.
The Room – Two Bedroom Family Room with 1 King, 2 Queens
During my last stay I was fortunate to experience the bi-level loft with two friends. This time around the family room was our accommodation and it had everything a party of three could require. I could definitely see this being the right type of room and most suitable for families with multiple kids.
As we entered the room there was a small countertop with a Nespresso machine for all your caffeination requirements.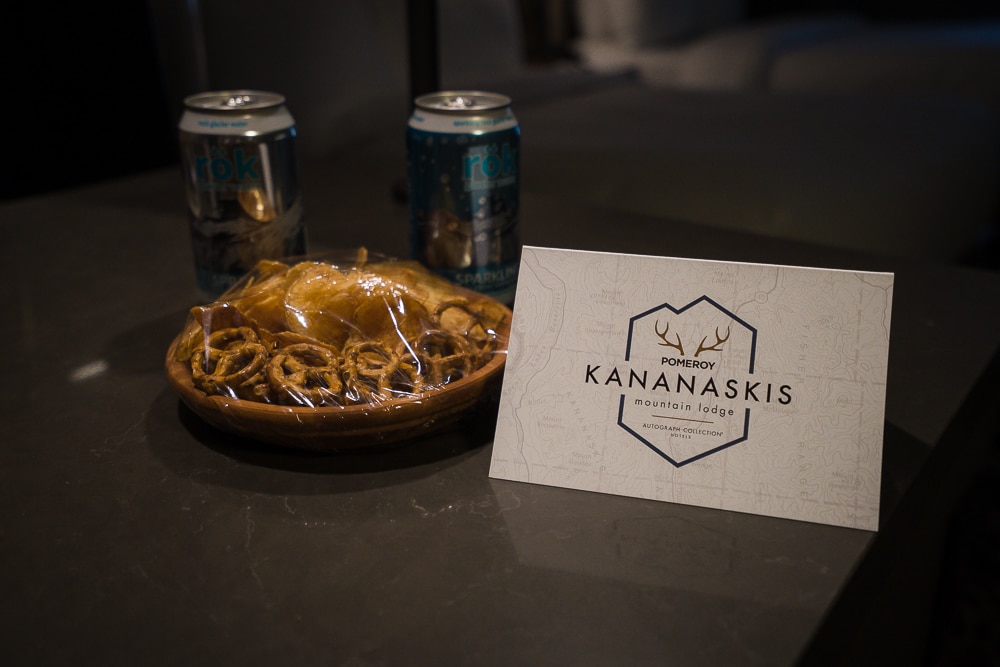 To the left was the bathroom – basic but modern and clean.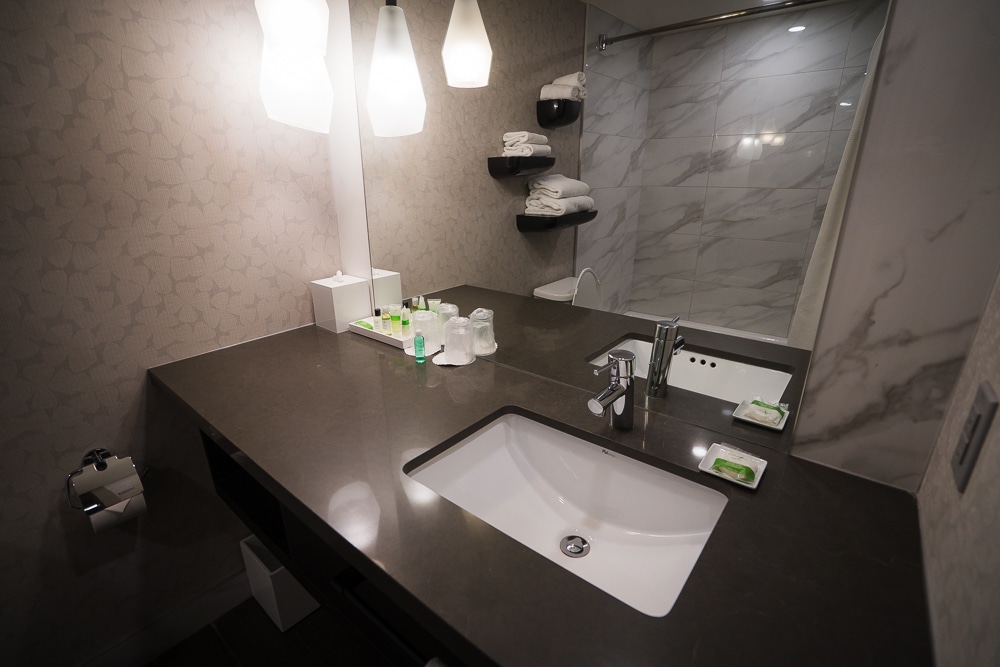 The main room housed two queen beds with a large smart TV, credenza, two chairs, and a table for seating.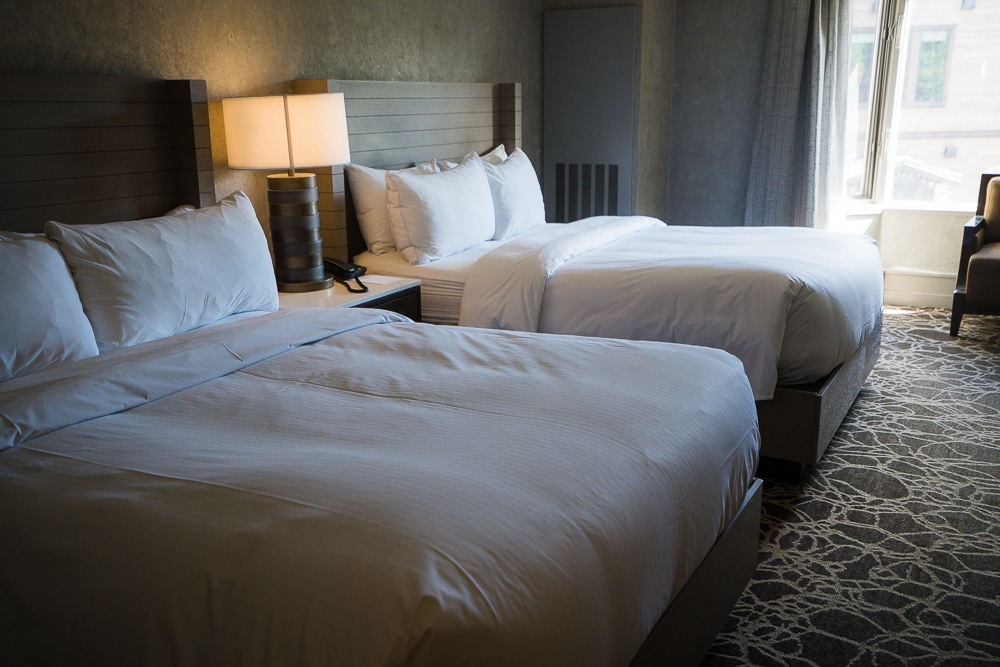 Meanwhile, the king bed was located in a small separate room. It was a tight fit, but still very nice. Another wall-mounted smart TV was also appreciated.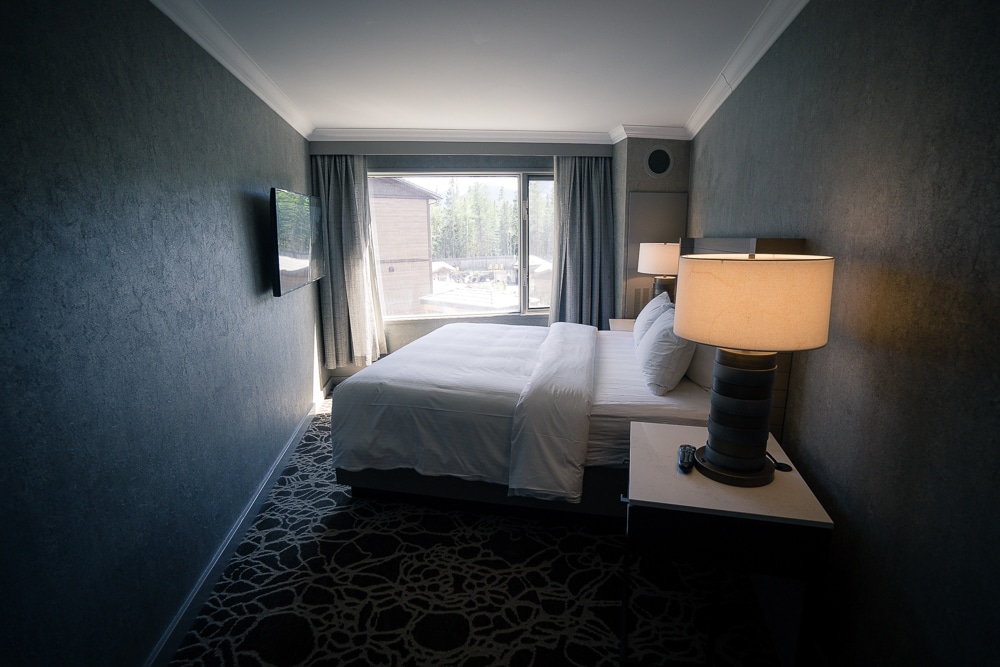 The Nordic Spa was visible from the window of both the main room and the king room.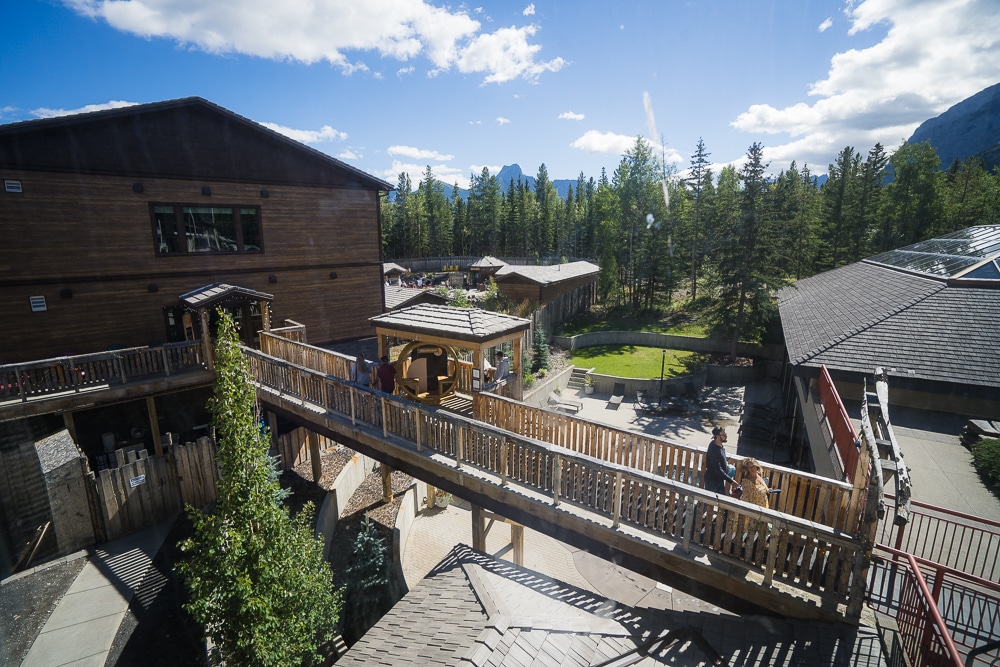 Overall the family room, or should I say the set of rooms, was a basic accommodation that served the exact purpose we needed it to on this stay.
Hotel Facilities
Nordic Spa
One of the main reasons to visit the Kananaskis Mountain Lodge is to visit the famous Nordic Spa.
Although you can get traditional massage services from the spa, the main draw is the hydrotherapy circuit, where you cycle through hot → cold → rest, on repeat. This is inspired by spas in Scandinavia (hence the name 'Nordic').
For the hot cycle, you can select from a variety of different hot pools, barrel saunas, banya saunas, steam rooms, and so on.
Then after plunging into the cold pool you can relax on a hammock or next to a fire.
At the end of your spa visit, conclude with the exfoliation cabin where you'll rub salt all over your body.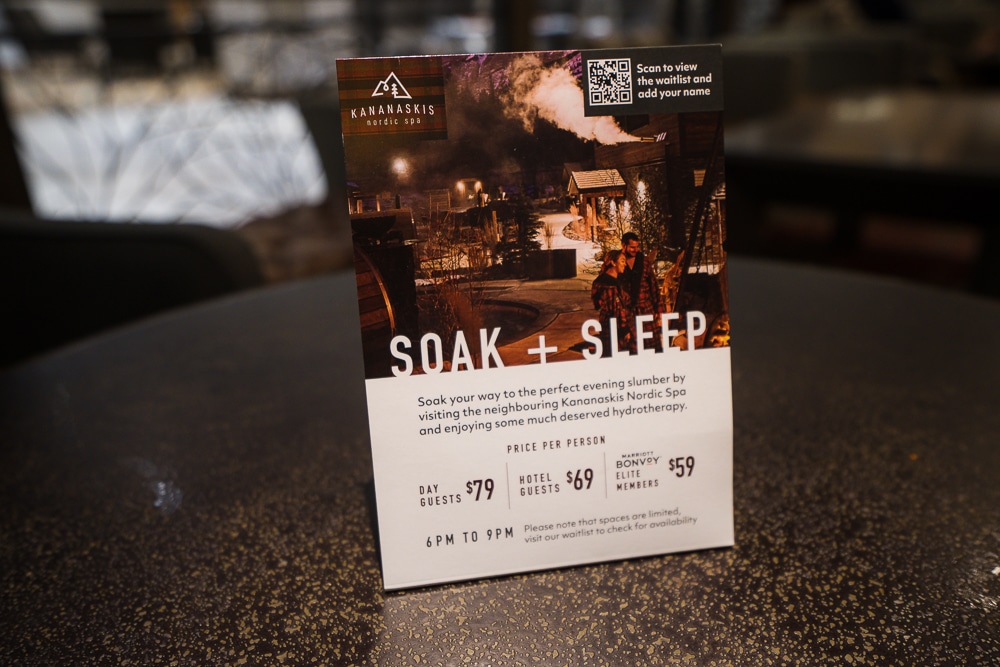 The Nordic Spa does come at a fairly steep price of $149+GST on Friday-Mondays, giving you access from 9:00 AM – 9:00 PM. We would recommend booking a spot in advance as well as it can be busy during peak season (Winter).
Alternatively the Soak + Sleep deal lets you visit during the evening for a much more affordable rate of $69 if you're staying at the hotel and $59 if you're a Marriott Bonvoy member.
Fitness Center
The property has a modest gym facility with weights, treadmills and the like.
Pools
In addition to the Nordic Spa, Kananaskis Mountain Lodge has a very nice indoor pool facility, complete with both an indoor-outdoor connected hot tub, kids pool complete with multiple slides, and a steam room.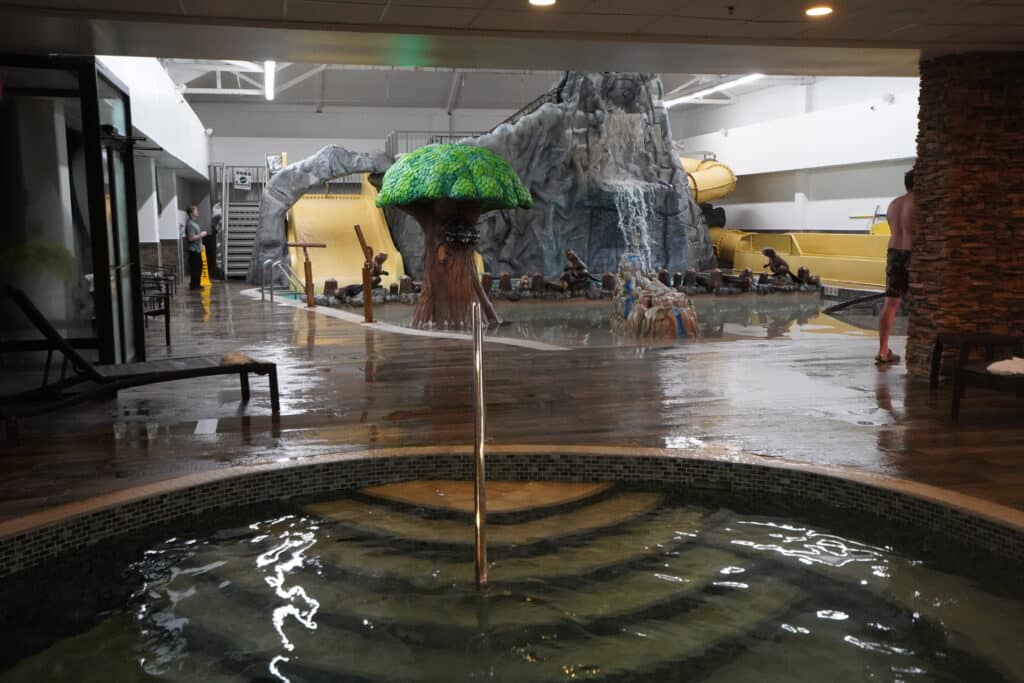 The pools are located right next to the fitness center, which are also adjacent to the games room.
Game Room
Continuing the family-friendly atmosphere of the Kananaskis Mountain Lodge, there is a cute little games room available for hotel guests, complete with an Xbox and ping pong table.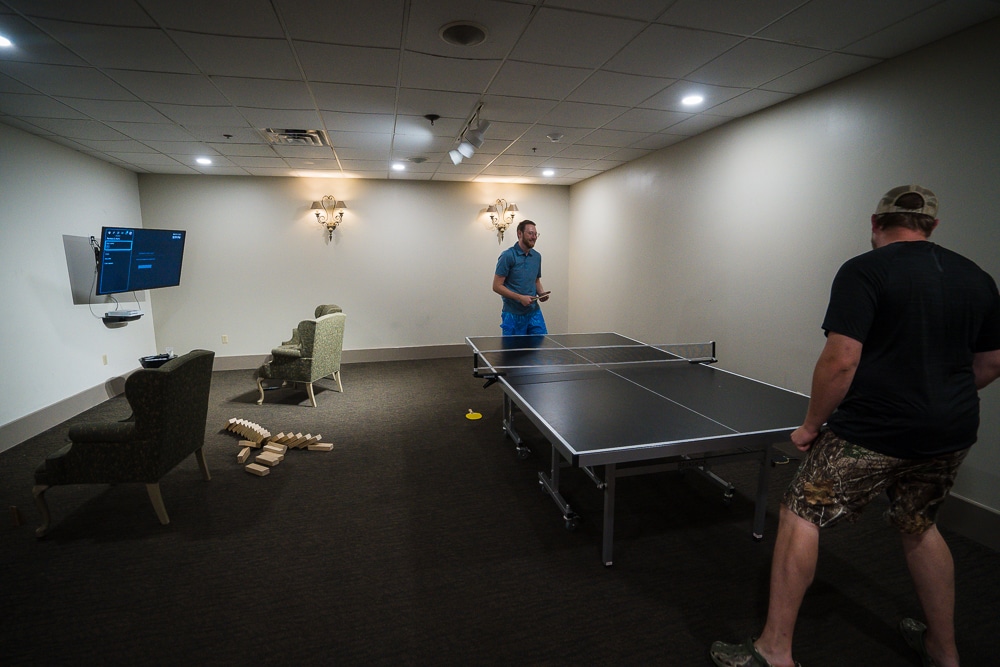 Hopefully there isn't an age limit 😂.
Restaurants & Bars
The Kananaskis Mountain Lodge has a plethora of dining options, including the lobby bar called Blacktail Bar, Forte Italian restaurant which is where breakfast is served, and a high-end steakhouse known as Cedar Room.
Blacktail Bar
Blacktail is a modern lounge with various handcrafted cocktails and local craft beers, including one brewed right in Kananaskis village.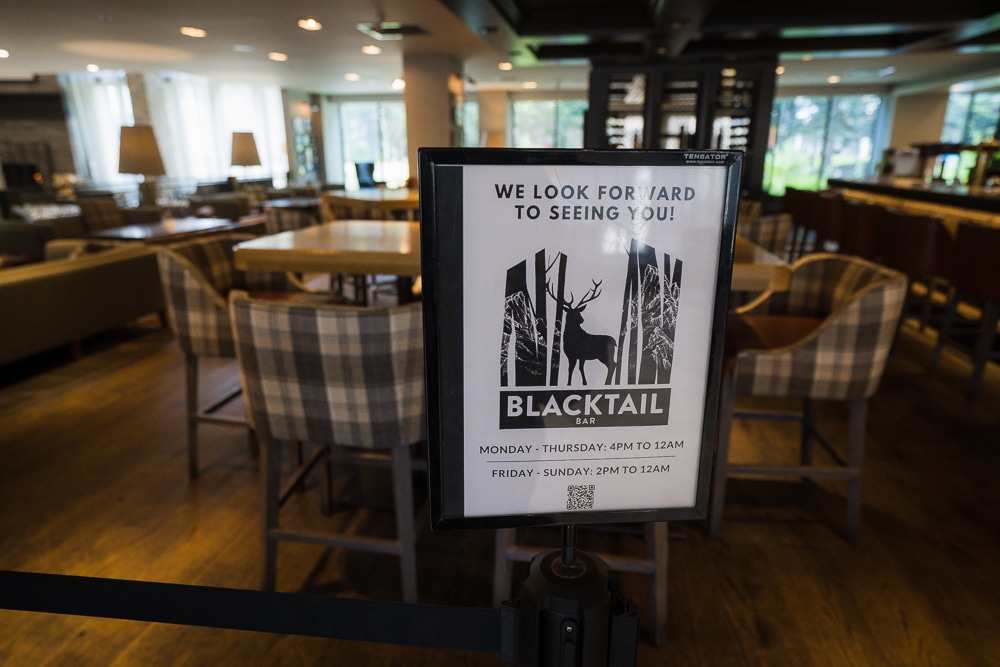 I've eaten here twice and haven't been disappointed by the food, which veers towards upscale pub food, on either occasion.
You can view the full beverage and lunch/dinner menus here. For dinner, it is best to book a reservation in advance as things can get booked up very quickly.
Forte Restaurant – Marriott Bonvoy Elite Complimentary Breakfast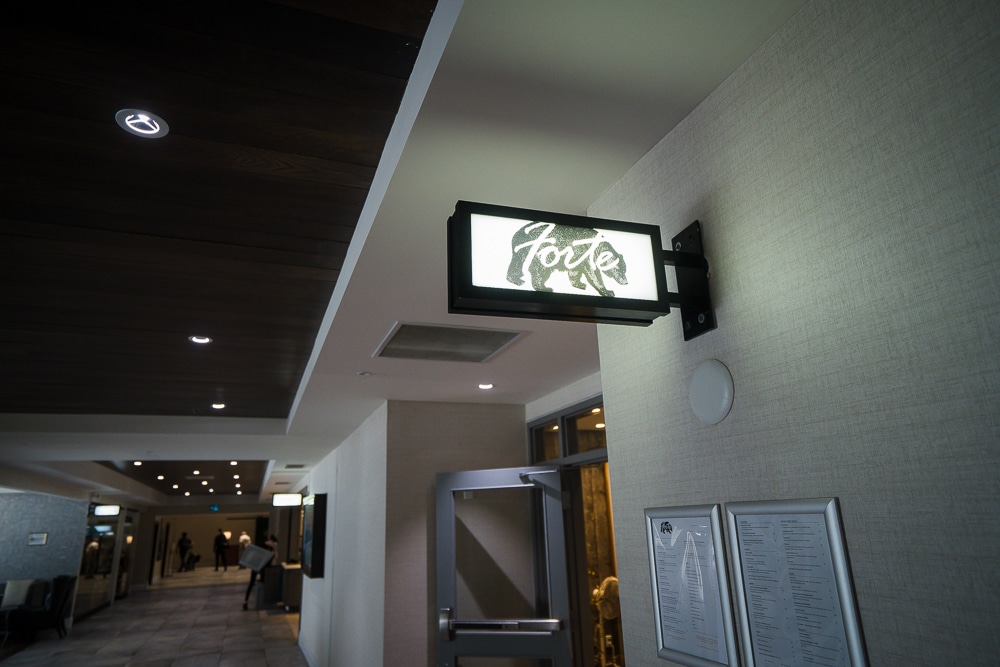 Forte Restaurant is another dining option, perhaps the flagship dining option of the Kananaskis Mountain Lodge. They serve Italian-inspired breakfast, lunch, and dinner.

Their dinner is excellent, as their specialty is pizza cooked in a wood-fired oven. I especially enjoyed the Ai Funghi, a white sauce pizza with provolone, mushrooms, and white truffle oil.
However the main attraction of Forte for anyone Marriott Bonvoy Platinum and higher is the complimentary breakfast for two, per day. In fact, as mentioned we were lucky to receive complimentary breakfast for all three of our party.
The Marriott Bonvoy breakfast entitles you to a beverage and one entree, or to a beverage and access to the self-serve breakfast buffet. Each time I've stayed here I've mulled over the enticing entree options but ultimately still gone for the buffet.
At a $32 price point, the breakfast buffet delivers superb quality, including all the hot and cold options you would expect from breakfast, from bacon, scrambled eggs, eggs benedict,french toast and pancakes to cold options like pastries, smoked salmon, charcuterie, croissants, banana bread, and much more.
As is the point of a buffet, always make sure to go back for seconds!
You can view all the menus for Forte Restaurant here. As with Blacktail, for dinner it's best to make a reservation ahead of time.
Market Cafe
The Market Cafe is a quaint little cafe tucked away inside the Kananaskis Mountain Lodge. Stop here for a Rosso coffee, a smoothie, or grab-and-go snacks for breakfast or lunch.
Woody's Pub & Patio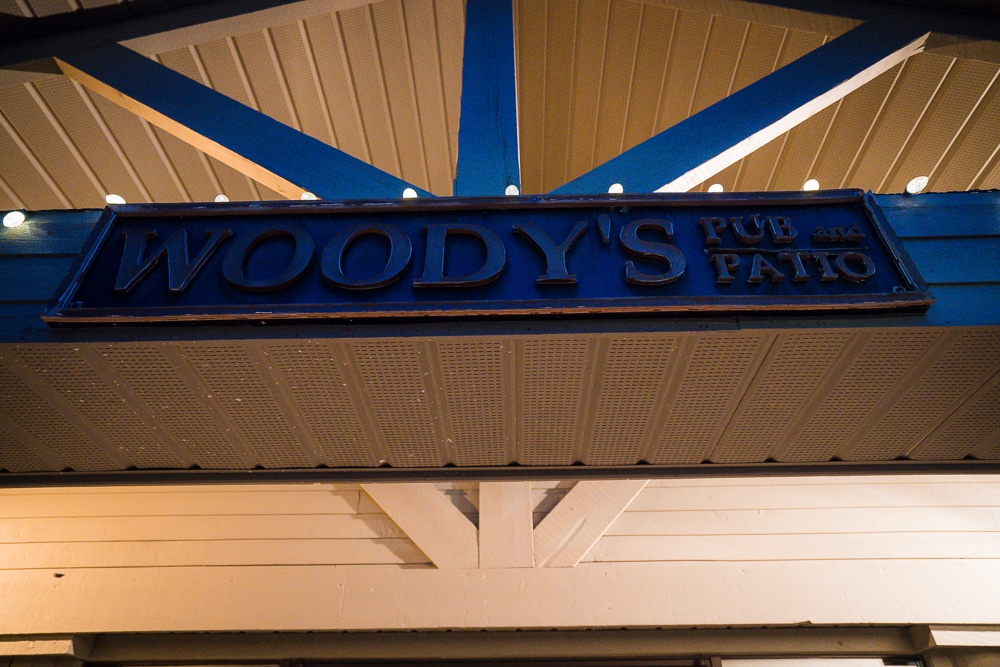 Woody's is Kananaskis village's very own dive bar. A classic old school pub feel, complete with darts, games, pool tables, and a plethora of seating options.
Unfortunately, Woody's is currently closed for regular hours, but is open sporadically, mostly on Sundays and Monday nights. We visited on a Sunday in August and all I can say is that it was lit. They even had their own DJ.
The Cedar Room
Unfortunately we didn't get to visit the Cedar Room during this stay, however I hope to visit on a future trip, in which case I will update this review with my experience.
Conclusion
Kananaskis Mountain Lodge, an Autograph Collection hotel under Marriott, is a large resort secluded in the mountains of the Canadian Rockies. It's a great place to visit for a relaxing weekend getaway with friends, family, or your significant other.
Highlights include the close-by attractions like the Kananaskis Country Golf Course, Nakiska Ski Resort, and the on-property Nordic Spa. It's also good to know that this property treats Marriott Bonvoy Elite Status members very well with upgrades and complimentary high-quality breakfast. Not all Marriott properties go out of their way for status members, especially those as nice as the Kananaskis Mountain Lodge.
Reed is addicted to the art of earning and redeeming travel points, and frequently pairs his trips with his other hobby: photography. Through Frugal Flyer, Reed aims to distill some of the complex and esoteric points strategies into digestible information. Furthermore, he hopes to use his technical expertise to develop invaluable applications and tools for the travel community.
Latest posts by Reed Sutton (see all)