Rome, a city full of ancient history, is definitely not short of things to do and see when you visit. The city is gorgeous with centuries of architecture to enjoy, amazing food and drink, and the major attractions that everyone thinks of when they hear the word "Rome".
Let's take a look at the five best things to do in Rome during your stay in the eternal city.
5. Watch the Sunset Overlooking Piazza del Popolo
Located in the Villa Borghese gardens is a place called Terrazza del Pincio which overlooks Piazza del Popolo. Located not too far from the Spanish Steps, Piazza del Popolo is a landmark square with Rome's oldest obelisk. Interestingly, this Piazza is also the location of the city's northern gate.
We wandered over here after a tour of the Borghese gallery and museum and it was a great way to end our day before heading out for dinner. A simple yet neat stop to add to your itinerary if you want to get a different viewpoint of the city.
4. Have a Cocktail at Drink Kong
Plan to visit a Japanese street-style-inspired bar when you started planning your trip to Rome? Neither did we.
Drink Kong made the list of the "World's 50 Best Bars" in 2021, coming in 19th place. While they have only been open since 2019, the bar has made a name for itself with its unique cocktails and reasonably priced menu. This made it an absolute "must-do" for us during our time in Rome.
Once you are seated, a complimentary round of prosecco is brought to your table.
The menus at Drink Kong are nothing short of inventive, not only when it comes to the food and drinks, but also in the design of the menus themselves.
When it comes to the cocktails, each drink is described in a few words and lists the featured alcohol in the drink. While this gives you an idea as to what you can expect, it does also keep the cocktails shrouded in a bit of mystery.
For example, the Apples cocktail is seen in the tall glass in the below image. This cocktail is described as "Elegante, Salutare (Healthy), Sprezzante (Contemptuous)". The featured alcohol in the drink is Torres 15 Brandy. This was one of the best cocktails I have ever had, resulting in this being the only thing I drank during my time at Drink Kong.
If you plan on checking out Drink Kong, I recommend making a reservation in advance. They were very accommodating to my schedule changes and we had an excellent few hours at this bar.
3. Enjoy Roman Pizza From a Hole-in-the-Wall Pizza Place
There are seemingly an unlimited number of good food options in Rome. While we would always find somewhere for a more formal sit-down dinner, during the day when we were exploring we found that some of the best places were those that were small and unassuming from the outside.
I always recommend looking at google reviews and venturing outside of the tourist areas before choosing somewhere to eat. Thanks to that strategy, we found a super small hole-in-the-wall pizza place on our first day of exploring.
The picture below is of Pizza e Mozzarella which is a very small pizza shop about three minutes away from the Pantheon. They only have a few seats inside so you will need to get your food to go, but this gem had amazing pizza at an unbelievably low price.
2. Get Lost with a Self-Guided Walking Tour
With all there is to see in the ancient city, it can feel overwhelming when trying to determine where to go and what to see. We figured it would be smart to stay in an excellent central location with many notable tourist attractions, monuments, and restaurants nearby; the St. Regis Rome near the city center fit the bill perfectly for that.
As we were planning out our time in Rome, my significant other came across a site that has some excellent self-guided walking tours.
What we found was the best play was to pull up a walking tour either to or from our destination and sidetrack as needed. This allowed us to see some out-of-the-way things, instead of just walking directly to where we were headed.
Of course, many of the walking tours incorporate the main attractions such as the most famous fountain in Rome, the Trevi fountain (also known as the Fontana di Trevi) and the Spanish Steps so there is no risk of missing the "must-see" stops.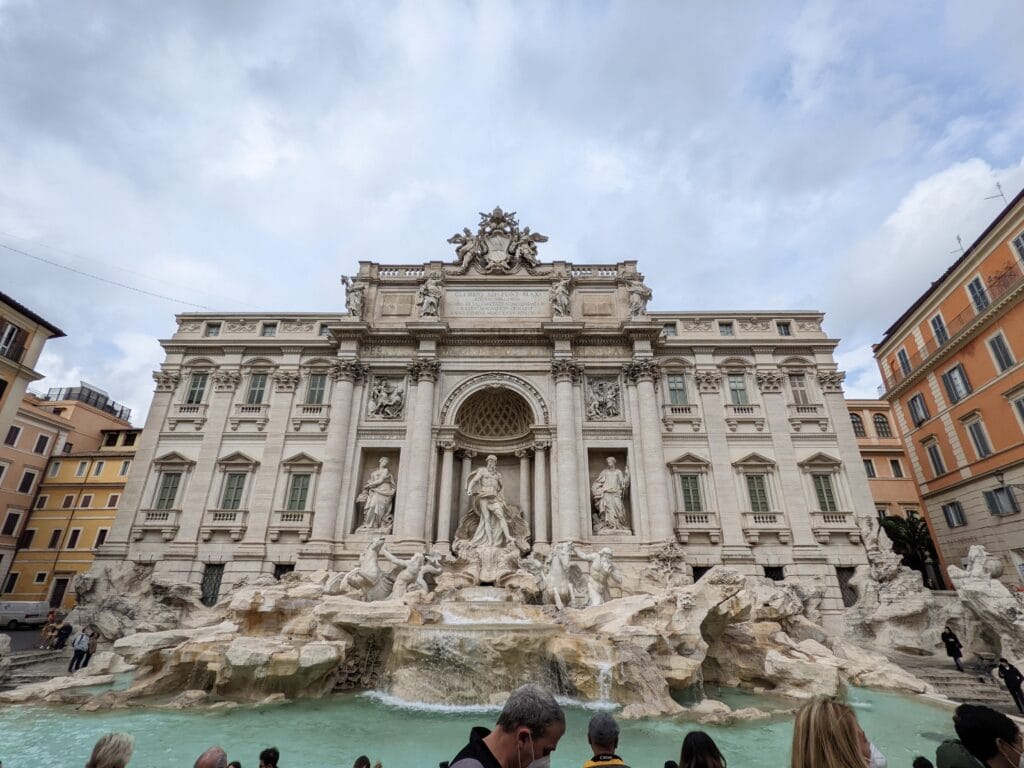 1. Guided Tours of Rome's Main Tourist Attractions
While fairly typical and expected, some of the best things to do in Rome are to visit the major tourist attractions. I highly recommend signing up for small group or private tours in advance of your vacation for any of the popular tourist attractions you are interested in visiting. Not only will you have access to a knowledgeable guide, but you will also skip the line at every attraction which is a massive time saver.
Booking private tours also gave us the opportunity to cater the experience to our interests, such as viewing the arena floor at the Colleseum. Ancient Rome has so much history and we were able to squeeze so much into one week thanks to private tours.
Admittedly, we went all out when it came to tours, booking at least one per day. We were able to visit Vatican City and see the Vatican Museums, Palatine hill, the Roman forum, the Borghese gallery, the Colleseum, Pompeii, and the Sistine chapel.
While these tours were the biggest expense of our whole vacation (thanks to churning), they were worth every dollar spent. We learned so much and with the small group sizes, we were able to ask any questions we had. It felt like a "tailored for us" experience and these guided tours are some of our best memories of our time in Rome.
Bonus: Pompeii
While Pompeii is a three-hour drive away from Rome, I can't help but mention it in this article since it was the highlight of our trip. For this day trip excursion, we did book a tour that included private all-day transportation, a guided tour of Pompeii, and a few-hour visit to Sorrento.
Pompeii is one of the locations where you absolutely need a guide to get the most out of the experience. Pompeii sprawls across a massive area and without someone who is very knowledgeable, it all starts to feel the same and you will miss out on many intricate details. The guide we had for the day has been facilitating Pompeii tours for years, and his knowledge was what made this such a memorable day for us.
After visiting Pompeii, we traveled to Sorrento for lunch and to spend some time on the Italian coast. This was a gorgeous way to end our day (before the long drive back to Rome) and was frankly the cherry on top of a perfect day.
Conclusion
This list only captures a very small chunk of everything that there is to do when visiting Rome. We had a great time planning one main thing to do each day and then filling the rest of the time with whatever seemed interesting that day. No matter what you decide to do on your vacation, there is no shortage of things to do in Rome for whatever your interests may be.
Needless to say, Rome is definitely a city that you could stay in for a week and not see anywhere close to all there is to see.
Hugh has been involved in the miles and points game since 2015 but has scaled up his knowledge and points-earning potential in recent years. In 2019, Hugh stepped things up when he met Reed in addition to a few other miles and points fanatics (err degenerate churners) and has since been able to capitalize on the various expertise that each member brings to the group.
Latest posts by Hugh Campbell (see all)