How to Get Compensation from WestJet for Flight Delays, Damaged Baggage & More
Recently, and for the second time this year, I had the pleasure of being boarded and then subsequently deplaned and informed of a flight cancellation. This time, my unfortunate experience happened on board a WestJet flight from Comox to Edmonton. And even more unfortunate, the subsequent rebooking of the flight was not as smooth as I've experienced with Air Canada.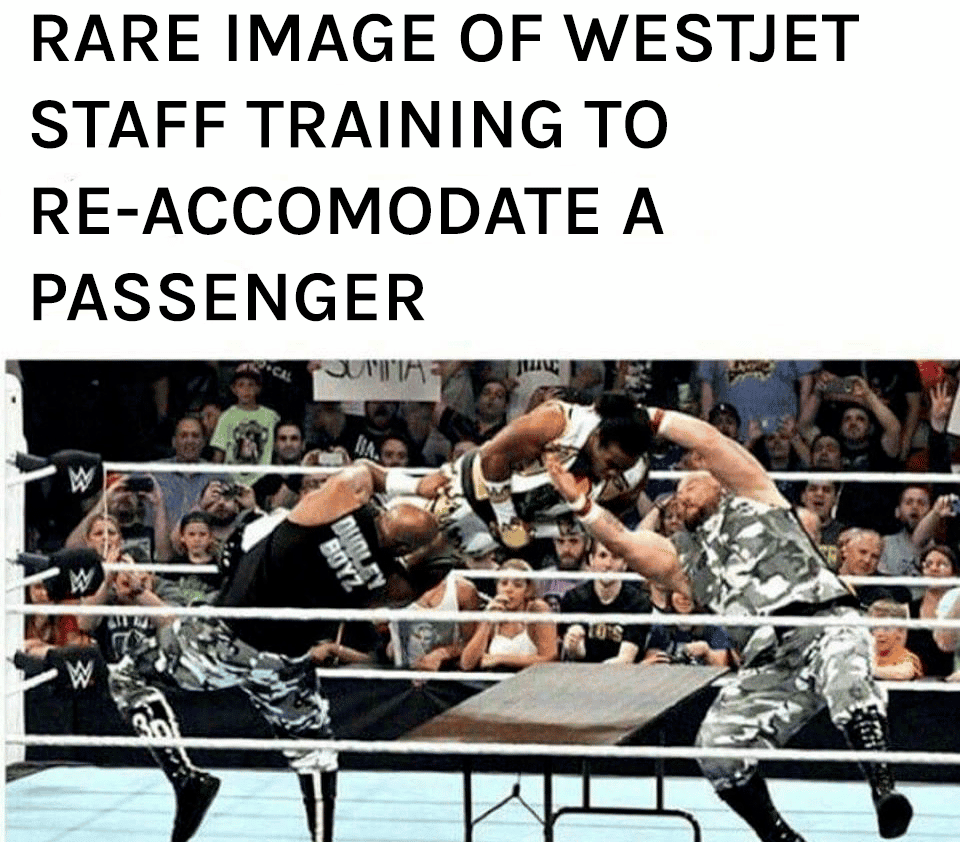 I will detail this experience and lessons learned in another article, so I will save the details. However, I wanted to outline the process to submit claims to WestJet for compensation for flight delay as stipulated by APPR, and also for reimbursement for expenses incurred as a result of flight interruption (delay or cancellation).
I'll also mention how you can take advantage of your credit card insurance (if you were smart and paid for your flight with the right credit card) to get reimbursed for incurred costs as a result of a canceled flight.
WestJet Compensation Claim for Interruption (Flight Delay or Flight Cancellation)
Air Passenger Protection Regulations
Canada has regulations that govern compensation for air passengers in the case of a canceled or delayed flight. These are called the Air Passenger Protection Regulations (APPR) and are issued by the Canadian Transportation Agency (CTA). Unfortunately, Canada's APPR has a bit of a loophole that airlines have been taking advantage of. They only apply when the cause of delay or cancellation is "within the airline's control".
Related: Ultimate Guide to Air Passenger Protection Regulations (APPR) Compensation
Airlines have begun a practice of using this ambiguity to get out of compensating passengers for their screw-ups. I've even heard a tale of someone who watched (and video recorded) a pilot drive the plane into the jet bridge by mistake, and then still have the airline deny their claim for compensation due to "unscheduled aircraft maintenance"…
Nonetheless, the APPR stipulates that the airline should compensate passengers for flight disruptions according to the following schedule:
| | |
| --- | --- |
| Length of arrival delay | Amount (CAD) |
| 3 – 6 hours | $400 |
| 6 – 9 hours | $700 |
| 9+ hours | $1,000 |
Even though the airline will probably try to deny your claim, it's always worth submitting a claim for this compensation If you experience a flight delay or cancellation.
On my recent WestJet mishap, my arrival delay was a cool 94 hours… (yes 94 hours). So you'd better believe I'd be submitting a claim under APPR.
How to Submit a Compensation Claim with WestJet for Flight Delays or Flight Cancellations
The process to apply for APPR compensation with WestJet is very straightforward. You will simply navigate to this page: Flight delay and cancellation claims | WestJet official site and complete the provided form.
Importantly, WestJet mentions the following conditions to be eligible for compensation:
you were on a WestJet flight flying from, to or within Canada
you were informed 14 days or less before the departure time shown on your original ticket that the arrival at your destination would be delayed
you've received a refund for a delayed or canceled WestJet flight and want to receive compensation for the inconvenience
your WestJet flight was delayed or canceled for reasons within WestJet's control
I wouldn't pay a lot of attention to these, particularly the last point. 'WestJet's control' is quite ambiguous and you can bet they'll be as broad as possible in applying that label.
Fill out the form for each passenger on your itinerary, per direction of travel (ie. all flights to the destination that was interrupted).
Be prepared to provide basic information about yourself and the flight, including name, phone number, address, WestJet Rewards ID (optional), flight number, reservation code, ticket number, and departure and arrival airport.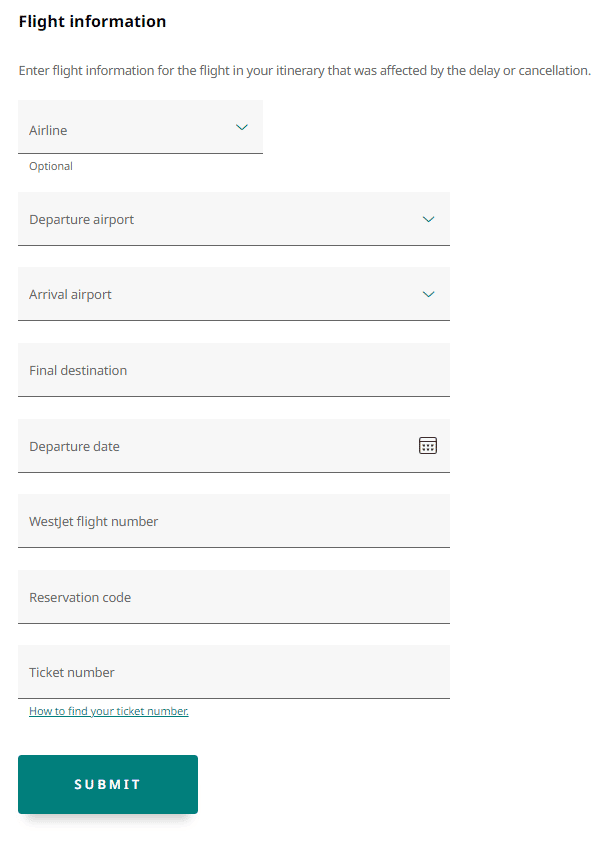 You can find your flight number and reservation code on the booking confirmation you received via email when booking your flight, or in the WestJet app.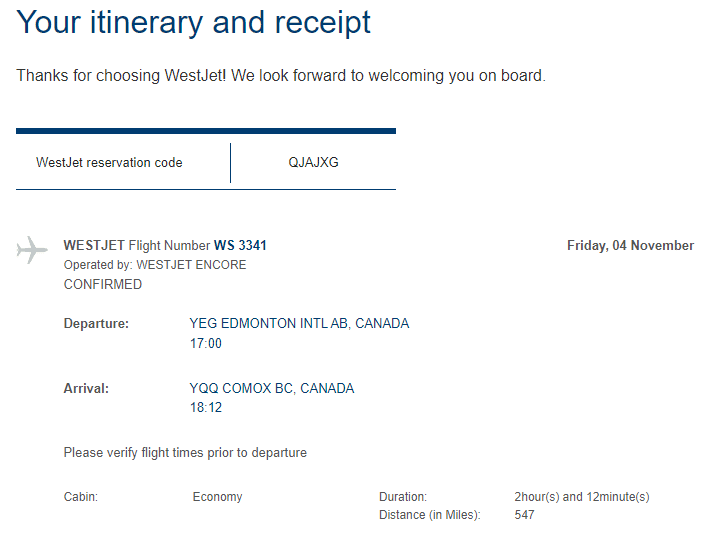 You can also find your ticket number in your eTicket receipt attached to the confirmation email.
After submitting you'll get a confirmation message noting that an agent will respond within 30 days. In my experience, it often does take close to 30 days for requests to be actioned.

WestJet Reimbursement for Interruption (Flight Delay or Flight Cancellation)
If you experience a flight interruption, albeit a lengthy delay or cancellation and rebooking, there is a good chance that you incurred some expenses as a result. You should submit these to WestJet for reimbursement, which can be done at the following page:
Submit expenses | WestJet official site
Expenses fall into the categories in the table below and have a maximum allowable reimbursement (compensation amounts) per day.
Expense
Details
Maximum Daily
Hotel
Reimbursement when WestJet is unable to secure a hotel room on your behalf (almost always). In-room movie costs, tips/gratuities, and long-distance telephone charges are excluded
$150 CAD for Canadian destinations, and $200 CAD for non-Canadian destinations
Meals
Reimbursement of meals when meal vouchers are not available from WestJet (again, do such vouchers even exist?).
Alcoholic beverages and tips/gratuities will be excluded (boo!).
$45 CAD per day per guest
Transportation
Cost incurred for transportation between the airport and the hotel.
None
You'll need to submit personal and contact information, in addition to WestJet flight information including flight number, reservation code, ticket number, departure date, departure airport, final destination and arrival airport.
Next, you will need to calculate the total reimbursement you are requesting and attach supporting receipts/invoices.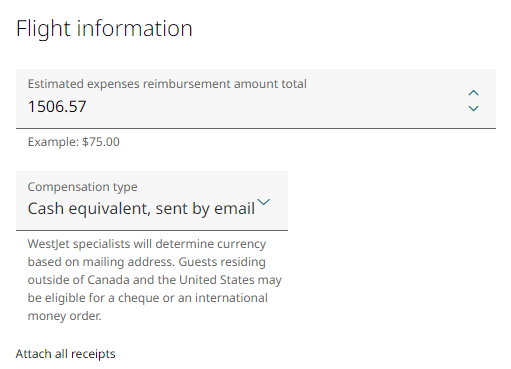 There is also a space to leave comments. In this space, you can itemize your expenses to make it easy for the rep to approve your request.
After submitting you'll get a confirmation message, however, note that no timeline is provided.

WestJet Reimbursement for Delayed or Damaged Baggage Incident
If your baggage is delayed or damaged, WestJet has another separate page and reimbursement request form located here:
Baggage expense form | WestJet official site
You will need to include similar personal and flight information as with the other compensation forms, but also your Baggage File Number.


Although the page mentions a 'recommended amount', this is once again WestJet trying to be stingy.

If WestJet ruins your $1,000 Rimowa bag, they are legally obligated to repair or replace the bag (whether you will have to take them to court for that is another story). There is no 'recommended amount' when it comes to property damage.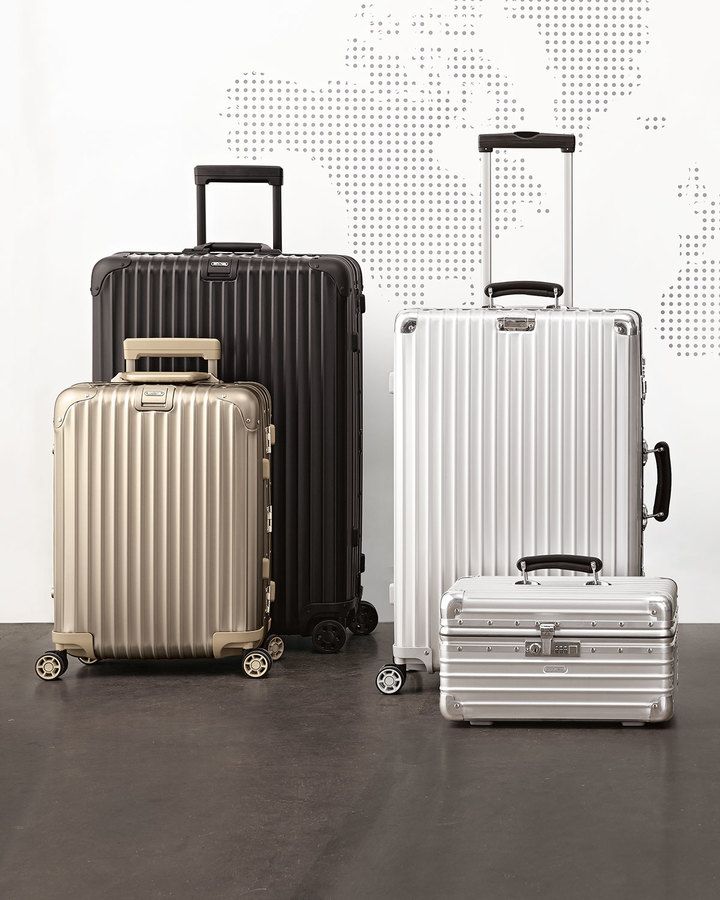 Although a paucity of instructions are given by WestJet for what proof of damage is required, I would assume you should upload pictures of the damage and receipts for the cost of the bag if you have them. Similarly, in the case of a delay, include receipts for the essential items you were required to purchase.
For damaged baggage, As with Air Canada, I would recommend going to find a customer service agent right away at the airport if you notice the damage there.
I've never submitted this type of claim with WestJet myself, however I know that airlines have to take these claims more seriously than APPR due to the legal ramifications and the Montreal Convention.
Getting Compensated with Credit Card Insurance
In cases where your flight is delayed/canceled, or your baggage is delayed, lost or damaged, and depending on the credit card you used to pay for the flight, you may be covered for financial damages you've incurred by the credit card's insurance benefits.
Coverage eligibility can get a bit trickier if you paid for part of the flight using points, say WestJet Dollars or Aeroplan. However, we've covered in detail which credit cards offer coverage on partial charges in this article: Credit Card Travel Insurance For Award Flights.
Insurance coverage offered by credit cards is highly specific to the particular card, in terms of what types of expenses are covered, and what technical stipulations exclude or include eligibility. Generally, the following expenses that occur within 48 hours of an interruption can be claimed:
Hotel accommodations
Transportation
Meals and drinks
'Essential' items
Notice essential items, as this is something apparently an expense category not reimbursable by WestJet directly. Also, note that credit cards do have a cap on the amount you can claim for one trip, so do be mindful of that.
The process for submitting an insurance claim is highly dependent on the specific credit card and can either be done by phone or through an online portal to submit personal info, flight details, and expenses along with supporting receipts. You will need to inquire with your credit card issuer to sort this out.
What if WestJet Denies All Compensation?
If WestJet or any other airline outright rejects your compensation request and you feel you've been unfairly denied compensation, rest assured that there exist further actions you can take, namely to make a small claims action against the airline.
While this might sound intimidating, the process is actually more straightforward than it seems. A Facebook group called Air Passenger Rights (Canada) has several guides to the small claims process and over 100,000 members, including some legal experts, to help answer your questions.
We've released our own in-depth resource for APPR compensation, which discusses your escalation options including filing complaints with the Canadian Transportation Agency and initiating civil actions against the airline. Check it out: Ultimate Guide to APPR Compensation.
Conclusion
Flight interruptions, last-minute cancellations, and baggage delays, are some of the downsides of travel that can put a major kink in your travel plans at the start of a trip, or leave a sour taste in your mouth at the end. Make sure they don't leave a gap in your wallet at the same time by taking advantage of compensation from WestJet and/or your credit card insurance coverage.
Overall the process for compensation from WestJet is straightforward and clearly outlined, compared with Air Canada compensation which has a convoluted navigation menu and a single contact form for multiple claim types.
However, the wording of WestJet's guidelines and the quoted maximum compensation amounts leads me to believe they are also comparatively ungenerous when it comes to dolling out compensation for their screw-ups.
If you've any experience to share with getting compensation from WestJet, do let us know in the comments below!
Reed is addicted to the art of earning and redeeming travel points, and frequently pairs his trips with his other hobby: photography. Through Frugal Flyer, Reed aims to distill some of the complex and esoteric points strategies into digestible information. Furthermore, he hopes to use his technical expertise to develop invaluable applications and tools for the travel community.
Latest posts by Reed Sutton (see all)