As the final denouement of my Europe trip, I was fortunate to fly home to Canada on Aer Lingus Business Class. In this review, see what you can expect from the flagship airline of the great Emerald Isle.
Booking Aer Lingus Business Class with British Airways Avios
| | | | |
| --- | --- | --- | --- |
| Business Class | Aircraft | Route | Flight Duration |
| Aer Lingus 127 | Airbus A330-200 | Dublin to Toronto | 7 Hours 35 Minutes |
As mentioned in my Eurotrip overview article, I booked this Aer Lingus business class flight as part of a one-way route from Dublin to Toronto. I made the booking using British Airways Avios, for a total cost of 100,000 Avios in addition to $397 CAD in taxes and fees total, for two people. Avios bookings are notorious for having higher taxes+fees, so approximately $200 each for a long haul business class was quite reasonable.
Related: Reduce Carrier Surcharges on British Airways & Oneworld Redemptions
Ground Experience – Aer Lingus Lounge
We arrived at Dublin airport with a few hours to spare, and so made a trip to the Aer Lingus T2 lounge. Access to this lounge is complimentary for Aer Lingus, American Airlines, Delta, and United Airlines First and Business class passengers. The lounge is located after security on the way to the US Preclearance area, beside the US departure gates in Terminal 2.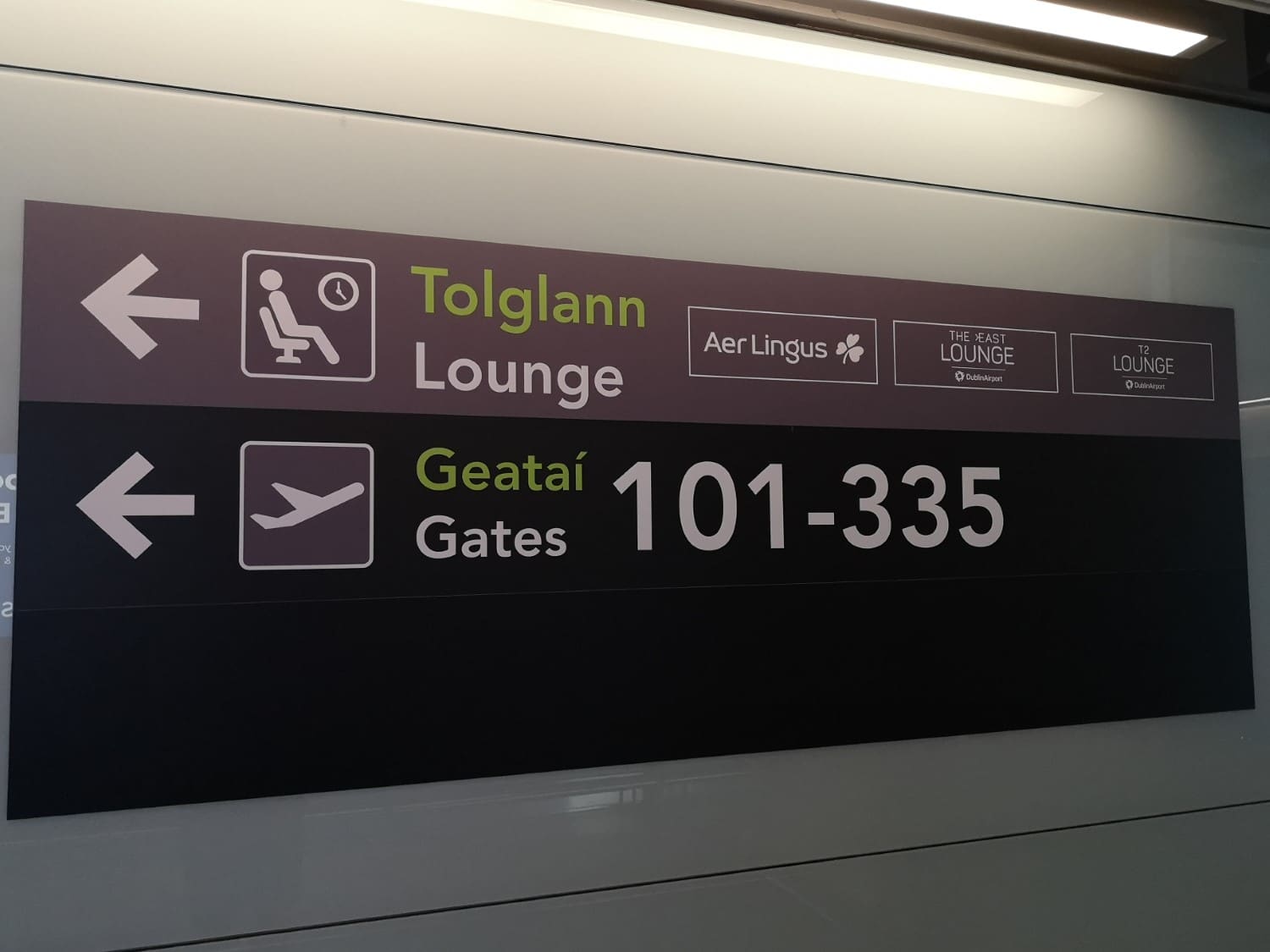 There are lots of signs to the lounges, so you can't miss it. You may pass by the other nearby T2 lounge on your way.
This lounge has ample seating, with lots of different options to relax and work.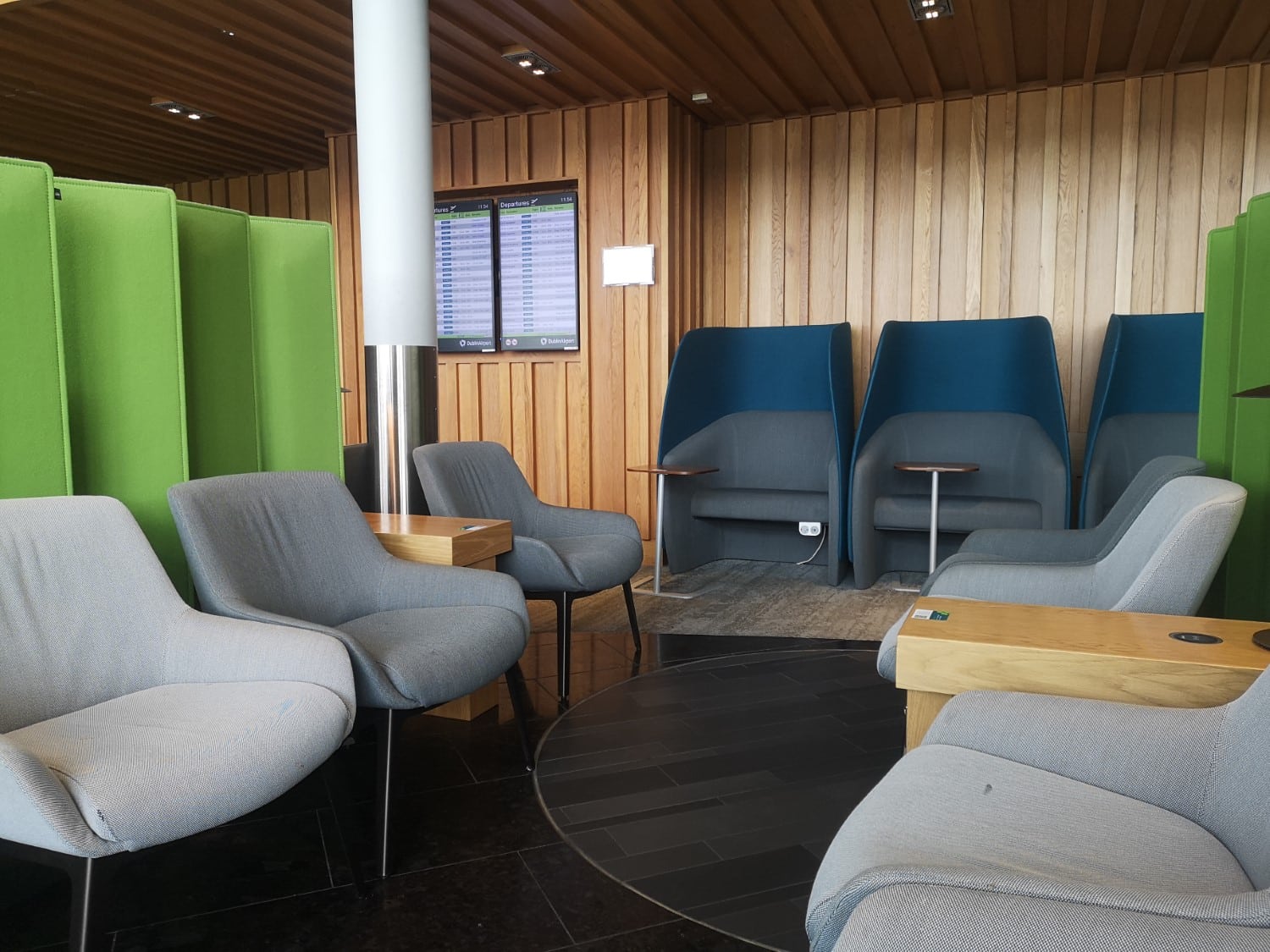 There was also a second quiet floor with a view of the tarmac, showers, and coffee station.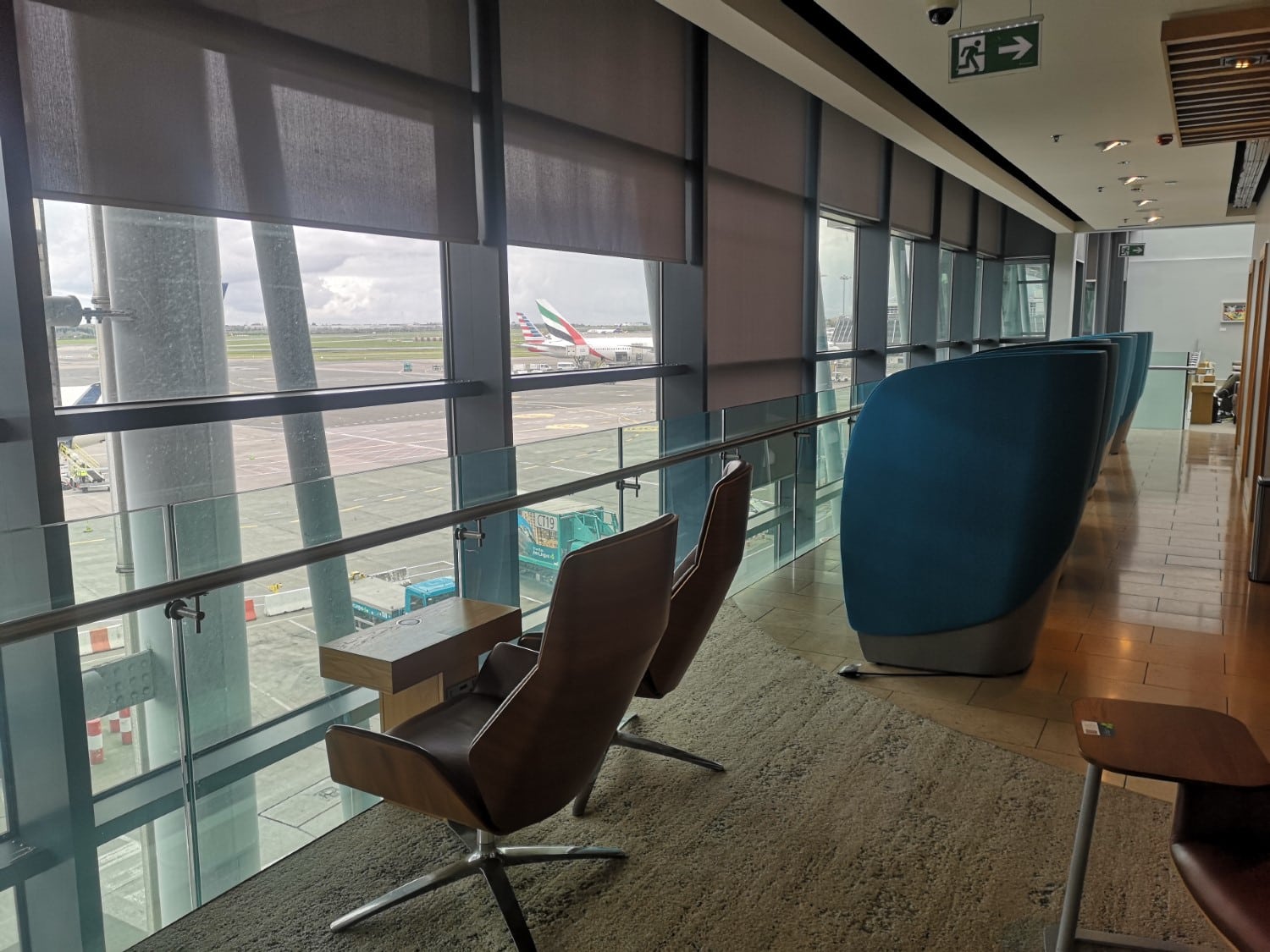 In terms of food, the lounge was lacking in hot food at our time of visiting but had some nice chicken wraps and snacks. For alcohol, the lounge had self-pour well liquors, as well as Guinness and Heineken by the can/bottle.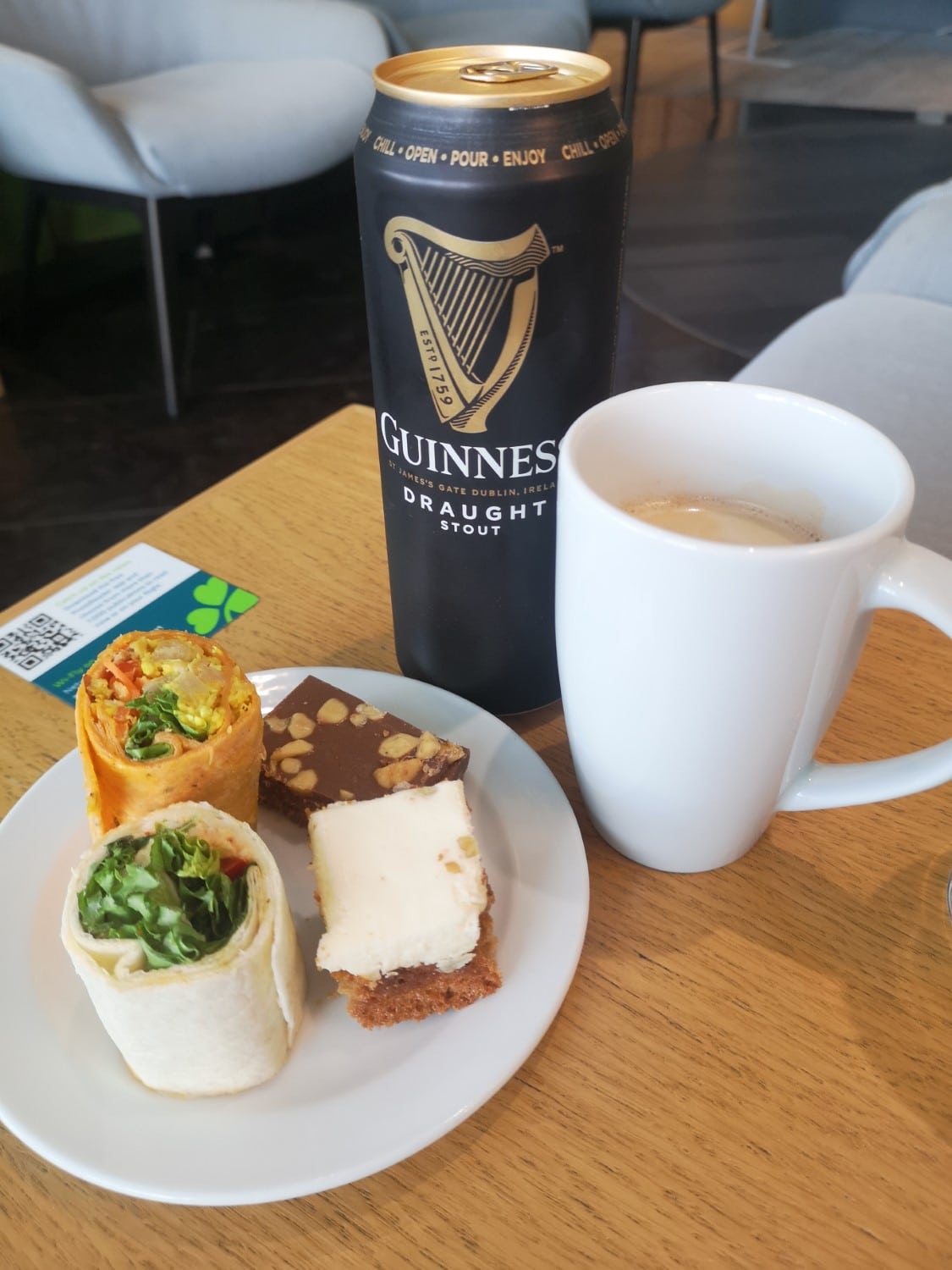 And of course, we can't forget to consider the lavatories, which were clean and kept with the 'Green' theming.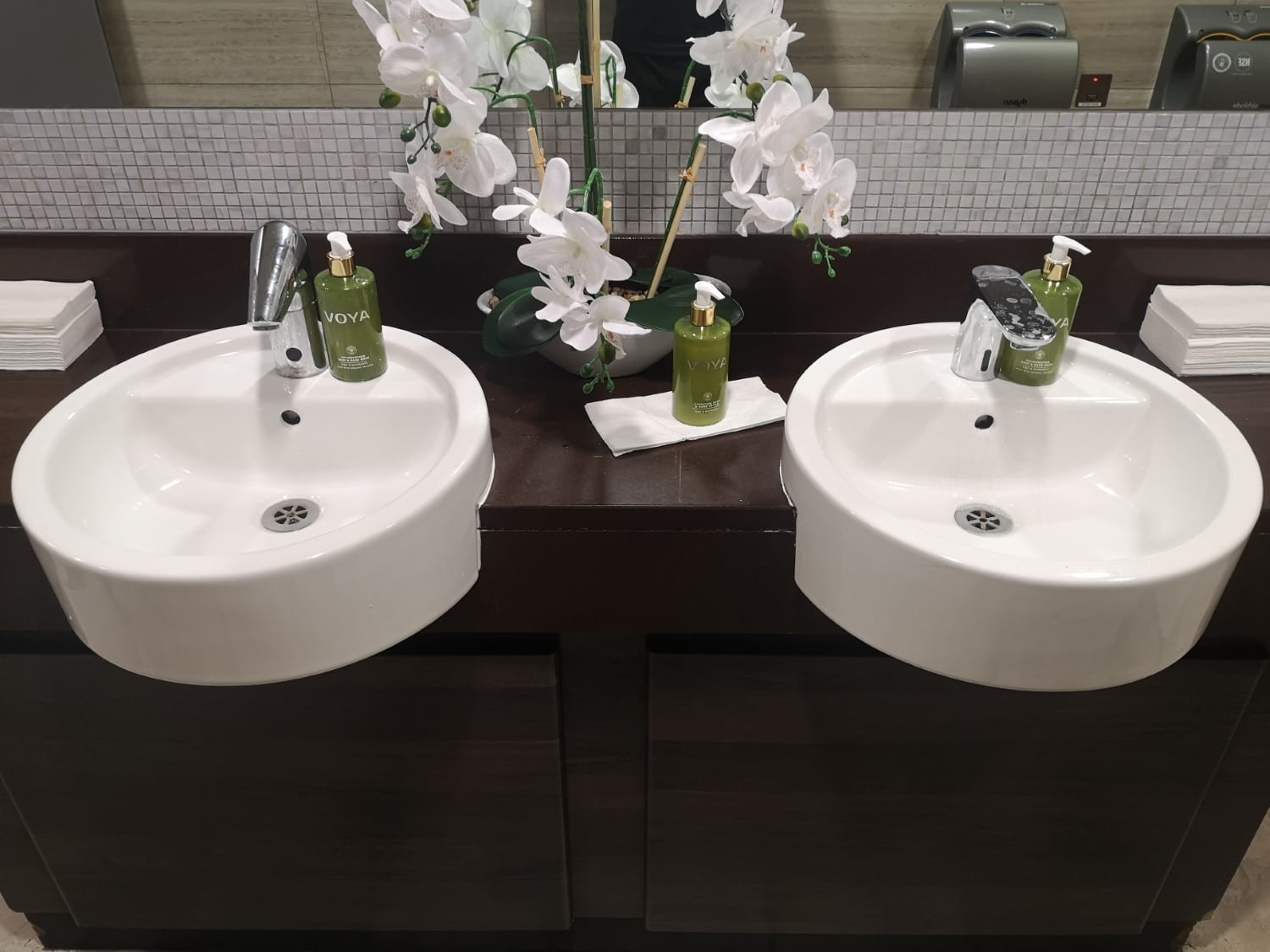 Overall, this is one of the better lounges I've been to especially when compared to what is available in Canada, and definitely on par with other North American lounges like the LOT Polonez business class lounge.
Cabin Arrangement
The seats are arranged in an alternating 1-2-2, 1-2-1 arrangement, which is unique. The seats in the middle row are side-by-side with each passenger having their own table space and direct aisle access. So we selected the last available seats in the middle row – 2D and 2G.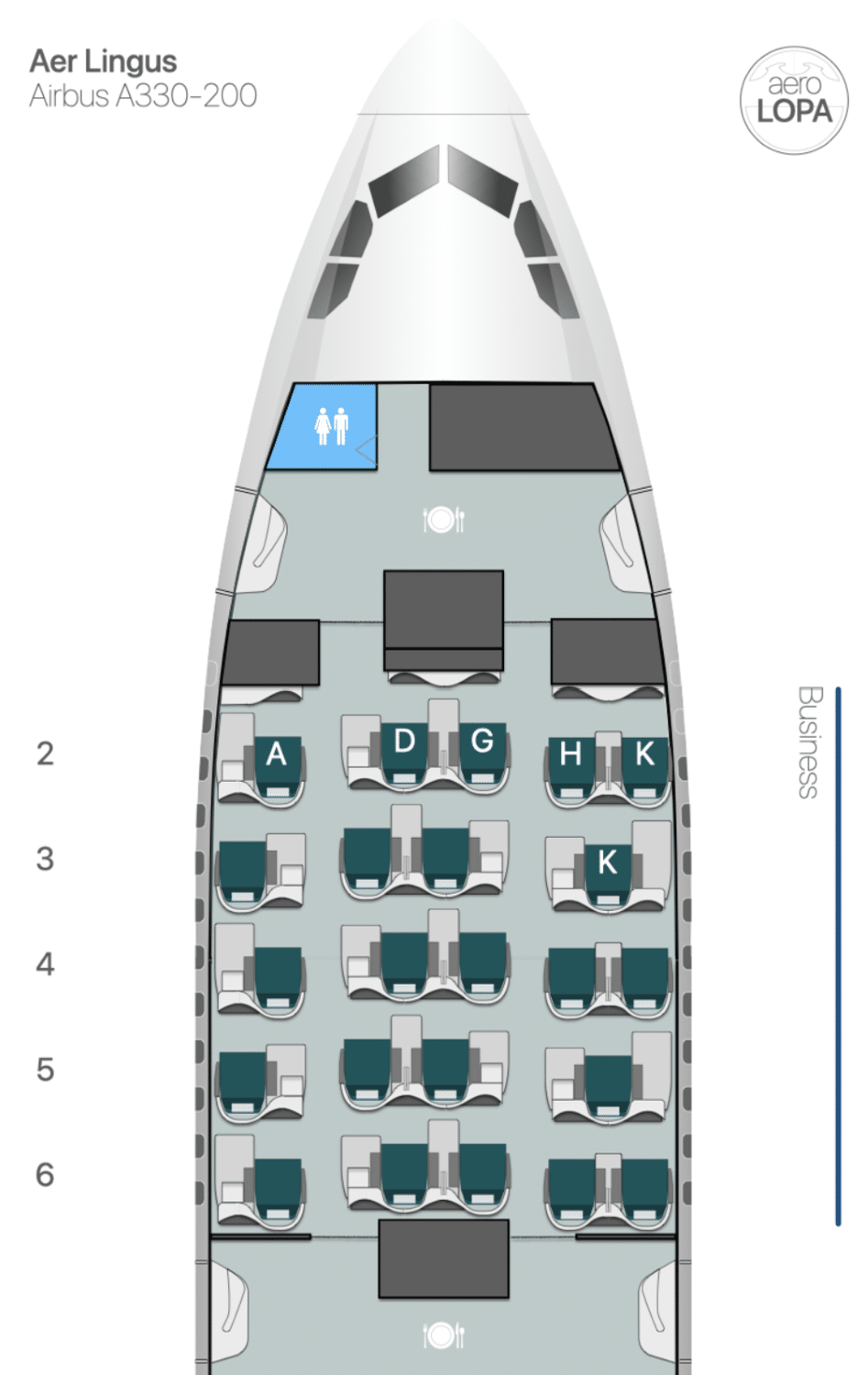 Interestingly, seats 3K and 5K are 'throne' seats, with table space on each side of the chair arms. Had I been traveling alone it would have been fun to experience such a throne in the sky, although as you'll see the space provided for every seat in this business class cabin is more than adequate already.
There are two versions of the A330-200, type 1 and type 2, which fly this route. However the only difference lies in the number of seats in the economy class cabin, so for our intent, they are the same.
Seat – Aer Lingus Business Class
Arriving at my business class seat, I was met with a plump pillow and the amenity kit in matching green color. The blanket was stowed in storage space at the footrest.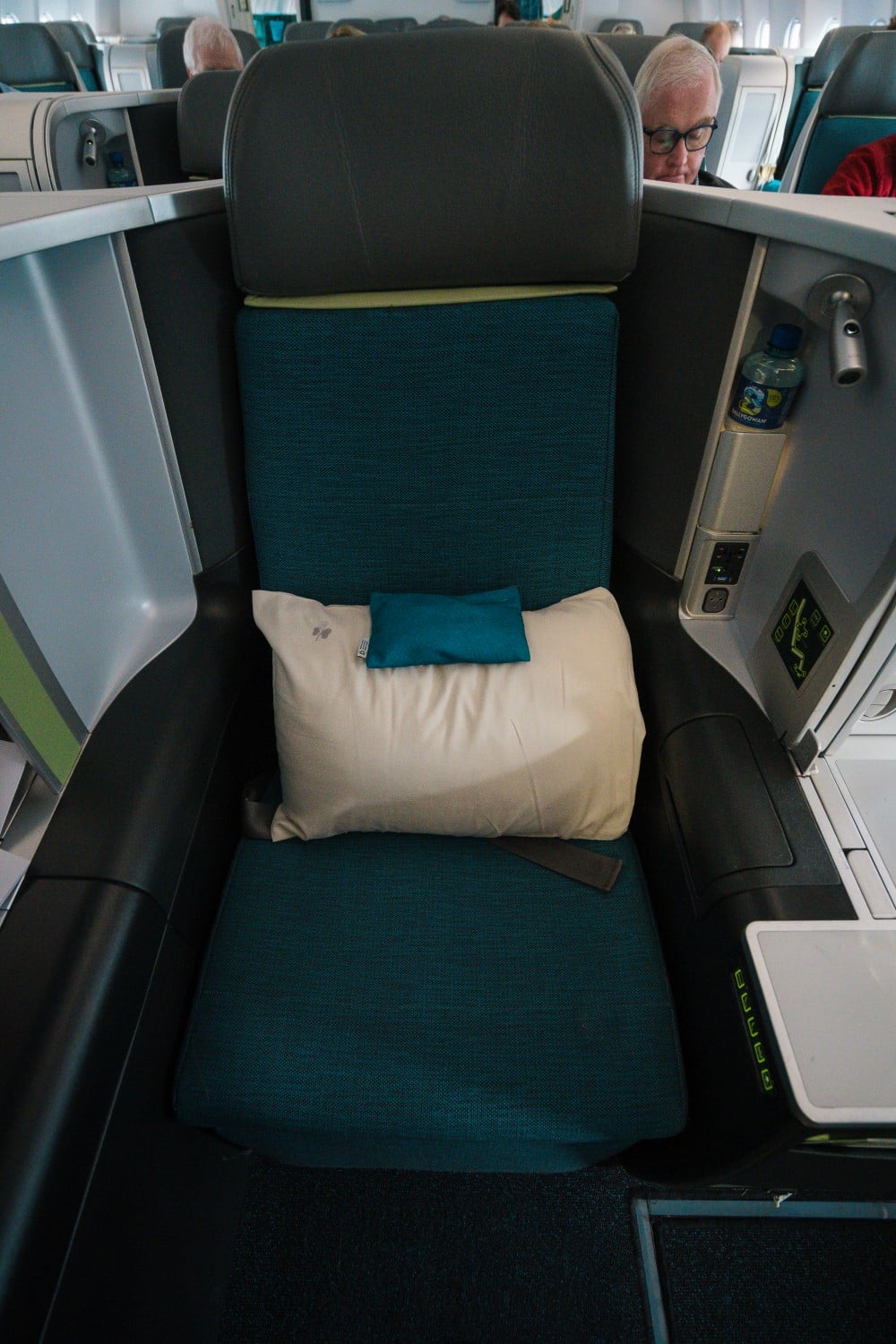 We were promptly served a glass of champagne as we sat down and before taxiing. No amuse bouche was served, however.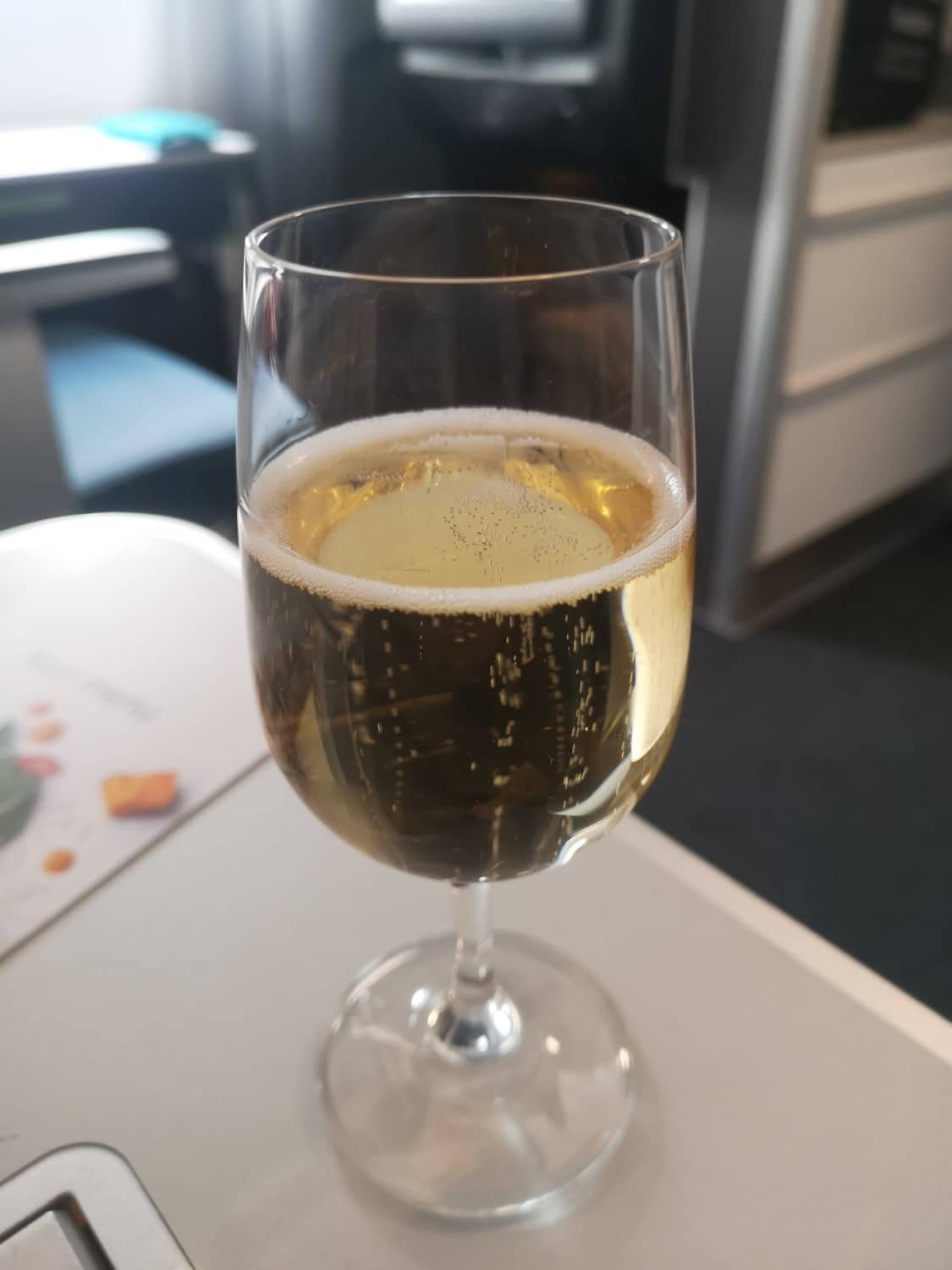 There was ample storage space for my bags, shoes, and even my camera underneath in the footrest space. There was also a basket underneath the entertainment screen that could be used for storage (and contained a set of overear headphones).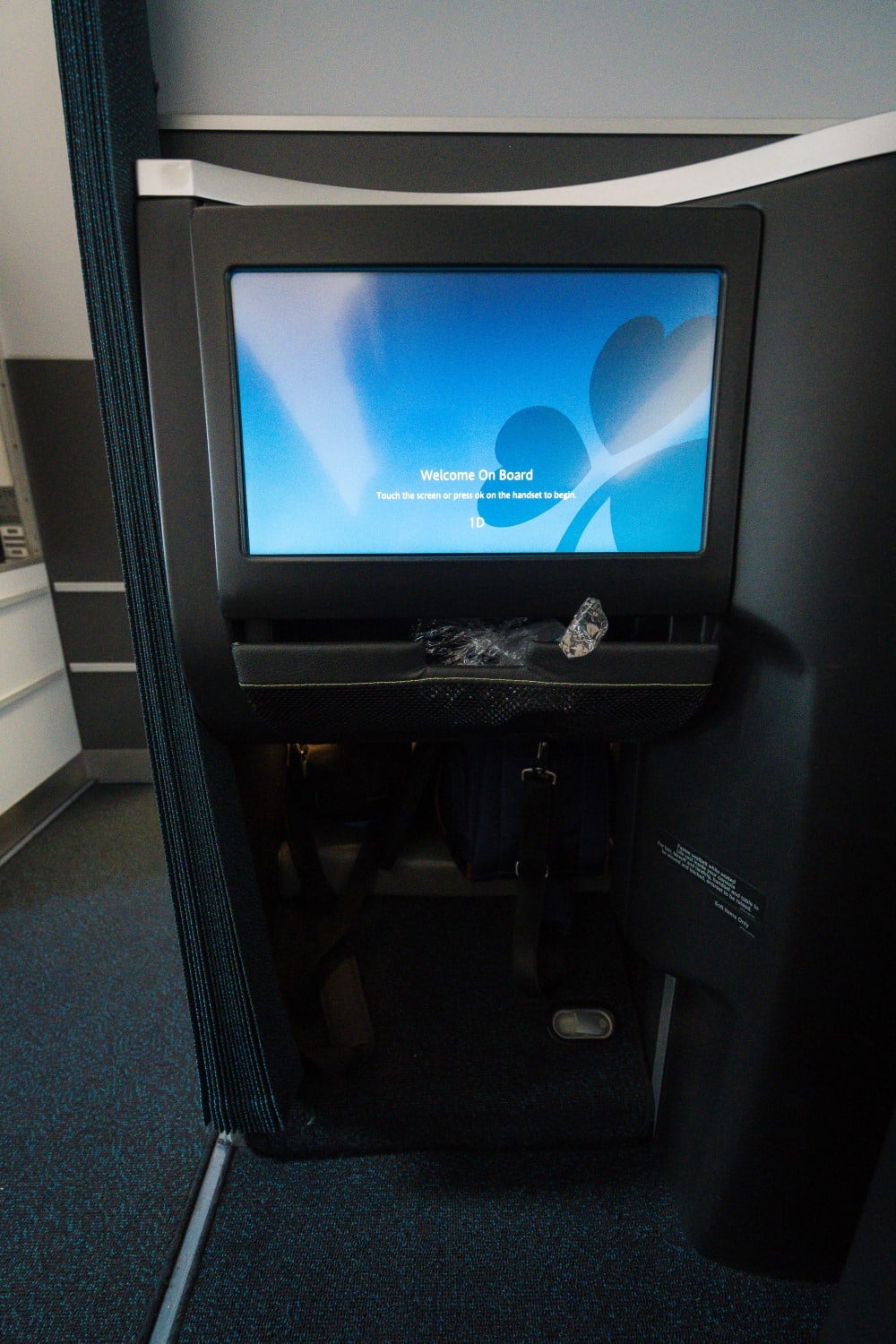 The seat itself I found very comfortable and ergonomic, with plenty of table space.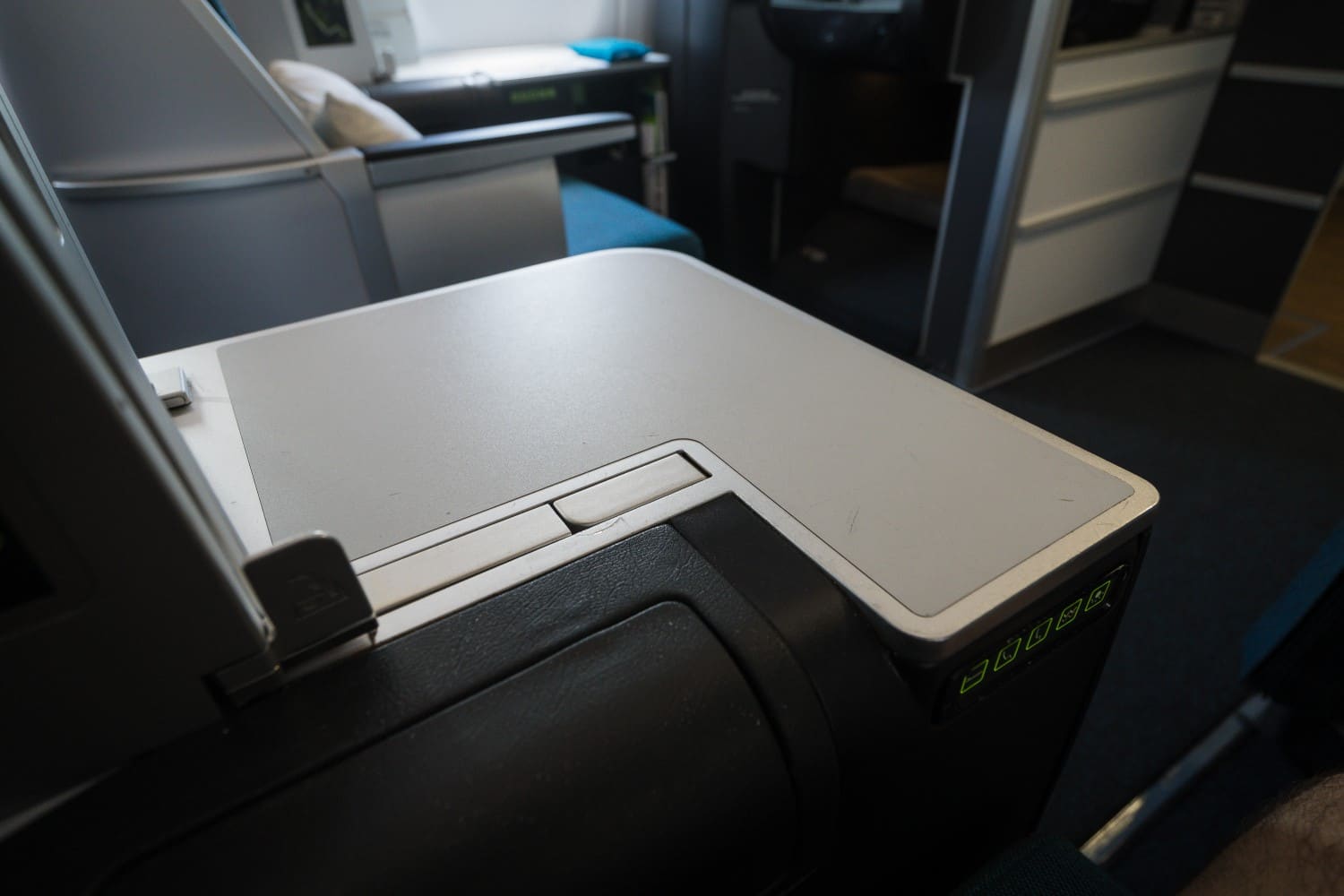 The tray table extended out from a very small compartment on the left side and was a tad unstable in my opinion.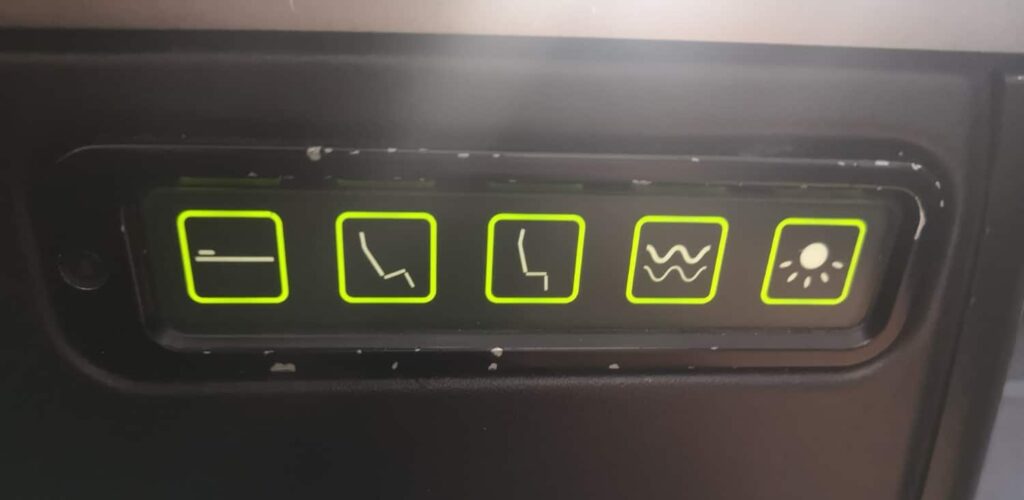 There were two sets of seat controls, one with various preset positions (lie flat, relaxed, upright) on the side of the armrest, and another higher up to the left of the seat, with more granular control of the seat positions. Behind that was a conveniently located charging outlet.
The seat controls were easy to access, but almost too easy. I found myself hitting them often by accident as I moved about the seat. But this is a relatively minor annoyance.
After my champagne, I ordered a gin and tonic and eagerly awaited the start of our meal service.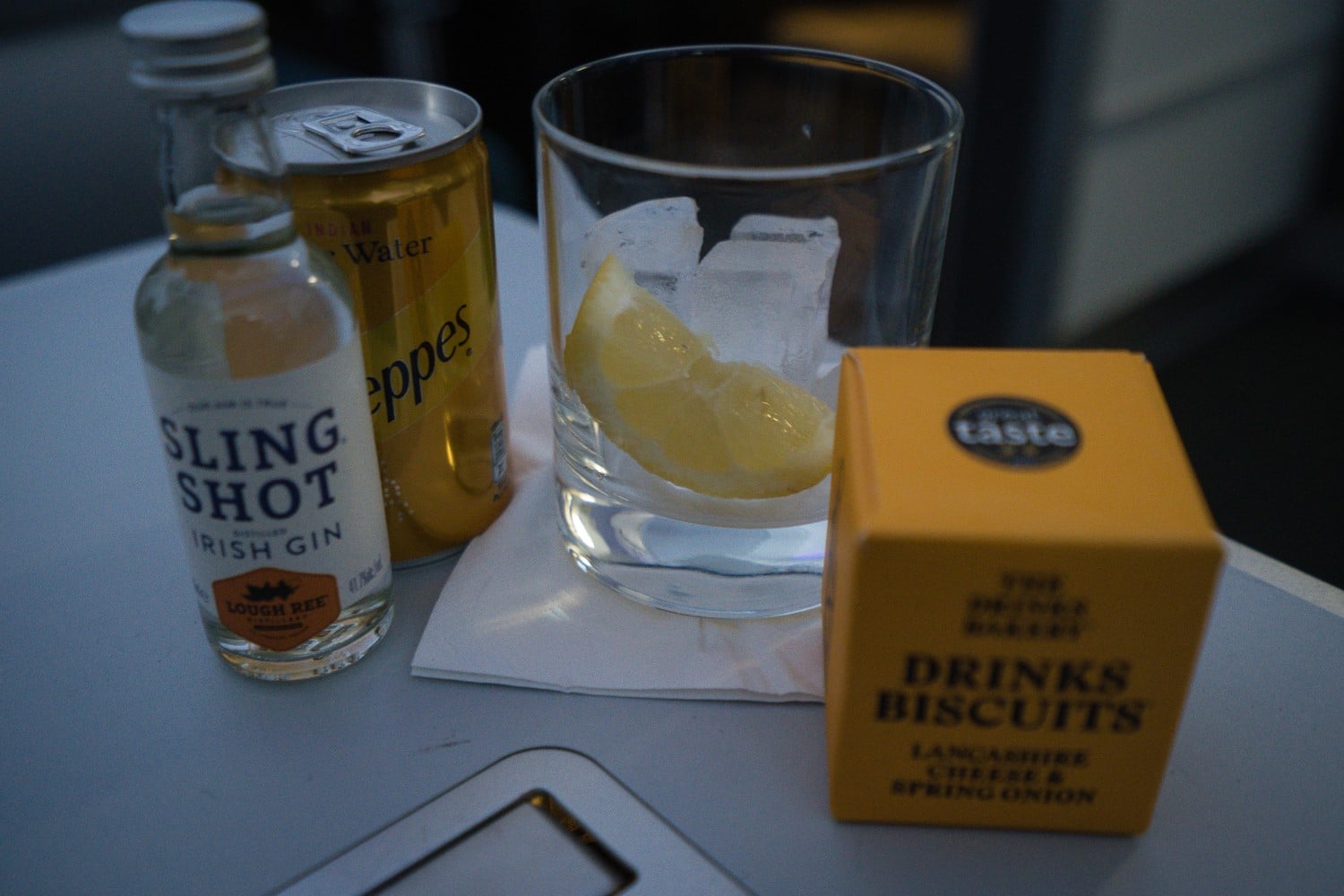 Lie Flat Mode
This wasn't a super long flight and was during the middle of the day, so I didn't attempt to get anything resembling a full sleep on this lie flat seat. However, I did position the bed into a nearly flat position for a short nap, and was pleasantly surprised by the comfort of the bed, the amount of room, as well as the quality of the pillow and blanket.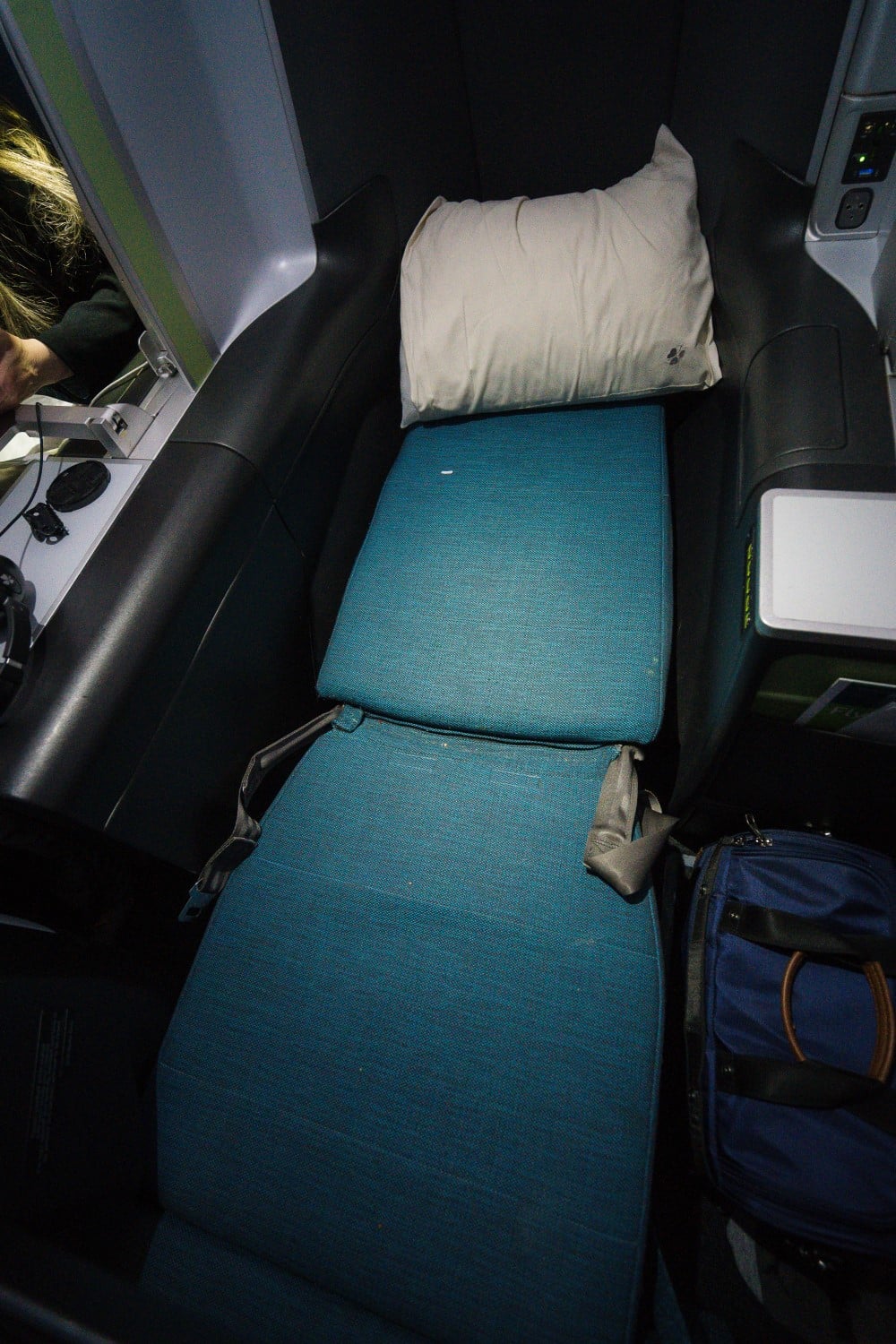 Compared to my recent experience in LOT Polish business class, this was a significant improvement. I definitely could have achieved a full night's rest on this bed.
Amenities
The amenity kit came in a classic Irish green bag and was fairly bare bones with some shampoo and cream, toothbrush and toothpaste, as well as a blindfold, ear plugs, and socks.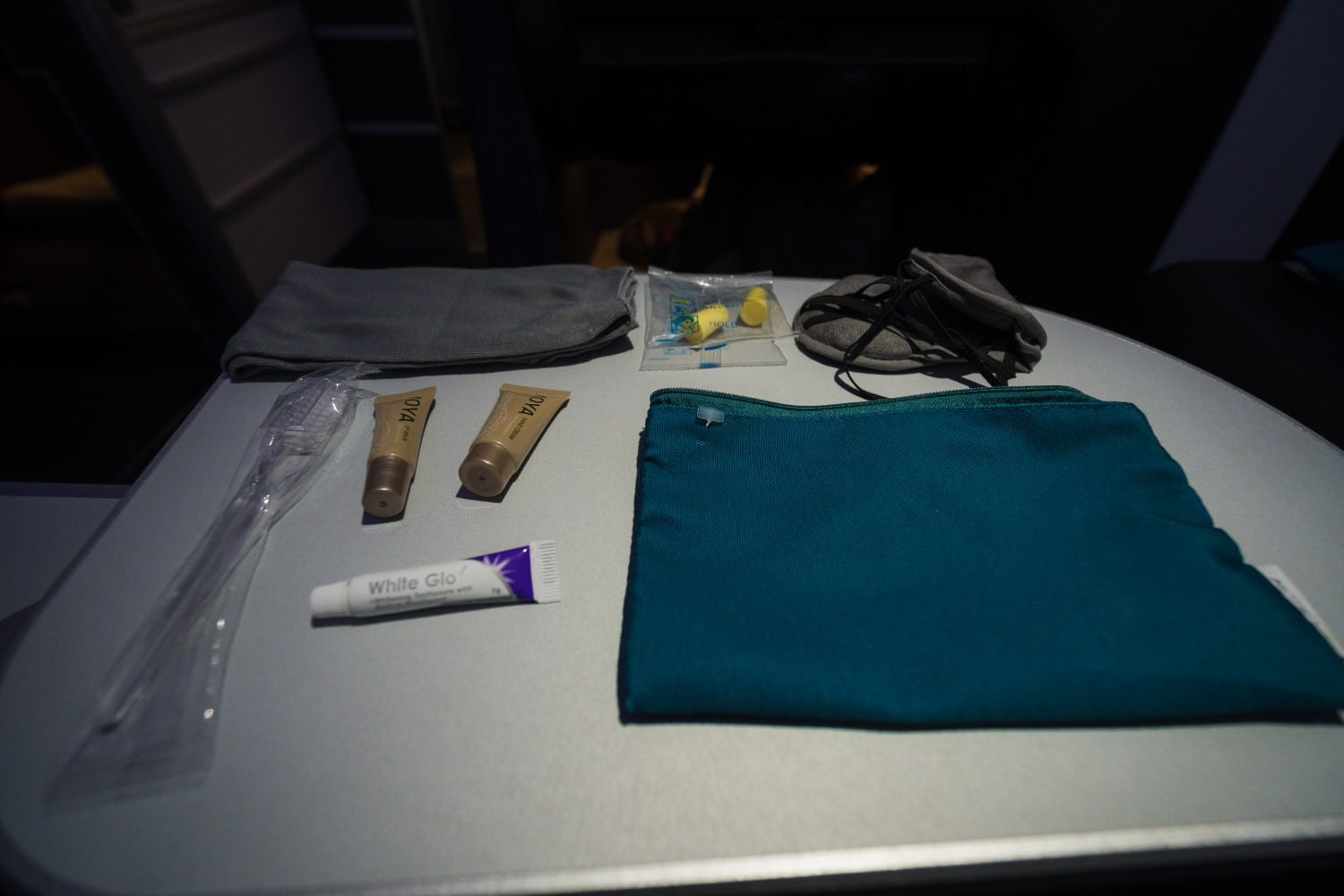 Sadly, none of the amenities had Aer Lingus branding aside from the bag itself.
There was a set of Aer Lingus branded headphones. I didn't use these so can't comment on quality. I did notice they had a three-pronged connection. So for anyone who likes to collect airline amenities… you'd probably have a hard time using these.
Entertainment and WiFi
There was a very capable entertainment system on board, which even had a specialized app to control the system from your phone.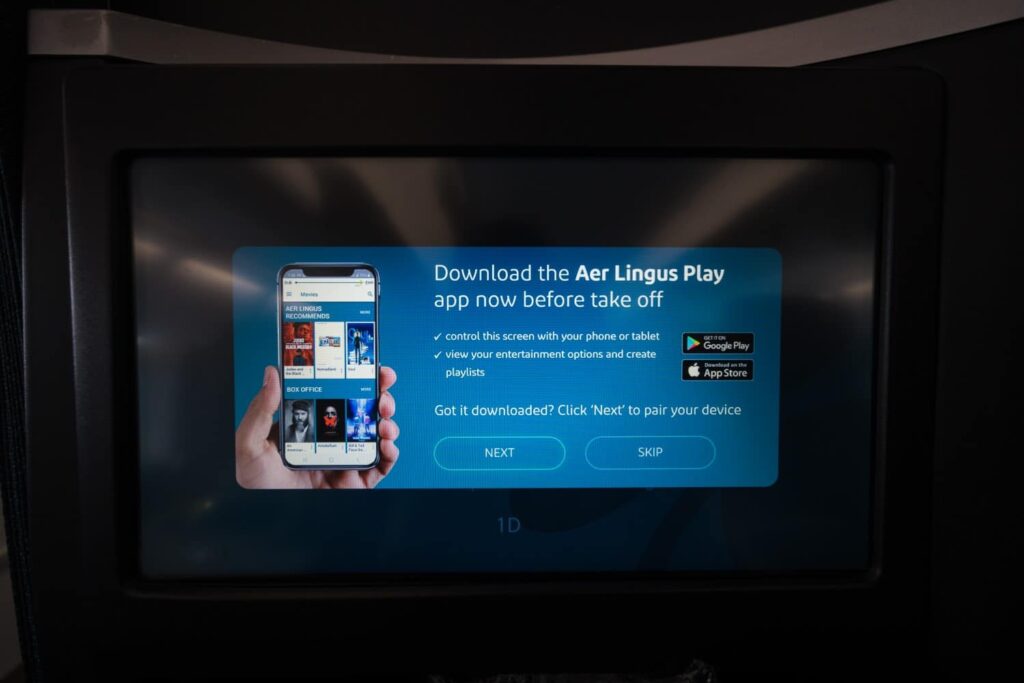 Meanwhile, manual controls were available on the left-hand side of the armrest, hidden under a flap.
There was a nice selection of recent box office movies, as well as some classics, and games. As usual for me, I didn't dive into the entertainment too much on my flight.
Thankfully, WiFi service was available on board, complimentary for premium cabin passengers. Connecting was a bit convoluted as I had to navigate manually to a website and then enter a scratch code.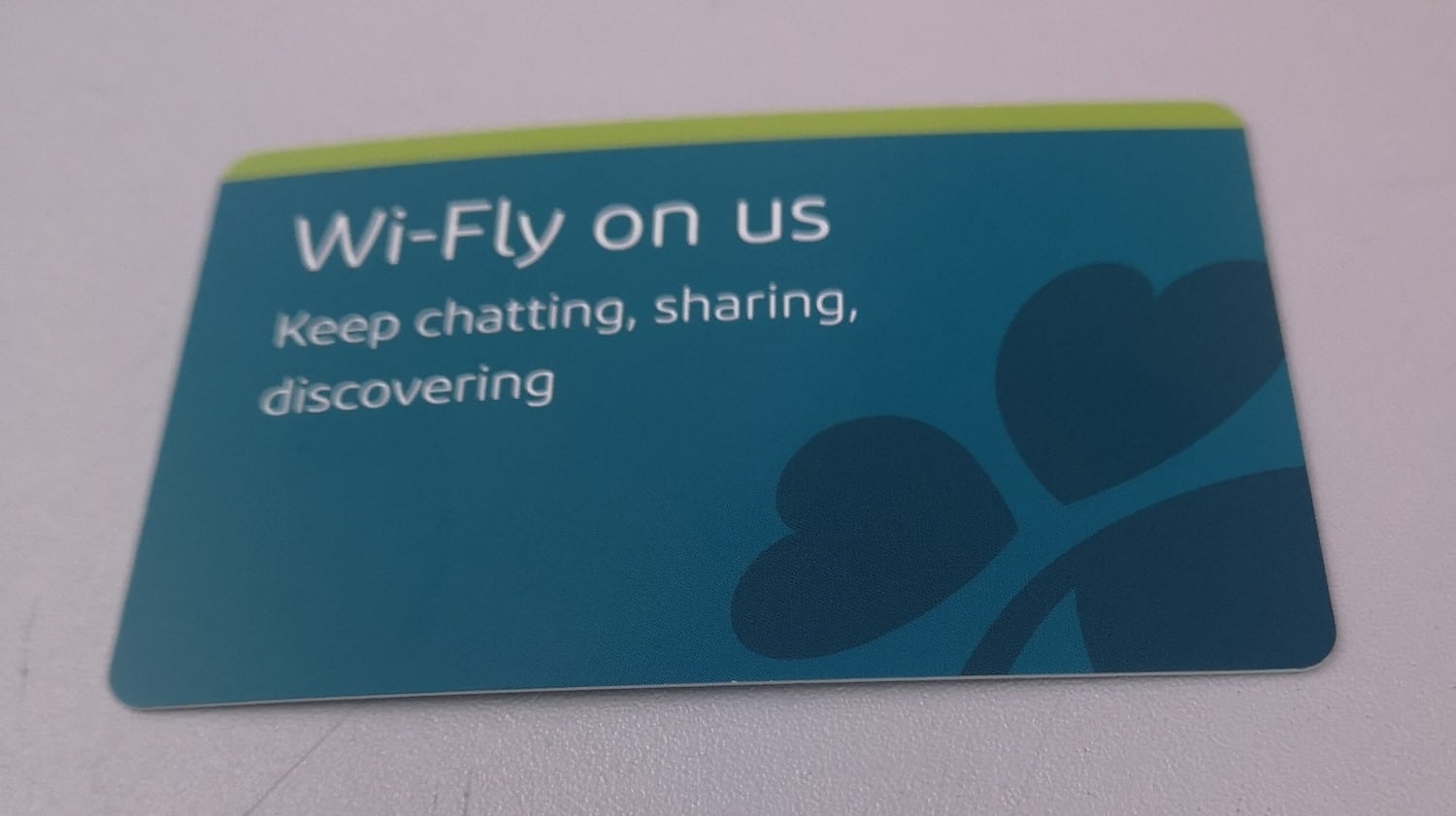 I had to navigate to a private browser in Chrome to get the voucher prompt to finally work. Additionally, I couldn't use the voucher on multiple devices, so had to ask for a second one to be able to go online on my computer.
Sigh…I am still genuinely surprised by the airline industry's general inability to get Wi-Fi right. It's almost as rare as soft butter. But at least this flight had it.
Dining – Aer Lingus Business Class
Meal Service
Just before the start of the meal service appetizer, we were brought hot towels to clean up. It was already dark outside at this point so apologies in advance for the less-than-ideal lighting.
The menu options were sophisticated and included several options for starters, entrees, and desserts.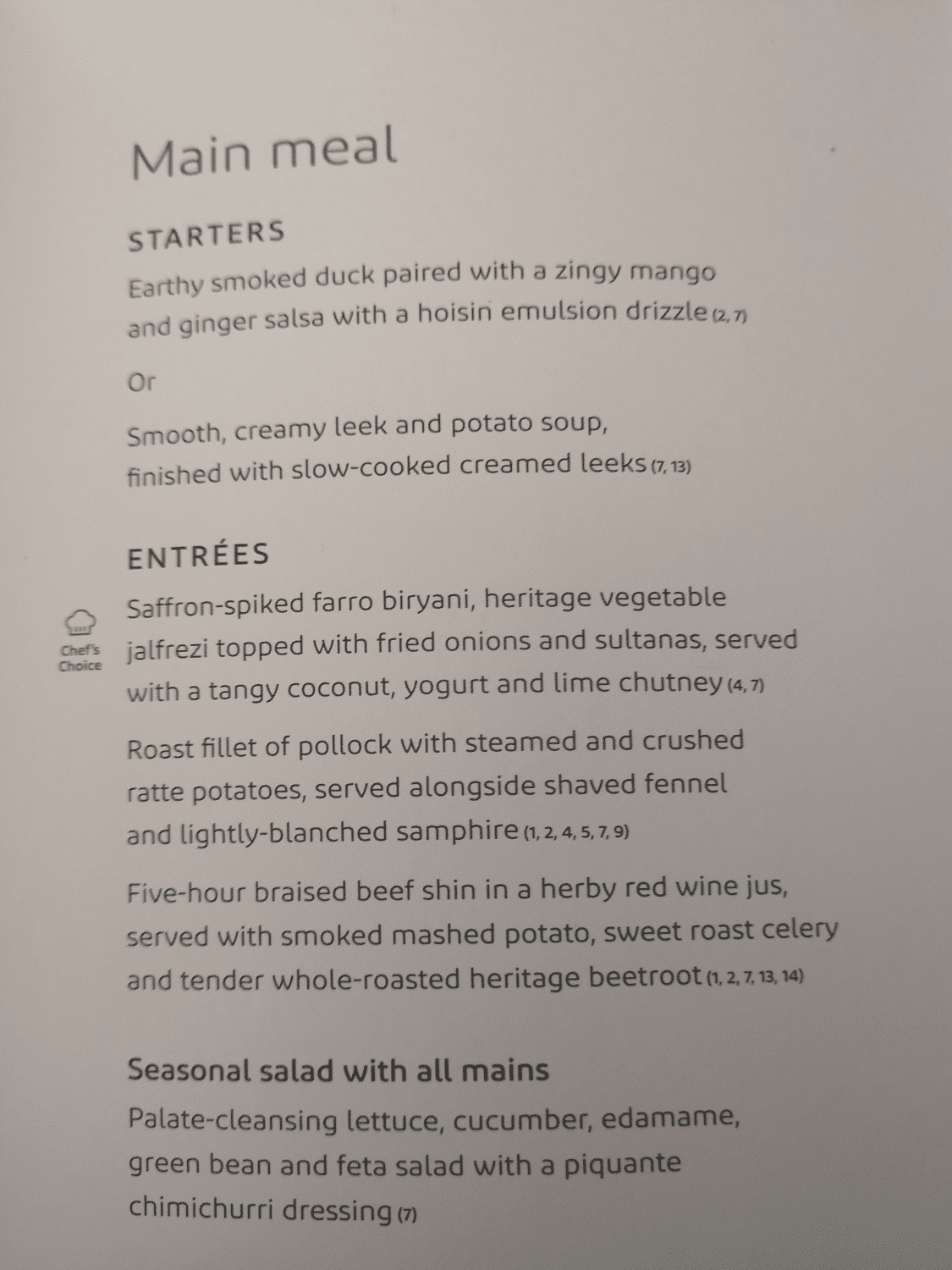 For appetizers, I chose the earthy smoked duck paired with mango and ginger salsa, while my travel partner opted for the creamy leak and potato soup.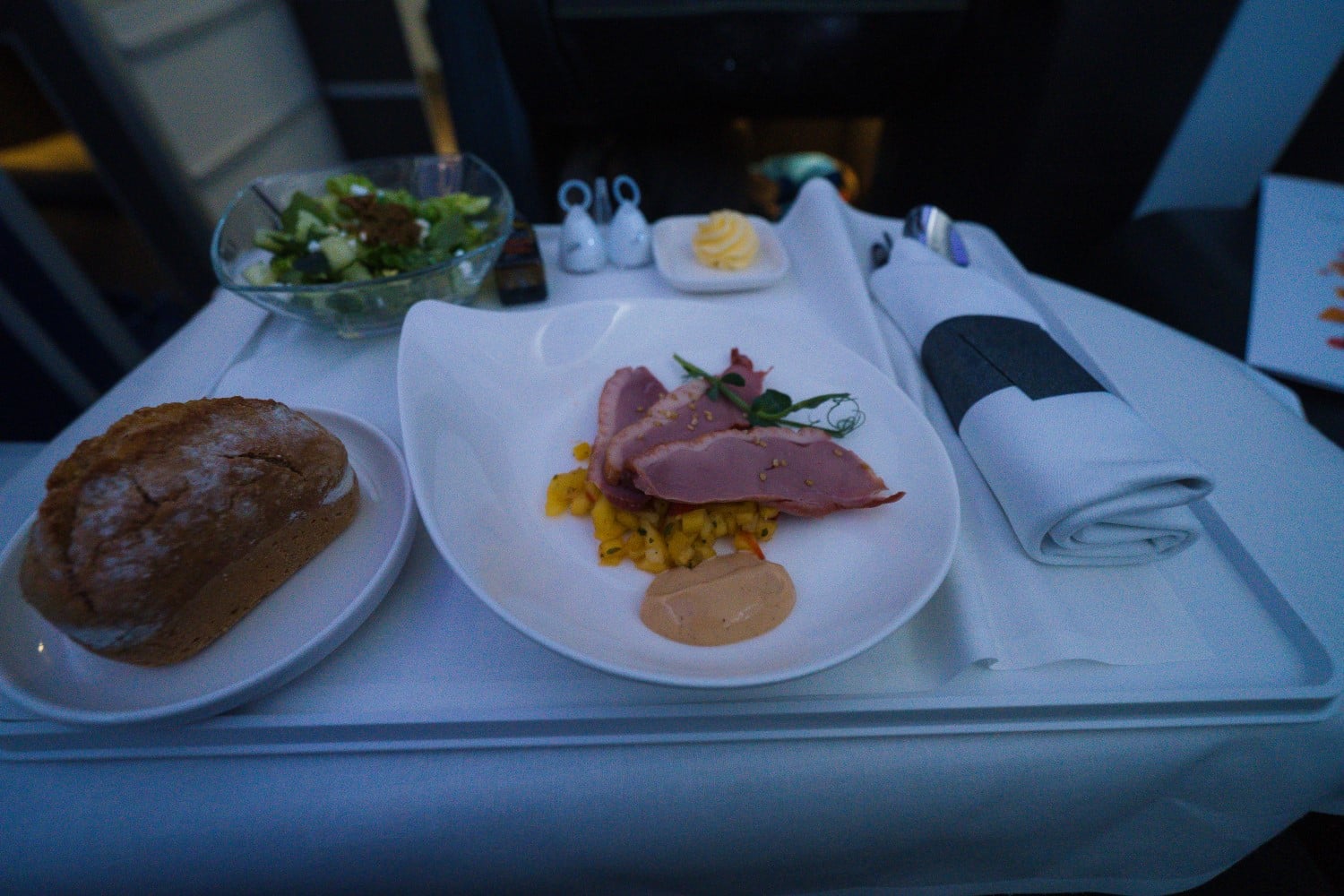 I found the duck to be very tasty and complex. Meanwhile, the soup was also good, albeit it could have been a little warmer.
Moving on to the main course, we had a roast filet of pollock with ratte potatoes and the braised beef shin.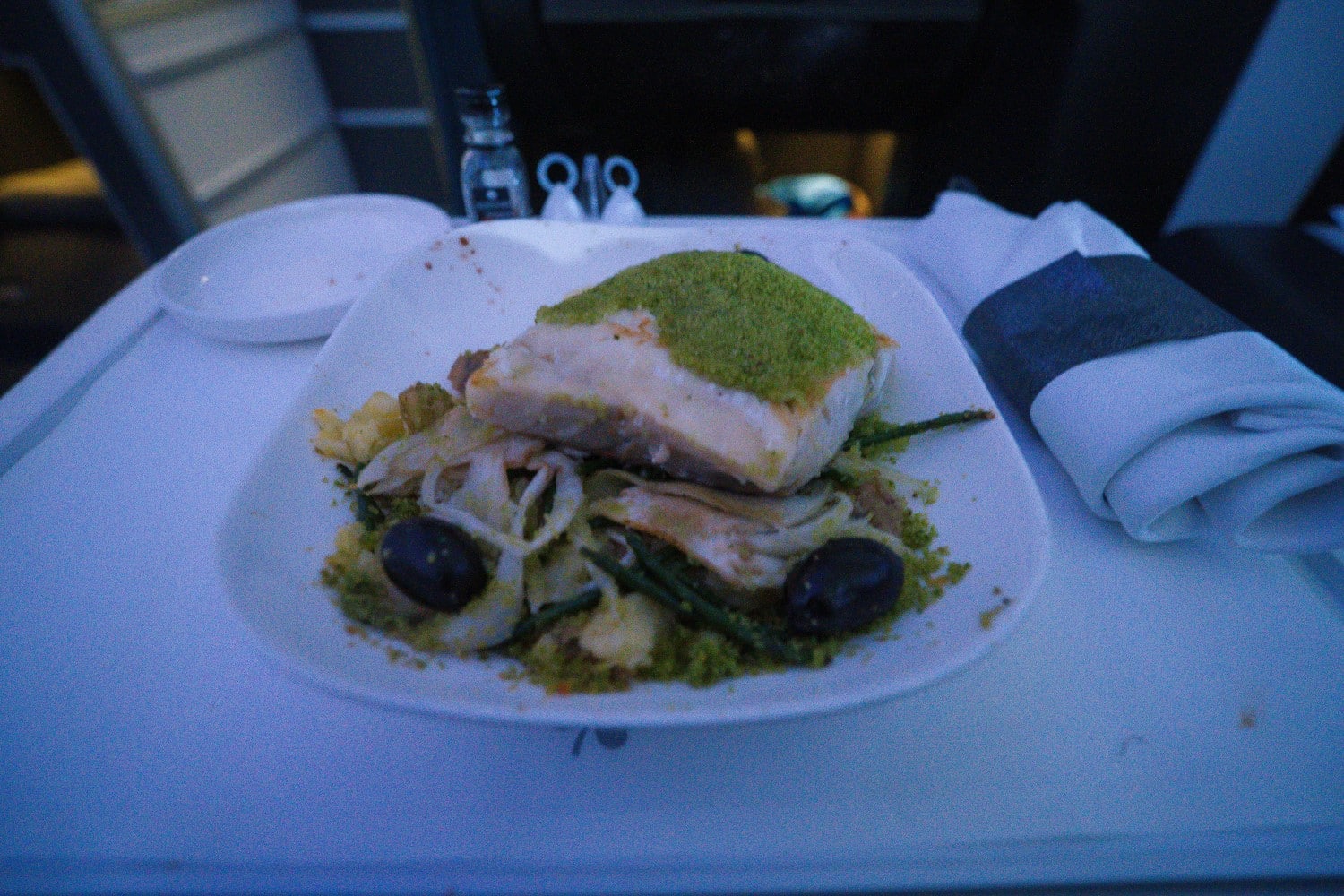 To be honest, both were a little bland and nothing to write home about.
The dessert of Belgian white chocolate mousse, on the other hand, was delicious and fully satisfied my sweet tooth.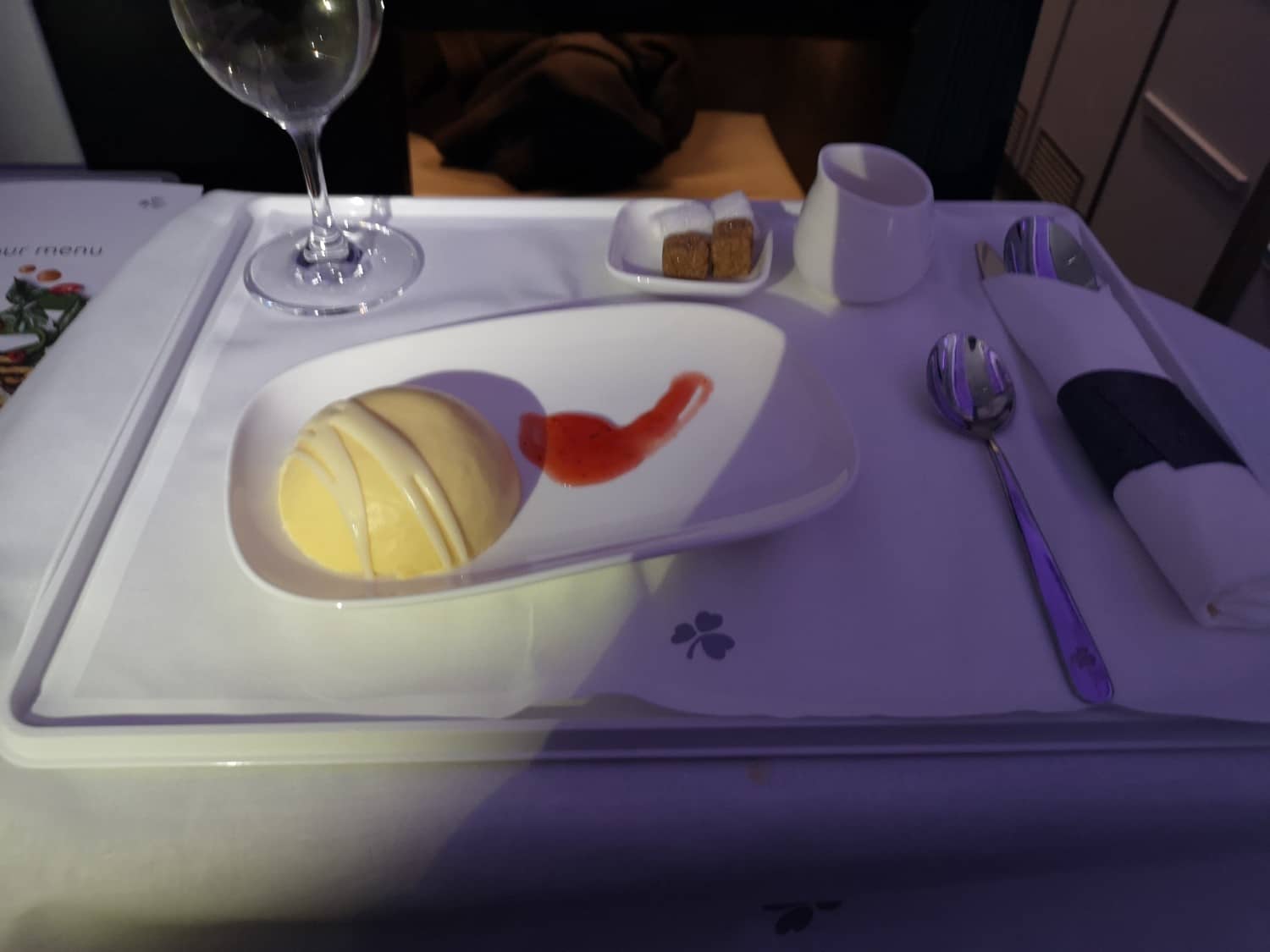 Snacks and Drinks
In addition to the above service, there was an a la carte menu with a choice of chicken sliders, several dessert treats, and tea or coffee.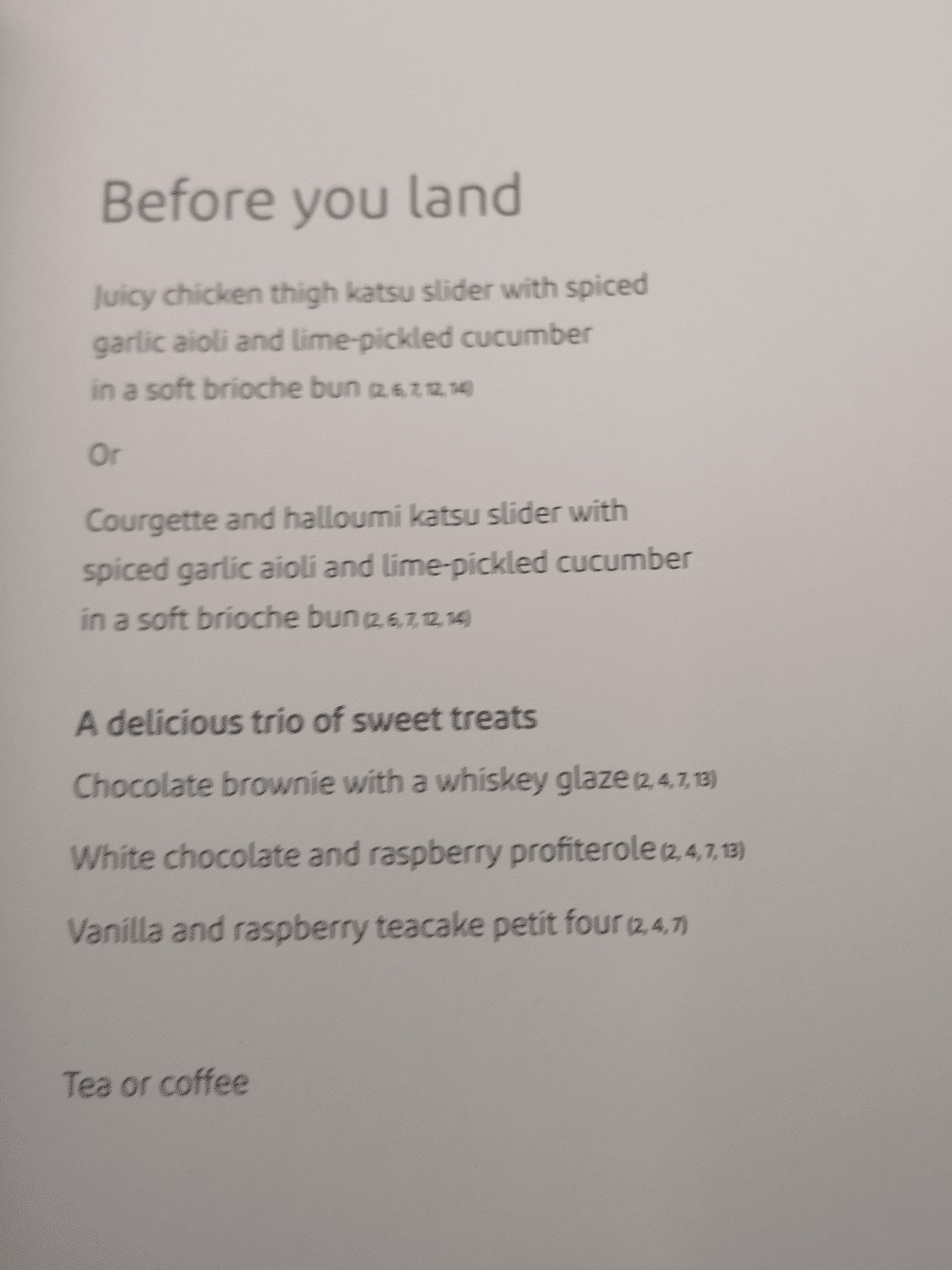 The slider and desserts were both pretty tasty and a nice compromise for a flight that didn't really require a second meal.
I also indulged in a few highballs from the fairly basic drink menu on offer. The flight attendant was very attentive and enthusiastically offered drink refills, as they had throughout the flight.
Conclusion
My Aer Lingus flight on the Airbus A330-200 offered a premium travel experience with spacious business class seats, refined dining, and solid service. With a comfortable bed, amenities, and free Wi Fi availability, there wasn't much to complain about on this flight. The dining experience, though not flawless, presented a range of options.
Overall, I would definitely fly this product again and recommend it to anyone in the points and miles game with easy access to Avios. At 50,000 points, it is a sweet spot that is hard to beat for transatlantic flights.
Reed is addicted to the art of earning and redeeming travel points, and frequently pairs his trips with his other hobby: photography. Through Frugal Flyer, Reed aims to distill some of the complex and esoteric points strategies into digestible information. Furthermore, he hopes to use his technical expertise to develop invaluable applications and tools for the travel community.
Latest posts by Reed Sutton (see all)