Air Miles Onyx Personal Shopper: A Tutorial
If you've been keeping in the loop with loyalty programs as of late, you've probably heard that Scene+ Rewards replaced Air Miles as the loyalty partner for Empire stores, including Safeway and Sobeys. With this change, Air Miles loses a lot of its luster, as grocery spending was a strong avenue for both earning and redeeming Air Miles (cash miles).
Fortunately, there is another redemption avenue that I personally prefer, called the Air Miles Onyx Personal Shopper. This method is extremely flexible, but the downside is it is only available for Air Miles Onyx program members and you can only redeem using Air Miles Dream Miles, not Cash Miles.
Related: Collect Air Miles? Earn Onyx Status Fast
In this article we go over how to redeem Air Miles through the Air Miles Onyx Personal Shopper Service.
What is Air Miles Onyx Personal Shopper Service?
The Air Miles Onyx Personal Shopper Service is a team at Air Miles dedicated to helping Air Miles members who collect Dream Miles to find redemptions not available through the Dream Miles catalog.
It's essentially designed for people looking to redeem a chunk of Dream Miles for merchandise other than travel.
Unlike most travel loyalty programs, the redemption value of using Dream Miles for merchandise through Personal Shopper is quite good. It's quoted in the following calculation as 9500 Dream Miles = $1,000.

In reality, and as you'll see in the example below, I've found the rate to be more on par with 10,000 Dream Miles = $1,000. Still, 10 CPP for Air Miles isn't bad at all considering cash miles are 10.5 CPP.
What Can You Purchase Through Air Miles Onyx Personal Shopper Service?
The Personal Shopper Service is very flexible. As an Air Miles Onyx member, you can redeem your Dream Miles for almost any type of product or merchandise, as long as it is legal and the store has an online presence.
In fact, one Air Miles Onyx status member from Edmonton redeemed Dream Miles for a Mercedes SUV, allegedly.
Even if you have particularly strange tastes, you might be surprised what the Air Miles Personal Shopper service will agree to source for you…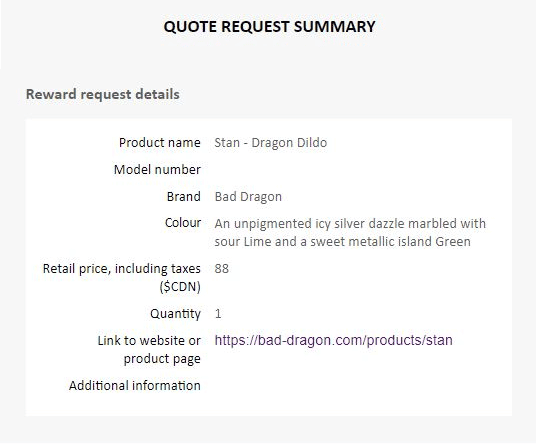 Jokes aside, I've had success redeeming Air Miles for products on Amazon.ca or any other large retailer with no issues. Also, note that items on sale aren't likely to be honored due to the time it takes Air Miles to confirm the quote and place the order.
How to Make a Redemption with the Air Miles Onyx Personal Shopper Service
Step 1. Request a Quote
To begin a Personal Shopper redemption you must first request a quote for the item you are interested in purchasing. To do this, navigate to the Personal Shopper webpage and click on 'Submit a request' (make sure you are logged in first).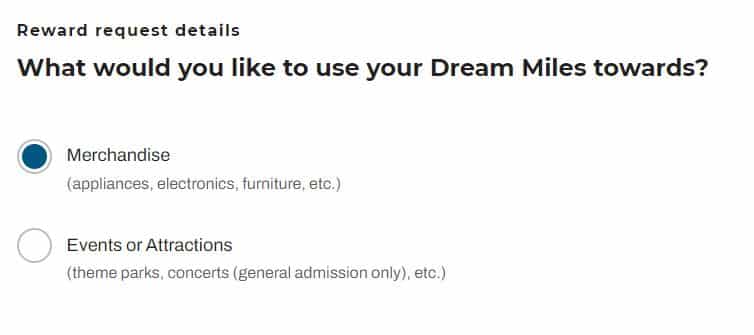 Fill out the ensuing form which will ask for details about the merchandise or event, such as product name, model number, brand, color, etc. I typically just copy the full name of the item and the direct link to the product page on the retailer's website.
For example, I recently requested to purchase the following lens for my Sony camera using Personal Shopper.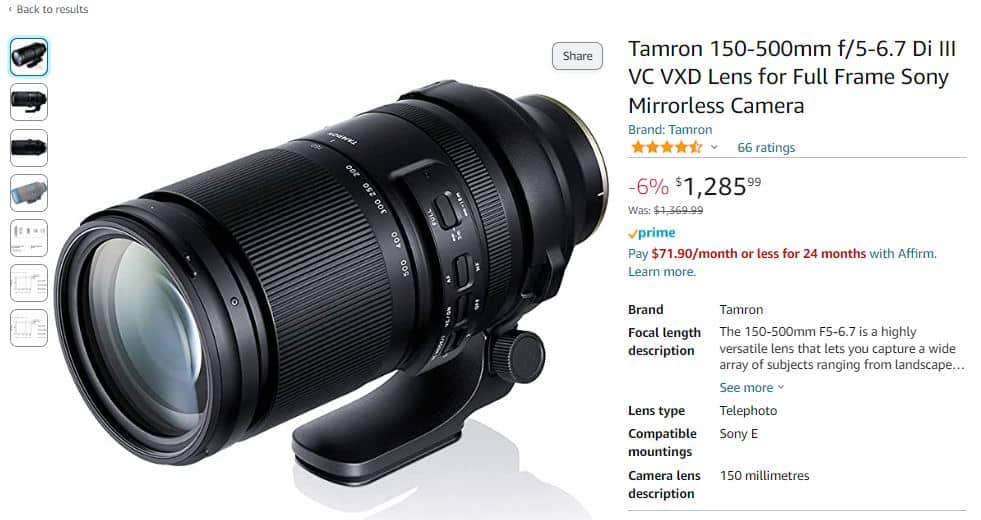 Note how I entered the price after tax and shipping ($1,350), and not the price as listed on the product page. This is important for getting accurate quotes.

There is also a space to enter comments or additional details if you require. Once you have entered everything, press submit and you will get a confirmation and quote summary.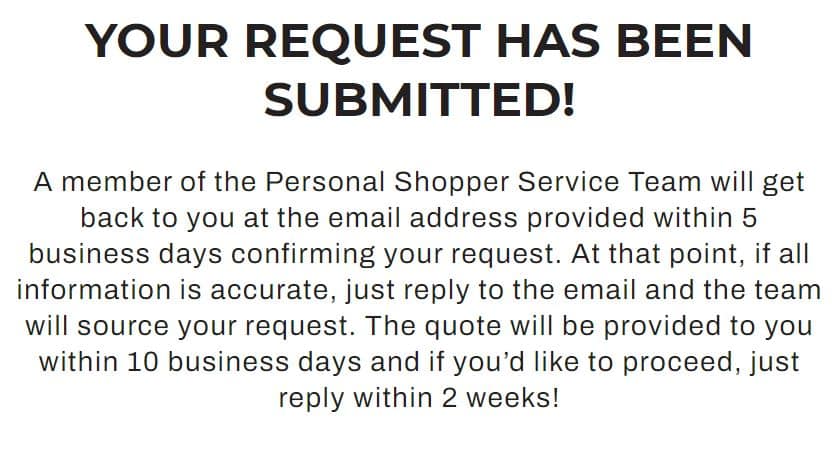 Now we wait…
Step 2. Receive and Confirm Your Quote via Email
After you submit the request, you will receive an email from the personal shopper service team, confirming the details of the request including the item and your shipping address. Once you respond to this email with confirmation, Air Miles Personal Shopper will begin sourcing the item in order to produce a quote.
From there, the team can take up to 10 days to get back to you with a quote for the requested reward. On a positive note, in my latest experience, they only took 3 days (and only 1 business day!).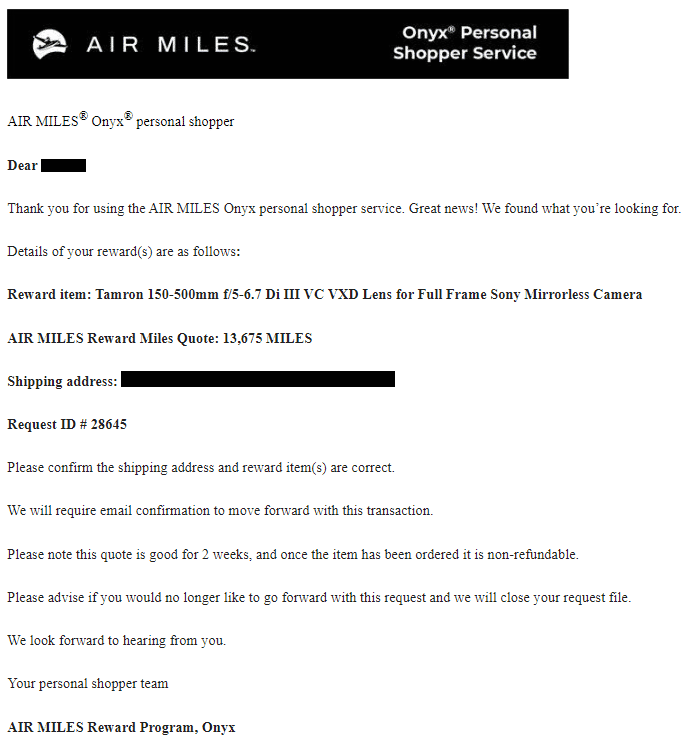 This quote will be sent via email, this time with an exact amount of miles required. Notice that the actual amount was higher than the initial quoted amount from the calculator.
Now you must again confirm the request with a quick reply email, and then the request will move forward. Following this, you will get yet another email that begins the order process for your item.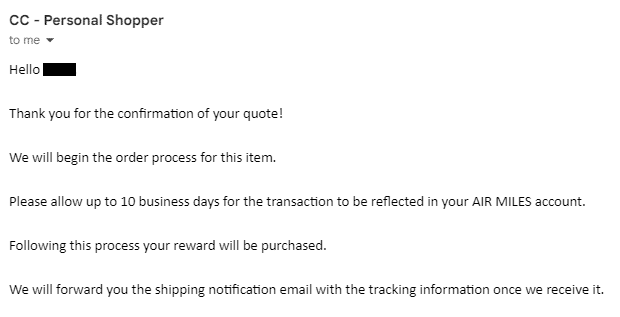 Within 10 business days, the Air Miles will be deducted and the purchase will be made, as described in the above email. Some days later you will then get an email confirming that the transaction has been reflected in your Air Miles account, meaning presumably that the purchase has been made.
Step 3. Receive Your Merchandise
Once the item has been shipped (if applicable), Air Miles should forward you the shipping notification with tracking information. This will be retailer-dependent, and I've found I sometimes have to email the personal shopper team to ensure they do this.
Sure enough, I received confirmation that my item had shipped and a forwarded confirmation from the retailer, Amazon.ca, a few days later. This included a tracking number to track the item.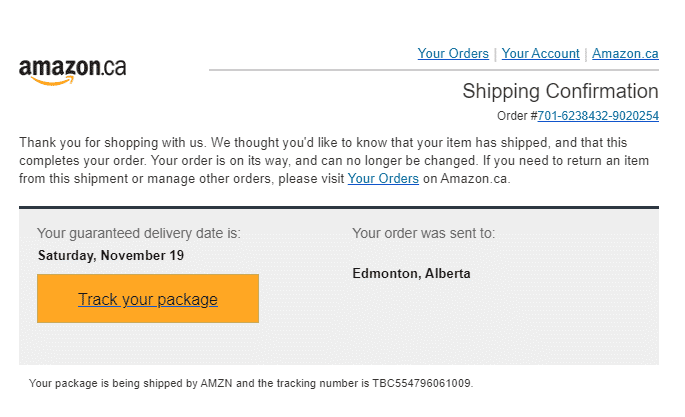 The item arrived at my address very quickly thereafter, thus completing my personal shopper order.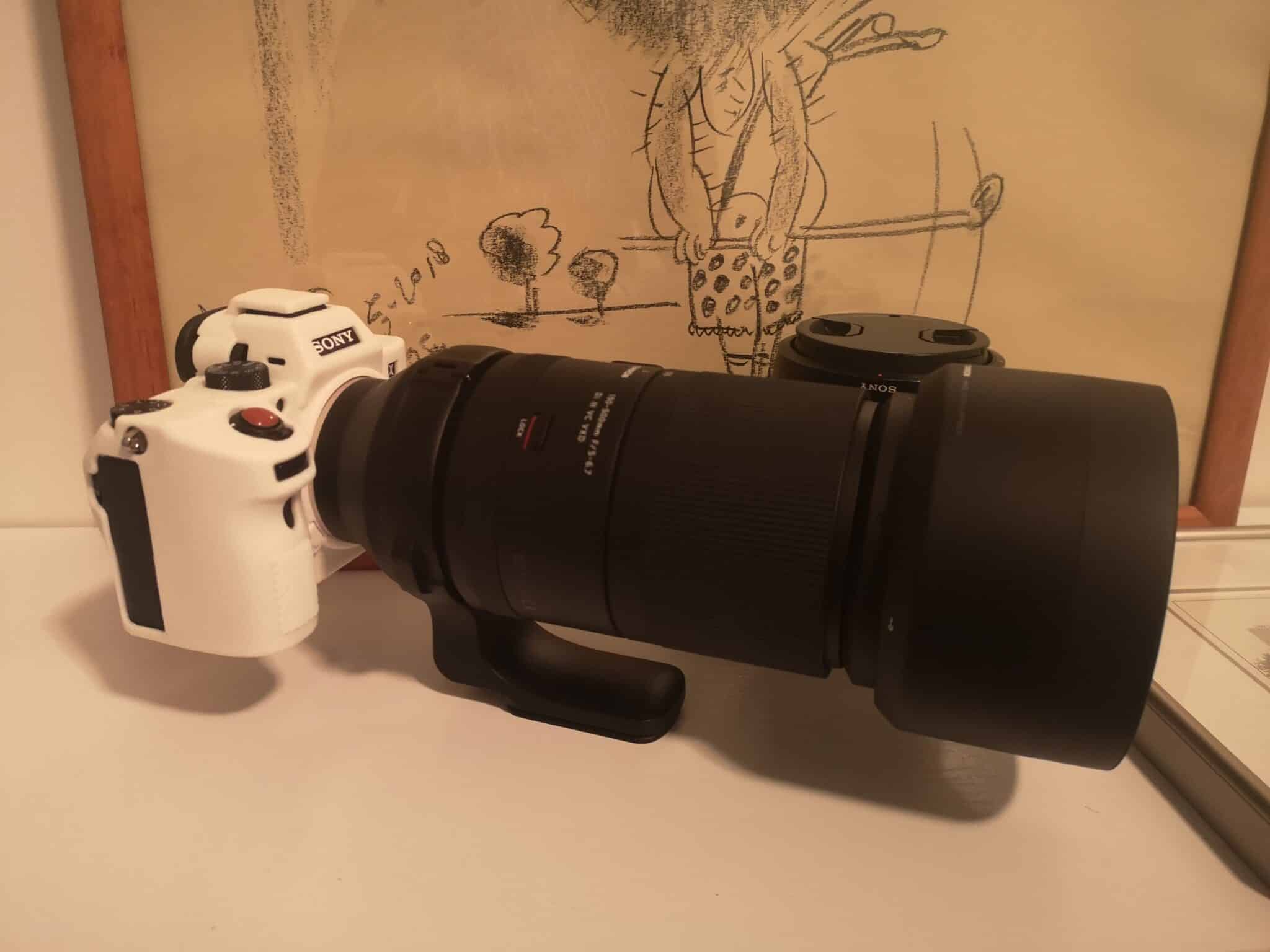 Of note, the personal shopper service will not provide you with the full invoice/receipt, presumably because this would allow you to simply return the item for cash…
How Long Does an Air Miles Onyx Personal Shopper Order Take?
The overall timeline for this personal shopper order in November 2022 was as follows:
| | | |
| --- | --- | --- |
| Step | Quoted Time | Actual Time |
| Initial Request | – | – |
| Provision of Quote | 10 business days | 3 business days (6 days total) |
| Order Placement | 10 business days | 2 business days (2 days total) |
| Order Shipped | None | 5 business days (7 days total) |
| Order Received | None | 1 business day (1 day total) |
| TOTAL | 20 business days | 11 business days (16 days total) |
As you can see, a personal shopper redemption can be quite a lengthy process. From the initial request to actually receiving your order can take realistically a month (retailer dependent). In my above example where it took 11 business days, this was definitely one of my faster personal shopper orders.
Conclusion
Although the Air Miles program and points currency has seemingly less usefulness than ever, with a dwindling number of air miles partners, the Onyx Personal Shopper service allows you to redeem your Air Miles Dream Miles almost as if they were cash. I personally have switched over to only earning 100% Dream Miles as a result.
Coupled with the fact that Air Miles are very easy to come by via the BMO Air Miles credit card lineup or via the Air Miles Shops, and you've got a program that can still provide plenty of value to the savvy points enthusiast.
Apply Now
Learn More
Click Apply Now to earn $50 in FlyerFunds upon approval.
BMO AIR MILES World Elite
The BMO Air Miles World Elite card earns Air Miles and provides cardholders with the opportunity to earn 3x Air Miles on all purchases made at Air Miles partners.
BONUS
2,000 AIR MILES
MINSPEND
$3,000
ANNUAL FEE
$120 (FYF)
FOREX FEES
Yes
Have you ever redeemed your Air Miles through Personal Shopper? Tell us about your experience in the comments below!
Frequently Asked Questions
Which Air Miles collectors are eligible to use the Personal Shopper service?

You must be an Onyx Air Miles status member to use the Personal Shopper service. To become an Air Miles Onyx Collector and maintain your Onyx status, you must earn 6,000 AIR MILES Reward Miles or more in a calendar year (January to December). The benefits will qualify for the remainder of the calendar year and the following year.

Can I redeem Air Miles for a partial redemption or a portion of a purchase through the Onyx Personal Shopper service?

Unfortunately, no. In order to place an order through the Personal Shopper you must have enough Air Miles to cover the entire cost of the purchase, including taxes, fees, and shipping costs.

Is there a minimum dollar amount that must be redeemed for using the Air Miles Onyx Personal Shopper?

Yes, you can only redeem for items that have a minimum retail value of $100 CAD.

How long does it take to complete an order through the Air Miles Onyx Personal Shopper service?

In our experience, it can take as little as 10 business days and as many as 30 days to go through the entire process of requesting and receiving a quote, confirming an order, receiving shipping notice, to delivery of the item.

Are there any items I cannot order through the Air Miles Onyx Personal Shopper service?

Yes, there are several excluded items that cannot be ordered through the Personal Shopper, including:
– Products available in the Catalogue at the time of the request
– Services (e.g., installation, renovation, automotive, consultation)
– Gift Cards, Prepaid Cards, Gift Certificates, Traveller's Cheques and other cash-like substitutes
– Magazine subscriptions
– Ticketed events with assigned seating
– Advanced-sales products that are not yet available for sale at the time of the request
– Products NOT available online
– Custom-made product orders
– Products NOT available at online Canadian retailers and/or in Canadian dollars
– Certain categories of products such as drugs, natural health products, alcohol, tobacco, firearms, firearms accessories or ammunition, pets, perishable items
– Items labeled as explicit content (but dragon dildos are fine 😉)
– Any other items that, in our discretion, are inappropriate or cannot be redeemed under the Service.

Can Air Miles Gold Status members use the Air Miles Personal Shopper service?

Unfortunately no, the Air Miles personal shopper is only available to Onyx members of the Air Miles loyalty program. However, it's easier than ever to achieve Onyx status by signing up for Air Miles credit cards.  
Matt is a technophile and math nerd who discovered travel hacking in 2015. His favorite points-powered trip to date was visiting Estonia. Matt takes no shame in being far too frugal. In fact, he would probably go as far as calling himself cheap. Seriously, if there is a way to get something for free, Matt will find it and take advantage of it (and then maybe write about it here).
Latest posts by Matt Astro (see all)