Post Mortem: Revolut's Revolving Doors of Remittance
In the dark and dangerous world of manufactured spending, opportunities tend to wax and wane. Most of the time we're all just trying to scrape along and meet our minimum spends.
But, every once in a while you are blessed with a truly amazing opportunity to cycle cash in a flurry. You get to go through the grand experience of intentionally maxing and draining all your favorite credit cards repeatedly for months at a time.
This in turn gives you an immense rush of adrenaline and a sense of proud accomplishment at having committed what amounts to borderline money laundering – except instead of cleaning drug money you've just printed airline miles…and a lot of them.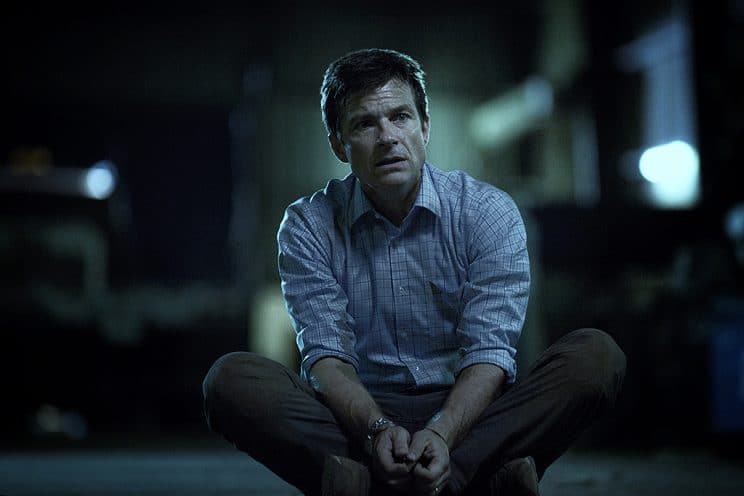 Jokes and sarcasm aside, the opportunity I'm going to tell you about today was brought to us courtesy of the one and only Revolut.
What is Revolut?
Revolut is a fintech challenger bank that started in London, UK. In the UK, Revolut offers a suite of banking services including currency exchange, a prepaid card, virtual debit cards, commission-free stock trading, cryptocurrency, and more. They even have a banking license there.
I would compare them to Wealthsimple in Canada, except much bigger as at one point in 2021 Revolut was the most valuable tech startup in the UK valued at US$33 billion.
Revolut has been expanding to other countries, and in 2019 they decided to do a beta test in the Canadian market.
The beta product for Canadian users was a limited version of the Revolut app and suite of features available in the UK. This included a currency conversion service with access to interbank currency exchange rates, reloadable prepaid debit Visa Platinum card, disposable digital Visa cards, and free ATM withdrawals up to $400/$800 monthly.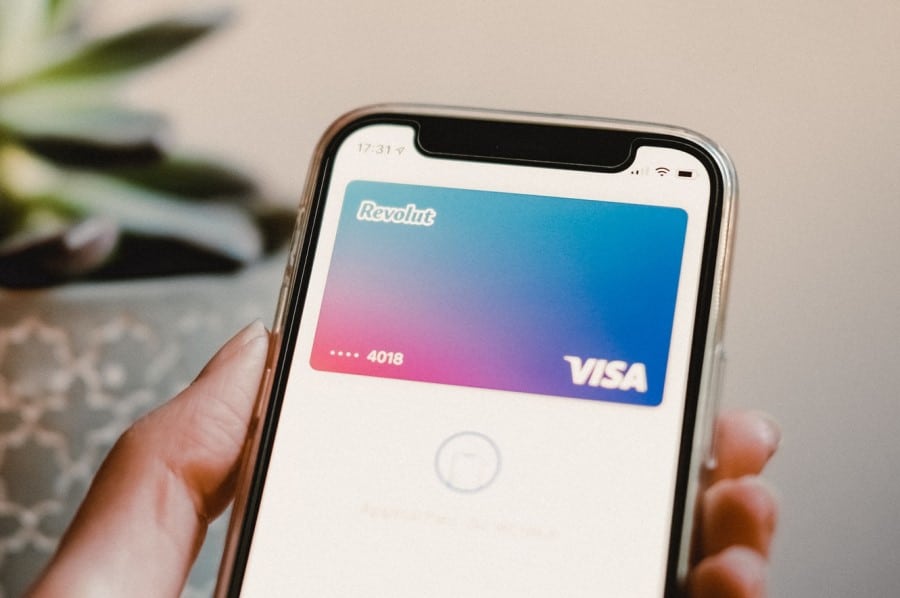 How to Manufacture Spend with Revolut
As with every manufactured spending opportunity, there were two steps to this process: completing the spend on your credit card of choice and liquidating the spend.
Direct Load via Credit Card
What allowed Revolut to be used for manufactured spending, as has been a theme with many fintech products, was the ability to load their reloadable prepaid card with Canadian dollars using a credit card.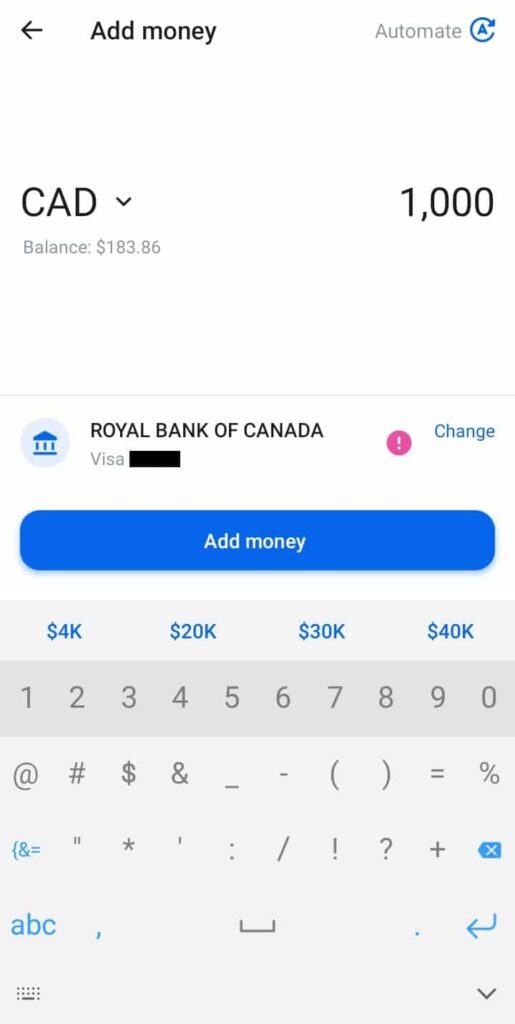 These loads could be completed without charging a cash advance fee, with almost every bank in Canada, including CIBC, RBC, BMO, Scotiabank, and HSBC.
TD however did charge a cash advance. MBNA worked initially but eventually began incurring cash advance fees as well. American Express on the other hand was never supported as a network at all for adding funds.
You could even load Revolut with other prepaid cards. At the time, the Mogo manufactured spending method was functioning, which allowed for indirectly loading with TD cards. PayPower Mastercard on the other hand closed the gap on Amex. Every issuer was possible: 
CIBC, RBC, BMO, Scotiabank, HSBC → Revolut
TD → Mogo → Revolut
American Express/MBNA → PayPower → Revolut
Liquidation: Getting Funds Out of Revolut
Once loaded, there were several ways to get funds out of Revolut.
You could of course use the card as intended for spending on real purchases (that's no fun).
You could withdraw from the card at an ATM (waste of time, has fees, has monthly limits).
You could convert the Canadian dollars to US dollars, then withdraw via ACH to a US-domiciled bank account (not bad, some loss to conversion rate, have to get back to Canada unless you want to hold a ton of USD).
Finally, and quite surprising in its simplicity, you could add Canadian bank details and withdraw funds directly via bank transfers.
From there you could pay down the credit card you used to load Revolut, thus completing the (very simple) loop:
Credit Card → Revolut → Bank Account → Credit Card
The amazing thing about this was that there were no transaction fees or currency exchange fees involved, as the money wasn't being converted. It was so easy to transfer money with this method that it isn't surprising that many in the miles and points community took advantage of it.
You can imagine how useful this was for meeting minimum spending requirements, which is always appreciated.
But manufactured spending with Revolut didn't stop there…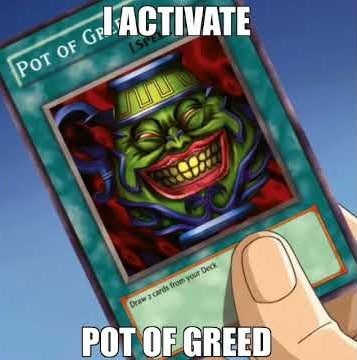 Scaling Manufactured Spending with Revolut
When starting out with Revolut, there would be a limit on how much you could load onto the card. This would be on the order of $100-$500, which is represented by the suggested load amounts on the 'Add money' screen.
After several successful loads, Revolut users would notice the suggested load amounts go up, and this indicated that their personal limit was increasing.
You can imagine that several Revolut customers began to push the boundaries with this to see how far you could truly go.
The amount that Revolut would eventually let you load over a short time frame was actually quite incredible. I personally know several users who were loading $5,000-$10,000 and more per week, one as high as $80,000 every 8-15 calendar days.
Of course, some users did get flagged for abuse. That would come in the form of the 'Revolut popup'.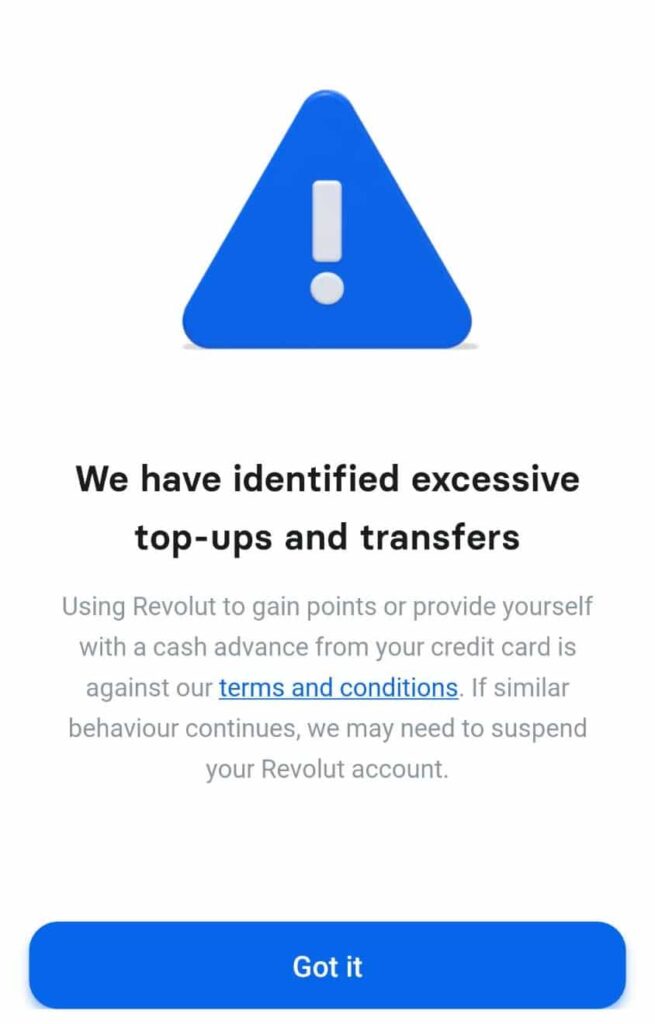 It wasn't extremely clear why some users got the popup and others did not. Furthermore, many users simply kept on going and never got shut down.
It was announced that they would be ending the Revolut Canadian Beta in Q1 2021, and this spurred many to manufacture spend even more aggressively than before with the manufactured spending.
The highest total money cycled that I'm aware of was ~$550,000. I have no doubt there are several people out there who did much more than this too.
Pretty crazy! But worth it for six figures in whatever your favorite points program may be.
The Death of Revolut (in Canada)
Alas, all good things must come to an end, as the cliche saying goes. On March 15, 2021, I received the following email from Revolut.
Curiously, Revolut maintains that its beta was shut down due to a "lack of resources" to fully launch its entire suite of products in Canada. The company stated its intent to return to Canada the following year. Of course, it's been more than a year to date and there is still no word on their return.
At the time of closure, the MS loophole was still functional. So perhaps this isn't yet another MS story ending with the golden goose killed by overzealous manufactured spenders?
I guess we'll probably never know for certain 😉
MS Gone Wrong (Or Right?): An Encounter with FINTRAC
One user in particular had an especially memorable encounter as a result of their Revolut activities (the same user who loaded ~$550,000).
This user, whom we'll call Zach, was primarily loading using RBC Avion credit cards to generate RBC Rewards points, along with the occasional new RBC card that required a $5,000 minimum spend. You can imagine that these amounts were easily fulfilled in a single transaction. Zach told us that his "suggested" reload limits hit $80,000 per day at one point, but all of his RBC cards combined only had a total $45,000 credit limit so scaling up was sadly out of reach. He would then loop the money back from Revolut to his RBC student banking account, in paltry $10,000 to $30,000 increments
You can imagine RBC might wonder why a student with $30,000 on their annual T4 was spending and receiving over six figures into their account every month.
In November, many months after Revolut shut down the app in Canada, Zach received a block on his RBC account and a voicemail from an RBC auditor asking him to urgently return their call. If you've ever wondered what it's like to be grilled by a spy agency for suspicious deeds, the next part will be an interesting read…
Not wanting to lose the points that he still had saved up (this is why you churn and burn, people!) or access to his scholarship money, he returned the call to meet a generic RBC auditor.
They pulled up Zach's "recall" profile and started asking quickfire questions as to each $10,000 to $30,000 transaction conducted half a year earlier, and why they were conducted. This, of course, included Revolut reloads from his RBC Visa, and similar quantities of wire transfers back into the student checking account, but also one-off transactions that were unrelated to Revolut.
Zach later learned that the auditor was simply reading off automatic FINTRAC-generated questions tied to his profile, that RBC would ask on the agency's behalf and automatically borne as a result of the Revolut suspicious transactions. Zach recalled to us that the format went something along the lines of:
"On March 1, you received a wire transfer from a United Kingdom entity for $10,004.10 [Zach used unique amounts to make record keeping easier], what was this for?"

RBC Royal Bank auditor
Zach says that when he attempted to step back from the questions and explain the whole Revolut looping scheme to the auditor, she became irate and wouldn't accept a whole story because the FINTRAC software (this was the first time the agency's name was dropped in the call) only accepted one-line answers.
So Zach had to condense his answers along the lines of: "credit card reload for points, with the intention of the entire amount returning to [his] chequing account via wire transfer".
Zach said the phone call lasted 2.5 hours (he recorded the whole thing once they mentioned FINTRAC!) because he was grilled on every withdrawal and deposit since he did a Revolut reload and wire transfer each day in February and March amounting to half a million dollars.
Once the call ended, he took the rest of the day off from work with his professor and cashed out his bank account, RBC Rewards account, and urgently instructed the university's payroll to redirect all his direct deposits to TD Canada Trust. A few weeks later, the block was lifted and he resumed the RBC credit card shenanigans that we all know too well.
Zach mentioned that he had always prepared for an audit to come from the CRA or the bank since his Revolut amounts were so suspiciously high, but dropped his guard after a few months. Still, the FINTRAC affair came out of nowhere, but at least it's better than having a record with the other two Canadian spy agencies. One has to wonder whether this will affect his future career prospects requiring security clearance, though…
Conclusion
Revolut was a unique and lucrative manufactured spending opportunity, in addition to actually being a solid product for converting foreign currency cheaply (such as converting CAD to USD for paying off US credit cards).
Needless to say, Revolut will be sorely missed by all of us Canadian points hackers. That is, unless they decide to return to Canada after all. In which case you'll likely see this article get taken down very quickly 😜
Matt is a technophile and math nerd who discovered travel hacking in 2015. His favorite points-powered trip to date was visiting Estonia. Matt takes no shame in being far too frugal. In fact, he would probably go as far as calling himself cheap. Seriously, if there is a way to get something for free, Matt will find it and take advantage of it (and then maybe write about it here).
Latest posts by Matt Astro (see all)