Introduction: PayPower Mastercard is Still Alive
PayPower is no secret to the dedicated miles and points enthusiast. The reloadable prepaid debit Mastercard was a potent manufactured spending outlet several years ago.
In the past it could be scaled by signing up for multiple PayPower cards, however, Peoples Trust, the company that issues most prepaid cards in Canada, has since cracked down on this with enhanced identity resolution and compliance.
Still, the PayPower Mastercard, and other reloadable cards such as the Titanium+ prepaid Mastercard, do retain a role in the wallets of credit card rewards and miles and points enthusiasts. This is twofold: 1) manufactured spending is still viable with the PayPower Prepaid MasterCard for a nominal profit per reload, and 2) it can relieve some of the financial pressure of meeting minimum spends if you are working on many cards at once.
I find the latter to be of particular importance as someone who signs up for many many cards a year, but also is extremely frugal and doesn't have the organic spend to support such a practice.
In this post, we'll walk you through exactly how to best use the PayPower Prepaid MasterCard for both of these objectives, manufactured spending and meeting credit card minimum spending requirements, with the maximum convenience possible.
What is the PayPower Prepaid Mastercard
PayPower cards are prepaid Mastercards (and Visa cards) that come in reloadable and non-reloadable flavours. As with most prepaid cards in Canada, they are issued by Peoples Trust Company. Generally, the best card to get is the black reloadable MasterCard, which can be loaded and reloaded with amounts from $20-500.
PayPower Prepaid MasterCards have an assortment of fees, including an activation or new card fee. Once you've purchased the card for the first time, you can register the card and upgrade it to become a reloadable prepaid MasterCard.
Once upgraded, the money you load to the card can be withdrawn at ATMs or used to make bill payments. We'll show you how to get creative with the latter to withdraw the money back to your bank account.
Where to Buy the PayPower Prepaid Mastercard
PayPower Prepaid MasterCards can be purchased or reloaded at several different brick-and-mortar locations, such as Circle K, 7-Eleven, Esso, Canadian Tire, Safeway, Save-On-Foods, etc. You can browse the full list of retailers on PayPower's website.
What makes PayPower lucrative is the fact that you can get a category spend bonus (such as 'Grocery' spend) when you purchase or reload your PayPower prepaid card. This more than offsets the fees associated with the card and with withdrawing the cash. With the right credit card, you will make a decent profit.
How to Reload the PayPower Mastercard with a Credit Card
After you've purchased and activated your first PayPower black card, go to https://paypower.ca and create an account. Once logged into your PayPower account, enter the card number to register the card, and upgrade it to the "Reloadable Power" tier by clicking "Enable Reloads".
At this step, you will have to go through KYC (Know Your Customer) verification, and be asked a series of security questions regarding your credit history and financial health, to confirm your identity. The second stage of this will involve linking your bank account. Make sure to pass KYC carefully as PayPower customer support is notoriously unhelpful for those who get stuck at this step and can't upgrade their card.
Related: How to Manufacture Spend with Buying Groups
Once you've got your card upgraded to reloadable, you can take it to any of the retailers designated as 'Reload Locations' on the PayPower website.

At the retailer, you will provide your PayPower Prepaid MasterCard to the employee and ask to do a reload. If they seem confused, instruct them to treat it as a gift card. Once the card is scanned the system will prompt for the reload amount. The maximum you can load at one time is $500. Of course, if you have a nice cashier, you can ask them to load it again for you, but you'll pay the reload fee ($6.95) each time.
You may also have more luck utilizing the customer service checkout at grocery stores as they may have more familiarity with these kinds of transactions.
How to Withdraw Money from the PayPower Prepaid Mastercard
Once your PayPower Prepaid MasterCard is loaded with money, there are essentially two options available to transfer funds: withdraw them in cash at an ATM or utilize bill payment to send funds to a credit card or other account.
ATM withdrawal is not a very effective method as the max per transaction is $250, and you will pay not only the $1.95 withdrawal fee, but any fees charged by the ATM as well. Drawing down a large PayPower balance via ATM has also resulted in a ban for one of the Frugal Flyer authors. :/
Bill payment is the superior method from a cost perspective, and also from a convenience perspective: after all, who wants to be making trips to an ATM all the time as there is a per day withdrawal limit.
How to Use Bill Payment to Empty your PayPower Mastercard
In the PayPower dashboard, you can initiate Bill Payments through the 'My Transactions' tab.
From there, you can select 'Bills', then 'Add a Bill', and search for various payees. Most credit card issuers in Canada are available.
I like to send my bill payments to my Tangerine credit card, and then when the balance builds up, I request a manual transfer of the debited amount to my Tangerine chequing account. I personally just find Tangerine to be a bank that doesn't care or question what you do with your accounts. However, the same process should work with most banks and credit card combinations.
One last note – Paypower includes the $1.95 fee in the $1000 daily limit, so the actual maximum amount you can bill pay works out to $998.05.
Fees and Limits Associated with the PayPower Prepaid Mastercard
Fees
The PayPower Prepaid Mastercard does have an assortment of fees. For the initial purchase of the card, you will pay an activation fee of $9.95.
For each reload, you will pay a reload fee of $6.95.
You will also pay a monthly fee of $4.95, which will be deducted from your card balance.
Finally, sending a bill payment or withdrawing from an ATM will incur a fee of $1.95.
Limits
In terms of limits, the PayPower Reloadable card can only be loaded with $500 per transaction, to a maximum of $2,500 daily and the maximum balance that can be held on the card is also $2,500.
The other limit to be concerned with is bill payment. The maximum is $1,000 daily, $2,500 weekly, and $5,000 monthly.
Using PayPower Prepaid Mastercard for Manufactured Spending
Using the PayPower Prepaid card to generate points is a valid and profitable manufactured spending strategy, but only when paired with the right credit card at the right retailer.
The best practice is to use either the American Express Cobalt Card or the Scotiabank Gold American Express Card.
The American Express Cobalt Card earns 5 Membership Rewards (MR) points per $1 spent on stand-alone grocery stores in Canada. You can earn MR on a maximum of $30,000 in net purchases per year, which would amount to 150,000 MR if maxed.
American Express Cobalt
The American Express Cobalt card earns Membership Rewards points and gives cardholders the opportunity to earn 5x Membership Rewards on eligible restaurant, food delivery, and grocery store purchases.
Check out our American Express Cobalt card review for more details.
BONUS
15,000 Membership Rewards
MINSPEND
$9,000
ANNUAL FEE
$156
FOREX FEES
Yes
EXPIRY
–
The Scotiabank Gold American Express Card earns 5 Scene+ points per $1 spent at grocery stores. It also earns 3 Scene+ points per $1 spent at gas stations. You can earn at the 5X rate on a maximum of $50,000 in net purchases per year, which would amount to 250,000 Scene+ points if maxed.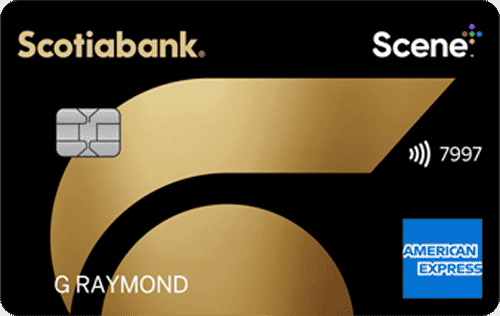 Apply Now
Learn More
Click Apply Now to earn $200 in FlyerFunds upon approval.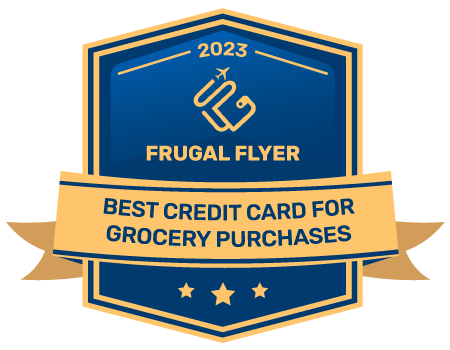 Scotiabank Gold American Express
The Scotiabank Gold American Express card earns Scene+ Rewards points and gives cardholders the opportunity to earn 5x Scene+ points on grocery, restaurant, and entertainment purchases. This card charges no foreign exchange fees.
For 2023, we selected this card as the Best Credit Card for Grocery Purchases.
Check out our Scotiabank Gold American Express card review for more details.
BONUS
40,000 Scene+
MINSPEND
$7,500
ANNUAL FEE
$120
FOREX FEES
No
EXPIRY
Jul 1, 2024
Now, taking into account the monthly bill payment limit of $5,000 we can do some math to see the return on each $500 load, and on maxing and depleting the PayPower Prepaid MasterCard monthly:
Return on Loading PayPower with Amex Cobalt
Return on Loading PayPower with Scotia Gold
Return per transaction
$500 = 2,500 Membership Rewards = $25 USD
(at value of $0.01 USD per point)
– $6.95
=~ $20 USD
$500 = 2,500 Scene+ = $25 CAD
(at value of $0.01 CAD per point)
– $6.95
= $18 CAD
Return per month
$250 USD ($25 * 10)
– $69.50 CAD ($6.95 * 10)
– $9.75 CAD (1.95 * 5)
– $4.95 CAD (monthly fee)
=~ $185 USD/month
$250 CAD ($25 * 10)
– $69.50 CAD ($6.95 * 10)
– $9.75 CAD (1.95 * 5)
– $4.95 CAD (monthly fee)
= $165.80 CAD/month
This produces a modest return, which becomes a little better if scaled with a Player 2. Also consider that the value of the American Express Membership Rewards is higher if redeemed for travel, whereas Scene+ points have a constant value. In this comparison, we simplified it by using the value if liquidated to cash at the highest possible rate. 
Using the PayPower Prepaid Mastercard for Meeting Credit Card Minimum Spend Requirements
Aside from maxing out your PayPower Prepaid Mastercard on the American Express Cobalt card and Scotiabank Gold American Express credit card spend, you can reload PayPower cards to meet minimum spending requirements for any cards you may be working on, even US credit cards. 
This also does open up some options for reload locations. For example, if the card you're working on happens to earn a category bonus at gas stations, then it may make more sense to do your reloads at ESSO.
Without any category bonus, you will ultimately net a small loss due to fees when reloading PayPower to meet minimum spends. The math works out as follows:
Cost per $1,000 loaded = $6.95*2 + $1.95 = $15.85
$15.85/$1,000 *100 = 1.59%
So approximately a 1.59% cost of manufactured spending, which isn't bad if we assume any credit card will earn at least 1% in points value. A small loss is still worth it as it allows you to work towards minimum spend requirements.
Summary Table: PayPower Mastercard and Other Reloadable Prepaid Cards in Canada
PayPower Prepaid Mastercard
MoneyMart Titanium+ Card
MyVanilla Prepaid MasterCard
DETAILS
Type
Mastercard
Mastercard
Mastercard
Reloadable
Yes
Yes
Yes
Load Method
Reload in-store
Vanilla Reload
Vanilla Reload
Withdrawal Method
Canadian ATM or Bill Payment
Canadian ATM or MoneyMart cash
Canadian ATM
FEES
New Card Fee
$9.95 +tax
$9.99 +tax
$9.95
Monthly Fee
$4.95
$6.50
$4.95
Fee to Load
$6.95
$3.95 +tax
$3.95 +tax
Fee to Withdraw
$1.95†
$1.95†
$1.95†
LIMITS
Max Load
$500 per transaction, $2,500 daily
$500 daily via Vanilla Reload
$500 per transaction, $2,500 daily, $5,000 monthly
Max Withdrawal
$1,000 daily, $2,500 weekly, $5,000 monthly (bill pay)
$3,000 daily
$500 per transaction, $2,000 per day, $2,500 per month
Max Card Balance
$2,500
$15,000
$9,999
† Additional fees may be charged for use of ATMs by ATM operators.
Conclusion
PayPower cards are less abusable and consequently less lucrative these days. However, it's still a valuable tool for the dedicated miles and points enthusiast, primarily as a means to meet minimum spending requirements when you otherwise might not be able to.
If you decide to scale PayPower to earn the most points possible, remember that there are risks. Many horror stories have occurred where money was stuck in limbo with PayPower, and Amex has also been known to flag and investigate suspicious transactions.
Best practices dictate the following: 1) don't overdo it with ATM transactions, bill payment is best, and 2) don't create a circular loop where you bill pay to the same card you loaded with. It's best to instead bill pay to a credit card (or line of credit) at a separate bank and then have your bank transfer that negative balance to your checking account. This is particularly true with American Express.
Frequently Asked Questions About PayPower Mastercard
What company issues the PayPower Mastercard?

PayPower is issued by the Peoples Trust Company under license from Mastercard International. People's Trust is the issuer of a large majority of prepaid products in Canada, including the reloadable Titanium+ Mastercard, PayPower Prepaid Mastercard, and Vanilla prepaid cards.

Are funds loaded onto my PayPower MasterCard insured?

Funds loaded onto the PayPower Prepaid Mastercard are not insured by the Canada Deposit Insurance Corporation (CDIC).

What are the risks of using PayPower for manufactured spending?

If you violate the terms of PayPower there is always a risk that you will be banned. If this happens you will get your PayPower balance back as a check, but your money may be stuck in limbo for up to a few months.

How can I track my PayPower loads effectively?

It is best to use a spreadsheet. Calculated fields can help with knowing how much you have on your card and where you're at with daily, weekly, or monthly limits. We have a template tracker in Google Sheets for tracking PayPower and Titanium+ reloads.

Are PayPower reloadable Mastercards valid for online purchases?

Yes, PayPower can be used for online purchases if that is how you wish to use it.  A PIN is not required, although you may set one up by calling PayPower customer service at 1-800-982-1258.

Can I use PayPower MasterCard at Costco Canada?

Yes, you can use PayPower to buy Costco Cash cards at Costco.ca. Read more about methods to use prepaid cards for Costco purchases.
Matt is a technophile and math nerd who discovered travel hacking in 2015. His favorite points-powered trip to date was visiting Estonia. Matt takes no shame in being far too frugal. In fact, he would probably go as far as calling himself cheap. Seriously, if there is a way to get something for free, Matt will find it and take advantage of it (and then maybe write about it here).
Latest posts by Matt Astro (see all)