In this article, we will review a brand new (to Canada) prepaid card from a UK company that's been around for a while: Wise (formerly TransferWise). We've previously discussed the use of Wise for cheap international money transfers and currency conversion. Consequently, the Wise card benefits from Wise's stellar remittance features.
Here is our review.
What is Wise (formerly TransferWise)?
Wise is a multi-currency account, and an international money conversion and transfer service. Wise is actually one of the services we recommend for getting US dollars. It is convenient, fast, and cheap. It does what it claims to do in a refreshingly transparent way.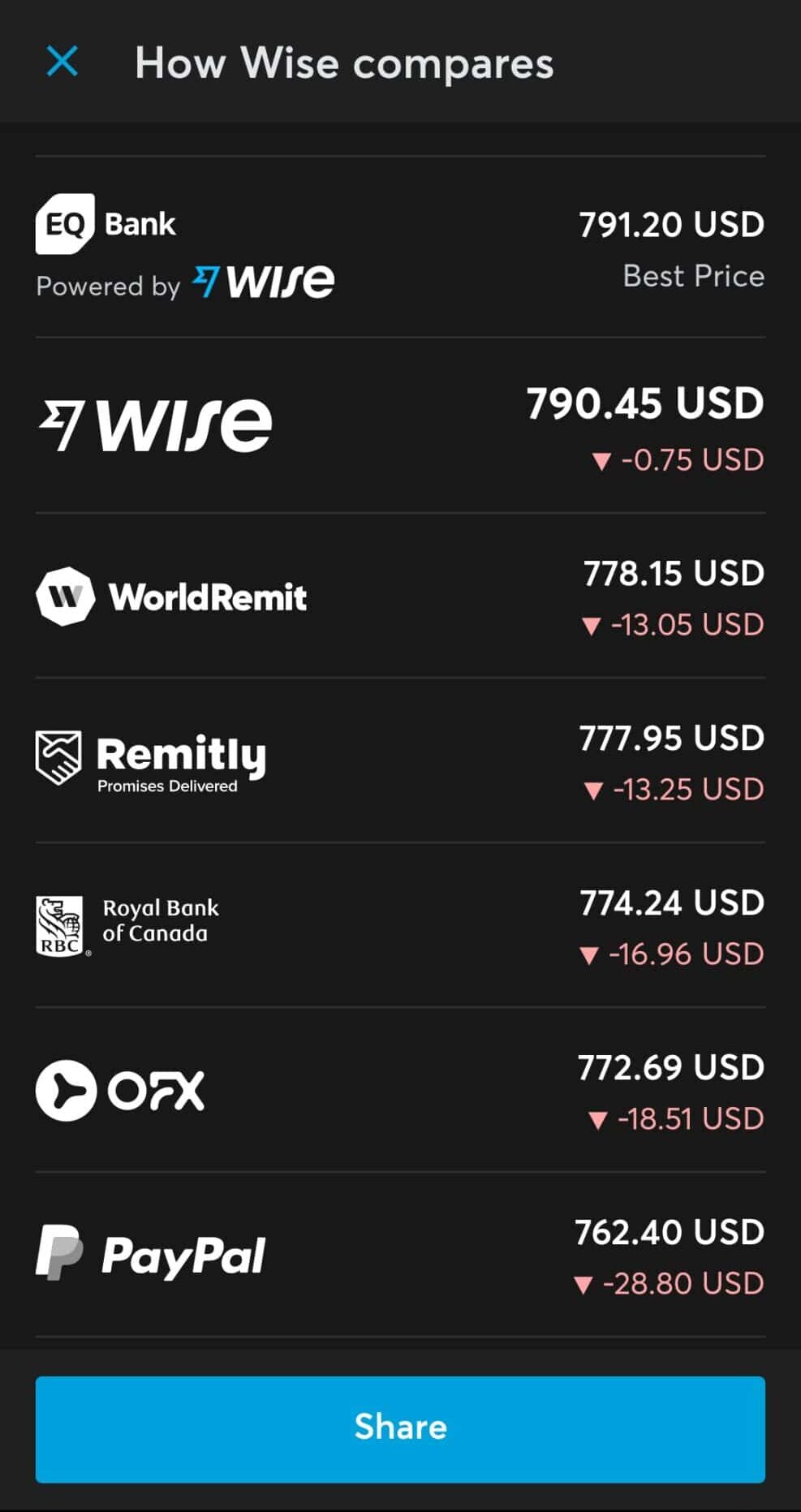 Wise allows you to hold and convert over 50 international currencies within the Wise app and send money to over 80 different countries. In this regard, it fulfills a similar role to Revolut (R.I.P), a discontinued international transfer app from the UK. And like Revolut, Wise now offers a virtual and physical spending card for the Canadian market…
What is the Wise Card?
The 'Wise Card' is a prepaid debit-like Visa Platinum card. This card was introduced to the Canadian market on November 30, 2021, and can be used almost anywhere that Visa is accepted, worldwide (aside from a small list of excluded countries).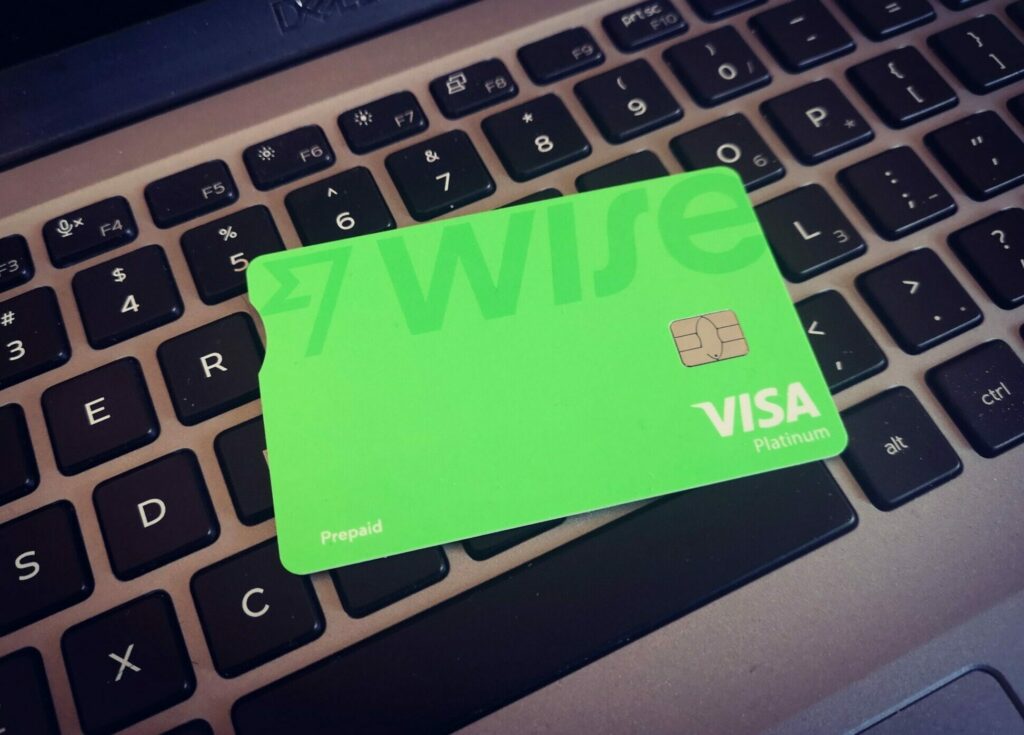 You can use the Wise card to spend directly from your Wise multi-currency account. You can spend directly and automatically from any of your loaded currencies, or you can just load CAD and foreign transactions will automatically be converted using Wise's conversion service. For this conversion, Wise does charge a small fee, but much lower than the typical 2.5-3% FX charged by many credit cards.
You can also withdraw currency from ATMs when abroad, with no additional fees from Wise for the first two transactions of up to $350 CAD total, per calendar month. You would of course be subject to any service charge from the ATM (usually ~$2-3).
What is the Wise Card Good For?
The Wise multi-currency account along with the Wise card is potentially very useful for frequent travelers, nomads, and anyone who needs to send money internationally in a foreign (non-Canadian) currency. If you relocate a lot or move around a lot, you can receive local currency from employers without having to set up multiple bank accounts or convert at bad rates.
However, the Wise card's main use case for most of our readership is likely cheap foreign cash via ATM withdrawal. And it's frankly the only gap it truly fills in the Canadian market. For most international transactions, you're going to want to use a Canadian or US credit card with no FX fees so that you can earn points on your purchases, something that Wise lacks as a prepaid card. However, should you ever need cash in the local currency, Wise is great because you get up to $350 CAD-equivalent in free ATM withdrawals per month.
An aside: consider using our credit card comparison tools to find Canadian or US credit cards with no FX fees. The US market is far superior in this domain, which is why you'll want to get an ITIN and apply for your first US American Express card to start building your US credit history.
Features of the Wise Card
Virtual Wise Card
Even before you receive your physical Wise card, you can access your physical card's details (such as your card number, PIN, and expiry date) in the Wise app. This means you can start using the Wise card before it arrives, add it to your virtual wallets, Google Pay, and so on.
Disposable Virtual Wise Cards
This feature is actually a little harder to find as you must create and access disposable digital cards from the Wise web application.
Once you create them (and you can create multiple to use simultaneously), they will appear in your mobile app. You can then use the card, delete it, or replace it with brand new card details at your discretion.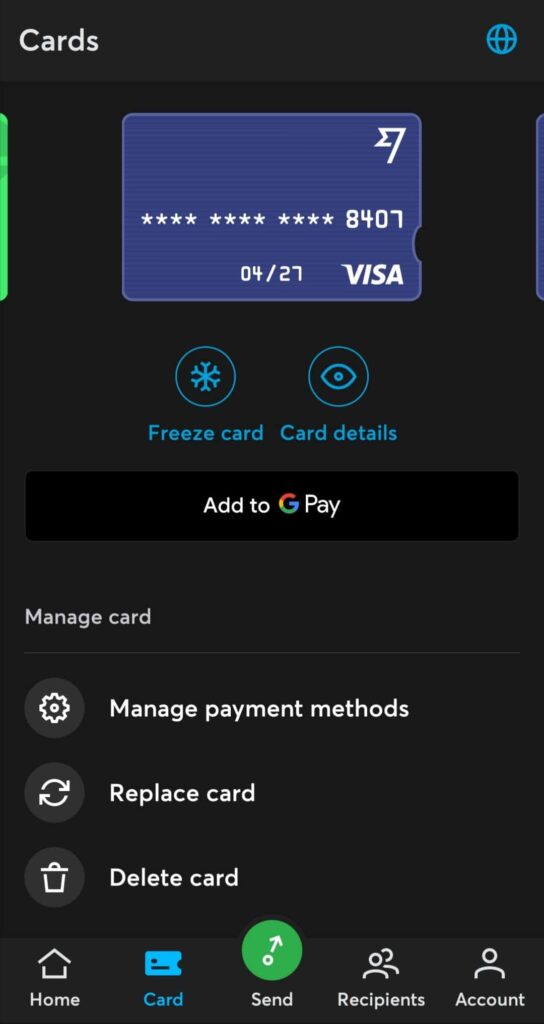 This is something that's been available through other fintech apps before but is always appreciated for those of us in the miles and points game, for numerous reasons 😉 
ATM Withdrawals
With the Wise card, you are able to enjoy 2 free ATM withdrawals overseas, up to $350 CAD equivalent each calendar month.
After that, you'll be charged CAD $1.50 per withdrawal and a 1.75% commission.
Foreign Currency Deposits
You can get account details set up to receive direct deposits in foreign currency from the US, Canada, UK, Eurozone, Australia, New Zealand, and others.
Wise Business Account
If you have a small business, you can have both a personal and business Wise account and a business Wise card. The card functions largely the same as the personal card, however, the business account has some additional features like bill payments, Quickbooks integration, bulk payments tool, and more. Something to keep in mind.
Wise Card Fees and Limits
As mentioned, you can take out money for free from an ATM twice a month — as long as the total amount is under the equivalent of 350 CAD. But after that, Wise will charge the equivalent of 1.50 CAD per transaction as a fixed fee. If you take out over 350 CAD in one month, you'll also be charged 1.75% on top.
The other obvious fee is for converting currency. This is variable and dependent on the currencies being converted. You can view the Wise fee calculator here.
There are one-time fees for ordering your physical Wise card ($10 CAD), as well as ordering a replacement card ($5 CAD).
Wise also has limits in total transaction amounts for different transaction types as well:
Limits per transaction type
Single payment
Daily
Monthly
Chip and PIN
Default: 4,400
Max: 17,000
Default: 5,500
Max: 17,500
Default: 17,500
Max: 55,000
ATM withdrawal
Default: 1,750
Max: 1,750
Default: 2,650
Max: 2,650
Default: 5,500
Max: 7,000
Contactless
Default: 900
Max: 900
Default: 900
Max: 1750
Default: 7,000
Max: 7,000
Magnetic stripe
Default: 550
Max: 2,100
Default: 700
Max: 2,100
Default: 2,100
Max:10,500
Online purchase
Default: 1,750
Max: 17,500
Default: 1,750
Max: 17,500
Default: 3,500
Max: 55,000
And of course, loading the account with currency can incur fees depending on the funding method. Direct debit is the cheapest. More on that later.
How Do I Get the Wise Card?
To get the Wise card, you will first need to have a Wise account. Then in the mobile or web app, you will see a tab labeled 'Card'. You will need to enter some personal information and your address.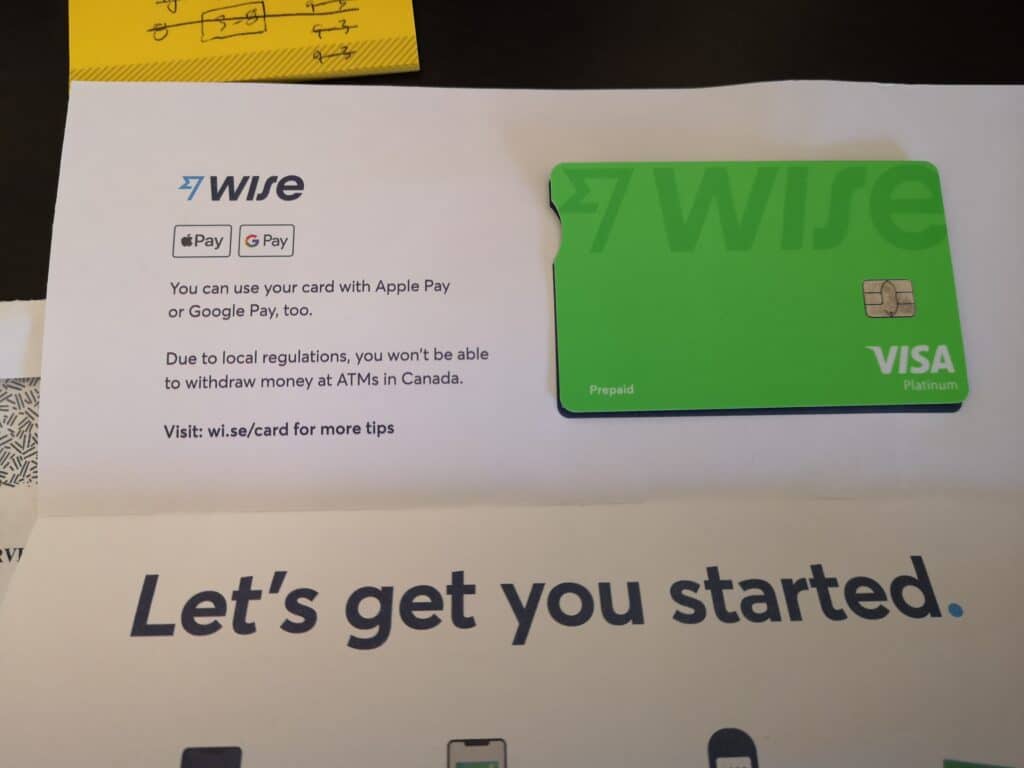 Before you can use the card, you'll need to set up a CAD currency account. The first time you fund it, you'll need to deposit a minimum of $30, and you'll have to pay a small loading fee. After this, you'll be asked for further verification (selfie + front and back of driver's license). Finally, you'll be given full account details, with which you can use EFT to make future transfers without paying any loading fees.
A bit of a convoluted process, I know… but only for the first load and then you can link Wise as an external account on somewhere like Tangerine, EQ Bank, PC Financial, PayPal, etc and set up EFT from there for future transfers. In fact, when linking the account you'll probably get the 6 cents back in micro-deposits anyways.
On a side note: apparently, it is quite a task to link Wise to Simplii Financial according to RedFlagDeals – YMMV.
Wise Card Alternatives
There really isn't much of an alternative to the Wise card anymore as far as foreign currency is concerned. Wise has great rates for conversion and no 2.5% currency conversion fee. Compare that to other prepaid like Stack (now charges 2.5%), the Koho Mastercard (charges 1.5%), or AC Conversion (high spreads between currencies), and it's no contest.
Perhaps the only true competitor right now to the Wise card is the new Wealthsimple Cash card, which also offers free ATM withdrawals and no forex fees. While Wise has more currency features with its multi-currency accounts, Wealthsimple may edge out slightly given it has no fees for foreign purchases and uses the Visa exchange rate. It also offers much higher limits for ATM withdrawal (up to $500 per transaction, $1000 per day).
Ultimately, it comes down to what specific features you require. I take the approach that it can't hurt to have both cards, particularly with how fast things can change in the fintech space, as we saw with Stack.
Conclusion
The Wise card is an interesting new prepaid product in Canada, and seems to fill the gap that was abruptly left by Revolut. There is no other product available right now that allows you to load, access, and convert between as many foreign currencies. The competitive conversion rates and fee-free ATM allowance also make Wise a viable solution for foreign cash needs when traveling, although it doesn't replace a good no-FX credit card nor beat out Wealthsimple Cash's offering. Nonetheless, I believe it's worthwhile to have the card in your arsenal.
Use our referral link to sign up for Wise and get fees waived on your first 500 GBP worth of transfers!
Frequently Asked Questions
How do I activate my Wise card?

Once you receive your Wise card, simply pay in-store using your PIN to active it. Find your PIN by selecting 'Show PIN' in the Wise app.

What countries does the Wise card work in?

Almost all countries support the Wise card. Here is a list of the countries you can send money to with Wise. For the Canadian-issued Wise card, the excluded countries are quite a small list:


Does the Wise card earn rewards or cashback?

Sadly, no, the Wise card does not earn any rewards. It is inferior to Wealthsimple Cash in this regard, which offers a flat 1% cashback on all purchases.

Who issues the Wise prepaid card?

The Wise Card is issued in Canada by Wise Payments Canada Inc (not Peoples Trust or DCBank).
Edit: Wise may still be partnered with Peoples Trust as the account details issued for my Canadian currency account belong to Peoples Trust Company.

Can I withdraw money using the Wise card from an ATM in Canada?

Nice try, you manufactured spender 😉 Unfortunately, ATM withdrawals from the Wise card within Canada are prohibited. You can only withdraw money abroad.

So how do I get my Canadian money out of Wise? 

Once you've set up Wise as an external account on another bank like Tangerine, then you can do a free EFT pull from the Wise CAD account to Tangerine and then do a free cash withdrawal from a Scotia ATM, as an example.
Reed is addicted to the art of earning and redeeming travel points, and frequently pairs his trips with his other hobby: photography. Through Frugal Flyer, Reed aims to distill some of the complex and esoteric points strategies into digestible information. Furthermore, he hopes to use his technical expertise to develop invaluable applications and tools for the travel community.
Latest posts by Reed Sutton (see all)