Domestic flights, whether in business or economy, are some of the most boring flights to fly. Personally, I can't sleep in an upright seat so I am often looking for ways to keep myself entertained by reading, drinking far too much, and watching content on the in-flight entertainment system.
However, I have found that onboard WiFi is the golden bullet when it comes to making domestic travel more manageable. Being able to work on Frugal Flyer, browse the internet, or connect with friends mid-flight is a treat.
With the ripe WestJet Dollar earning opportunities in Canada, I find myself flying WestJet often. If you want to make your flight more manageable, WestJet does have onboard WiFi through their WestJet Connect platform allowing you to stay connected on your laptop, smartphone, or tablet while you are at cruising altitude.
While you could pay for this service, let's look at how you can easily access it for free.
Does my WestJet Flight Have WiFi?
When you are booking a WestJet Airlines flight, it is easy to determine if your flight will have WestJet Connect and WiFi capabilities. Simply look for the WiFi symbol when you are searching for flights to determine if your flight will have connectivity.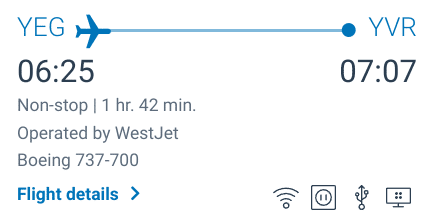 That being said, it is safe to assume that the majority of WestJet flights over an hour and a half will have WiFi. Shorter hops that are typically operated on WestJet Encore, such as Edmonton to Calgary, will not have WestJet Connect available and as such, do not have WiFi.
Once you are on board and your flight has taken off, WestJet Connect will be available. While WestJet Connect can be used for WiFi purposes, it also is used to access the inflight complimentary entertainment system on your laptop or mobile device through the WestJet app.
If you are connecting via the WestJet app on a mobile device or tablet, simply turn on your WiFi and connect to the "WestJet Connect" WiFi network. This will allow you to connect to the onboard WiFi while keeping your device in airplane mode. From there, navigate to the "Inflight" tab on the WestJet app, and click on "Internet" to view the in-flight WiFi options.
If you are connecting via a laptop, connect to the "WestJet Connect" WiFi network and visit westjetconnect.com in your browser window. From there, you will be able to access the in-flight WiFi options.
How Much Does WestJet WiFi Cost?
After connecting to WestJet through the app, you will be presented with various methods to connect to onboard WiFi. WestJet offers paid options for their onboard WiFi on a pay-per-use plan for a specific period of time. The price for WiFi will vary depending on the length of your flight and destination.
Here is an example of the WiFi cost for a recent flight from Edmonton (YEG) to Vancouver (YVR):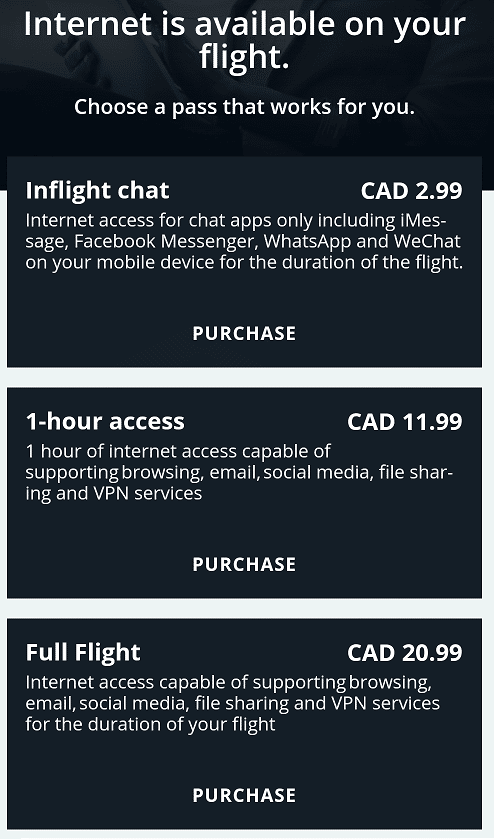 While these options may work in a pinch, paying these prices for onboard WiFi is frankly not a great use of your money when there is a free method to access WiFi on your next WestJet flight.
Accessing WestJet WiFi for Free
Sure, you could pay the cost associated to access WestJet WiFi, but that simply isn't the Frugal Flyer way. There is a very easy way to access free WiFi on all of your future WestJet flights through Boingo.
Let's look at how this can be accomplished.
Boingo Membership
Boingo is a wireless services company that has over one million hotspots available worldwide that customers can access for on-the-go internet access. Boingo sells unlimited WiFi plans, available for $14.99 monthly, which allows customers to connect to any of their WiFi hotspots around the world.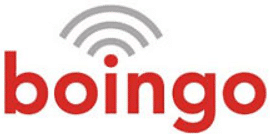 Boingo also offers its WiFi services on select airlines and aircraft, including many of WestJet's fleet. This means that if you have a Boingo account, you are able to access free WiFi inflight if the aircraft supports the service. Utilizing Boingo is the most frugal way to access WiFi on WestJet flights, considering the costs mentioned above.
Even better, Boingo is supported on select other airlines as well. Before flying, it is worth checking to see if the airline you will be traveling on supports Boingo WiFi or if there are any other ways to secure free onboard WiFi (as Reed found out on Alaska Airlines).
While a $14.99 subscription plan is not a bad value if you will be flying on WestJet a lot, there is a better, and free method, to access a Boingo membership.
Addendum: according to the Boingo website, Austrian Airlines, China Airlines, Air Europa, and Singapore also offer WiFi through Boingo. There are also a few data points that some EVA Air flights have Boingo connectivity. This may be subject to change.
How to Become a Boingo Member for Free
Interestingly enough, one of the key features of the World Elite line of Mastercard products is that cardholders are eligible to receive a free Boingo membership for as long as they hold the card. This means that simply by holding a credit card, you will be able to access free WiFi on your next WestJet flight.
Related: Definitive Guide to Air Canada WiFi
To take advantage, World Elite cardholders will need to sign up for Boingo through the World Elite-specific link. Simply follow the link to the Boingo website and enter your credit card number to confirm eligibility and follow the prompts to create your free Boingo account.

Since being able to access Boingo for free is a core benefit of almost all World Elite Mastercards, deciding what card to get can come down to a variety of factors, such as annual fee, welcome bonuses, and other perks.
Some of the better credit card options with no annual fee include the Canadian Tire Triangle World Elite card, the Brim Financial MasterCard, or the PC Financial World Elite card.
On the other hand, if you are willing to pay an annual fee, it would be worth considering the WestJet RBC World Elite Mastercard. Not only would you be eligible for a free Boingo membership, but new applicants are currently eligible to earn $450 WestJet Dollars after spending $5,000 in the first 3 months. Plus, if you are going to be flying WestJet anyways, you might as well take advantage of the free checked baggage perk that the card also offers.
RBC WestJet World Elite
The RBC WestJet World Elite card earns WestJet Dollars and offers cardholders benefits on WestJet flights including an annual companion fare and a first free checked bag.
BONUS
450 WestJet Dollars
MINSPEND
$5,000
ANNUAL FEE
$119
FOREX FEES
Yes
Interestingly enough, if you are in the product switching game with RBC, Boingo accounts seem to remain active and valid after switching away from an eligible card, say to the RBC Avion Visa Infinite credit card. This is definitely not intended but can be taken advantage of in a pinch if you want to take advantage of Boingo after recently switching away from an eligible RBC credit card.
There are many other cards that offer free Boingo membership as well; consider filtering through our credit card comparison tool to find the World Elite credit card that is right for your life.
WestJet WiFi Review
While the fact that we can access onboard WiFi at 36,000 feet is not lost on me, I think it is important to be realistic when considering the quality of internet you will receive. On a recent 3-hour flight, it was incredibly slow to connect my laptop to WestJet Connect.
Once set up, the connection was okay at best. I was able to work on a google doc and do some basic web browsing, but anything outside of that would have not been worth the effort. I would have been really disappointed if I had paid money to access the onboard WiFi. That being said, considering I was able to access it for free, I have no complaints. Just temper your expectations when it comes to what you will be able to do online while in-flight.
Conclusion
Having access to WiFi during a flight can make the experience that much more enjoyable, whether for work or pleasure. I definitely recommend looking into Boingo if you hold any of the World Elite series of credit cards. If you don't, look into getting one of the cards that do come with a complimentary Boingo membership.
Hugh has been involved in the miles and points game since 2015 but has scaled up his knowledge and points-earning potential in recent years. In 2019, Hugh stepped things up when he met Reed in addition to a few other miles and points fanatics (err degenerate churners) and has since been able to capitalize on the various expertise that each member brings to the group.
Latest posts by Hugh Campbell (see all)