Frugal Flyer is pleased to announce that we have officially launched our new cash back rebate system for financial products in Canada.
Read on to understand what positive changes you can expect to our process and system.
Updated Cash Back Rebates System
As we launch our new cash back rebate system, there are three main additions to the process: the ability to check your rebate status, submit additional details related to your application, and a new payment method.
Track Your Rebate Status
The most requested feature is here: you can now track the status of your rebate request. When you apply for a Frugal Flyer Rebate, you will receive an email that will include your unique application link as well as an application status page. Visit this page to view information about your cash back rebate application, including approval status and payout date.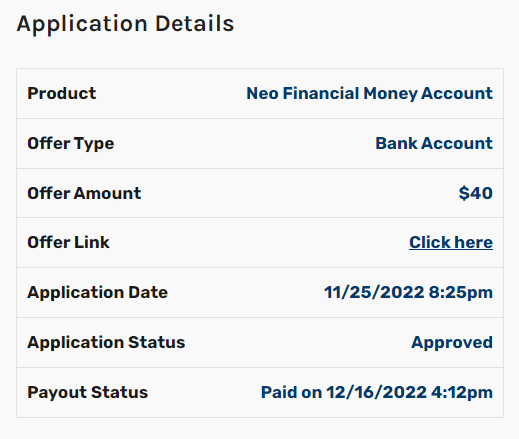 The rebate application status will be updated from 'Pending' to 'Approved' when the financial institution confirms the status of the application on their end.
As always, we aim to pay cash back as soon as possible but the reality is that receiving confirmation from financial institutions can take some time. With that in mind, payment of your cash back may take up to eight (8) weeks from the time of receiving approval from the issuer or up to twelve (12) weeks from the initial application.
Submit Additional Details
Once you apply for your financial product, you are able to visit your application status page via the link that is emailed to you. Here, we ask for additional details including your application reference number which will assist us with verification of your rebate with the financial institution.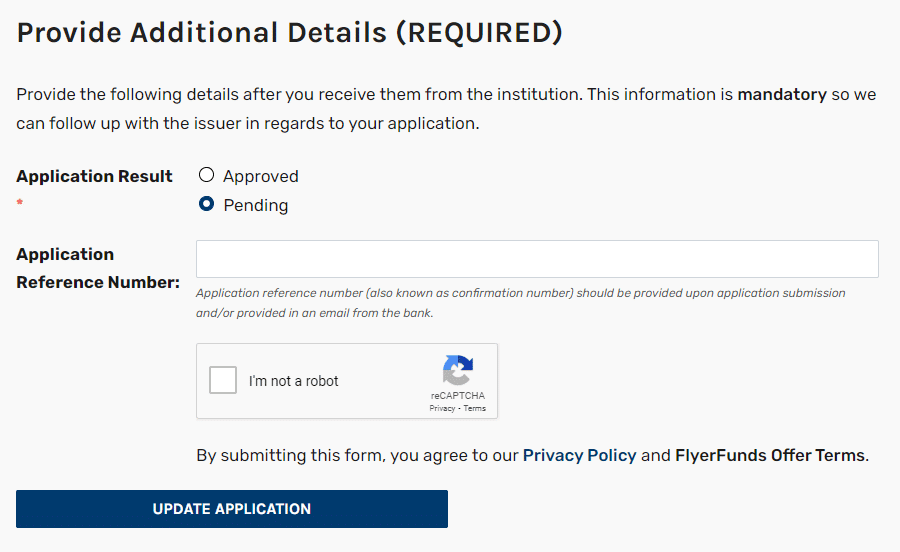 We require an application reference number, depending on the financial product you applied for, in order to follow up with the financial institution if your application does not track properly or if there are any other unforeseen issues.
New Payment Method: PayPal
As part of the new rebate system, we will be switching our payment method from Wise to PayPal.
When you apply for a rebate, you will be asked to provide the email where you want to receive your FlyerFunds PayPal payment. Please ensure you enter your email accurately so we can ensure the FlyerFunds payment reaches the correct account. If the email entered is not associated with a PayPal account, then you will be prompted to log in or create one at the time of payment, in order to claim your funds.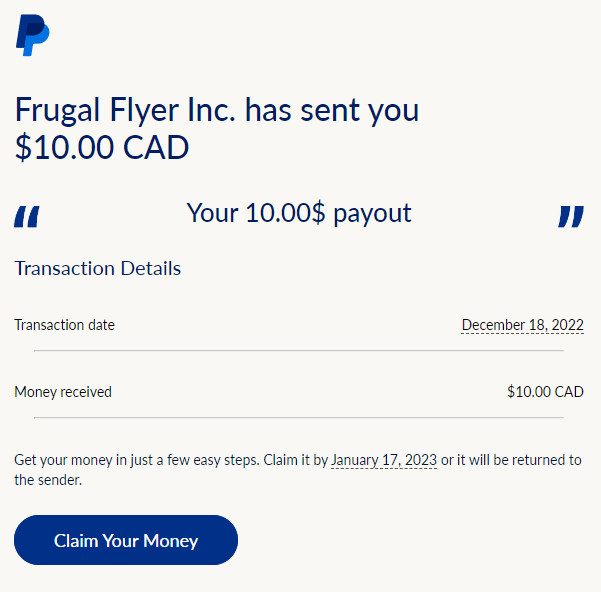 Not that if the funds are not claimed within 30 days, they will be refunded. They will not be resent.
Lastly, if you applied for a financial product through Frugal Flyer Rebates prior to December 18th, you will be paid out using Wise, our previous payment method. Going forward, all payments will be made via PayPal.
Introducing FlyerFunds: a Rebranding of 'Rebates'
As part of our new system launch, we've also decided to rebrand our 'rebates' as something more fun and specific to Frugal Flyer. Henceforth, Frugal Flyer's cash rebates will be referred to as FlyerFunds!


Now I know what you're thinking… "FlyerFunds? What is that, monopoly money? I want my cash!" Fret not, FlyerFunds are still cash rebates and will be paid out in cash via Paypal, as we've discussed above.


Our FlyerFunds rebrand is just our fun way of suggesting that you use your cashback towards your next flight or trip…because travel is awesome and saving on travel is what we are all about here at Frugal Flyer!
How to Access Cash Back Rebates
There are multiple ways to access cash back rebates whether you are interested in a specific product or want an overview of all currently available rebates.
The FlyerFunds Rebate Program page will always be the best source for all rebate information if you are interested in seeing all currently available financial products and their current cash back rates. If you see a card that you are interested in applying for on this page, click the Apply Now button to be taken to the rebate offer page to apply.
On the other hand, if you know what card you want to apply for there are a few other ways you can access the offer page. For example, let's say you are interested in applying for the RBC Avion Visa Infinite card and receiving a cash back rebate from Frugal Flyer.
You could navigate to the card from the credit card comparison tool by filtering based on your desired criteria. From there, once you are on the RBC Avion Visa Infinite card page, click on Apply Now.
In many of our articles related to certain cards, you will find a card block like below. Simply click on the Apply Now button in the card block and you will be taken to the offer page to apply.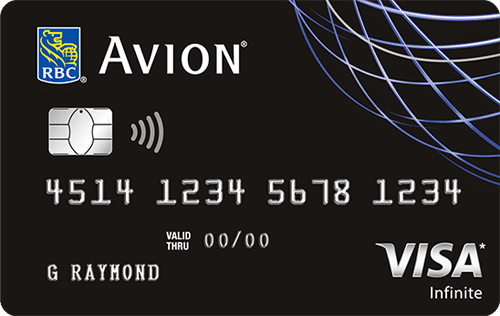 Apply Now
Learn More
Click Apply Now to earn $50 in FlyerFunds upon approval.
RBC Avion Visa Infinite
The RBC Avion Visa Infinite card earns Avion Elite points and gives cardholders the opportunity to earn 1.25x Avion Elite points on all travel purchases.
Check out our RBC Avion Visa Infinite card review for more details.
BONUS
55,000 Avion
MINSPEND
$5,000
ANNUAL FEE
$120
FOREX FEES
Yes
EXPIRY
Nov 27, 2023
Conclusion
Frugal Flyer has seen significant growth in our cash back rebate program in 2022 and we are excited to improve upon our existing processes to create a better, more streamlined, and more informational process for all of our readers. We greatly appreciate those who have used Frugal Flyer for rebates and look forward to welcoming you back, in addition to new readers, in the new year.
Also, note that by no means is this a final product – more features are coming, including a login page and dashboard where you can view all your previous rebate applications in one place.
We welcome any feedback on our new system, as we continue to strive to offer the highest cash back on credit card and bank account products in 2023 and beyond!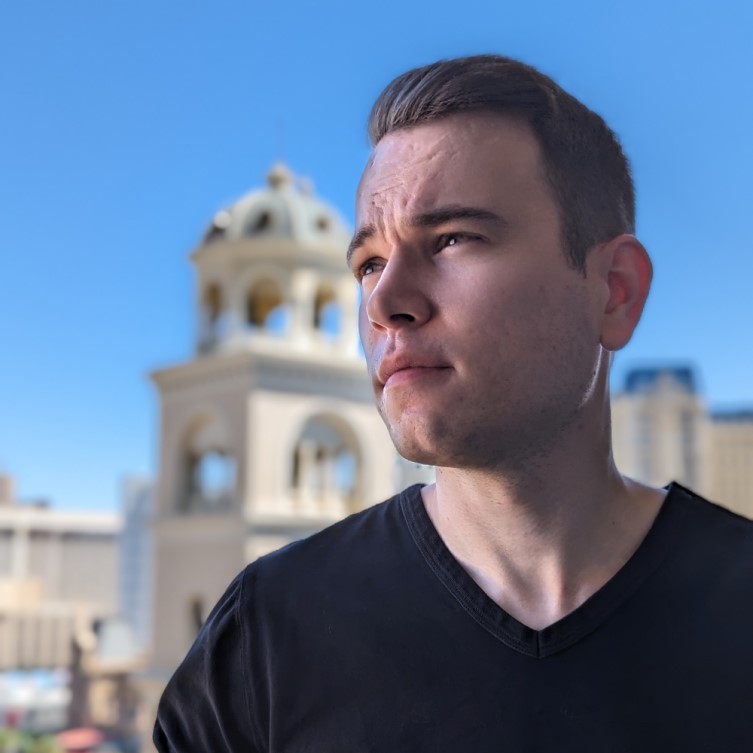 Josh has been involved in the miles and points game since 2015 but has scaled up his knowledge and points earning potential in recent years. With a consistent attitude of "min-maxing" in many aspects of his life, Josh has transferred this mindset over to the miles and points game. Always looking for the next big opportunity, he aims to share content on a variety of topics including his travels, miles and points, and most importantly, how to get the most out of your credit cards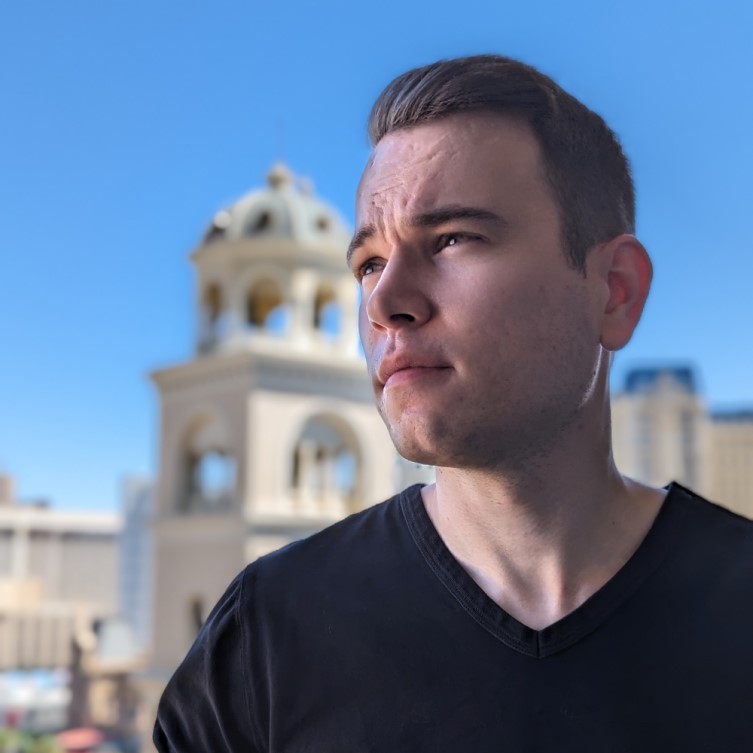 Latest posts by Josh Bandura (see all)
Reed is addicted to the art of earning and redeeming travel points, and frequently pairs his trips with his other hobby: photography. Through Frugal Flyer, Reed aims to distill some of the complex and esoteric points strategies into digestible information. Furthermore, he hopes to use his technical expertise to develop invaluable applications and tools for the travel community.
Latest posts by Reed Sutton (see all)