As I, like most in the churning game, have come into possession of a rather egregious quantity of points over the past couple of years, I'm always looking for ways to offload them, new trips to book. Recently, I've also been wanting to explore some more distant skiing destinations (as most of my experience has been confined to downhill skiing in Alberta). So I decided to take a look at what destinations were within reach using these programs that could position me for skiing some of the highly-rated mountains in North America.
For most of this planning, I was looking at booking two weeks to a month out using Aeroplan, WestJet, or in some cases, Alaska Mileage Plan. Unfortunately, COVID was a confounder in my search, as many routes had limited availability.
Nonetheless, here are the results of my search.
Denver, Colorado: Vail, Breckenridge, Keystone
The Resorts
Resort
Ticket Price (USD / day)
Distance to Denver
Difficulty
Night Skiing
Vail
$180-$230
120 miles
(2 hr 17 min)
Expert
No
Breckenridge
$104-$189
105 miles
(1 hr 58 min)
Advanced/Expert
No
Keystone
$140-$185
106 miles
(2 hr 20 min)
Intermediate
Yes
Of course, Colorado is naturally home to some of the best ski resorts available. Vail and Breckenridge are world-famous. Vail is regarded as one of the best hills in the USA, and Breckenridge is a unique experience with a historic little mining town at the base of the mountains. On the other hand, Keystone is a nice intermediate hill with very good night skiing.
Getting There on Points
Aeroplan actually services Vail (EGE airport) to Denver, although availability is limited. Going to Denver instead gives you the option to fly direct/non-stop via United Airlines from most major hubs like Vancouver, Calgary, Toronto, etc. Pricing is approximately 8,000-13,000 Aeroplan each way.
WestJet doesn't have any direct flights, all routing via connections to Delta airlines. Pricing isn't spectacular, a weekend trip leaving Friday returning Sunday will cost about $1000 WJD, and that's with a longer layover leaving you with 10-12 hours total travel time.
I would definitely pick to fly with Aeroplan points in this case: it's just much cheaper in terms of the raw value of the points required, and most would prefer to fly United to Delta anyways.
Also keep in mind that Vail, Breckenridge, and Keystone are all about 1.5-2 hour drive from Denver (but very close to each other), so you will need a plan for transportation.
Rental cars don't look to be too expensive ($50 USD / day), especially if you get crafty with the old corporate code tricks 😉
Sacramento, California: Palisades Tahoe (Squaw Valley)
The Resort
Lift Ticket Price: $144-$229/day
Palisades Tahoe is the largest ski resort in California, located in the Olympic Valley. It is known for high snowfall and advanced terrain. It has 30 lifts, a tramway and the only funitel in the USA.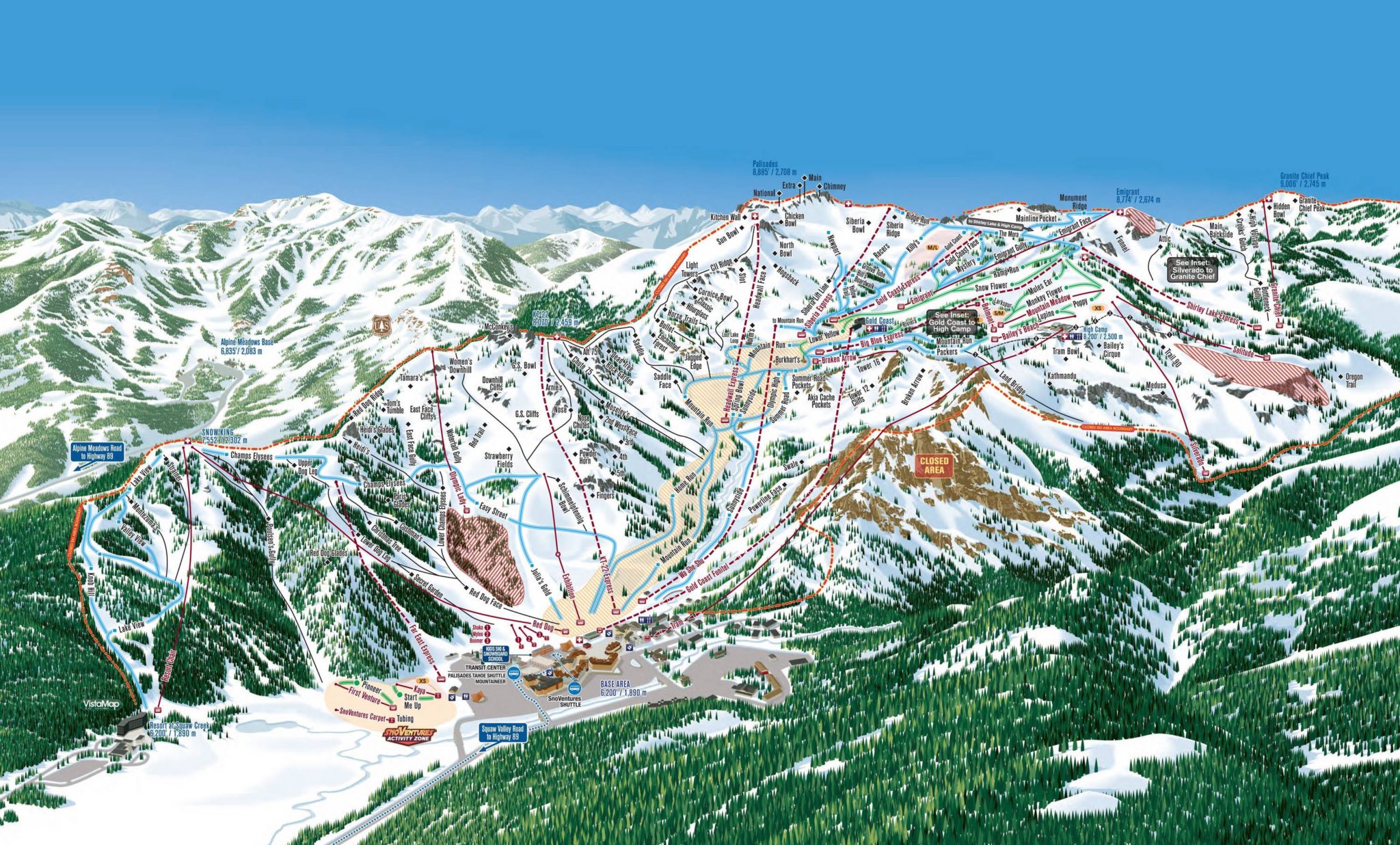 Getting To Palisades Tahoe (Squaw Valley) on Points
Aeroplan
You have two options with Aeroplan, fly to Sacramento International Airport (SMF), a 2 hour drive from Tahoe, or to Reno-Tahoe Intl. Airport (RNO), which is about a 50 minute drive.
At the time of checking, flights to SMF were 18-22k Aeroplan each way, with long layovers and 10-15 hours total travel time. Availability of award flights to RNO was sparse.
WestJet
Via WestJet, the only route is to SMF, through LAX or SEA. For a weekend trip, looking at $900-1000 WJD and a 7 hour travel time. Pretty reasonable.
In this particular case, I'd actually elect to fly WestJet. As always with dynamic pricing, Your mileage may vary, depending on when and how far in advance you're looking to book.
Idaho: Jackson Hole Mountain Resort
The Resort
Jackson Hole is a ski resort in Wyoming and is renowned for excellent snow quality and off-piste terrain. It has excellent lift infrastructure. It is known for its challenging terrain, including the infamous Corbet's Couloir.
Teton Village at the base of the resort is an authentic boutique village. Jackson Hole is also quite close to Yellowstone National Park as an added bonus.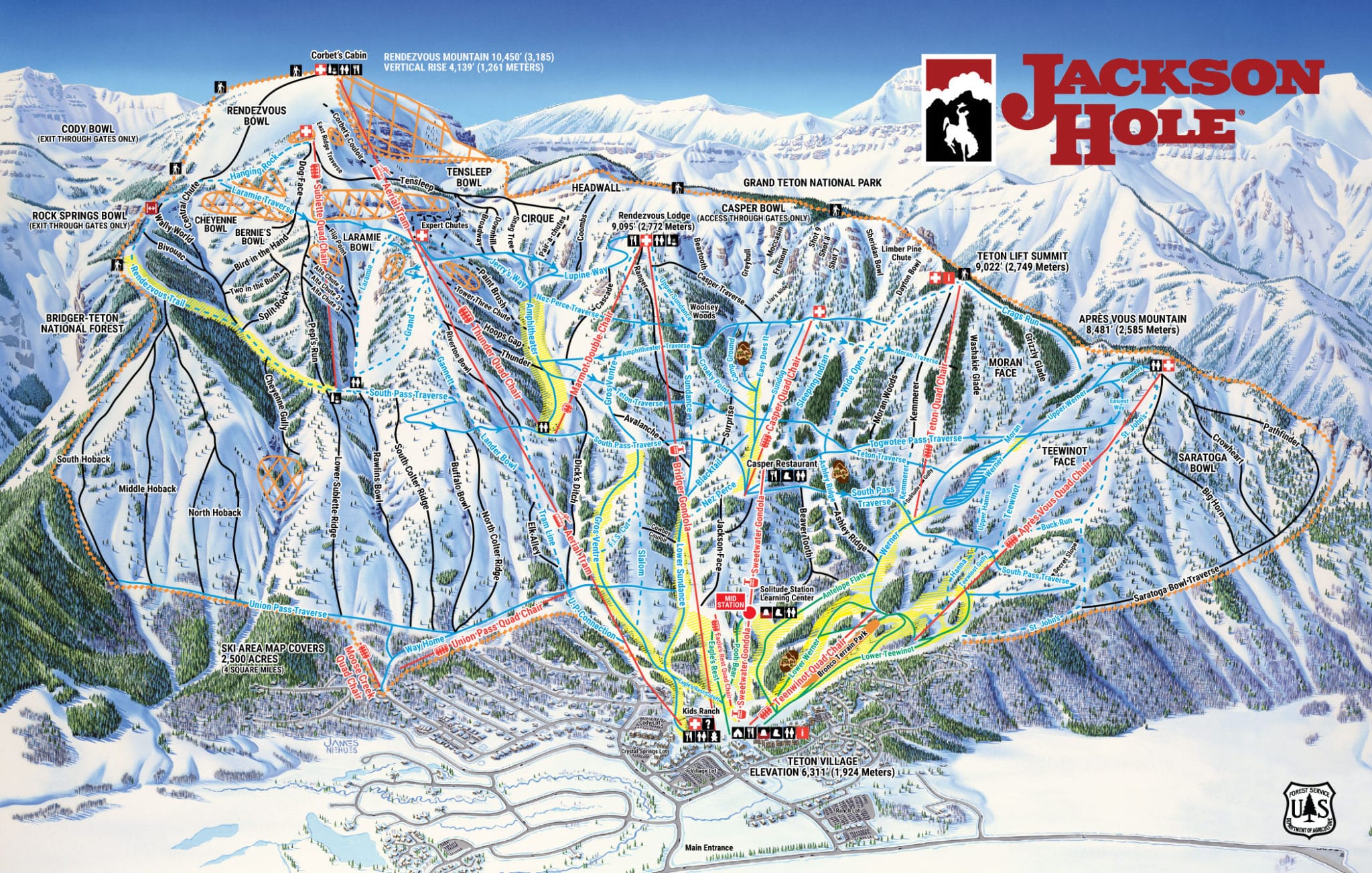 Unfortunately, a downside of Jackson Hole is that everyone knows how good it is. It can be very crowded on powder days, with long lines, chaos in the parking lots, and worst of all, quick packing of snow.
Getting to Jackson Hole on Points
Lift Ticket Price: $150-200 / day
Jackson Hole Airport (JAC) is, naturally, the best option for getting to Jackson Hole resort. Alaska Airlines flies there by routing through Seattle (SEA), which is an obvious choice for anyone in Western Canada, and would run 7,500 – 30,000 Alaska miles each way.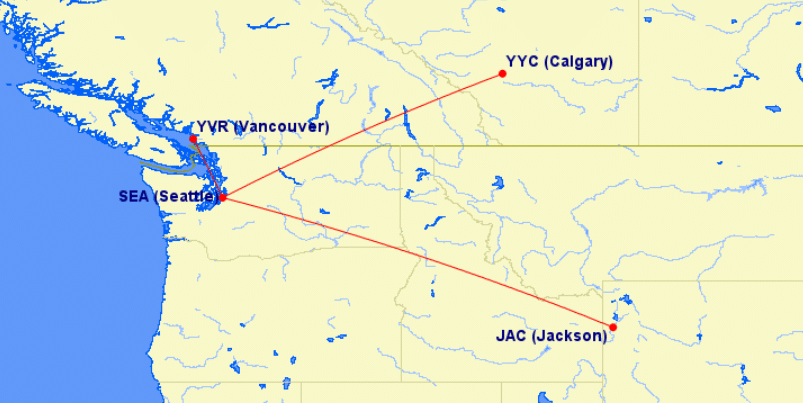 If you're coming from Toronto or Eastern Canada, you may be better off finding a route on United Airlines through Chicago, Denver, or Salt Lake City, for example.
WestJet doesn't provide much of an option as it only flies to Salt Lake City (SLC), a 4.5 hour 277 mile drive, and Denver International (DEN), an 8.5 hour, 526 mile drive. Delta does fly to JAC but it doesn't seem that route is bookable with WestJet at this time.
Anchorage, Alaska: Alyeska Resort
The Resort
Lift Ticket Price: $99 / day
You can ski free on your first day arriving when you have an Alaska Airlines boarding pass and matching ID (only valid weekdays (Monday – Friday) from January 4 to April 22, 2022.
Alyeska is the only destination ski resort in Alaska, and boasts the longest double black diamond run in North America. It's considered to be a fairly challenging ski mountain and a good warm-up prior to going heli-skiing in Alaska. They also have night skiing, until 8:00 PM. While you are in Anchorage, check out some of the best things to do and see.
Alyeska is about 30 miles from downtown Anchorage, or a 50 minute drive.
Getting To Alyeska in Anchorage, Alaska on Points
Alaska Mileage Plan
In terms of getting there, Alaska Airlines is an obvious choice, which we all know how to accumulate quickly by churning the MBNA Alaska Airlines credit cards. The main Alaska hub to fly to Anchorage from Western Canada is Seattle (SEA).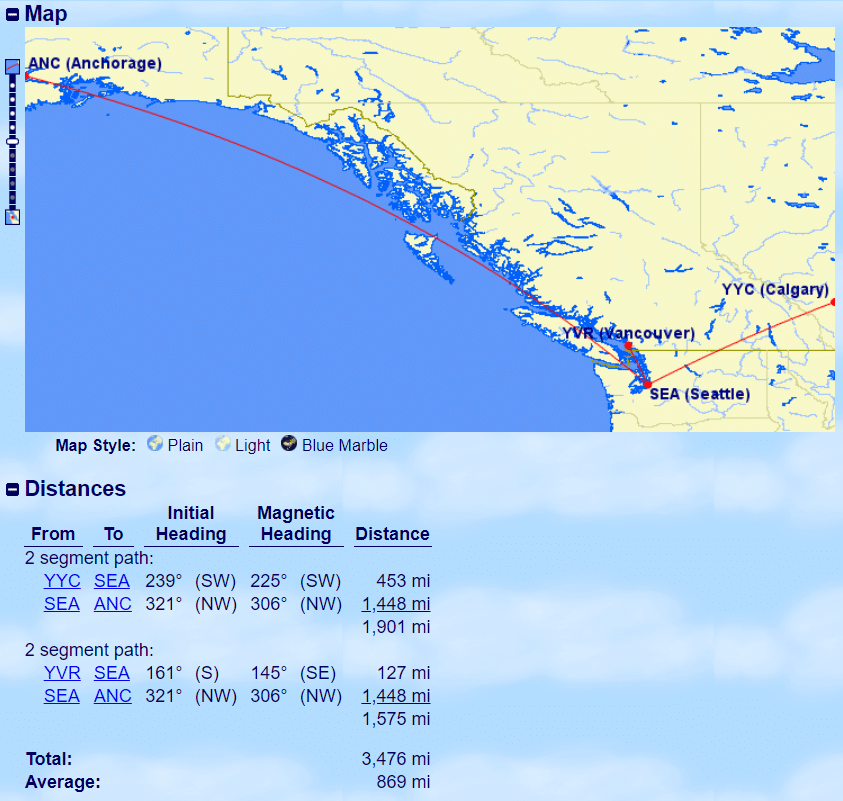 In my experience, flights from YYC to SEA to ANC cost in the ballpark of 15,000-30,000 Alaska miles each way, depending on availability and timing (although the Award chart officially states a range from 10,000-40,000 for Main Cabin).

I was able to book for two people, a month out for 50,000 miles total, with a total flight time of 7-8 hours for my routing from YYC-SEA-ANC in March 2022. Additionally, this trip only cost me a total of $300 per person.
Aeroplan and WestJet
Unfortunately, Aeroplan doesn't have many good out-of-the-box options to fly to Alaska. You will actually get routed to Denver to fly via United.
On the other hand, WestJet can get you there through SEA–>ANC on Delta Airlines, but total trip time tends to be a little to a lot longer than you'd get through Alaska directly, and will cost $1000-1200 in WestJet dollars.
Overall, flying Alaska Airlines is probably the most intuitive play here, and will also save you on lift ticket costs if you plan to ski the same day you're arriving. You can quickly earn 30,000 Alaska miles just for signing up for the MBNA Alaska Airlines World Elite.
MBNA Alaska Airlines World Elite
The MBNA Alaska Airlines World Elite card earns Alaska Miles and offers cardholders benefits on Alaska Airlines flights, including an annual companion fare and free first checked bag.
Check out our MBNA Alaska Airlines World Elite review for more details about this card.
This card is currently discontinued and is unable to be applied for.
BONUS
30,000 Alaska Miles
MINSPEND
$1,000
ANNUAL FEE
$99
FOREX FEES
Yes
Salt Lake City, Utah: Alta/Snowbird, Park City, Powder Mountain
The Resorts
Resort
Ticket Price (USD / day)
Distance to Salt Lake City
Difficulty
Night Skiing
Alta
$121-$151
33 miles
(40 min)
Expert
No
Snowbird
$116-$160
32 miles
(40 min)
Advanced
No
Park City
$164-$213
37 miles
(41 min)
Intermediate
Yes
Powder Mountain
$110
57 miles
(1 hr 14 min)
Yes
Alta and Snowbird are adjacent mountains, the two being skiable with a joint ticket. They are connected at the top (Sugarloaf pass). Alta is one of the only remaining 'ski-only' resorts in the USA. Uniquely, Snowbird has a 125-passenger tram, which can access almost all areas of the mountain, and a conveyor belt through the mountain.
Park City is a very unique resort and mountain as well, previously the largest in Utah, now second to Powder Mountain. It has the town of Park City directly located at its base, which is also home to the Sundance Film Festival. There is a large percentage of intermediate terrain at Park City, but with a mountain this size there is always a ski area for everyone's specific needs.
Alta, Snowbird, and Park City are all located just outside Salt Lake City, less than a 1 hour drive.
Powder Mountain is a bit further away than the other three resorts. However, it presents the largest ski and snowboard area in the United States at over 8,464 acres of skiable terrain. It has cat skiing and lots of backcountry skiing as well. It is known, as its name suggests, for its great natural snow. It also limits its lift tickets to 1500 per day, which restricts the crowding.
Here are some good reviews comparing Utah ski/snow resorts:
Getting There on Points
You can fly direct non-stop to SLC using WestJet dollars using their partnership with Delta, from many Canadian destinations, including Vancouver (YVR), Calgary (YYC), and Toronto (YYZ). Flying WestJet from YYC to SLC was pricing at around $300-$450 each way for booking 1-2 months out in March/April.
From Western Canada, you can also fly to SLC on Alaska Airlines with a connection via Seattle (SEA). For example, YYC -> SEA -> SLC, or YVR -> SEA -> SLC. These would be a 'skip' according to Alaska's award chart, and only cost in the range of 7,500 – 30,000 each way (more realistically in the middle of that if you book anything other than last minute).
There was limited availability to fly Aeroplan to SLC from most Canadian cities at the time of writing. However, there are routes on United Airlines via San Francisco (SFO) and Denver (DEN) normally, for around 12,000-22,000 Aeroplan points each way.
Ultimately you can't really go wrong with either points program here as they're pretty comparable in terms of value, with perhaps a slight edge to Alaska. On the other hand, if you're coming from Calgary you might lean towards WestJet for the direct and quick 2.5 hour flight.
Other Considerations
Snow Pass Programs
Another thing to consider if you're planning a ski trip to the US is the various snow pass programs available. These passes are all structured differently, but in most cases they can save you money even if you only use them a couple times in the season.
The Epic Pass is considered the king of ski/snow season passes. It has different tiers of passes, as follows:
Epic 1- to 7-day Passes: personalized pass with the exact number of lift-ticket days you need.
Epic Local Pass: unlimited time pass with some peak holiday restrictions and access to a slightly shorter list of resorts.
Full Epic Pass: unlimited skiing, with no date or resort restrictions.
The full Epic pass is $783 for adults, the Local pass is $583 for adults, and the 1-7 day pass pricing depends on the number of lift tickets, which resorts you ski at (there are two tiers of resorts), and whether you ski holidays.
Of note, the Epic resort list includes Vail, Breckenridge, and Keystone, an especially strong showing from Colorado. It also includes Park City.
Like the Epic Pass, there are three IKON pass types:
Session 4-day Pass: four days at any of the included resorts, for $399 USD. There are some blackout dates. Pricing will work out to about $100 per day if you ski 4 times.
Full Pass: unlimited skiing at all included resorts. Price: $999 USD for adults, $719 USD for military personnel, college students and nurses.
Base Pass: unlimited skiing at a shorter list of mountains, with some holiday date restrictions, for a discounted price of $729 USD for adults, $549 USD for military personnel, college students and nurses.
Included in the IKON resort list are Palisades Tahoe, Jackson Hole, and Alta/Snowbird. You should buy this pass early in the season or at the end of the season for the following year.
Mountain Collective is a smaller and simpler pass with 23 resorts included. It costs $499 USD for adults. It is not unlimited, however you get two included days at each resort with no blackout dates, then 50% off additional ski days. There are no holiday restrictions.
The pass pays for itself fairly quickly if you use it four or five times.
You can ski two days at both Alta and Snowbird with this pass. Also included is Palisades Tahoe and Jackson Hole.
Another smaller pass, with mostly smaller independent resorts. They are at 82 resorts and counting.
Similar pricing structure to the Mountain Collective pass. You get two included days at each resort, then 25% off additional ski days. There are blackout dates however.
This pass will get you two days at Powder Mountain.
Summary Table
| Resort | Location (nearest airport) | Lift Ticket Price | Snow Pass Program | Hill Rating (Powderhounds, /5) | Night Skiing | Reachable Via Which Airlines? |
| --- | --- | --- | --- | --- | --- | --- |
| Vail | Denver, Colorado | $180-$230 | Epic | 4.5 | No | Aeroplan, Alaska, WestJet |
| Breckenridge | Denver, Colorado | $104-$189 | Epic | 4.5 | No | Aeroplan, Alaska, WestJet |
| Keystone | Denver, Colorado | $140-$185 | Epic | 4 | Yes | Aeroplan, Alaska, WestJet |
| Palisades Tahoe | Sacramento or Reno, Nevada | $144-$229 | IKON, Mountain Collective | 4.5 | Yes | Aeroplan, Alaska, WestJet |
| Jackson Hole | Jackson Hole, Wyoming | $150-200 | IKON, Mountain Collective | 4.5 | No | Aeroplan, Alaska |
| Alyeska | Anchorage, Alaska | $99 | None | 4 | Yes | Alaska, WestJet |
| Alta | Salt Lake City, Utah | $121-$151 | IKON, Mountain Collective | 5 | No | Alaska, WestJet |
| Snowbird | Salt Lake City, Utah | $116-$160 | IKON, Mountain Collective | 4.5 | No | Alaska, WestJet |
| Park City | Salt Lake City, Utah | $164-$213 | Epic | 5 | Yes | Alaska, WestJet |
| Powder Mountain | Salt Lake City, Utah | $110 | Indy | 4 | Yes | Alaska, WestJet |
Conclusion
If you're a points collector and a ski/snowboarding enthusiast, you should consider using your points to travel to some of the more impressive resorts in North America, something that isn't possible or affordable for everyone!
And if you've been to any of these resorts, or other great resorts, feel free to tell us all about your experience in the comments below!
Happy frugal skiing/snowboarding!
Reed is addicted to the science (and art) of earning and redeeming travel points, and frequently pairs his trips with his other hobby: photography. Through Frugal Flyer, Reed aims to distill some of the complex and esoteric points strategies into digestible information. Furthermore, he hopes to use his technical expertise to develop invaluable applications and tools for the travel community.
Latest posts by Reed Sutton (see all)