As part of their benefits on specific credit cards, American Express Travel offers two hotel booking programs: The Hotel Collection and Fine Hotels & Resorts (FHR).
The American Express Hotel Collection program focuses on properties that I would consider good to great. Eligible Amex cardholders who book their hotel stay through this program are eligible for a few nice-to-have benefits.
On the other hand, the American Express Fine Hotels and Resorts program focuses on exclusive and luxury hotels around the world. Eligible Amex cardholders who utilize this program receive outsized value when it comes to additional benefits and perks that can even beat out having hotel loyalty program status.
Let's take a look at everything you need to know about the Amex Fine Hotels & Resorts program.
What is American Express Fine Hotels and Resorts?
American Express Fine Hotels and Resorts is an exclusive booking platform for cardholders to book hotel reservations for exclusive and luxury hotels with added benefits. The FHR program has a curated list of over 1,200 hotels worldwide.

As this platform is essentially a third-party booking tool, prices typically align with other third-party booking sites. I've also found that sometimes the rates can be comparable to booking direct with the hotel, so it is worth comparing between multiple sources before making a booking under the FHR program.
That being said, definitely consider the additional value that you get from the FHR benefits to ensure you are coming out ahead.
Benefits of Fine Hotels and Resorts
The main reason to utilize the Fine Hotels and Resorts booking platform is to take advantage of the added benefits that come with each booking.
The Amex FHR benefits you can expect to receive on your booking include:
Room upgrade when available; this could be a category upgrade or a view upgrade (depends on the property)
Free daily breakfast for two people; typically a daily statement credit that can be used at on-site restaurants
Guaranteed 4 pm late check-out; a fantastic benefit if you have a flight later that day
Early check-in at noon when available
Complimentary on-site WiFi
A property experience credit; often in the form of a $100 USD food and beverage credit; can also be a spa credit or something else depending on the property; this is applied once per booking
Even better, these benefits and perks can stack with elite status perks if you are staying at a hotel chain where you have status. We will touch on this more below.
Who is Eligible to Use Amex Fine Hotels & Resorts?
The American Express Fine Hotels & Resorts program is only available to those who hold the most premium Amex credit cards.
For those of us in North America, the following cards will grant you eligibility to make bookings under the FHR program:
Interestingly enough, all of the above cards except for the Canadian Amex Business Platinum earn 5 Membership Rewards points per dollar spent on hotel bookings on Amex Travel. That being said, if you are going to make an Amex FHR booking, definitely use an eligible card to maximize the return on your spending.
As a side note, the US Amex Platinum card also has a $200 hotel credit that can be applied towards a Fine Hotels and Resorts (minimum of one night) or The Hotel Collection (minimum of two consecutive nights) booking. This credit is automatically applied to your account statement within a few days of making an eligible booking.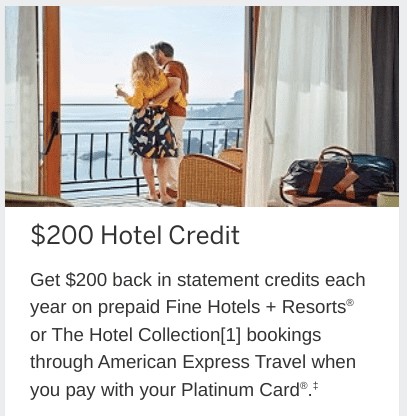 Considering the high $695 USD annual fee on the US Platinum card, this is a great way to extract some additional value if you were planning on making a Fine Hotels and Resorts booking. Not only will you save $200, but you will also be able to enjoy the benefits that come with FHR.
How to Make an Amex Fine Hotels & Resorts Booking
Making a Fine Hotels and Resorts booking is straightforward – click here to access the booking portal. From there, simply enter the desired destination or hotel, dates, number of rooms, and number of guests as you would with any hotel booking tool.
Once you search, a list of fine hotels and resorts properties that are available at the desired destination will be displayed. For this example, let's look at booking a hotel in Maui for a date in March.

If you select the property, you will be presented with a screen where you can select the room type and view what the unique experience credit is for this specific hotel. In this case, the unique experience credit is a $100 USD food and beverage credit. This will be applied directly to your bill, so ensure you are charging any on-property food and beverage purchases to your room.

From there, all you need to do is select your room type and complete the hotel booking as you would with any booking platform. I've found that the majority of properties are to be considered prepaid hotel bookings, meaning you will need to pay for the full cost of the booking at the time of reservation.
The option to pay for all or part of the booking with Membership Rewards points is available for cardholders who are interested. Typically, you will extract more value out of your Membership Rewards points by transferring them to an airline partner program, but I will leave that up to you to determine what is best.
In the above example of a hotel booking in Maui, you are coming out ahead with all of the perks that Fine Hotels and Resorts since booking directly with the hotel is the same cost as the Amex FHR rates. The perks can really add up, especially when you consider the cost of free breakfast for two people daily, in addition to the hotel experience credit.
If you are considering making a booking through the Amex FHR program, I highly suggest comparing rates before pulling the trigger to ensure you are getting the most value for your money.
Amex Fine Hotels and Resorts: Offers & Opportunities
The American Express Fine Hotels & Resorts program gets even sweeter when you consider a few of the offers and opportunities that are available: hotel-specific promotions and maximizing the $100 USD property credit.
Hotel Specific Promotions
Oftentimes there are hotel-specific promotions on the FHR booking platform. These promotions can include a percentage off of your nightly rate, a free night, or even an increased property credit.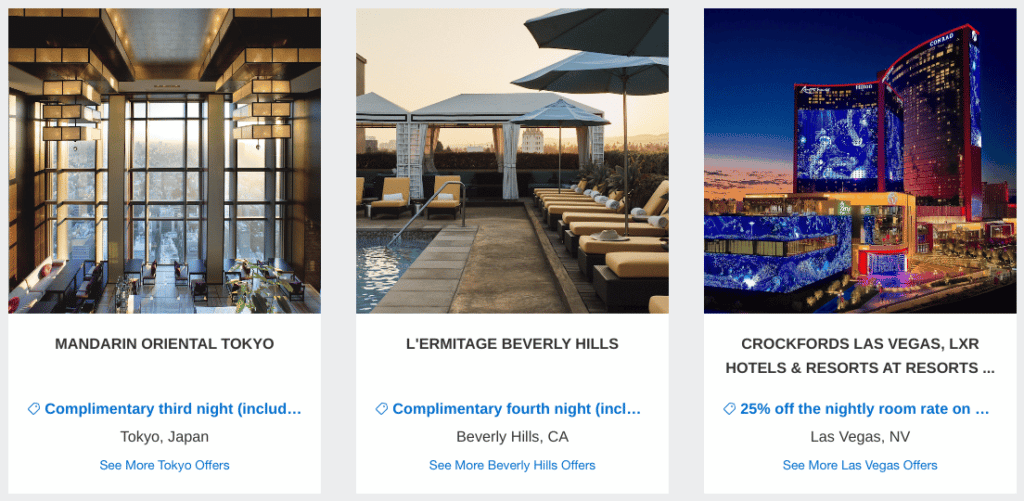 These offers can be a great way to further stretch your dollar when making a cash booking. The offers change from time to time so it is worth checking frequently if you have a desired destination in mind but are not yet set on what property you want to stay at.
You can view all special offers by scrolling down on this page.
Maximizing the Property Experience Credit
The standard property experience credit is typically a $100 USD food and beverage credit to be used during your stay. This credit remains the same no matter if the booking is for one night or any other amount of nights. Even if you make multiple consecutive bookings under the same name, it will count as the same booking and thus only one experience credit will be applied.
If you are staying with a significant other, family member, or friend who also holds an Amex platinum card, you can alternate one-night bookings under different names at the same property to be granted a new credit for each new stay.
This can be a great way to stay consecutive nights at the same property, while still earning a new $100 USD credit for every night of your stay. However, it does come with the added hassle or complication of having to pack everything up, check out, and check back in. While it shouldn't be a terrible hassle thanks to the late check-out and early check-in, it can still be a pain that some are not willing to deal with.
However, Amex recently added a clause striking down this workaround as a valid option. That being said, if this will be enforced is still to be determined.
This is another great example of how involving a player two can really help you maximize your travel hacking game.
Using Amex Fine Hotels & Resorts with Hotel Loyalty Status
Typically, third-party bookings don't allow you to take advantage of any status that you currently hold with a hotel loyalty program. This is where Fine Hotels and Resorts differs; if you have status with a hotel loyalty program, you are eligible to receive the elite benefits in addition to the Amex FHR benefits listed above.
For example, if you have elite status with Marriott Bonvoy or Hilton Honors, any bookings made with FHR will also be eligible for status benefits provided that you enter your loyalty number when you are making your booking.
If the booking is properly linked to your hotel loyalty account, you will then be able to view the booking online and in the respective program app. This means you can also utilize other features, such as chatting directly with the hotel if possible.
Conclusion
If you hold an Amex Platinum or Business Platinum card, you are eligible to take advantage of the Amex FHR program. If you are considering booking a luxury hotel via cash rates, I would recommend always running a comparison to see if you can extract additional value from the benefits that come with Amex FHR bookings.
Josh has been involved in the miles and points game since 2015 but has scaled up his knowledge and points earning potential in recent years. With a consistent attitude of "min-maxing" in many aspects of his life, Josh has transferred this mindset over to the miles and points game. Always looking for the next big opportunity, Josh aims to share content on a variety of topics including his travels, travel hacking, and most importantly, how to get the most out of your credit cards
Latest posts by Josh Bandura (see all)