COVID Testing Options for Entering Canada
As travel starts to pick back up, people are booking flights, hotels, and activities for hopeful future vacations. While those are the fun parts of planning for travel, the necessary evil that is COVID testing is now something that needs to be planned for. Understanding your destination testing requirements, as well as Canadian entry requirements, is paramount to ensuring you have a successful vacation.
When leaving Canada, it is relatively simple to find testing options that are available to you depending on the type of test that your destination requires. On the other hand, oftentimes the requirement to find a testing provider or option in a foreign country to be able to come home to Canada can create an additional level of stress.
Below, we cover the COVID testing requirements to enter Canada in addition to tools available to help you find testing facilities wherever you end up travelling.
Related: Canada Easing Travel Restrictions & Testing Requirements as of Feb 28, 2022
Who Requires a COVID Pre-Entry Test to Enter Canada?
As of January 2022, all travellers 5 years of age or older must have a completed and valid COVID pre-entry test, regardless of vaccination status, to successfully enter Canada.
To satisfy this requirement:
You must provide proof of a COVID-19 negative molecular test result to enter Canada OR proof of a previous positive test result taken between 14 and 180 days ago (starting January 15, 2022, between 10 and 180 days ago).
The test must be taken within 72 hours of the scheduled departure time of your last direct flight to Canada.

For example, if you were flying LAX > SEA > YVR, the 72-hour mark would be when the flight from SEA to YVR departs.
I recommend testing as close to the 72-hour mark as possible to ensure you get your test back in time, especially if you are using any of the free options that we will outline below.
Valid COVID Tests for Returning to Canada
The Canadian government is quite strict, compared to other nations, surrounding what COVID test can be completed to enter Canada.
If you are looking for testing options in another country, you need to look for polymerase chain reaction (PCR) tests, nucleic acid tests (NAT), nucleic acid amplification tests (NAAT), or reverse transcription loop-mediated isothermal amplification tests (RT-LAMP).
Most importantly, rapid antigen tests, which are currently accepted for travel to the United States, are not accepted for entry into Canada.

For more information on the COVID tests that are eligible to be used for entrance into Canada, visit the Government of Canada website.
Testing Options in the United States
Regardless of whether you are crossing the border via car or air, you will require a molecular COVID test within 72 hours of your planned entry into Canada. If you are testing at a clinic or pharmacy in the United States, they will ask for an address and you can use the address of your hotel or residence where you are staying. The rest of the information should be your true Canadian information.
When filling out the testing form in-person or online in advance of your test, it may ask if you have insurance. Select that you are uninsured and the pharmacy or clinic will bill the government for the test cost as part of a subsidized federal program.
Walgreens COVID Testing
Walgreens Pharmacy in the United States is probably the most well-known location for travellers to receive a Canada-accepted COVID test for travel purposes. Walgreens locations are easily accessible across many of the US states so it is very likely you will be able to find one near where you are staying.
Walgreens locations that are offering COVID-19 tests can be found using their location search tool here. Before booking an appointment, it is worth calling to determine if the location is a drive-thru-only operation or a location where you are expected to get out of your vehicle. If it is a drive-thru location and you do not have a rental car, you could order an Uber or Lyft to pick you up and take you through the drive-thru pharmacy. Always book an appointment in advance where possible.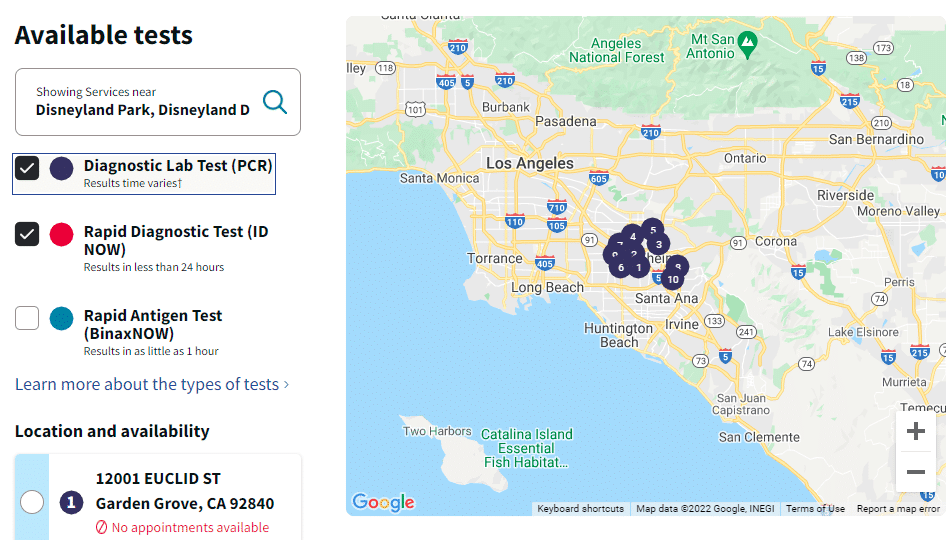 Walgreens offers two different COVID tests that are acceptable for entry into Canada:
Diagnostic lab test (PCR) – Results are expected within 48 hours as the sample needs to be sent to a lab for analysis; oftentimes, results are seen within 36 hours based on anecdotal evidence from fellow travellers
Rapid diagnostic test (ID NOW) NAAT test – The official timeline for results given by Walgreens is 24 hours, but you can often expect to receive them within an hour or two after testing
For testing purposes, I recommend trying to find a Walgreens that offers the ID NOW test since the turnaround time is so quick. This test is self-administered at a Walgreen's drive-thru with the pharmacist processing the specimen after collection.
Note that the Rapid Antigen Test option is not valid for entry into Canada. This is different from the Rapid Diagnostic Test, which is eligible for entry into Canada. When searching on the Walgreens location finder, ensure that you have not selected the rapid antigen test option.
Lucira COVID Check It Test Kit
Another option for COVID testing in the United States is the Lucira COVID Check It test kit. This is an at-home (or hotel) test that is completed via a telehealth video call. The cost for the single-use Lucira test kit is $75 USD which is reasonable when considering the convenience that an option like this provides the traveller.
When you are completing the test, the medical professional on the telehealth video conference call will guide you through the process. Once the test is complete and has had ample time to run, the results can be uploaded and you will be provided with a PDF containing your details and proof of results which can be used for entry purposes.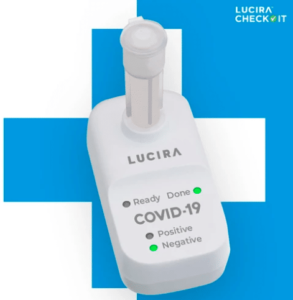 The Lucira COVID Check It test is only available in the United States and you can order the testing kit from their website to a US-based address. If you are interested in this testing option, I would recommend ordering in advance to be delivered to your hotel or place of residence for your next US-based vacation.
Alternatively, if you know someone who is travelling to the United States, it would be worth seeing if they can receive a few tests at their hotel to bring back to Canada for your usage. At $75 USD, this is the cheapest home COVID test we have found that meets the requirements for entry into Canada.
COVID Clinic Testing
COVID Clinic is an organization that offers testing at many locations within various states. You can determine if there are any COVID Clinic testing locations near where you will be staying via their location search tool.
Technically, the free test that COVID Clinic offers is not supposed to be used for travel and they state that it can take 2+ days for results, but I have yet to see this be the case. As always, if you are risking it with a free testing option that may take longer for results, have a backup in mind if you do not receive your test in time for your return to Canada. When you attend your appointment, they may ask you if this test is for travel purposes. You will need to say no, and instead that you are testing as you are concerned that you may have been exposed.
My partner and I used COVID Clinic on a recent trip to Disneyland and it was a great experience. We had booked an appointment in advance using their booking tool with our US address being the hotel we were staying at.
The testing process was quick and convenient – the location we used was only a five-minute Uber from Disneyland. When we arrived, we checked in (as we had booked an appointment online) and then performed the COVID test on ourselves while being monitored by a medical professional.
We received our results in a little less than 24 hours via a PDF to our email. Overall, it was a smooth experience.
COVID Testing Options Internationally
Before you even depart Canada, you should have an understanding of the testing options that are available to you at your international destination.
The Government of Canada Travel Advisories page can be a great starting point to find COVID testing options. Simply find the destination you will be travelling to and click on the name. Once on the country-specific page, you can click on the Health tab. Scrolling down, under the "Medical Services and Facilities" you will find a link to testing facilities at your chosen destinations.
While this might not be the perfect solution, it will give you somewhere to start your research in advance of your travels.

I've also had great success in reviewing country-specific forums on Flyertalk to understand the options that are available in the respective city or area that I will be visiting. On Flyertalk, you are often receiving information from travellers just like yourself who are facing similar situations so it can be incredibly helpful to read about their experiences.
If finding a location to test in a foreign country creates an additional layer of travel anxiety, in addition to forcing you to take time out of your vacation, travelling with a home testing kit might be a better choice.
Switch Health RT-LAMP COVID Test Kit for Home Use

If you are a traveller who values convenience over cost, the Switch Health RT-LAMP COVID test kit might be the right choice for you. Priced at $149 per test, these COVID-19 tests can be completed in the comfort of your home or hotel room.
Following the provided instruction manual, you will connect with an ASMO medical professional via a telehealth session on your cell phone. They will walk you through the process and assist you with running the test. Once the test has finished running, you can upload a picture of the result and you will receive a PDF result document in your email which can be used for entry into Canada.
I've personally used the Switch Health rapid testing kit for previous travels and it was very easy and convenient. I plan on picking up a couple of the COVID-19 RT-LAMP kits for an upcoming vacation so I don't have to worry about booking a test in a foreign country.
Conclusion
Unfortunately, the reality is that COVID testing is a big part of any travel plans for the foreseeable future. Being prepared, and understanding the testing requirements for your pre-departure test to enter Canada, as well as the testing options available to you, can go a long way in ensuring you have a successful and enjoyable vacation.
Hugh has been involved in the miles and points game since 2015 but has scaled up his knowledge and points-earning potential in recent years. In 2019, Hugh stepped things up when he met Reed in addition to a few other miles and points fanatics (err degenerate churners) and has since been able to capitalize on the various expertise that each member brings to the group.
Latest posts by Hugh Campbell (see all)