As part of my summer of travel, I recently spent a week in Amsterdam. While we did travel to Belgium for a day trip, and throughout the Netherlands, Amsterdam was our home base for the week.
For the stay, we booked six nights at the Doubletree by Hilton Amsterdam Centraal Station. Cash rates were around €350 per night else you could redeem Hilton Honors points at a rate of 55,000 points per night (with the fifth night being free if you were to book four nights on points).
Thanks to my two broken Hilton Honors Aspire cards, I was flush with four free night certificates that I needed to burn. While this is far from the "optimal" use for these certificates, they needed to be used this year and this was the best value I could extract from them with the trips I had planned. Ultimately, I ended up redeeming four free night certificates and booking the remaining two nights on Hilton Honors points, for a total cost of 110,000 Hilton Honors points.
Let's take a look at what the Doubletree by Hilton Amsterdam Centraal Station has to offer.
Location
The main reason I would recommend booking this hotel is for the location as the Amsterdam Centraal train station is nearby in addition to many desirable locations. The city center is within walking distance.
If you are entering the Netherlands via Schipol Airport (AMS), the Doubletree by Hilton Amsterdam is only a 15-minute train ride away. This cannot be beaten for convenience, since taxis are very expensive in the Netherlands compared to public transportation.
Amsterdam is a very walkable city and so choosing a hotel where you can take advantage of that is important. There are so many restaurants, pubs, and cocktail bars nearby that we were never short of quality options.
Lobby & Check-In
The lobby of the Doubletree by Hilton Amsterdam is very open and airy, with multiple check-in lines. They do have a "roped-off" check-in lane for Hilton Honors members, however, it was a token gesture at best since everyone just lines up regardless. However, at check-in time, the wait was short so it didn't seem to be a big deal.
When we went to check-in, the rep initially said it was going to be an issue getting a two twin bedroom even though I had booked exactly that back in February in addition to being a Diamond member. Even better, I looked up availability when we were checking in and there were rooms available so I am not sure what the big deal was. Finally, amazingly, the exact room type that I had booked was found and just needed to be cleaned. Crazy how that happens.
Admittedly, we had arrived an hour or so before check-in after a long day of flying so there were no expectations, but the initial rep was far from helpful. Eventually, we came back at check-in time and were helped by a nice lady who was able to call housekeeping to inquire about the status of our room to get us checked in asap. She was super accommodating, so it may have just been the case of a less-than-trained front desk representative.
This was the only part of the whole stay that was a minor inconvenience; even when we had to check out and check back in mid-stay due to how it was booked, it took only a few minutes. Overall the majority of the agents seemed capable, outside of the initial one we had an interaction with.
Double Twin Guest Room
As it was my buddy and me, we had booked a double twin guest room at the Doubletree for our stay. The rooms at this hotel are quite reasonably sized and minimalistic in nature, as many hotels in Europe tend to be.
Upon entering, the bathroom is on your immediate left. These rooms come with a standard set-up of a sink, toilet, and an enclosed glass shower.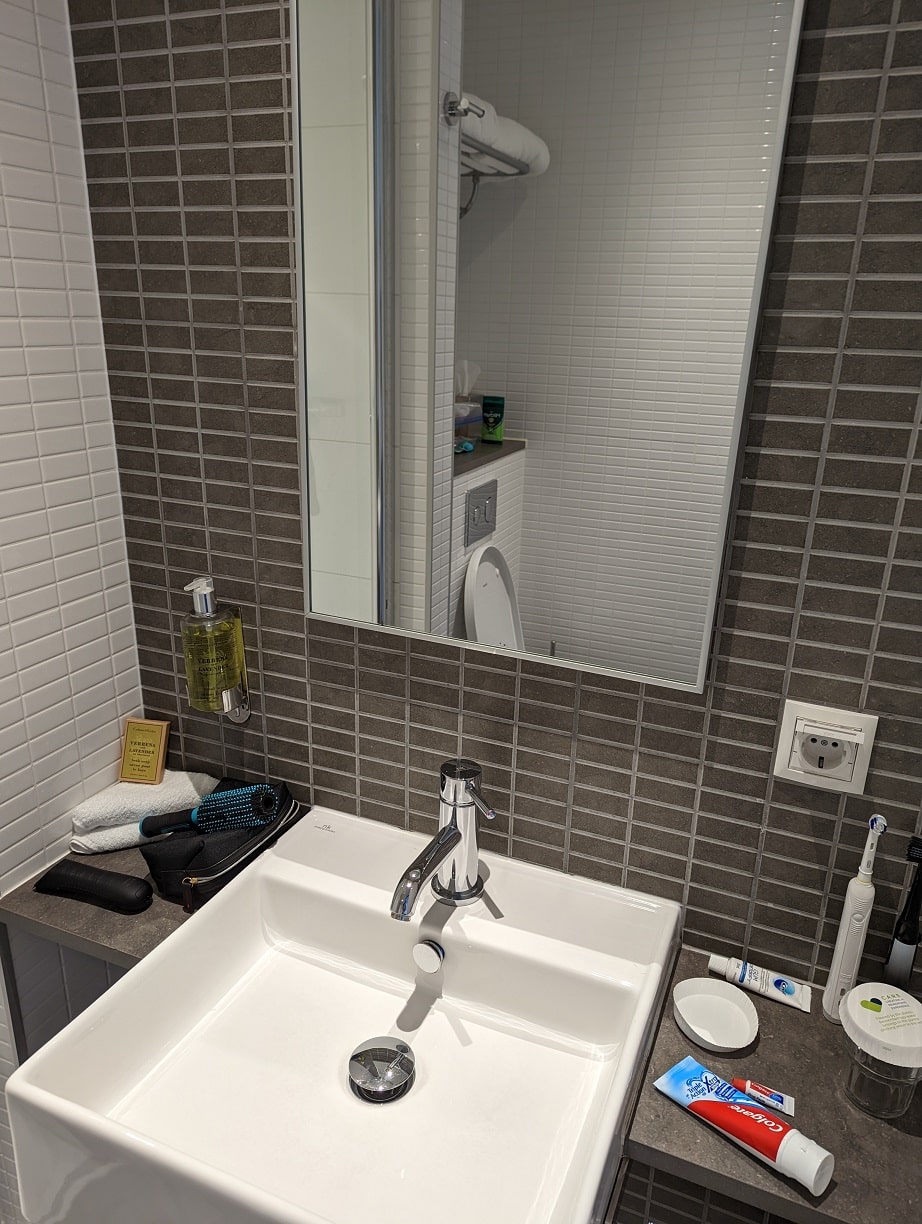 From the bathroom, you are in the main area of the room. The two twin beds are barely separated, with a floating nightstand on each side. There is a small sitting area with a desk, a few chairs, and a table. A TV is mounted on the wall in front of the beds.
All rooms are equipped with mini-fridges, which was a treat to have when it came to keeping beer and water nice and cool. A coffee machine with pods provided is also contained within one drawer of the desk.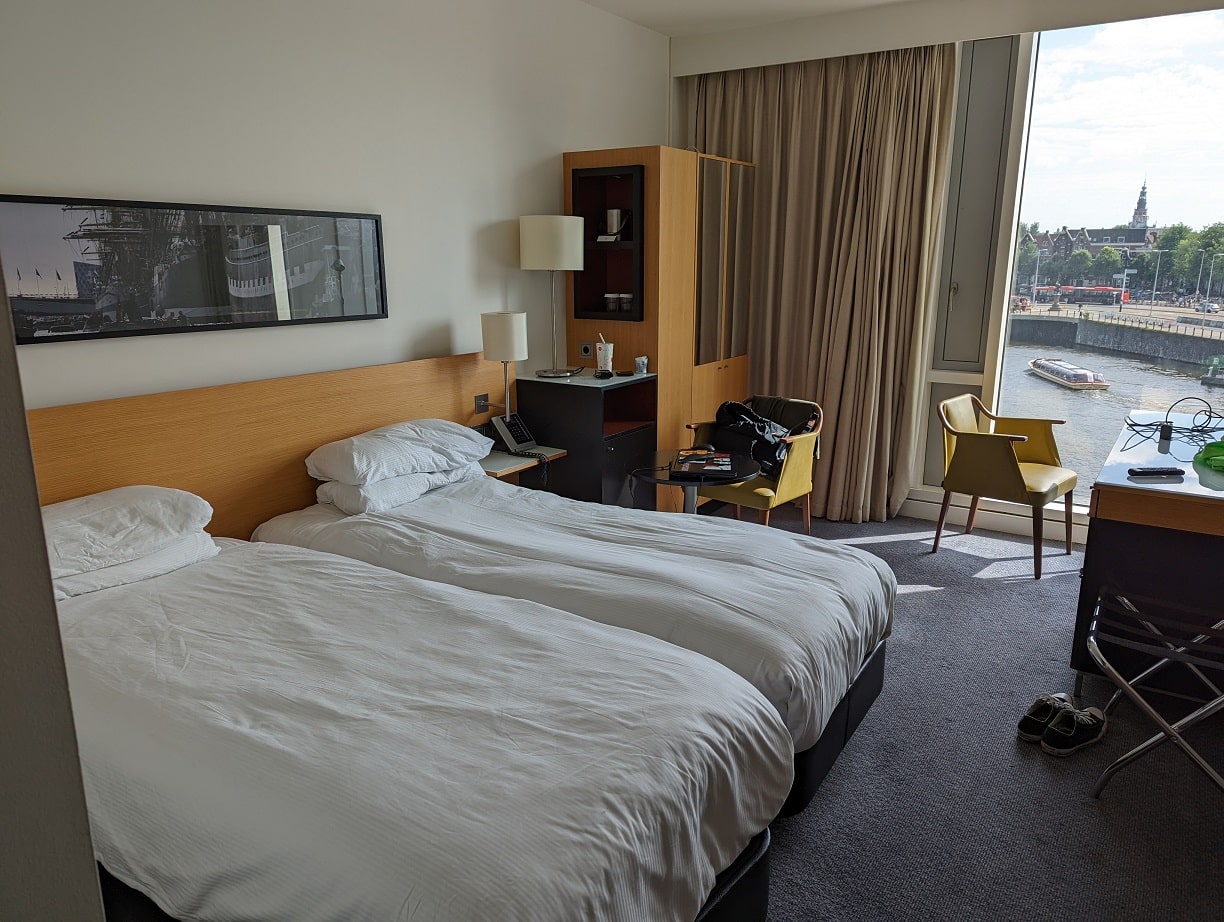 Our thoughts on the room were that while it was basic, it did the job. When it comes to a boy's trip to Europe, all we need is somewhere clean and safe where we can crash at the end of the night. The room served that purpose perfectly. Not to mention, the view from the floor-to-ceiling windows was gorgeous.
On-Site Dining
The Doubletree offers five on-site dining options: City Cafe, Lobby Bar, SkyLounge Amsterdam, Eastwood Beer & Grill, and room service.
City Cafe
Breakfast is offered daily at the City Cafe restaurant and a variety of breakfast foods, juices, and hot beverages are on offer. If you are a Hilton Honors Gold member or above, you will receive complimentary breakfast for yourself plus a guest at this restaurant.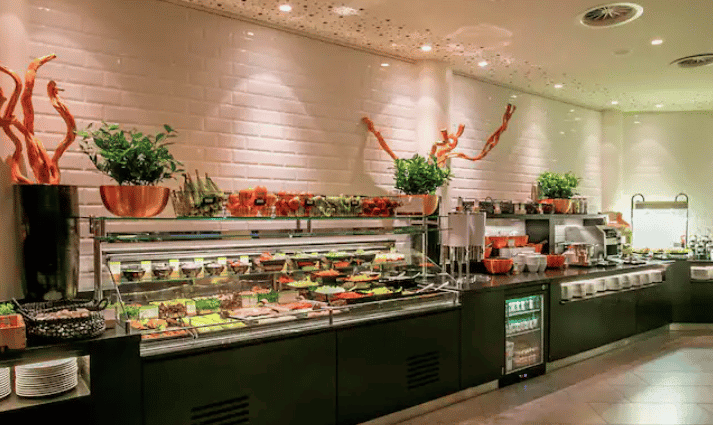 Lobby Bar
The Lobby Bar is located on the ground floor of the hotel and is a great location to grab a beer or a cocktail at any time. The bar also offers a few small snack options after 3:00 pm.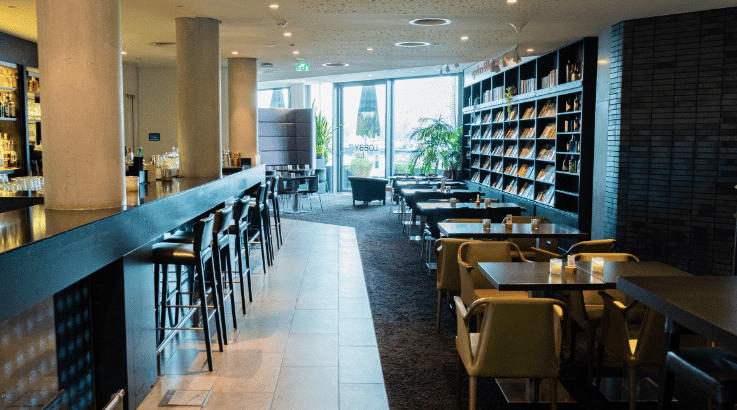 We found that prices were completely reasonable and that this was a good spot to grab a drink when we were winding down after a day of walking. Highly recommend checking it out during your stay.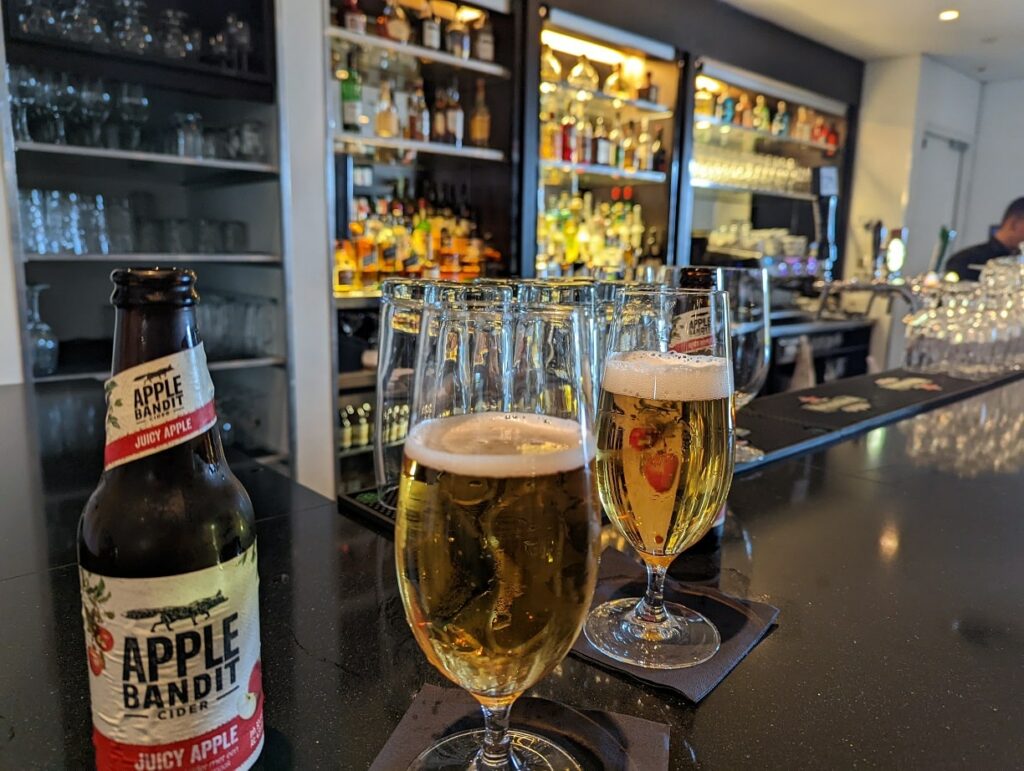 The Lobby Bar menu can be found here.
SkyLounge Amsterdam
The SkyLounge Amsterdam is a rooftop cocktail bar that is located on the 11th floor of the Doubletree by Hilton Amsterdam Centraal Station hotel. This cocktail bar was very popular and seemed like a desirable destination for many people.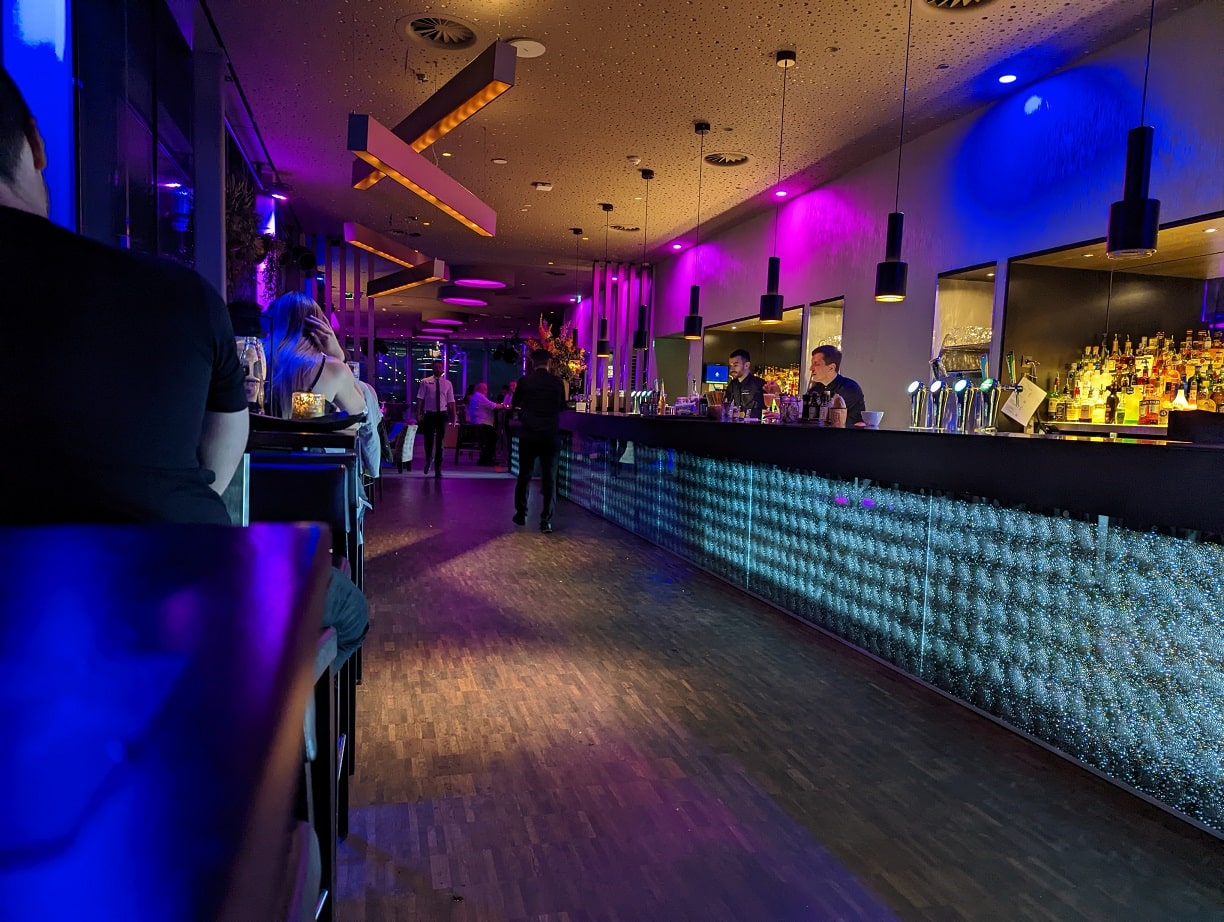 The sky lounge was excellent, with good cocktails at an ok price considering the environment and view. If you are staying at the property and are a Hilton Diamond member, it is worth checking it out once for the view alone. I don't know if I would consider standing in line for this bar as it wasn't anything crazy if you have been to other rooftop bars or clubs in other cities.
Diamond members receive a sky lounge priority sticker on the folder that holds their room keys. This will allow you to completely skip the line for the lounge and go up immediately; simply show the sticker to the host on duty on the main floor at the elevators.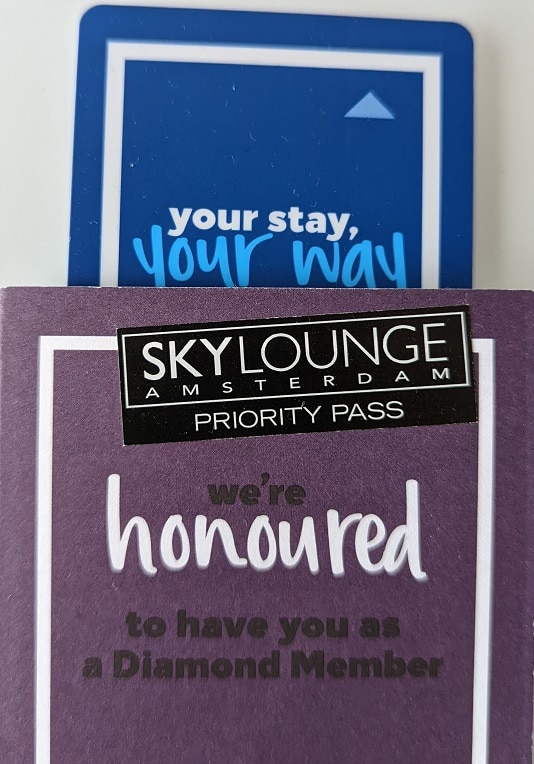 Skipping the line made it worth it and I would recommend checking it out at least one night of your stay. Once you get over the novelty, there are so many other amazing cocktail bars nearby, such as Tales & Spirits, so I recommend venturing out of the hotel to really see what Amsterdam has to offer.
The SkyLounge Amsterdam menu can be found here.
Eastwood Beer & Grill
Eastwood Beer & Grill is open daily for dinner with a wide range of options, focusing heavily on grilled meats.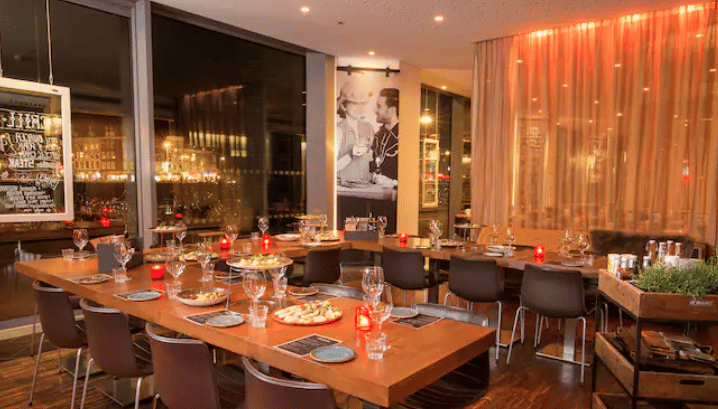 We didn't eat here during our stay since there are so many fantastic dining options in the Amsterdam Central area that we couldn't pass up. While I'm not opposed to dining at the restaurant, I strongly recommend looking into what else might pique your interest nearby.
The Eastwood Beer & Grill menu can be found here.
Room Service
Room service is available at the Doubletree by Hilton Amsterdam and includes a selection of bites, mains, sides, and drinks. The offerings do vary depending on the time of day.
We ordered a few small bites on the day we arrived before having a nap, and it was sufficient for room service. Nothing too crazy. The price was reasonable and the service was very quick for what it's worth.
The room service menu can be found here.
Hilton Honors Complimentary Breakfast
If you are a Hilton Honors Gold or Hilton Honors Diamond member, you are eligible to receive a complimentary daily breakfast for yourself and one guest at this property.
I'll keep it simple as breakfast itself was straightforward so no pictures are required. Daily offerings of eggs, bacon, sausage, hash browns, cheese, sandwich meat, bread, and pastries were available. For drinks, hot beverage machines were available for any desired caffeine-based drink in addition to fresh juices, water, and prosecco.
Diamond members are also offered the option to take their breakfast in the executive lounge, which is right beside the City Cafe restaurant in a small alcove. The offerings are the same, however, it is a bit more private. When you are checking in for breakfast at the host stand, they will ask you which area you would prefer. We opted for the restaurant every day simply for ease and speediness.
We found the best play was to head down early for breakfast as the restaurant became a bit of a zoo after 9:30 am.
Other Facilities
When it comes to other facilities, the Doubletree by Hilton Amsterdam Centraal station is quite basic. There is a fitness center and bookable meeting rooms available; there is no pool at this property.
The fitness center itself is nice enough when compared to many other properties with a variety of cardio and weight machines. I believe most visitors would find it suitable to meet their fitness needs during a vacation.
Conclusion
The Doubletree by Hilton Amsterdam Centraal station was a great property for the location alone. The hotel is in a very walkable area and was a reasonable deal on points when considering the cash rates at the time of our stay. The complimentary breakfast for Hilton Honors Gold or Diamond status members was sufficient and a great way to start the day.
I wouldn't hesitate to return should I ever find myself in Amsterdam again.
Hugh has been involved in the miles and points game since 2015 but has scaled up his knowledge and points earning potential in recent years. With a consistent attitude of "min-maxing" in many aspects of his life, Hugh has transferred this mindset over to the miles and points game. Always looking for the next big opportunity, Hugh aims to share content on a variety of topics including his travels, travel hacking, and most importantly, how to get the most out of your credit cards
Latest posts by Hugh Campbell (see all)