Credit cards are the easiest and fastest way to accumulate points and miles for our next adventure. While you can amass a respectable amount of points through everyday spending on your credit card, the largest chunk of points comes from the welcome offer when you initially get approved for the card. Not to mention the benefits and perks that come with the card can add sizable value to your life and travels.
Credit card welcome offers are often plagued with jargon and hard-to-understand wording that might confuse the average person when applying for a credit card. But you're not the average person – we'll walk through each component of a credit card welcome offer and help you dissect which ones are best for you!
Components of a Credit Card Welcome Offer
There are 4 major components to a credit card welcome offer: the welcome bonus, the minimum spending requirement, the benefits or perks of the card, and the annual fee. We will touch on these components below, plus an extra fifth component that is external to the offer itself but should also be considered when evaluating an offer.
While the details surrounding a credit card offer can always be found on credit card issuers' websites, it can sometimes be hard to navigate to find all of this information. For ease, we will break it down so you know what to look for when you're considering your next credit card.
Welcome Bonus
The welcome bonus is what attracts us to apply for a credit card and is arguably the most important component of a credit card welcome offer. The sign-up bonus is the quickest and easiest way to accumulate a large amount of points in a short period of time.
Interestingly, the credit card issuer or loyalty program doesn't make it very straightforward about the number of points that we will receive if approved for a new card. Instead, it is often phrased as "Get up to $X in value."
In the world of points and miles, this can be misleading. The value of the points you earn from a sign-up bonus can vary significantly depending on the points currency you are earning and whether it is transferable to loyalty programs.
We recommend scrolling a bit further down on the credit card promotion page and looking for the actual points you will be earning. Then, head over to our Loyalty Programs page to better understand the value of each point, and the redemption options, to calculate the realistic value of the welcome offer.
As an example, the American Express Cobalt card offers up to 30,000 Membership Rewards points as of October 2023.
While the offer mentions that 30,000 Membership Rewards points are redeemable for up to $300, we value each Membership Reward point at roughly 2.2 cents per point due to the utility and value you can extract from them with the right redemption. Thus, 30,000 points can be valued at $660!
This makes the sign-up offer much more appetizing. Keep in mind that your points can be redeemed for more or less than our 2.2 cents per point valuation, but we believe this is a good estimation of the value you are getting from the sign-up bonus.
Currency of Welcome Bonus
With 18 miles and points currencies readily available for Canadians to earn and redeem (and many more around the world), it's only natural that each one has its own pros and cons.
Let's walk through in detail what to look for when considering a point currency to collect with a sign-up bonus including the valuation, whether the points are transferable or not, and redeemability or the ease of use.
Valuation: As we said above, every point has its own "cent per point" valuation. While we give it a certain valuation, another person or travel blog may have a slightly different number. This is because the inherent value is intangible – it all depends on how you use your points.
Transferable Points: Transferable points currency, like American Express Membership Rewards and RBC Avion, are able to move points from your credit card to a variety of different loyalty programs (e.g., Aeroplan, Avios, Marriott Bonvoy, etc.). We tend to favor transferable points over other types of points currency because of flexibility.
For example, if I collect American Express Membership Rewards points, I don't have to decide whether I want to fly Air Canada Signature class or Qatar Airways business class right when I sign up for a credit card – I can collect my sign-up bonus, wait to see which program has the best redemption, and then transfer my points right before booking!
Redeemability & Ease of Use: Let's face it – some points are just easier to use than others. Personally, I find American Express Membership Rewards and Air Canada Aeroplan the easiest to use because I can find the most flights going to and from Canadian airports. Fixed points currency from banks, such as CIBC Aventura and BMO Rewards, can be more difficult to use.
While not bad programs or points currencies, they often require you to book through the banks' travel portals to get the best value, which aren't necessarily the easiest to use. The types of flights, airlines, and destinations may also be less abundant and flexible.
Minimum Spending Requirement
So now that we know how many points we're getting when we are approved for a credit card, you might think that all those juicy points get deposited in your account straight after you are approved. However, it isn't that simple.
Most sign-up bonuses will come with a minimum spending requirement, as well as a specific time frame to complete all of the spending. Some bonuses are very straightforward such as spending $5,000 in 6 months. Others are a bit more complicated, ranging from monthly structures to requiring you to hold the card for at least 2 years. Make sure you read the minimum spend and welcome bonus offer requirements carefully before you apply!
For example, the MBNA Rewards World Elite Mastercard has one of the more straightforward minimum spending requirements in the market currently.
On the other hand, the current offer on TD Aeroplan Visa Infinite card has one of the more complicated structures, requiring you to plan ahead to the second year of holding the card. While the welcome offer and overall card are still excellent, it does require some additional planning in working towards earning the full bonus.
When considering a credit card bonus, it is extremely important to consider your spending habits and whether or not you can meet the minimum spending requirements in the time frame. For example, if $5,000 does not sound feasible to spend in 6 months, then the TD Aeroplan Visa Infinite card may not be the smartest choice for you.
After being approved for a card, we recommend using a spreadsheet to keep track of the sign-up bonus you are working towards. When you're balancing more than one card at a time (which many of us at Frugal Flyer do!), keeping all of your ducks in a row comes in handy!
Perks & Benefits
I like to call these the "bells and whistles" of a credit card – the perks and benefits of a card can make applying for it that much more attractive. For the most part, the benefits and perks of a credit card are an ongoing feature and do not only apply when you first sign up for the card or require you to meet a minimum spending requirement. These include things like free checked bags, complimentary airport lounge access, and travel insurance.
On the flip side, NEXUS membership credits, if your card includes them, are limited to once every four years on most cards. This is an example of a perk you need to keep track of if you decide to keep the credit card for a few years.
Hotel credit cards, like the American Express Marriott Bonvoy card, come with a Free Night Award on the cardholder's anniversary. While you may think you get this right when you're approved for a hotel credit card, unfortunately, this only kicks in after you've held the card for a year. Still, the Free Night Certificate often helps the card pay for itself!
As always, review the perks and benefits of the card you are interested in applying for to ensure you understand how they work before applying.
Annual Fee
Let's face it – you don't like paying for annual fees and to be honest, I don't either. However, it is often worth paying an annual fee for a credit card if the bonus and perks outweigh the cost that you pay upfront to the credit card issuer.
For example, the annual fee on the TD Aeroplan Visa Infinite is $139. With the welcome offer as of October 2023, completing the spending requirements in the first year will earn 50,000 Aeroplan points. We value Aeroplan points at 2 cents per point, which estimates that 50,000 points are worth around $1,050 when redeemed for flights! I'm no mathematician, but $1,050 is a larger number than $139, making the opportunity cost of the annual fee worth it for the first year.
Additionally, some credit card issuers waive or rebate the annual fee for the first year, making the card free and you pocket all the valuable points at no cost! Keep an eye out for this wording when you are searching for your next credit card welcome offer.
After the first year, you're going to have to do some number crunching to determine whether the benefits of the card outweigh the cost of the annual fee, now that there's no sign-up bonus to incentivize you. You will have to evaluate the credit card against your personal needs and financial situation to determine if it measures up as a "keeper card" for the long term.
Cash Back Rebates
While the four components above are all tied to the credit card offered by the financial institution, there are a handful of websites including Frugal Flyer where you can earn additional cash back upon being approved for a credit card. While not directly tied to the credit card welcome offer, this can sweeten the existing welcome offer and give you additional value beyond what the financial institution is able to offer.
With the FlyerFunds Rebates Program, you will receive cash back after you are approved for certain credit cards. Plus, you will still get the miles or points that come with the sign-up offer.

Simply click "Get This Offer" on the credit card you are most interested in on the FlyerFunds Rebates page and fill out the sign-up form with the required information. You will be provided with a dedicated link to sign up for the credit card and once approved Frugal Flyer will send you cash directly to your PayPal account.
What Makes a Good Credit Card Welcome Offer?
So now that we know all the components of a credit card welcome offer, the next question is "How do I know if the offer itself is any good?". There are both objective and subjective ways to determine whether a welcome offer is a good fit for you – let's run through some scenarios.
Net Value
The value of a welcome offer is often where I look first when considering a new credit card. Simplified to an equation, net value can be defined as
Sign-up Bonus Points + Benefits & Perks + Cash Back Rebate (if applicable) – Annual Fee
Let's take an example of how I would calculate the net value of the welcome bonus on the RBC Avion Visa Infinite card:
Sign-up Bonus: 55,000 Avion points x 1.9 cents per point = $1,045
Benefits & Perks: While this card does not have many "bells and whistles," it comes with relatively strong insurance coverage. Personally, I would value this at $50, but you may value this more or less than I would.
Cash Back Rebate: Frugal Flyer FlyerFunds Rebate = $50
Annual Fee: $120
Final Calculation: $1,045 + $50 + $50 – $120 = $1,025 net value
In the first year of holding the RBC Avion Visa Infinite card, you would receive a value of $1,025, just by signing up for the card. This makes it a great choice to apply for right now! Whether the value is enough for you to keep it year after year is a different story.
Return on Spend
Similar to net value, return on spend is another calculation we can perform to objectively quantify how "good" a welcome offer is. We can use return on spend to compare two different welcome offers that we are considering to see which one is more beneficial to us at the moment in order to maximize our credit card spending.
Let's compare the welcome offers as of October 2023 on the RBC Avion Visa Infinite card to the TD Aeroplan Visa Infinite card.
As we said above, we value the RBC Avion Visa Infinite card welcome bonus of 55,000 Avion points at $1,045. To get the full bonus, we have to spend $5,000 on the card. Thus, $1,045 in expected value divided by $5,000 in spending to unlock the value gives us a 20.9% return on our spending!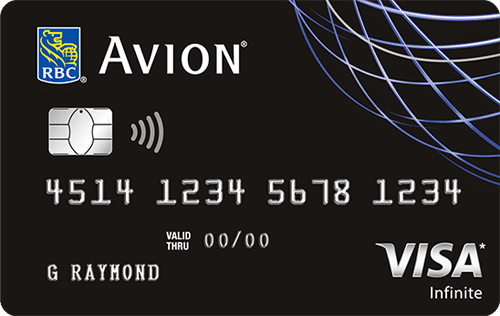 Apply Now
Learn More
Click Apply Now to earn $100 in FlyerFunds upon approval.
RBC Avion Visa Infinite
The RBC Avion Visa Infinite card earns Avion Elite points and gives cardholders the opportunity to earn 1.25x Avion Elite points on all travel purchases.
Check out our RBC Avion Visa Infinite card review for more details.
BONUS
35,000 Avion
MINSPEND
$0
ANNUAL FEE
$120
FOREX FEES
Yes
EXPIRY
Jan 21, 2024
On the other hand, the TD Aeroplan Visa Infinite card is currently offering a total of 50,000 Aeroplan points after spending $7,500 in the first 12 months. We value 50,000 Aeroplan points to be roughly $1,050. So to calculate the return on our spending, $1,050 in value divided by $7,500 in spending, we get a 14% return on our spending.
TD Aeroplan Visa Infinite
The TD® Aeroplan® Visa Infinite* card earns Aeroplan points and offers cardholders various benefits including a free first checked bag on Air Canada and a $100 NEXUS membership credit.
BONUS
50,000 Aeroplan
MINSPEND
$7,500
ANNUAL FEE
$139 (FYF)
FOREX FEES
Yes
EXPIRY
Jan 3, 2024
In this scenario, the return on the RBC Avion Visa Infinite is substantially higher. Combined with a lower minimum spend requirement and FlyerFunds cash rebate, we would choose to apply for the RBC Avion Visa Infinite over the TD Aeroplan Visa Infinite at this moment if we were looking to only apply for one card. Keep in mind that the points currencies are different so that may also play into your decision to apply for one card over the other.
Personal Value
As much as we love having objective ways to quantify a credit card welcome offer, at the end of the day, the best welcome offer for you is the one that is going to fit your travel needs and get you closer to your next journey.
For example, if you have collected a respectable amount of Aeroplan points and are getting close to being able to redeem them for two business class flights to Europe, signing up for an Aeroplan co-branded card will probably make the most sense to get you closer to that redemption. Even if another card offers a higher net value, return on spend, or perks, it won't make as much sense in the overall scheme of your travel plans.
If you don't have immediate travel plans, we recommend that you go after a card with a flexible points currency, like American Express Membership Rewards, or one that offers perks that will elevate your travel experience, such as airport lounge access.
Conclusion
The many components of a credit card welcome offer can be intimidating at first, but after you break it down into its parts, it is much more approachable! When choosing your next credit card, make sure you choose the sign-up bonus and travel perks that make the most sense for you. If you're looking for your first travel credit card, check out our picks for the best beginner travel credit cards to get started on earning miles and points.
Quentin Tsang
Quentin dove into the world of travel credit cards in 2019 after being jealous of people going to airport lounges and wondering how he could do the same. Little did he know, this curiosity would lead him to become immersed in the world of points and miles. He loves to nerd out over all aspects of travel credit cards, loyalty programs and making the most of everyday spending, and can't wait to share his journey with Frugal Flyer readers.
Latest posts by Quentin Tsang (see all)