Hotel loyalty points can be very hard to come by in Canada, as there are only a few ways to accrue points between staying at properties, credit cards, and transferring from other loyalty programs. While it can be tough to build a significant balance through these methods, it is definitely possible to earn enough to redeem for a few free nights.
However, there is a more sustainable alternative to earning free nights that you should be aware of as a Canadian: Marriott free night certificates.
Let's look at Marriott free night certificates and the 18 best hotels to redeem them at in North America.
What are Marriott Free Night Certificates?
Marriott free night certificates are your ticket to booking a hotel room free of charge. They're available in a few different denominations, but most commonly come in the form of 35,000 Marriott Bonvoy point redemptions. Oftentimes, they are awarded as part of a credit card perk, but can also be earned for reaching Titanium Elite status in the Marriott Bonvoy program.
They can provide some excellent redemption opportunities, but it does require some homework if you're looking to maximize their value. Most people are working with the 35,000 point certificates which is what I am focusing on in this article.
These certificates do expire after one year, with some data points indicating small extensions occasionally being granted. A trick when applying for Marriott cards is to time your applications around the same time every year, so you can book a multiple-night stay with Free Night Certificates with the most flexibility.
How to Earn Marriott Free Night Certificates
The main way to earn Marriott free night certificates is by holding an eligible Marriott Bonvoy credit card, either in Canada or the United States. Marriott free night certificates are awarded to eligible loyal cardholders every anniversary year in which you keep your eligible credit card account open. Outside of that, Marriott Bonvoy members can also earn a free night certificate by reaching Titanium Elite status.
As mentioned, the certificates earned from credit cards are granted at every cardholder anniversary after you pay your annual fee to keep your card open. You can expect to see the free night certificate deposited in your Marriott account about 8-10 weeks after you renew.
Canadian Credit Cards
In Canada, there are only two cards that offer the Marriott Bonvoy free night certificates: the American Express Marriott Bonvoy card and the American Express Marriott Bonvoy Business card.
The Amex Marriott Bonvoy card is oftentimes the hotel card that Canadians hold in their wallet. Not only will you receive an annual 15 elite qualifying nights that can put you on the path to Marriott Platinum, but you will also receive a free night certificate worth 35,000 Marriott Bonvoy points on each cardholder anniversary. With that in mind, the annual fee of $120 is well worth it.
American Express Marriott Bonvoy
The American Express Marriott Bonvoy card earns Bonvoy points and offers cardholders benefits including an annual free night and 15 qualifying nights towards elite status.
Check out our American Express Marriott Bonvoy review for more details about this card.
BONUS
50,000 Marriott Bonvoy
MINSPEND
$1,500
ANNUAL FEE
$120
FOREX FEES
Yes
On the other hand, the Amex Marriott Bonvoy Business card offers the same 15 elite qualifying nights and a free night certificate worth 35,000 Marriott Bonvoy points upon the cardholder's anniversary. It does have a higher annual fee of $150, which is something to take into consideration.
American Express Marriott Bonvoy Business
The American Express Marriott Bonvoy Business card earns Bonvoy points and offers cardholders benefits including an annual free night and 15 qualifying nights towards elite status.
BONUS
50,000 Marriott Bonvoy
MINSPEND
$1,500
ANNUAL FEE
$150
FOREX FEES
Yes
Canadians can hold both versions of the Marriott Bonvoy credit cards at once, meaning you can easily earn two free night certificates per year at a minimal cost.
United States Credit Cards
The US credit card market also provides anniversary Free Night Certificates. Depending on the tier of card you have it may be as high as 85,000 points. The American Express Bonvoy Brilliant card and Chase Ritz Carlton card both award 85,000 point certificates, up from a 50,000 point certificate in recent years.
On the other hand, more common cards such as the Chase Marriott Bonvoy Boundless card and the American Express Bonvoy Business card offer an annual 35,000 point certificate.
Cardholders of the American Express Marriott Bonvoy Bevy card can also earn a free night certificate upon spending $15,000 USD in a calendar year; this free night is worth 50,000 Bonvoy points.
The Best Marriott Hotels in North America to Use Free Night Certificates – Ranked
While doing the research for this article, I was intrigued by how much dynamic pricing played into burning these 35,000 Bonvoy point certificates. Both extremely high and extremely low prices can be found at the same hotel, with as many as 30,000 points in between the floor and the ceiling. Because of that, I decided to make a ranking system that I would use personally when deciding how to redeem my anniversary free night award.
It's important to note as of late 2022 Marriott has allowed members to top off certificates with as much as 15,000 points. Not all properties in this list are available at 35,000 points, but they did lose rank if they require extra points to spend a night.
Ranking will be based on a few factors in the following order:
Ease of booking without using extra points
Cash savings
Location of surrounding activities
When considering the location of surrounding activities, I also considered the type of trips these certificates are generally used for. For some certificate holders, these are used for a quick weekend getaway of one or two nights. Therefore, if a hotel is located far away from an airport, it loses rank.
Enough with the details, let's get to it!
18. Muir Autograph Collection Halifax
Located on the waterfront in Halifax, this is an excellent hotel in the Marriott portfolio. It's only at the bottom of this list as it doesn't offer any availability at 35,000 points, meaning you're forced to use extra points to spend a night here.
In the spring season there are nights available at 41,000 points, but further into the summer rates are upwards of 48,000 making the Free Night Certificate, not so free.
Dissecting an award of 41,000 points, you'll end up saving about $200 compared to the cash rate when taking into account your credit card's annual fee, and the cost of top-up points. (We value Marriott points at about 0.9 cents per point. 6,000 points = $54)
17. Kananaskis Mountain Lodge
This property is excellent at recognizing Marriott status and makes a great weekend getaway. However, like the Muir, it does not have any availability at 35,000 points sliding it down the list. It's also about an hour away from YYC, making it hard for out-of-province travelers to take advantage of this property on a brief weekend visit.
Using the same formula as above, on a 40,000 point redemption you'll save on average $170 compared to a cash rate.
For more information on this property, check out Reed's review of the Kananaskis Mountain Lodge from his stay in August 2022.
16. W Toronto
This W is a new property in the Marriott portfolio, opening in the Summer of 2022. I had the opportunity to stay just after they opened and it's an impressive property complete with a rooftop bar and well-designed rooms. It's a bit far from the main attractions in Toronto, which pushes it down the list, it also doesn't have any 35,000 point nights available.
It makes the list because it can provide excellent value in comparison to cash rates, even with a points top-up. Some 42,000 weekend nights are available which will result in a savings of $250, even in peak summer. It also has the opportunity to obtain some excellent suite upgrades.
15. Sheraton Gateway In-Terminal YYZ Airport
This hotel offers peak convenience for travelers at YYZ with a 5-minute tram ride to get to terminal one or a few steps away from terminal three. It also is the first hotel on this list with lots of 35,00 Bonvoy point availability!
Recently renovated, the rooms are sleek and I've enjoyed my stay as a Platinum Elite with access to their Club Lounge. On average rates run around $300 a night, so you'll save $150 after taking your annual fee into account.
This can be a great hotel to redeem your certificate at if you're in transit from a repositioning flight to a high-value redemption. Not to mention the unique views!
14. Newark Airport Marriott
Another airport hotel for those on their way to an aspirational redemption, but this time at the US gateway of EWR! There is lots of 35,000 point availability and even more cash savings compared to the Sheraton.
It's slightly less convenient as it does require an airport shuttle or a 10-minute walk, but at the time of writing, there are more dates with the 35,000 point price tag in comparison to the YYZ Sheraton.
Its average rate is around $350 CAD, meaning the savings are about $200.
13. Residence Inn Manhattan/Midtown East
I debated leaving this hotel off the list, as it's very hard to find 35,000 point availability, but it does exist!
The value put forward by this hotel (when it can be had at the right price) is astonishing. Cash rates on June 4th are $740! Representing a savings of nearly $600 and an excellent use of a 35,000 point award.
The location of this no-frills hotel is excellent, which is why it receives such a big bump up the list in comparison to some other properties with high points prices. For a cheap one-night stay in NYC, its location doesn't get much better than this.
When looking at pricing later on this year, even into December, it remains above 50,000, so you may have to take advantage of this hotel before it gets priced out of range to use your 35,000 point Free Night Certificates.
12. Anaheim Sheraton Park Hotel
This Sheraton is located about a ten-minute walk away from Disneyland in Anaheim and consistently offers 35,000 point availability. I stayed at this hotel in October of 2022 and found its location to be very convenient and it had a nice selection of food and drink at the Club Lounge.
It slides down the list a bit because it's not a hotel many guests will spend just one night. Chances are if you're coming to this location you're here for Disneyland and will want one full day at each park.
It doesn't present max value for the certificate as cash rates hover around $200-$300 CAD most nights, but its consistent availability and desirable location keep it on this list.
11. Aloft Scottsdale
This hotel is located within walking distance of the main drag of Old Town Scottsdale, but some of Scottsdale's other attractions will require a rental car. The hotel offers a patio area along with a pool, which is a nice amenity.
It does provide quite a few dates with points prices under 35,000, and cash rates tend to hover around $400 CAD making this a great redemption.
This would be a great redemption for certificate holders that live in cities with direct flights to Phoenix, such as Winnipeg, Calgary, Edmonton, or Vancouver.
10. Sheraton Wall Center Vancouver
Being located in the heart of a relatively small downtown is a huge plus for this Sheraton. It does struggle with 35,000 point nights as those are only available in the spring season, but even during peak summer months, it's still a great redemption.
The most common are points rates of around 41,000 with cash rates of about $450. Taking into account that 6,000 Bonvoy points are worth about $54 the savings are still about $250 compared to the cash rate.
In addition to being a consistently great redemption, this hotel offers some of the best views of downtown Vancouver.
9. Westin Bear Mountain Victoria
A golf-based resort, this property offers two different courses and has 35,000 point availability through the majority of spring and into early summer. It's a 40-minute transit from YYJ by car, which does hinder its desirability a bit.
With cash rates around $350 on weekend nights it's another solid option, even if the night you want to stay is above 35,000 points.
It also offers cash upgrades at the time of booking on award stays which can be useful if you wanted to guarantee a suite or a specific view.
8. Montreal Marriott Chateau Champlain
Enjoy the recently renovated rooms of this hotel and its excellent location near most of the major attractions. Montreal has no shortage of Marriott properties, but the location and award pricing of this flagship Marriott make it tough to beat.
It consistently offers savings of around $200 compared to cash rates, but it does struggle with 35,000 point availability.
I included another Montreal property in the top three of this list simply because it had more 35,000 point availability.
7. The Dorian Autograph Collection Calgary
Another new addition to the Marriott portfolio is this very well-designed downtown Calgary hotel. One of the best features this hotel offers is a made-to-order breakfast for Platinum Elite members.
It's got a nice location in Calgary and is not too far from YYC airport. From a redemption perspective, there are lots of 35,000 point nights available, and the property offers pretty good value without much planning.
This hotel does have 42,000 point nights available during Calgary Stampede week at the time of writing, where cash rates are $800+ making the Free Night Certificate excellent value.
For more information on this property, check out Hugh's review of the Dorian Calgary from his stay in November 2022.
6. Sheraton Park City
This hotel was a pleasant surprise! As an avid skier, I may have to make use of a 35,000 point certificate at this property myself. I was surprised to find any ski resort town with points pricing below 50,000 but this Sheraton even offers some nights at 35,000 during ski season.
It does take some hunting, but the pricing does exist.
During peak ski season cash rates are above $500 CAD, but points prices are still at or close to 35,000 points making this property an excellent redemption. The property also gets bumped up the list as it offers free shuttles to the slopes.
It would have made the Top 5 if it was closer to a major airport hub, this property is best booked with two Free Night Certificates because it's not easily accessible.
5. JW Marriott Ice District Edmonton
A newer hotel in Edmonton, it has quickly become a favorite in the city, and its convenient location makes for a perfect one-night stay for a hockey fan. YEG is quite far outside of the downtown core where this JW is located, but the hotel itself makes up for that with excellent 35,000 point availability and a luxury feel.
Using the example of an out-of-town hockey fan, on Oilers gameday, this hotel can have cash rates of $500+ with points availability of around 40,000. By this point in the article, you should know that's an excellent redemption!
For more information on this property, check out Hugh's review of the JW Marriott Ice District Edmonton from his stay in November 2021.
4. Delta Toronto
This hotel nearly cracked the top three and for good reason. It offers the most convenient airport transfer on this list thanks to the UP Train service from YYZ to Toronto's Union Station. It's also always available to use a 35,000 point Free Night Certificate because pricing never goes higher than 50,000 points.
Even though pricing at or under 35,000 is hard to come by, cash rates are often well above $400 making for great value even when topping off a certificate.
The location of this hotel is excellent for a sports fan as it's right next to Scotiabank Area and even for general Toronto tourists, you're right in the heart of the city.
Using an example of a Raptors fan going to see beloved former Raptor Kyle Lowry on March 28th, they could pay $577 to stay at the Delta, or use their Free Night Certificate plus 6,000 points for an effective savings of $360!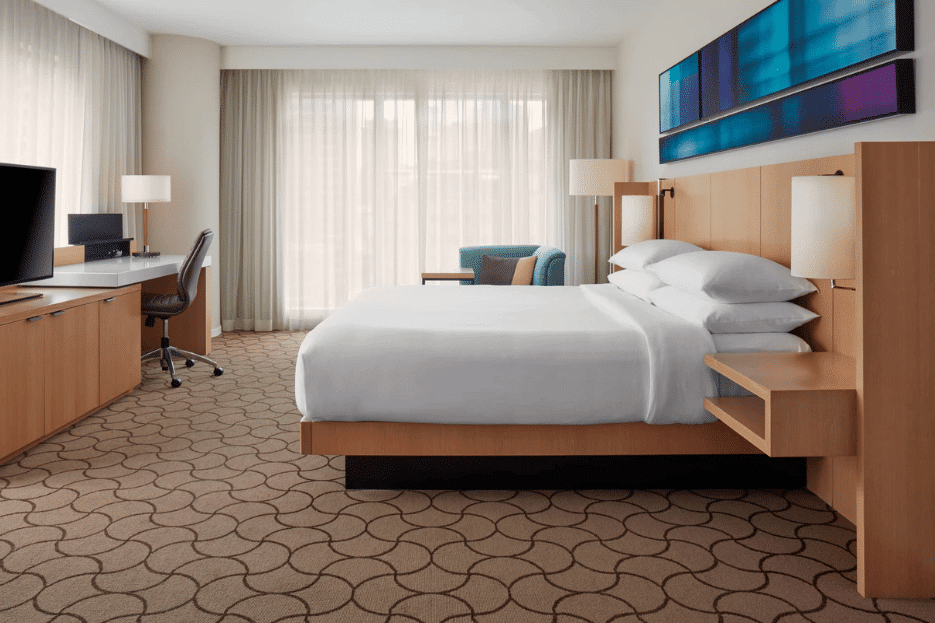 With the points pricing never going dynamically sky high like some hotels, the Delta Toronto is almost always a safe bet to use your Free Night Certificate.
3. Moxy Miami South Beach
The Moxy in South Beach has one of the best locations for a "budget" hotel and even offers guests a private beach to rent chairs and umbrellas. Unlike the Delta, it does offer 35,000 on a regular basis, which is why I awarded it the first of my podium spots.
Some reviews indicate the base rooms can be a bit small, but the value for this hotel is almost always there when redeeming a Free Night Certificate.
It's close to the port of Miami, and the transfer from MIA is short as well, making it a great property to spend a night at before heading out on a cruise.
Cash rates are often above $400 CAD making this property a net savings of $250.
2. Hotel St Paul Montreal
Coming in second place on my list is another downtown Montreal hotel, a stunning member of the Design Hotels family. This hotel not only looks great, and punches outside its weight class for the price, but it's also consistently available at 35,000 points.
Even during peak summer periods, weekend nights are consistently 37,000 points, with cash rates hovering near $500. More than $300 in savings!
Off-peak rates do drop to the $300 range, meaning it may not be quite as strong of a redemption and the only reason why it sits second on my list.
This hotel is also near the top of my list because Montreal is an excellent city to spend a couple of days in, and YUL is easily accessible.
1. W Chicago Lakeshore
It was hard to pick a winner, but I find the W brand to deliver exceptional service every time. W properties always focus on a forward-thinking design, a real luxury feeling, and are always incredibly modern.
This hotel also has 35,000 point availability every month of the year, which is the most important part of the certificates. If you can redeem one, get great value without using extra points, that is using this cardholder perk as intended.
Cash rates bounce around, but average at $350 CAD making this an excellent redemption for an effective $200 cash savings that is available the entire year.
This hotel also takes the top spot because Chicago is an excellent place to spend a weekend or take a quick 1-2 day trip. It's home to all the major North American sports, has an extremely interesting history, great architecture, and an enticing food scene.
Lastly, because ORD is a global hub servicing both transatlantic and transpacific flights, it's pretty easy to make your way to, even last minute.
Conclusion
Marriott's change to fully dynamic pricing has made burning these Free Night Certificates require a bit more thought, as some properties have had wild swings in their pricing. I hope this article was able to provide some inspiration on the best use case for yours, as the research I put into this has certainly given me some fresh ideas for mine!
Let me know in the comments if you know of any other high-value redemptions for these 35,000 point Free Night Certificates.
Until next time!
Daniel Burkett
Daniel entered the Miles and Points game in 2021 and has taken the "make up for lost time" mentality. After spending five years travelling for work and paying no attention to loyalty programs, some say Daniel is out for Points Revenge. With his desire to maximize every point available, he hopes to share the knowledge gained with more travellers to prevent the same mistakes he made.
Latest posts by Daniel Burkett (see all)