Launched in October of 2020, Air Canada's new eUpgrade program was our first peek into how Air Canada would make their once-elusive loyalty and Aeroplan Elite Status ("status") benefits accessible to more travelers. After the revamped Aeroplan points program launched the following month, reward tickets were eUpgrade-eligible for the first time ever, by allowing customers to book into the Economy Standard/Flex/Latitude ticket categories and Premium Economy Lowest/Flexible fare brands.
Introduction: A Rant About eUpgrades and the New Air Canada Aeroplan
Throughout the pandemic, a cascade of promotions saw Air Canada pick up a ton of new elite status holders ("elites") through credit card applications, spend offers, and status matches. On top of this, anyone who's ever earned and held status since 2019 has had their status extended until year-end 2022 to not punish their loyal elites for their reduced flying patterns. It's safe to say that there have never been more Air Canada status holders than the present day, and thus, eUpgrade-eligible flyers.
Now it seems like everybody and their dog has status, and honestly, who can blame consumers for taking advantage of these worthwhile promotions? However, having too many elites does come with drawbacks; we're already hearing negative sentiment trickle in online complaining about the unsightly queues and rowdiness outside the Maple Leaf Lounges, priority check-in, and Zone 2 boarding.
I particularly enjoy reading about frequent flyers who very audibly denounce the credit card holders who qualify for status via spend, the ongoing double status qualifying miles (SQM)/status qualifying dollars (SQD) promo, or even just for existing by paying their annual fee. Oh, the humanity! It's as if Air Canada should continue rewarding genuine frequent flyers rather than focus on their bottom line.
But I digress. There is one threat that concerned me as a monthly transatlantic flyer and that was how many eUpgrade-eligible elites were being added into the pool. Among the perks conferred by having elite status, the eUpgrade currency and program are arguably the most lucrative. The ability to upgrade to a higher cabin by paying a cheap, economy class fare presents incredible value for those who know how to exploit this perk best.
Theoretically, having more elites in the network means fiercer competition for business class space, and Air Canada's fleet isn't very well-endowed in premium seats to begin with (unlike United's Dreamliners where the premium cabins go as far back as the wing, and then some).
However, even on my monthly trips to Heathrow and Frankfurt, I consistently found that Air Canada eUpgrade waitlists were the same length, and even some business class seats continued to fly unoccupied, meaning barely anybody had elected to use their eUpgrades to sit in the front, not even the mass-minted 25Ks who were said to bring doom and gloom to the loyalty program.
At the same time, I realized my Facebook feed and my FlyerTalk subscriptions were inundated with newbies unable to figure out the eUpgrade program, making rookie mistakes on how best to optimize their newfound eUpgrade credits.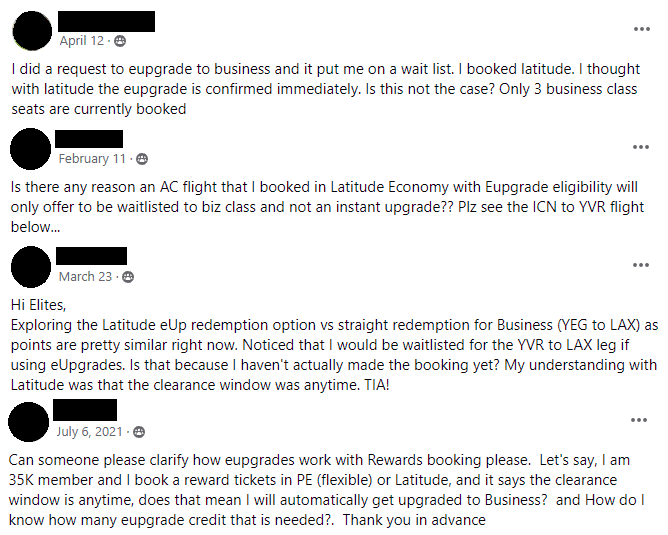 I had a dilemma: should I keep quiet to continue making eUpgrades work for me? Or should I reach out to my friends at Frugal Flyer to help craft an Air Canada eUpgrade FAQ and once again salvage my Facebook feed from cringe and (Aeroplan) loss porn? Obviously, I have chosen the latter.
Unhinged rant over, now let's get on with it
Let me first clarify what I want this article to be. I'll format it like a Frequently Asked Questions (FAQ) page, compiling eUpgrade inquiries I've often seen asked throughout my travels. It won't be an article on how to use eUpgrades since there are already numerous resources for how to apply them and evaluate their value proposition.
Related: Introduction to Air Canada eUpgrade Credits
To be honest, I find that those articles and videos barely scratch the surface on how to use eUpgrades, which some readers might find confusing or overwhelming when being introduced to the concept. This is why I wanted to write the FAQ: to clearly slow things down and clarify the nuances of eUpgrades.
This article won't reveal some of the advanced tricks some of us are using to find mistake latitude cash fares, construct Latitude tickets, or special eUpgrade credit maneuvres…you'll have to join the super-secret Signal/WhatsApp chat groups or our mailing list for that! This article also won't review or recommend any of Air Canada's front cabins eligible for eUpgrade: Premium Economy class, narrowbody Business Class, Premium Rouge, and Signature Class, since plenty of those resources exist online.
In case you didn't know, Air Canada publishes two resources on eUpgrades that outline the terms and conditions of the program, the fraud policy, and technical information on how upgrades clear, it's basically the Bible of the entire scheme.
I'll be referring to them often throughout this FAQ to help clarify some things which I've found have often confused prospective eUpgraders online, especially those wondering why the program isn't working as they intend it to. Without further ado, let's move on to the FAQ.
Basic FAQ: Earning credits, "R Space", Clearance Windows, and the Waitlist
How do I earn eUpgrade credits? How can I get more?
The respective number of eUpgrade credits are automatically conferred when achieving any level of (or being gifted) Aeroplan Elite Status. As an Aeroplan elite status member, one of the select benefits you can manually choose when selecting your status perks includes even more eUpgrade credits.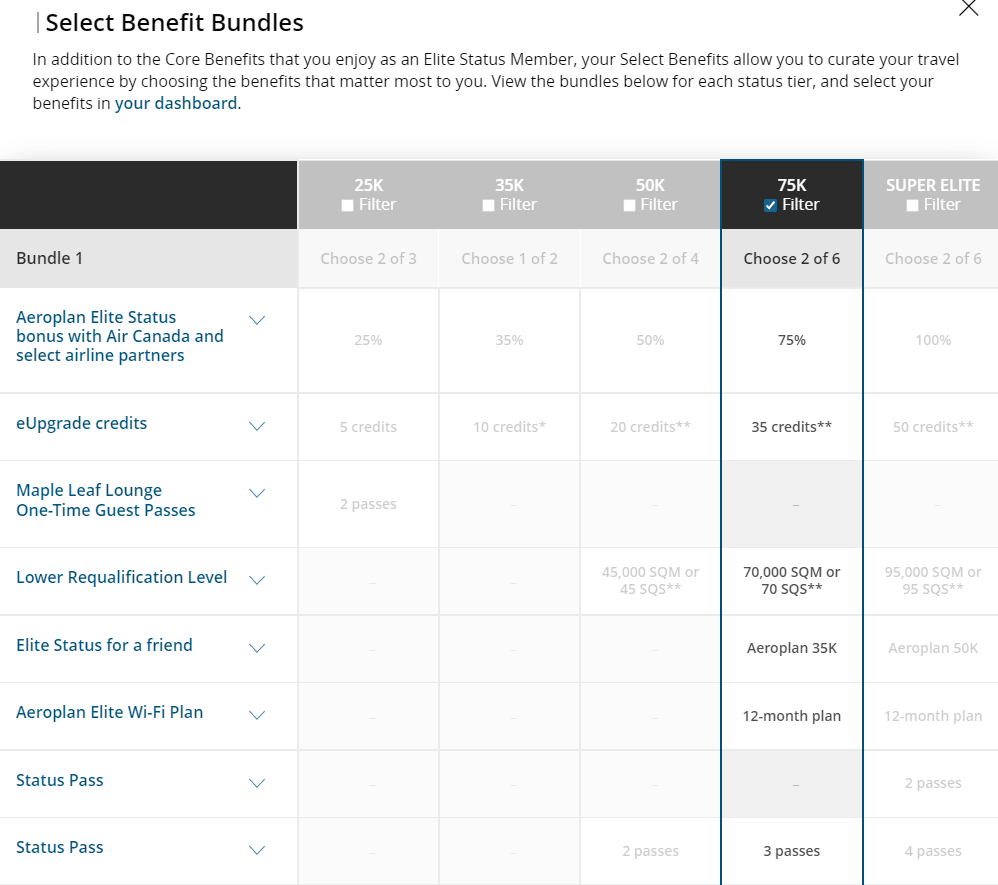 Certain credit card welcome promotions will award eUpgrade credits outside of status, notably the now-expired Chase Aeroplan Mastercard product launch bonus.
Holders of 50K elite status and higher can earn more eUpgrades by flying more qualifying miles and segments to earn Threshold Gifts which include more eUpgrades.
If you're friends with any Aeroplan Super Elite members, ask them nicely to choose you as their eUpgrade nominee so that you can dip into their pool of eUpgrade credits whenever you fly without them.
I'm inside my clearance window, why hasn't my eUpgrade cleared??
Your upgrade will only clear if there is open R space.
At the gate, if you're still waiting for the upgrade, the gate agents will begin assigning premium seats based on how many empty seats are remaining on the plane and upgrading names off the waitlist from the top.
What is R space? What is N space?
Confirmed eUpgrades are booked into the "R" booking class for business class upgrades and "N" for premium economy class upgrades. This lettering will be reflected on your ticket as confirmation of a successful eUpgrade bid.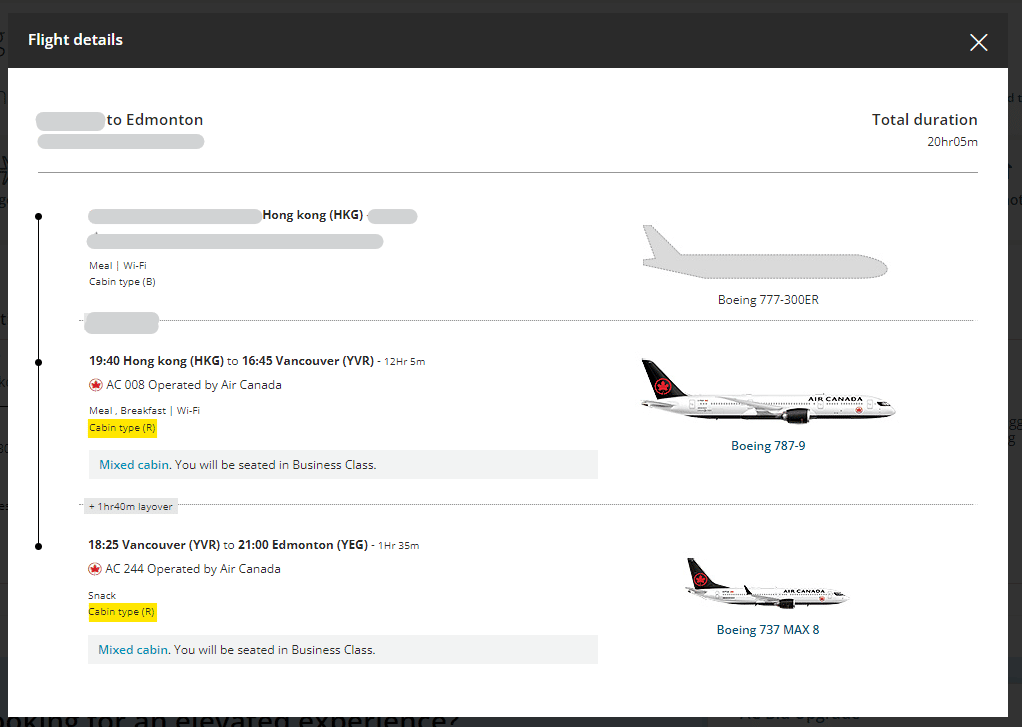 For an eUpgrade to confirm, the flight needs to have a number of R or N seats that are open ("space") to allow someone to confirm their way into it. Once that person is confirmed, R and N space is usually deducted by one seat, reflecting the current availability.
How do I check for available R space or N space?
R and N are always less than or equal to the number of full-fare business class seats ("J") and premium economy seats ("O") still unsold on the flight. There are a number of ways to check the number of R and N inventory on a flight. ExpertFlyer is one such tool where you can search for "Fare Class Availability". Simply enter one of your Air Canada flights' origin and destination and their departure date to be shown fare class availability by the letter, at the time of the search.
You could always call Air Canada Reservations to check for eUpgrade space and availability, as well as use some other online tools or chatbots which have the same functionality.
For the rest of the article, I'll only be referring to R space, but the same questions and answers apply to N space as well, so just mentally switch the letters around if you're more interested in premium economy upgrades.
Does new R space open up? How is it controlled?
The systematic process by which R space opens isn't public; the procedure is algorithmically controlled. After all, R space popping up every now and again gives value to the eUpgrade program as a sort of perk for elites who book a flexible fare early and often, sometimes perceived as thanks for their loyalty.
The variables governing R space are kept secret by Air Canada's revenue management processes, and factors affecting R space availability could likely include, for instance, how many seats are even sold in the first place, a history of last-minute bookings on flagship routes, dates when major events occur welcoming premium traffic (e.g., playoffs, film festivals, government summits), trend reversals on leisure/business (e.g., the end-of-school year).
Generally, if you've been eyeing a long-haul flight and found that R space has been consistently popping up at a certain number of days before departure, I would be cautious to assume the same be true for the flight you'd want to book.
What's the waitlist? I thought Air Canada eUpgrades were automatic?
All Air Canada eUpgrade requests put you on the eUpgrade waitlist. Passengers on the waitlist clear into their desired forward cabin whenever R space or N space is open and they are within their clearance window.
The waitlist has a rank and passengers are positioned based on various tiebreakers (e.g., whether they originally purchased a premium economy ticket or not which would give them higher rank over economy passengers, their status, million miler recognition, whether they are a premium credit holder, and their ticketed fare brand).
However, being at the top of the waitlist doesn't mean that person is necessarily at the front of the line for an upgrade whenever R space opens. When R space is available, the system will go down the list to see whose clearance window is open before clearing them. This could mean that if the person at the top of the waitlist doesn't have high enough status to have an open clearance window at the time, they will be passed on for an upgrade until the next time R space opens.
This is the logical understanding behind "automatic" eUpgrade confirmations at the time of booking. It's not truly automatic, it just follows the same logic outlined above! When an elite adopts the "latitude attitude" to booking by purchasing fully flexible Economy Latitude and Premium Economy Flexible fares, the clearance window on your eUpgrade request is actually "anytime", i.e., "anytime before departure". And if R space happens to be open when you put in your upgrade request at booking, you'll be immediately confirmed.
One exception to the "anytime" clearance window is if you put in an eUpgrade request to a flight departing within 36 hours, the upgrade request will go not clear and upgrades will be assigned at the departure gate instead.
The waitlist is not visible until 24 hours before your flight. On the Android and iOS Air Canada app, simply look up the flight status and select the standby and upgrade waitlist. You'll see parameters such as how many premium seats remain unsold, and the partial names of those waiting for the upgrade to clear at the gate.
Can you purchase more eUpgrade credits?
No.
Technically you can purchase airplane tickets and fly more SQM and gain Threshold Gifts, which earn more eUps.
Can you roll over unused eUpgrade credits?
Primary holders of an Aeroplan premium credit card (including the TD Aeroplan Visa Infinite Privilege card, CIBC Aeroplan Visa Infinite Privilege card, American Express Aeroplan Reserve card, and American Express Aeroplan Business Reserve card), are able to roll over up to 50 eUpgrade credits for the following status year.
Are the eUpgrade credit expiry dates the use-by date? Or the fly-by date?
You must travel by the eUpgrade credits' expiry date to use them.
Is there any way to extend the eUpgrade expiry date?
No.
If you choose one of your select benefits to be additional eUpgrade credits, and you wait until the latter half of the year to choose them (Canada Day onward), then they will have to be valid for the entirety of the next calendar year.
For example, if you earn eUpgrade credits before June 30, 2022, perhaps by qualifying for status the previous year, they will expire on January 15, 2023.
Conversely, if you earn eUpgrade credits after July 1, 2022, such as by finally choosing your select benefits, they will instead expire on January 15, 2024.
FAQ: What flights can I eUpgrade?
What flights can I submit an eUpgrade request for?
You can only request upgrades on flights operated by Air Canada with premium economy class, narrowbody business class, and widebody signature class cabins.
Can I eUpgrade flights operated by another airline?
No, the exterior of your plane must have the red "AIR CANADA" paint on it.
What about the Trans-Canada Air Lines livery?
Damn you, smart-ass. Yes, C-GNBN (FIN #119) counts, too.
I didn't book my ticket through Air Canada, can I still request an eUpgrade?
Firstly, you must attach your Aeroplan number to your account, you can do so by asking the travel agency/airline you booked with or calling Air Canada and giving them your booking reference.
If your Air Canada-operated segment is another airline's codeshare, you can only request an eUpgrade while at the airport with an AC check-in agent or gate agent.
If your Air Canada segment retains its native AC flight number on your ticket, go ahead and retrieve the AC-specific booking reference, and request an eUpgrade through the online dashboard or by calling in. I use a specialized travel agent for booking my latitude mistake fares and I've only ever had success with the online dashboard twice so I defer to calling in now.
I'm flying multiple Air Canada segments as well as a partner segment, will the partner segment be upgraded?
Only the Air Canada segments get upgraded.
FAQ: Who can I eUpgrade?
How many people can I eUpgrade?
You can request an upgrade for one companion travelling with you on the same ticket more than 36 hours before the flight by using the online dashboard or calling in.
You can request an upgrade at the airport or gate for one additional person on your flight, such as your partner who bought a different ticket on the same flight because it was cheaper, or someone you literally just met and fell in love with at the lounge.
This represents a maximum of three people that you can potentially eUpgrade on one flight, including yourself.
How many people can I reaaaallly eUpgrade?
If you want to delve into theoretical maximums, then consider this as an Elite 75K or Super Elite only.
If, in addition to the previous question, as a Super Elite you gave another Aeroplan member your eUpgrade nomination, they can also request three eUpgrades including themselves.
If all these people were on your flight, the maximum number of eUpgrade requests sponsored by yourself (you're the one paying for it!) is six.
75K and Super Elites are able to gift status to other Aeroplan members, at 35K and 50K levels, respectively, so that's three more eUpgrades. The eUpgrade requests will be paid for from the gifted status holder's eUpgrade credits, not yours. Keep that in mind if you really wanted to bring tomorrow's starting line-up to the forward cabin.
Does my Air Canada eUpgrade sponsor need to fly with me?
No, the point of the eUpgrade sponsorship is that they can eUpgrade when flying without you. However, they will dip into your eUpgrade credits, so make sure it's someone you trust.
Can I eUpgrade someone else but not myself?
Hilariously, yes, I did this to avoid my sister on a long-haul flight so I could have some time to myself. I requested the upgrade at the airport and the agents swooned and said I was a great sister without knowing my ulterior motive.
FAQ: Paying for the eUpgrade with credits and co-pays
I don't like the co-pay, it's too expensive! Can I reduce this cost?
Be flexible with your fare brands, then. Ask yourself how much more money or points is a Flex/Comfort/Latitude fare, and if paying that marginal cost is worth the reduction in co-pay and eUpgrade credits.
Be flexible with your dates of travel and your origin/layover/destination on your itinerary, and perhaps the marginal cost to a Flex fare or higher could be more palatable.
You could also consider a bid upgrade or last-minute upgrade to your desired forward cabin, available by looking up your booking details or calling in.
I/my work bought an Economy Standard fare, and I want a higher fare class! How can I do this?
Call into Air Canada reservations and see how much more it would cost to "up-fare" into a higher fare class, such as Economy Flex. You can even tell them which booking class letter you want, and they'll return a quote. If you're willing to pay the difference, this is how you get out of Economy Standard hell.
At this time of writing, change fees are still waived, but be prepared to pay a change fee if you do this in the far future since they usually apply to Economy Standard fares.
On the eUpgrade pricing chart, my co-pay says it would be "starting" at $150/$750. What could I expect for the real price?
Log in to aircanada.com and pretend to book your exact flight. Make sure the eUpgrades display options are selected. When you choose the Economy Standard Fare option, it will show you the co-pay you're expected to pony up.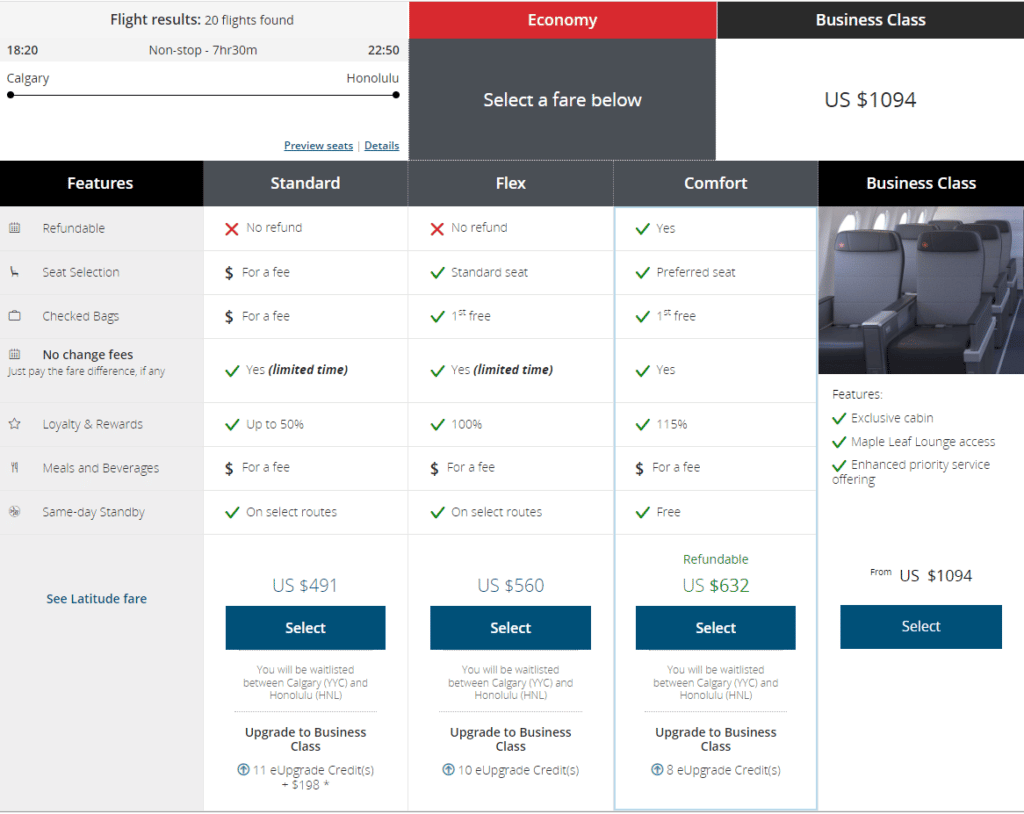 Is this worth it? Paying more money for a CHANCE at being upgraded? The Latitude/Premium Econ Flexible fares are insane!?
Warning, my opinion ahead. This is an incredibly subjective question I get asked all the time. It really depends on what you value and what flexibility you're bound by.
Firstly, if work is willing to pay for flexible fares, then things are all fine and dandy on my end, and I've done nothing wrong. eUpgrades are just an instrument extended by Air Canada to capture the business travel crowd, I guess.
Secondly, since award Aeroplan tickets can now be booked onto Latitude and Premium Economy Flexible, the marginal cost is trivial since Aeroplan points are soooo easy to come by for some of you (*cough* TD approval glitch *cough*)
Thirdly, if I'm able to confirm an upgrade a few minutes after booking thanks to the "anytime" eUpgrade clearance window, then clearly I did the math that it was cheaper than paying for business class outright and I'm glad I was able to save some money!
What's Signature Class worth to you? I get to arrive at my destination refreshed, wined, and dined. I don't need a hotel and am more willing to take a cheaper red-eye flight thanks to the lie-flat seats allowing me to rest. All of that plays into the complex mental gymnastics of evaluating eUpgrade cost/benefits.
Lastly, if by some horrible reason I failed to clear into an eUpgrade, I can cancel for free or change onto a more eUpgrade-friendly flight thanks to my unrestricted fare. If I must fly in economy class regardless, the upgraded SQM/SQD earnings from the fare is a consolation I'm willing to accept.
How to pay for eUpgrade co-pay initiated at an outstation? I don't see a debit machine?
They'll find a way to get their dues.
Firstly, there's usually a point of sale at the check-in desk. But if you wanted to try and beat the system and request an upgrade at the literal departure gate, well, read on.
In my experience, some departure gates are equipped with a passport scanner that can also read credit card mag strips, which you'll be asked for prior to being waitlisted.
I had one experience with a contractor at the departure gate who didn't know enough about the eUpgrade program and just refuse to try and find a way to let me pay the co-pay. We didn't get waitlisted, despite open space. Thank you, New Delhi Airport.
And I've had friends who seemingly thought they skipped the co-pay only to be hit with an e-mailed invoice by Air Canada weeks after their flight. As I said, they'll find a way!
FAQ: Seat Maps and Seating
The seat map shows more seats than what the waitlist is quoting as available for upgrade! Why?
The number of unsold seats does not equal the number of unoccupied seats on the seat map. Simply put, there were business class passengers that didn't select their seats when first purchasing their tickets, or have not yet checked in and received an automatic seat assignment yet.
I want to choose my seat! How can I do this?
If your eUpgrade has been confirmed, just call or look up your booking online and select your seat.
If your eUpgrade is about to be confirmed at the gate, and you are sufficiently high on the waitlist, asking the gate agent for a seating preference before they finalize the eUpgrades has sometimes worked for me.
FAQ: Pending and Confirmed eUpgrades
How do I check if my request went through/my eUpgrade was confirmed?
Examine your booking on the app or on Air Canada's website or on the eUpgrade Dashboard. There will be an indicator showing that you're either waitlisted or confirmed into business class. There was a brief outage in early 2022 where this feature was intermittent and not appearing due to a glitch, but calling into your priority contact will confirm the waitlisting or upgrade for added peace of mind.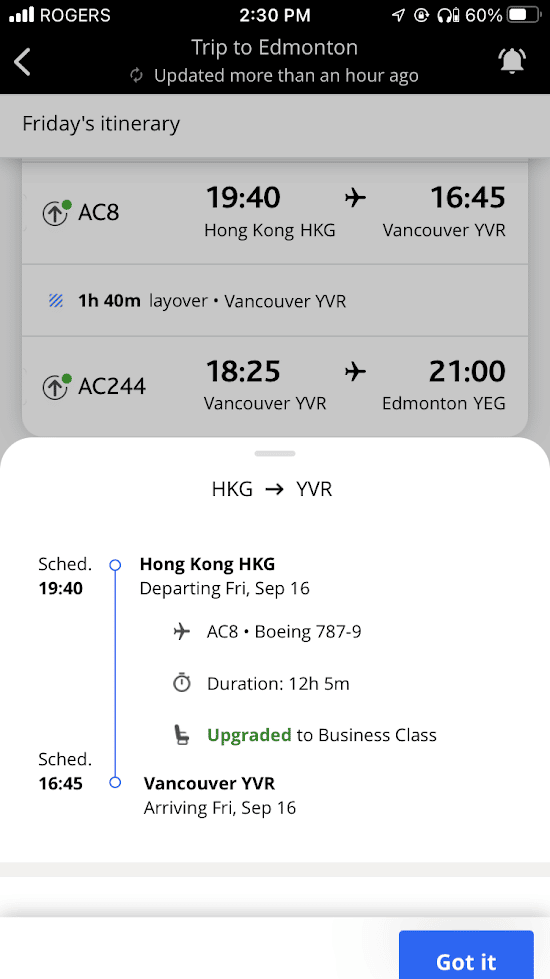 Do I get other business class perks with a confirmed eUpgrade? How about a pending eUpgrade?
For a pending eUpgrade, you have not yet been given a business class seat, so no perks should be extended to you. Rely on the perks conferred by your elite status level and Star Alliance recognition.
For a confirmed eUpgrade, I see no reason why not, although you are still technically bound by the fare rules of your underlying ticket so some of the business class perks are not guaranteed to be extended to you. I've had success entering the Maple Leaf Lounge on my upgraded flight, and even getting an exceeded baggage allowance. Star Alliance Gold or 50K and up status holders have many of these perks to fall back on anyway.
If you cleared an upgrade at the gate, there is no guarantee that a meal will be loaded for you, per the terms and conditions.
How many SQM/SQD or Aeroplan points will I earn on a confirmed eUpgrade?
You will earn what you originally paid to earn as if you were sitting in your originally ticketed cabin. There is no earning bonus for confirmed eUpgrades.
I have a confirmed eUpgrade, and I need to cancel or change my flight, why is the cost so high? I thought business class had preferential treatment?
Your confirmed eUpgrade is subject to the fare rules for the ticket you originally booked.
If you're changing your ticket, and it's a voluntary change (your flight didn't get cancelled or scheduled three hours prior/later), then you'll be assessed a fare difference, which could be very costly depending on how close you are to departure.
My eUp got revoked but I have an email notification saying it went through! I thought I had a guaranteed business seat! Do I have any recourse?
Not much, I'm afraid. Air Canada reserves the right to take back eUpgrades due to irregular operations, crew requirements, or simply because your seat is broken and unpleasant to sit in. Email notifications do not guarantee anything.
If your flight is cancelled or severely delayed causing a rebooking, Air Canada will try their best to maintain your confirmed eUpgrade, though.
There's space in my desired cabin, and I'm at the top of the waitlist, but the plane has half-boarded, what's going on, will my upgrade even clear!?!?
The gate agent decided to board the plane before/while processing the eUpgrades. If you board with your original boarding pass and go to your assigned seat, there's a good chance you will be wiped from the waitlist and your upgrade will be cancelled. Don't expect them to board the plane and chase after you to loudly celebrate your upgrade because you were on top of the waitlist.
Wait to board last and wait for them to give you an updated boarding pass with your business class seat assignment. It's the only way to see the eUpgrade process through to the end.
Can I credit another frequent flyer program after getting a confirmed eUpgrade?
Yes, you can switch the number any time by calling in or requesting to do so at the airport. But because you are still subject to your original economy class fare's rules and have removed your Aeroplan Elite Status off of your ticket, you might have to pay excess bag charges that the alternate frequent flyer program doesn't cover, and you might also be refused entry into the lounge. Flashing your Aeroplan Elite Status card for the latter scenario should fix things, though.
Can I access the Signature Suite in Vancouver or Toronto-Pearson? How about access to the concierge?
No, only paid business fares or Aeroplan tickets that are booked as a business class (flex) fare will have access to the Signature Suite and concierge.
Conclusion
I've never really been satisfied with the lack of detail that some bloggers delve into when discussing eUpgrades, one of Air Canada's most rewarding perks. I'm glad the folks at Frugal Flyer gave me a chance to come here and share all the smaller nuances and clarify the most-asked questions online. I hope future travelers consider this project a useful reference, please consider bookmarking it if you think you will return to it often.
If anyone thinks I've missed anything, please let us know in the comments, I'll be happy to add more to the article as the program changes or evolves, or even if the community has found a new trick to get even more value out of eUpgrades.
Zoey Carmichael is our resident business traveler. A refugee of FlyerTalk, she shares her knowledge on FF with how best to maximize the perks and points earned from work trips. Making the most our of family time is important to her as well, so she's thankful for the flexibility to comp her spouse and kids onto work trips, because she knows that a happy young family will make for cooperative Players 2 through 5.