Rent is expensive and only continues to go up in many markets. With it often being one of the biggest monthly expenses that consumers have, I've often felt that it is unfortunate that we cannot pay rent with credit cards to earn anything back on this expense.
That's now changed with Canada's newest rental payment service, Chexy. Charging only a minimal fee for their services, Chexy provides the opportunity for renters to pay their rent with a credit card allowing them to earn rewards on rent payments, whether it is miles, points, or cash back.
Let's take a look at Chexy and how you can use this service to earn credit card rewards for paying your rent.
What is Chexy?
Chexy is a service that allows you to pay your rent with a credit or debit card and charge you a small fee for doing so. The greatest value in Chexy is that by paying rent with your credit card, you can earn miles and points on your rent, or even work towards a minimum spending requirement on a new card, all for a low fee of 1.75%.
Once you are set up with Chexy, their system charges your payment method four days before the rent is due and will send an e-Transfer to your landlord at 12 PM EST on the selected rent day. They currently process over $1,500,000 in rent payments per month, so they are growing quickly and are trusted by many miles and points enthusiasts.
How to Pay Rent with Chexy
If you are interested in getting started with Chexy, setting up your account is very straightforward. In order to get set up you will need to create a household, verify your identity, upload a copy of your lease, select your payment method, and choose the day you want to send rent to your landlord.
You can sign up for Chexy here. You'll start by creating your household in their payment system.
After that, you'll add your rent information. You can change the day the e-Transfer is sent to whichever you need it deposited by.
Upon entering those details, you'll be taken to a confirmation screen to verify the information you entered.
You'll then be prompted to choose whether you pay rent to an individual or a corporation, provide your landlord's details, and determine if you want to choose your own security question.
Just as before, after hitting "Continue", you'll get a confirmation screen to confirm what you entered is correct. This completes your household setup, bringing you to your dashboard for that specific home. It will look like this.
Following the instructions on the screen, you'll start by choosing your payment method. Note that this can be changed monthly if you change it five days before your rent is due, so you would absolutely be able to use a new credit card every month if so desired.
I'm choosing to pay rent with my American Express Aeroplan Reserve card as it earns 1.25 Aeroplan points on all purchases. We value Aeroplan points at $0.02 per point, which means an estimated return of 2.5% which outweighs the 1.75% fee.
When you select your payment method, Chexy also has a slider that can be adjusted to calculate your rewards, which you can see in the screenshot below. This makes it easy to quantify what your net rent will be after rewards and fees.
I'm paying a $35 fee for this transaction, but I'm receiving back effectively $50 of rewards in the form of Aeroplan points. Additionally, the Aeroplan Premium credit cards award an Air Canada Worldwide Companion Pass upon spending $25,000 in a year. That's a lofty amount of spend to reach, but paying rent on this card helps that threshold become much more attainable.
After pressing the "Connect Card" button, you'll be brought to this screen to create your payment profile and verify your identity.
After entering your details and clicking "Connect to my bank account" you'll be prompted with the following.
Once you've entered your banking details, you're met with one final check to fill out a few more details.
Now we get to the good stuff. Time to supercharge our rewards-earning abilities and crush minimum spending requirements by adding the credit card of our choice!
I like that Chexy has a very clear disclosure for cashback users that your first rent payment won't code as a recurring bill, but future payments will.
After this, you're brought back to the home page and will be instructed to upload a PDF of your lease. If you click on the "Declare No Lease" button, you won't be able to proceed. So you will need to have a document to upload for Chexy to validate that their service is being used as intended.
After your lease upload is complete, you only need to pick a month for rent payments to start!
After clicking "Confirm Date" you're met with a final screen with a summary.
Again, I really like the final reminder for cashback users expecting a recurring bill category bonus so that there aren't any surprises on the earning rate of the first payment.
Overall, getting set up with Chexy took me 10 minutes and was straightforward with their slick interface too!
The Best Credit Cards for Paying Rent with Chexy
If you are interested in using Chexy, you want to ensure you are using the right credit card for your interests and goals. When defining the "best" credit card, the decision will change depending on the individual. For purposes of illustration, I've highlighted three separate customer profiles and how they might use Chexy to its fullest potential.
Adam – The Cash Back Lover
Adam is a lover of all things cashback and frugality. He prides himself on saving a dollar at every opportunity and only uses a cash back credit card that has no annual fee. He values simplicity in life and doesn't want the hassle of sending an e-Transfer to his landlord every month. Adam is also saving to buy a house as he and his partner, Carly, despise paying rent.
Adam would be a perfect candidate to use Chexy if he were to sign up for the Scotiabank Momentum Visa Infinite card.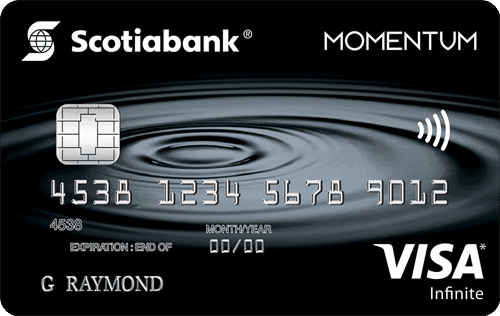 Apply Now
Learn More
Click Apply Now to earn $100 in FlyerFunds upon approval.
Scotiabank Momentum Visa Infinite
The Scotiabank Momentum Visa Infinite card earns cash back and gives cardholders the opportunity to earn 4% cash back on grocery purchases, eligible recurring bill payments, and subscription purchases.
BONUS
200 Cash back
MINSPEND
$2,000
ANNUAL FEE
$120 (FYF)
FOREX FEES
Yes
EXPIRY
Oct 31, 2024
The reason is that Chexy classifies rent payments as a recurring bill payment, and the Scotiabank Momentum Visa Infinite card pays 4% cash back on those transactions. After the 1.75% fee, Adam still profits by 2.25% or $45 for every $2,000 transaction. Over the course of a year, Adam will profit $495 in cashback from paying a bill he needs to pay anyway (keeping in mind his first payment won't count as a recurring bill).
It's important to note that recurring bill payments on the Scotia Momentum pay at 1% Cashback after $25,000 spent in that category. So if your rent exceeds $2,100 per month, it would be best to use another card after you reach the cap. In this case, if Adam and Carly start spending more on rent, Carly should apply for her own Scotiabank Momentum Visa Infinite card to allow for a total of $50,000 of spending at 4% cash back on recurring bill payments between the two of them.
Kelly – The Aeroplan Status Chaser
Kelly is established in her career and never likes to be in one place for too long. Owning a home doesn't fit her lifestyle as a remote worker, but she still rents a home base to leave her belongings in between adventures. She's interested in credit card rewards but doesn't sign up for more than two cards per year as her income allows her to maintain her luxury travel style.
Using her TD Aeroplan Visa Infinite Privilege card to pay her rent of $2,500 per month, she loves the Status Qualification Boost feature on the card. With this card, for every $5,000 spent, the cardholder receives 1 status qualifying segment (SQS) and 1,000 status qualifying miles (SQM). That adds up to an extra 6 SQS every year, making it much easier for Kelly to maintain her status as an Aeroplan 50K member.
TD Aeroplan Visa Infinite Privilege
The TD® Aeroplan® Visa Infinite Privilege* card earns Aeroplan points and offers cardholders a variety of Air Canada benefits including priority boarding, free checked baggage, and Maple Leaf lounge access.
Check out our TD Aeroplan Visa Infinite Privilege card review for more details.
BONUS
100,000 Aeroplan
MINSPEND
$12,000
ANNUAL FEE
$599
FOREX FEES
Yes
EXPIRY
Jan 3, 2024
Not forgetting that Kelly also receives points on her rent payments, she will rack up 38,150 Aeroplan points with a value of $763, outweighing the $525 in 1.75% transaction fees. My last point for Kelly is that even if she struggles to stay at the 50K status level, the 38,150 points count towards Every Day Qualification. Meaning she is well on her way to staying in the Air Canada Status ranks as a 25K status member at a minimum.
Hugh – The Miles & Points Aficionado
Hugh is a miles and points aficionado. He never passes up a great sign-up bonus and always looks for creative ways to meet minimum spending requirements. Chexy affords him the opportunity to do just that, as he can now pay his largest monthly expense with a credit card.
A veteran of miles and points, Hugh juggles multiple minimum spending requirements at one time and signs up for at least five new credit cards per year. Normally, Hugh wouldn't be able to take advantage of the massive welcome bonus on the American Express Business Platinum card as it comes with a $10,000 Minimum Spending Requirement in just three months.
American Express Business Platinum
The American Express Business Platinum card earns Membership Rewards points and offers cardholders benefits including complimentary access to the American Express Global Lounge Collection, a $100 NEXUS membership credit, an annual $200 travel credit, and more.
BONUS
120,000 Membership Rewards
MINSPEND
$15,000
ANNUAL FEE
$799
FOREX FEES
Yes
EXPIRY
–
However, by putting his monthly rent of $2,300 through Chexy for three months, he only needs to spend a much more reasonable remaining amount of $3,100 to earn the welcome bonus. While Hugh will pay a total of $120 in fees to Chexy, he is now able to unlock a Membership Rewards points bonus worth at least $2,000 that he would never have been able to acquire otherwise.
After Hugh finishes his 3 months of rent payments on the American Express Business Platinum card, he can change his Chexy payment method to whichever card needs additional spending. Chexy's system is so flexible Hugh can change his payment method every month if he chooses to do so.
Other Credit Card Options
As you can see, there are many different use cases for Chexy, proving that anyone with access to credit cards can use the service to their advantage. Even if I didn't mention a specific credit card in the examples above, Chexy has a tool on its homepage to see how your rewards could stack up with a number of various credit cards.
No matter what card you choose, Chexy is a great way to naturally increase your spending to continue to build your miles and points balance to unlock your next redemption.
Conclusion
Chexy is a welcome addition to the personal finance space in Canada. Not only do they provide a great service for people building credit, but they also help reward financially savvy people who are looking to earn miles, points, or cash back on their rent payments. If you are ready to accelerate your miles and points earning capabilities, sign-up with Chexy to get started.
I look forward to spreading the word about Chexy and helping more Canadians make their rent go further and benefit their traveling goals!
Frequently Asked Questions
Does Chexy accept American Express?

Yes, they do. The best part is it doesn't cost any more in fees than a Visa or Mastercard.

What is the fee for paying my rent through Chexy?

You will pay a $1 fee when paying rent through a debit card and a 1.75% fee when paying rent through a Credit Card.

How does Chexy send my rent payment to my landlord?

Chexy will e-Transfer your landlord on rent day.

Is it worth paying a fee to pay rent with my credit card through Chexy?

For most situations, yes. However, always do the math to ensure you get more than 1.75% value in rewards to ensure you are not paying your rent at a loss.

Can I use my US credit cards to pay rent through Chexy?

At the moment, Chexy only accepts Canadian payment methods.
Daniel entered the Miles and Points game in 2021 and has taken the "make up for lost time" mentality. After spending five years travelling for work and paying no attention to loyalty programs, some say Daniel is out for Points Revenge. With his desire to maximize every point available, he hopes to share the knowledge gained with more travellers to prevent the same mistakes he made.
Latest posts by Daniel Burkett (see all)