Introduction: 2021, Another Challenging Year for Travel
As with any year in the credit card churning and travel landscape, 2021 brought with it many highs and a few lows. While travel may feel like it has remained stunted throughout the year, parts of the world have slowly started to open back up with reduced restrictions here and there. With travel being less desirable, 2021 has been a great year to hunker down at home and continue to earn massive amounts of rewards points while booking speculative trips.
Let's take a deeper dive into our "year in review" as we prepare for the opportunities that 2022 will bring.
Highs of Churning in 2021
American Express Offers Galore
At the start of COVID, American Express started a campaign of very generous Amex Offers on their higher-end cards. This was a smart move to appease cardholders unable to take advantage of the premium travel benefits of the cards. These generous offers have continued to benefit us throughout 2021.
Amex Grocery & Restaurant Credits (Canada)
In Canada, we were treated to some phenomenal credits towards grocery and restaurant purchases from a variety of premium American Express cards. As was the case in 2020, the Platinum Card awarded $200 in everyday essentials: Sobeys, Metro, Save-On-Foods, and Uber Eats.
In April 2021, we also saw a similar offer on the American Express Aeroplan Reserve credit card, for $150 towards groceries, including Sobeys, Metro, Save-On-Foods, Longo's, and their subsidiaries. You could even get away with buying gift cards in many cases.
American Express Aeroplan Reserve
The Amex Aeroplan Reserve card earns Aeroplan points and offers cardholders various Air Canada benefits including priority boarding, free checked baggage, and Maple Leaf lounge access.
Check out our American Express Aeroplan Reserve review for more details about this card.
BONUS
90,000 Aeroplan
MINSPEND
$6,000
ANNUAL FEE
$599
FOREX FEES
Yes
Then, in September and November of 2021, Amex hit us with even more juicy offers. The Platinum Card awarded a $175 credit towards a collection of high-end restaurants. I was able to use mine at Trattoria in Vancouver, enjoying some delicious pasta.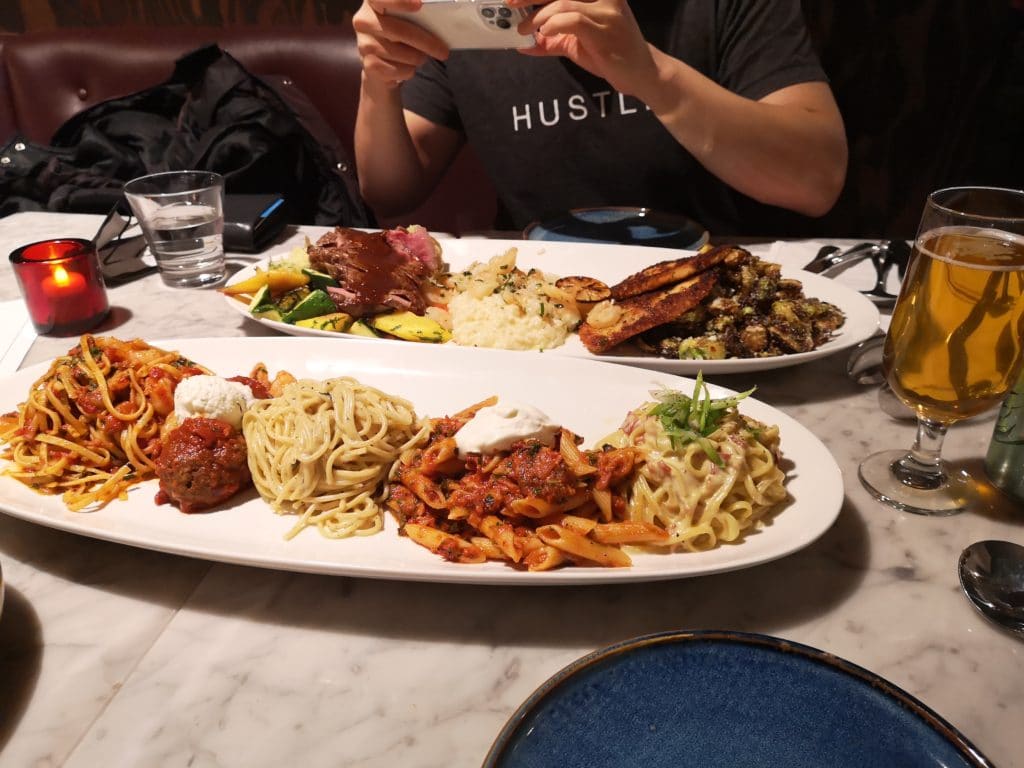 Finally, in November we got a smaller offer on the Amex Personal Cards of either $50 or $100 towards any restaurant.
Platinum Card: Spend $100 and earn a $100 credit.
Aeroplan Reserve Card: Spend $100 and earn a $100 credit.
Aeroplan Card: Spend $50 and earn a $50 credit.
Bonvoy Card: Spend $50 and earn a $50 credit.
I used mine at the Keg and stacked it with some gift cards I'd been holding onto, courtesy of RBC Avion 😉
Stackable Hotel Promotions: Marriott Hotel Statement Credit and Discover Canada
Aside from filling our bellies, Amex also encouraged cardmembers to travel locally. They offered two hotel-related credits. In July there was an offer for spending at Marriott properties:
The Platinum Card: Spend at least $350 and earn a $100 statement credit.
Cobalt and Marriott Bonvoy Cards: Spend at least $200 and earn a $50 statement credit.
There were also the Discover Canada offers in July and in December 2021. The July one was much more generous, offering $50 credit for spending $250 at eligible hotels in Alberta, British Columbia, Ontario, and Quebec.
The beauty of these offers was you could combine them. For example, with the Platinum Card, you could just pick a Marriott Hotel in one of the provinces, spend $350, and you would earn $150 back. If you didn't want to stay during the time of the offer, there were data points of people buying gift cards at a Marriott hotel's front desk and getting the credits – payment processors often don't know the difference 😉
Amex Dining Credits (USA)
One of my personal favorite Amex Offers of 2021: monthly statement credits of $5-20 USD towards US restaurants for personal cards co-branded with Marriott, Hilton, and Delta.
As I held three Hilton cards, this granted me a total of $5 USD on the Hilton no-fee, $10 USD on the Hilton Surpass, and $20 USD on the Hilton Aspire, for a total of $35 USD per month.
How do I use these credits every month at US restaurants when I live in Canada you ask? Simple: load a Starbucks US mobile account on the first of every month and then spend the funds in Canada. The USD gets converted automatically at the point of sale.
Hilton Aspire with $0 Annual Fee
While this opportunity occurred in December 2020, a simple upgrade on two cards has resulted in a bountiful 2021. For a very short period, US Amex Hilton cardholders were offered the ability to upgrade their existing cards to the Hilton Aspire for a $0 annual fee with a $95/year annual fee afterwards.
Obviously, this was not intentional when you consider that the annual fee for the Hilton Aspire card is $450. The Aspire card is worth it even with the full annual fee since you can easily make back what you spend on the annual fee in credits and the free night certificate.
Upon seeing this opportunity, I upgraded both of my no-fee Hilton Honors cards to the $0 Hilton Aspire. Even better, I had just recently downgraded one of them from the Aspire only a few days before!
Everyone who took advantage of this offer was skeptical that Amex would honour it and as such, waited to see how it would play out. Eventually, Amex followed up with a letter in early 2021 citing that they would honour the terms of the offer and that they would not be charging an annual fee until 2022.
Not only was I able to save $900 total on annual fees, but I was also able to take advantage of:
2 free weekend nights per anniversary year (1 per card)
$500 in Hilton resort credit per anniversary year ($250 per card)
$500 in airline fee credit per calendar year ($250 per card)
Free Priority Pass select
Contrary to what some may tell you, it still is possible to liquidate both the Hilton and airline fee credits. With some creativity, these credits are as good as cash in your account.
American Express Hilton Honors Aspire
The American Express Hilton Honors Aspire card earns Hilton Honors points and offers cardholders an annual $250 Hilton Resort credit, a $200 airline fee credit, instant Hilton Diamond Elite status, an annual free night, and more.
BONUS
150,000 Hilton Honors
MINSPEND
$4,000
ANNUAL FEE
$450
FOREX FEES
No
Looking forward to 2022, my annual fee on both cards will only be $95 each. This still presents lasting value that is simple to extract each anniversary and calendar year.
If you still haven't gotten into the US credit card game, you are missing out on some great opportunities like this one. Make it your resolution to get started with the best first US credit card for Canadians.
Aeroplan Buddy Pass Conversion for 30K Points
In late 2020, we saw many of the Aeroplan-associated credit card offers include a new perk: the Air Canada Buddy Pass. The intention of the buddy pass was similar to the WestJet companion voucher that you can earn from the RBC WestJet World Elite Mastercard; you would be able to travel with a companion for a $0 base fare in economy class while only paying related taxes and any third-party charges.
The buddy pass had to be redeemed on a fare that was paid for with cash, not points. However, if you are the kind of person who travels regularly within North America in economy class, it wasn't a bad deal.
However, as we all know, COVID took hold and travel was less-than-desirable for your everyday person. Understanding this sentiment towards travel, in March 2021 Air Canada introduced the ability to convert unused buddy passes to 30k Aeroplan points.
This presented a fantastic opportunity, as you could earn one buddy pass per year on each card family (infinite, infinite privilege, and business). This resulted in an extra 90k Aeroplan points for those individuals who were able to apply or switch into one of each of those cards.
There were some stellar welcome bonuses available, such as 55K Aeroplan points (including the buddy pass conversion) for no annual fee on the TD Aeroplan Visa Infinite. All that was required was to complete 1k spend in the first 3 months. Considering that Aeroplan points are valued at around 2 cents per point this was an insane welcome bonus worth north of $1000.
While the ability to convert buddy passes to points expired as of December 1st, 2021, it was a great sweet spot while it existed. Effectively adding a 30k Aeroplan bonus onto credit card welcome bonuses that already included Aeroplan points made for some record-high bonuses with minimal spend required. While the opportunity has disappeared, you can always find the best Aeroplan credit card offers with our comparison tool.
Lows of Churning in 2021
Marriott Dynamic Pricing
Ever since the program moved to the Marriott Bonvoy title, there have been very few wins and many losses for Marriott members.
Announced in October 2021, Marriott will move away from the existing reward charts with set redemption rates to dynamic pricing. This means that it will be near impossible to plan out the number of points needed for redemptions due to certain fluctuations, especially for popular destinations and for stays around holidays.
With these changes coming, book your big redemptions before the implementation of dynamic pricing in March 2022. At best, your stay remains at the same points cost or becomes cheaper, which you can then re-book at that lower rate. At worst, not booking means you may be missing out on some soon-to-be-gone opportunities; I guess that any properties in the Maldives will be heavily negatively impacted by these changes.
Marriott has mentioned that they expect 97% of their hotels to remain within the existing pricing bands for 2022 – if this materializes, who knows. I have learned to err on the side of being skeptical when it comes to the Marriott Bonvoy program, as the majority of changes made have been less than consumer-friendly.
I've decided to blow my whole Marriott balance of 640k Bonvoy on two big redemptions in 2022: the St. Regis Rome and the W Maldives.
One small plus is that Marriott announced that they would be extending all Bonvoy members' current elite status through February 2023. If you haven't already fast-tracked your way to Marriott Bonvoy Platinum, what are you waiting for?
Travel Returns… Sort of But Not Really
In 2021, we started to see travel become more of a possibility, but only for those willing to navigate complex and ever-changing requirements imposed by the Federal government. These have shifted throughout 2021, but at the time of writing, leaving Canada requires 1) proof of vaccination, and 2) proof of a negative test result (rapid antigen).
Related: we've written a guide to all the options for rapid antigen testing available in Canada.
On top of this, returning to Canada again requires a negative test result, and this one must be a PCR/molecular test. Sourcing these in the US is a bit more of a challenge, and also more costly. One more roadblock getting in the way of travel. One silver lining that I was able to take advantage of is the special exemption for fully vaccinated travelers returning to Canada in less than 72 hours: then you are not required to present a pre-entry molecular test.
However, even once you've wrapped your head around the restrictions and testing requirements, and booked your flight, the airline industry is still in shambles right now. Flights just aren't as full, airlines are in economic turmoil, and the result is that we are seeing a lot of flights getting cancelled and postponed and changed with great frequency. This can be incredibly frustrating.
Finally, at the time of writing, we are contending with new global concerns over the rising cases from the Omicron variant. Non-essential travel has once again been publicly 'discouraged' by the federal government (for what that's worth). The < 72-hour exemption has also unfortunately been removed. See the Government of Canada press release on these new concerns.
Conclusion
As another year wraps up, there have been some definite big wins but also some significant lows in the churning scene. With COVID still overshadowing many travel opportunities, we are remaining optimistic that 2022 will be a year where we may see more of the world open up with reduced restrictions.
At the same time, we will be resilient in the case that we see much of the same in 2022. These travel restrictions, even as they are, can be navigated, and travel can still be had for those willing to put in the work.
Reed is addicted to the science (and art) of earning and redeeming travel points, and frequently pairs his trips with his other hobby: photography. Through Frugal Flyer, Reed aims to distill some of the complex and esoteric points strategies into digestible information. Furthermore, he hopes to use his technical expertise to develop invaluable applications and tools for the travel community.
Latest posts by Reed Sutton (see all)
Hugh has been involved in the miles and points game since 2015 but has scaled up his knowledge and points-earning potential in recent years. In 2019, Hugh stepped things up when he met Reed in addition to a few other miles and points fanatics (err degenerate churners) and has since been able to capitalize on the various expertise that each member brings to the group.
Latest posts by Hugh Campbell (see all)